Young kids have an impressionable mind. Their surroundings influence their mood, behaviour and creativity. Designing a children's bedroom can therefore be a whole lot of fun. The most important thing to keep in mind before you get started is to create a space where they feel free and comfortable. From picking the right colours to carefully selecting childrens bedroom furniture, here are some points to consider when putting together your kids' room.
How to Design a Children's Bedroom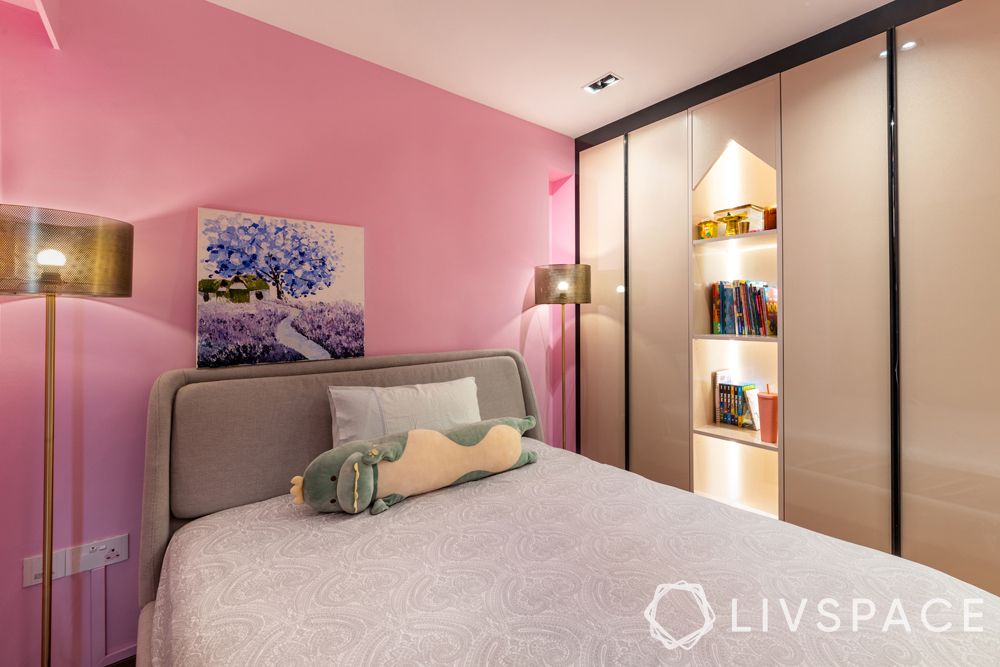 Designing a childrens bedroom isn't as simple as picking a couple of kid-friendly furniture pieces and arranging them around the room. You have to focus on your child's personality and age, as well as the space you have to work with and the amount of storage you need. Kids usually tend to outgrow their tastes and preferences as they grow up. Thus, a pink Barbie theme may be a five-year-old's dream bedroom but a teenager's nightmare. If you're not into redecorating every time your kid decides to pick another favourite theme, then going for neutral yet playful decor is your best bet.
While designing a children's bedroom, whether in an HDB or a landed house, here are some factors to consider:
#1: Colours
Soft pastels, especially powder blue, are meant to soothe the mind and keep their focus sharp. Bolder colours in small spaces can be overwhelming and result in a gloomy look. The best solution is to strike a balance; a mix of bold and light colours to make the most of your kids' bedroom.
#2: Furniture and Storage
Pick kids' bedroom sets that are convenient to use. For example, a normal study table can be too high for small kids between the ages of three and seven. Also, some furniture like convertible children's single beds that turn into double beds are versatile and cater to their growing needs. Be sure to kit out the room with enough storage for all the toys, books and other accessories and play things they have and may accumulate.
#3: Lighting
Children's eyes are sensitive. Reading in a low-light setting can affect their eyesight, forcing them to wear spectacles at a very young age. Ensure there is ambient lighting and task lighting to help them enjoy their activities.
Essentials in a Children's Bedroom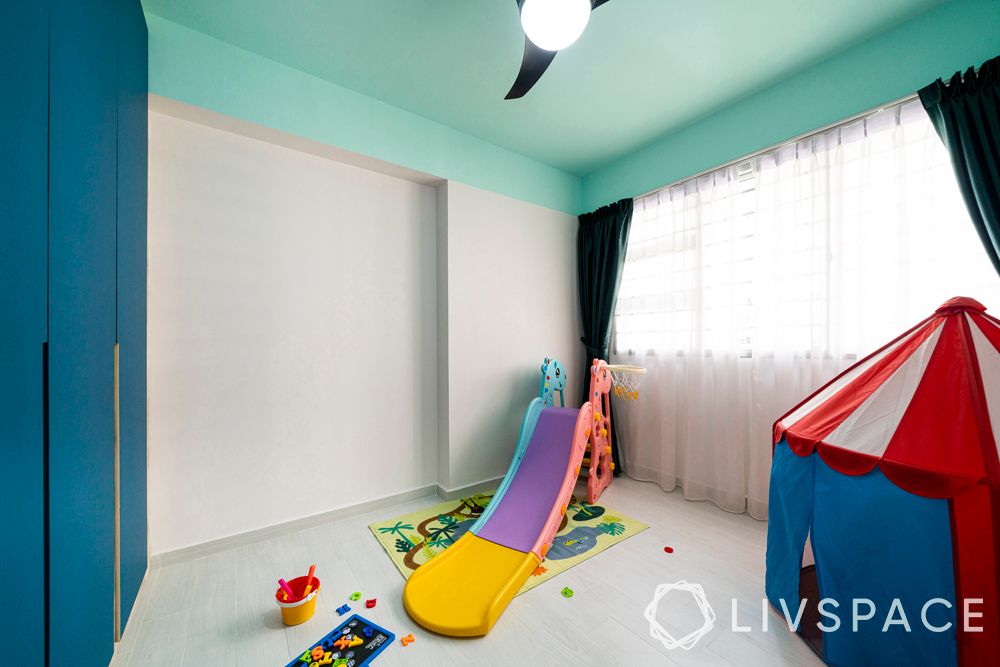 Childrens bedroom furniture should include the basics: a comfortable bed, a wardrobe to store their clothes, a table and chair for their studies and creative activities and a storage unit for their toys, books and other knick-knacks. If your kid has a small room in your HDB, then choose furniture that has hidden storage or pieces with additional storage. For example, beds with storage, a wardrobe with a built-in study unit and more can help save on space. Instead of single beds, use a bunk bed to make the best use of the room.
Best Children's Bedroom Designs by Livspace
#1: Kid-Friendly Furniture
The little ones need comfortable furniture that caters to their size. This childrens bedroom has a study table and chair that is best for toddlers and pre-teens. Also, the design takes on a minimal look with a simple wave-patterned wall,white furniture and storage for an airy and bright room.
#2: Colours and Elements to Make the Space Fun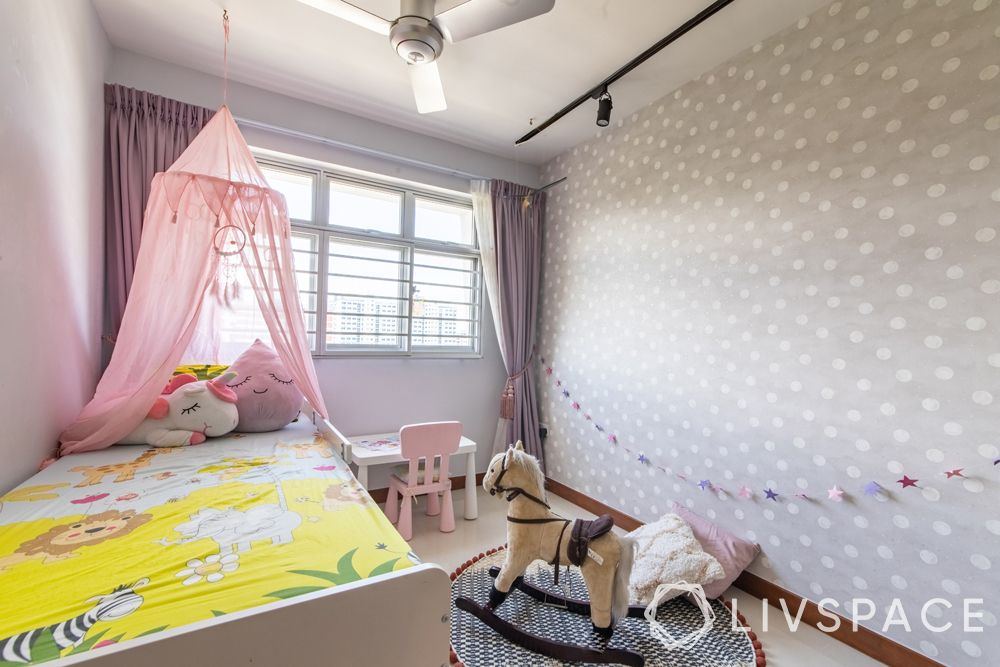 When you're small, anything and everything has a novel quality to initiate, so adding some fun element can go a long way in ensuring your kids take delight in their space. This canopy over the bed, for instance, not only gives it a fairy-tale look but can also be a source of stimulation for a child's creativity. From playing with toys to creating imaginary scenarios, they're bound to love the room. Also, the light-coloured walls balance out the vivid yellow of the bed.
#3: White Can Also be the Dominant Colour in a Child's Bedroom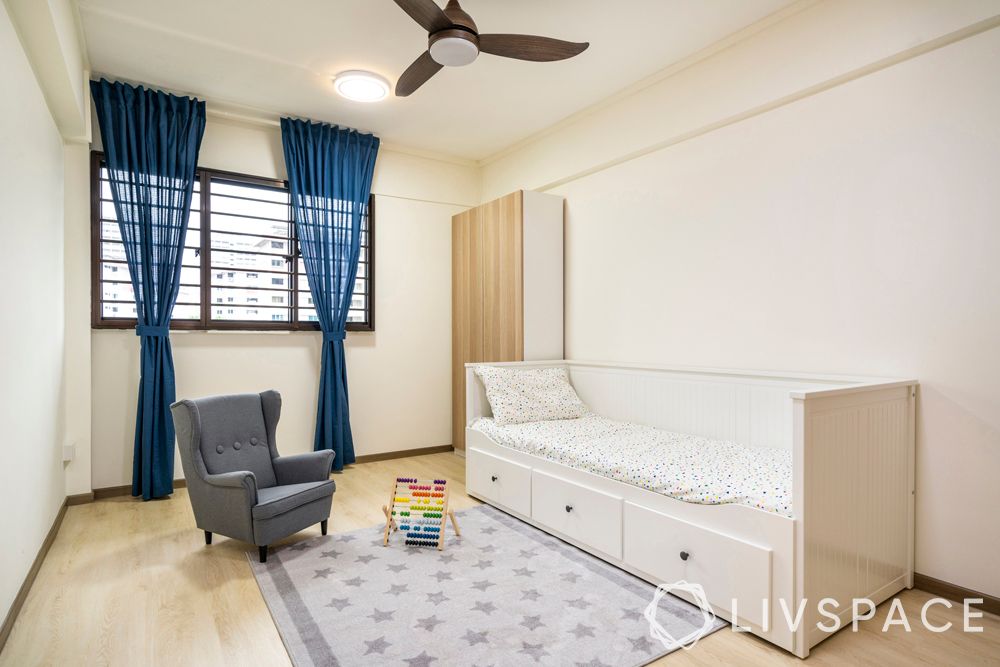 This room can easily turn into an entertainment space. A sofa-style bed with drawers and a small armchair are great for kids. You can also use the bed as a couch. The overall design is kept simple to ensure the kids have ample space to play. Toys can be tucked into the wardrobe in a corner or organised into drawers.
#4: A Study Corner to Keep them Focused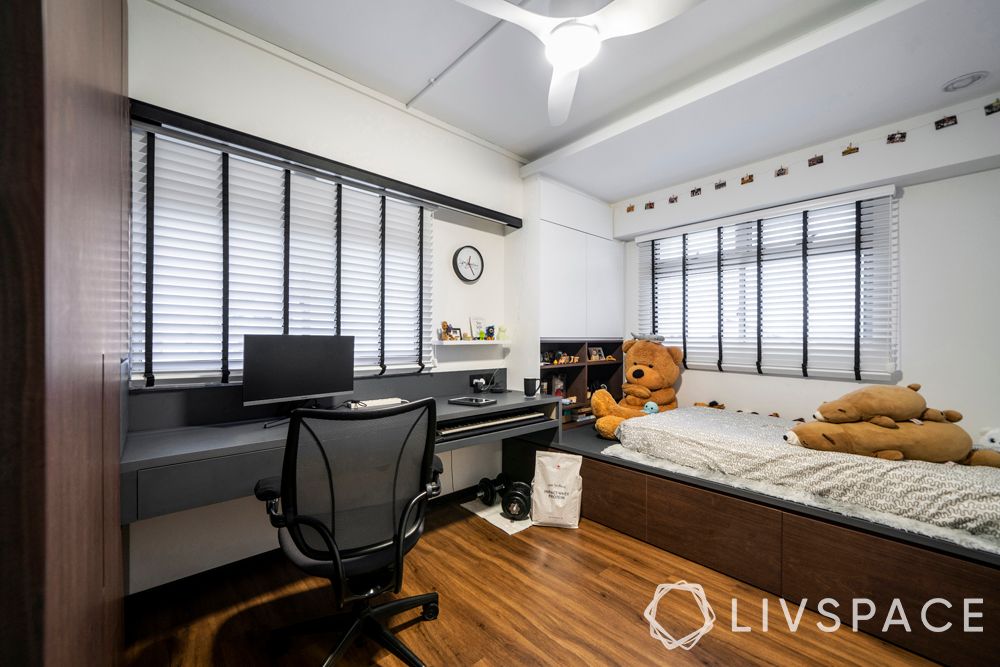 If you don't want to spend too much on childrens bedroom furniture, invest in pieces that can be easily adjusted. A height-adjustable chair is a nice and convenient long-term investment. Additional storage below the bed comes in handy. Also, a fanlight is a great way to bring in light.
#5: Space-Saving Idea for Children's Bedroom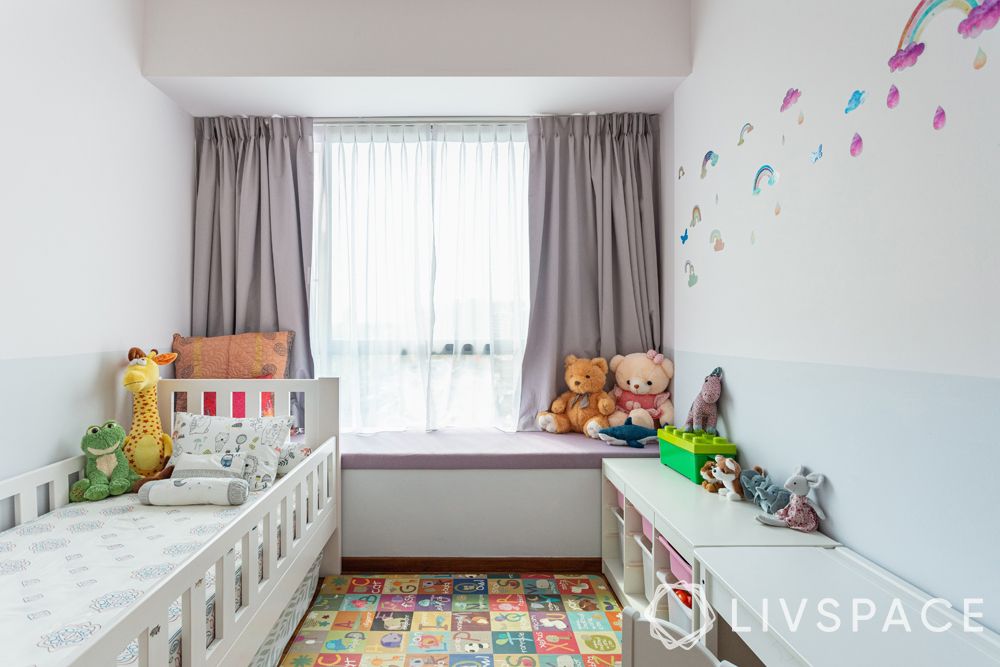 There are a lot of things we love about this design. From the safety rail to the printed rug and decals on the wall to ample storage in the form of shelves that double up as seating, this is an ideal design for small bedrooms.
#6: Storage Keeps the Room Organised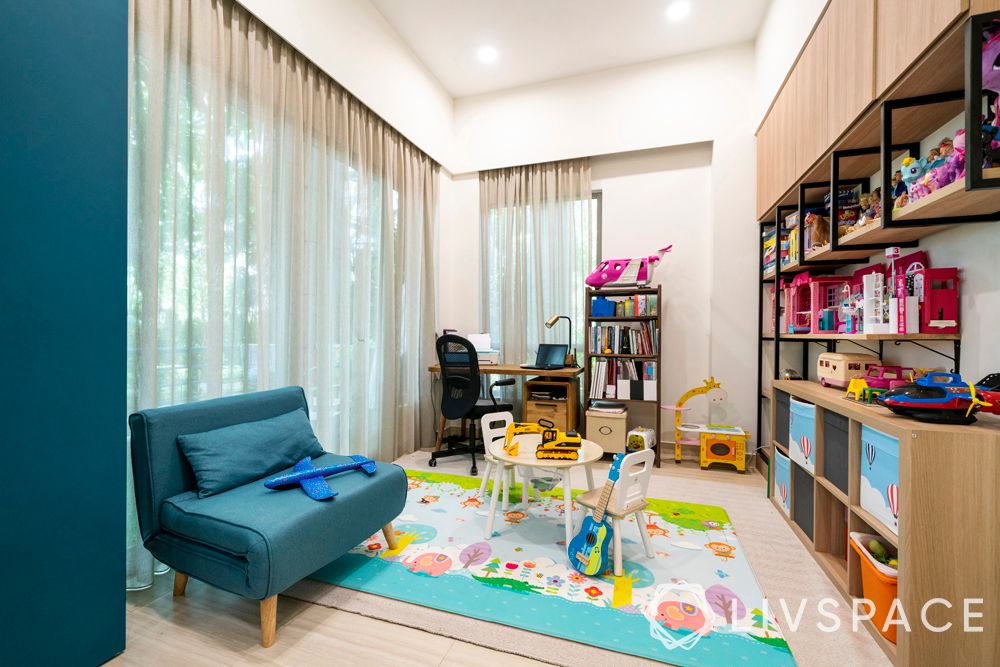 As all parents would know, there is no such thing as too much storage for your kids' room. The toys, books and knick-knacks can take over the entire home. In such situations, taking care of building storage units into the wall is a great idea. This wall-to-wall storage unit, for example, can be a useful addition when you choose to design your kids' room. As a bonus, the room is equipped with an extendable sofa-cum-bed, lighting and tall windows for a breezy look.
#7: Bedroom Design for Infants and Toddlers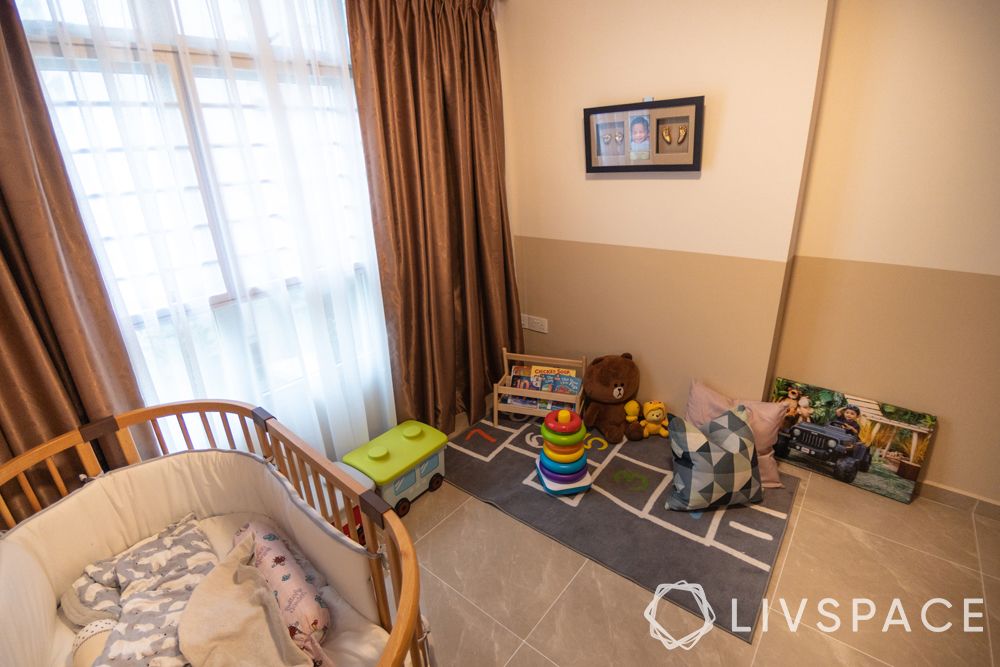 At a young age, kids do not require too much furniture in their room. A small bed with safety rails and a playmat will be more than sufficient. These are ideal for kids below three . Leaving the space empty will help them motor around without hurting themselves. This is a kids' bedroom idea on a budget that you can easily implement.
Looking for more inspiration? Check out 12+ Stunning Study Room Designs From the Latest Livspace Homes. We'd love to hear how you've converted your kids' room into a fun space.
How Can Livspace Help You?
If you are thinking of redesigning your home, then consider Livspace. Book an online consultation with our designers now to turn your dream home into a reality. We are all about quality and safe interiors.
Let the pandemic not stop you from attaining your dream home. We follow strict COVID-19 safety protocols, which you can read about here.
Send in your comments and suggestions to editor.sg@livspace.com