Yes, it's that time of the year again, where you see everyone everywhere dressed in varying shades of red! Chinese New Year 2021 is round the corner and it's time to get your home ready for the Spring Festival. While traditional Chinese New Year decorations are a must, here are some ideas with a contemporary twist!. From lanterns to knots and plants, these ideas will prep your home for the upcoming festivities. And did we tell you this already? You can use furniture and furnishings from IKEA too! Check out the details below.
Traditional decor ideas
#1: Door couplets for a better year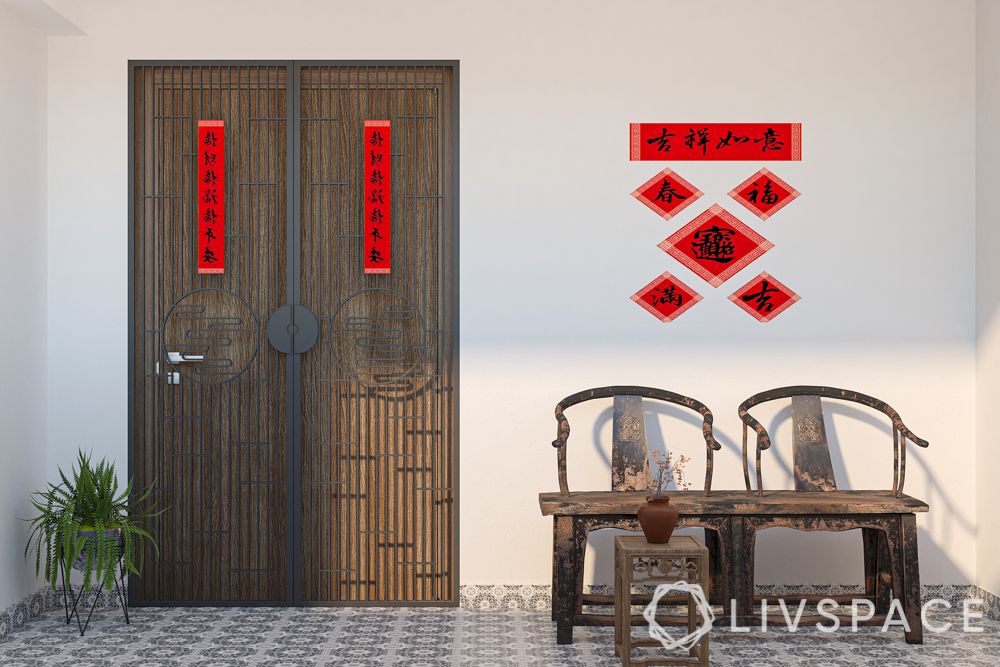 New Year couplets are usually pasted on the main door with good wishes or expressions of happiness. Traditionally, Chinese New Year wishes are posted in pairs because good luck and prosperity are associated with numbers. These wishes are inked with black ink on red paper in the form of couplets. You can let these couplets stay up there until the next New Year. You can also have your beliefs inked and put them up on the wall as part of the decor.
If you want to buy a similar bench from IKEA for the entrance, go here.
#2: Bright red lights for a grand welcome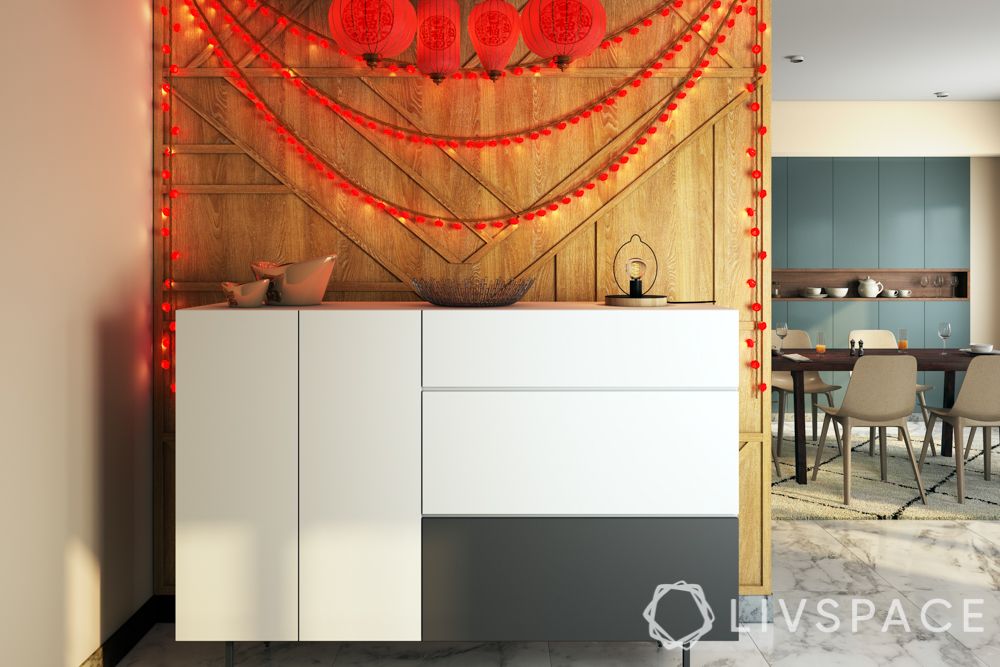 While traditional Chinese New Year decor speaks of paper lanterns that you must have made when you were younger, a better way to incorporate them into your decor is to go the fairy light way. You can stick your DIY paper lanterns around a string of fairy lights and your very own lantern fairy light set up is ready! These bright red lights are enough to jazz up any corner of your home, just like this foyer here.
Check out a similar sideboard from IKEA right here.
#3: Traditional red lanterns to deck up the sitting area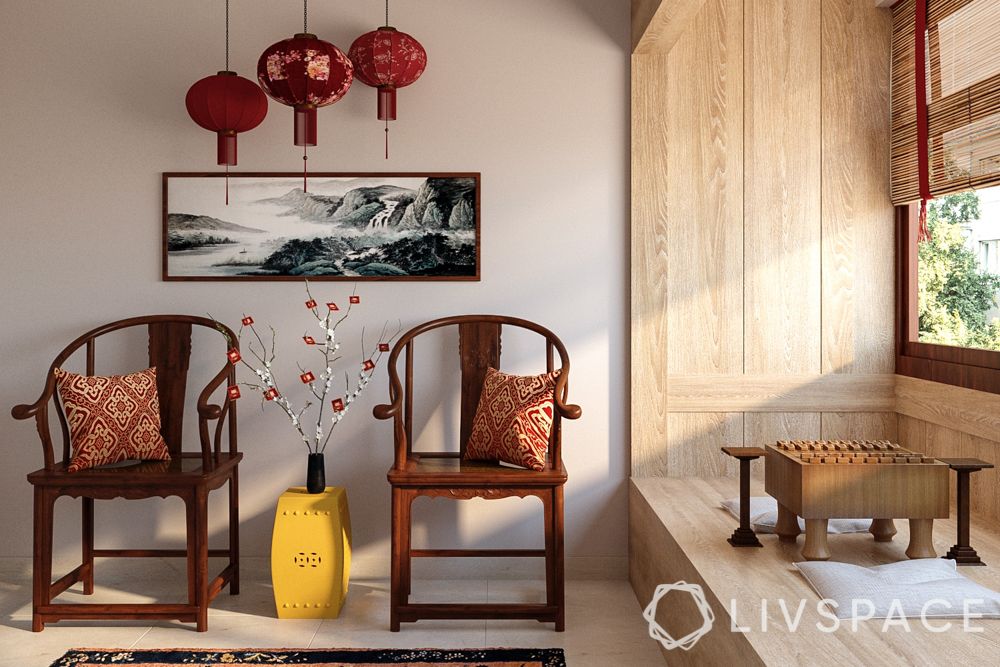 If there's one traditional Chinese New Year decoration that you should not miss. it has to be the lantern. During the Spring Festival leading up to the Mid-Autumn Festival, you can spot these lanterns hung up in almost every household. It is believed that if you hang these lanterns at home or in your office, it will drive out bad luck and guard your space from negative energy.
We have selected traditional furniture for this look, but you can check out modern alternatives from IKEA, here and here.
Contemporary decor ideas
#4: You cannot go wrong with the Chinese knots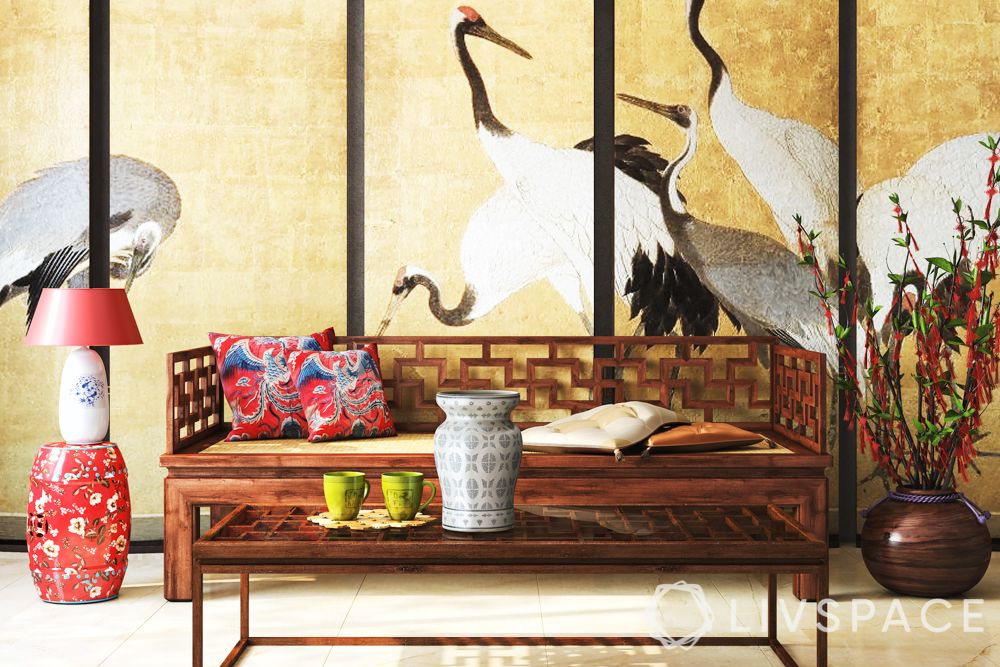 Next up is the Chinese knot. Decorations featuring this looping knot are used as protection against evil and also represent longevity. But just hanging up the knots on doors or windows is a classic idea and you can experiment so much with this. Here, we have hung up several Chinese knots on the pussy willow to the right. It not only makes the flower look colourful but also unique. You can decorate any plant at home with Chinese knots and it will come to life!
You can find a similar coffee table from IKEA, here.
#5: Decor items with Zodiac animals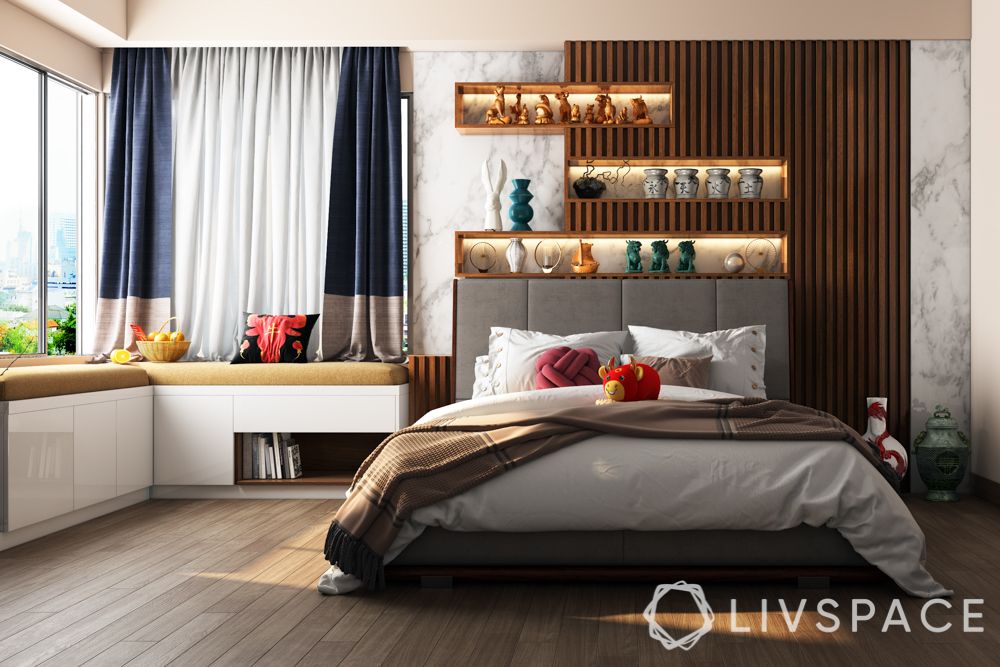 Not all Chinese New Year 2021 decorations have to be about lanterns and couplets and lights. You can have fun with your regular home decor and add interesting items that symbolise the festival. For instance, in this bedroom, we have used a Zodiac animal stuffed toy on the bed that looks so cute! This year the Zodiac animal is the Ox and you can use variations of the same in different forms. You can also spot it on the cushion cover in the bay seating area.
Pick a similar bed from IKEA here.
#6: Play up the greenery with auspicious plants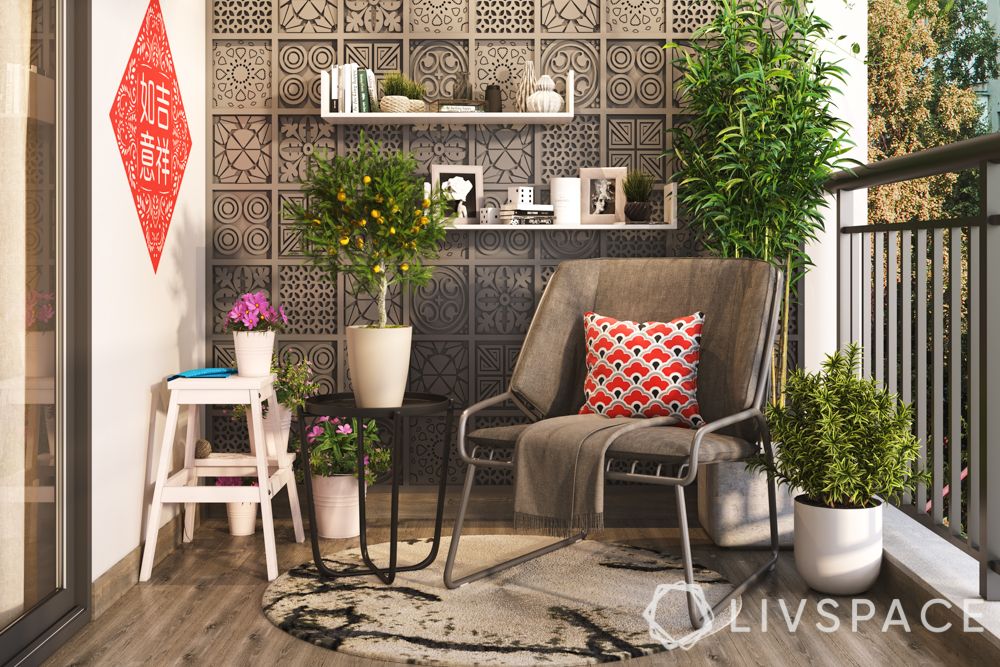 If you love filling up your home with fresh green plants then Chinese New Year 2021 is the right festival for you! Deck up your porch or balcony with auspicious plants like Lucky Bamboo, Money tree and Kumquat tree. Most of these plants represent health, abundance and resilience. You can also add flowers that reiterate the essence of Spring. Cherry, plum blossoms and pussy willow branches are popular choices around this time.
Get a side table for the plants from IKEA, here, and wall shelves here.
Crank up the Chinese New Year music and get going with these home decor ideas to ring in the year with luck, love and happiness!
If you're eager to know about our collaboration with IKEA, you can check out: Beautiful Home Interiors by the Winning Duo: Livspace & IKEA
Send in your comments and suggestions to editor.sg@livspace.com.