Come December and we're filled with a feeling of joy and happiness. It's in the air and the best time to spruce things up around you. There's not a dull moment when every corner of your home is sparkling with festive decorations. We have some simple but eye-catching Christmas decor ideas for every room at home. Do not leave out any room when it comes to feeling festive, especially when home is where your parties are going to happen this year.
So if you're wondering how to decorate your home for Christmas, check out these ideas and tell us which was your favourite.
#1: Flamboyant welcome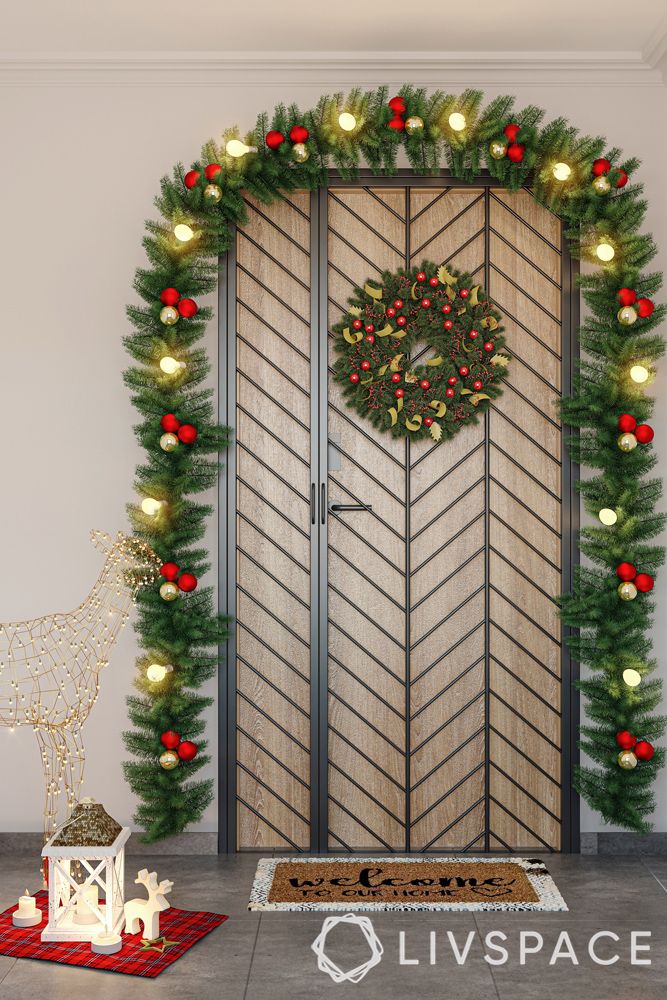 The simple look: Your Christmas decor project should start right from your entrance. For a standout look, amp up the regular garland with baubles and lights. This will be the perfect frame for your main door. A wreath with similar colours will make for a great addition and an ideal pair.
For added effect: If you're feeling more festive or just have more space to fill up with decoration, we suggest you get your hands on a light structure. Here we've placed a reindeer and some little lanterns on the floor.
#2: A foyer that your close ones will remember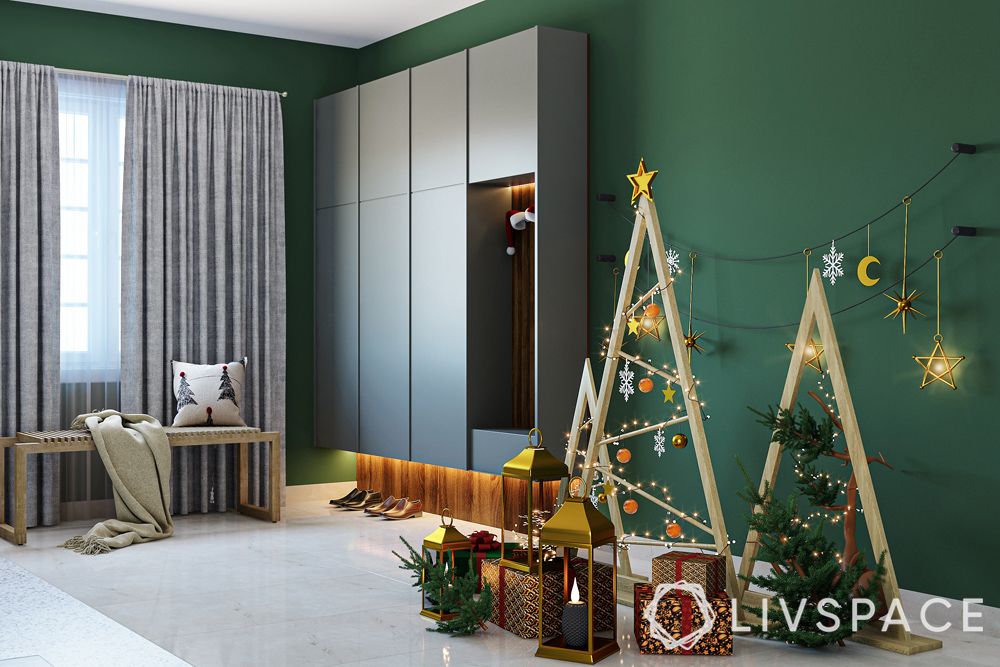 The simple look: This one's for all DIY lovers who want to welcome close friends and family with crafty Christmas decor. Make your own Christmas tree with wooden logs by adding lights, streamers, little hangings and other decorations you like. Of course, no Christmas tree is complete without gifts and lanterns in front.
For added effect: Go that extra mile by giving a fresh lick of paint to the walls — we've used green. Accentuate with strings and hang up more festive decor itemss. Personalise with photos if you like.
#3: Make your living room as Christmassy as possible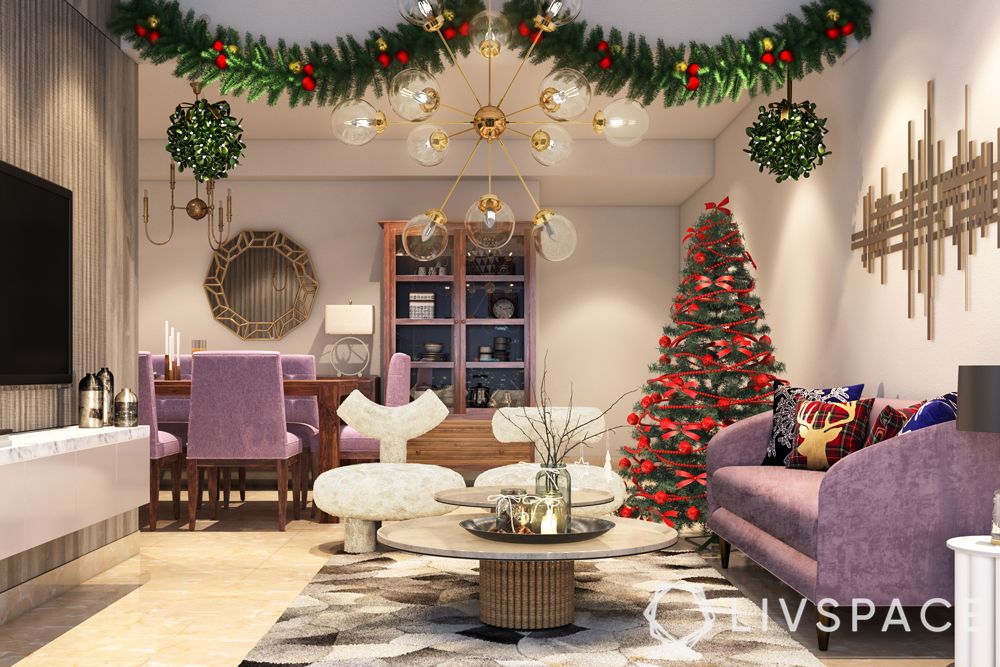 The simple look: What's Christmas without a mistletoe? Decorate your living room with life-size mistletoes and see what a difference that can make. Add huge garlands on the ceiling to make it shine.
For added effect: If you can't get enough of Christmas trees, we suggest you get a big one for your living room as well. Give your cushions a spin with Christmassy covers and add centre table decor to top it off.
#4: Turn your dining room into Tinseltown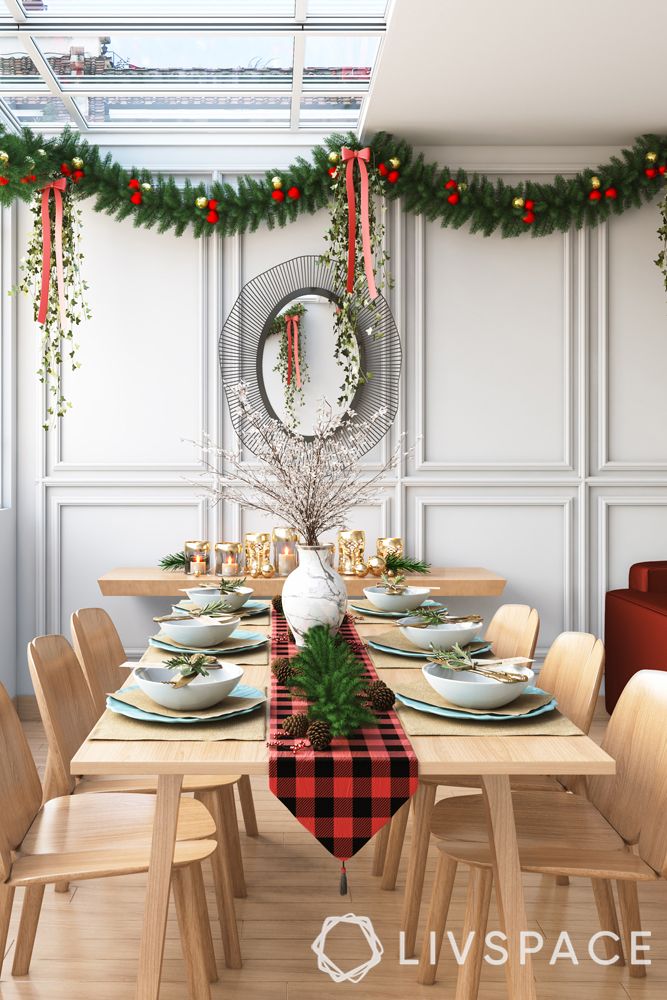 The simple look: It can't get more festive than this dining room right here. Host those Christmas lunches with your gang at home and show them your decoration skills. Tinsel garlands on the periphery of your ceiling will instantly jazz up the space. Accentuate with ribbons.
For added effect: Along with room decor, you can try table decor as well. We love the effect that a table runner adds to any table. And Christmas definitely calls for buffalo checks and some pine cones along with dry flower decorations.
#5: Baubles, wreath, socks – this kitchen looks cheery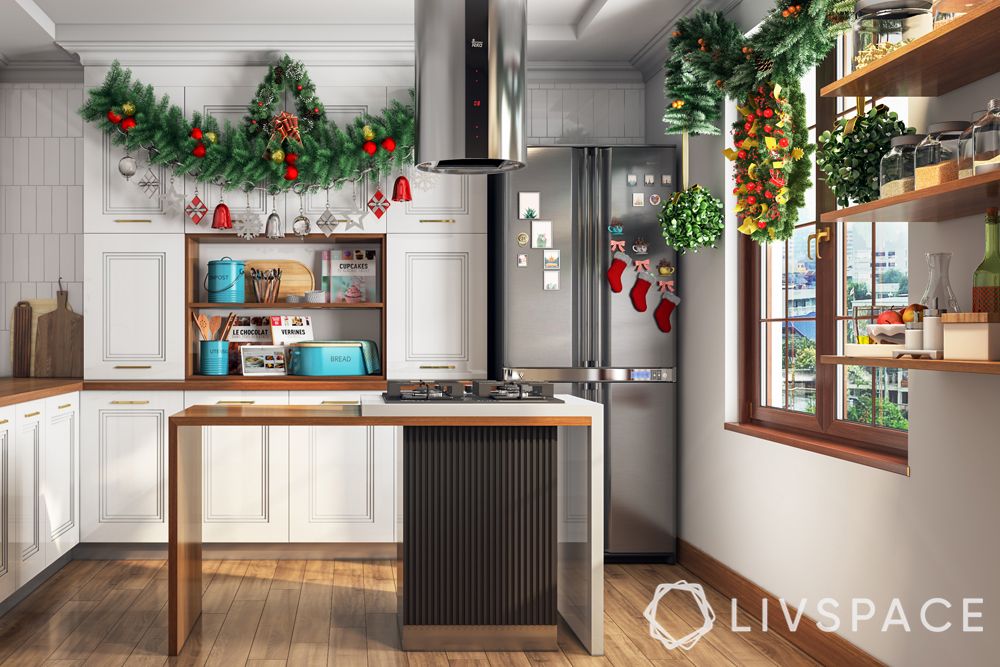 The simple look: Thought of leaving out your kitchen? Stop and think. Why shouldn't you feel happy while you're cooking up storms? Get Christmas feels to the kitchen by hanging up all sorts of Christmas decor that you can think of. Hang garlands, bells, stars, snowflakes, mistletoe and so on.
For added effect: Take care of little details by prettying up the window with a wreath and decorating the fridge with festive magnets. These small additions will make a huge difference.
#6: A red bench for your balcony is love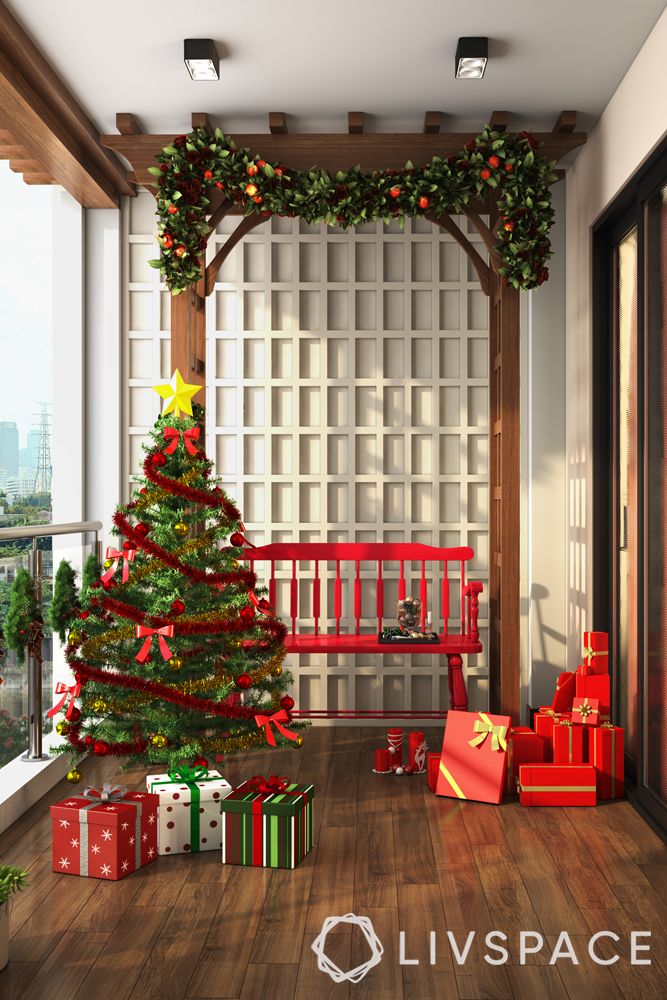 The simple look: Taking your party to the balcony this year, just to feel closer to nature? Place a classic red bench on one side and hang up garlands atop to create your very own Christmas corner outdoors.
For added effect: If space allows and you want that quintessential look in your balcony, we suggest you add a Christmas tree (small one) here. Get some decorative gifts and stack them up next to the bench and all your photos are going to go on the Gram from here!
Whether you believe in Santa Claus or not, you've gotta ready your home for Christmas.
If you're living in a rented home, try these Effortless Ways to Decorate Your Rental Home.
Do not forget to tell us which were your favourite Christmas decor ideas. Write to us at editor.sg@livspace.com.