A unique and stunning wall is one of the easiest ways to elevate the look of a room. And wall panel designs can transform your walls from bare to beautiful! While paint and wallpapers are more common options to dress up a wall, if you want something unique, a wall panelling design is something to look into.
Before we look at some wall panel design ideas for your HDB or condo, let's first understand what panelling is.
What Is Wall Panelling?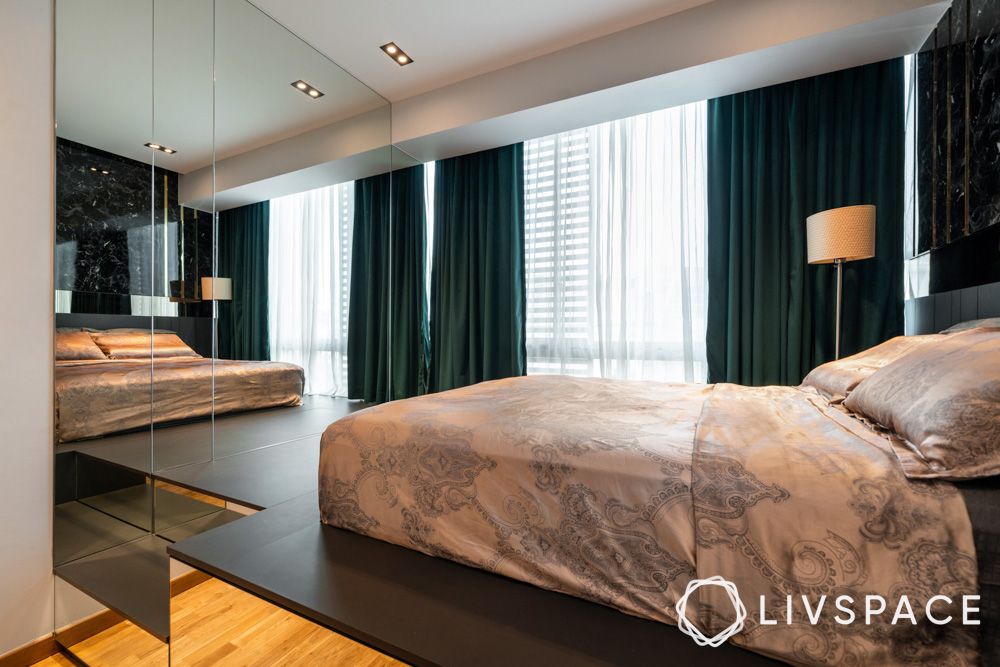 So, what are wall panels? Panels refer to different types of materials that can be stuck to a wall to create a particular pattern. Common materials include wood, veneer, glass and plywood.
Also Read: 15 Positively Stunning TV Wall Designs for Your Home
Common Wall Panel Materials
Here are some of the most common wall panel materials:
Wood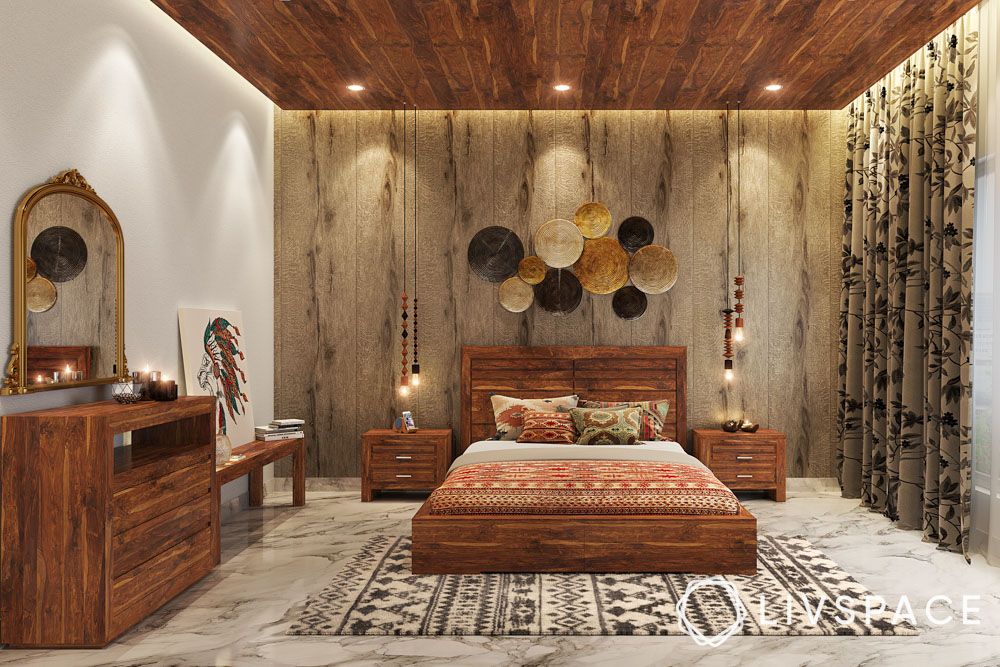 The highlight of this bedroom is the feature wall with a wooden panelling design. A wood wall panel design involves the use of MDF to create the look that you want.
Wainscoting
Wainscoting is a modern wall panel design idea that's generally meant for the lower half of walls. Perfect for condos and HDBs, this type of wall panelling design includes a combination of various boards and panels.
Veneer
A common wall panel alternative to wood, veneer is quite cost-effective. Moreover, veneer and wood also look similar. The base of veneer wall panelling designs is usually made of plywood.
MDF Wall Panel With Solid Wood Pieces
When it comes to a wall panelling design for a bedroom, there are plenty of options. If budget is a concern, using an MDF wall panel is a good idea. You can add some wooden strips to create a cosy and warm look.
Fabric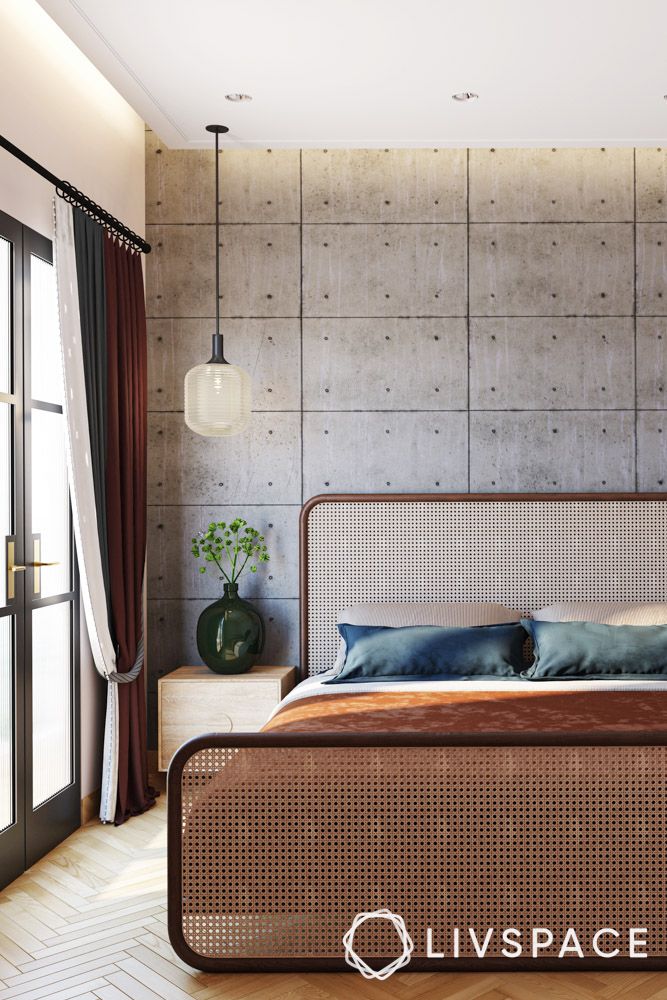 Fabric is not only among the more unique wall panelling ideas, it is also a smart alternative. It is child- and elder-friendly, and also insulates the room from outside noise.
Cement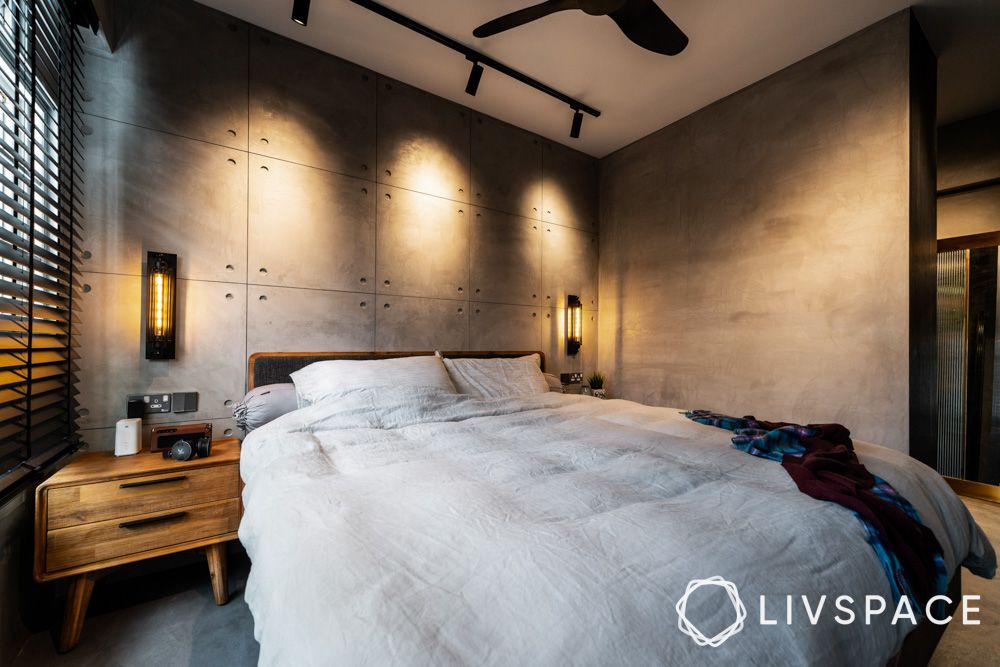 A cement wall panel is another good choice for a contemporary home. Moreover, it adds a touch of the industrial style to your space. You can opt for grooves or other designs to elevate the look of the wall.
Stone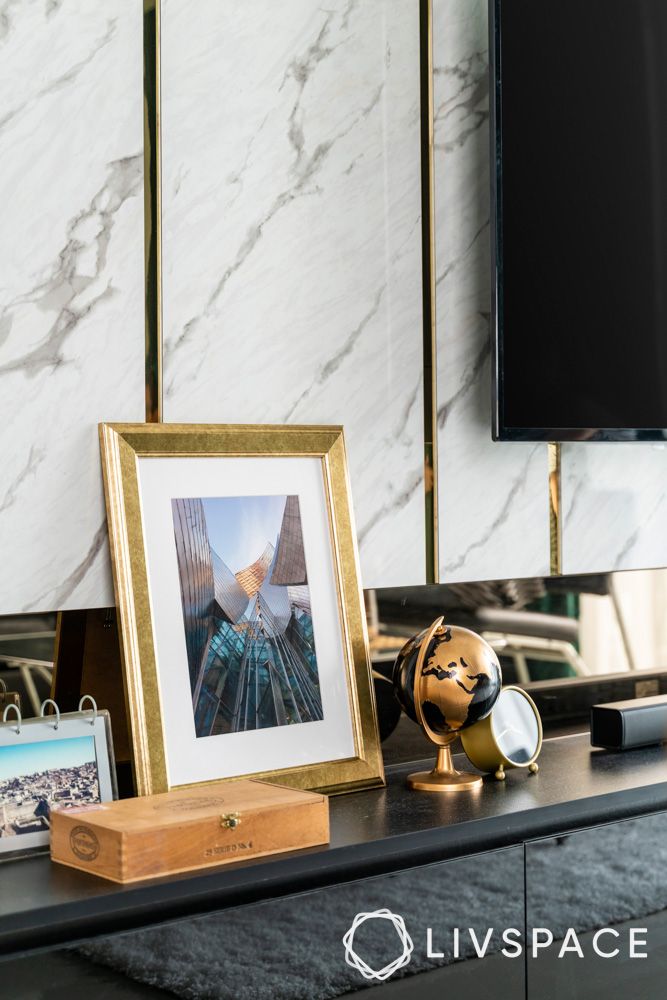 Whether you like understated elegance or noteworthy opulence, a stone wall panelling design, like marble, can give you the look you desire.
The Installation Process of a Wall Panel
Whether you want a modern bedroom wall panelling design or something more traditional for your living room, it's best to take the help of a professional while installing it. Different materials have different installation processes and an expert can ensure that no mistakes are made at the time of installing the panel you've chosen for your space.
Wall Panel Ideas for Your Home
#1: Wall Panels That Extend Up to the Ceiling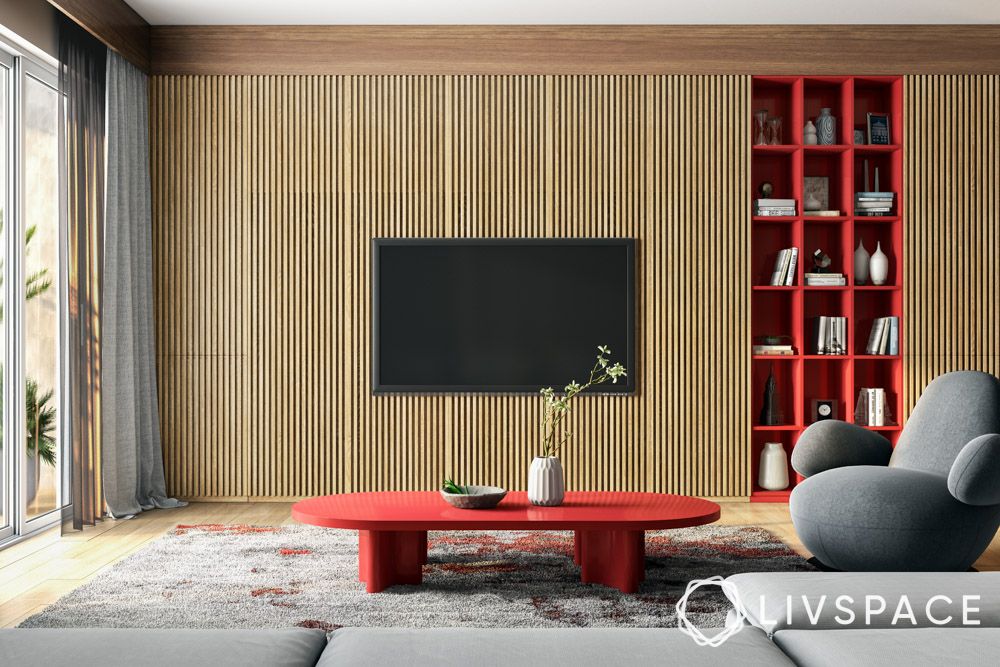 Have a small room? No problem! Opt for a floor-to-ceiling wall panel design to create the illusion of height.
#2: Use Wall Panelling as an Accent Wall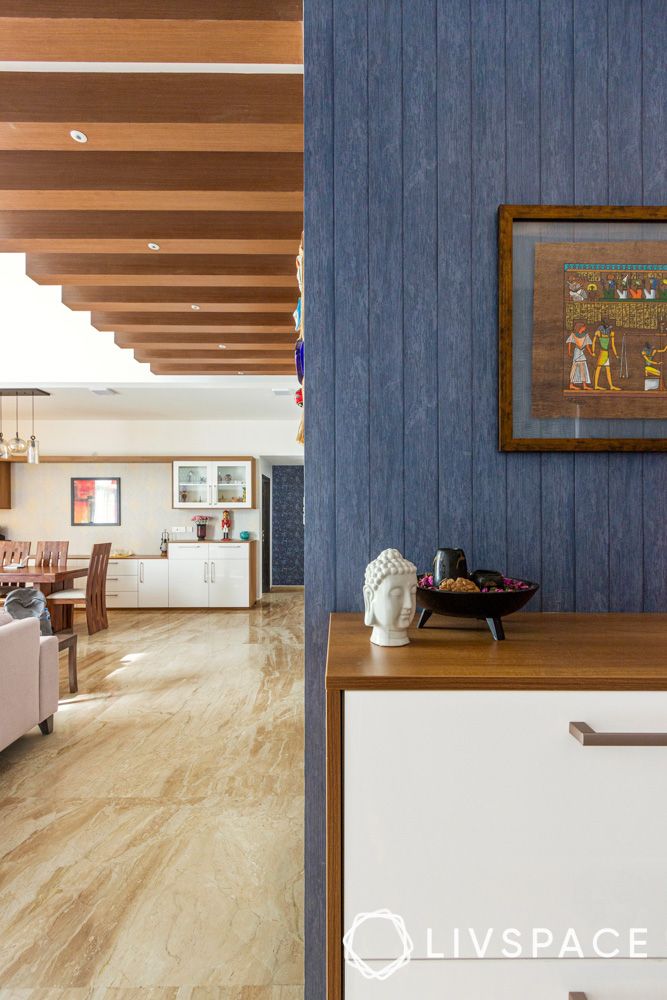 Want to add some colour and texture to a basic room? Wall panelling ideas like a distressed blue denim shade for the wall can ensure both goals are met. In fact, such a wall does one better and even adds a touch of the rustic style to the space.
#3: Elevate the Look of a Plain Wall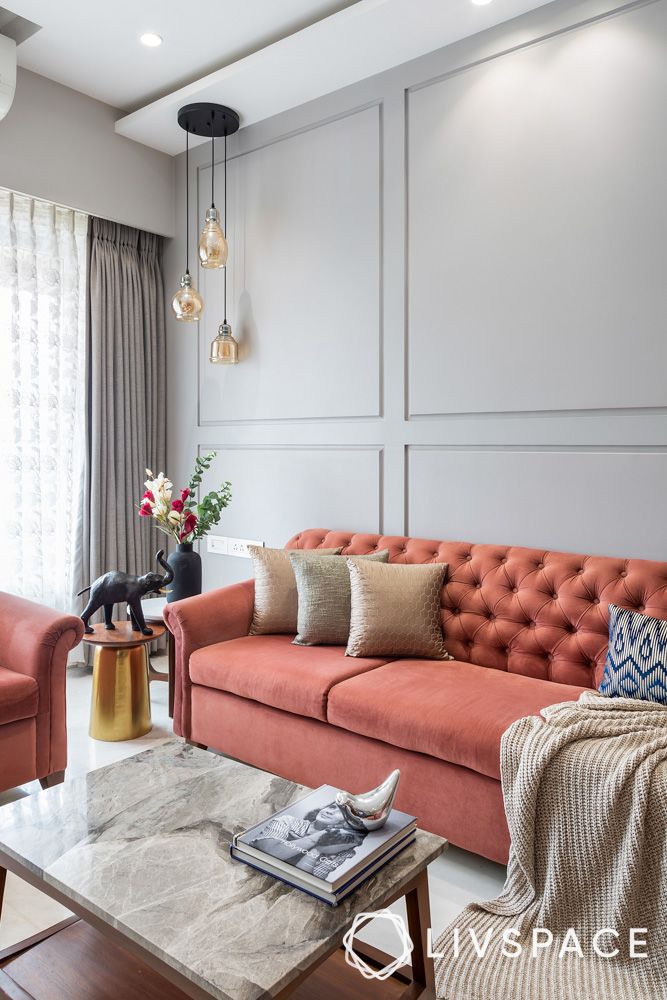 If you are looking for contemporary wall panel design ideas, choose flat panels. These refer to rectangular or square boxes that look like portrait moulds with smooth lines that almost merge with the walls.
Also Read: Which Wall Treatment Is the Best for Dull Walls?
#4: Beadboarding Your Wall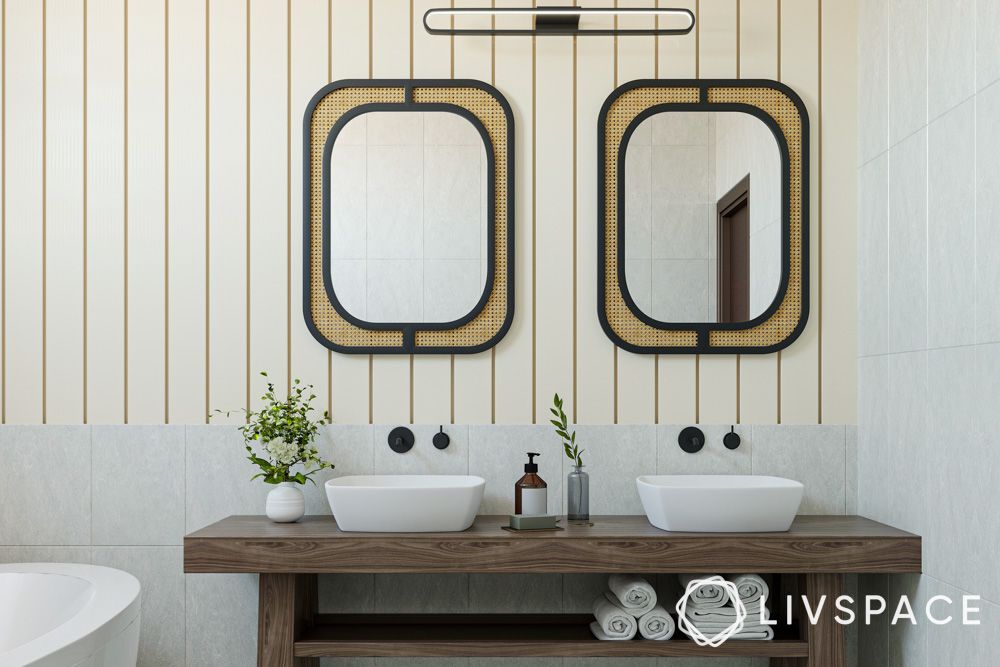 When pieces of wood or other materials are placed next to each other, it is known as beadboarding. The gaps between the pieces of wood is known as 'bead'. This type of wall panelling design is a great way to dress up dull corners.
#5: Tiling for Texture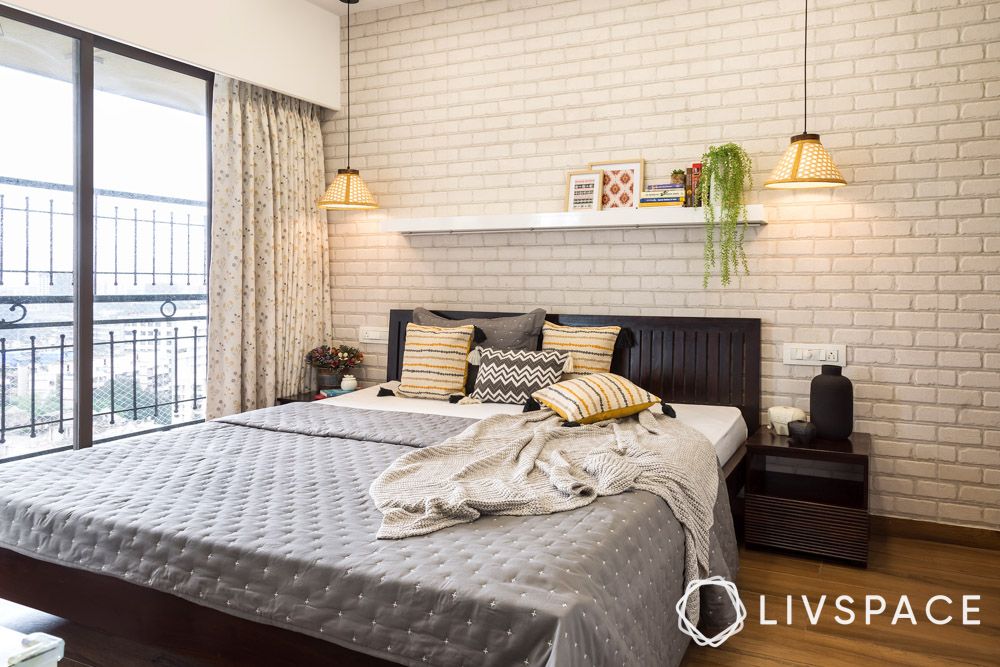 This wall panel design for a bedroom stands out due to its brick-like look. Use tiles to create patterns of your choice on your wall.
#6: Protect Against Damage With Shiplap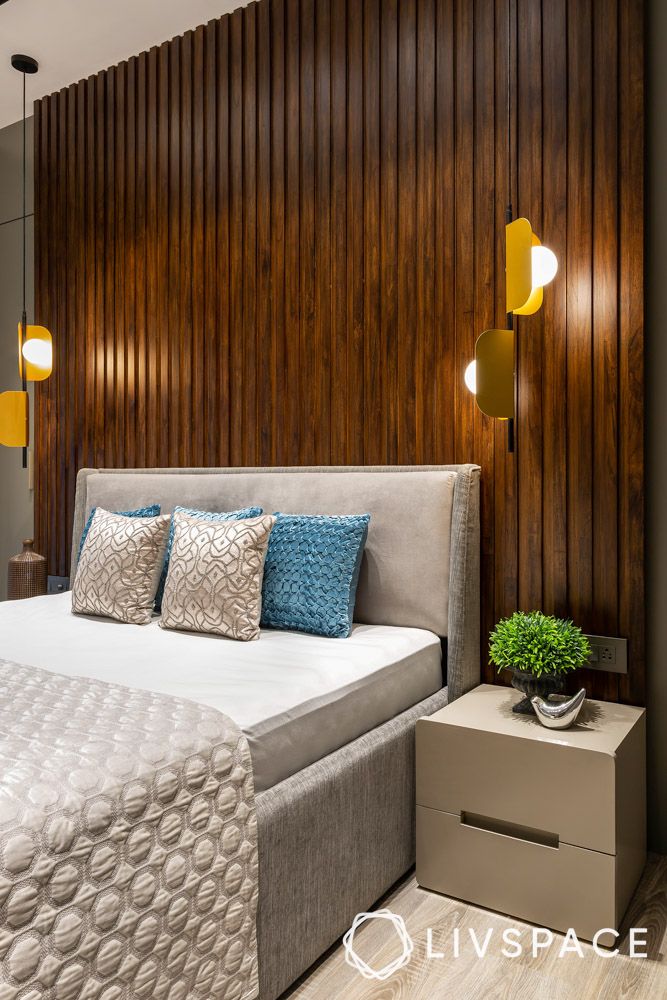 Shiplap is a type of wall panel technique that involves placing pieces of panel in such a way that they overlap, forming airtight ridges as a result. This helps in protecting the wall against any damage.
#7: Hide Wires With Moulding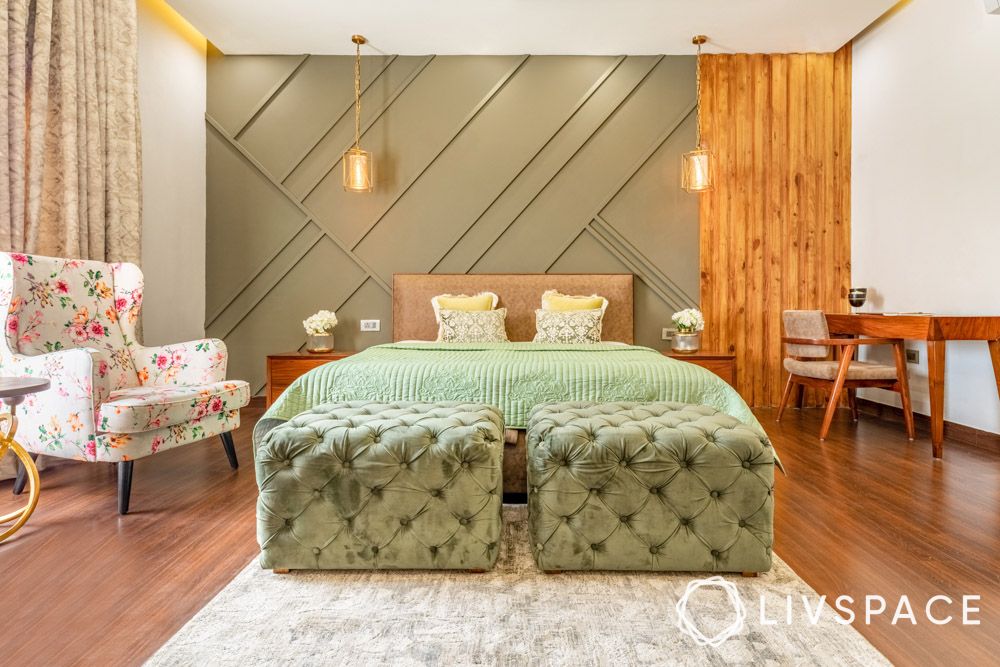 Nobody likes unsightly wires. So, look for wall panelling design ideas that can take care of that particular problem. Mouldings are a great alternative as they can hide wires. You can also keep a part of the timber wall exposed, like in this bedroom, for a unique look.
#8: Geometric Trims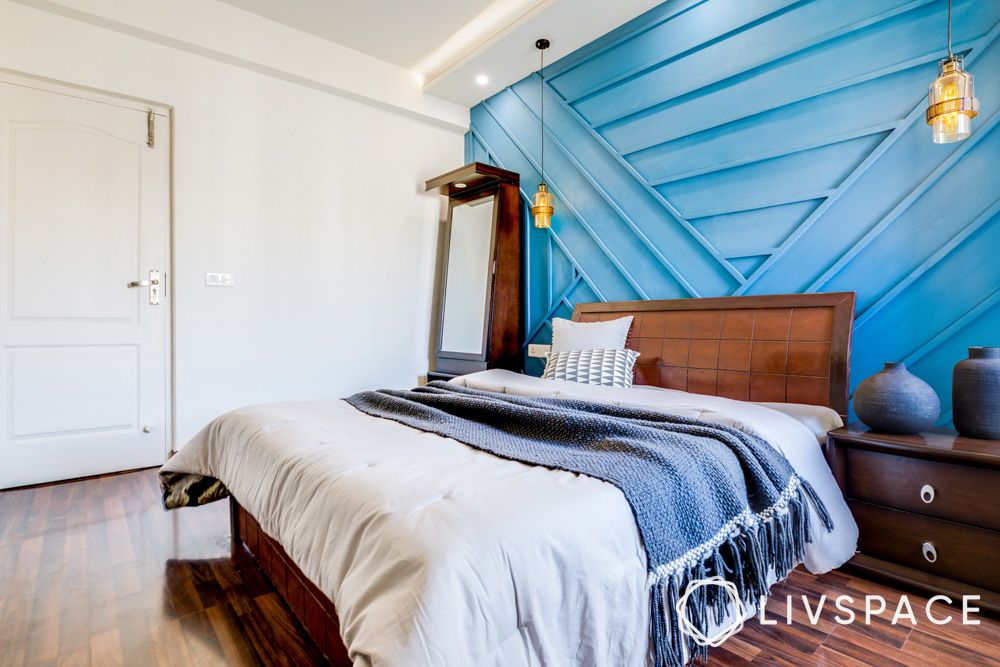 Another great wall panelling design idea is to create trims. Geometric trims in vivid colours like blue look particularly great in kids' rooms. Avoid crowded patterns in small spaces.
#9: Mirror and Wood Wall Panel Design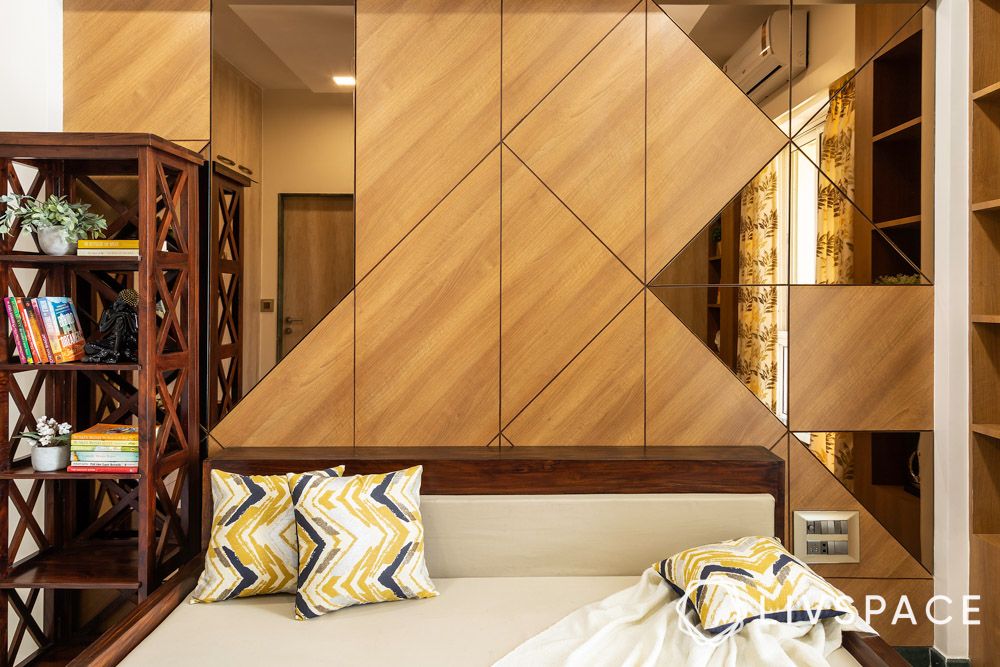 If you have a small space and budget is a concern, opt for multiple mirrored panels that will open up the space and be more cost-effective than a single, large mirror. Mix it up with pieces of wood for a cosy vibe.
#10: Fluted Wall Panelling Design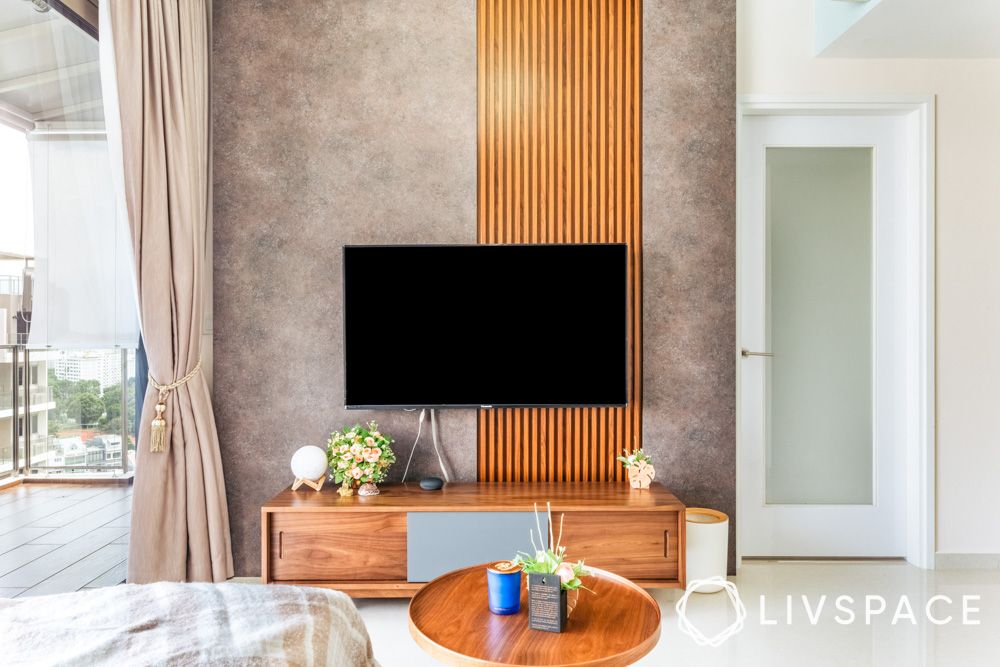 Since most HDBs and condos feature a contemporary design, it's important that your wall panel should also be modern and contemporary. Fluted panelling is one of the most popular techniques that homeowners love as it looks both understated and chic.
These stunning wall panel design ideas will transform your basic HDB or condo into a contemporary and stylish space!
Tips to Enhance Your Wall Panelling Design
Want to elevate the look of your wall panel? Here are some tips:
Decide what style of panelling you want and ensure that it matches the aesthetics of the room
Measure your wall to make sure the panelling fits in well. You can either panel a part of your wall or the entire wall
Make a list of what you need to help you expedite the process of panelling your wall while also achieving your desired look
Make sure you get an expert to prep your wall before panelling it. Prepping will include sanding and smoothing them to remove any bumps
The final step is to attach the panels in the pattern you like
How Can Livspace Help You?
We hope you found our ideas useful! If you want your home to be just as beautiful, then look no further. Book an online consultation with Livspace today. Have some comments or suggestions you'd like to share with us? We're all ears! Feel free to write to us at editor.sg@livspace.com.
Disclaimer: All contents of the story are specific to the time of publication. Mentions of costs, budget, materials, and finishes can vary with reference to current rates. Talk to our designer for more details on pricing and availability.