The advantages of living in Singapore are numerous. Malls, lucrative employment and prominent universities are just a few of the things you can get to enjoy. If you are looking for a house though, you might find that real estate is in short supply. The majority of homes in Singapore are now condominiums. While a condo unit has its advantages, it does have limited area, which means you'll have to get creative when it comes to condo design ideas to make your space comfortable and stylish.
Interiors for condos come in a variety of shapes, sizes and designs. Our easy guide to condo design ideas can help you put together a plush home. These condos can be anything you want it to be: minimalist, regal or flamboyant and beautiful! Continue reading for tips on how to make your home swoon-worthy.
We picked a 2-bedroom condo from 25 Terrasse Lane designed by Livspace interior designers Songhao Chua and Jewel Lim to give you some condo design ideas of your own. This home was envisioned for a young woman.
Need help with your condo interior design? Get personalised tips from top interior designers and schedule your free interior design consultation today!
Condo Design Idea #1: Go For An Open Layout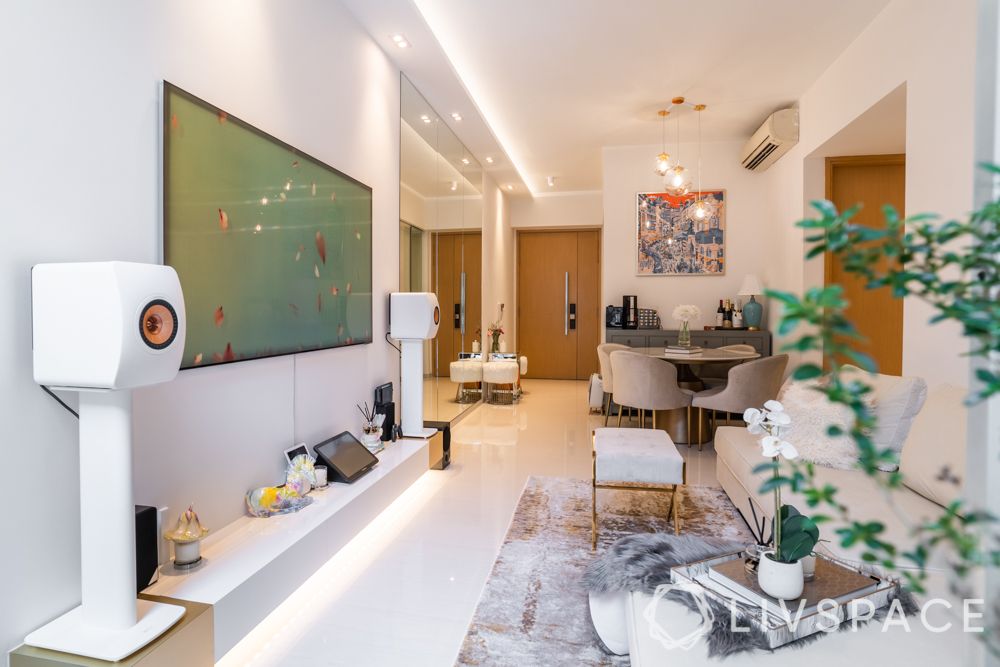 Walls are usually perceived as the reason for that small appearance in your home. Open-plan layouts, therefore, which are all the rage right now, are a great way to overcome this problem. The simplest way to incorporate them into your condo is to choose an open kitchen or an open living-dining area. As a result of this modification, you will also be able to accommodate a larger number of individuals. This home follows an open layout with the entrance leading into a foyer, dining area and living room.
Condo Design Idea #2: Pick Everything in Light Colours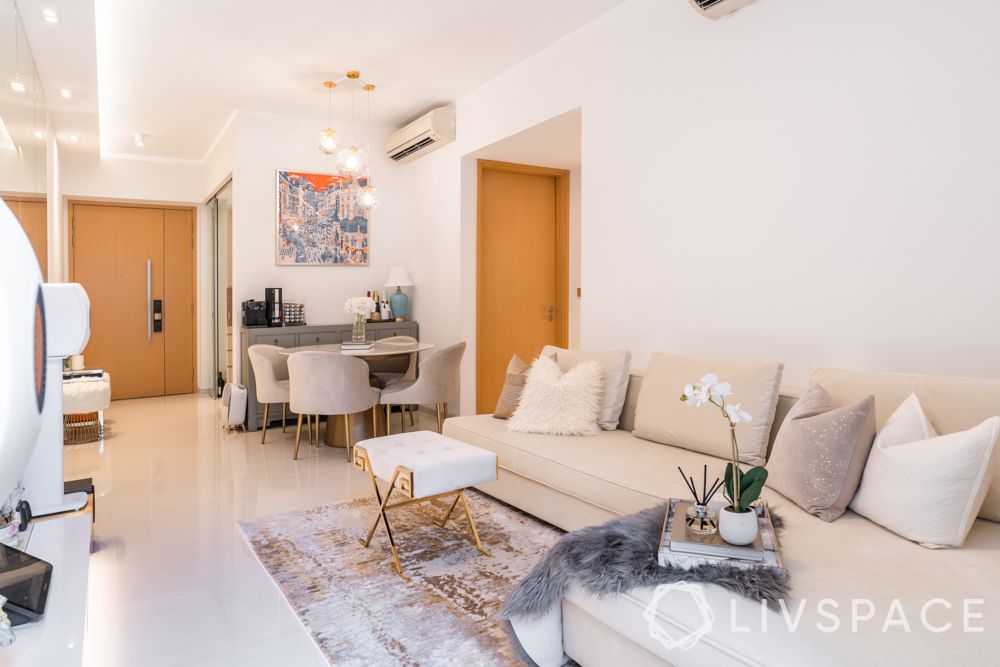 Light-coloured walls are among our favourite condo design ideas. They are well known for making any room appear larger than it is, and that's just what works for this condo. White walls, for instance, reflect natural light, making the space appear brighter and more open. They create a sense of cohesion, making your living space appear larger and more put-together. Paintings, ornaments and wall accents may all be added to a white wall, making it a very adaptable canvas. Also, light colours are perceived to be expensive and hence, give a sense of luxury to your home.
Furniture pieces in neutral colours should be used to complement the neutral walls. This creates a sense of irregularity across the space. It not only expands the area, but it also transforms it into a peaceful haven where you can get away from the stresses of city life.
ALSO READ: How We Designed a Stunning Small Condo With Pretty Neutrals & Luxe Accents
Condo Design Idea #3: Use Wall-to-Wall Mirror Panels to Create the Illusion of Space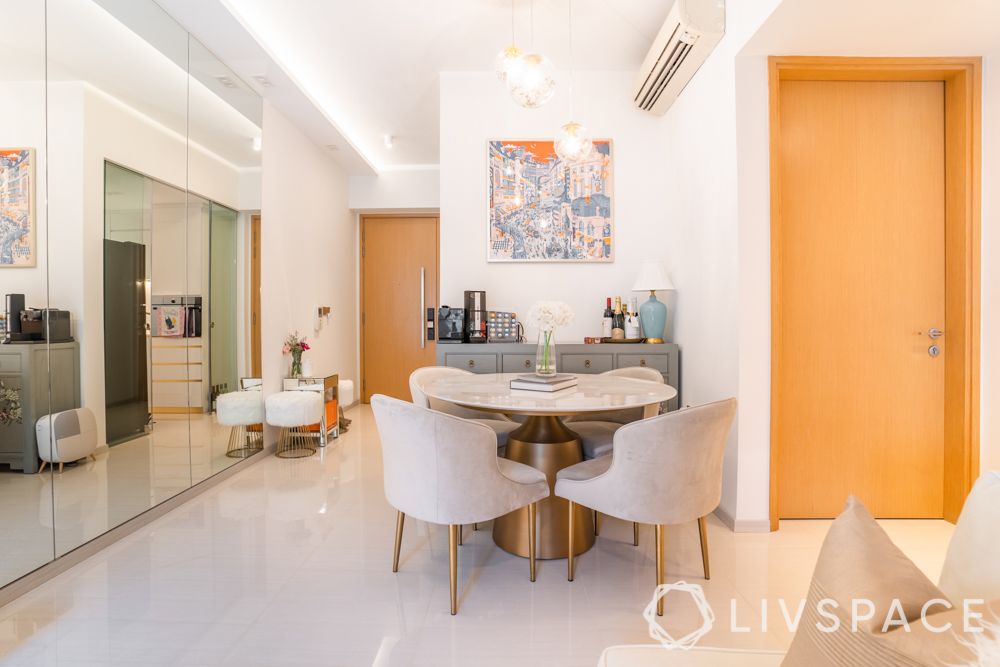 Strategically placed mirrors that create the illusion of more space is among the most popular condo design ideas to give your home a plush look. If the mirror is situated near a light source or opposite a window, it will also provide improved illumination in your room. If you believe in feng shui, you'll be pleased to learn that mirrors in the dining room are thought to bring good luck and prosperity. So it's certainly a win-win situation. This home has a mirrored wall in the foyer area, which makes it look more spacious. Additionally, an ottoman and a small storage unit adorning this space enhance the look.
Condo Design Idea #4: Go For Big Windows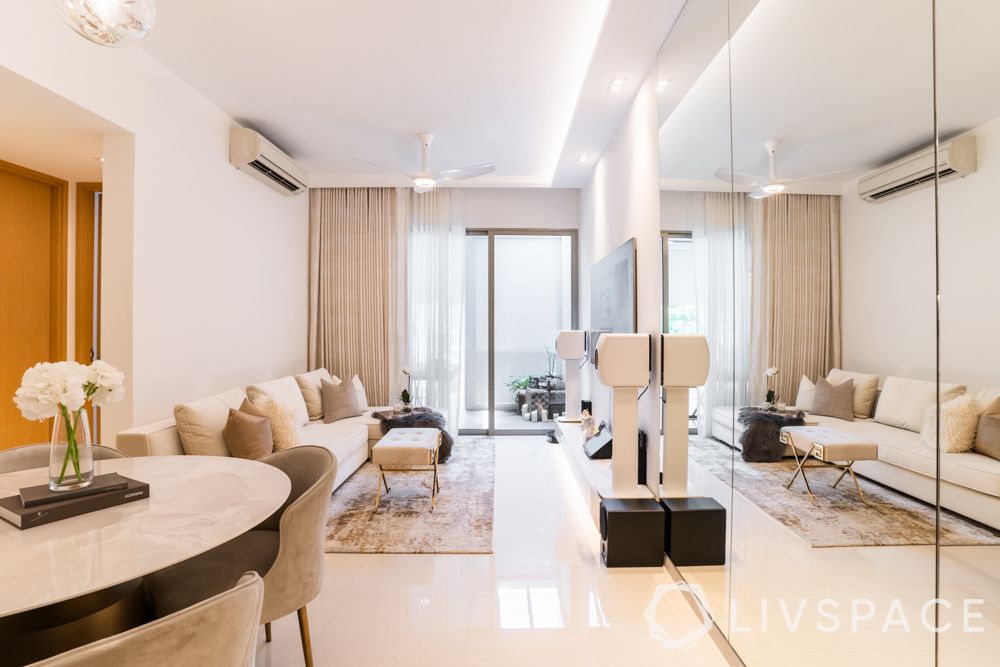 Larger windows create a feeling of spaciousness in your home. They let in more light and give the impression of a higher ceiling. This style works well with casement or hinged windows. Changing the windows will, of course, necessitate permissions, but the ID agency you engage will most likely be able to assist you in obtaining them.
While installing artificial lighting is easy and convenient, it lacks the advantages of natural illumination. Creating wide windows is one approach to achieve natural lighting. Not only does sunlight improve your condo's appearance but also improves your mental and physical health. If you don't have this luxury in your condo, inventive lighting fixtures will suffice.
Condo Design Idea #5: Balcony With Wooden Floors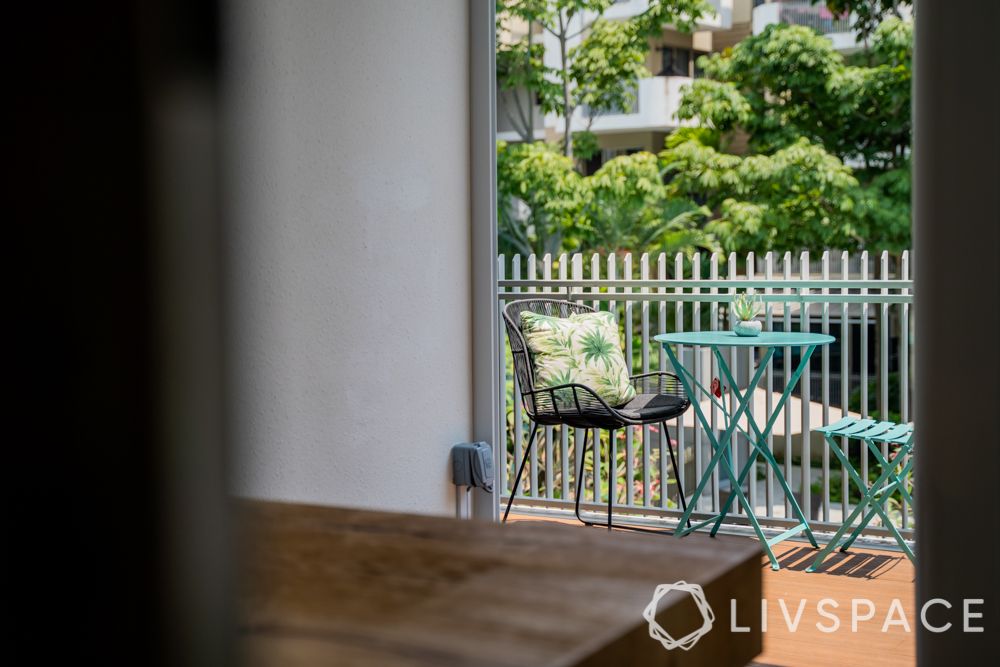 Who wouldn't want a little bit of nature in their home? The balcony follows the living room as our favourite component of this compact condo interior design. It exudes the ambiance of a premium resort, with oak flooring, comfortable sofas and a wonderful pool view. The wooden oak floor and bare walls add to the understated elegance of the space. We also like how plants have been used to bring a sense of freshness to the room. Also, balconies give the houses a premium look and make them look bigger.
Living in a city has its drawbacks too, one of which is a lack of space. However, no matter how little space you have for your fantasy living room, a few ideas and tips may make even the tiniest of spaces feel big and vast. And we hope these condo design ideas help you make the most of your home as well!
Tour this resort-style 2-room condo:
How Can Livspace Help You?
Did you find these small apartment designs inspiring? You can also get such beautiful interiors for your home with the help of Livspace. All you have to do is book an online consultation with our design experts to get safe and quality interiors.
If you liked these interior design trends, then be sure to check out this one too: 5 Amazing Renovation Homes Created By Livspace in 2021
Send in your suggestions and comments to editor.sg@livspace.com