This condo interior design is stuff that dreams are made of!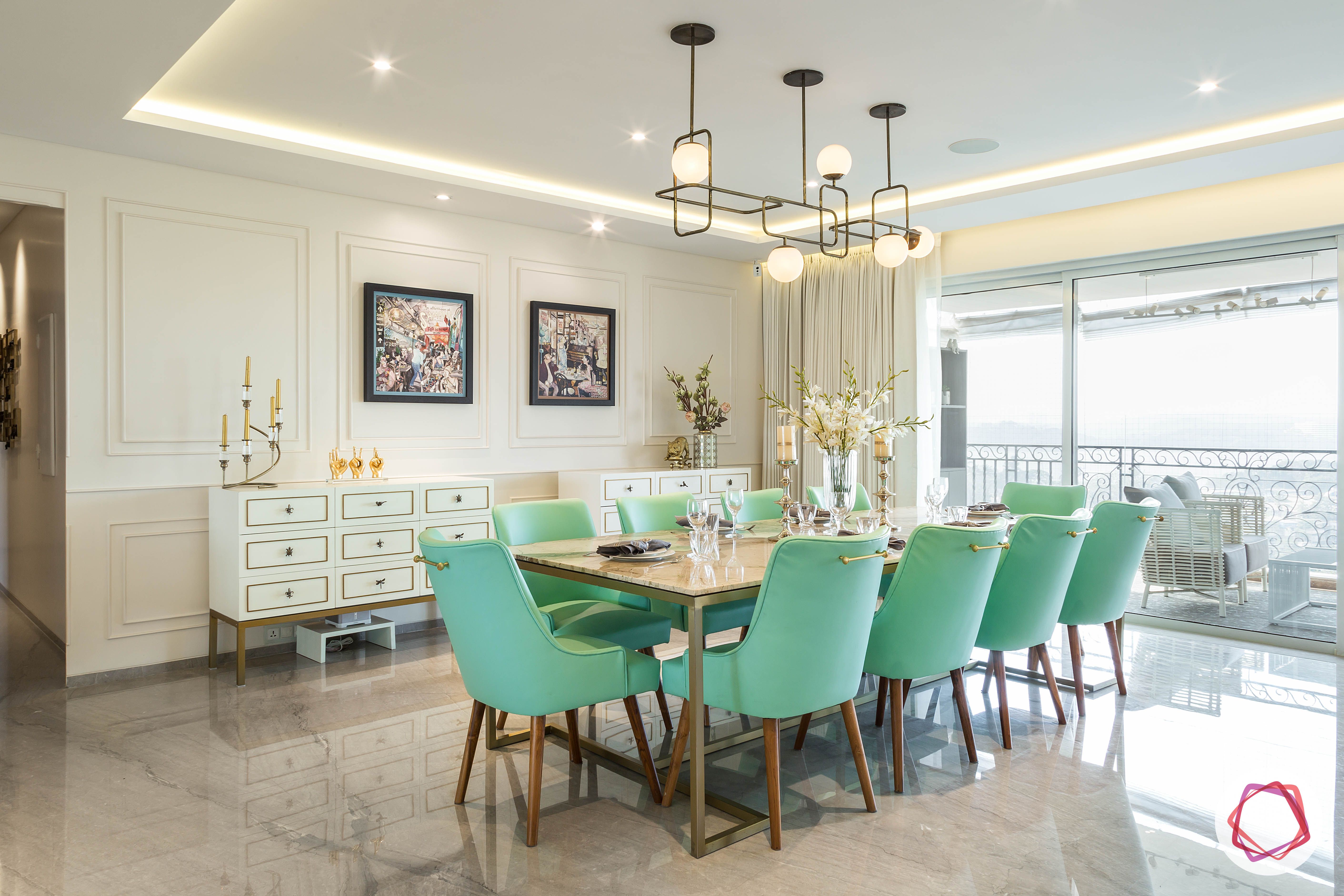 ---
Who livs here: Young entrepreneur couple with a toddler
Home size: 5 room condo spanning 185 sq metres
Style: Eclectic
Design team: Livspace
Livspace service: Full home design
---
Space. It is a major constraint when it comes to homes in Singapore. And as the city grows vertically, personal space is shrinking. A 5 room condo or HBD is a luxury for Singaporeans, so if you have one we can inspire you to design it right! Thus, Livspace brings you a home that is aspirational in one word. This condo is actually a combination of two 4 room condos and belongs to a young entrepreneur couple with a fast growing business venture. But, you can easily replicate this design for your 5 room condo.
While most of us may not be able to afford such a huge space, we can surely pick condo interior design ideas from this home that is renovated by our designers with an immaculate sense of style. Moreover, the custom renovations in this home are a story unto themselves. Not only will we take you through this condo's interior design details, but we will also tell you how to get the same look on a budget. 
How do you make your condo modern? Simply go for an open layout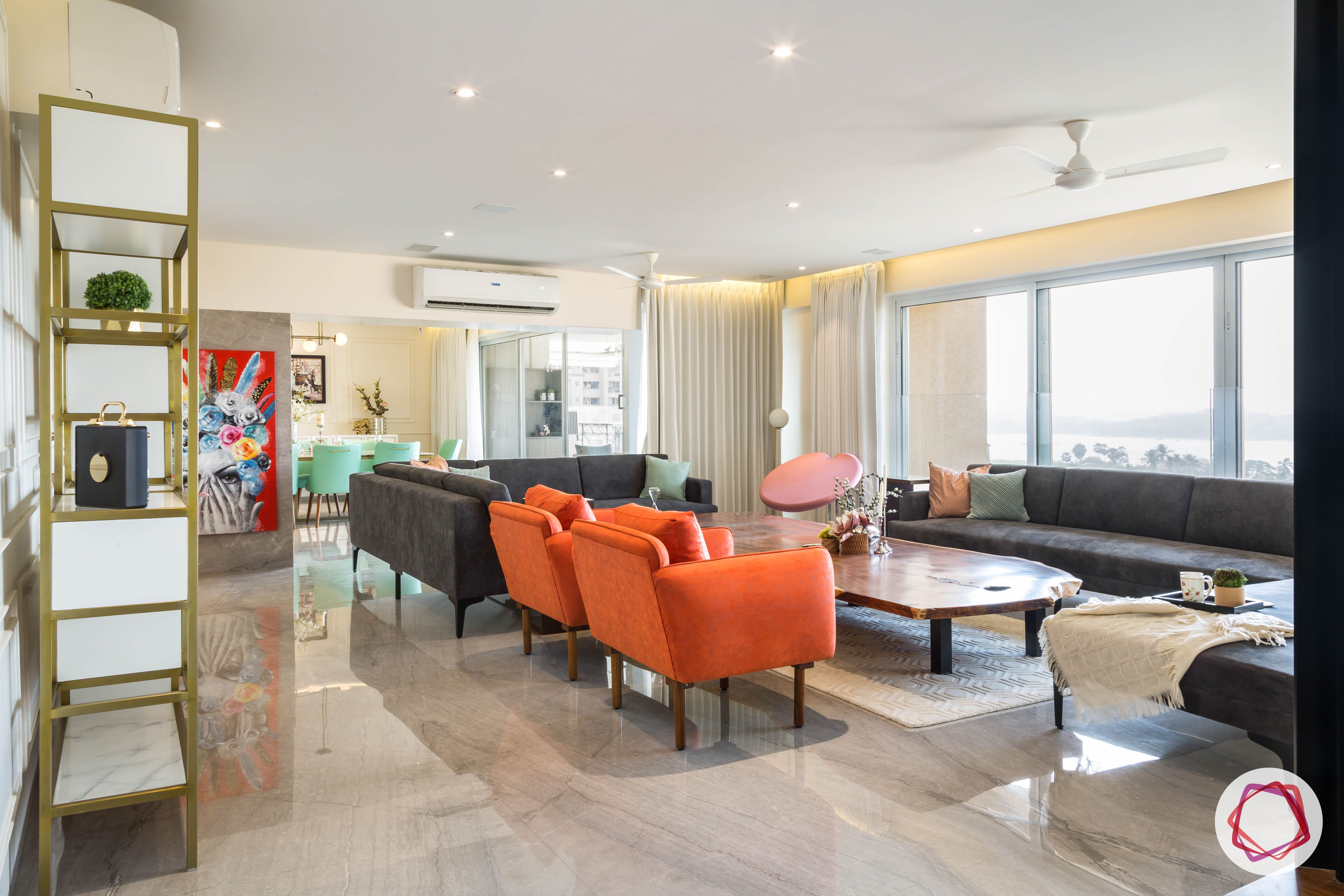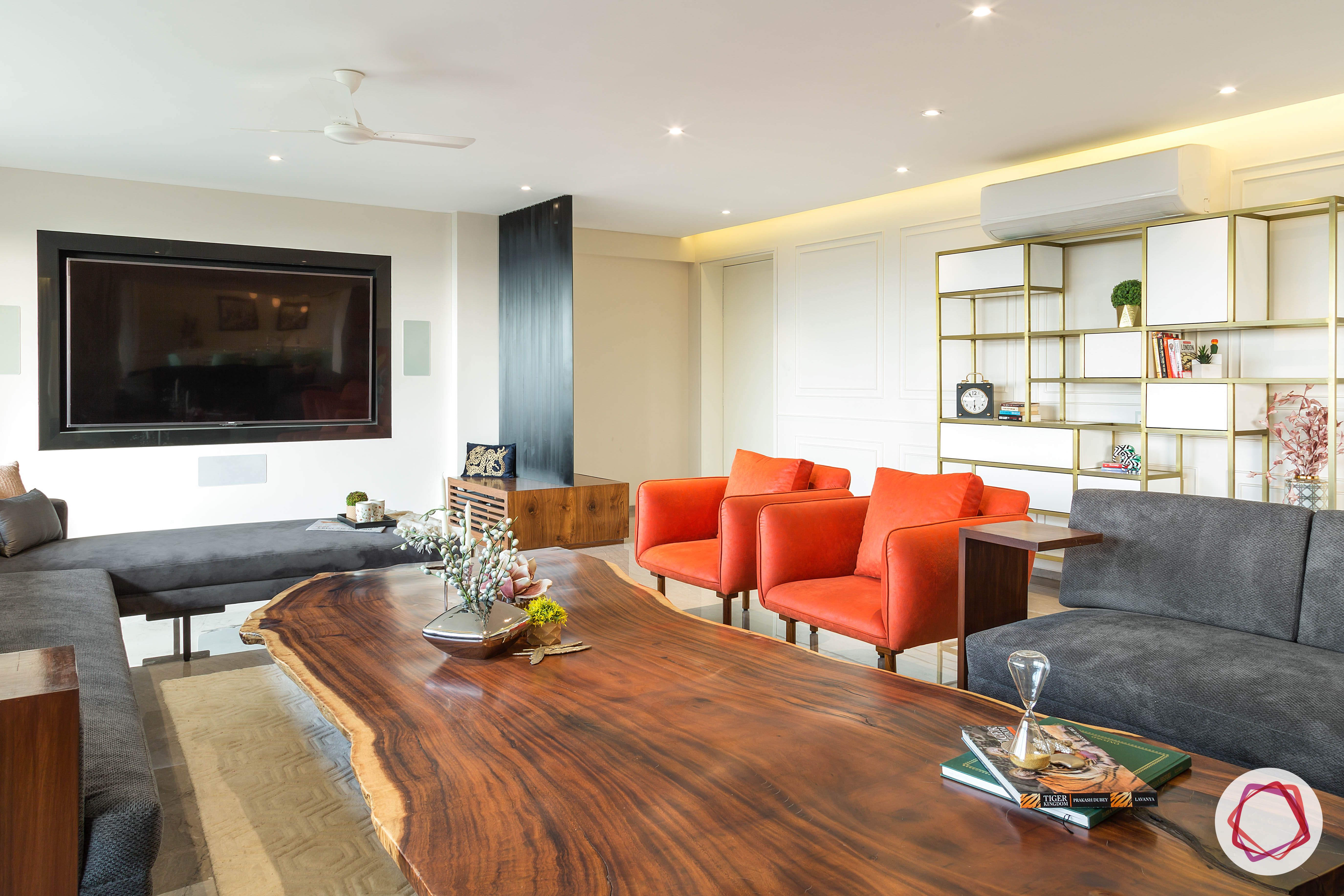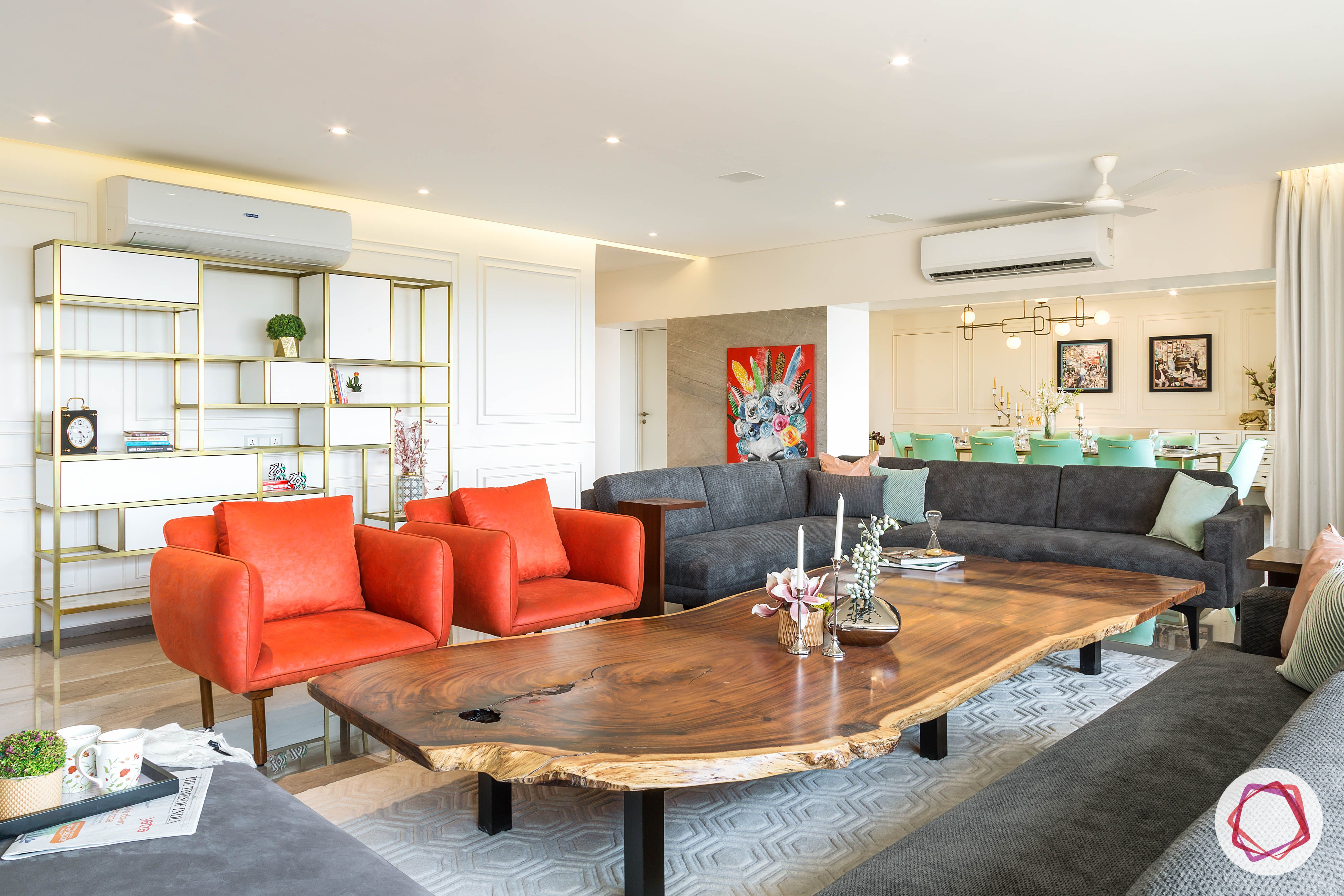 The living area in this plush condo was created by hacking down the walls of two living rooms, and it's massive to say the least! Naturally, it made perfect sense to break up the space into seating and dining areas as per function. But we did this without interfering with the open layout, which was created painstakingly by knocking down walls and changing the position of windows. Instead, we used a huge area rug to mark the living area and surrounded it with a spacious seating arrangement. 
As they are scaling the heights of entrepreneurship, our power couple entertain a fair deal at home. And it is the inherent nature of parties to break up into groups of twos and threes. So our design team had a classic solution for this problem; they broke up the seating into two L-shaped sofas, a pair of armchairs and a couple of ottomans. A long wooden centre table runs through the length of this seating area and its fluid shape holds the space together in a cosy bundle!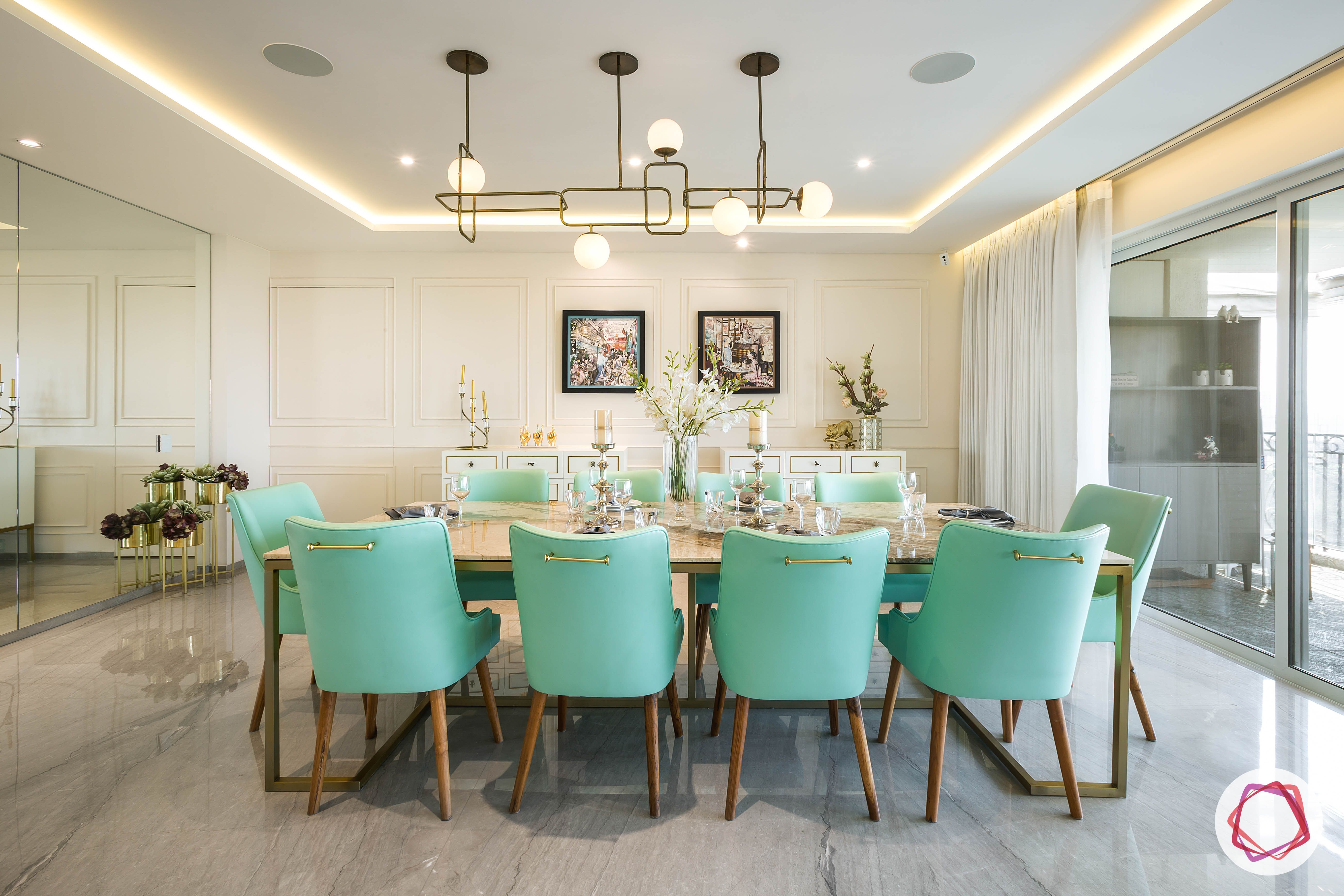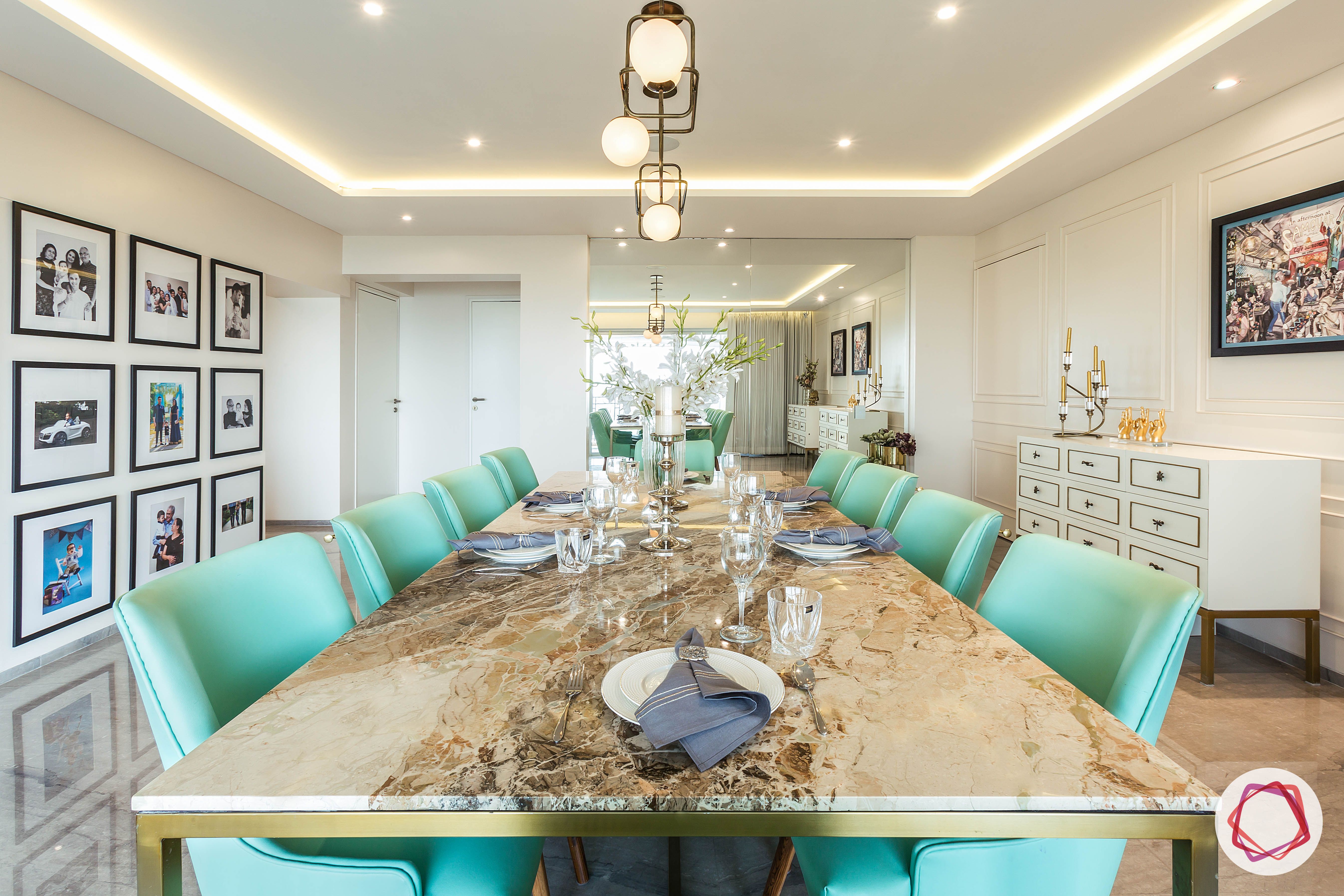 Dining spaces in typical HBDs or even condos for that matter are a compact affair. But here we had the problem of excess space and it was solved by installing a long dining table while turning it into the highlight of the space. Firstly, the tabletop here is a rare gem; it is an exquisite piece of marble with specks of green handpicked by the lady of the house. The same refreshing green has been used for the upholstery of the chairs in artificial leather. And the masterpiece (which is the dining set) is flanked by a gallery wall on one side and a crisp white crockery cabinet on the other. 
Try eclectic style as a condo interior design idea like this one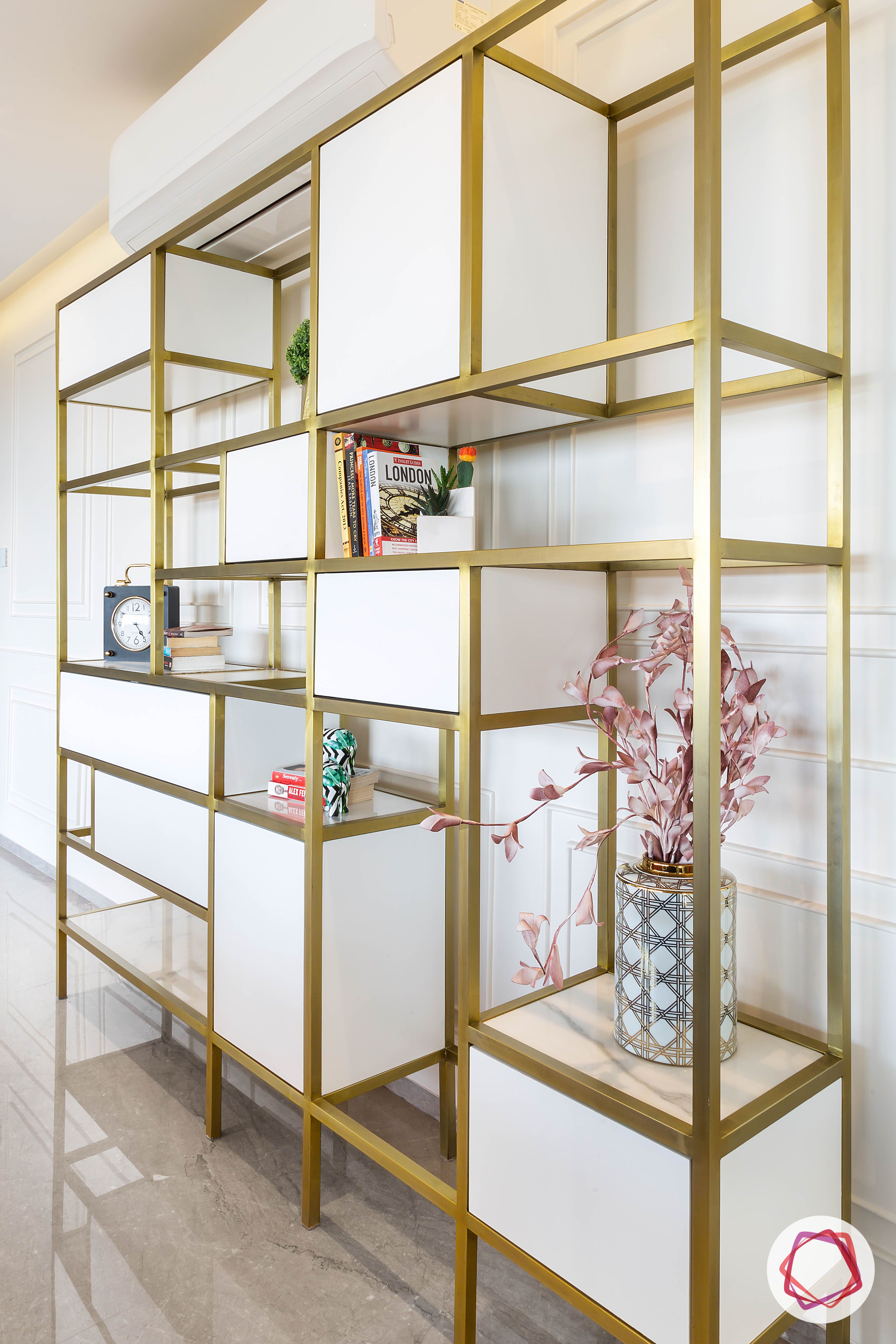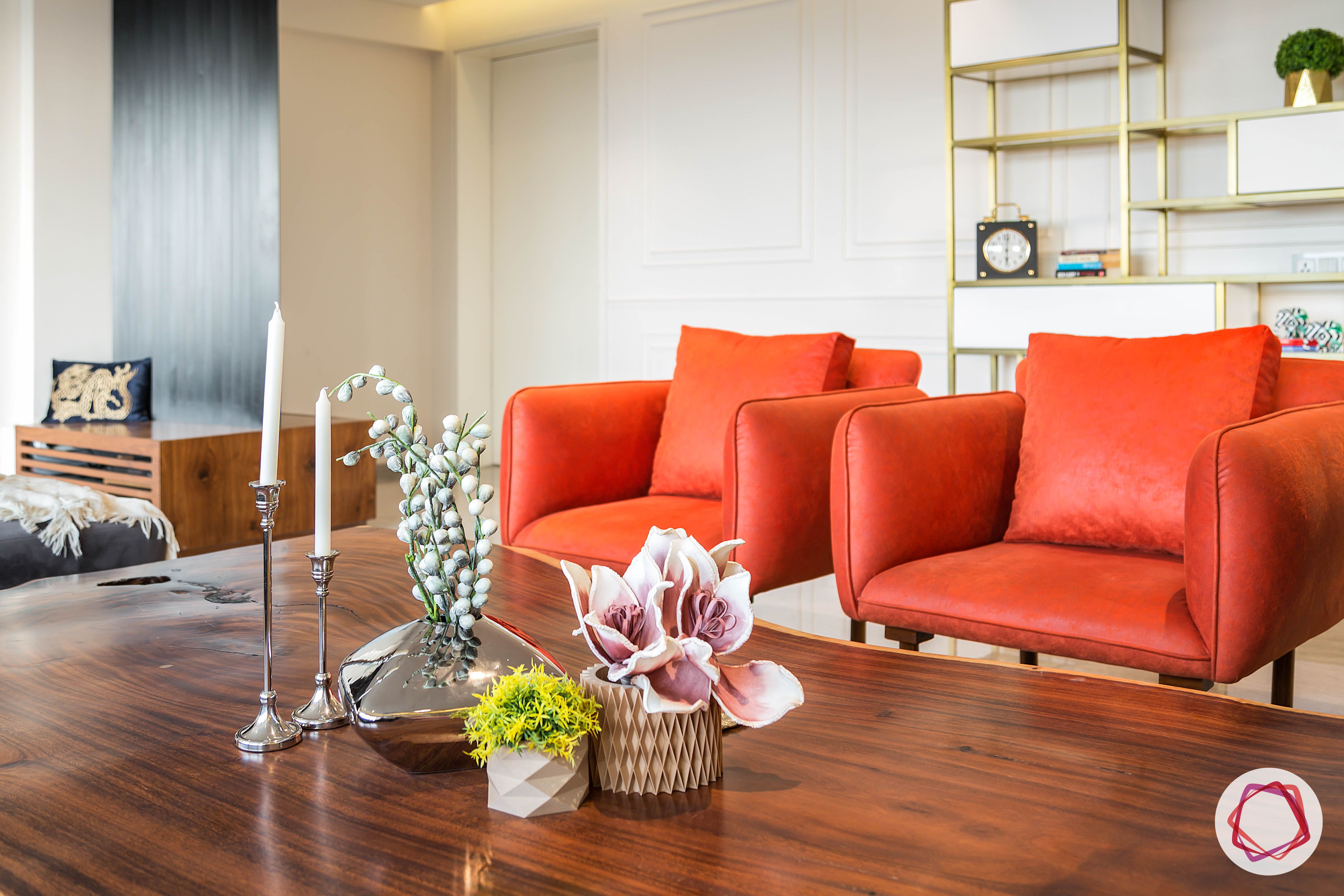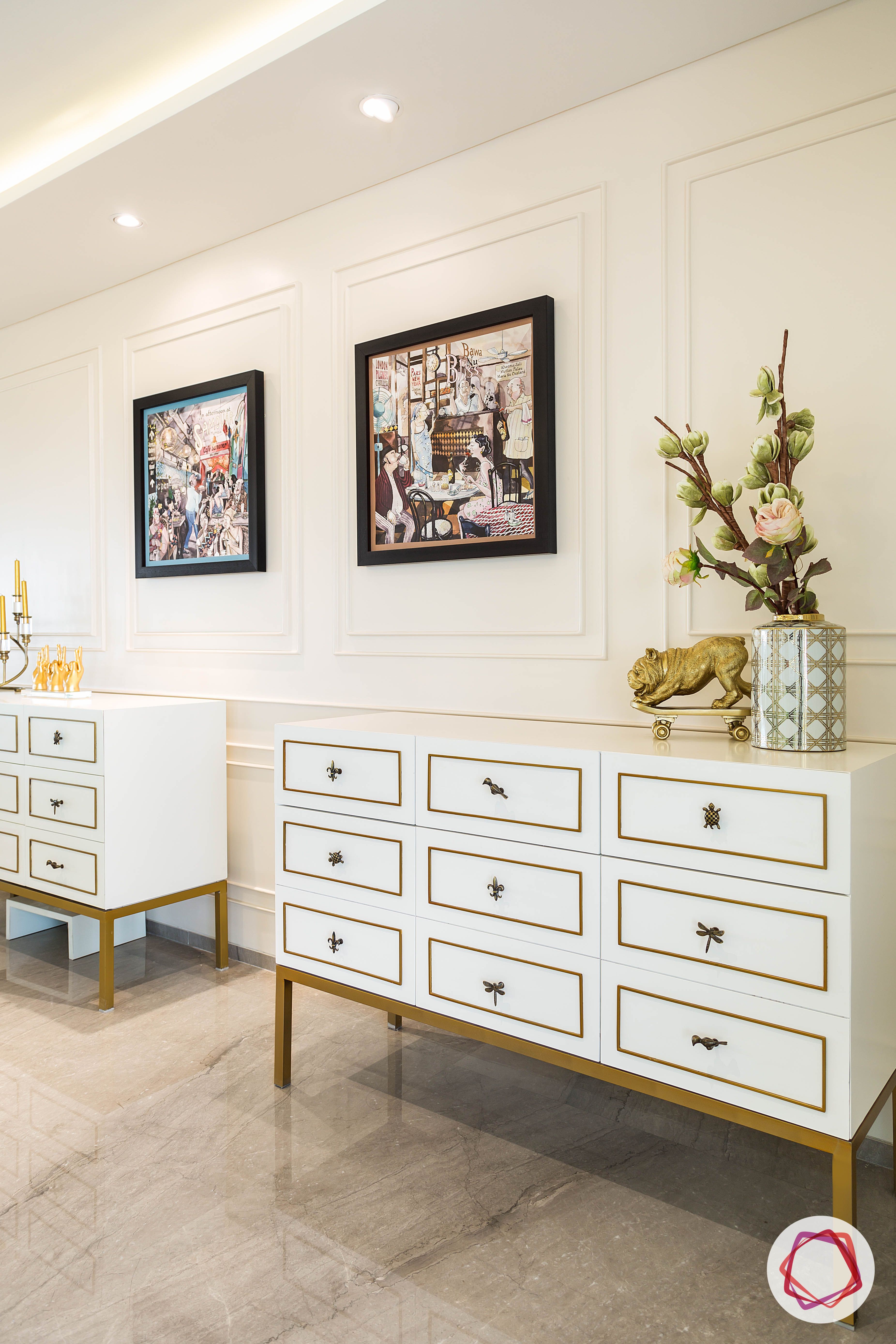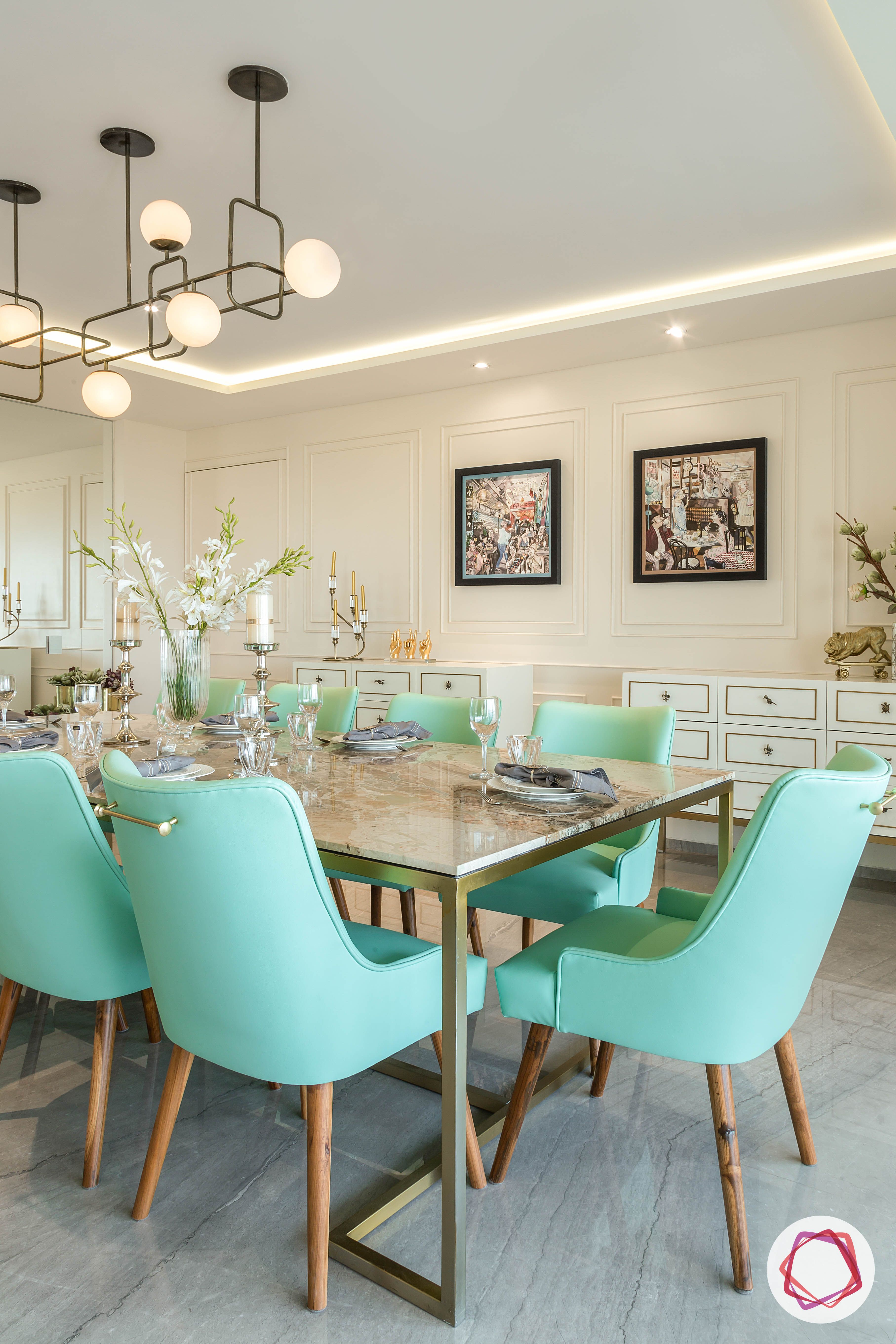 This home is literally a crucible of design styles and you can see that just by sampling the living area. If you too are aspiring to get an eclectic style that is a mish-mash of different design elements, you can certainly pick some cues from here. We have an open display shelf with some closed cubes that has a distinct Scandinavian influence. The popping orange armchairs have a retro vibe about them. 
The crockery unit is classically colonial in style with brass trimmings but there is a touch of playfulness about them. Take a closer look at the brass handles that are actually animal figurines! Not only does this allude to the presence of a child in the house, it also places the piece in the art deco spectrum. Finally, we have a lighting fixture with obvious industrial overtones presiding over a contemporary dining setup. 
One of the popular condo interior design ideas is country-style kitchen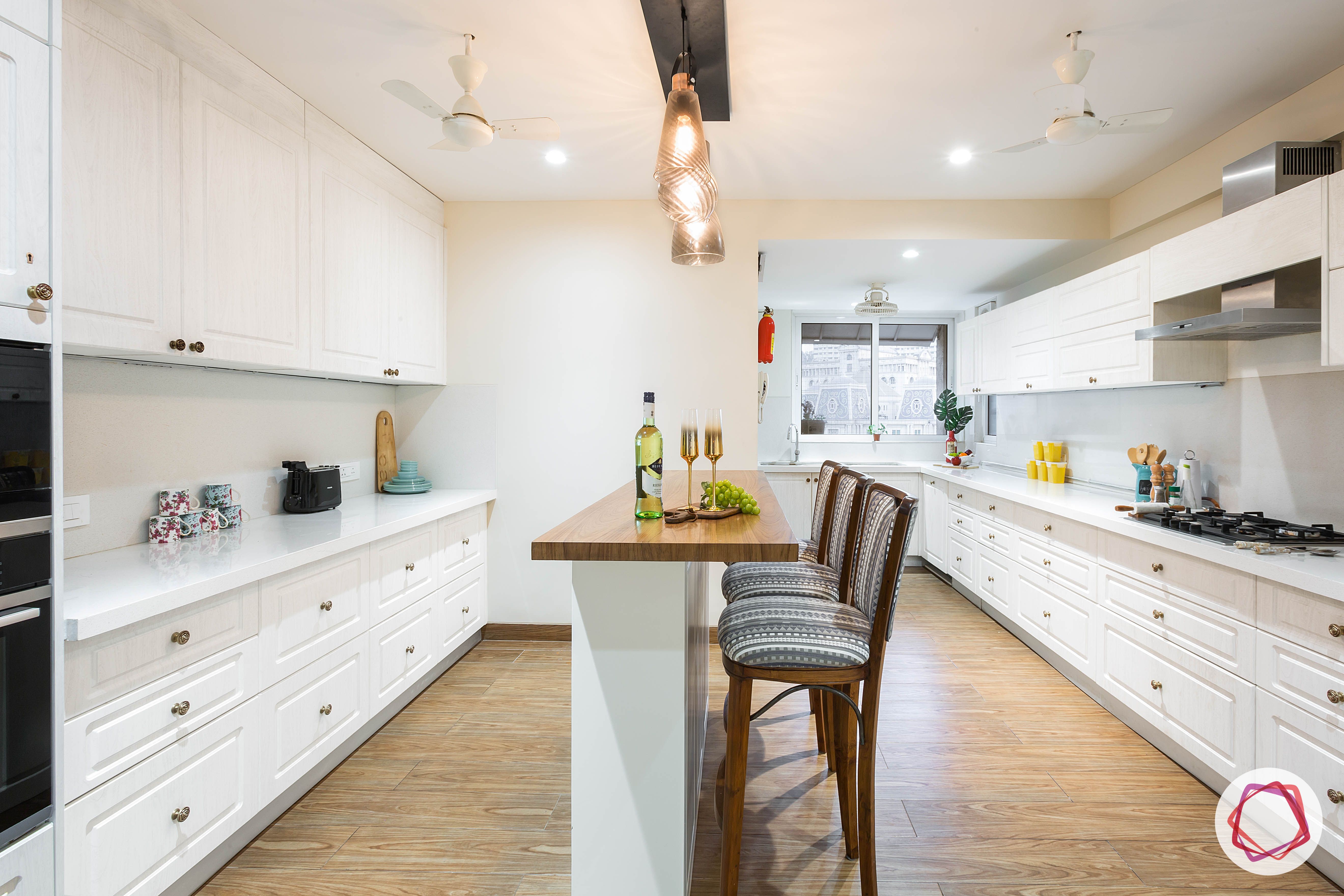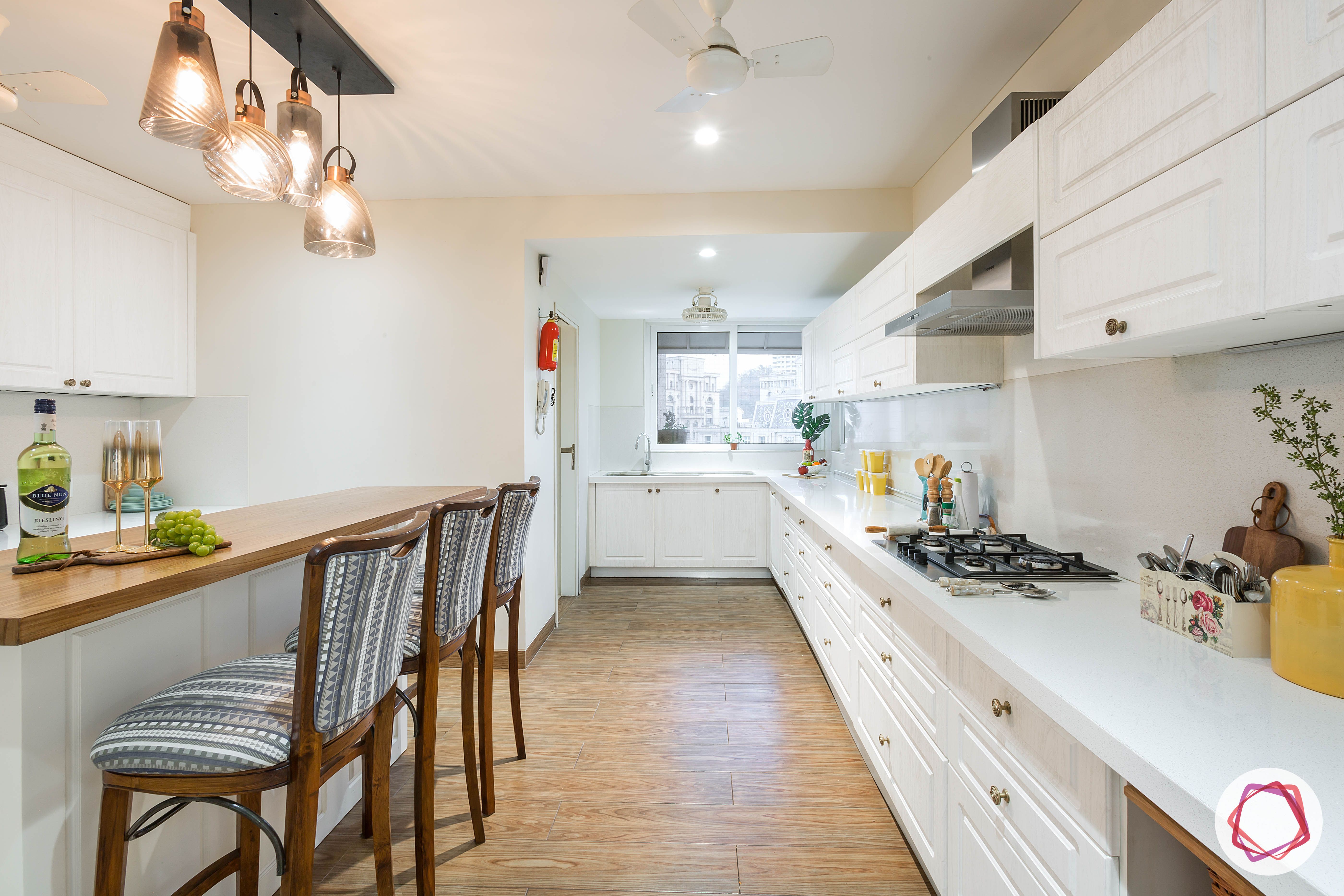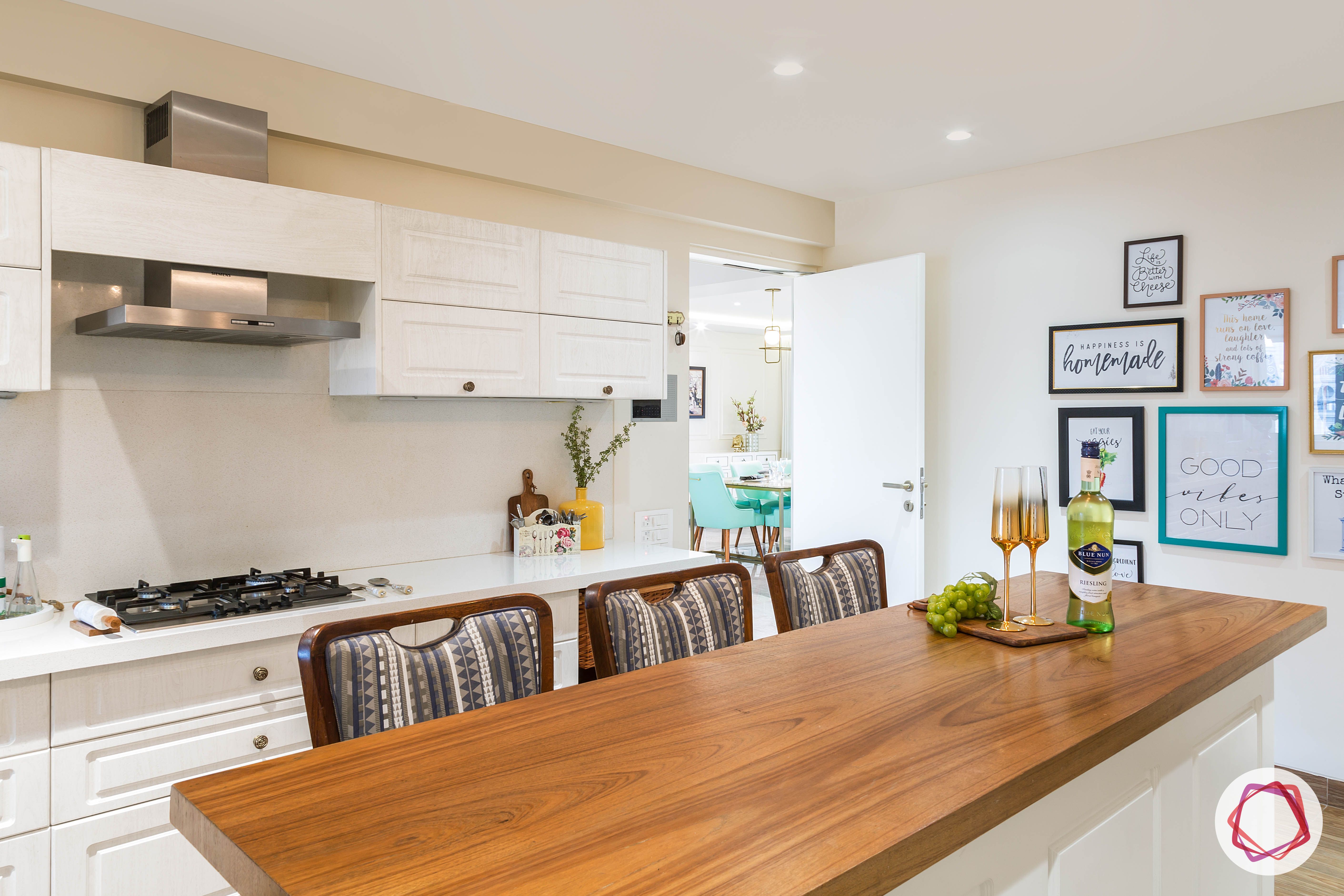 While renovating their clubbed condo, the couple decided to combine one of their junior bedrooms with the allotted kitchen space. Consequently, we have a roomy kitchen that whiffs off a country style. While the rest of the condo is fairly contemporary in terms of design, the all white kitchen seems to have an old world charm about it. 
The country-style grooves of the membrane finish cabinets sit well with the butcher block breakfast counter. The original flooring was torn down to add warm vinyl flooring. What's more? The kitchen is segregated into dry and wet areas by the island counter in the centre. 
Get this breezy style for your kitchen too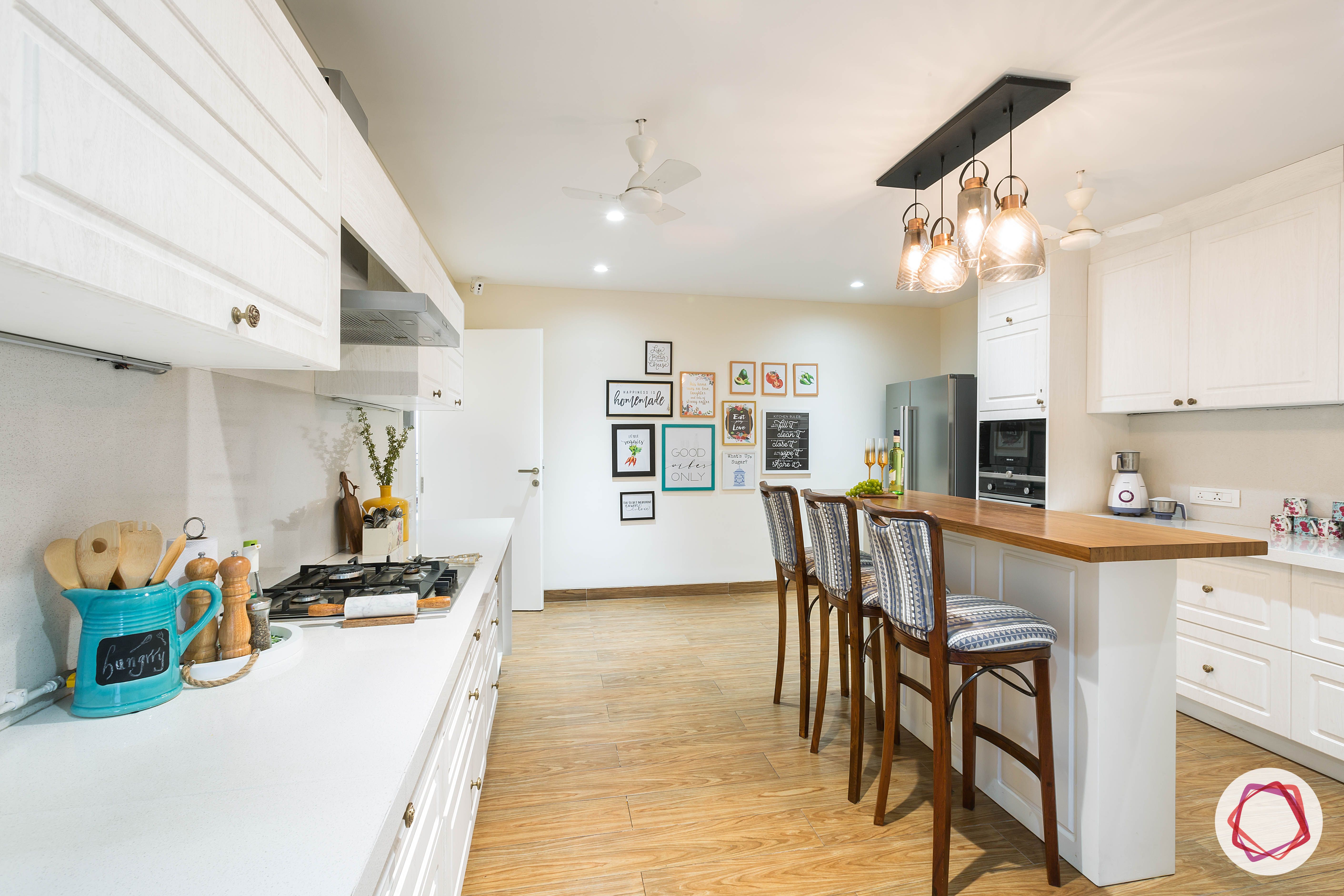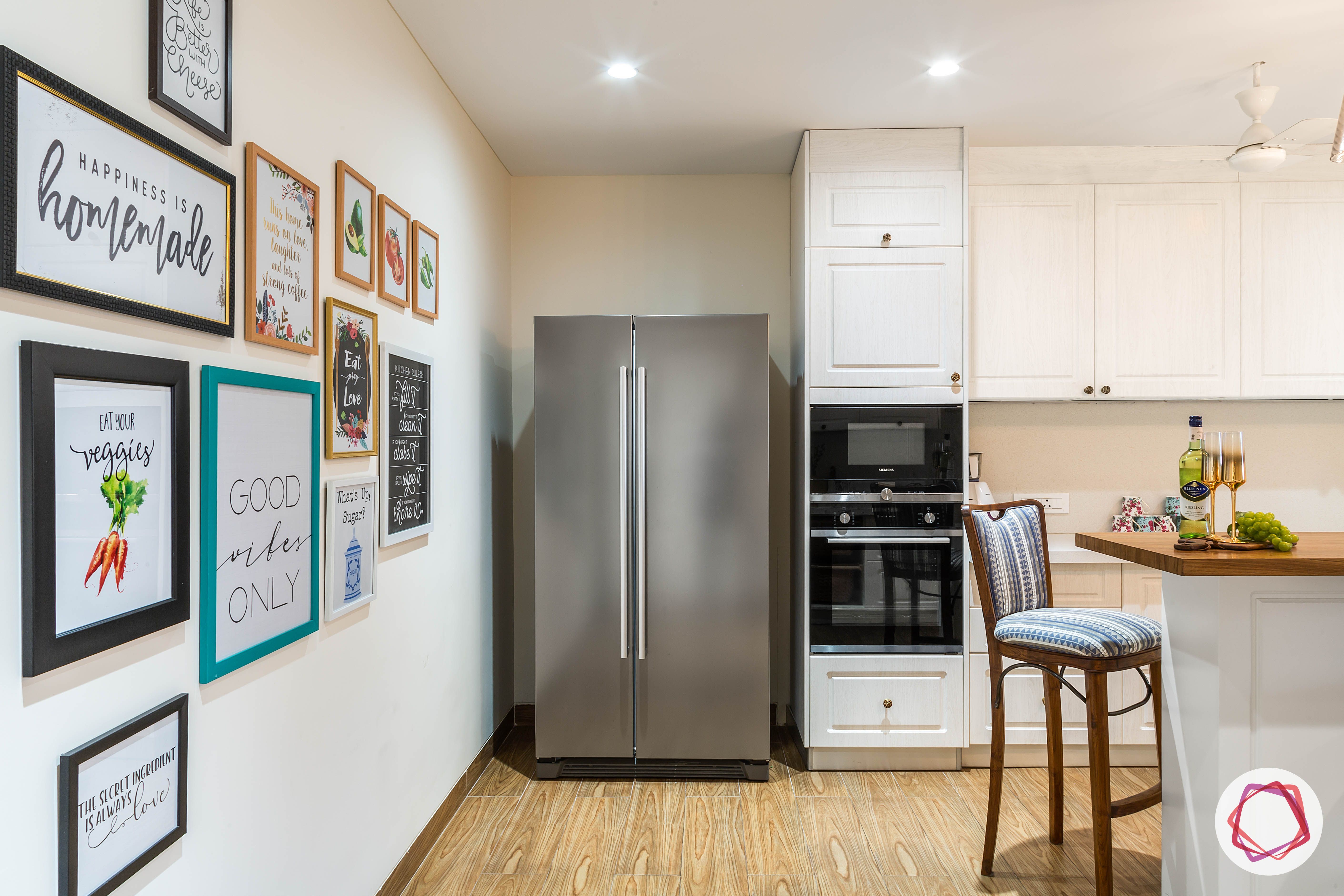 While the size of this kitchen is quite unprecedented, its style is a rather easy-breezy one. You can renovate your kitchen into a beach fantasy by focusing on a few basic points. Firstly, it is hard to go wrong with an all-white kitchen, provided you add some texture to it. Secondly, the warm and cool combination of whites and wooden finishes is also timeless. Last but not the least, framed posters like these cost nothing but they add a fun vibe to your space. 
Consider a consolidated bedroom space for your condo interior design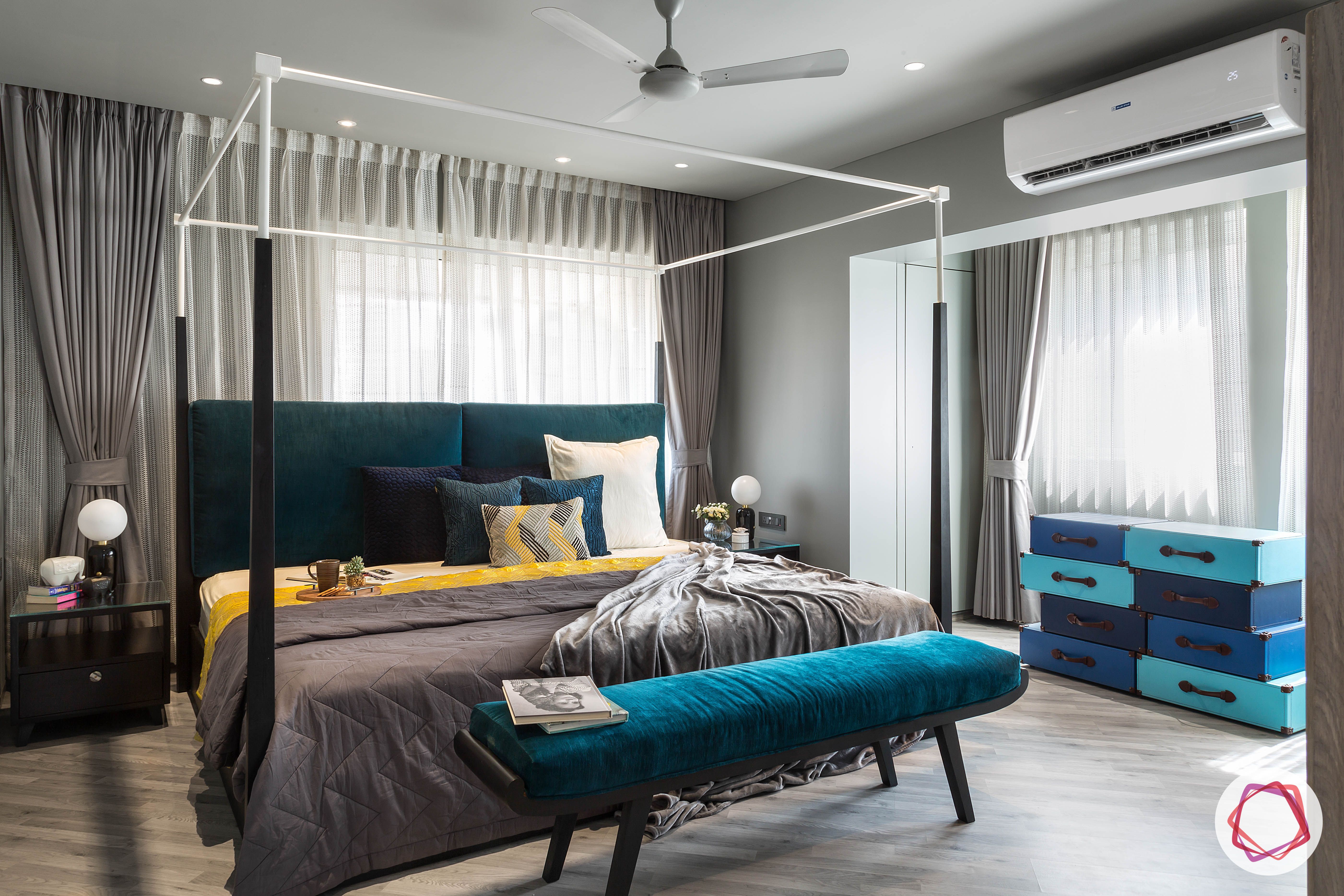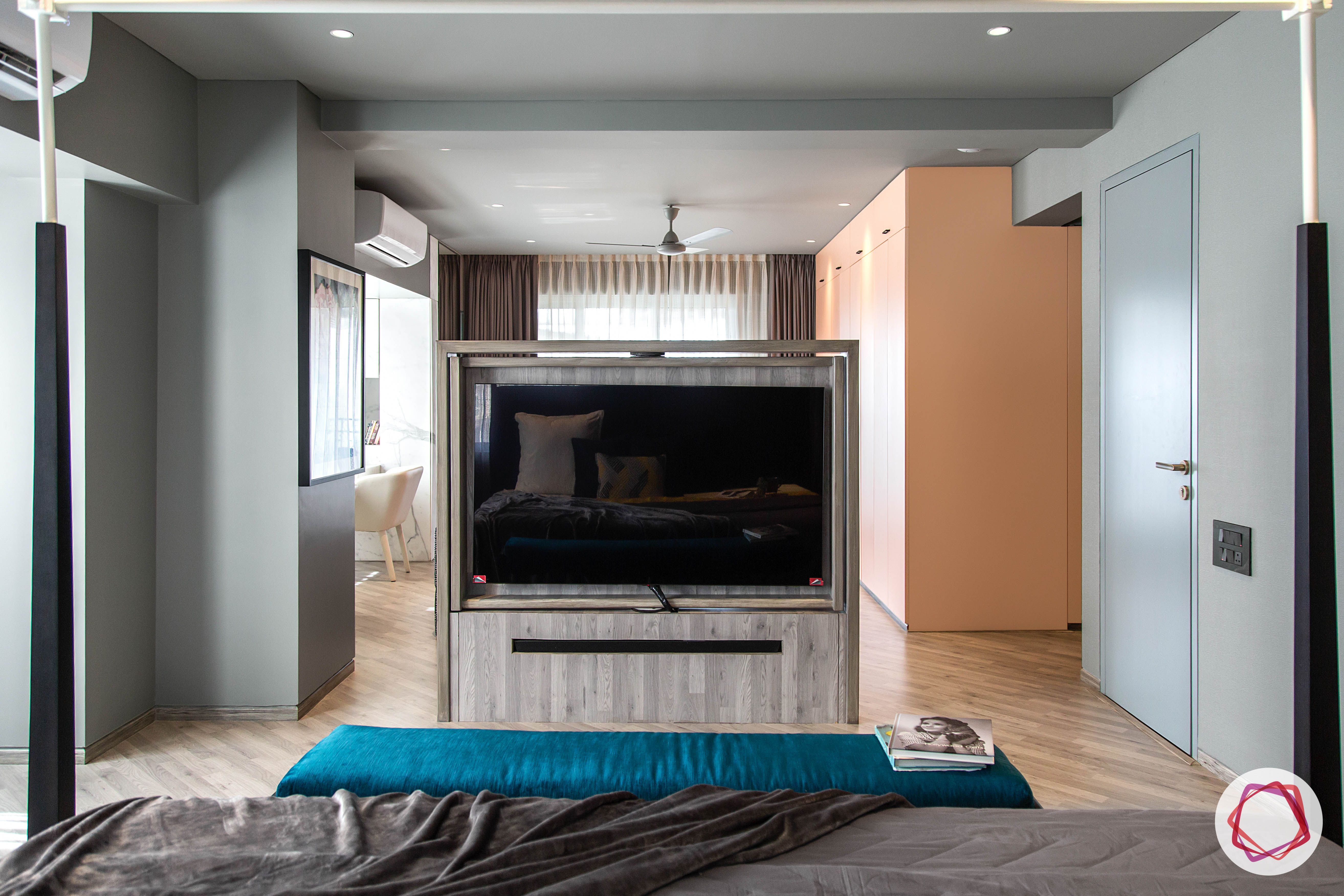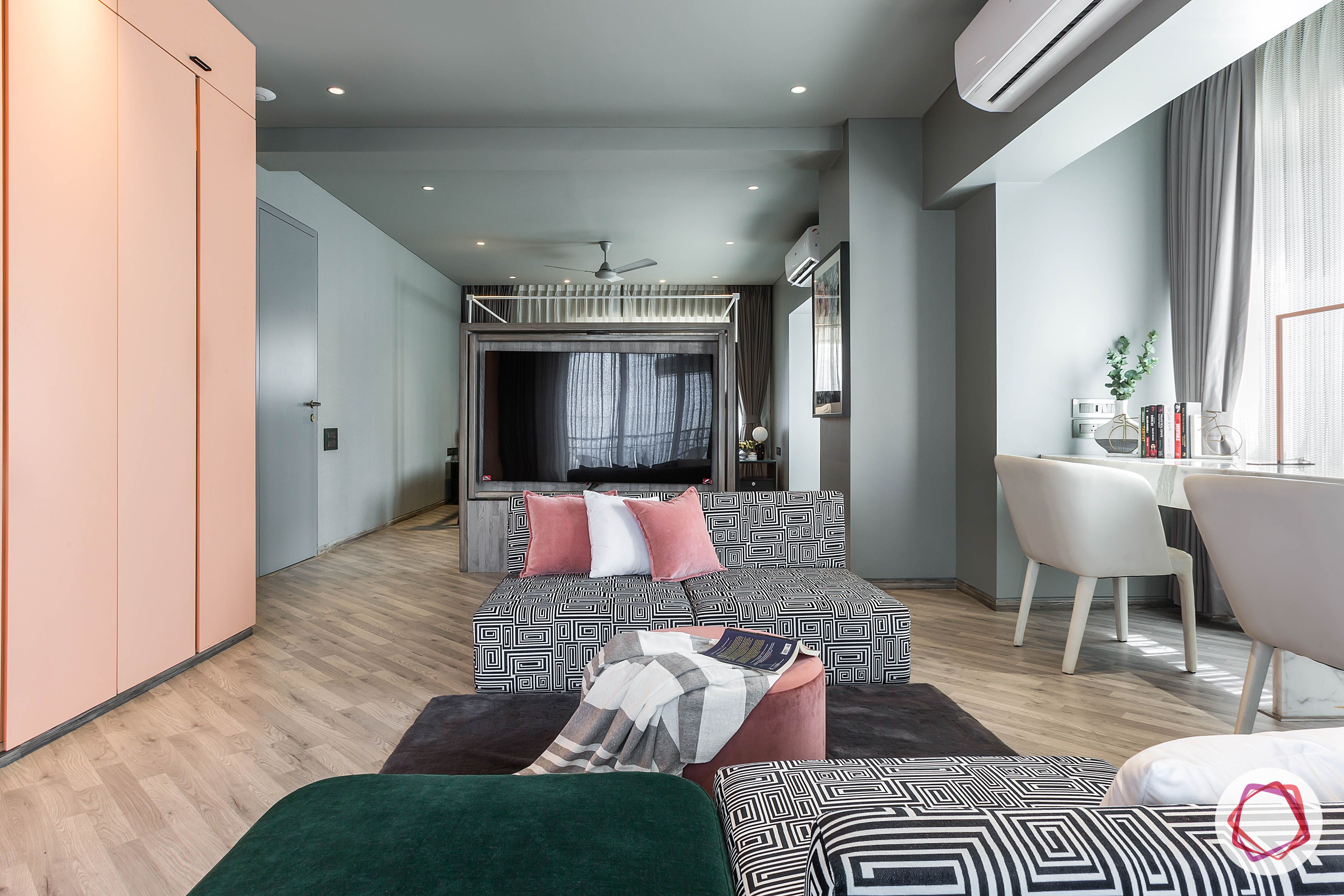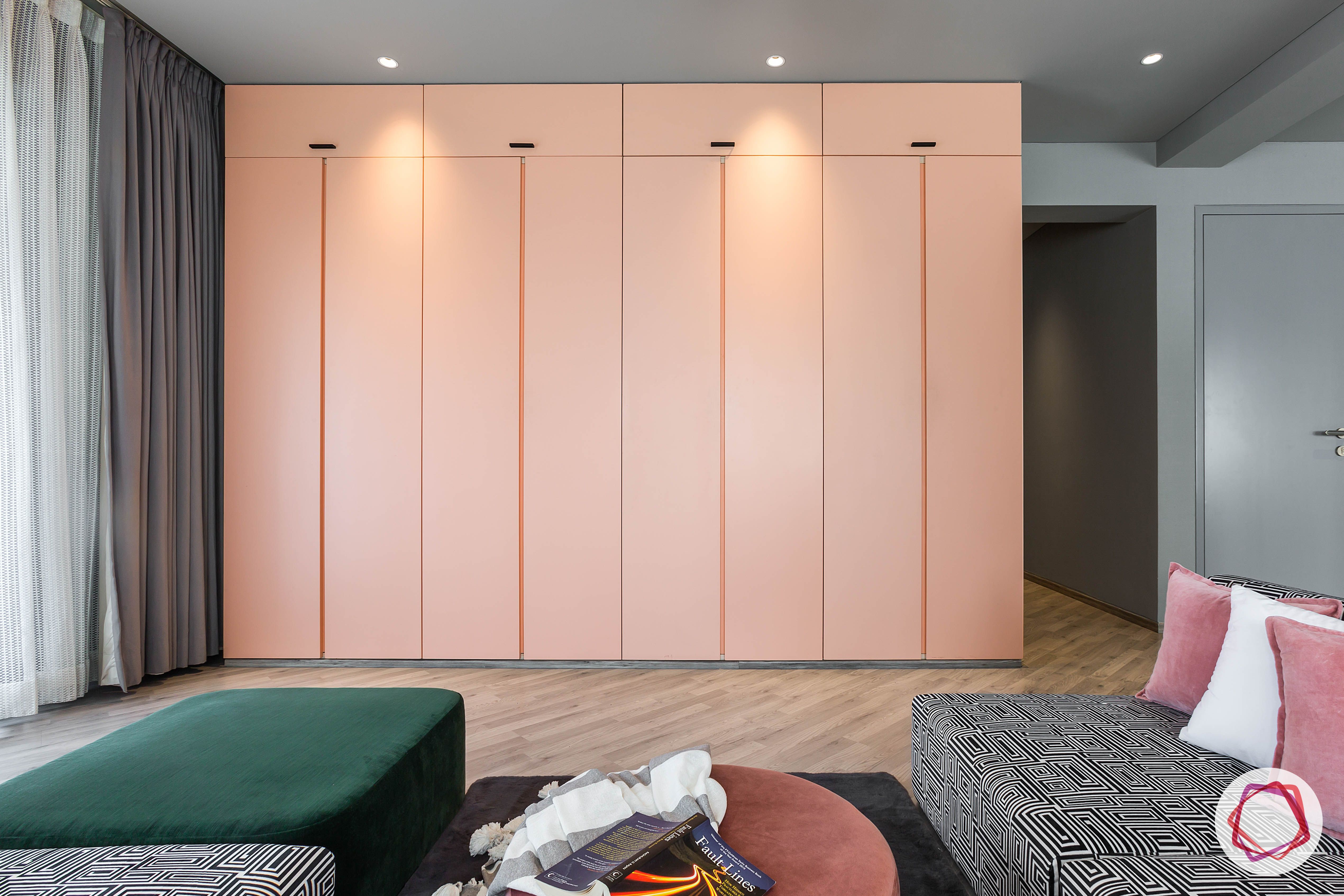 Reimagining the bedroom as a space for more than just resting could be the key to optimising space in a home that has a spare room. This condo, for example, has the gift of plenty with 3 bedrooms. So we have clubbed a junior bedroom along with the main bedroom to have a consolidated space, which can be used for resting, lounging, dressing and working. 
The space in the bedroom is segregated as per function. So we have a huge four-poster bed that can be classified as contemporary chic. The room is cut in half by a sleek TV unit that allows the couple to turn the television on either side. On the other side, we have a casual seating area that allows the young pair to host more intimate gatherings. Adjacent to this seating area, marked by a rug, is a study unit made of gorgeous Italian marble. But we ain't done yet! We are totally crushing on the coral-coloured PU-finish wardrobe here. 
Throw in striking accessories for a statement look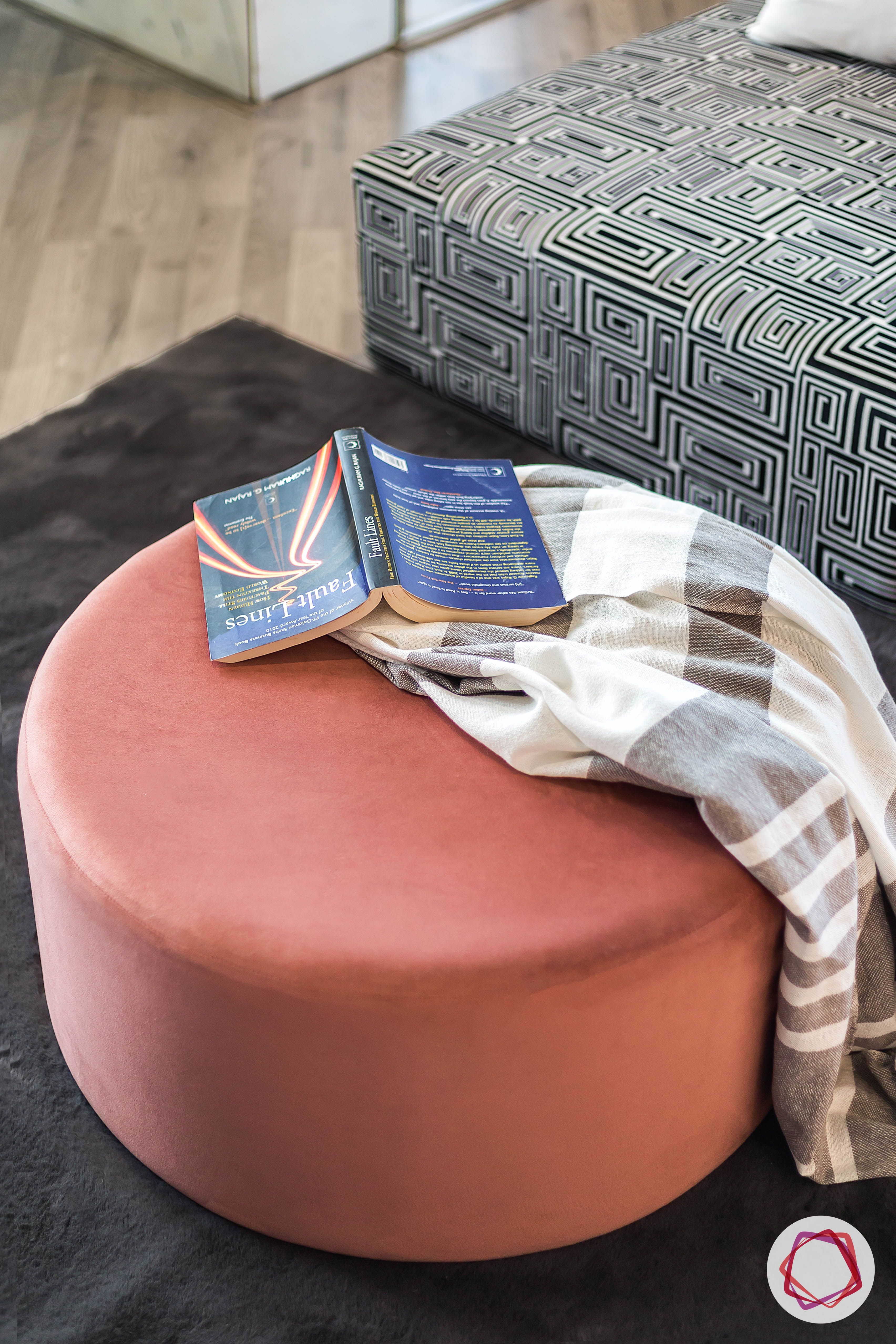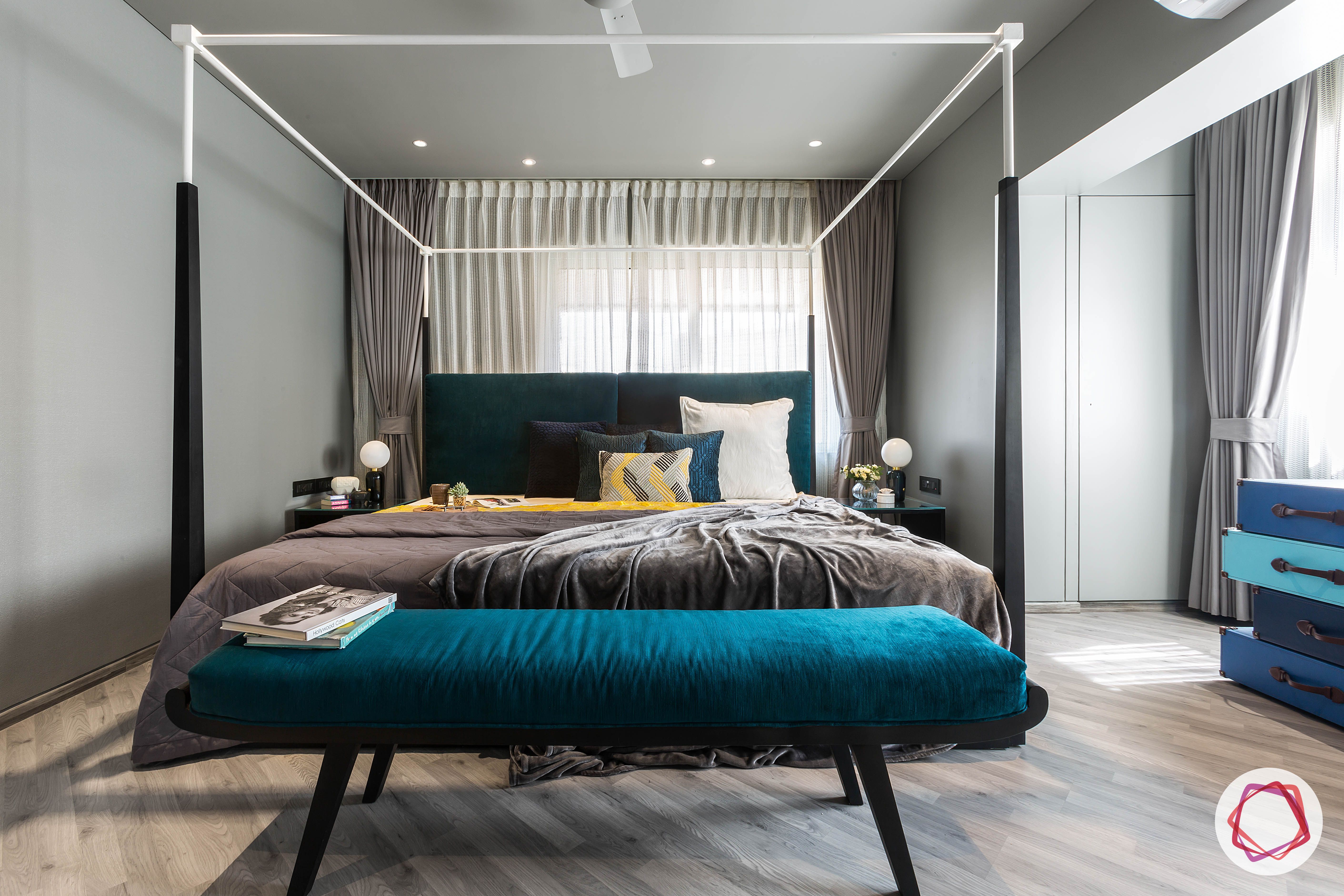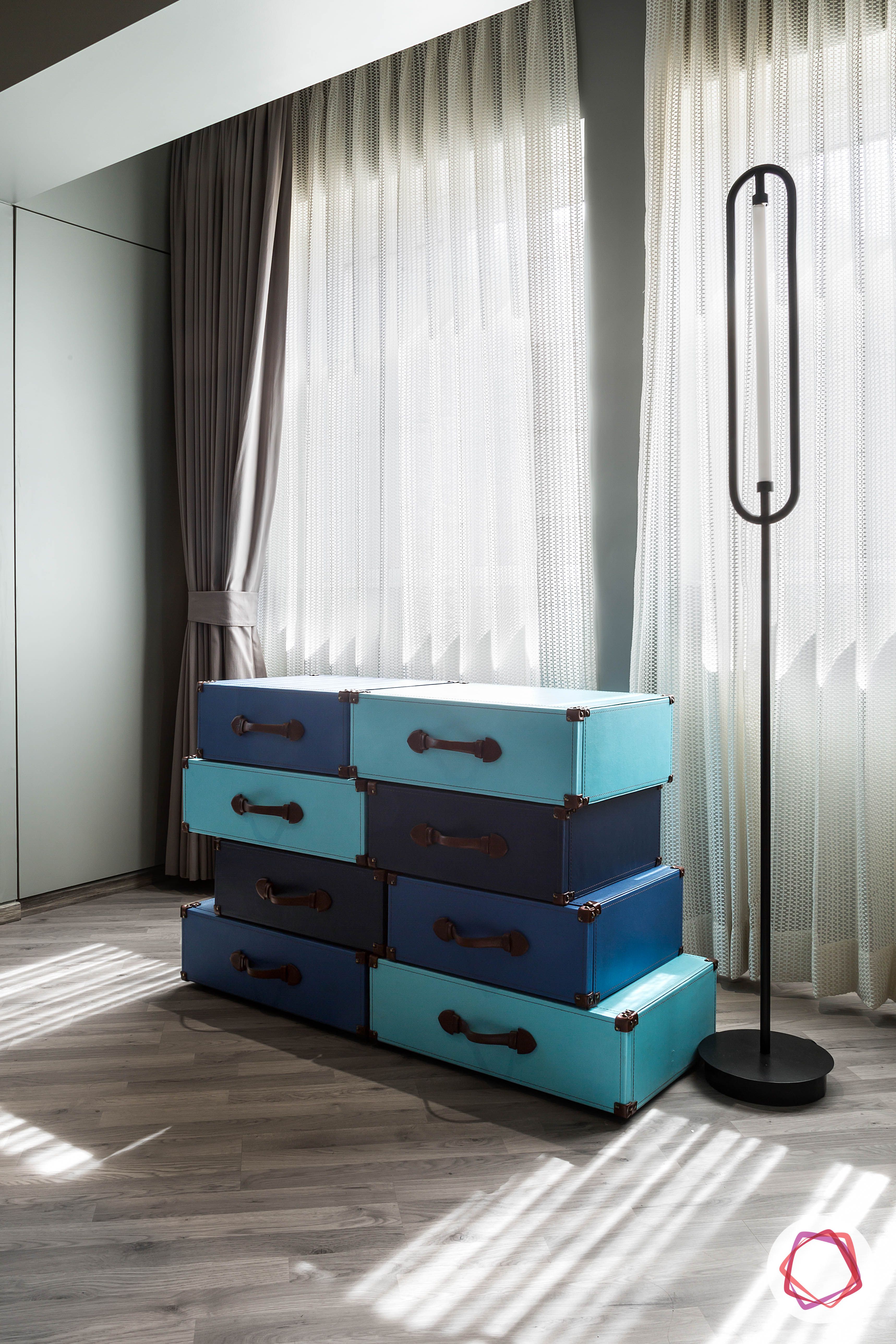 The elements of this consolidated bedroom fit together like a dream sequence; there is a touch of surrealism to this space that you can easily replicate. And while it may look very expensive, not everything in this room is unaffordable. Take the upholstered ottoman for example. It adds a dash of vibrance with its fresh coral colour and doubles up as a side table too! The chest of drawers with a leather finish is an abstract piece of art, but it is also rather useful to store knick-knacks. Nothing undoable about it either. The cushioned bench at the foot of the bed adds a luxurious appeal to this room, but it isn't that much of a splurge! 
A kid's room must be clutter-free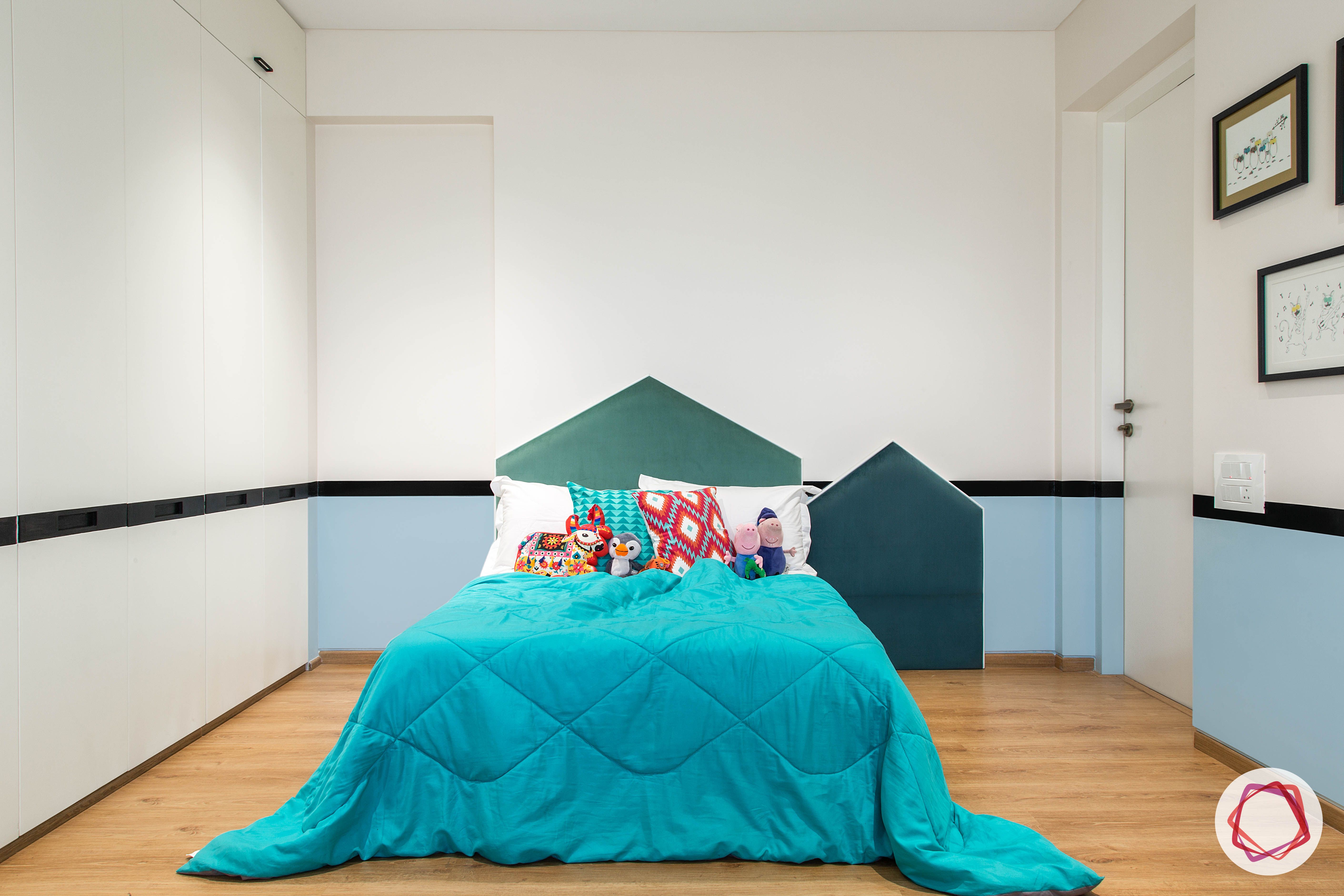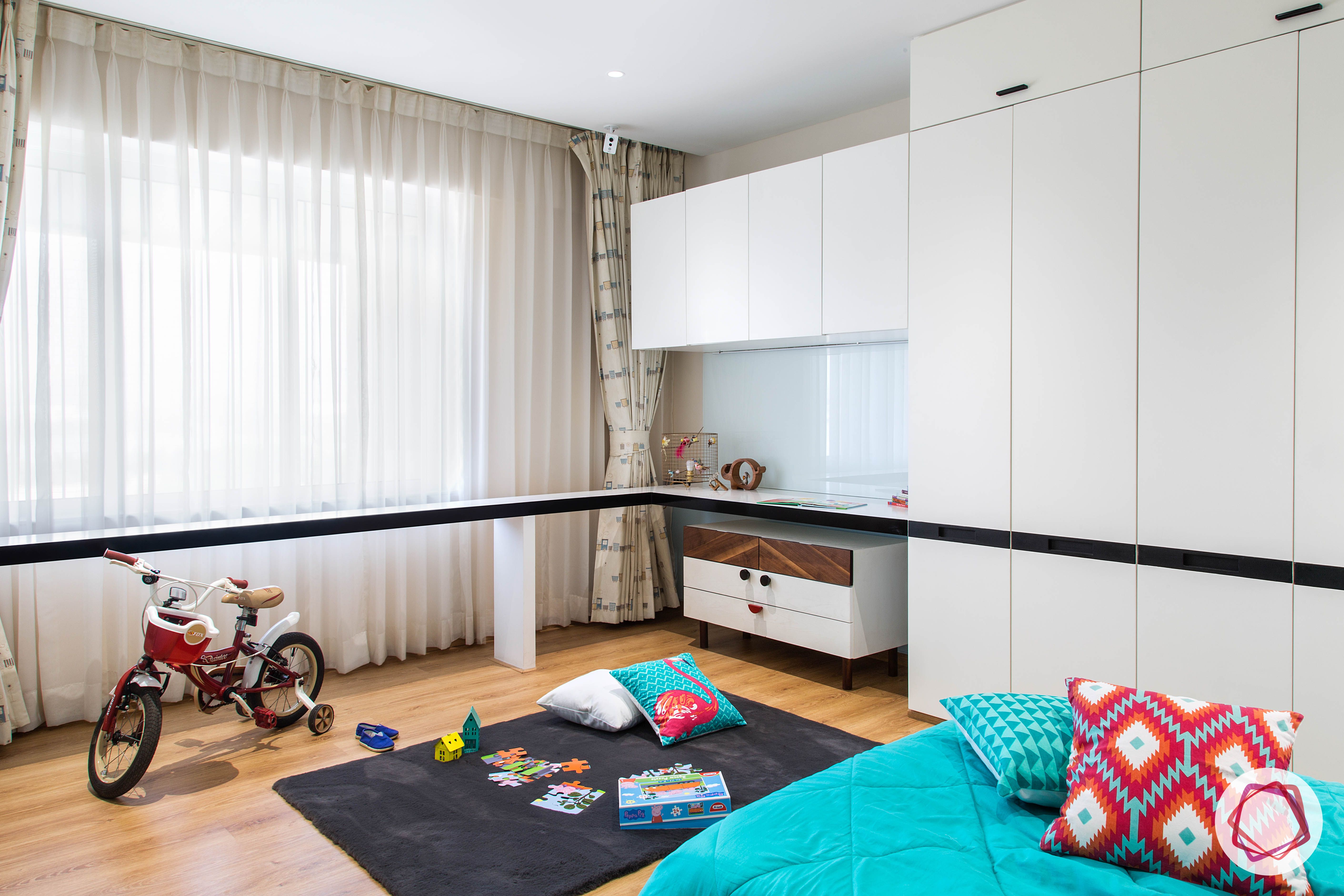 All parents want to add playful elements to their kids' bedroom. But the problem with doing that in the long term is that kids tend to outgrow their room! In case you don't intend to renovate your kid's bedroom in a few years, go for a classic design like this one. The white laminate wardrobe offers plenty of storage for a growing child. We made the window wider to stretch it from wall-to-wall and let in maximum natural light. The couple wanted as much open space as possible for the play area; so they opted for a narrow bed with a pull-out attached.
…and don a playful theme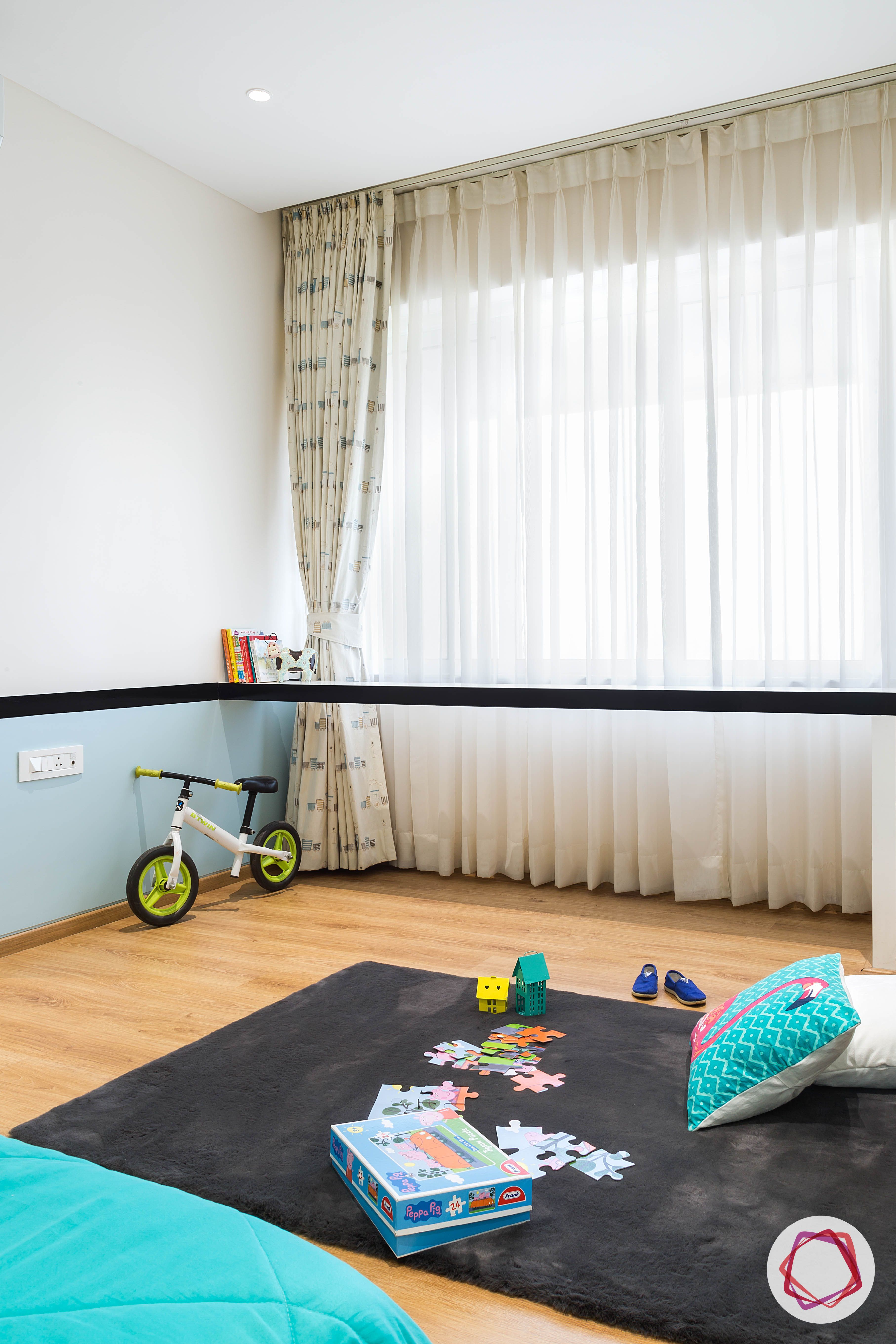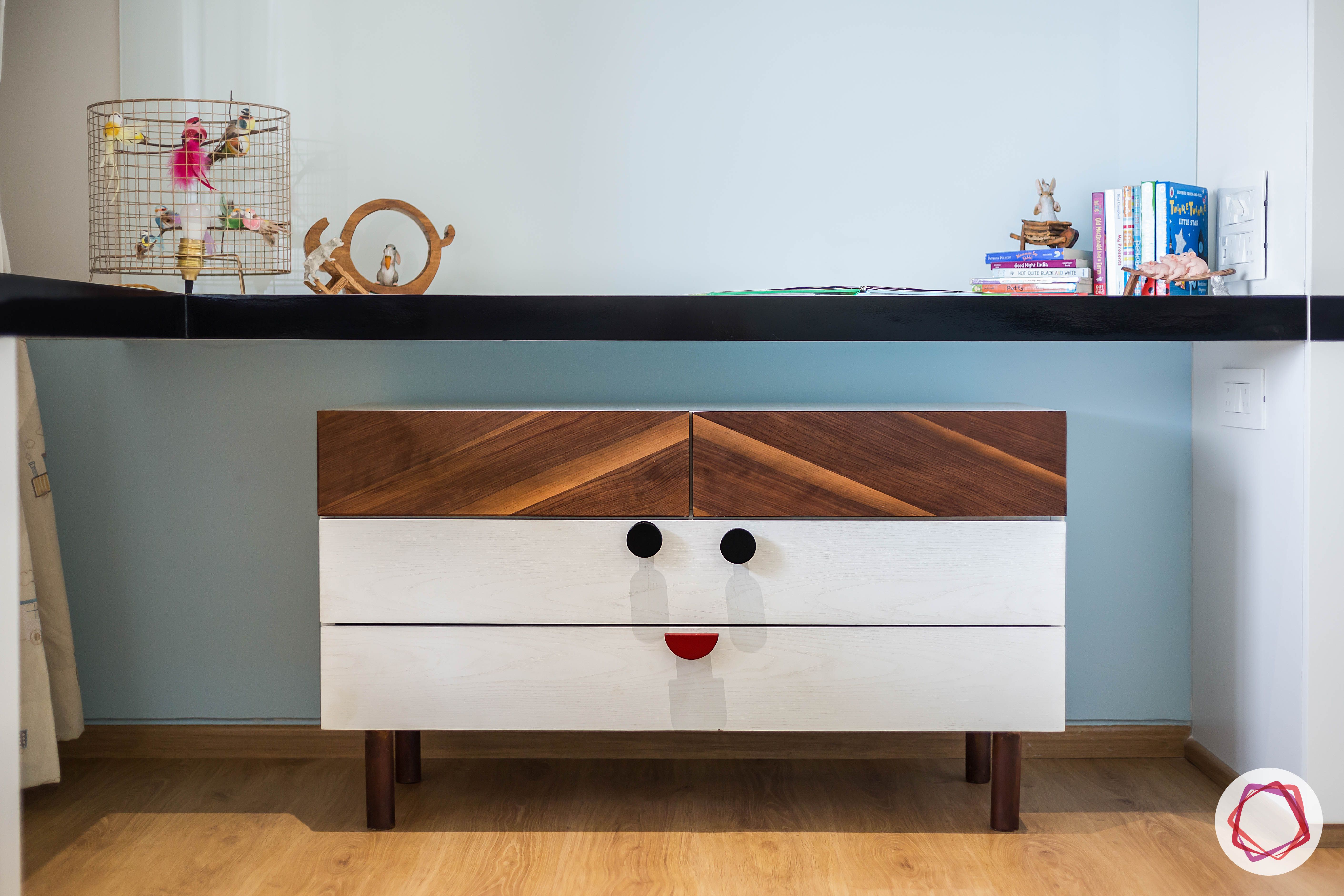 Clutter is almost inevitable in a kid's room. But the design of a kid's room should help cut out clutter on its own. For example, a slim ledge runs through the length of this room. This acts as a study table and also helps the child stow away toys. Moreover, pink for girls and blue for boys is an outdated concept. Take a leaf out of the condo design ideas 2021 and pick gender-neutral themes for your kids' room. If you still want some playful patches, subtle customisation like this cabinet are masterstrokes. 
Trendy colours in toilets — A condo design idea to save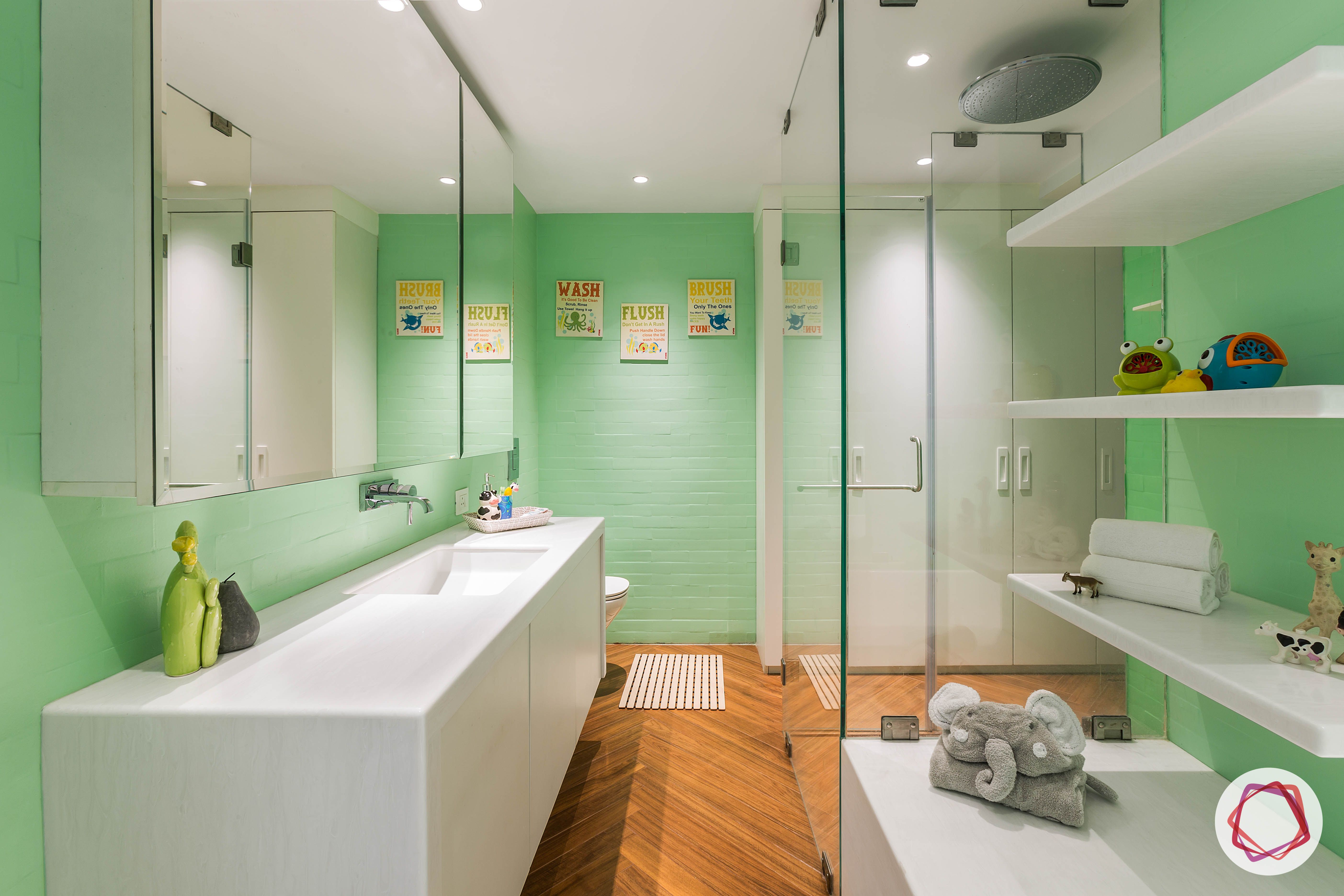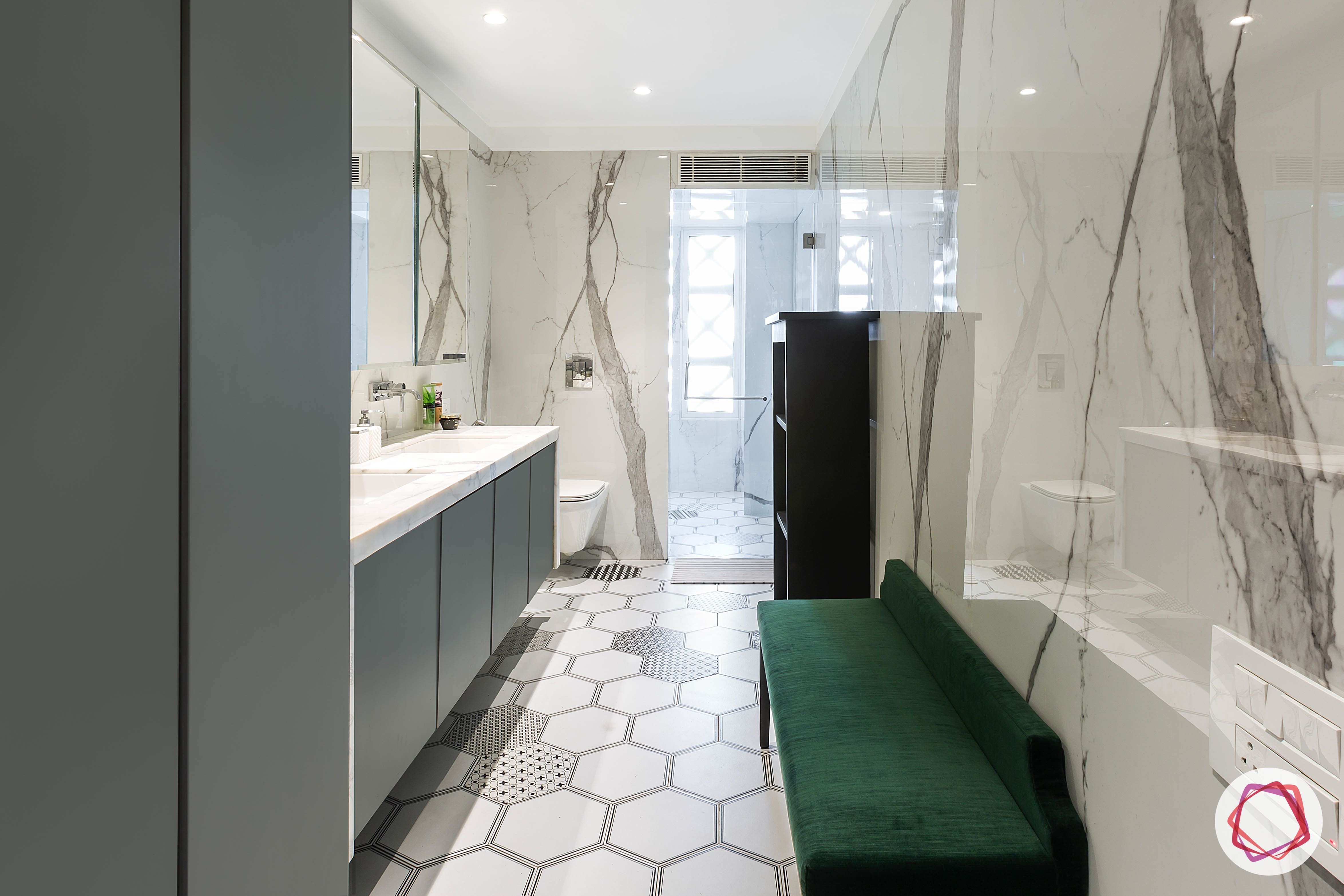 This condo unit initially had 4 toilets. As the family did not need so many, we hacked two of the smaller toilets down during renovation. The other two were renovated to fit the needs of the couple and their child, respectively.
The main toilet is uber chic with marble walls and statement hexagonal tiled flooring. It includes a cushioned bench in the dry area. The kid's toilet stands out for its refreshing mint green colour. It has several glass partitions to segregate dry/wet space and a tub instead of a shower cubicle. 
Sleek and stylish apply to bathrooms too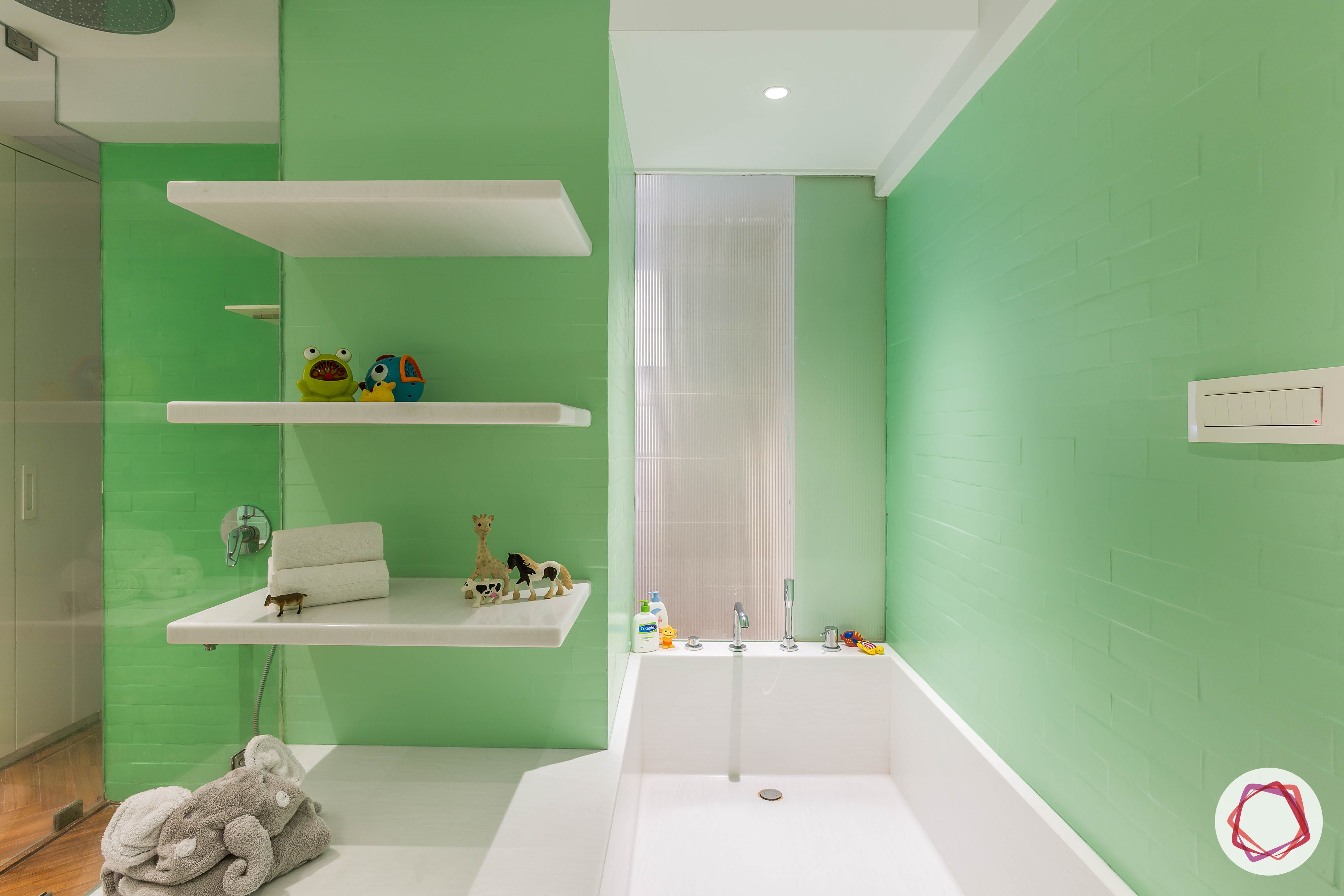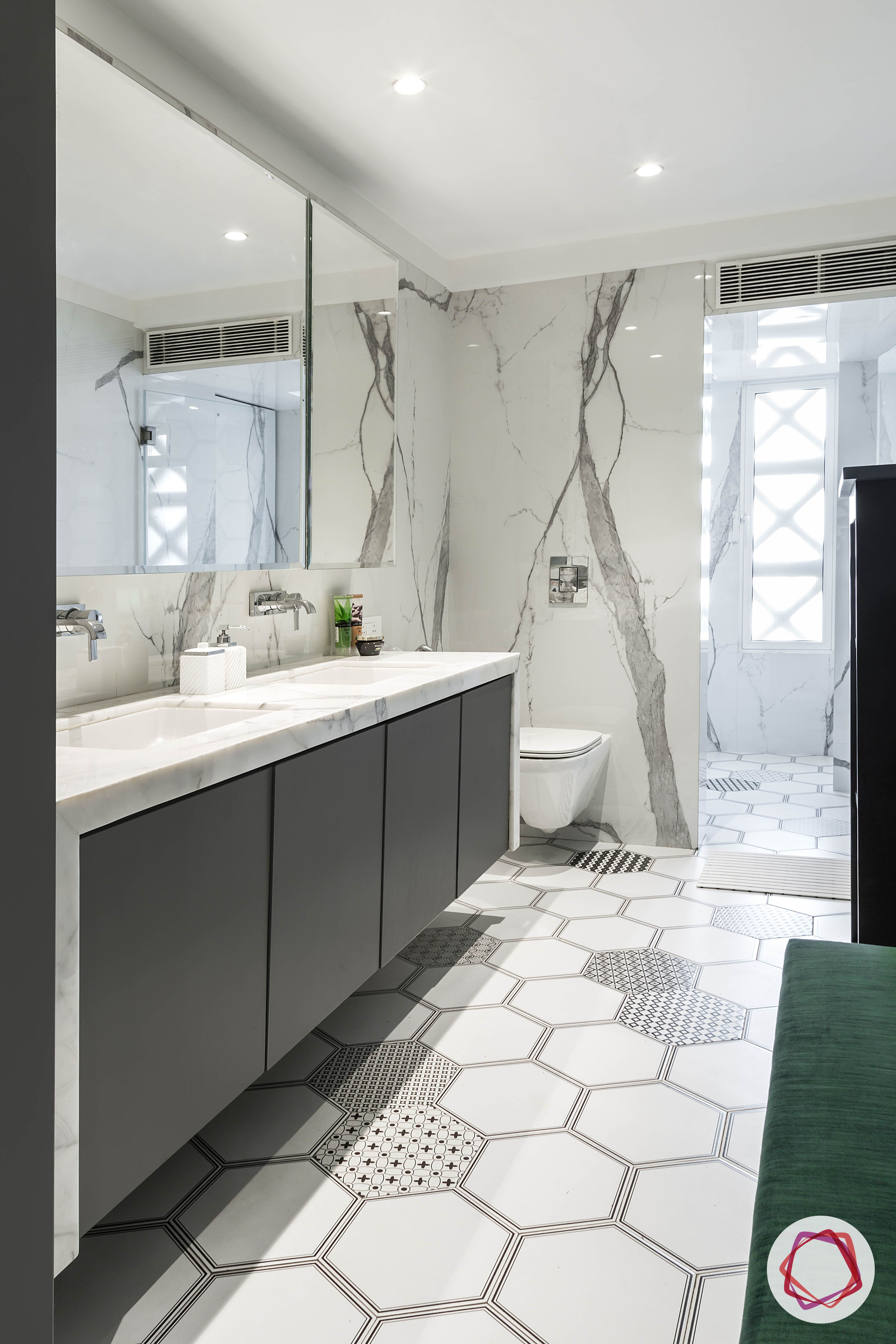 How often do we see people experiment with a fresh colour for their toilets? This home is a lesson that a well-thought-out experiment with colours always pays off! The only thing standing out about the kid's toilet is the fresh green colour spruced with white bath fittings and shelves. Instead of marble, you can use marble-like digital tiles to give your bathroom a posh look. 
How can Livspace help you? 
Every room in this home is a wealth of condo interior design ideas. So pick what you like and adapt it in your style while renovating your home. If you need any help, Livspace is happy to lend you a hand with its expertise in end-to-end interiors.
Book an online consultation with Livspace today. Delivering safe home interiors is our topmost priority. If you have any doubts, click here to find out how interiors are being delivered following all safety protocols.  Happy renovating!
Send in your comments & suggestions at editor.sg@livspace.com