We know how much you love scrolling through Instagram or Pinterest, saving aesthetically-pleasing condo designs as you go. Especially if it's something compact, space-saving or intelligently designed. So you start mentally building your dream condo bit by bit, sometimes over years and by the time you are ready to make the big decision, you've got a picture-perfect illusion of it. These condo interior design ideas are just that!
Here we are showcasing our best condo interior designs in Singapore. Featuring smart designs to customised spaces, we have some amazing ideas for you to steal.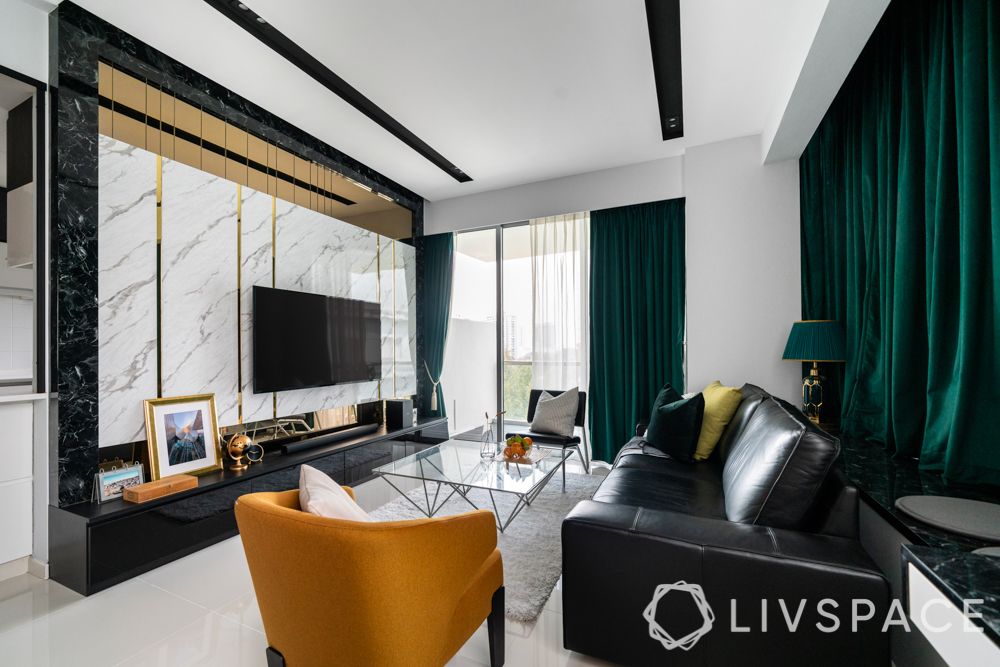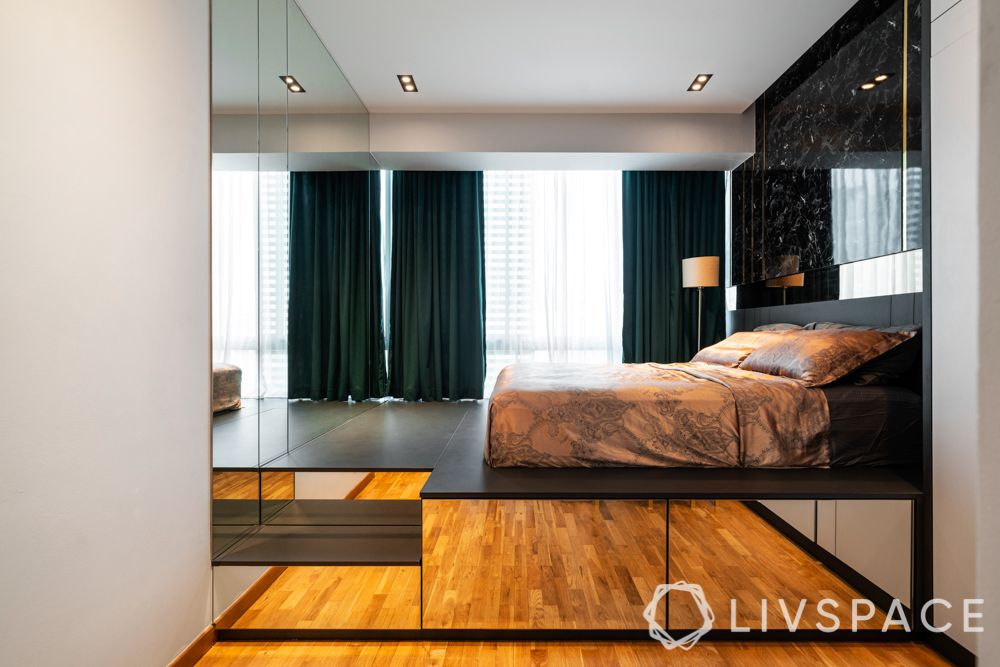 ---
Who livs here: Chua NS and his wife Haniza Hashim
Size of home: Condo spanning 100 sqm
Design team: Interior Designer Noel Tan and Project Manager Kent Loke
Livspace service: Living room, kitchen, master bedroom and study, including design, demolition, masonry, wall finishing, false ceiling, floor polishing, painting, lighting and electrical work
---
The couple living here were eager to get their private condo renovated and since they had rented it out for the past decade, the wear and tear was very obvious. This condo looks expensive but hides some amazing design tricks. You will spot intelligent use of black matched with glossy surfaces across this condo. Abundant use of mirrors is another clever tip that you can pick up from here.
What we loved: The fact that this condo is renovated keeping hotels as the theme, giving this space a luxurious look. Also, you will not believe that marble-looking surfaces here are actually glossy laminate panels. We also love the custom home office that Noel, their designer, created for the couple!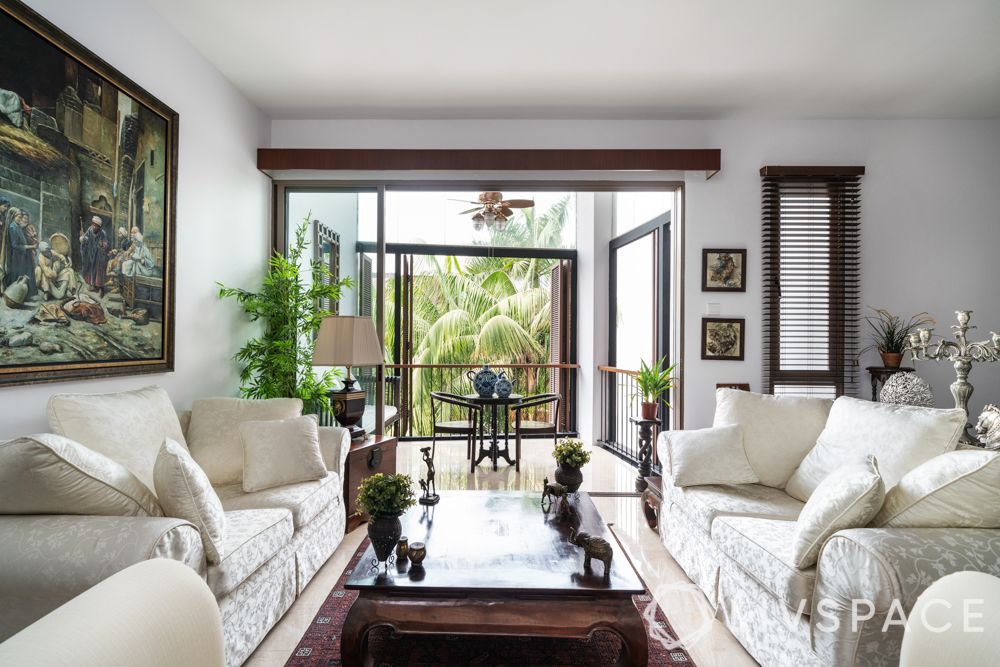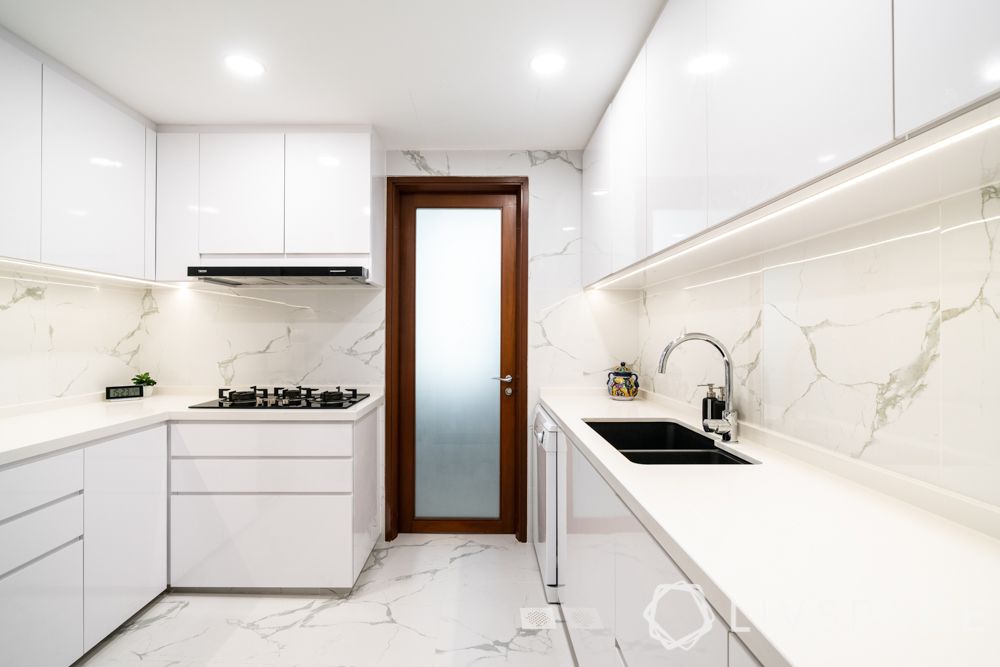 ---
Size of home: 3-room Condo spanning 121 sqm
Design team: Interior Designer Ankita Gupta and Project Manager Andee Ching
Livspace service: Design, demolition, masonry & tiling, false ceiling, wall finishing, electrical, lighting, plumbing, flooring, erection of walls and painting
---
This condo interior design is like a slice of India in Singapore, with warm wooden furniture and contrasting white elements. The couple staying here wanted to stay connected to their roots, hence they opted for using their existing wooden furniture in their new condo interior design. While they wanted an open and welcoming look in their condo, their designer suggested they go for white as the dominant colour, which would act as a great contrast for the solid wood furniture. This home also flaunts multiple paintings and traditional, intricately designed furniture in every nook and corner.
What we loved: We absolutely love the open and breezy layout of this condo that flaunts wooden furniture and low maintenance interiors. We simply adore the all-white kitchen with marble floor tiles. Do not miss the glossy laminates used everywhere!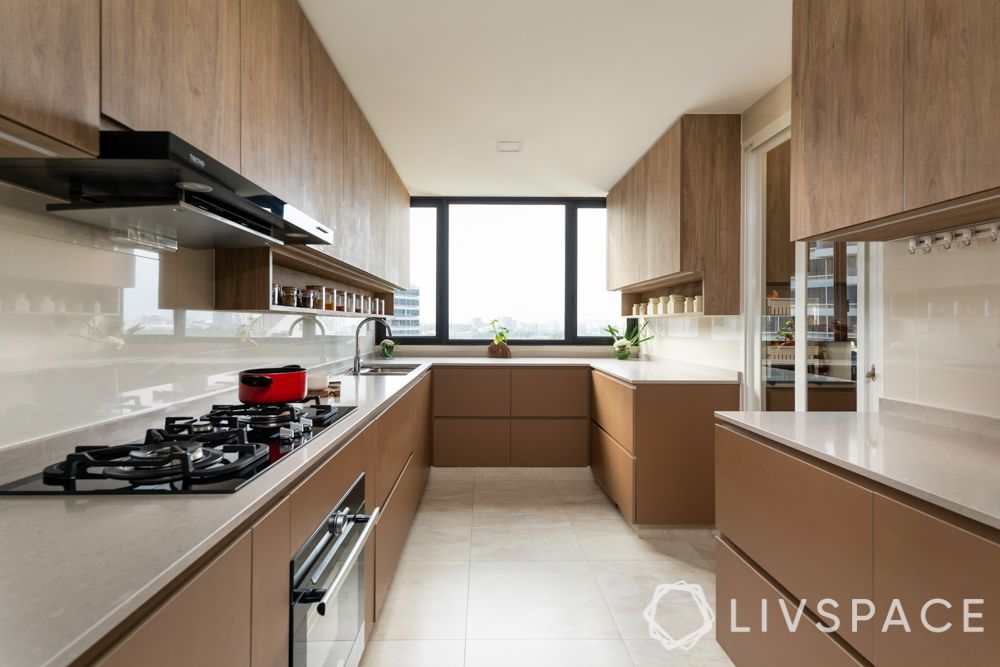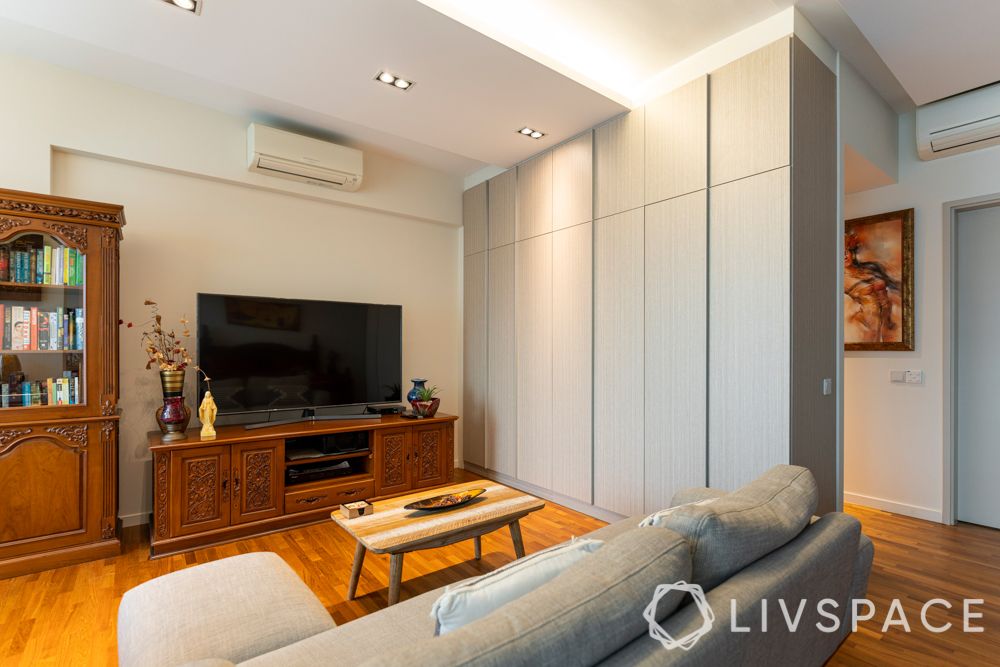 ---
Who livs here: Priya Subin Joseph with her husband and two sons
Size of home: A four-room condo
Design team: Interior Designer Shivani Malhotra and Project Manager Kent Loke
Livspace service: Kitchen, bathrooms, balcony, dining area, private lounge in the master bedroom, bedroom cum study & walkway
---
Even as Priya, the homeowner and professional chef, was selecting a home for herself and her family, she knew what she wanted from the layout —enough space to display her collection of art, collectibles, a big living room, a sizable comfortable kitchen, and lots of natural light. With mirrors that break the monotony in the walkway to the breezy balcony, this condo interior design has details that you must not miss. This space celebrates female influences and the interests and achievements of the modern chef.
What we loved: You must check out the materials and finishes used in this condo! These are so low on maintenance. Also, we love how the master bedroom in this condo has a private lounge area meant purely for relaxation.
Have you tried our kitchen quiz yet? This will help you decide on a design that suits your lifestyle and needs.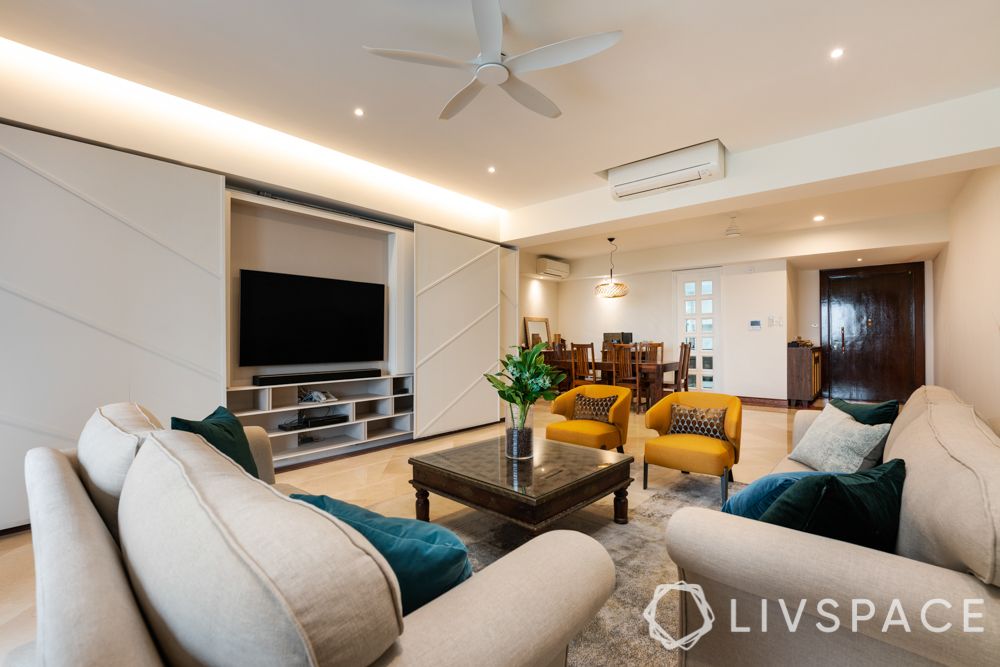 ---
Who livs here: A family of four
Size of home: A four-room condo
Design team: Interior Designer Andrea Rodriguez and Project Manager Jamaludin Abdul Ali
Livspace service: Living room, kitchen, master bathroom, kid's bedroom, kid's bathroom
---
Selecting the right colour palette and adjusting the layout can do wonders to a condo renovation project. This condo flaunts natural and raw materials that express their intrinsic qualities and it is clean and well proportioned. This 30-year-old condo was screaming for a renovation and when our designer took charge, she left no stone unturned to make sure that her clients are happy. Wait till you see the little details that make this condo interior design look like it's worth a million bucks!
What we loved: As soon as you enter the condo you will see this sliding door with trims, that hides away the TV unit in plain sight. You should also check out the marble flooring and custom-made doors for each room. The designer also gave a personal touch to the customised shoe rack with rattan netting that the homeowners absolutely love!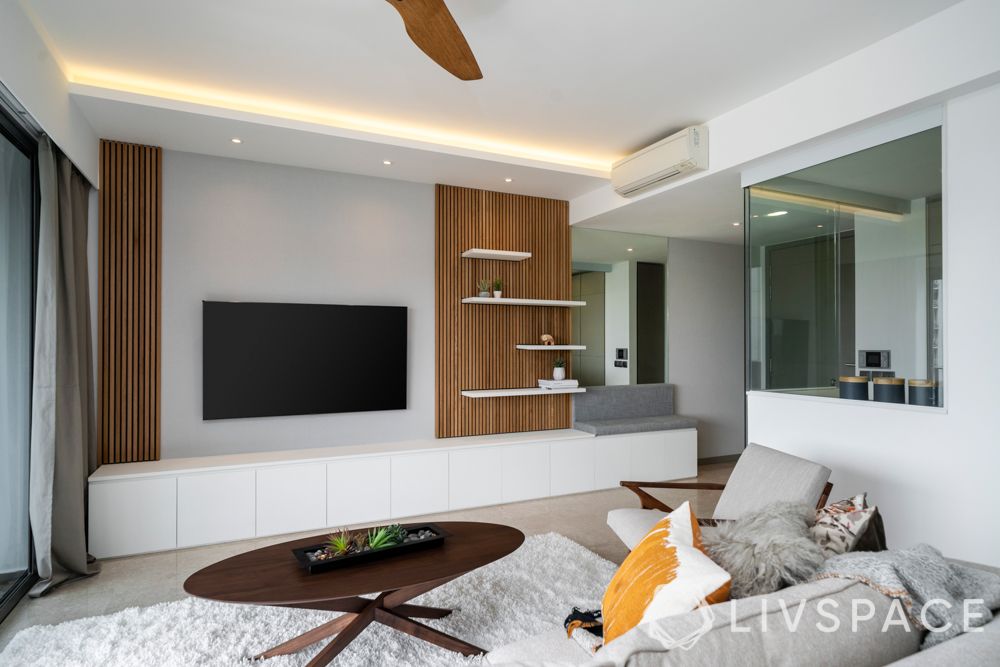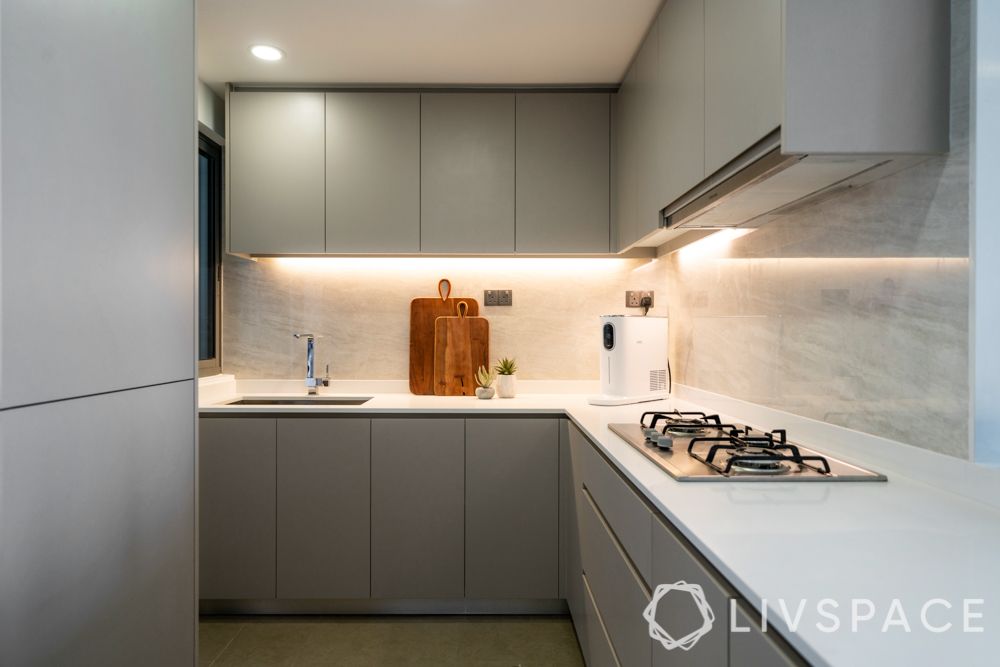 ---
Who livs here: Amy Law with her husband Marcus Tan and their two
Size of home: 127 sqm
Design team: Interior Designer Herry Tan, Project Manager Kent Loke and Business Manager Andrea Rodriguez
Livspace service: Design, painting, electrical, lighting, feature walls, carpentry and bathroom renovation including tiling and plumbing
---
If you are searching for condo interior design ideas in Singapore, this simple, uncluttered home is the way to go. It's elder-friendly and wheelchair-accessible too. Taking inspiration from the lush green surroundings, it's filled with neutral colours and plenty of wooden elements. Amy and Marcus' Feng Shui master had already dictated certain sections of the layout. Using these as the starting point, Andrea their designer started designing this condo.
What we loved: We are crushing on the feature wall made of oak wood panelling in the living room. Also check out the Italian ceramic tiles for the walls and floor of the bathroom. The small study table in a corner of the spare room is also a superb idea!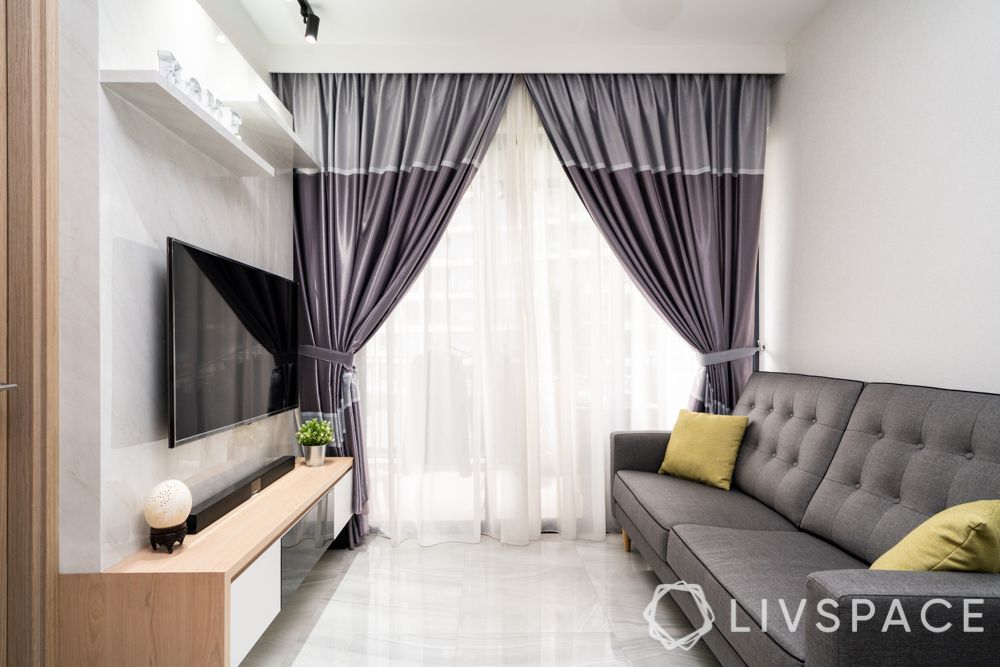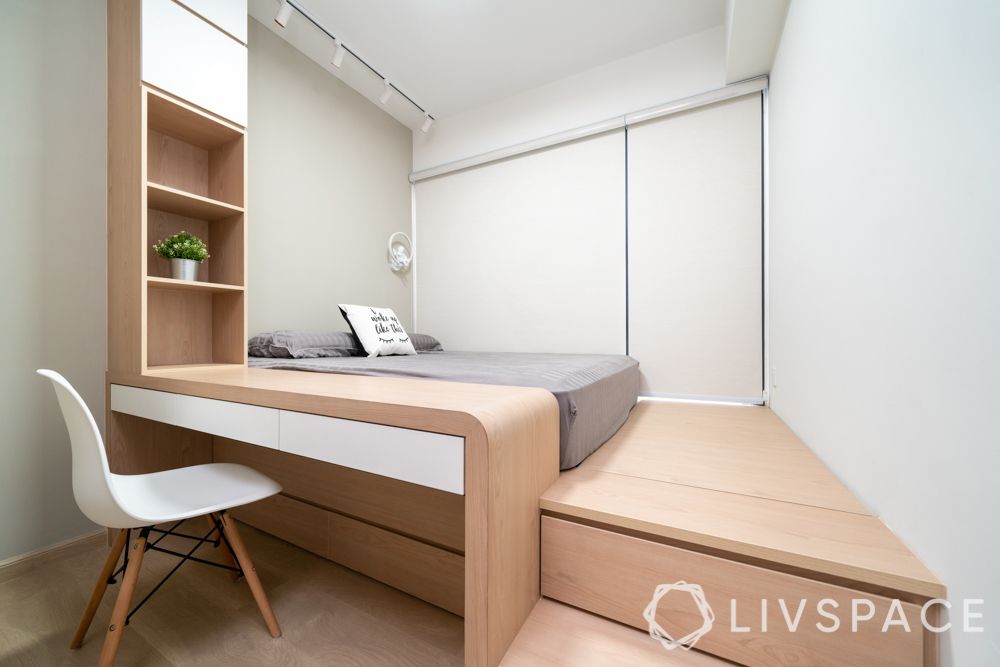 ---
Who livs here: Kate and her sister
Size of home: 55 sqm
Design team: Interior Designer William Chong and Project Manager Andee Ching
Livspace service: Living room and bedroom design
---
Sometimes, a modern and minimal home design is not about scaling down and keeping decor to the bare minimum. It can also be about using the space the right way without creating a cluttered look especially for a small condo interior design like this. This is just what we have done for this super compact condo that is shared by two sisters.
Looking for design inspiration to creatively fit in a home office like this home? Look no further. Check out The A-Z of Home Offices and How to Make it Comfortable.
What we loved: There are some unique condo interior design ideas to steal from this Singapore home. Platform beds with ample storage space in both bedrooms are made of oak wood, and have attached study units that save up a lot of space. Also do not miss the hand-picked drapes and blinds in both the rooms.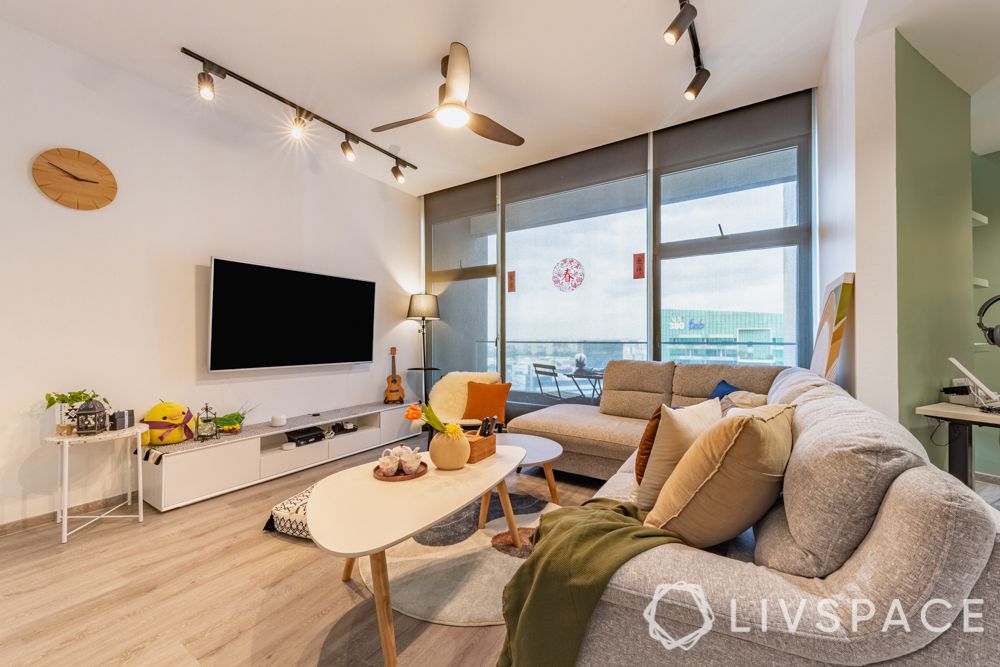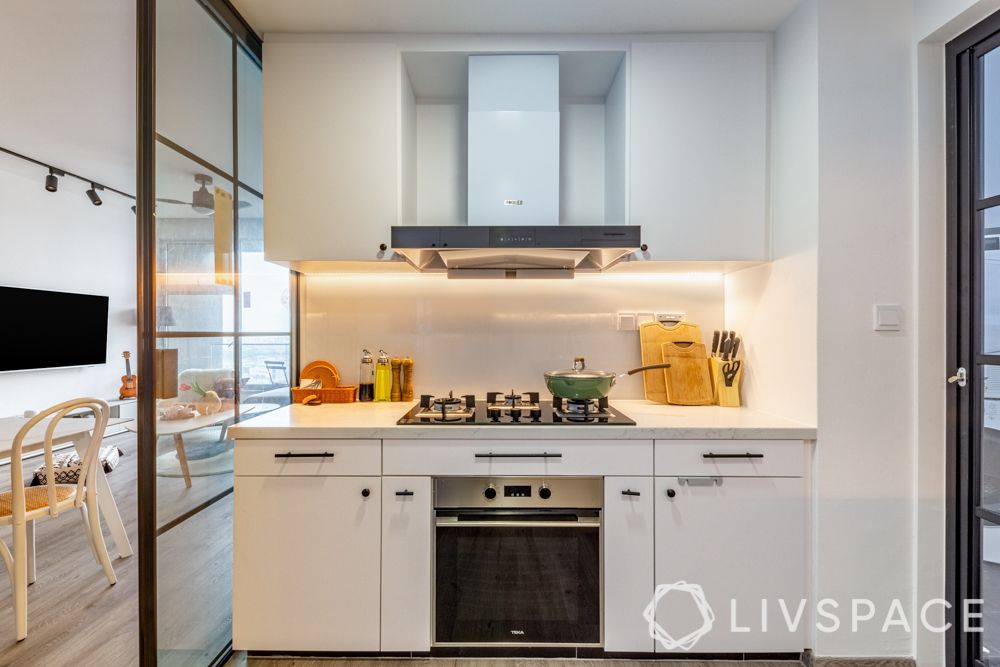 Who livs here: Irene and Zee
Location: Sturdee Road
Type of home: 3 room condo
Livspace team: Interior Designer Wanting Liu and Project Manager Kent Huang
Livspace service: Full design scope including carpentry, masonry, electrical, plumbing, etc
This is one of our favourite condo interior designs since it has an ideal mix of a relaxed countryside vibe and a stark Scandinavian charm. From the fuss-free foyer that sets the tone for the rest of the condo to the Boho-chic vibe in the living room, you will fall in love with every room here.
What we loved: The comfy Bohemian seating in the living room and the American country-styled details in the kitchen are some features of this condo interior design in Singapore that we are crushing on. We also love how Wanting, the designer, has added smart lights in the condo that are functional and affordable.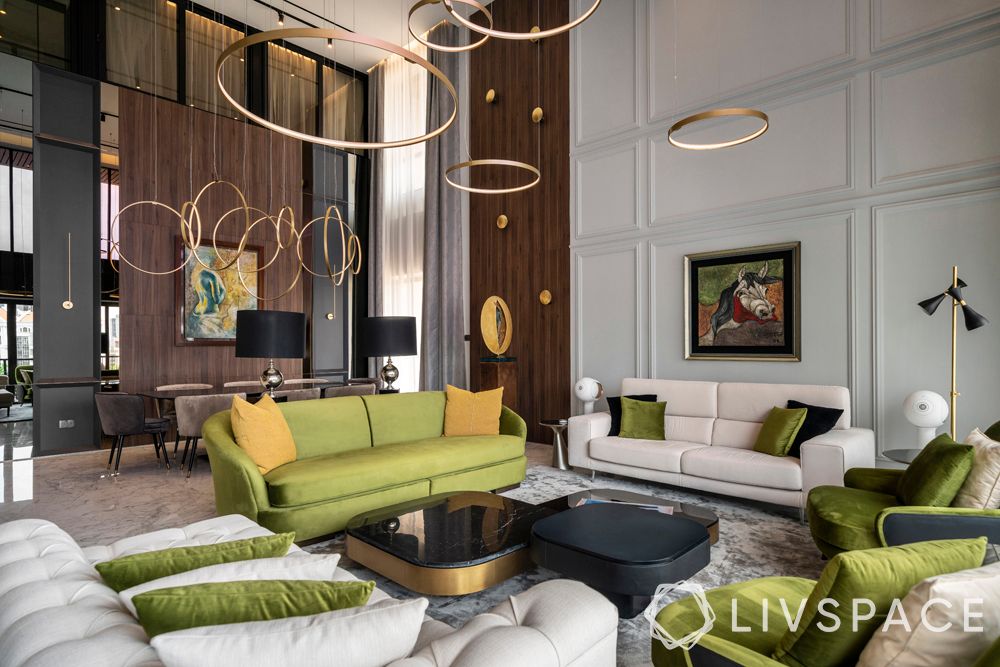 Who livs here: Amit Khattar with his family
Location: 327 River Valley Road
Type of home: 4-room penthouse
Livspace team: Interior Designer Wanting Liu and Project Manager Jamal
Livspace service: Demolition, masonry, plumbing, electrical, glass and metal works, carpentry, floor and wall finishes, painting, design, FFE
If there's one condo we had to pick that wins brownie points for being uber chic and luxurious, it would be this one. The design focuses on plush materials and premium finishes for a luxurious look. The common areas of this condo are designed to entertain and every space has its unique design language with striking features.
What we loved: The contemporary chandeliers in the common areas of the condo and the rooftop sitout are two features we absolutely love. Also, don't miss the huge walk-in wardrobe in the master bedroom.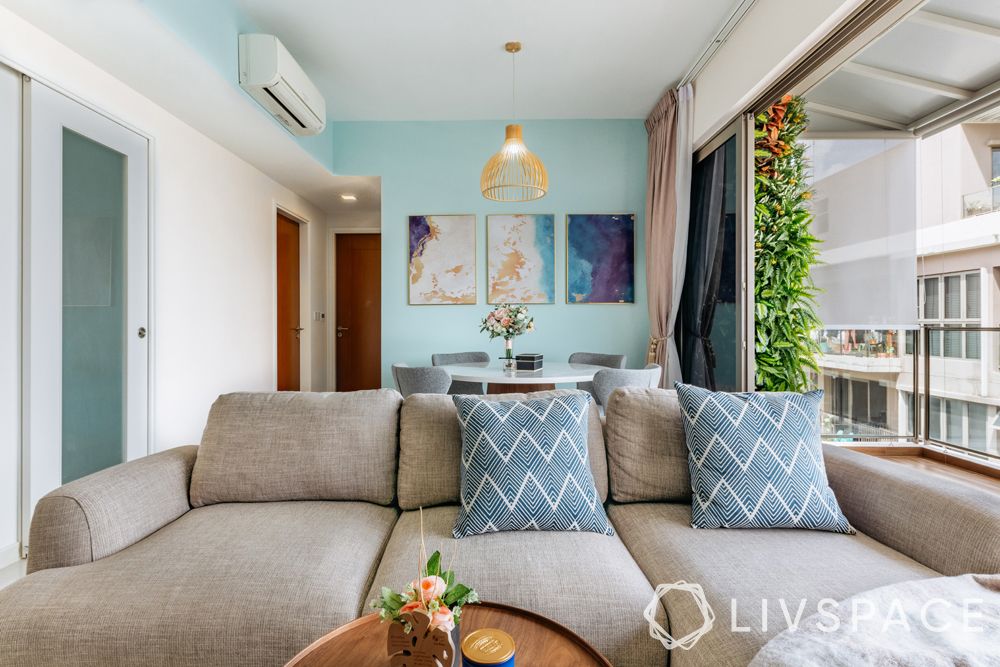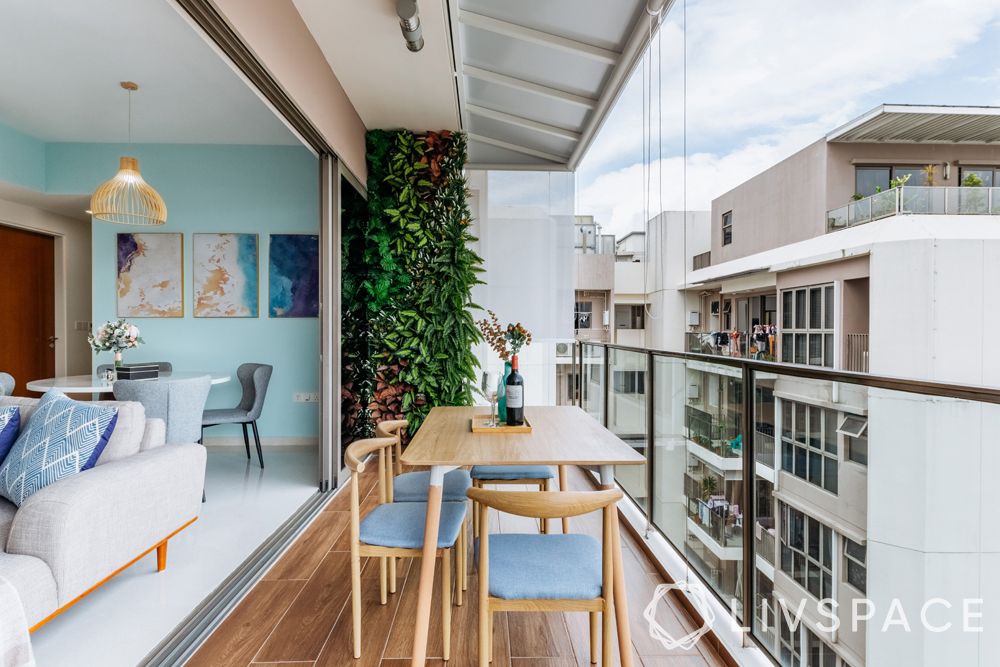 Who livs here: Yinghui with her husband
Location: Kovan Regency
Type of home: 4-room condo
Livspace team: Interior Designer and Project Manager Johan Ng
Livspace service: Carpentry, flooring, canopy, tiling, electrical, plumbing, vertical garden, painting
Are you someone who loves Japanese style of living? Minimal, clutter-free and calming are three keywords that come to our mind when we think of Japanese interior design. The idea for this condo interior design in Singapore was to fill it with warm wood and natural elements like stone. It also had to be low maintenance since the couple residing here had to do a lot of work-related travel.
What we loved: The fusion of designs, that create the perfect balance of form and function, is something to look out for. Also check out the carefully curated balconies, the simple Japanese style furniture and the plain, neutral walls.
Who livs here: A young woman
Location: 25 Terrasse Ln
Type of home: 2-bedroom condo
Livspace team: Interior designers Songhao Chua and Jewel Lim
Livspace service: Design, carpentry, electrical work and furnishing
Budget: $$$$$
A condo interior design with built-in, automated smart technology is becoming a popular option. Not only does this condo deliver on that, it's also packed with resort-like interior design ideas. We love the seating elements in the dining and living room that also double up as storage options. The designer made sure that the kitchen is packed with storage as well. The use of brass and gold accents, paired with glossy off whites, greys and beiges throughout this living room, gives the space a clean look.
What we loved: The balcony is the clear winner of this condo interior design ideas for Singapore. It exudes beach-like vibes, making it a perfect space to relax after a long day. The large mirror wall near the entryway adds visual space to this compact condo interior design. Do not miss the motorised curtains with a plush fabric.
Who livs here: Xia Xinyi
Location: 529 Bedok Reservoir Road
Type of home: 2-room resale condo
Livspace team: Interior Designer Wanting Liu and Project Manager Zach Lee
Livspace service: Flooring, painting and decorating
Budget: $$$$
This condo apartment pairs old world charm with a functional angle. It's a clever condo interior design idea that bathes the entire home in the warmth of its wooden accents, resulting in a cosy space for the homeowner. The decor, flooring and painting have given this condo's interior design a breath of fresh air.
What we loved: The premium quality furniture is a showstopper. Combined with the moss green walls and the vintage decor, it fits seamlessly to form a continuous colour scheme. The vinyl flooring chosen by the designer also keeps up with the same look. Also pay attention to the sideboard cabinet in the dining area that can be used for storage as well as display.
Who livs here: A couple
Location: 35 Robin Road
Type and size of home: 2-room condo spanning 98 sq. m.
Livspace team: Interior designer and project manager Ava Gui
Livspace service: Full house renovation
Budget: $$$$$
The first thing that everyone tends to notice about this condo is its minimalist style. This condo design idea takes its inspiration from the classic mid-century design pieces. This condo has an overlay of soothing neutrals throughout the entire house. The lighting fixtures easily become the focal point of the rooms.
What we loved: The marble floors not only add elegance, but they also count as a reflective material that opens up the space in this condo. The furniture is definitely inspiring as it is a blend of modern and antiques, sitting together in perfect harmony in every room. Do not forget to check out the full house here!
Who livs here: Daniel and Katherine Tran
Location: 19 Forest Woods
Type of home: 1-room condo
Livspace team: Interior Designer Mizan Arsad and Project Managers Terence & Fione
Livspace service: Design, electrical, ceiling, carpentry, painting
Budget: $$$$$
This condo apartment has higher than usual ceilings and our designer put it to good use by adding false ceiling fixtures and storage in these extra vertical spaces. The space is optimised with seating options that can be reconfigured according to the needs of the homeowner. You should definitely get inspired by the warm, moody lighting fixtures of this condo interior design!
What we loved: The plush living room is easily the most cosy spot in this home. With luxurious seating and a floating modular TV unit, this spot manages to accommodate the sofa well. The cove lighting above gives it a much needed dash of warmth. The one-walled kitchen is fully equipped with built-in electrical equipment for a sleek look. The grey and wooden laminate keeps it neutral and clean.
Things to Consider When Renovating Your Condo
Know the rules
There are a lot of rules that apply when it comes to renovating a condo and it is advisable to be clear on what you can and cannot do. This will help you to avoid unforeseen problems. Mostly, the rules and regulations serve to highlight which particular days and hours you can spend renovating a condo. Stay on top of these to be on the safer side.
Have a budget in mind
It goes without saying that whenever you embark on a renovation journey, you will set budget estimates. Try to account for miscellaneous expenses and stick to it as much as possible.
Don't move around fixtures too much
Do not spend a huge amount of money on setting up different locations for your fixtures. It will only drain you of your time, effort, and money. Instead, focus on making some design changes to what's already available.
Focus on the building rather than hacking
Most condos come with high-end quality materials and you will not require extensive renovation. We suggest you think about working with the walls intact instead of hacking and demolition.
Repaint as much as you like
Painting can be your best bet if you are looking to rent out your condo after renovation. It saves a lot of money. A beautiful paint colour can change the entire look of your condo.
Stay somewhere else during the renovation
Home renovation can be disturbing if you are staying in one of the rooms. While you can pay regular visits, it is always better to stay somewhere else during the renovation. A friend's or relative's home or even a motel, anything works.
We hope you enjoyed the condo interior design inspiration! If you're looking for HDB designs then you must check this out: 5 Stylish & Practical HDBs With Ideas to Steal.
Also, take a video tour of this amazing 4-room condo we designed at Kovan Regency:
Send in your comments & suggestions to editor.sg@livspace.com.
How Can Livspace Help You?
We hope you found our ideas useful! If you want your home to be just as beautiful, then look no further. Book an online consultation with Livspace today. Delivering safe home interiors has been our No. 1 priority. Click here to find out how interiors are being delivered following all safety protocols