While most of us spend considerable time at home, you are going to want every room at home to be as comfortable as possible. We understand that budget plays a major role when you decide on renovating any part of your home. This is where decor comes into play. You can jazz up any space by adding the right decor accessories. In this edition of condo living room design, we have listed down some basic things that your living room must have and decor that can add oodles of character to it. Read on.
Must-haves in your living room
As Singaporeans, we love the minimal way, with Scandinavian designs dominating catalogues. But how do we bring it all together? The right furniture, colours and placement can make all the difference when it comes to living rooms. Check out these essential things that you need to nail in your condo living room design.
#1: Furniture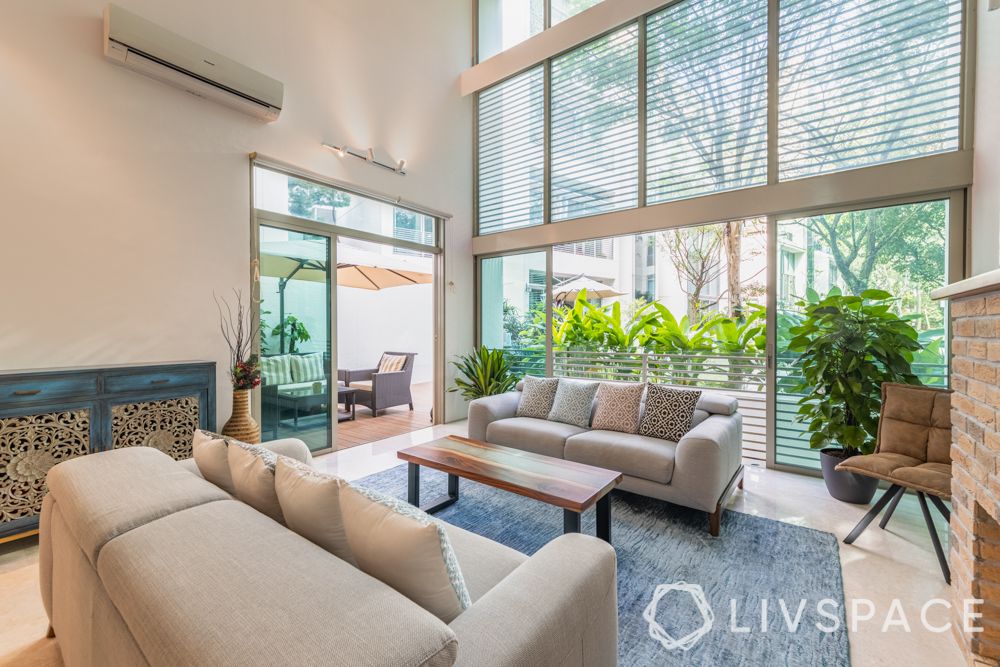 Some essential pieces of furniture for living rooms include sofas, armchairs, centre table and a TV unit. We recommend L-shaped sofas for compact living room interior design, since they provide more seating space. Mind the availability of space, create a focal point, facilitate conversation and consider traffic flow when placing furniture.
#2: Area rugs and carpets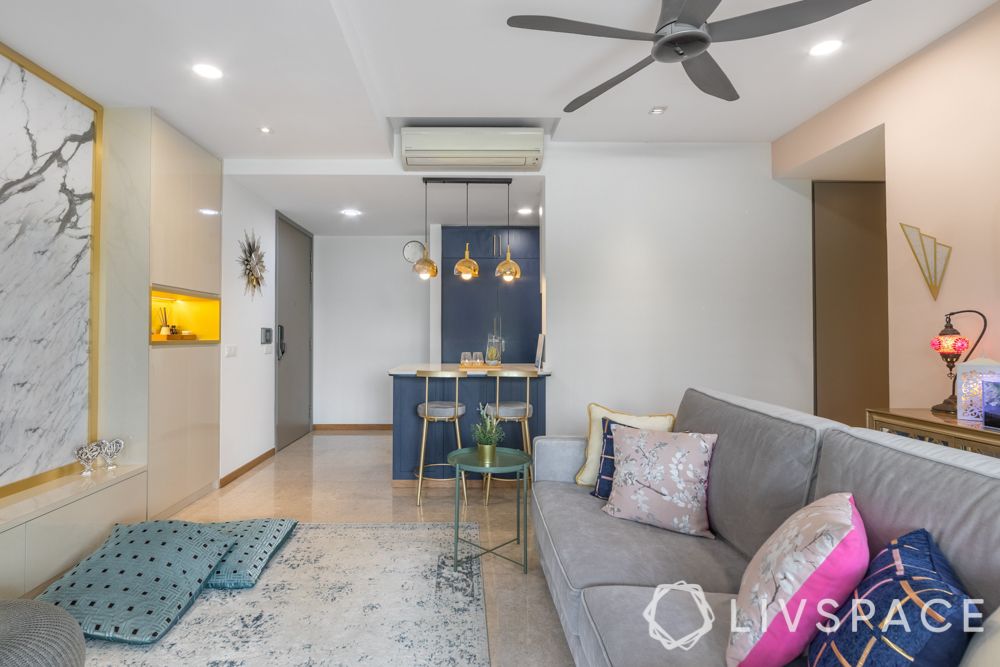 Believe it or not, area rugs can make or break a room. The colour, pattern, design, material — each of these can change the look and feel of the space. The most important thing to consider while buying a rug is the size. All furniture should ideally be sitting on the rug and there should be around 10 to 15 inches of bare space between the edges of the rug and the wall.
#3: Lighting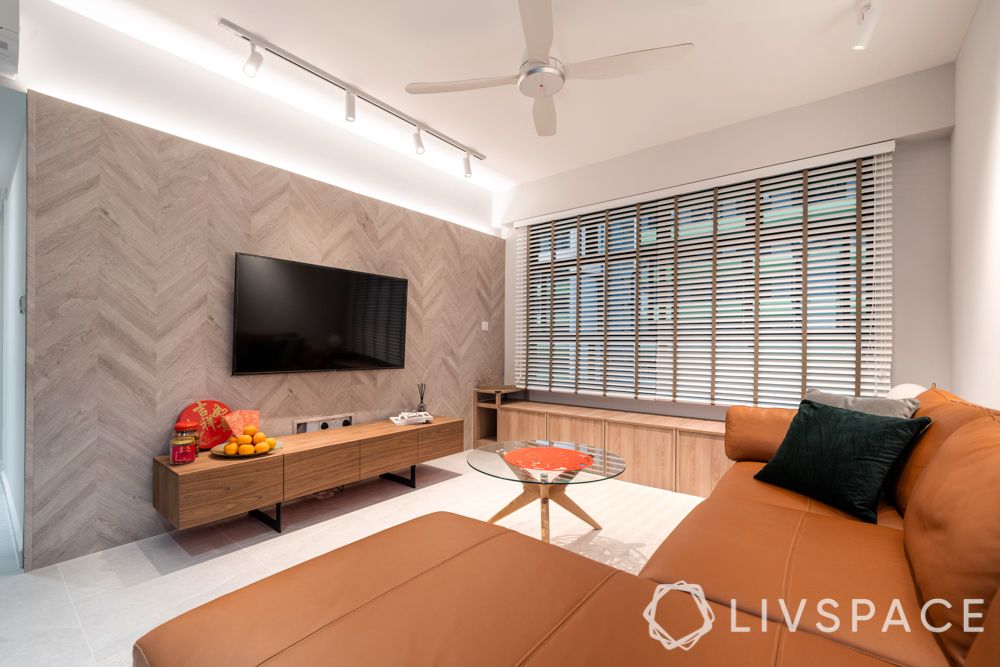 For a condo living room design, we need lesser focus lights and more ambient lighting since ambient lighting creates a welcoming and soothing atmosphere in the living room. We suggest you get a mix of ambient lights like false ceiling cove lights and recessed lights along with some floor lamps and pendant lights. Create a focal point with a chandelier, if that's your thing. Remember that the minimum ceiling height for a hanging fixture is 9 feet.
#4: The right paint colours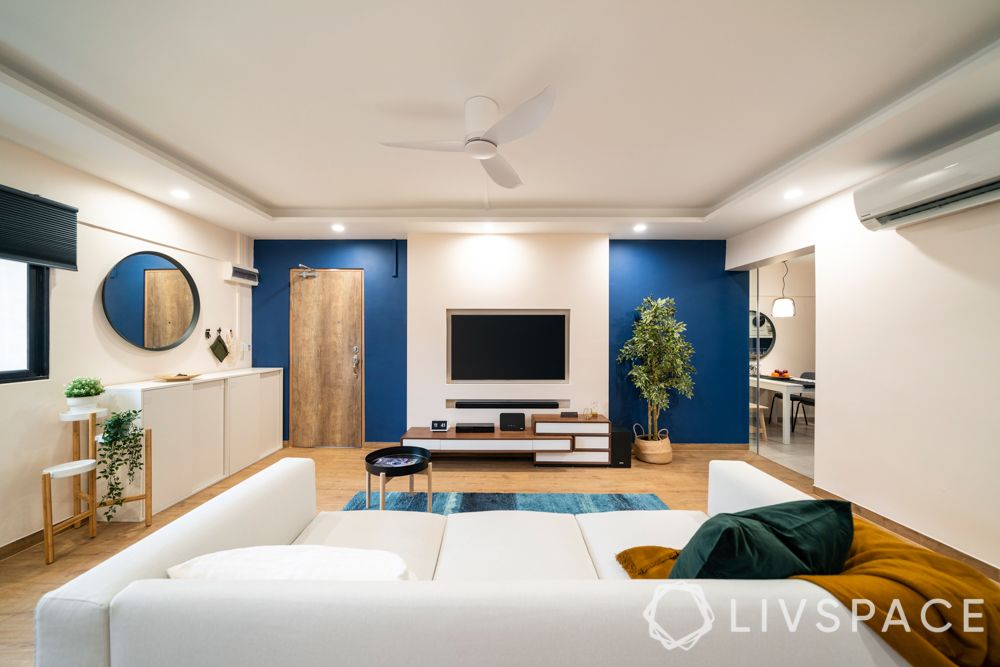 One rule of thumb to follow while choosing paint colours for your condo living room design is to never select it first. Consider the kind of vibe you want in your living room so that it helps you choose the right colour to suit the mood. It is easier to paint walls and not worry too much, since you can change it if you do not like it.
#5: Decor pieces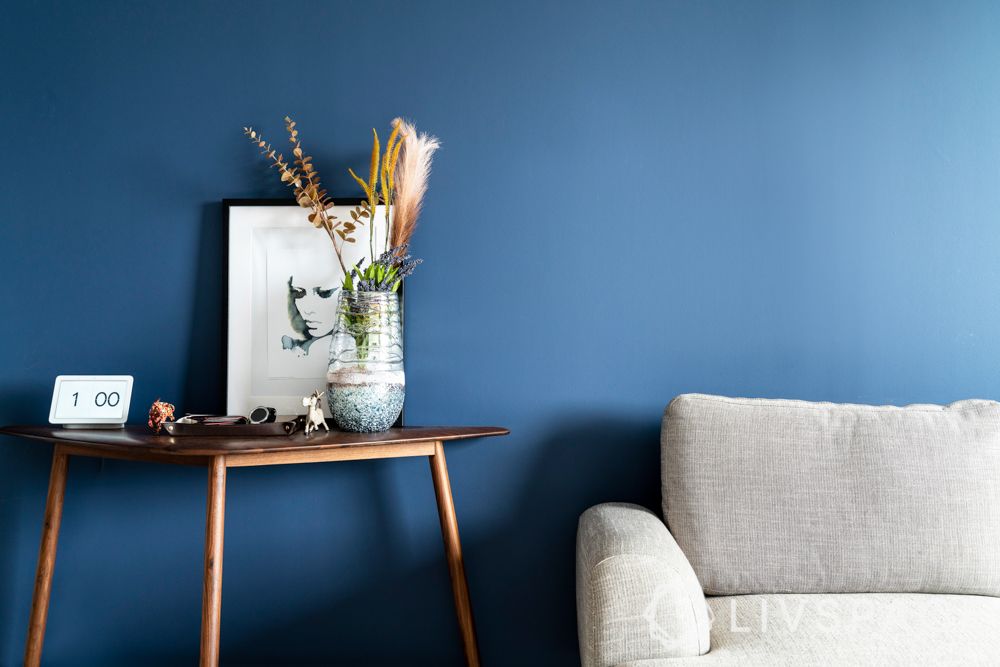 From plants to memorabilia, there's a lot you can place in different corners in your living area.Little collectibles from travel can also find their place on the side tables or shelves. Keep the form and size in mind and remember that these are just additions to your living room decor. Read on to know what is the best decor for your condo living room design.
Decor that can amp up any living room
#1: Plants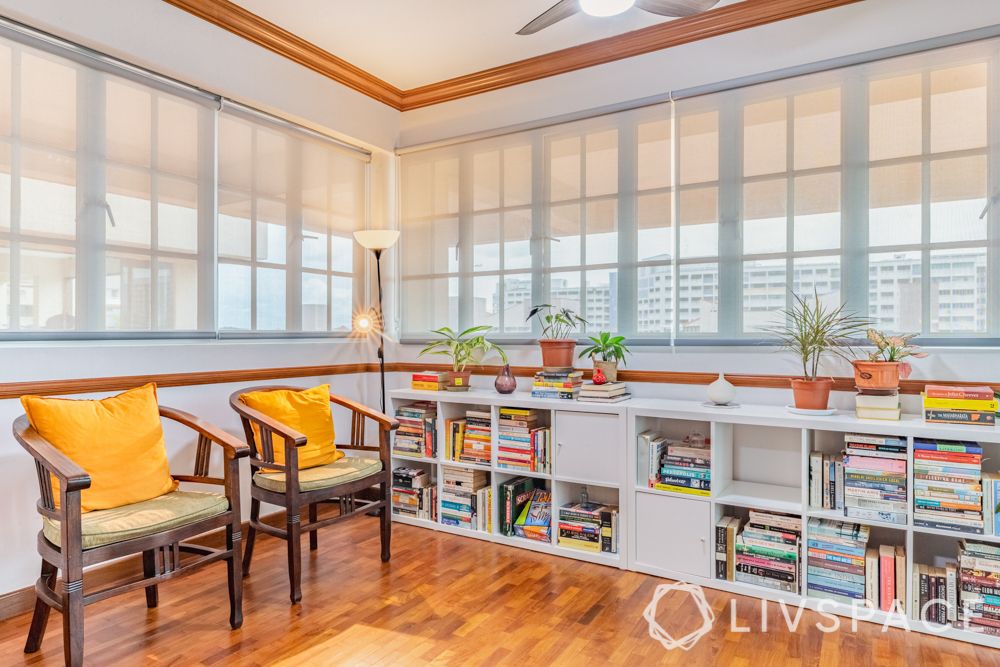 If you want to instantly infuse life into your condo living room design then make sure to add some fresh greenery in there. Perfect idea for neutral-coloured spaces, the pop of green from plants will brighten up the living room. Choose tiny planters or one big plant for a corner, it's totally up to you. You can also add terrariums on the centre table.
#2: Layered drapes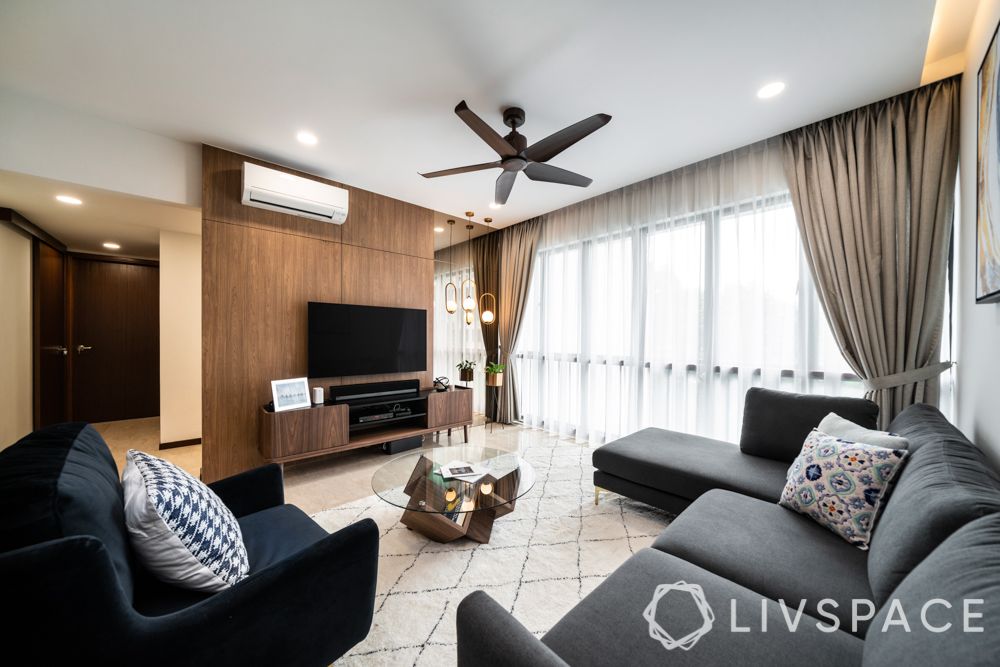 Your living room should neither be too dark or too bright. So how do you combat this situation? Layered drapes can come handy when you are trying to achieve optimum natural light in your condo living room design. While white is the perfect colour for the sheer layer, you can experiment with the colour and print for the curtains. They are going to change the entire look of this space so choose carefully.
#3: Wall art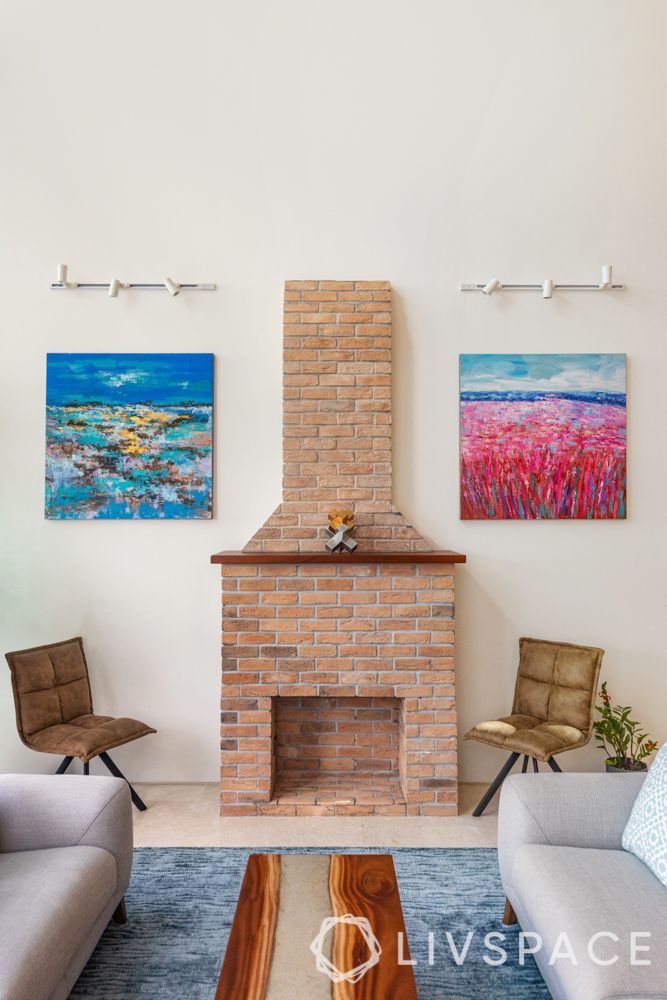 So you've been drooling over this piece of art from a gallery or a thrift shop and you just don't know where to place it. Your living room walls are the ideal spot for these art pieces. Keep the walls simple and plain and simply hang up statement paintings and frames to add instant character to them.
#4: Wallpaper/paint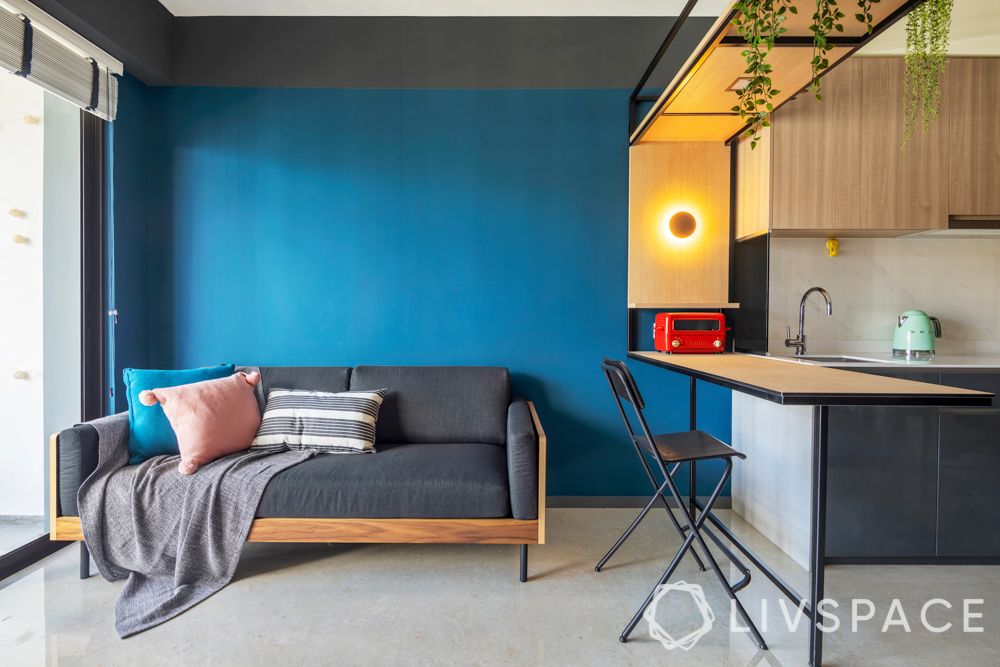 Whenever you are designing your living room you are definitely going to repaint the walls. Pick any one central wall and create a focal point on that. The easiest way to do this is by painting the wall in a bold, trendy wall colour. It will attract attention immediately. Similarly, if you have some extra buck to spare, we suggest you opt for wallpapers in interesting patterns.
#5: Statement coffee table
How do you place decor items in your living room without having a centre table? We recommend you get a statement centre table that will literally be the centre of attention in your condo living room design. This is one accessory that you must invest time and effort into.
#6: Versatile seating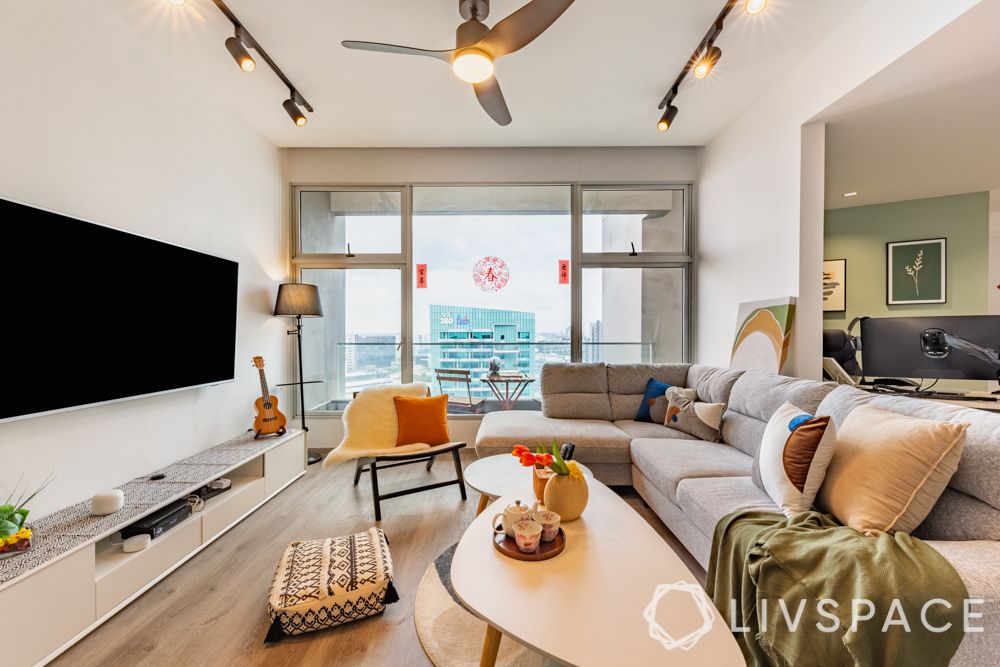 When it comes to decorating your living room, do you feel that you can only add little things? No, you can add decor in the form of seating too. Just like this living room where we have added a floor cushion and an accent chair that look good and are fun seating ideas.
#7: TV console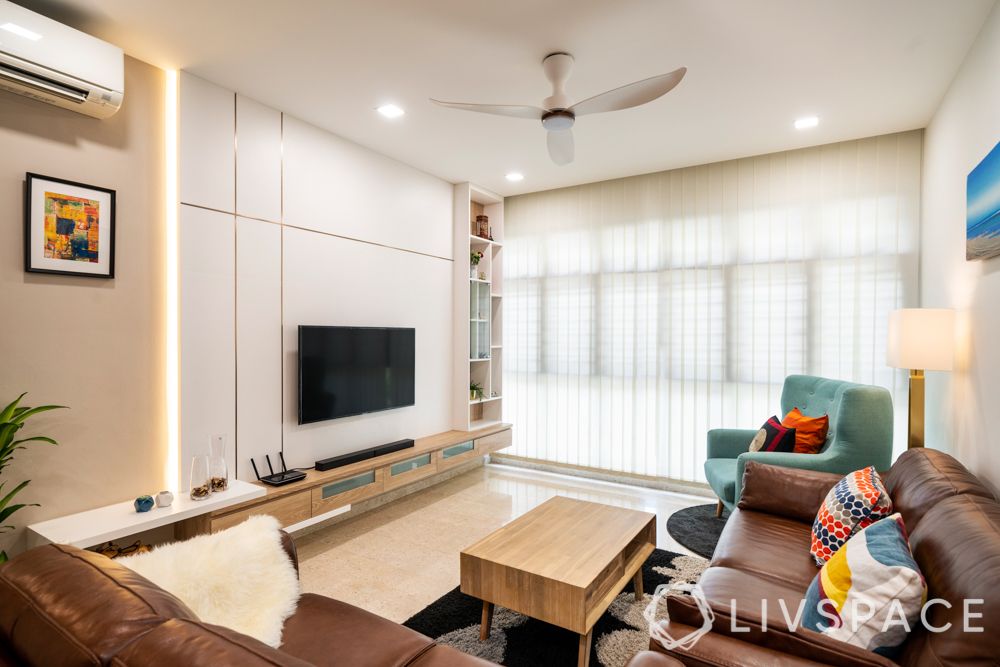 Everyone has a TV console unit but how do you make it stylish? We recommend you think about adding trims and colour to it. Here we have added gold strips to the off-white TV unit and enhanced the look with LED lighting behind it. A TV unit like this is bound to catch attention.
#8: Curvy accents like couches, mirrors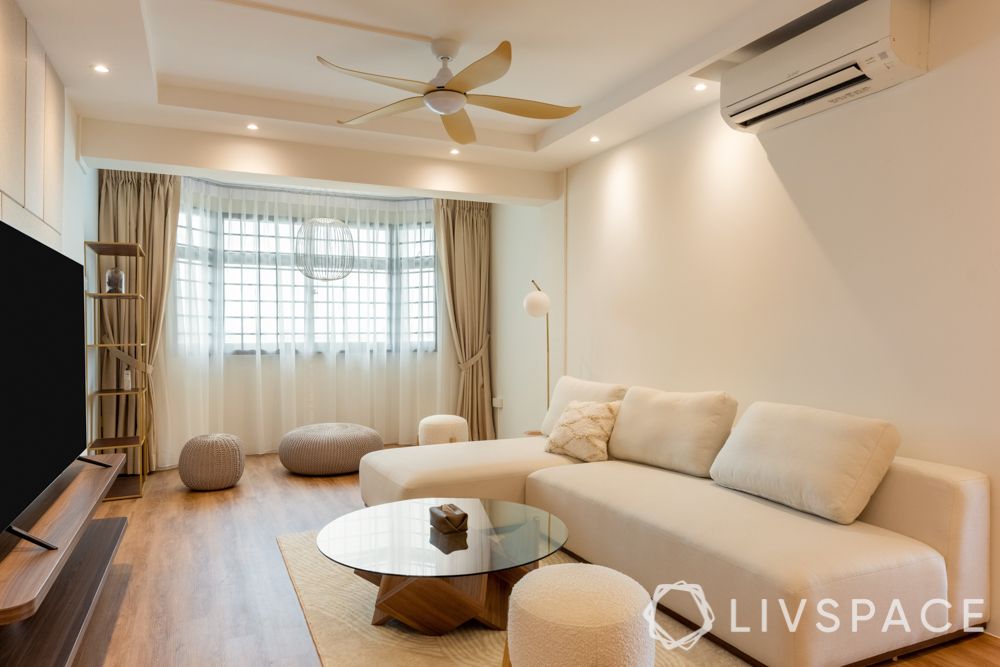 Do not be too strict with form when it comes to choosing furniture for your condo living room design. Let the space look natural and comfortable by opting for curvy and rounded furniture. Think round ottomans, cushions, poufs and soft-edged sofas.
#9: Wall shelves/storage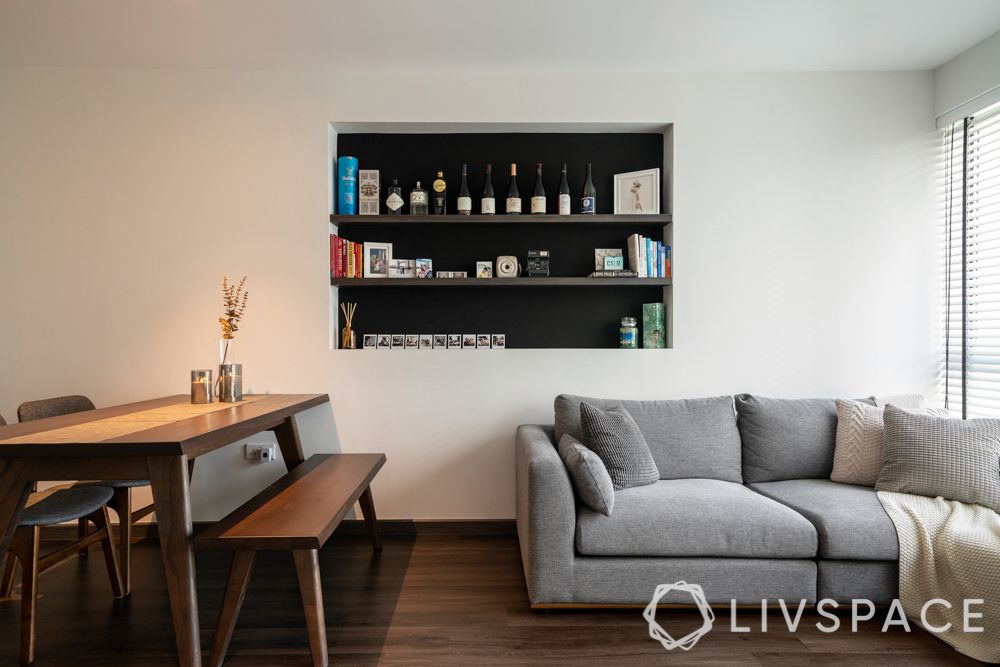 A great way to utilise walls for decor is to create niches and use them for storage and display. Since we have already established that living rooms are the ideal spaces for displaying your favourite decor, a back-painted niche will definitely infuse life into plain walls.
#10: Statement lights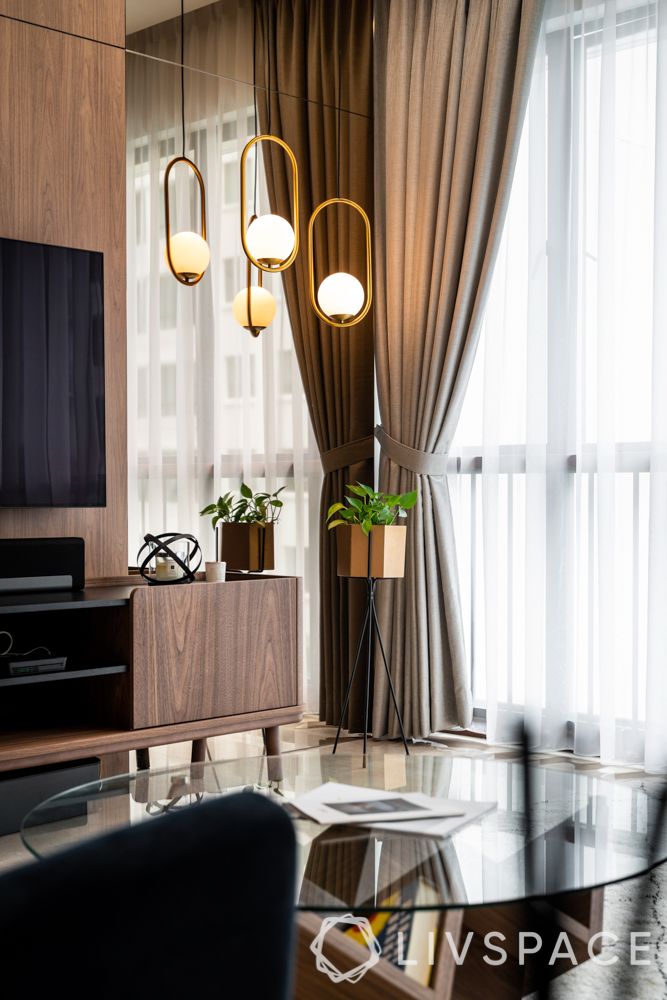 Lights are a great way to add decor to your living room. When choosing lights, make sure you are opting for at least one statement piece. Whether you like chandeliers or pendant lights, it is essential to get that striking light that brightens up your living room like no other!
Are you ready to renovate your living room? We hope with these tips, you are. If you are looking for more, check this out: Get the Scandinavian Look Like These 6 Living Rooms Crafted by Livspace.
Send in your comments & suggestions to editor.sg@livspace.com.