Buying our own condo is a dream come true for most of us and when it comes to making it our own, there's nothing as exciting as that. We know Pinterest is overflowing with ideas but don't you want to try out some designs that we have already added in some condos? Our designers are experienced and passionate about their work and they love putting their minds and hearts into what they do. We have curated a list of our favourite condo renovation Singapore projects by our designers and highlighted ideas that you should try out in yours.
Also, scroll further to know how a condo renovation differs from an HDB.
Our top 6 condos so far
#1: An interplay of colours, patterns and textures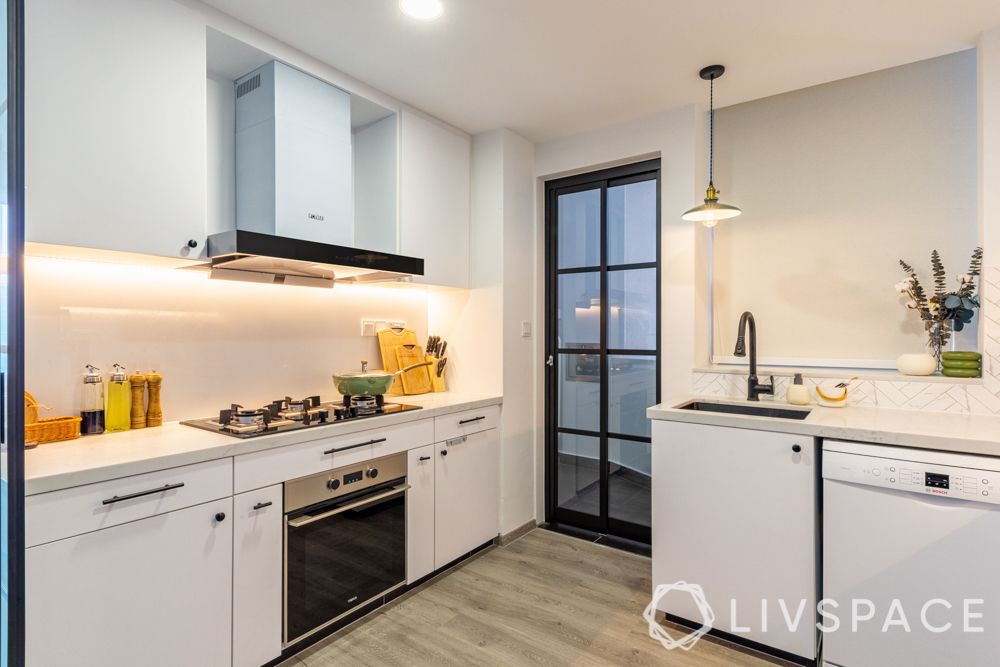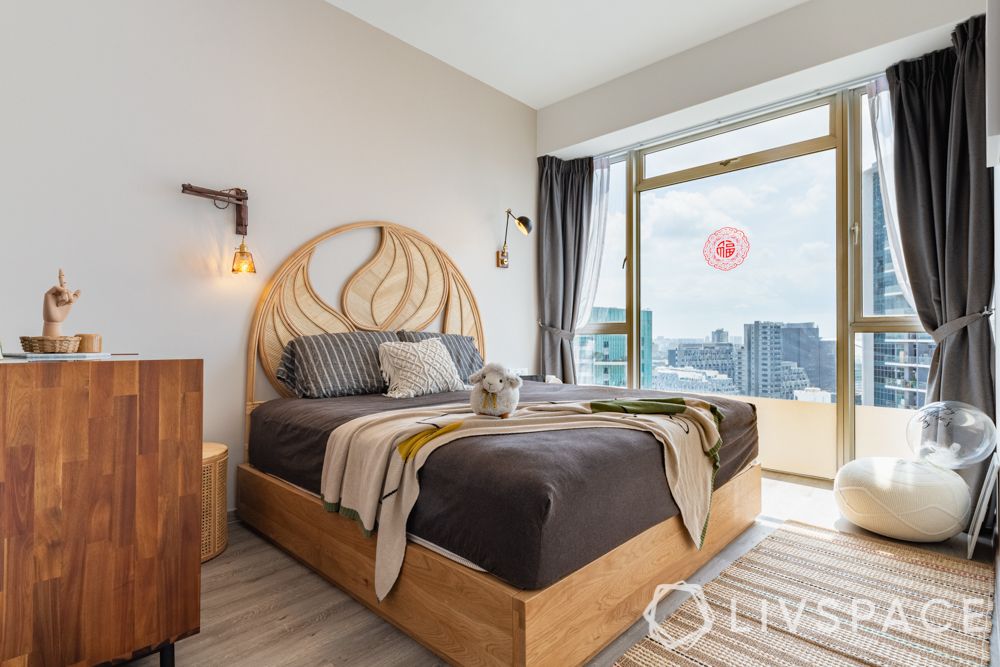 Size: 3-room condo spanning 1,259 sq ft
Scope: Full design scope including carpentry, masonry, electrical and plumbing
Design style: Boho and Scandinavian
Budget: $$$$$
This is our favourite condo renovation in Singapore since it has an ideal mix of a relaxed Countryside vibe and stark Scandinavian charm. From the fuss-free foyer that sets the tone for the rest of the condo, to the Boho-chic vibe in the living room, you will fall in love with every room here. Warm wooden flooring combined with simple walls and interesting lights in every corner define this condo.
What you look out for
The comfy Bohemian seating in the living room
American country-style design for the kitchen
Offbeat calm, green walls in the study room
Designer speak
"It was incredible working with Irene and Zee as they had complete faith in me. Due to budget constraints, I tried to retain the original layout and only hack portions that really needed a makeover. I had to be careful because we were not breaking down the entire condo. I enjoyed designing the master bedroom and master bathroom and the materials used are both classy and budgeted. It was a great experience!"

Wanting Liu

Interior Designer, Livspace
Read more: When Boho Fun Meets Scandinavian Form and Function in a Condo
#2: Marked by high ceilings and French windows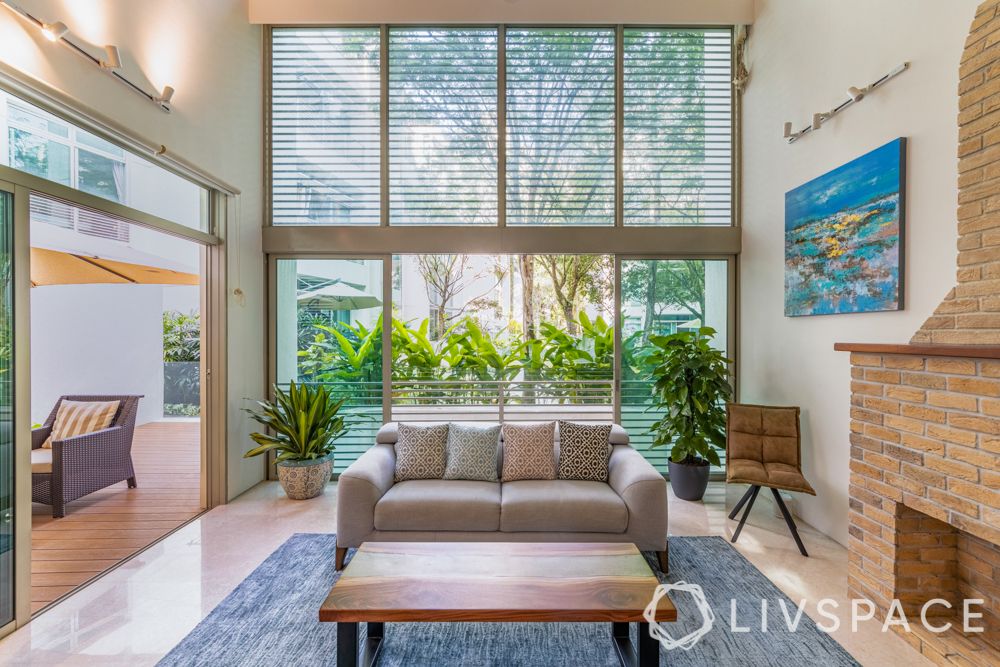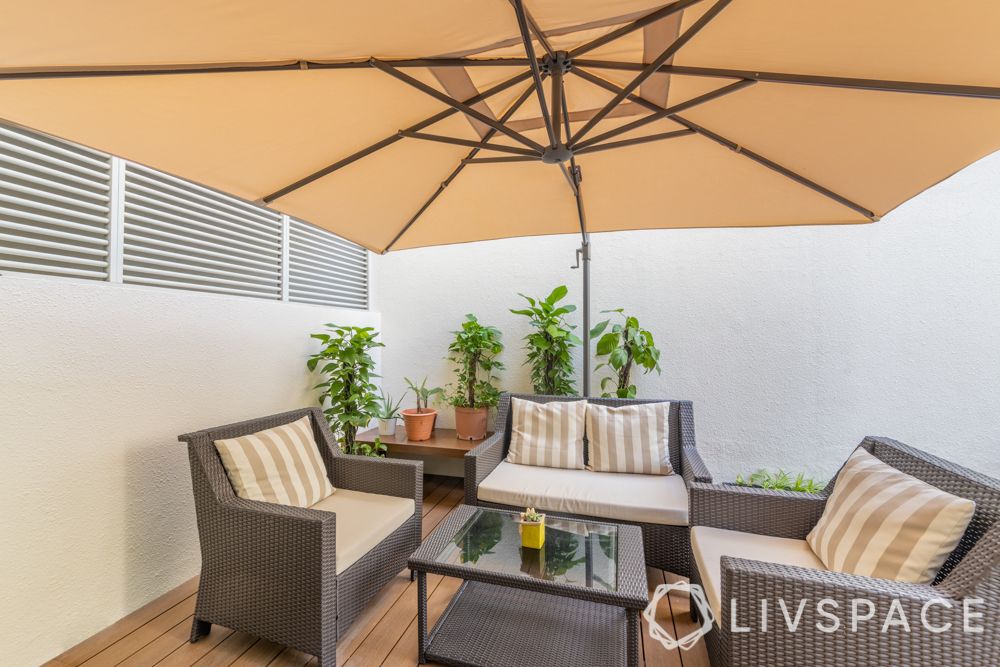 Size: 4-room condo
Scope: Design, demolition, masonry, plumbing, etc
Design style: Warm and rustic
Budget: $$$$$
French windows, natural wooden furniture, a fireplace and so on.. This condo is a whole vibe on its own. The family residing here wanted to fill their home with a warm and rustic vibe that is different from any other condo renovation Singapore. You will spot exposed brick features and lots of browns in this condo. Another design lesson to take from this condo is how to dress plain walls with the right paintings. They also have enviable sit-outs that we all want in our home!
What you look out for
Natural-looking brick furnace feature in the living room
Paintings that highlight plain walls
Compact white kitchen that's easy to maintain
Designer speak
"We have tried to maintain the design theme throughout. It was an exciting project to work on. I love the faux brick furnace in the living room. I look forward to designing a more rewarding home."

Ankita Gupta

Interior designer, Livspace
Read more: Fall in Love With the Rustic Yet Modern Vibe of This Spacious Condo
#3: Luxurious materials and lush greenery for this one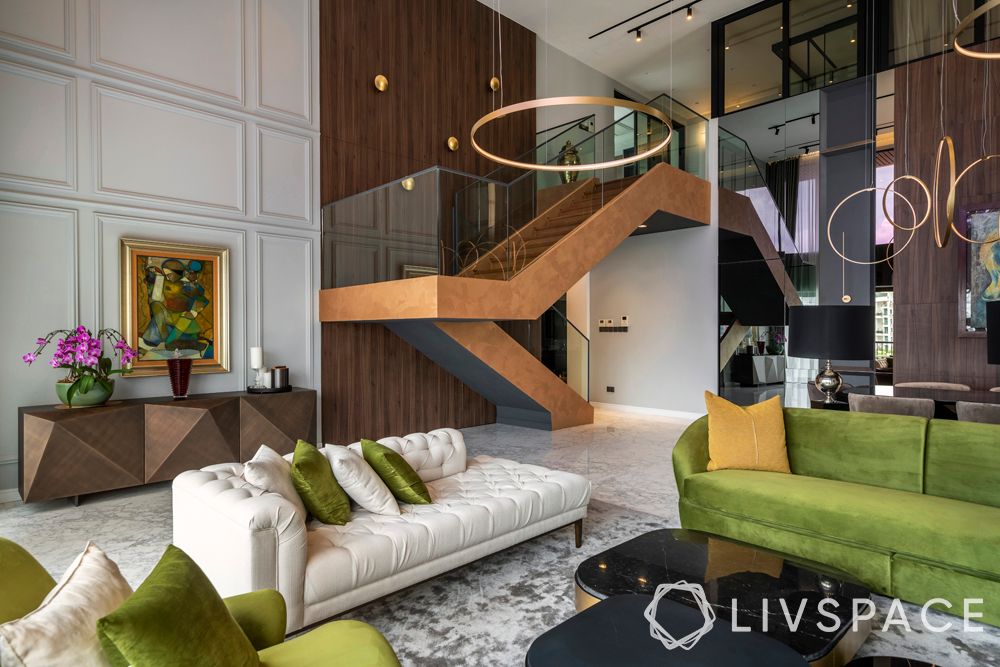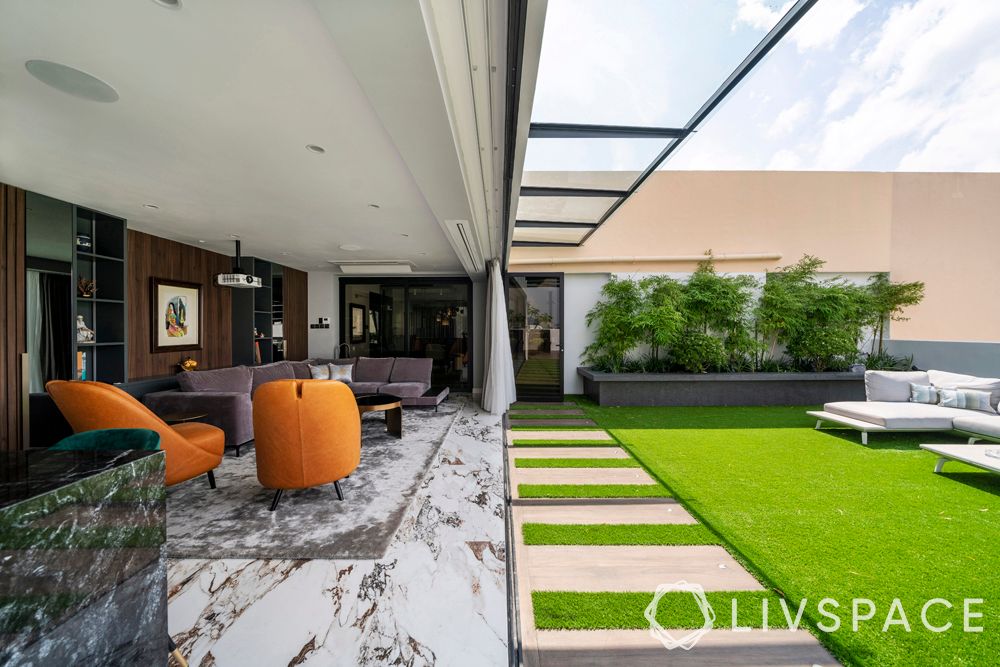 Size: 4-room penthouse spanning 4,090 sq ft
Scope: Demolition, masonry, plumbing, electrical, glass and metal works, carpentry, floor and wall finishes, painting, design, FFE
Design style: Modern Luxe
Budget: $$$$$
With lush greenery in the balconies and rooftop, and ultra luxurious interiors, this condo looks right out of our dreams. The design focuses on plush materials and premium finishes for a luxurious look. The common areas in this condo are designed to entertain and every space has its unique design language with striking features. Vinyl wall coverings provide a very premium hospitality-like look with minimal maintenance. If you are looking for condo renovation in Singapore, you should check this out.
What you look out for
Contemporary chandeliers in the common areas
Rooftop sitout with a great view
Walk-in wardrobe in the master bedroom
Designer speak
"Working alongside the clients, exchanging ideas and helping them achieve their dream home was the highlight of this project and it was so much fun to work on this one. I had a lot of space to play around with and I experimented with materials and finishes while keeping the overall theme in mind."

Andrea Rodriguez Junquera

Business Manager, Livspace
Read more: This is How You Design a Penthouse Condo That's Unique and Luxurious
#4: A clean and Scandinavian look post reno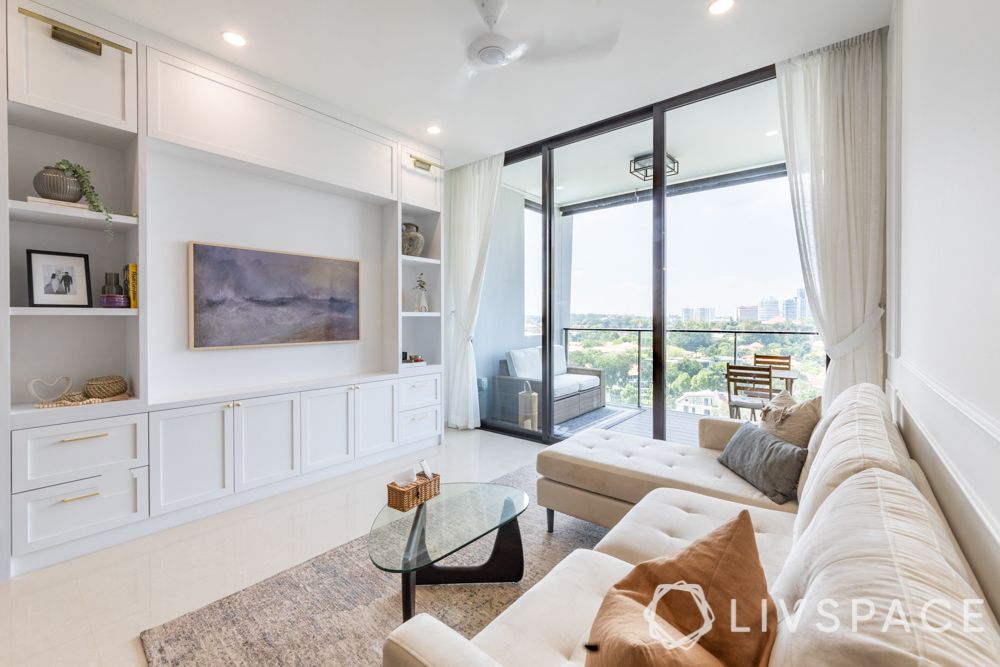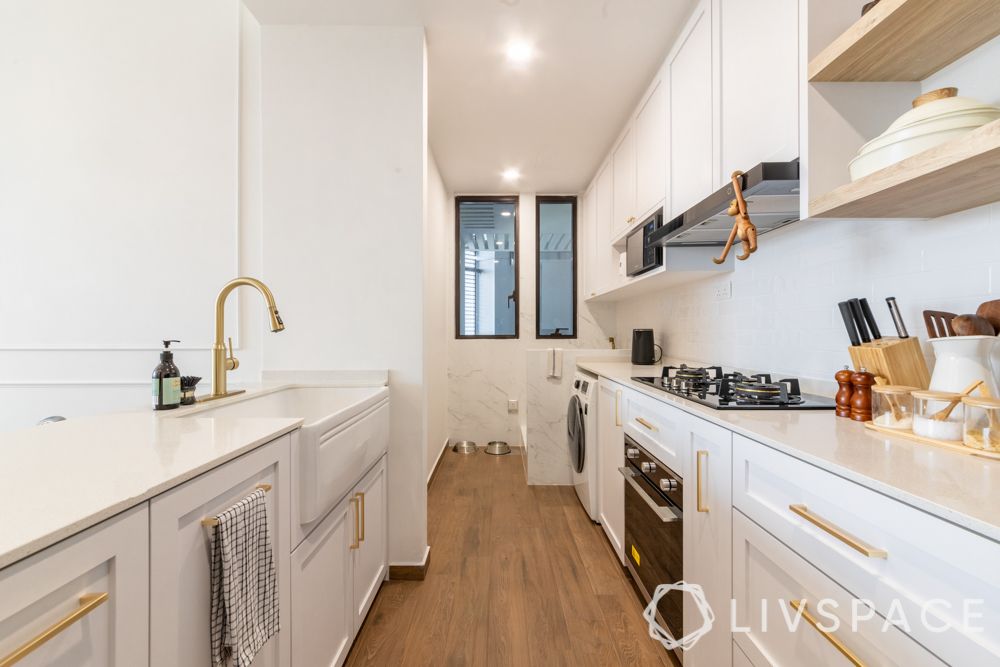 Size: 5-room condo spanning 1,248 sq ft
Scope: Hacking, tiling, plumbing , electrical, painting and carpentry
Design style: Modern farmhouse
Budget: $$$$$
We gave a complete makeover to this 5-room condo at Prince Charles Crescent and it now wears a clean, Scandi look. The couple residing here had a great sense of style and possessed some amazing pieces of decor that we wanted to do complete justice to. The kitchen in this condo is a great example of how a stark white kitchen can have subtle farmhouse details in the cabinetry.
What you look out for
Clean trims on the living room wall
Bamboo pendant light in the dining area
Deck area with ample seating options
Designer speak
"I really love the overall look of the entire condo and the way it has turned out. The DIY wall trimming in the living room is another fun aspect of this project. Elena and Bernard were very clear on what they wanted and as a result, the designing and planning was very smooth. It was a great project to work on!"

Noel Tan Rongkeng

Interior Designer, Livspace
Read more: Gorgeous 5-Room Condo Makeover With a Mix of Styles to Flaunt
#5: A condo filled with warmth and natural elements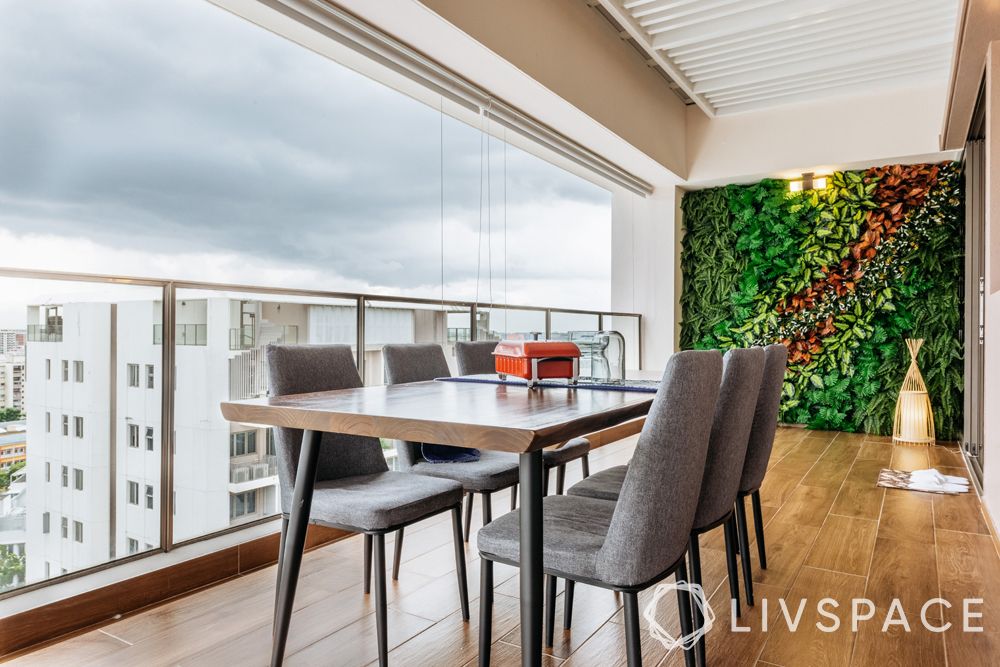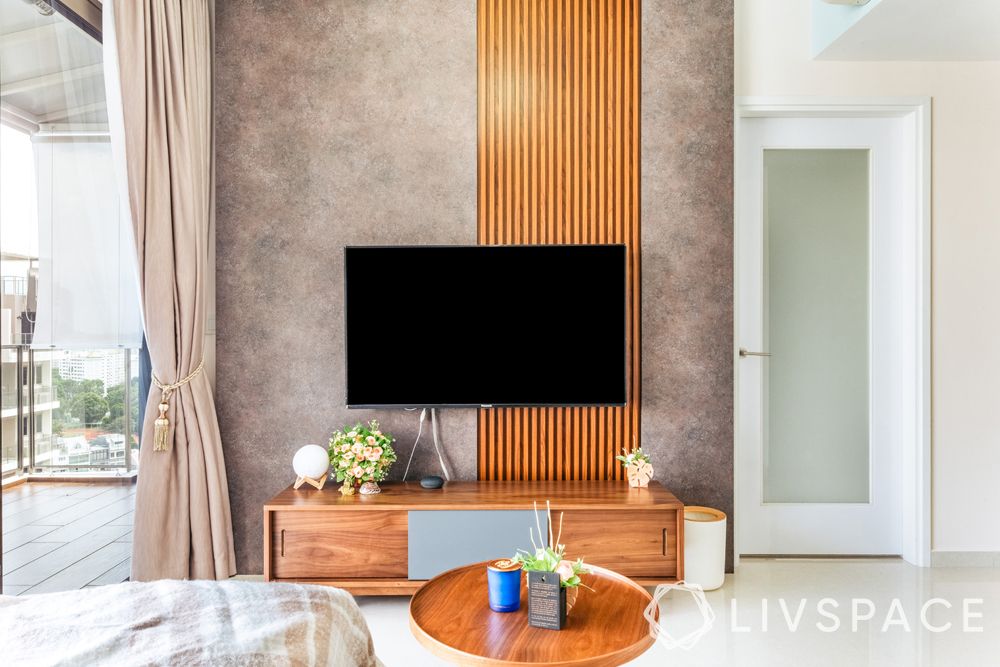 Size: 4-room condo spanning 2,142 sq ft
Scope: Carpentry, flooring, canopy, tiling, electrical, plumbing, vertical garden and painting
Design style: Zen and Scandinavian
Budget: $$$$$
Do you agree that Japan has an effect on us when it comes to lifestyle and the way we envision our homes? The couple living here have spent years in Japan and when they were looking for condo renovation in Singapore, they were obviously inclined towards minimal and clutter-free looks. Therefore, the idea was to fill the home with warm wood and natural elements like stone. It also had to be low maintenance, since the couple has to do a lot of work-related travel.
What you look out for
The carefully-crafted balconies
Simple Japanese style furniture
Neutral walls in every room for a calm vibe
Designer speak
"I would really say this project is mainly more about improving the aesthetic of the home than the basic functionality as most of the "functional" items were already in place, but the design did not resonate with the homeowners, so that's where we stepped in. Choosing the colour scheme and designing the balconies were the most interesting aspects of this project. The homeowner is the most open minded and honest client that I have ever encountered. This is the reason why we were quite in sync during the whole design process."

Johan Ng

Interior Designer, Livspace
Read more: This Condo Has the Best of Japanese and Minimalist Style of Design
#6: The most compact and functional condo we've designed so far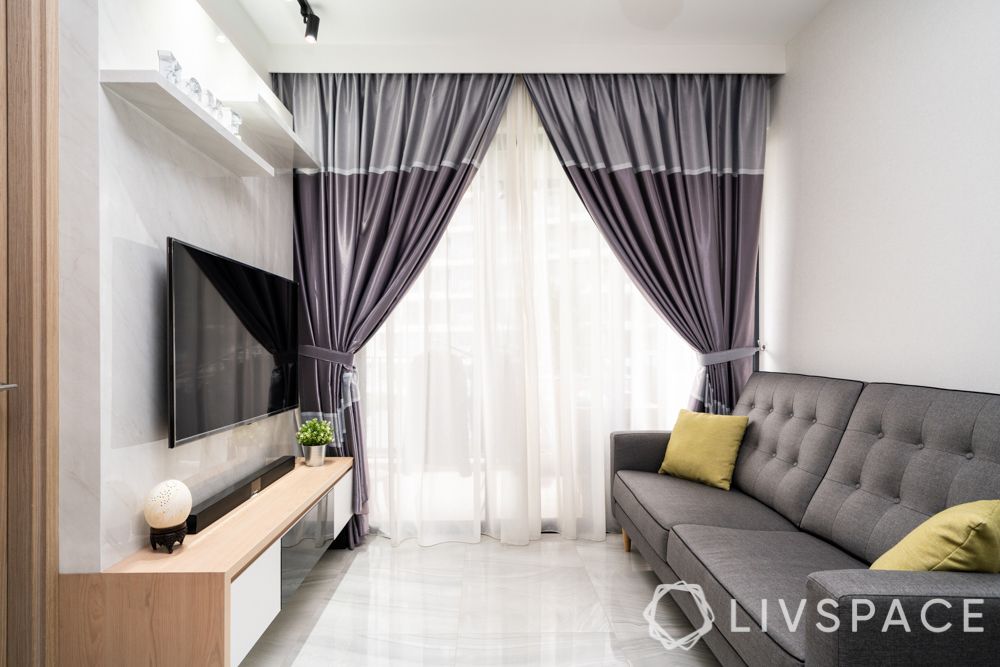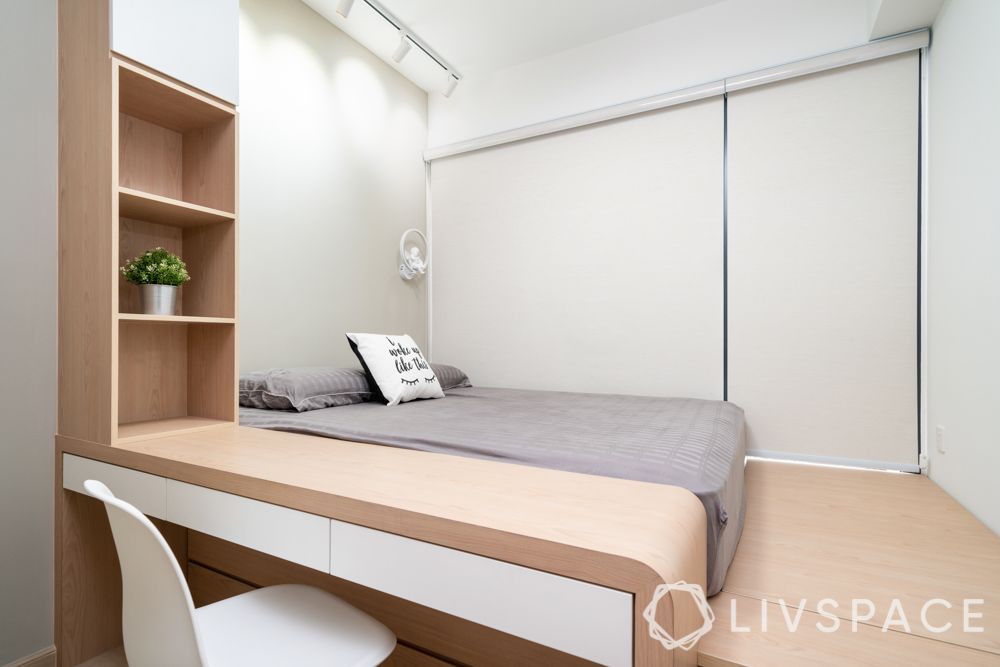 Size: 3-room condo spanning 592 sq ft
Scope: Living room and bedroom renovation
Design style: Modern and Minimal
Budget: $$$$$
Sometimes, a modern and minimal home design is not about scaling down and keeping decor to the bare minimum. It can also be about using the space the right way without creating a cluttered look. You have to check out the custom designs, storage-packed wardrobes and hidden storage units our designer has given for this 592 sq ft. He has added platform beds in both the bedrooms that are custom-made with oak laminate. This condo interior design is what we call a masterpiece.
What you look out for
Custom-made TV panel in the living room has LED stip lighting
Storage-packed study units in both the bedrooms
Hand-picked drapes and blind in every room
Designer speak
"Due to the shortage of space and the need for extensive carpentry work, everything had to be measured precisely. Therefore, we had every inch of the home measured and all specifications confirmed before any of the work started."

William Chong

Business Manager, Livspace
How is a condo renovation different from an HDB?
There are too many sandwiched Singaporeans who have enough money to buy a BTO but not enough to buy a condo. Well if you have found where you belong, then you probably need to start thinking about renovating your HDB, BTO or condo. For this, you need to know that the cost and rules for renovating both types of properties differs immensely. Here are some things that you need to keep in mind for condo renovation Singapore:
HDB
You need a written HDB renovation permit to start any work
Renovation work like hacking of floors, walls, replacement of windows, air-con work, plumbing work and gas work requires a HDB renovation permit
HDB renovation hours are 9:00 AM to 6:00 PM on weekdays and Saturdays; no renovation work is allowed on Sundays and public holidays
Hacking and removal of structural members, plastering of ceilings, painting the area outside the flat are some of the things that are not allowed in HDBs
Condominium
There are varied policies of the condo board for each developmental project
Homeowners' Associations (HOAs) control many aspects of condo renovation
Some condos require specific permits to replace the flooring
In addition to structural integrity, HOAs are concerned about noise so you will need to keep that in check
Condo renovation hours are 8:00 AM to 5:00 PM
Here is how costs differ in each type of property: How Much Does Renovation Cost in Singapore?
How can Livspace help in designing your condo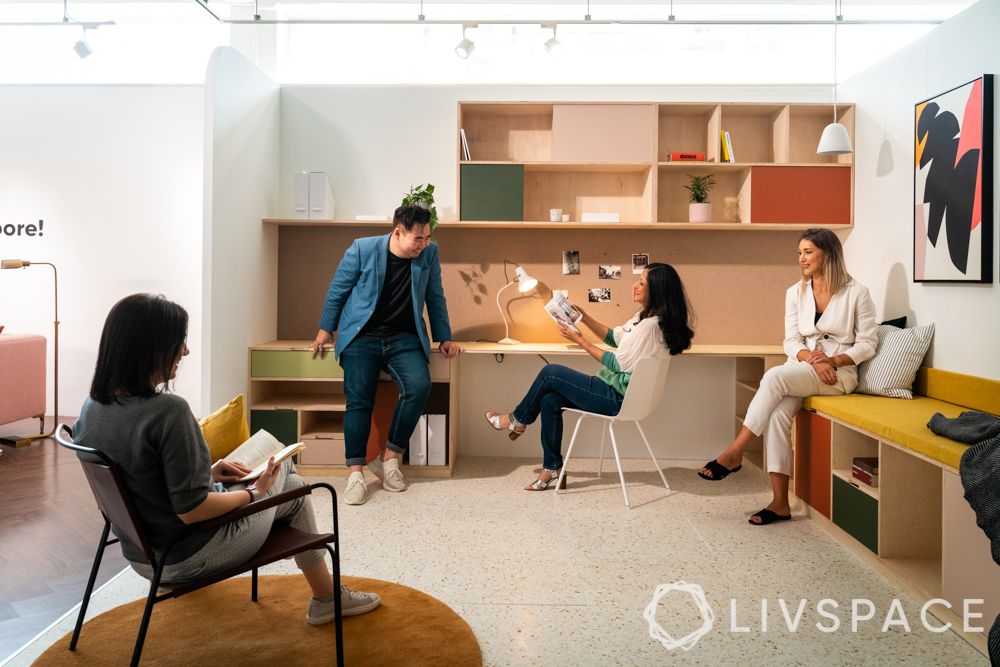 We at Livspace are constantly working towards giving you a renovation experience like never before. From providing end-to-end services to facilitating a smooth process, our team is always dedicated towards a seamless experience for homeowners. Our designers are qualified to provide you the best condo interior design service and execute the entire renovation from start to end.
Check this out for more details: How Can an Interior Designer Help You With Your Condo?
Book your free consultation with us today!
If you want a room-wise guide to condo interior design, check out this: This is All You Need to Know About Condominium Interior Design.
Send in your comments & suggestions to editor.sg@livspace.com.