Whether you're a young couple who just got their first condo or a family who's looking to renovate theirs, you already know that you're going to need design tips and tricks on how to make the most of space. It is important to know what are the absolute essentials for every room in your home. With inputs from our designer, Andrea Rodriguez Junquera, this room-wise condominium interior design guide will help you understand how you should look at each space.
Whether it is space constraints, lighting choices or anything else. Read through to know what you shouldn't miss out while getting your condo designed.
Foyer
They say that first impressions are the last impressions, so why not make it count? The foyer or entryway is a very important part of your condominium interior design journey. Not only do you need to make this space functional, but also create a good first impression on anyone who's visiting!
Always opt for multifunctional furniture
First things first—furniture—what sort of furniture should you place in your foyer? Let us tell you, if you're looking for small condo design ideas, then going multifunctional is the smartest choice. Much like something that our designer gave the homeowners in this 4-room condo at Pebble Bay. This shoe rack-cum-storage unit is a customised piece made out of rattan mesh and wood. Hush! No one needs to know what all you store here. You can stow away your extra linen or anything that you do not use everyday.
Create focal points with lights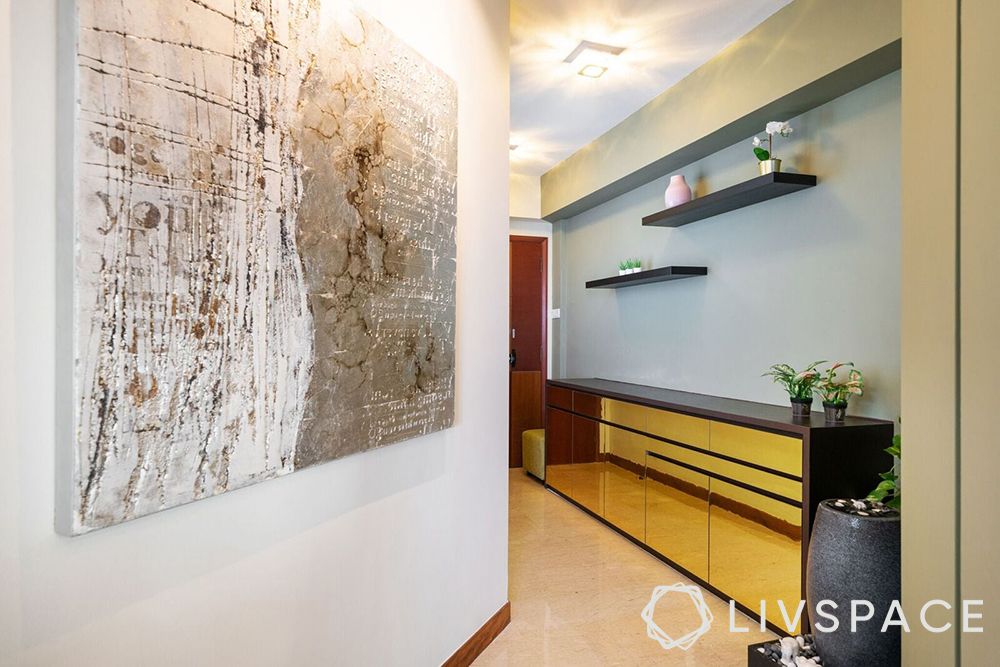 Since this is what everyone sees first, make sure you add some stunning accents like we've done here. Metallic surfaces look classy, while bright pendant lights or chandeliers help illuminate the space brilliantly. If you are fond of wall decor, then you must put up some photo frames, paintings or anything else that you want to highlight.
Check out foyer design ideas here.
Living room
More often than not, living rooms in the condominium interior design world are open spaces that can be divided into multiple zones. You must know that your living room space will often share floor space with the dining room and the kitchen. So, decide what you want and demarcate areas accordingly.
Make way for multifunctional spaces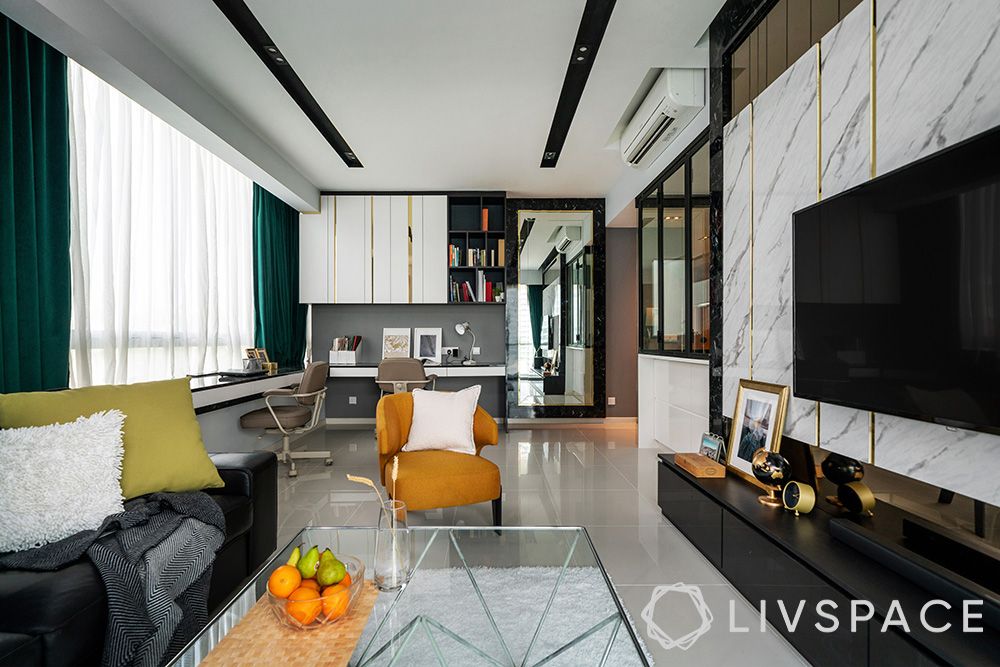 One sure shot way of dealing with open living rooms is to create a multifunctional zone. In this condo at One North Residences, we used one corner of the living room to turn it into a workstation. And believe us or not, we could create ample space for two! You can also opt for multifunctional furniture like a sofa-cum-bed or a pop-up trundle which can be pulled out when you have guests staying over and you need extra space. The trick is to be versatile!
Add decorative pendant lights and chandeliers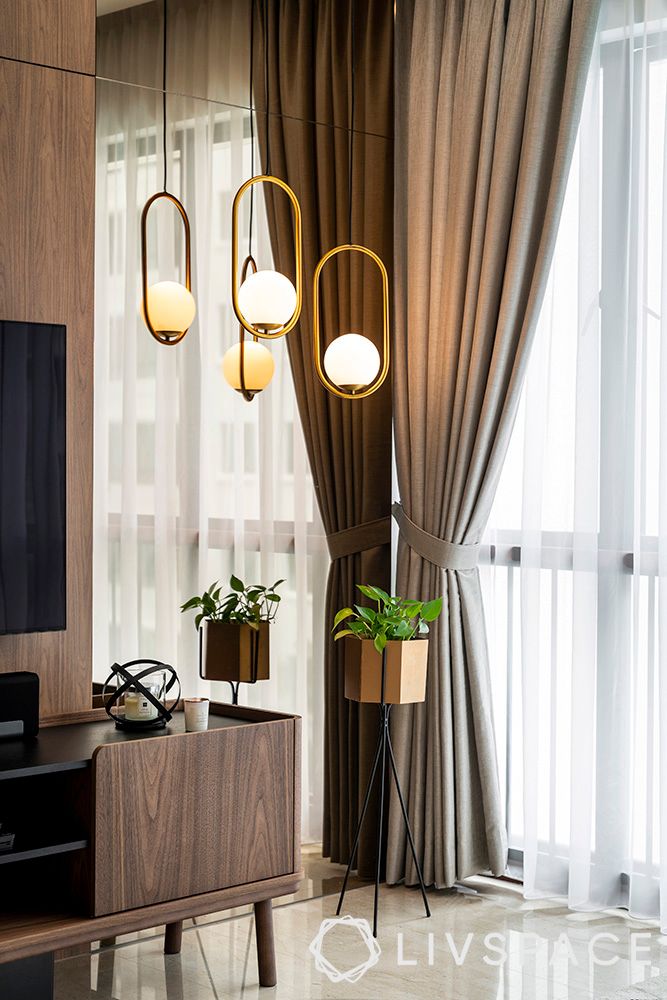 No surprises here! Your living room is one space where you should have the most stunning lighting. Bring out your thinking cap and think of all the corners you could light up. Scour online shopping websites and local markets for pretty pendant lights. A designer can also help you with the latest trends in lighting so you can choose your own. Just work with a professional so that you get the look right.
You can also talk to our designers for your condominium interior design.
Dining room
Many homeowners opt out of having a dedicated dining room at times. But, if you are someone who'd rather have it, then make sure you're opting for compact furniture that does not look bulky in a corner. Whatever your type is, here are some design tips that you cannot skip.
Versatile seating options are a must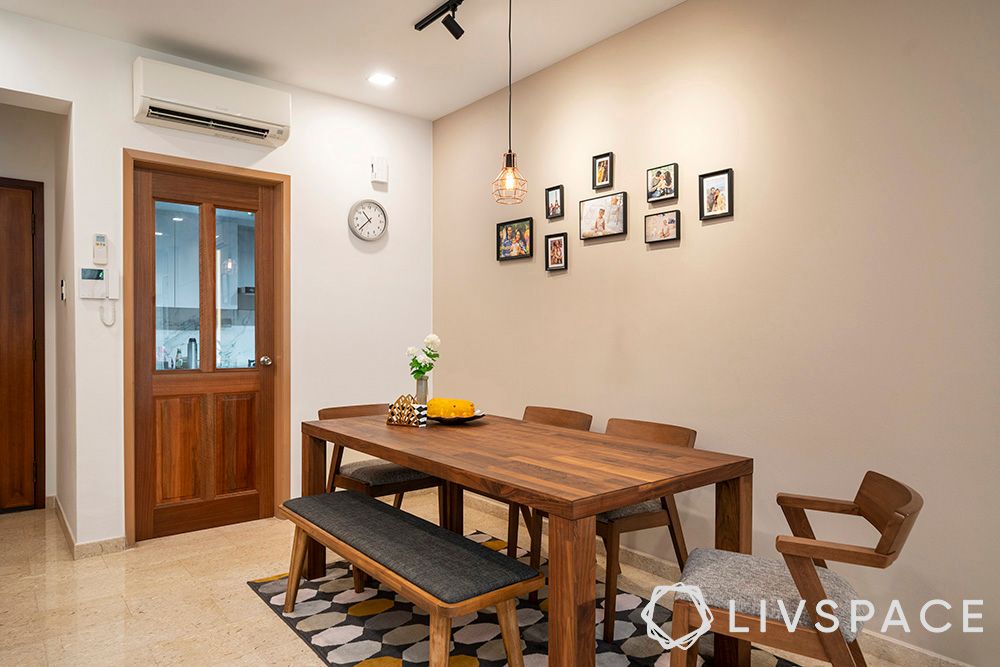 A very valuable piece of advice from Andrea is that one should think about the seating options when buying a dining set. She suggests that you should select flexible seating options such as chairs, stools or benches that can multitask when you need additional seating or as a side chair in the guest bedroom. It also acts as an interesting twist to traditional seating.
Install a pendant or a chandelier above the dining table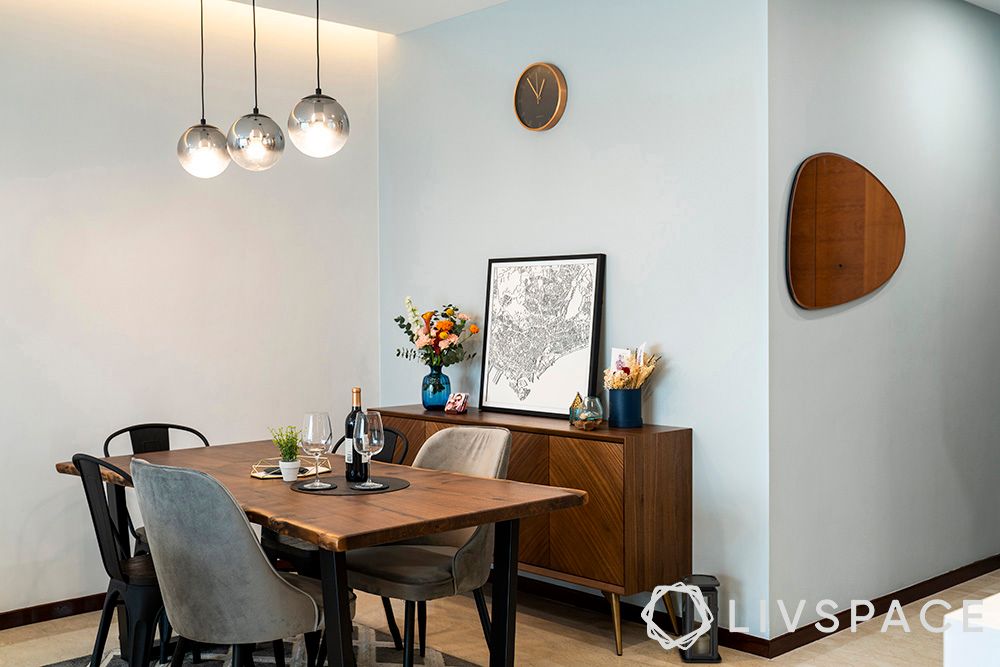 Another must-have in the dining area are pendant lights or chandeliers above the dining table. These not only add aesthetic value, but also act as task lights when you're dining. They should be placed at an appropriate height. The market is filled with options and your designer can help you choose something that matches the rest of the look.
Kitchen
Because of the COVID-19 pandemic, it definitely feels like the kitchen is an integral part of our homes. With more and more time being spent indoors, a lot of action is taking place here. Whether you have a compact kitchen or a spacious one, you must understand that you will always need good space planning in order to make the most of what you have.
Think practically when it comes to storage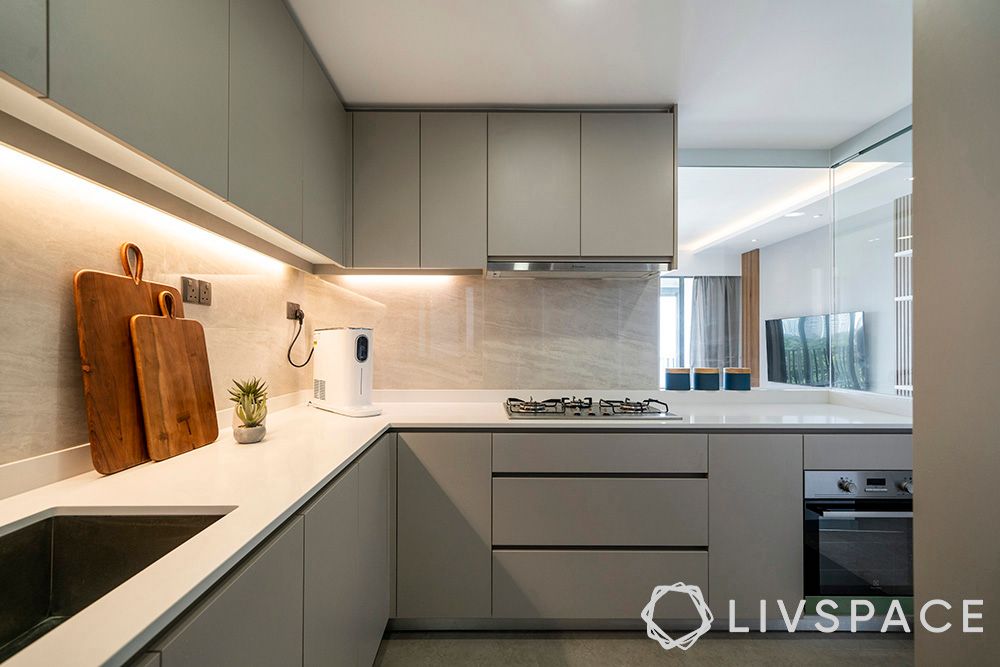 With all the appliances and utensils that we need these days, any amount of storage space is not enough. Therefore, you need a carefully planned kitchen in your condominium interior design plan. A designer can tell you how to maximise every inch of space without making it look overwhelming. It is also important to have accessories that will make life easier for you, like corner units, d-trays, pull-outs and so on. Just note down the kind of cooking activities you have and hand it over to your designer.
Always use a mix of ambient and task lights in the kitchen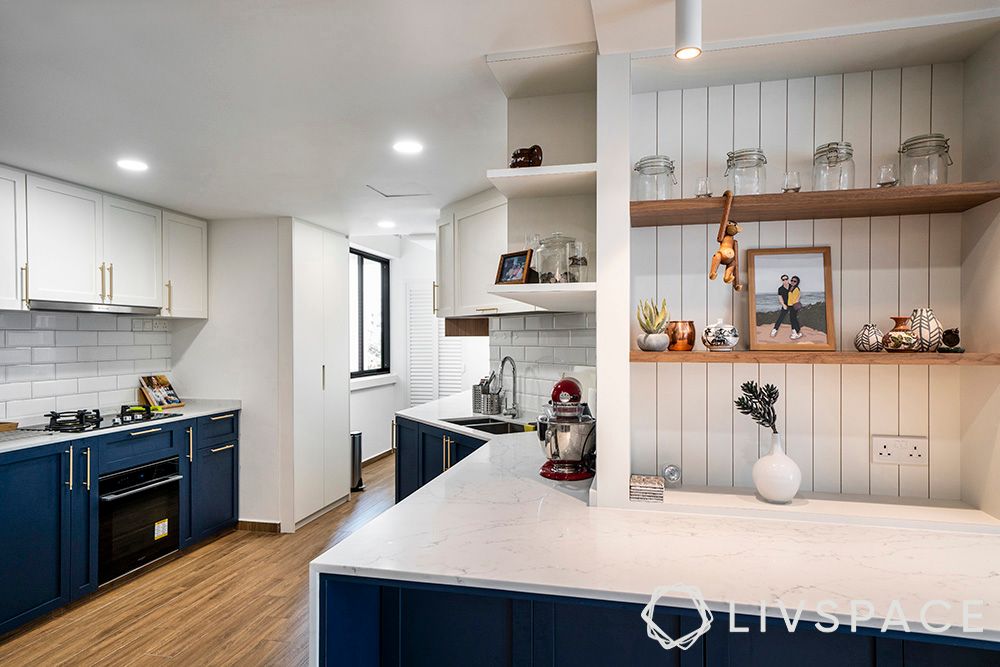 If there's one thing we are going to stress on in the kitchen, it has to be good lighting. You can refer to this guide to the types of lighting in kitchens to get a complete understanding of what you need. A combination of ambient and task lighting is ideal. So make sure you have a good mix of ceiling lights, track lights, under-cabinet lighting and others.
Choose materials that are easy to clean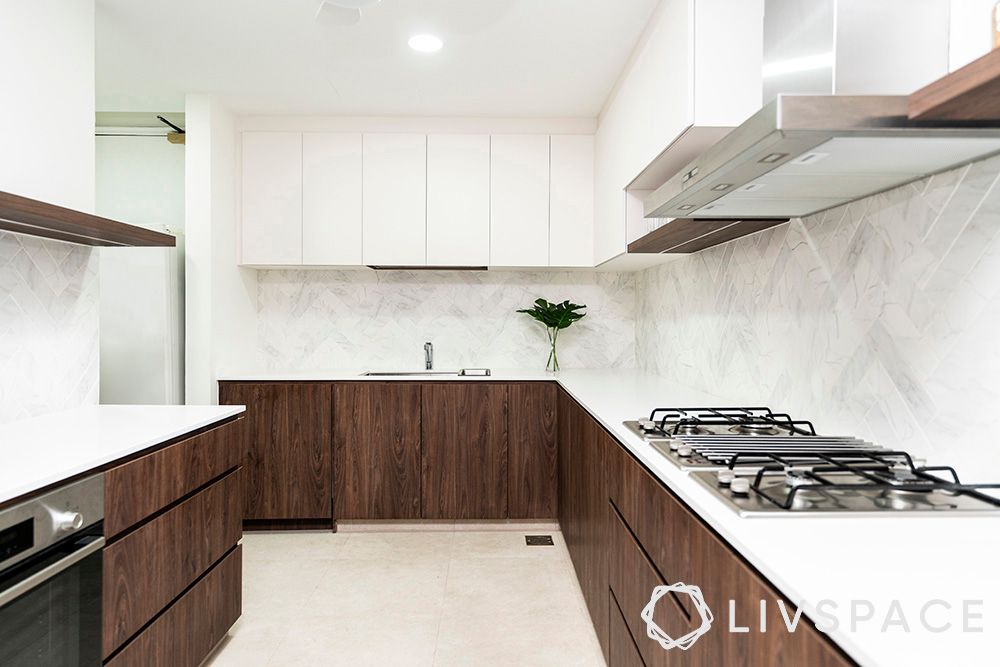 Let's face it, no one likes to enter a dirty kitchen, on any given day. Apart from regularly cleaning your kitchen, another design tip for this space is to invest in materials that are easy to clean. Seamless countertops, stainless steel, quartz and laminates are some materials which are super easy to maintain. For the backsplash you can consider tiles or simply go for full sheets that do not have any gout lines, hence are very easy to clean.
Check out the best kitchen backsplash options.
Master bedroom
If you are dealing with a compact condominium interior design then chances are that your bedroom will require precarious planning. This should be done such that you can have a restful night's sleep and also be able to do more with your bedroom. Let's look at some tips.
Do not compromise on the quality of the bed and mattress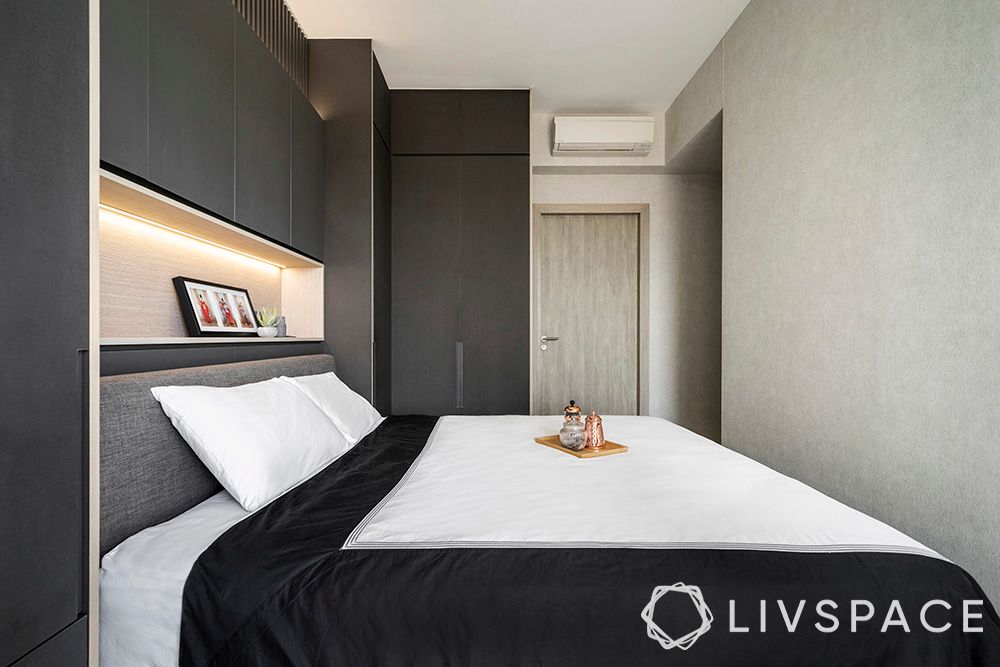 This might sound like a given, but Andrea suggests that one must invest in the best mattress, pillows and bedding that one can afford. You are going to thank her later! Also, these days there are space-saving options like Murphy beds that fold up to give you extra floor space during the day. Basically, make this a comfortable space, while maintaining the functionality of it.
Read How to Design a Master Bedroom Efficiently for a better idea.
Layered lighting will create the right ambience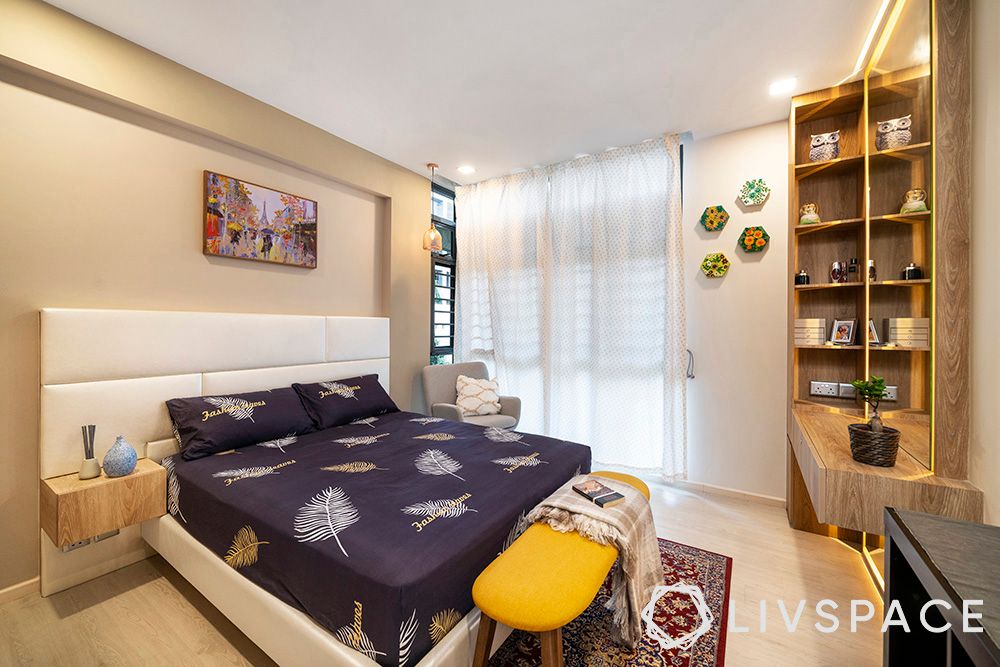 A great trick when selecting lights for your bedroom is to layer them the right way. Can you spot how many types of lights we've used in this bedroom? There are spot lights, LED strips, pendant lights, false ceiling lights and so on. Layer different sources of lighting to create different moods in the room, that allow you to work, read and relax! Since you will end up spending a lot of time in your bedroom and you will need different ambiences.
Bathroom
Like any other room at home, your bathroom should also be designed carefully. Make sure you consider the space you have and decide accordingly. Think about design aspects and practical requirements to create a masterpiece.
Make use of wall space for creating practical storage area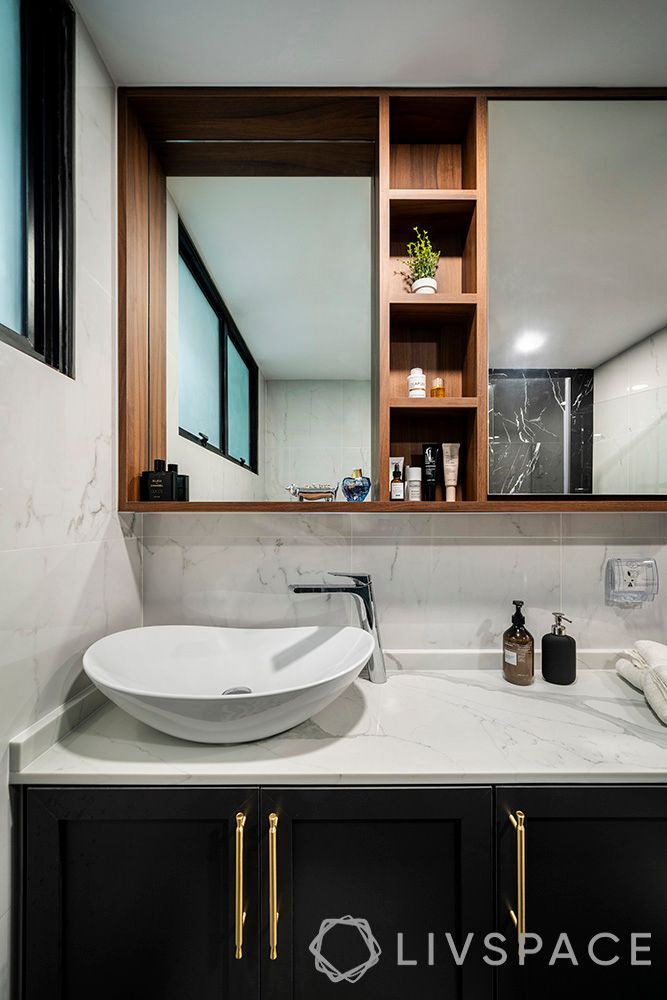 A common ask from homeowners in Singapore is storage space. Invest in a storage-intensive vanity unit with cabinets and doors to keep all your bath essentials. Use wall space intelligently and install shelves cleverly hidden behind a mirror.
Here's Everything You Need to Know About Toilet Renovation Cost in 2020.
Create separate zones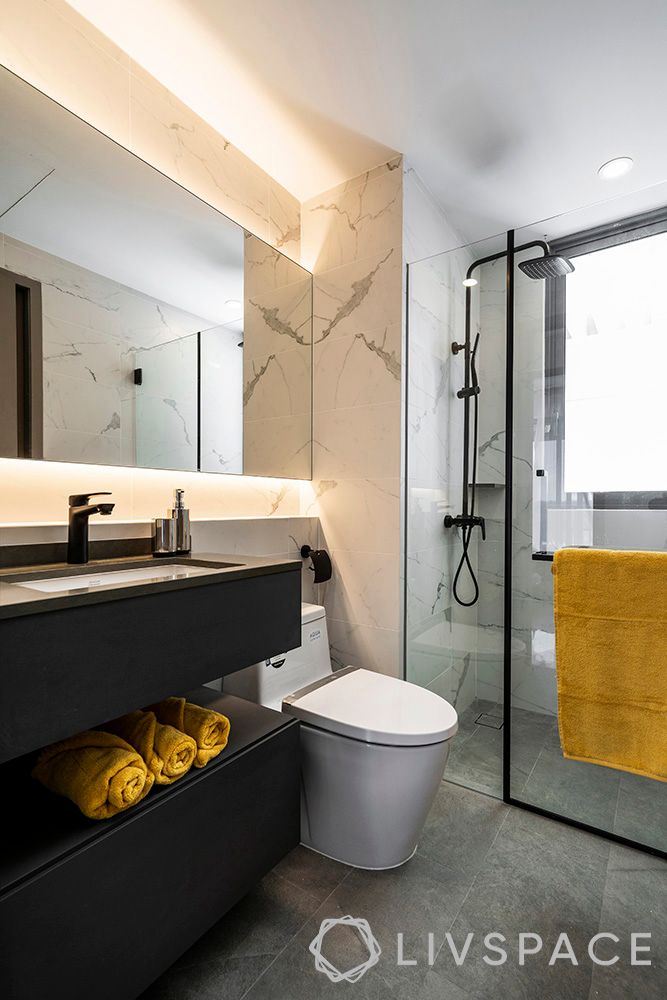 Stuck with a compact bathroom? There is a way to deal with this. Creating separate dry and wet zones keeping ergonomics in mind is a great way to design a bathroom. Put up a glass partition to demarcate the shower area or simply put a shower curtain to go a little easy on the cost aspect. Also, have separate storage shelves for everything.
No matter how big or small your home is, follow these design tips that will go a long way in getting the basics right. Check out this One-stop Renovation Guide for First-time Homeowners for more!
Send in your comments & suggestions to editor.sg@livspace.com.