Grey is the new black! Trending interior design styles like minimalism, Scandinavian and contemporary all lean towards the colour grey. It has become the colour of understated elegance. But with most grey rooms looking similar, finding unique grey bedroom ideas may seem like a challenge. In this article, we share gorgeous grey room design ideas for your condo and HDB, as well as other tips that can help you accessorise a grey bedroom.
Grey Bedroom Ideas for Your HDB and Condo
#1: Understated Grey Walls for Elegance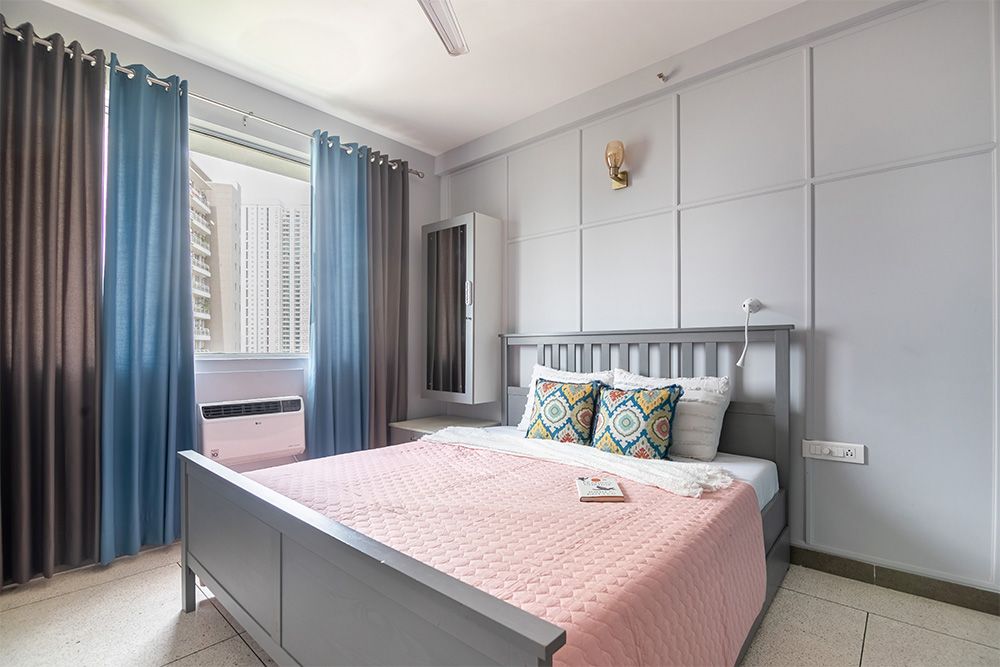 Grey can make any space look elegant. For some drama, opt for a grey bedroom wall with trims. Also, to elevate the look of the room, furnish with contrasting yet complementing colours like pale pink as this room does.
#2: Grey Bedroom Ideas With Coordinating Shades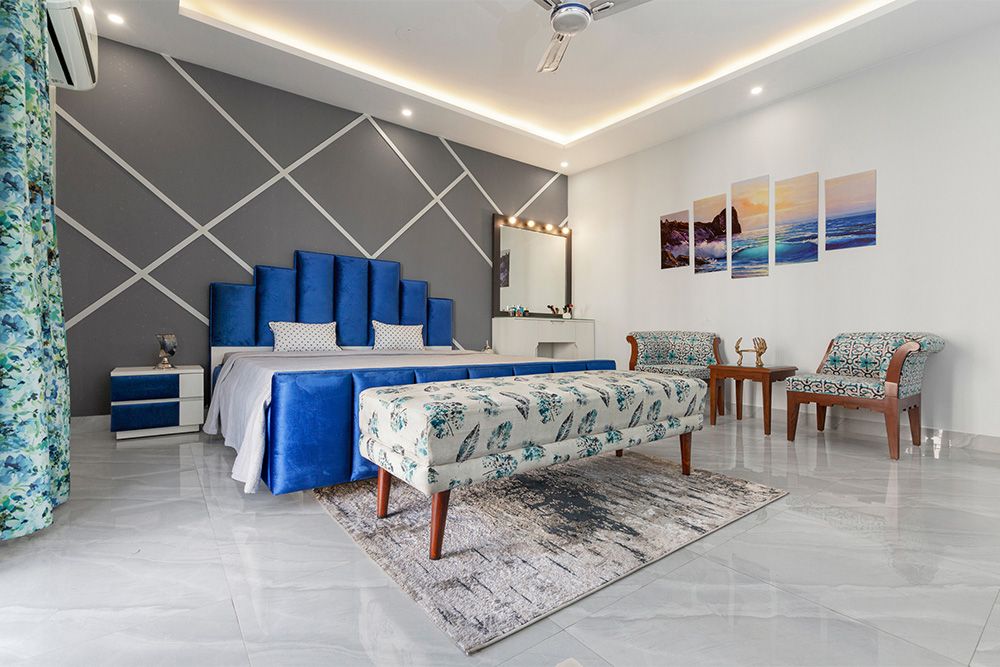 Grey room ideas can be fun and vibrant! Instead of going with a single shade of grey, you can use a mix of different shades. Also, don't forget to add a pop of colour to achieve a dynamic look.
Also Read: 15+ Stunning Bedrooms We Selected From Homes We Have Designed So Far
#3: Furnishings and Furniture in Grey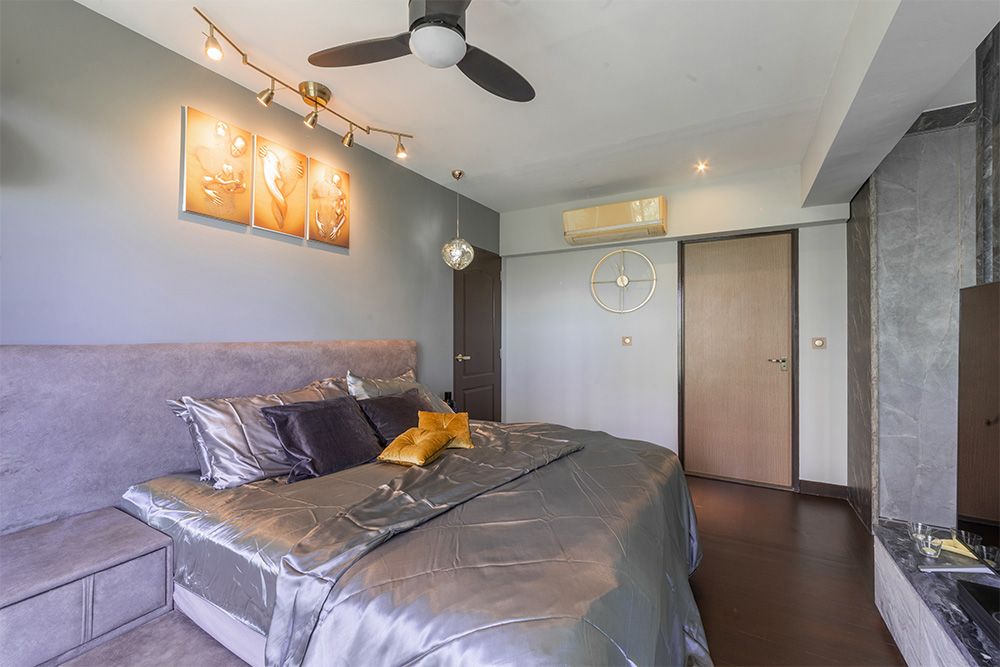 Not very inclined towards grey walls? You can opt for a grey room décor in the form of furnishings and furniture. A grey headboard looks stunning and is a more low-maintenance alternative to white.
#4: Grey Bedroom Ideas With a Hint of Pink and White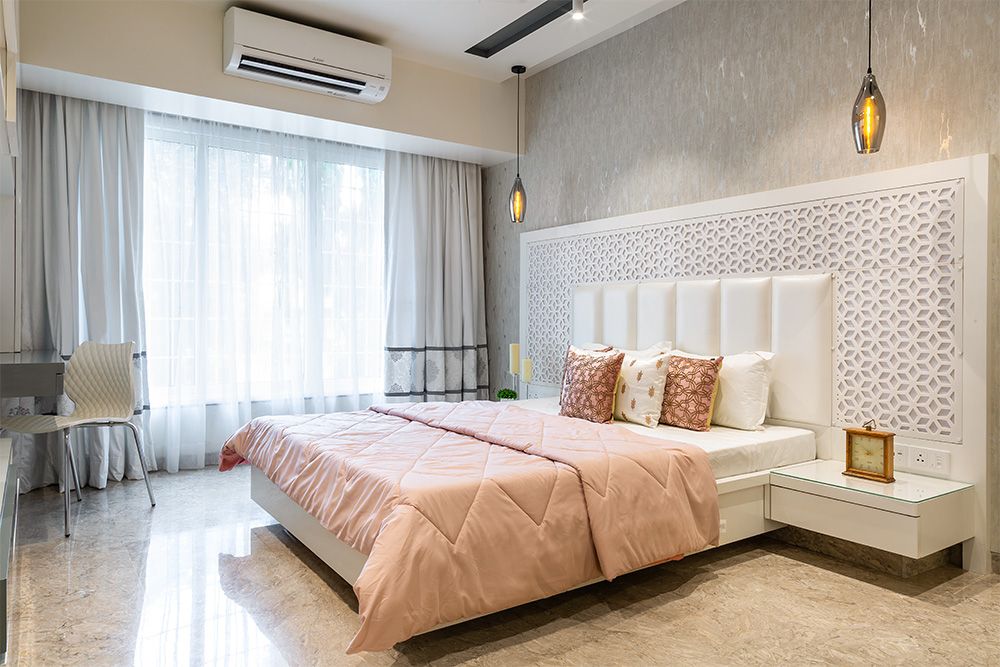 Looking for grey and pink bedroom ideas? This dainty bedroom design will give you some inspiration. Along with pink and grey, you can also add white, a complementing colour to the mix. We love how the grey wall adds some texture to this bedroom.
#5: A Grey Bedroom With a Dash of Greenery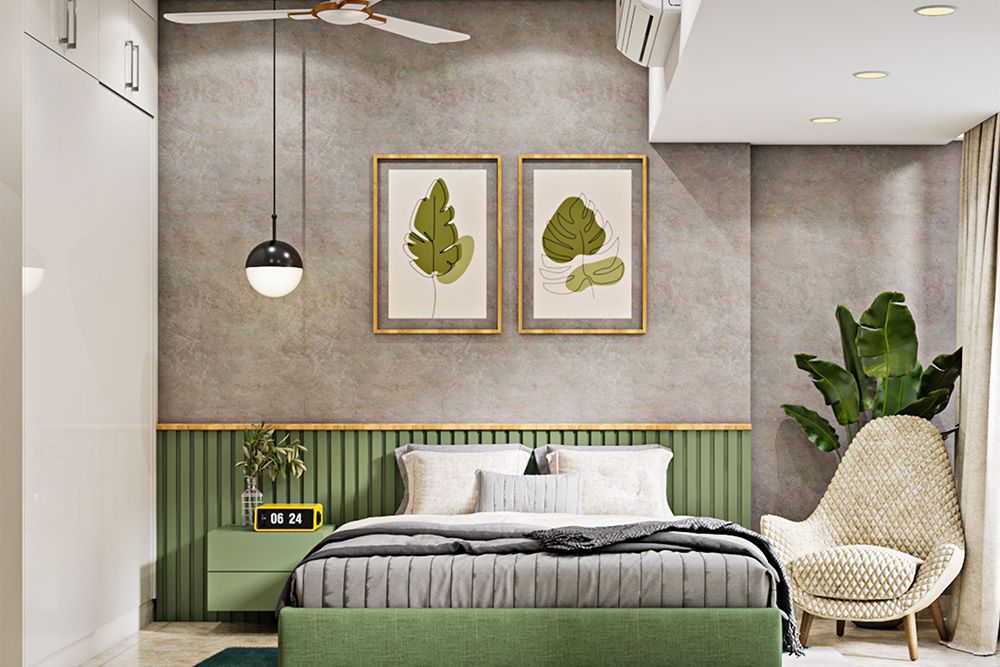 While there are many grey bedroom ideas, a green and grey combination isn't very common. However, if you love a splash of colour, this one's for you! Opt for half-and-half walls in grey with green panelling. Also, ensure your furniture is a mix of green and neutrals like grey and beige to keep the look elegant.
#6: Grey and White Bedroom Ideas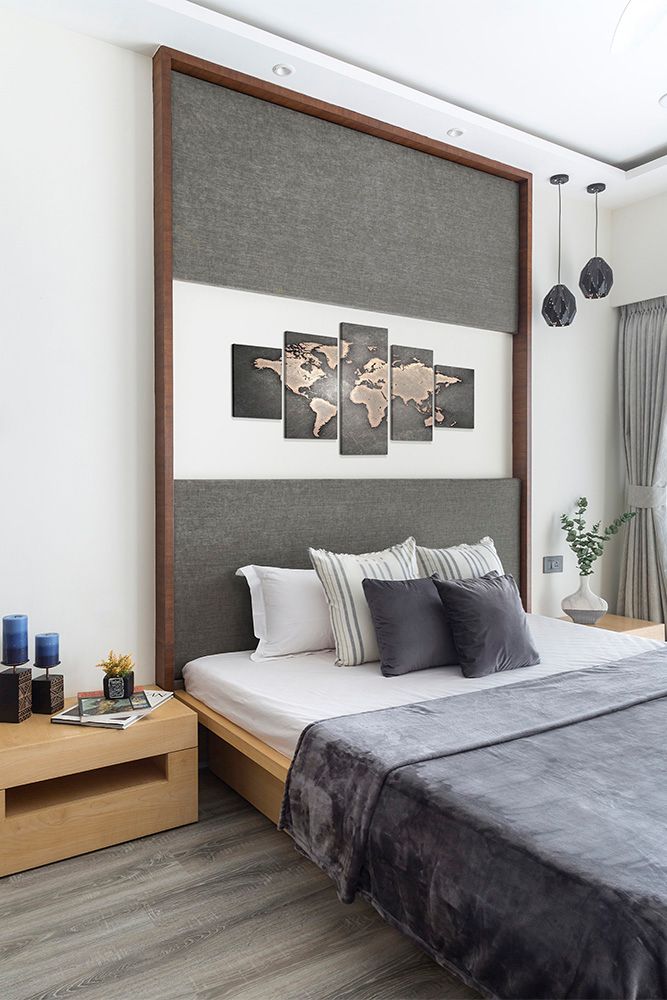 It's not every day that you get the opportunity to renovate your bedroom. As such, you would want a design that remains timeless over several years. A grey and white bedroom is a popular combination that is evergreen. In addition, this combination fits in perfectly with popular design styles in Singapore like minimalism and Scandinavian.
#7: Add Some Personal Touches to Your Grey Bedroom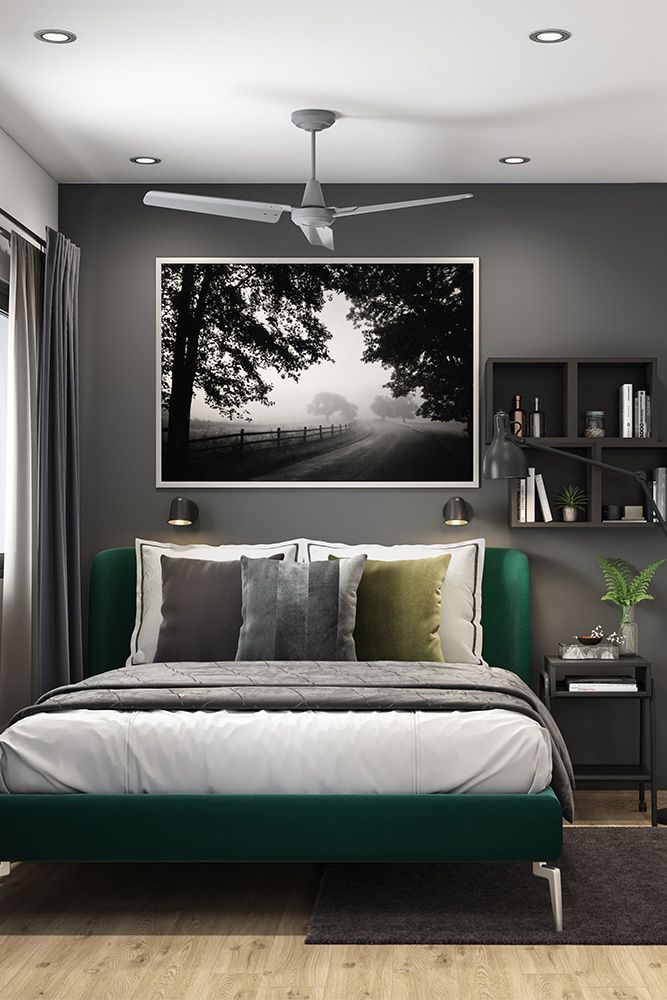 When it comes to your grey bedroom décor, it should be unique to your personality. Add personal touches to your bedroom in the form of books, artwork and décor in order to create a serene and relaxing space.
#8: Grey Bedroom Ideas in Black and Grey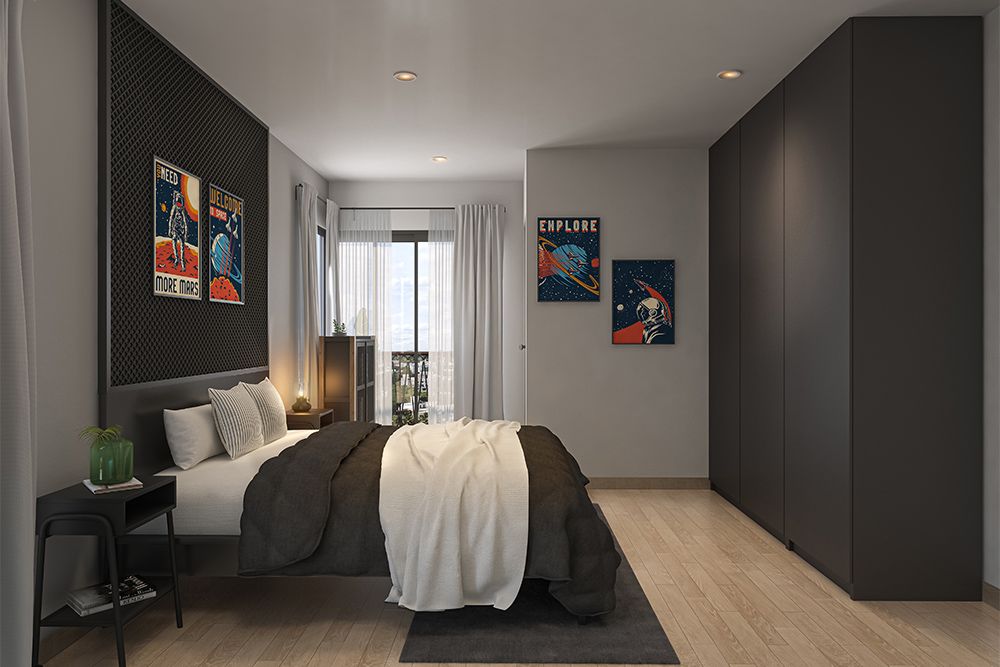 For a cosy and bold space, opt for grey walls and black furniture. If black is not to your tastes, but you want a bold colour, a dark grey bedroom works as well.
Also Read: 10 Insta Worthy Bedroom Design Ideas That Are Unique and Practical
#9: Textured Grey Room Ideas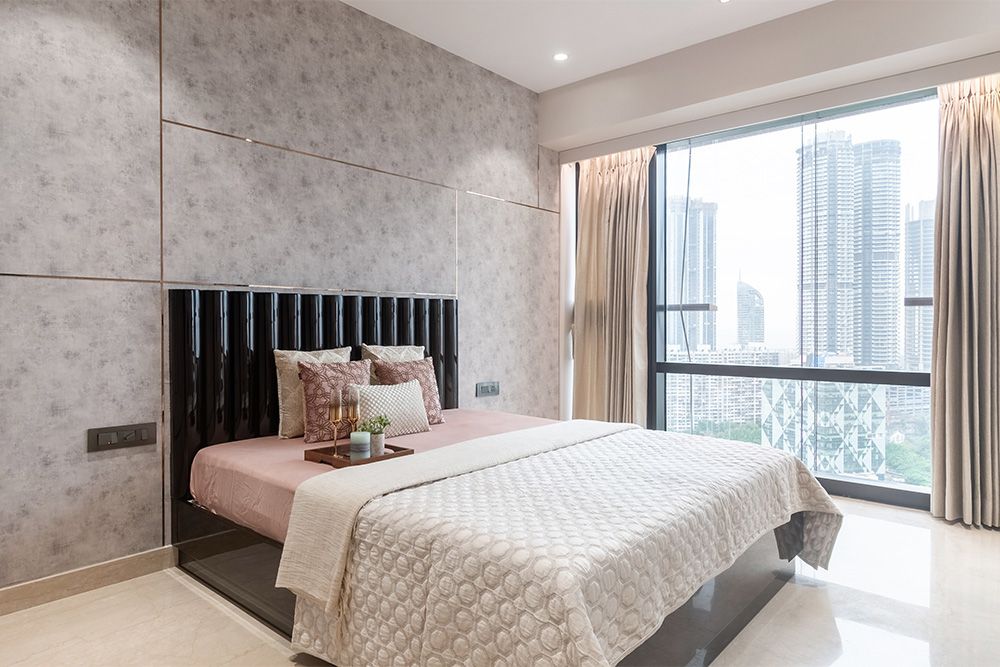 This is one of our most popular grey bedroom design ideas. Keep your room minimal and make the headboard wall the showstopper of the space with a textured design.
#10: A Structured Grey Bedroom Design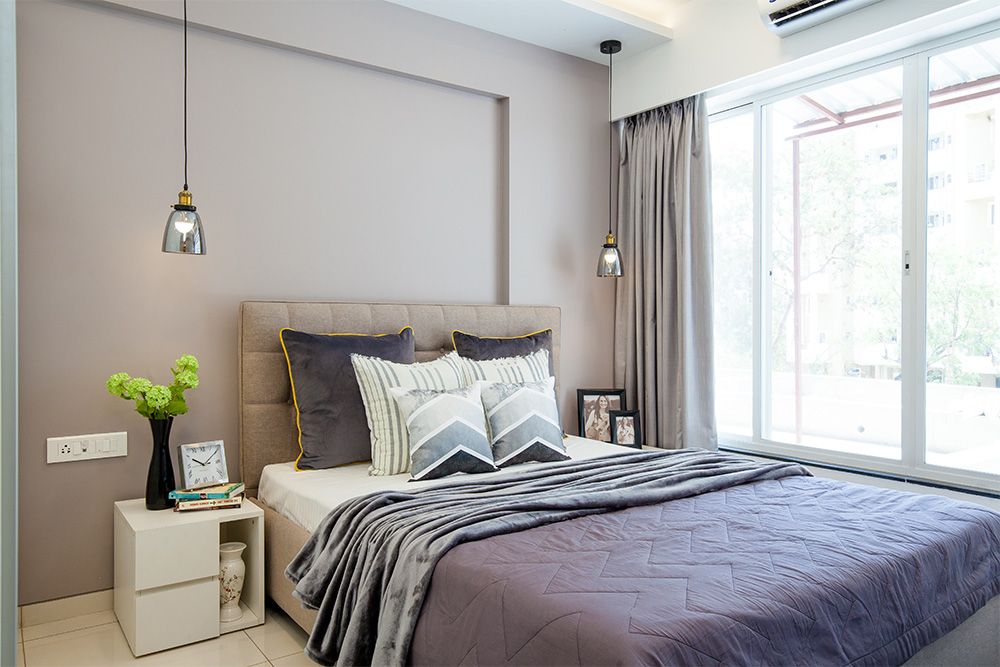 Your grey room décor should be balanced and structured. Ensure the tones match, – be it the walls, furniture or furnishings. Also, do not overdo on furniture as this will make your space look cluttered.
#11: Grey Bedroom Ideas With Lighting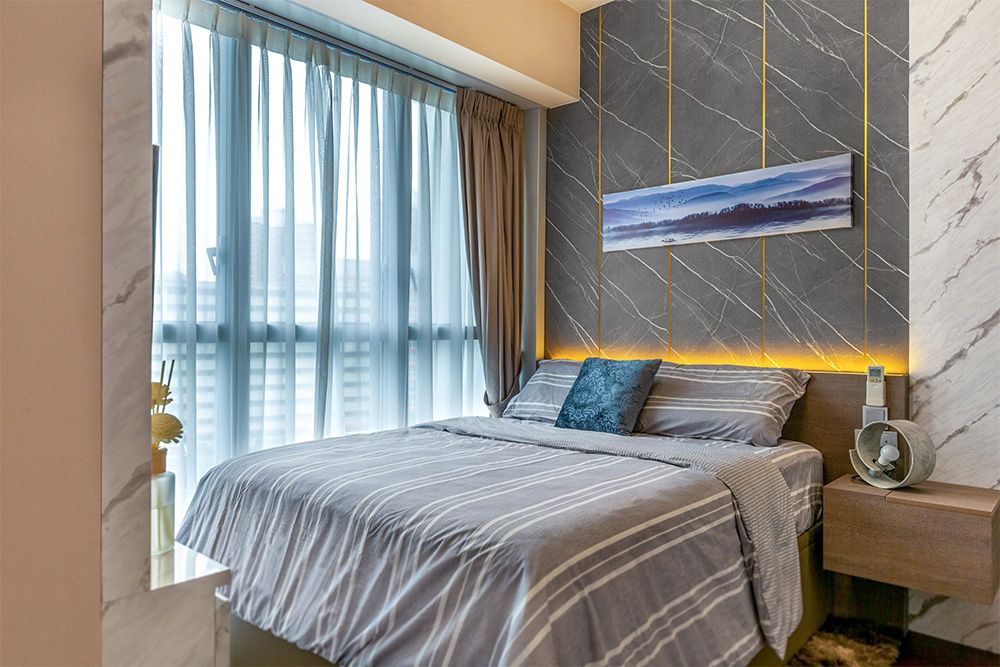 Lighting can make or break the look of a room. Instead of choosing common options like pendant lights, why not create a grey headboard wall and install some backlighting? It's also going to be the perfect solution to help you read at night!
#12: Cool-Toned Greys for a Modern Ambience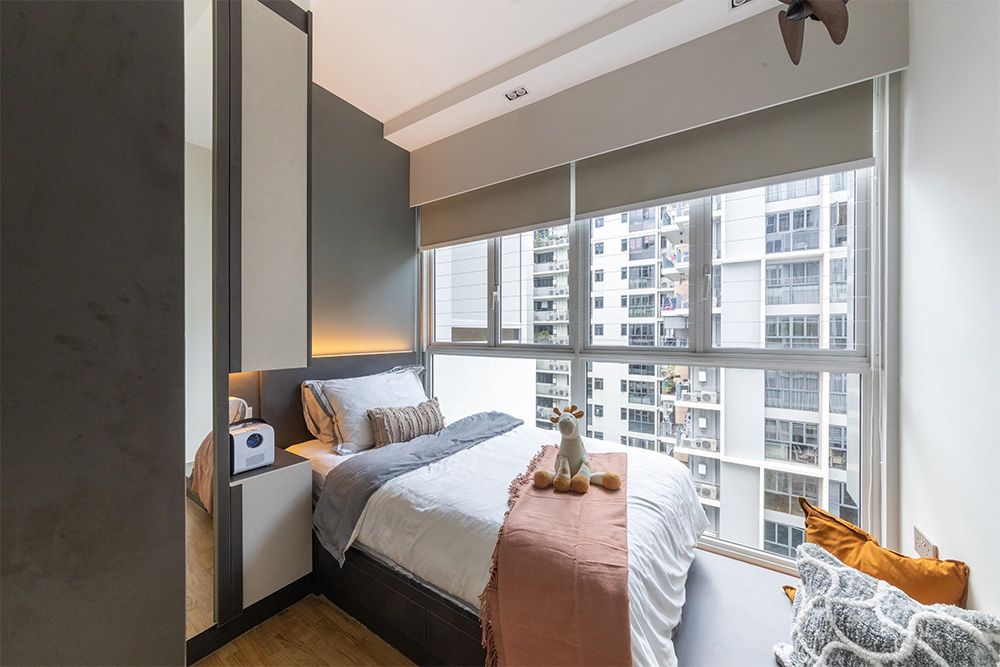 Instead of a light grey bedroom, opt for cool-toned shades of grey. This creates a more contemporary look. You can mix it up with other neutrals like white and beige, especially if your bedroom is compact.
#13: Match Colours With Grey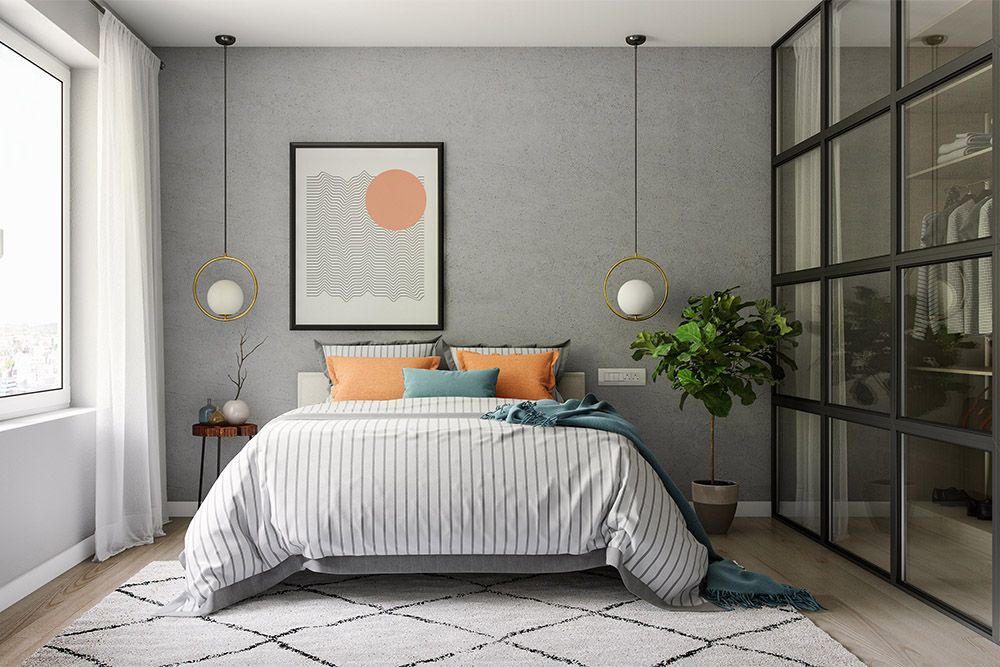 While an all-grey bedroom looks stunning, colours can add a lively pop. Opt for soft, pastel shades like mint-green and light orange so that the pop colours tie in seamlessly with grey.
#14: For the Love of Monochromes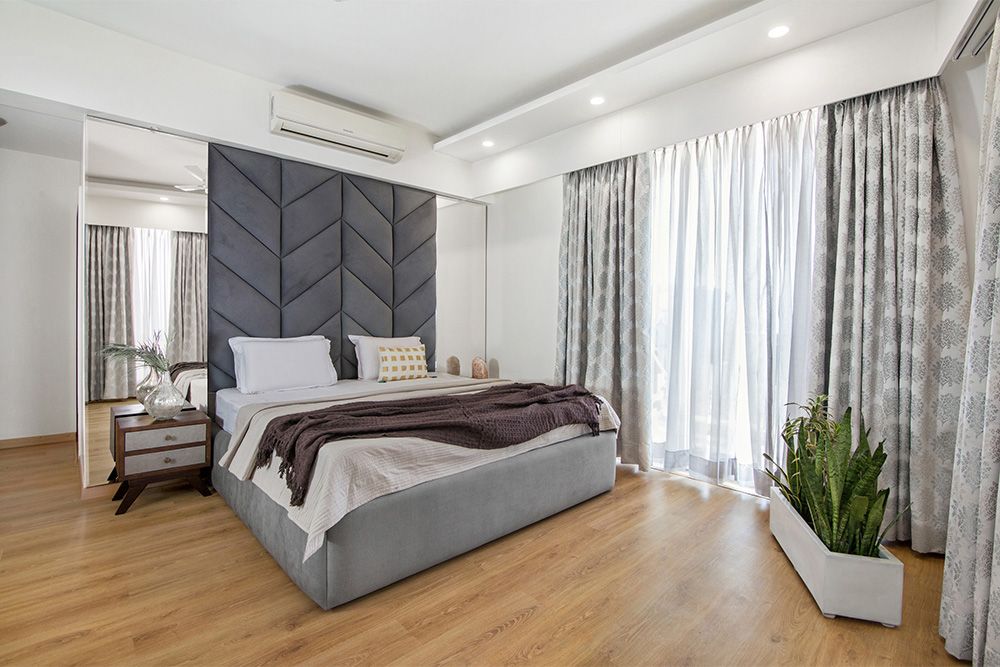 Alternative to the previous point, if you are someone who isn't fond of colours, but want a unique look for your grey bedroom, choose monochromatic shades of grey. A pale grey wall, slightly darker grey bed and a deep grey headboard wall is an amazing combination.
How Do You Accessorise a Grey Bedroom?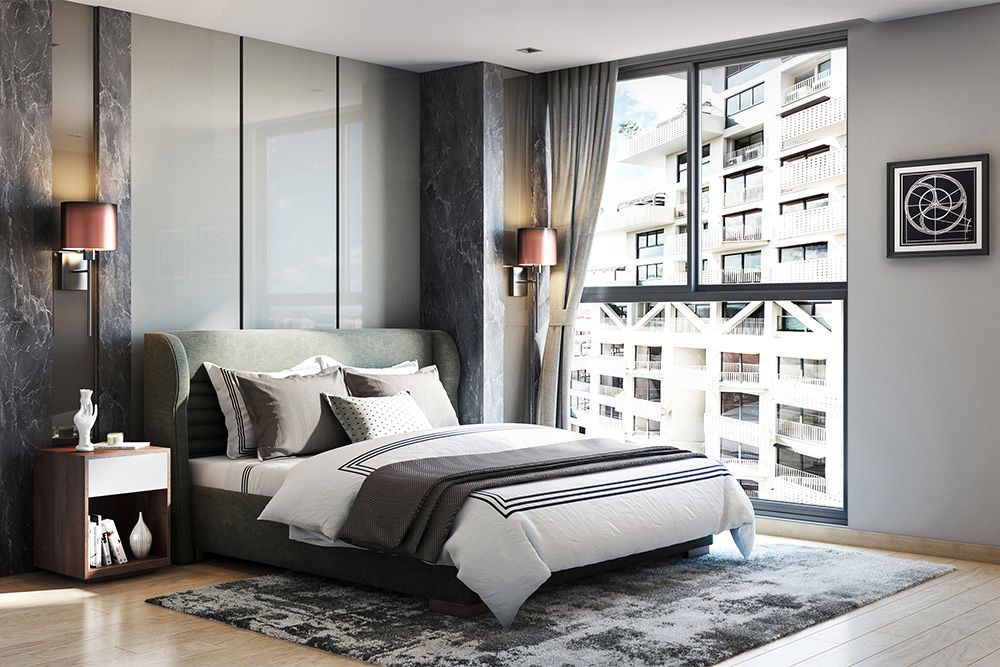 Now that you have some amazing grey bedroom ideas, it's time to move on to grey bedroom décor. You can accessorise your room with lights, rugs, decor and artwork. You can either choose everything in grey or mix it up with other neutral and pastel shades.
What Colour Furniture Goes With Grey Walls?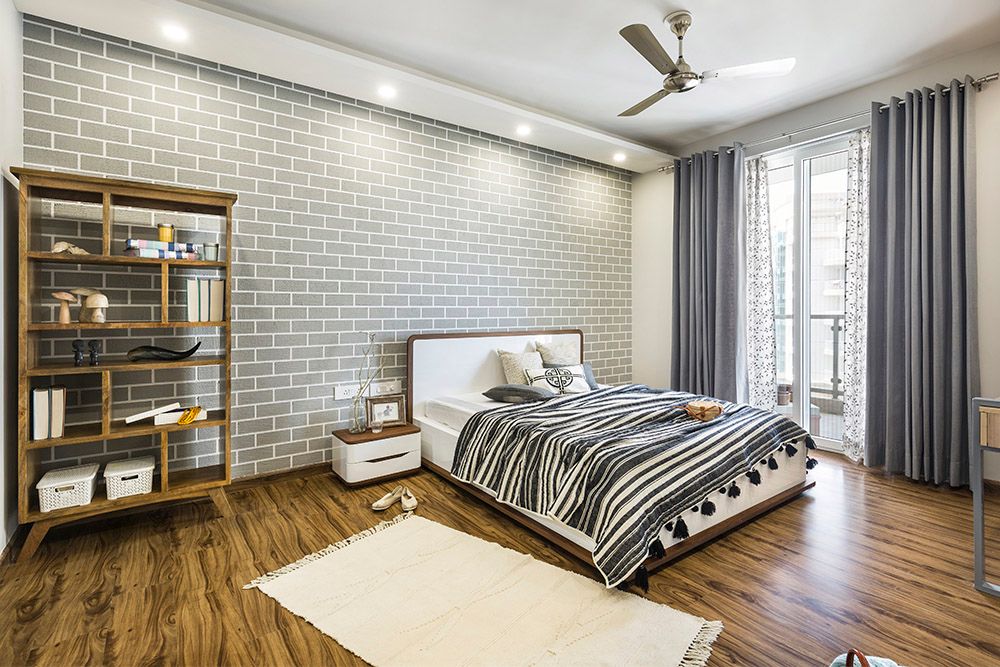 Grey as a colour is quite cool-toned. So, for a warm and cosy bedroom, a good idea would be to choose wooden furniture. For a more cost-effective option, wood-like laminate also works.
How to Get Your Dark Grey Bedroom Décor Right
A) Decide How Dark Grey You Want to Go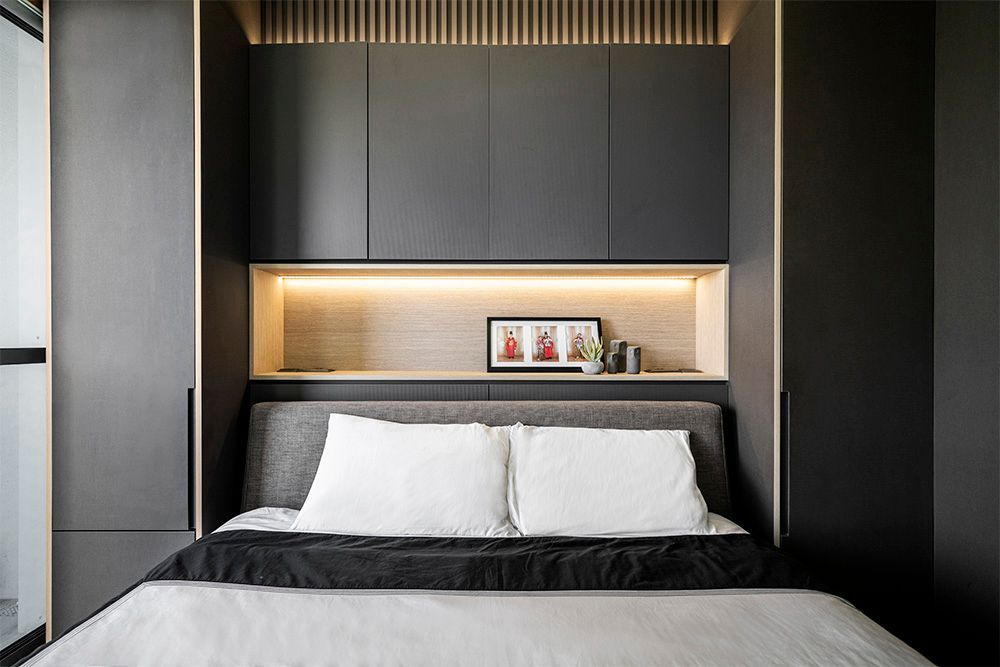 While going through grey bedroom ideas, the first thing that you must decide is how dark you want to go. While light grey is the go-to for most homeowners, a dark, bold grey will also be a unique and gorgeous choice. If you want some small bedroom ideas, opt for an around-the-bed wardrobe.
B) Define Your Bedroom's Aesthetic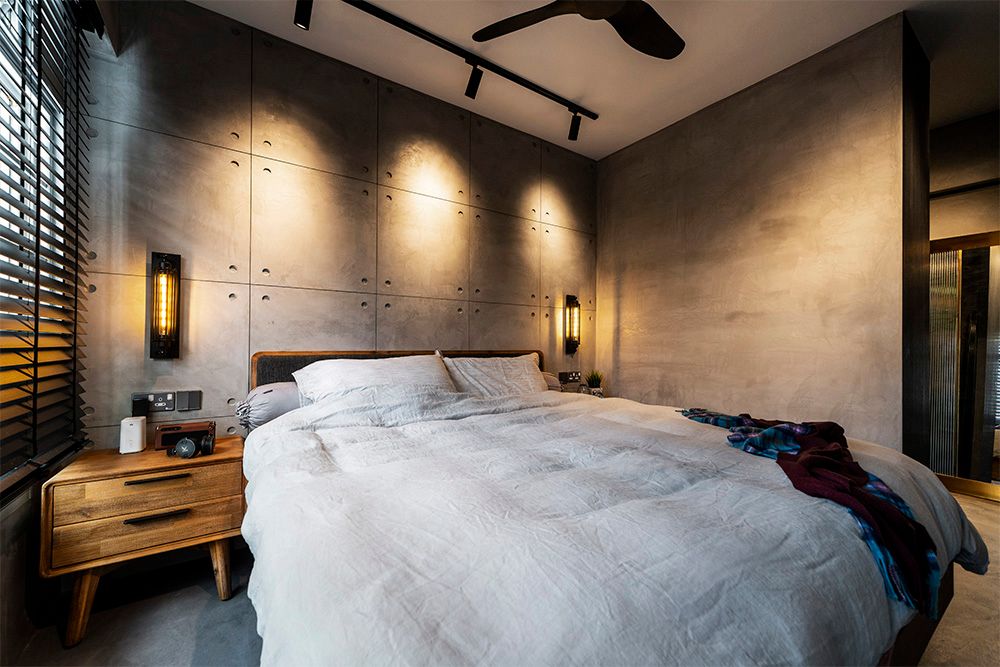 The next step is to choose your design style. Design styles that look good in grey bedrooms are minimal, Scandinavian, contemporary and industrial. You can also choose a mix of different design styles, if that suits your aesthetics.
C) Think About Bedroom Furniture Positioning and Lighting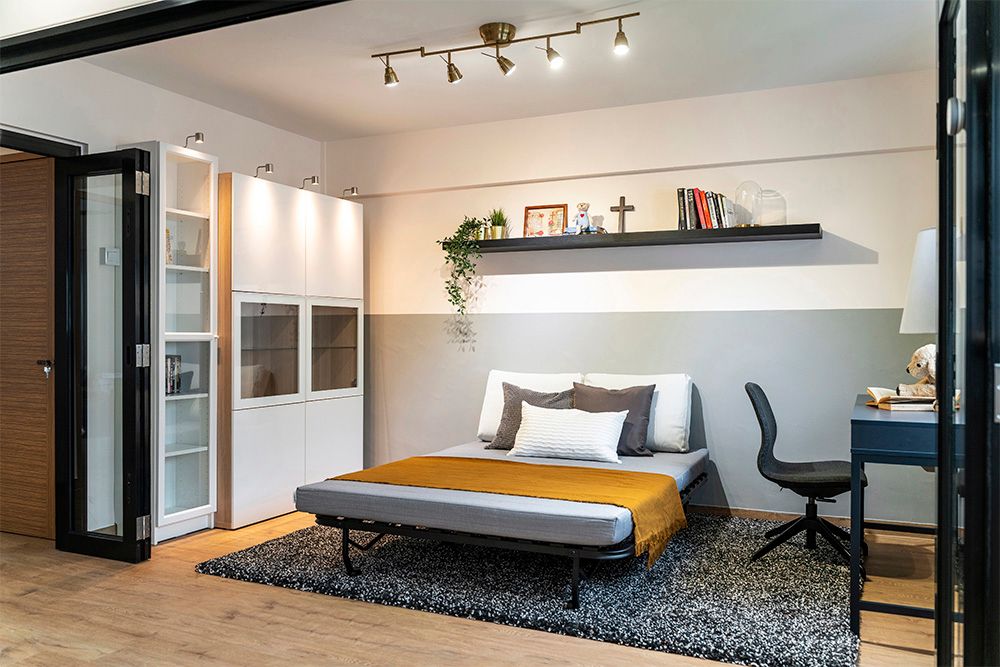 The final step is to plan your furniture and lighting. Irrespective of the design style, choose furniture that you need and don't go overboard. You can always buy more furniture in the future. Lighting is a great way to add some vibrance to a grey bedroom. You can also add some plants for a touch of greenery.
We hope these amazing grey bedroom ideas for your condo or HDB were helpful!
How Can Livspace Help You?
We hope you found our ideas useful! If you want your home to be just as beautiful, then look no further. Book an online consultation with Livspace today.
Have some comments or suggestions you'd like to share with us? We're all ears! Feel free to write to us at editor.sg@livspace.com.
Disclaimer: All contents of the story are specific to the time of publication. Mentions of costs, budget, materials, and finishes can vary with reference to current rates. Talk to our designer for more details on pricing and availability.