There are plenty of ways to customise your home, with the most obvious one being your carpentry. With creative carpentry ideas, you not only add a unique statement to your space, but also give it a functional edge. So, are you ready to explore some cool new custom carpentry ideas for HDBs and condos in Singapore?
In this list, we've put together some functional and trendy carpentry designs that every home can benefit from. What's more, they're all from homes we've designed, so you can see them in action! Let's dive into them.
1. Use Pocket Doors to Conceal a Bedroom Workstation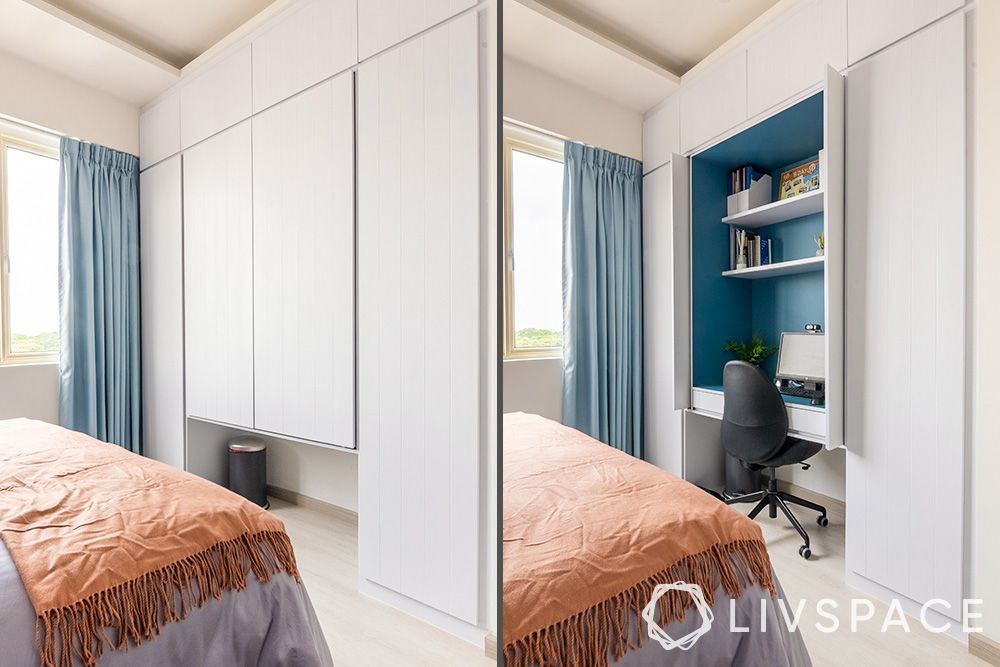 Pocket doors are a space-friendly way to conceal spaces that you don't always want on display. If you're in the market for seamless carpentry ideas for your bedroom, pocket door systems like this can be a great investment. Such bedroom carpentry ideas work especially well in compact spaces where hinged doors can be restricting.
So, consider swapping out space-occupying hinged doors for some pocket doors in your built-in carpentry. With these doors, you can easily tidy up your space when the concealed portion is not in use. Apart from a workstation, you can also consider using these doors to conceal a vanity unit.
2. Save Space With a Drop-Down Table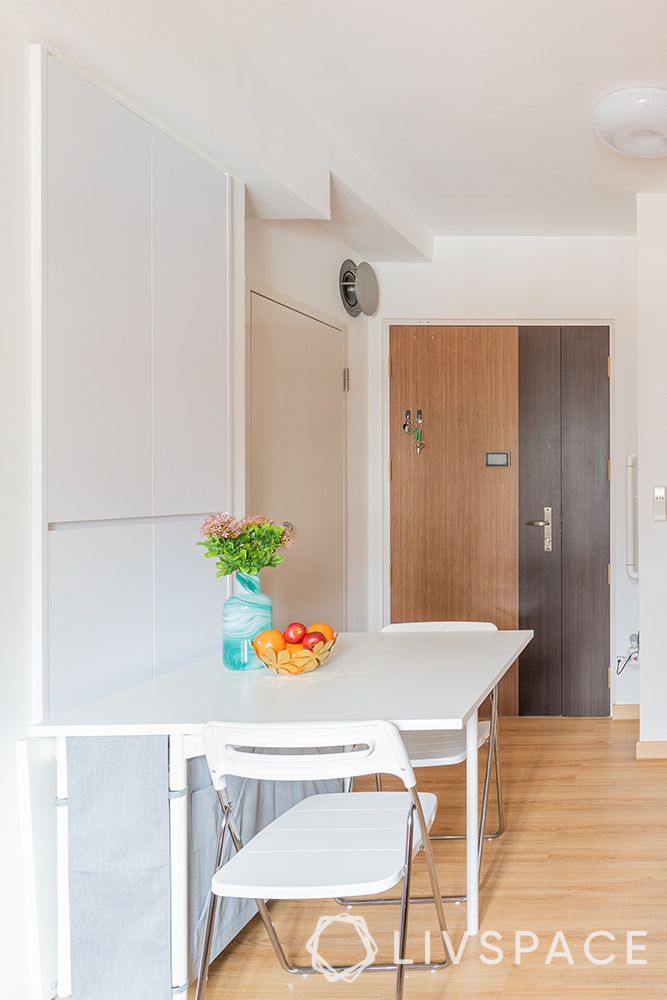 With Singapore homes getting smaller, space-saving furniture becomes a must-have in every home. Customisable carpentry ideas that suit the changing needs of the space are especially handy to have in homes that love hosting guests.
Why? That's because you can easily add or remove these furniture pieces depending on how much room you need in your communal areas.
This is why living room carpentry ideas like drop-down tables are great for compact, open-layout homes. You can drop the table-top when not in use to make more room for seating or easy movement.
Also Read: Top 10 Budget Homes Designed by Livspace to Inspire Your Home Renovation
3. Make a Statement With Fluted Panels for a Recessed Wall Design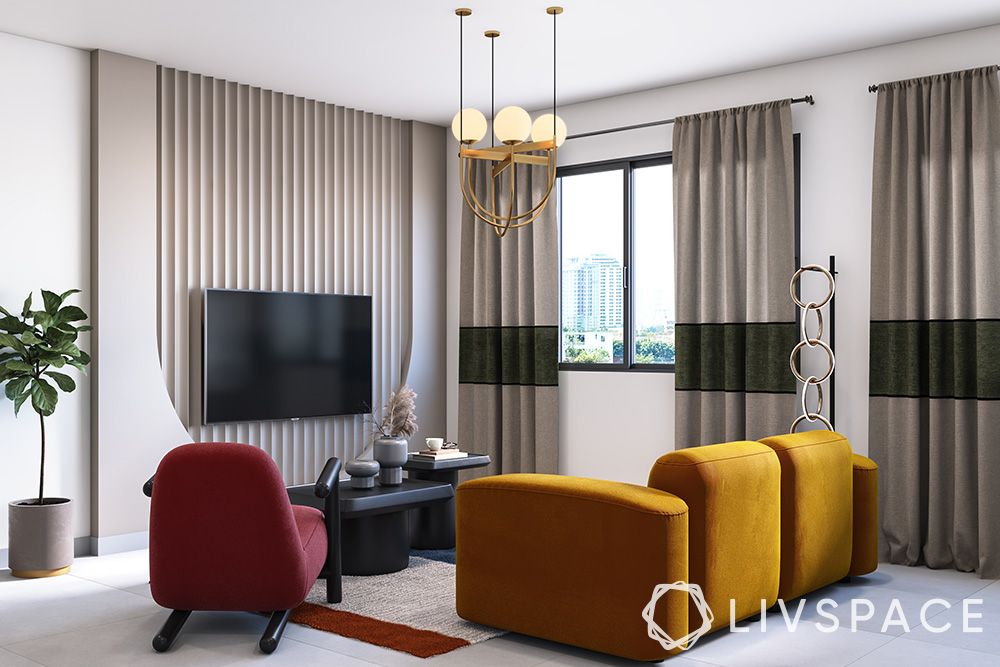 If there's one design element that's been emphasised on in the recent past, it's fluted wall panels. These panels hit all the right notes when it comes to texture, style, and trends. Given their versatility, it's no surprise that most homeowners opt for fluted panels to complement their carpentry.
For your living room carpentry ideas, consider going for a fluted accent wall. But wait, that's not all! You can also add a special twist to this wall design by adding pocket doors to it. If your TV wall sits in a recessed area, you can add these doors to easily conceal your TV unit when not in use, for a seamless look.
4. Match Your En Suite Wardrobe Door With Your Bedroom Interiors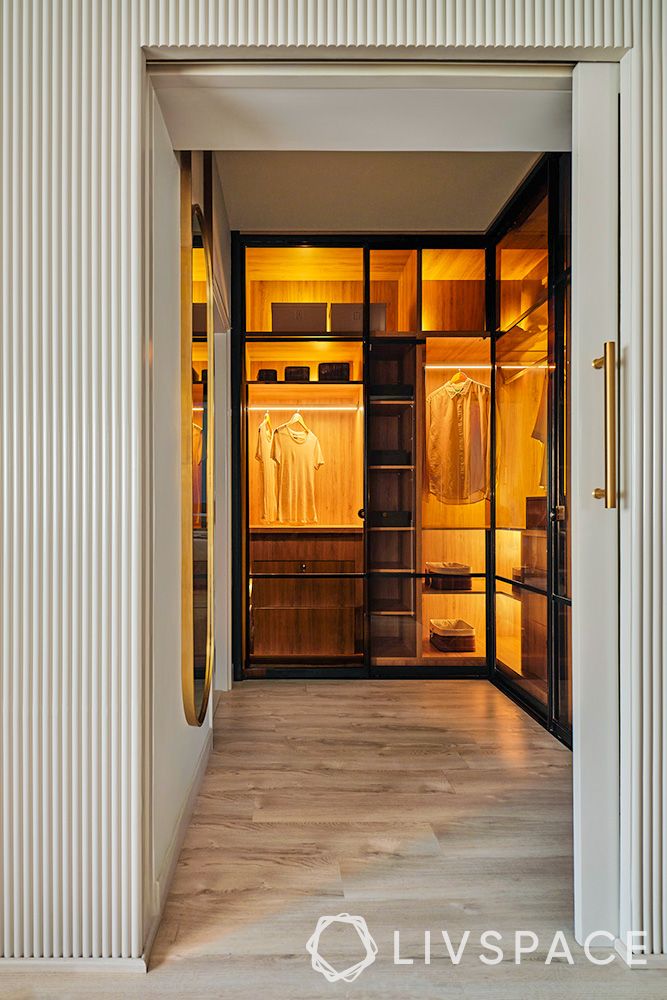 In line with keeping things concealed, how about exploring some bedroom carpentry ideas for your walk-in wardrobe? Depending on your layout and preferences, you may want to keep your en suite wardrobe private with the help of a door.
However, the style of wardrobe doors you choose can play a pivotal part in the overall appearance of your space. So, here's where you can get creative with your built-in carpentry. To ensure both spaces match, you can go with a wardrobe door that complements your bedroom interiors.
For example, if your bedroom walls are accented with fluted panels, consider decorating your wardrobe door with fluted panels too. This automatically conceals the space and keeps both the sleeping and changing areas private.
5. Hidden Pull-Out Shelves for Accessing Kitchen Appliances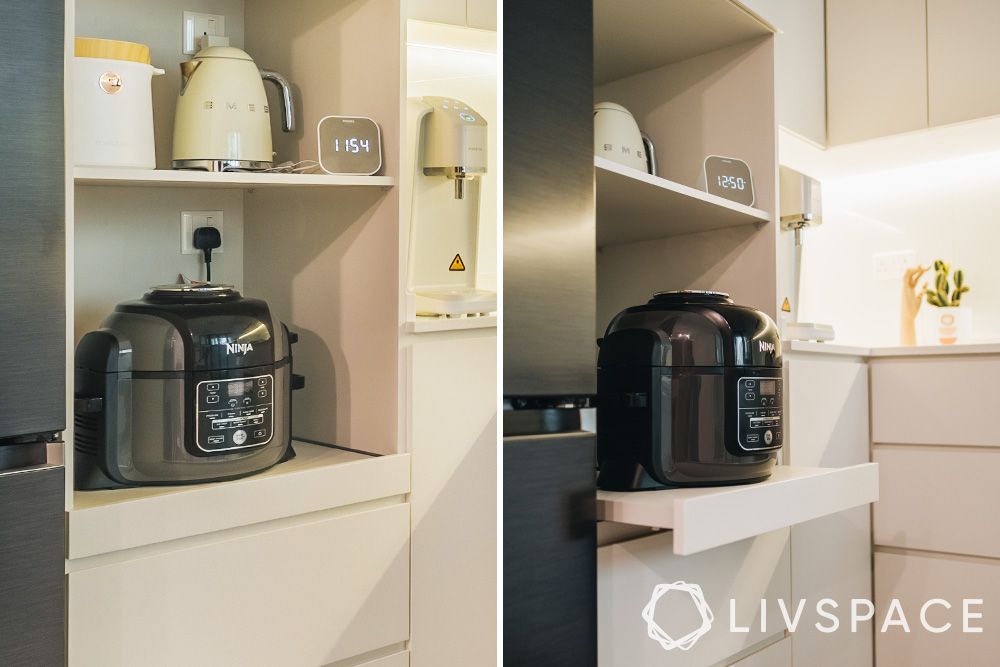 How annoying is it when you have to reach into deep storage compartments to pull out a heavy rice cooker or a kitchen appliance? Moreover, not all of us are flexible or strong enough to do this without the risk of an accident. It's moments like these that are perfect examples of how clever carpentry ideas can save you all that trouble in your kitchen.
While designing your kitchen, ask your ID to get you pull-out shelves for your kitchen appliances, like this HDB did. With this, you can simply pull out the shelf for easy access and storage without a struggle.
Also Read: This Livspace Home Gives 5 Simple and Easy Ways to Make Your Home Stylish
6. Bookcases Can Help Carve Out a Foyer Area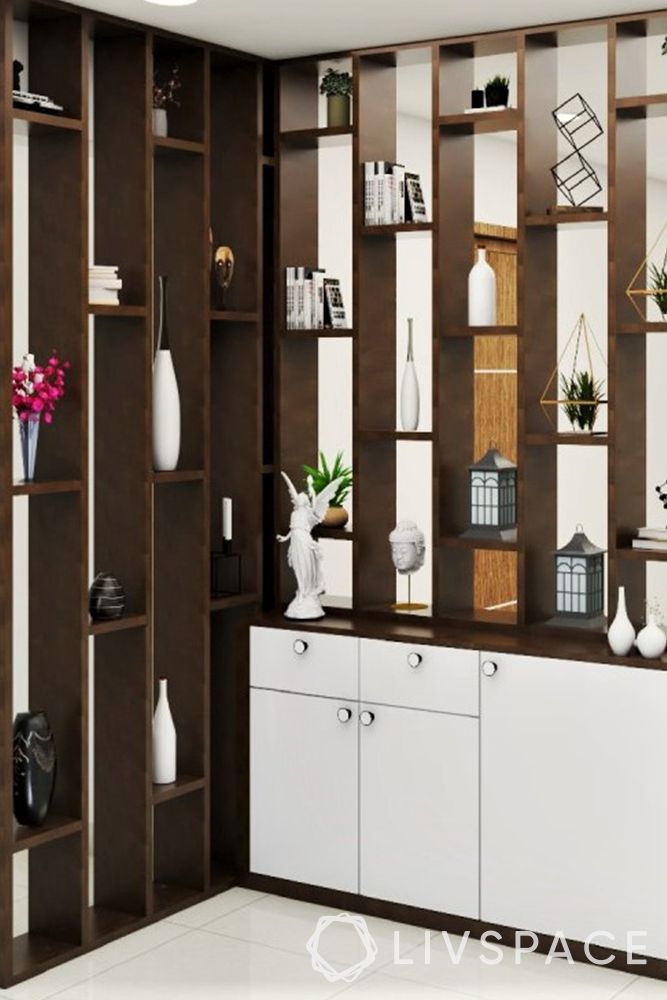 Long passageways in the foyer are not a common sight in every HDB or condo. In fact, most compact HDBs don't have the luxury of an assigned foyer area, and lead directly into the home's layout. If not having a designated foyer area has left you feeling a little kiasu, we have an easy fix for you.
To carve out your own foyer space, all you need are some custom carpentry ideas for HDB flats to get the job done. You can use a bookcase or a breeze wall with built-in shelves to make this partition more functional and storage-intensive.
7. Make Your Household Shelter More Functional With Storage Shelves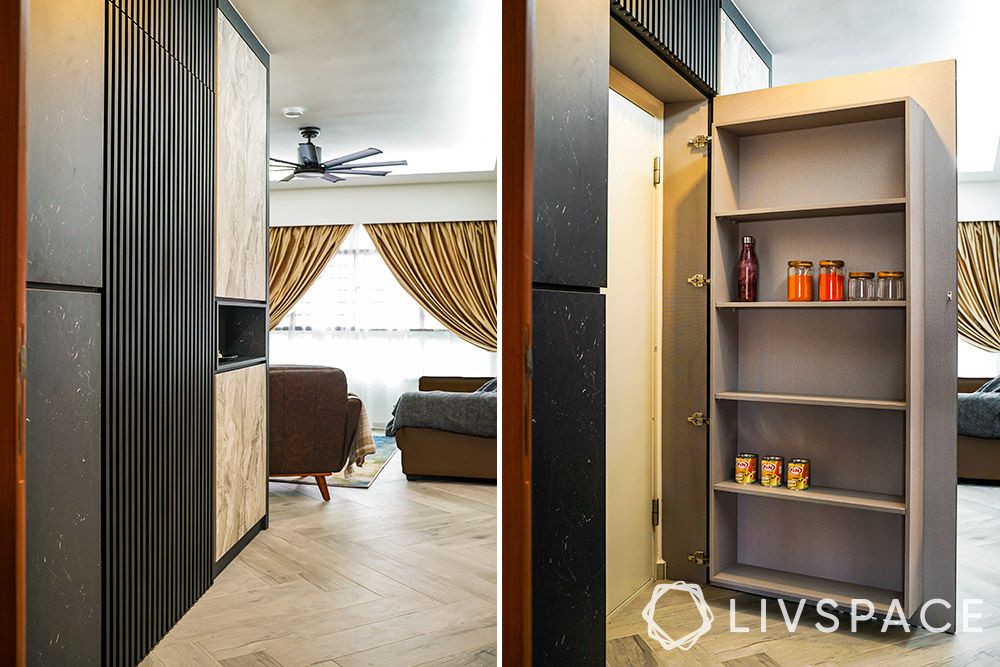 There are plenty of cool things you can do to redesign your bomb shelter door (within HDB regulations) to match your interiors. And with some neat carpentry ideas, you can further enhance the look of your shelter. Besides exploring some carpentry ideas for your household shelter's facade, also look at adding some built-in storage solutions to it.
Take this home, for example. We've added some built-in shelves behind the facade to make the bomb shelter door more functional. For homes that do not have enough kitchen storage, you can also consider storing your crockery here.
8. Consider a Customised Pantry Unit Designed Specifically to Fit Your Space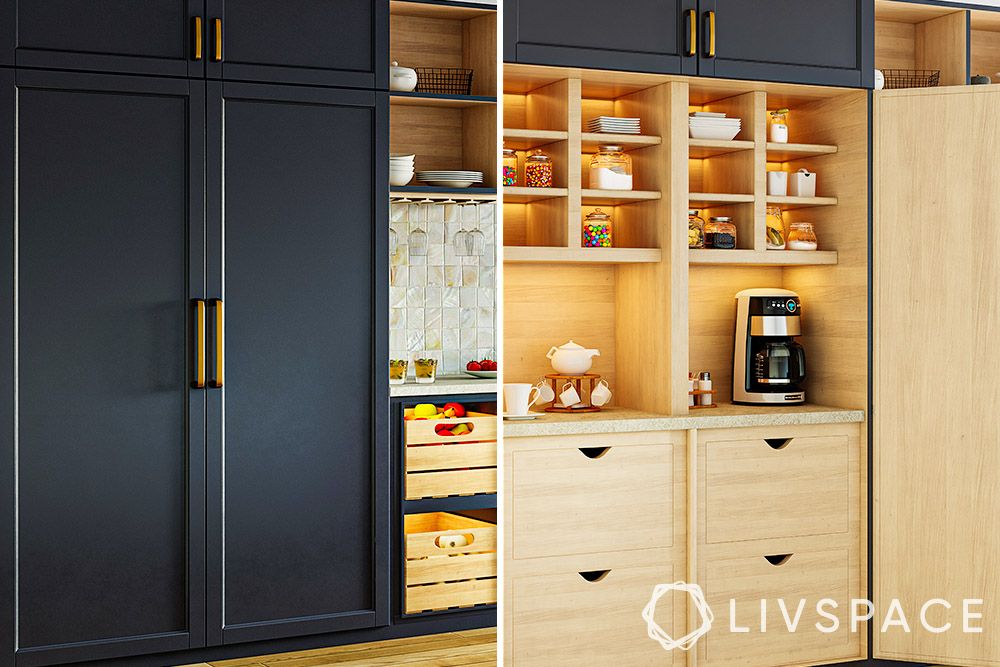 Are you familiar with the concept of a tall unit? It's essentially a tall cabinet that can be used to store your pantry items in the kitchen. And for smaller kitchens, this can be a real blessing to have. So, if you're looking to add more storage during your kitchen reno, some tall cabinet carpentry ideas can make it happen.
All you need to do is get an understanding of where you'd like to place this cabinet, as well as the available space for it. You can either get a floor-to-ceiling cabinet furnished, or you can also keep it mid-sized, depending on the space. The best part about it is that it's customised as per your needs, so you can rest assured that it will fit your exact requirements.
How Can Livspace Help You?
We hope you found our carpentry ideas useful! If you want your home to be just as beautiful, then look no further. Book an online consultation with Livspace today.
Have some comments or suggestions you'd like to share with us? We're all ears! Feel free to write to us at editor.sg@livspace.com.
Disclaimer: All contents of the story are specific to the time of publication. Mentions of costs, budget, materials, and finishes can vary with reference to current rates. Talk to our designer for more details on pricing and availability.