Have you ever heard the expressions "less is more", "stick to the colour palette" or "statement piece"? These are often used when discussing home decor ideas. You already own some decorative or functional articles that you want to keep but don't know how to meld into your house design ideas without cluttering the space. Thanks to the effort and experience of many home decorators, the house design ideas you will find in this article put together by yours truly might be all you need to solve these little issues. You're welcome.
Let's take a look at these home decor mistakes and how to avoid them!
#1: Using Too Many Colours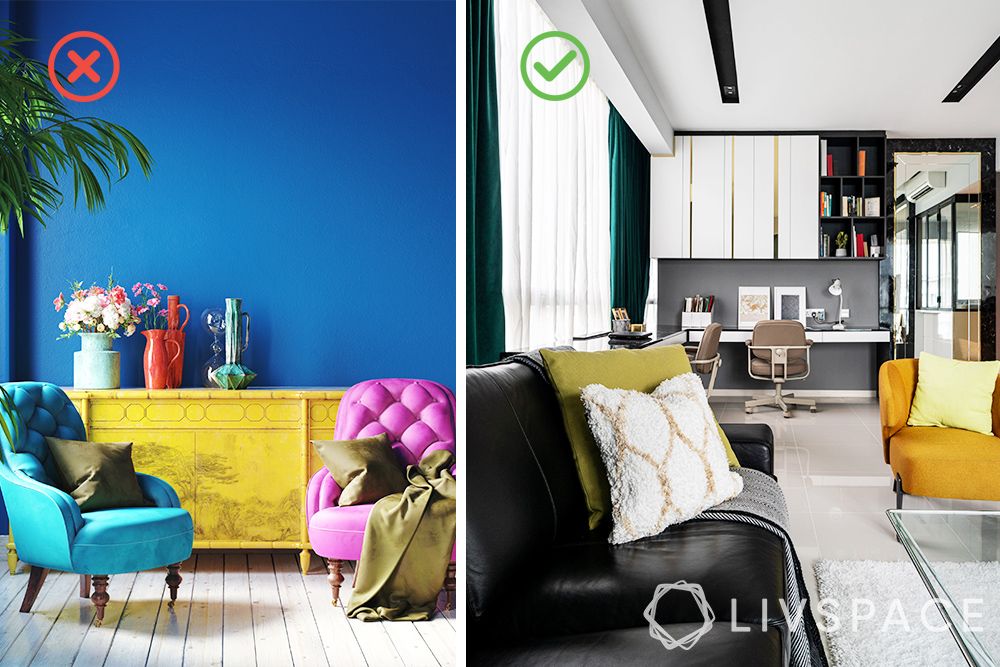 Some colours one can just not get enough of. They might make you feel excited and optimistic, or maybe it is all about the soothing effect they have on you once you enter that one room. It could even be linked to a pleasant memory from your childhood that you want to keep around. Whatever the reason might be, colours affect our emotions to the point of making us biased when choosing them to integrate into our home decor ideas.
As beautiful as the colours of the chairs on the left side of the image might be, you can observe the lack of harmony between the chair on the right, the one on the left, each of the flower vases, the chest of drawers and, of course, the wall. Notice that the floor is the only colour-neutral element in the room. Having one statement piece is a great technique to bring a pop of colour to your room and prevent it from having a boring aspect; however, many statement pieces will just make it look messy. It could even be overwhelming for the viewer when the colours are as bright as these.
The yellow pillows on the picture to the right bring attention to the centre of the room without making it seem chaotic. Sticking to a harmonised colour palette for each room in your house or apartment will make the space look more organised and even spacious.
#2: Using Too Many Throw Pillows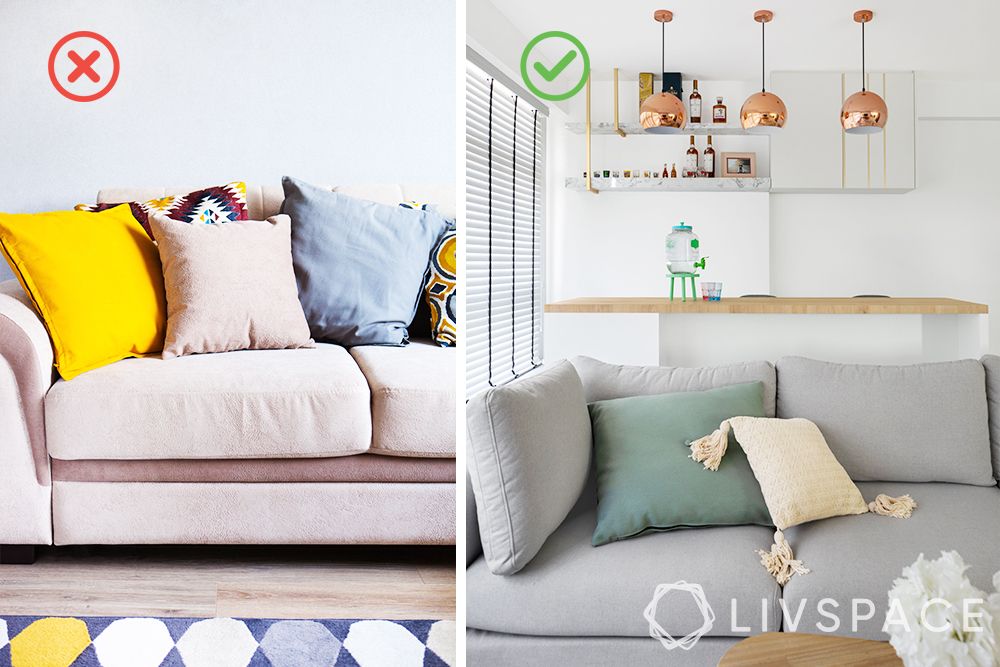 Throw pillows are both a functional and decorative addition to include in your home decor ideas; they will bring some character to your couch and make it cosy at the same time. There are different styles, sizes and colours of throw pillows that will allow you to personalise your couch. All this while you snuggle in its recently added — or enhanced — plumped-up look. Nonetheless, sometimes less is more.
As tempting as it might be to add a lot of vibrant colours to a plain couch, keep in mind that you do not want to make it look overstuffed. Even when the colours on the left side of the picture are pretty and match the scene, there are so many throw pillows that it doesn't even look comfortable anymore. Instead, it looks like sitting will be a fight between you and the pillows that have managed to steal most of the space. Do not add more than two throw pillows on each side of your couch if you want to keep it classy and comfy.
#3: Sticking Furniture to the Wall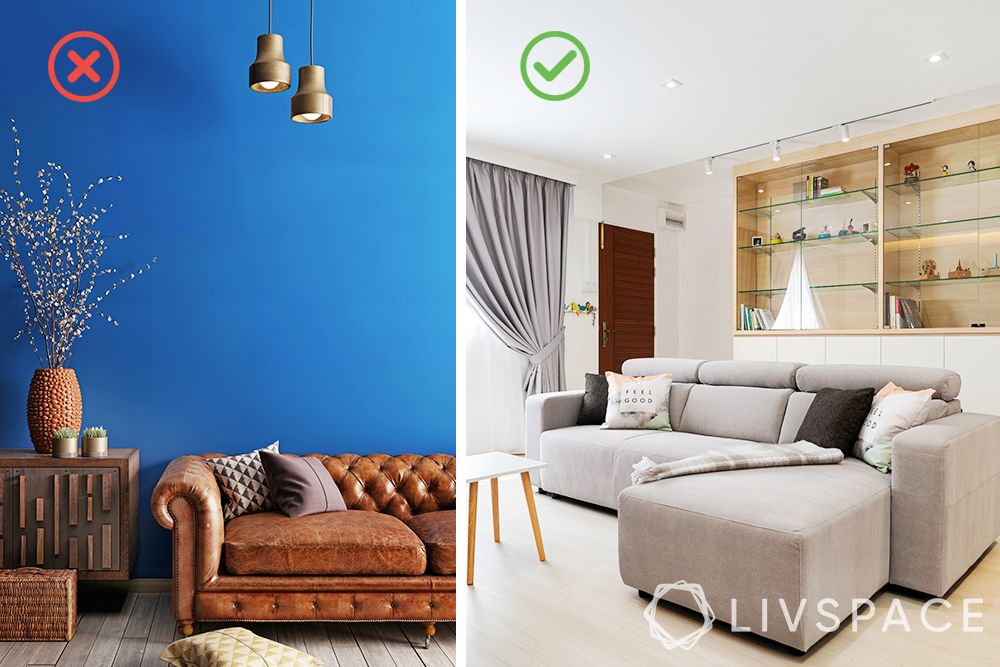 Whether you live in a big condo or a small apartment, the desire to make your room look spacious is natural. Sometimes, carried away by this idea, you might want to push all the furniture right to the wall to make space in the centre of the room. However, this might make your space look a little tacky and old.
If you want a modern aspect with a high-end touch, it is better to leave some space between your furniture and the wall when possible, as it will prevent your room from looking like an improvised arrangement of objects and instead give it a fancier look.
#4: Over-Accessorising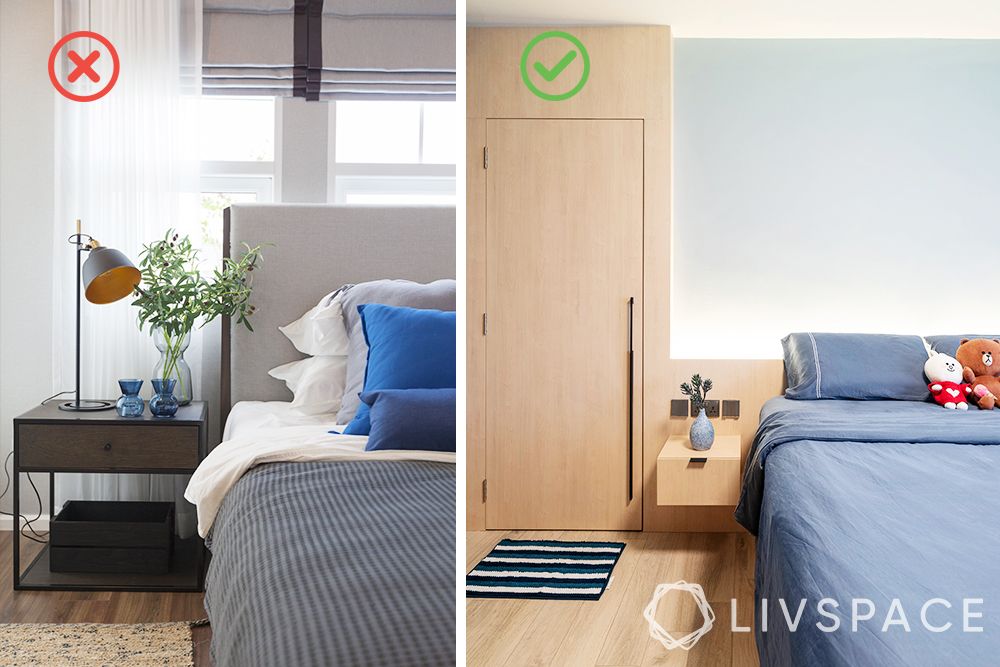 There are some accessories that have emotional value, which might make you want to keep them even when they do not fit the rest of your home decor ideas. As pretty, luxurious, classy or important an accessory might be for you, it is key to keep in mind that there is a limit for everything. Over-accessorising can make your room look packed, messy, improvised and even shabby.
Lamps and plants bring light to the room, and those little blue vessels on the picture to the left are worth seeing, but do they all have to be together? If you do not want to donate or sell some of your items, you can simply store them and change the decoration from time to time. You can also display them in a different room in your house where they are better adapted to the interior design ideas in place. Keeping it simple will give better results than over-accessorising.
#5: Using Too Much Wall Decor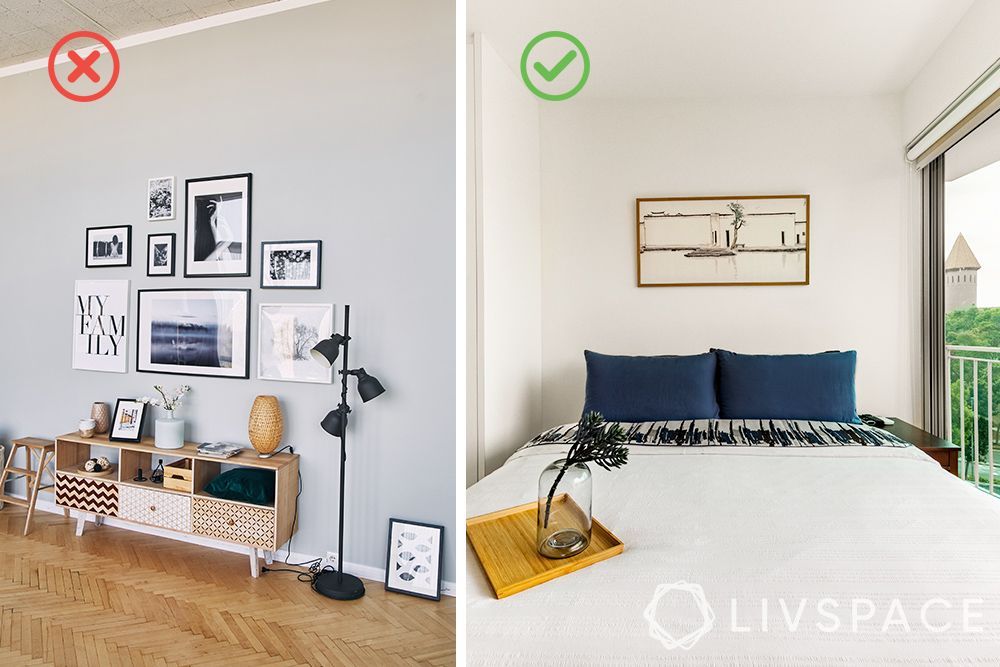 Wall decor ideas can be challenging to replicate within your rooms, as there are countless beautiful options and just four walls to tackle. It is common to see too many picture frames or wall art in the same room but this will just make the space look smaller and overwhelming.
The right home decor ideas can be hard to come by, or maybe, you have already seen so many that you cannot make up your mind and want to incorporate them all. Instead of spending tons of money on fancy pieces and luxury items, sometimes all it takes to make your house, condo or apartment look classy and chic, is avoiding the typical home decor errors that keep it from shining at its brightest.
How can Livspace help you?
If you are thinking of redesigning your home, then consider Livspace. Book an online consultation with our designers now to turn your small condo renovation ideas into reality. We are all about quality and safe interiors.
Let the pandemic not stop you from attaining your dream home. We follow strict COVID-19 safety protocols, which you can read about here.
Read this article on 8 Partition Designs that are Perfect for Homes With Open Layouts if you want to get more home decor ideas from the experts.
Have you tried this out? Redecorated already or have some questions for us? Feel free to send your comments and queries to editor.sg@livspace.com