Beyond Singapore's urban architecture and landscape, most of the walls of buildings and old shophouses that belong to the Peranakan community, carry a rich history. One distinctive feature of these shophouses is the intricately designed tiles used in these buildings, known as Peranakan tiles. The ornate beauty of these tiles has become a factor of fascination, which has led to them gaining particular favour in the local community.
Incidentally, they are also becoming a status symbol for wealthy homeowners. While the artistic detail and intricacy of Peranakan design is well known, the history and the origins of these tiles is a bit of a blur. So, let's take a trip down memory lane and dive into the finer details of the Peranakan tiles design.
What Are Peranakan tiles?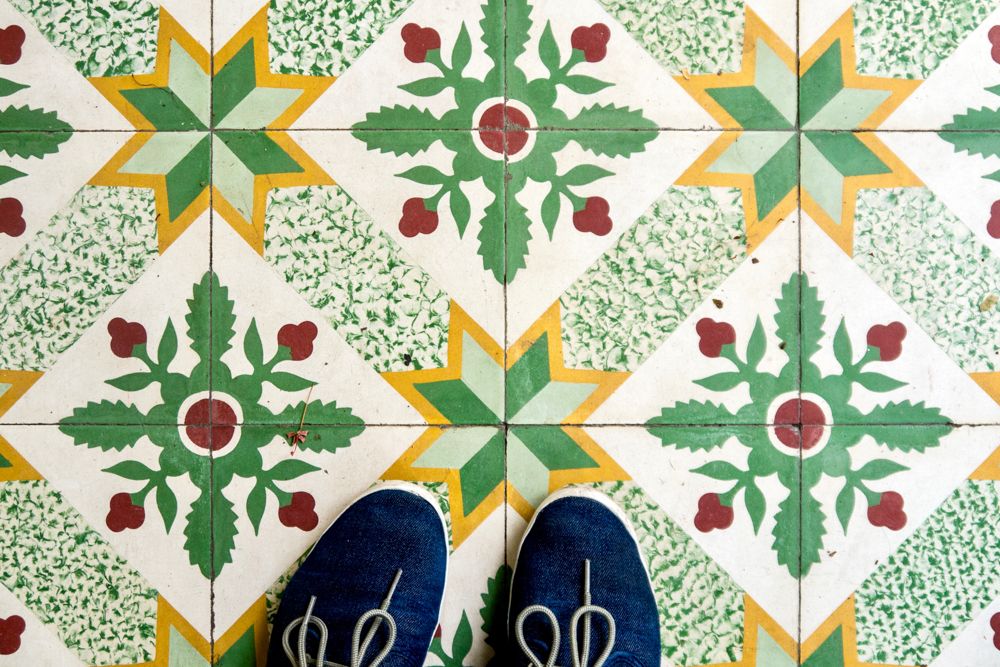 Initially known as Majolica tiles, they were produced in Germany, Britain and Belgium. Their intricacies were greatly appreciated by the Peranakans living in Malacca and Penang in the early 20th century, so much so that the tiles became a distinct feature in the Peranakan community. Thereafter, they were widely known as Peranakan tiles.
If you walk down the vibrant streets of Everton Road, Blair Plain and Joo Chiat, you can see instances of Peranakan design on facades and the interiors of these homes. They also display intricate carvings on wooden swing doors, known as pintu pagar, along with a Peranakan tiles design.
What Are the Origins of Peranakan Tiles?
Primarily used as decorative tiles in Peranakan homes, they are also used as artistic panels in porches, washstands and even courtyards. The bright decorative tiles that adorn shophouse facades, panels, courtyards and more are courtesy of those who, in the colonial times, were able to afford and popularise them.
Why Is the Peranakan Tiles Design So Popular in Singapore Homes?
Due to their decorative value, simple Peranakan tiles have made a strong place for themselves in society. Culturally, they are a mark of the history of a community. In fact, people even consider these tiles as a symbol of wealth and prosperity. 'Peranakan' is a Malay word that means 'locally born'. Many of the Peranakans are the offspring of alliances between Malay women and Chinese traders. These traders often migrated to British-controlled settlements like Singapore, Malacca and Penang.
Folklore and legend states that the Chinese Ming princess, Hang Li Poh, came to Malacca with a large cortege after her marriage to Sultan Mansur Shah of Malacca. This entourage settled there and married locally; leading to the birth of the Peranakan community. Given the focus on affluence Peranakan design carries, it is still greatly revered in Singapore.
Also Read: 17 Different Types of Tiles With Price Estimates for Bathrooms and Kitchens
How Are Peranakan Tiles Different From Other Tiles?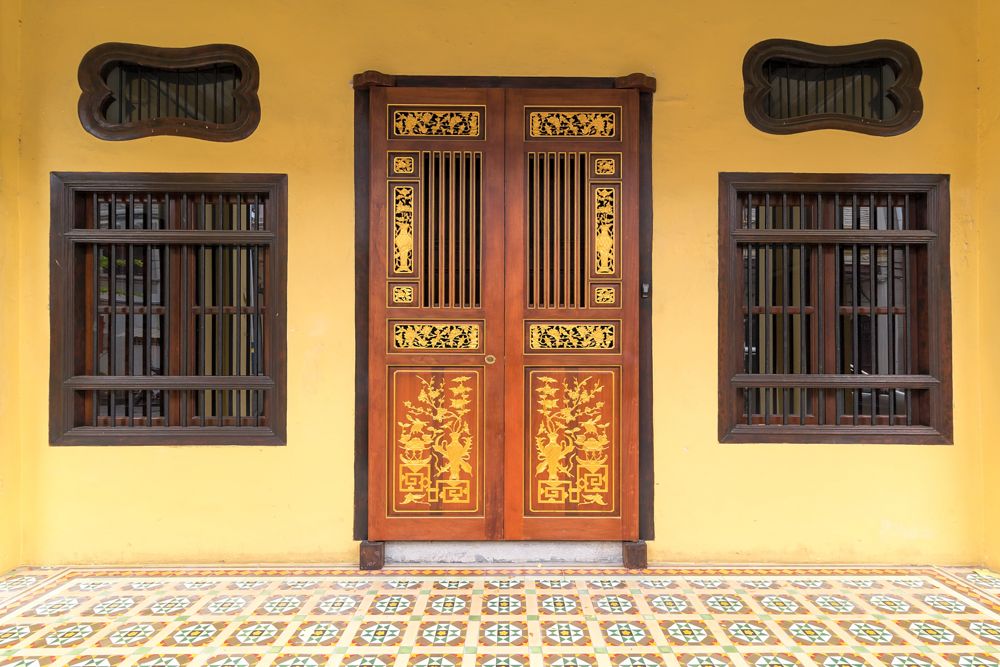 Highly intricate and artistic designs are characteristics of Peranakan tiles and its deep-rooted folklore history. Their cultural value and heritage for the Peranakan community is just as much as its ornamental value.
The differences between other tiles and Peranakan tiles are countless with regard to their history, origins and artistic appeal. The patterns and motifs on these tiles are noteworthy. The original Peranakan floor tiles were made from ceramic, and were carved and glazed expertly for durability.
They depicted oriental motifs such as fruits, fish, birds and other designs considered auspicious. As time passed, the motifs changed and so did the method of production. What we see today are machine-print tiles with mostly geometric designs, although they still use ceramic as the base of the tile. Moreover, these modern Peranakan tiles are also more suited to new-age sensibilities.
How Can You Incorporate Peranakan Tiles Into Your Home?
Whether you're using modern Peranakan tiles or traditional style tiles, they sure can make a statement. You might already be familiar with where to use them, but how will they fare in a modern home? Let us take you through a few ways to make use of these simple Peranakan tiles.
#1: Sunroom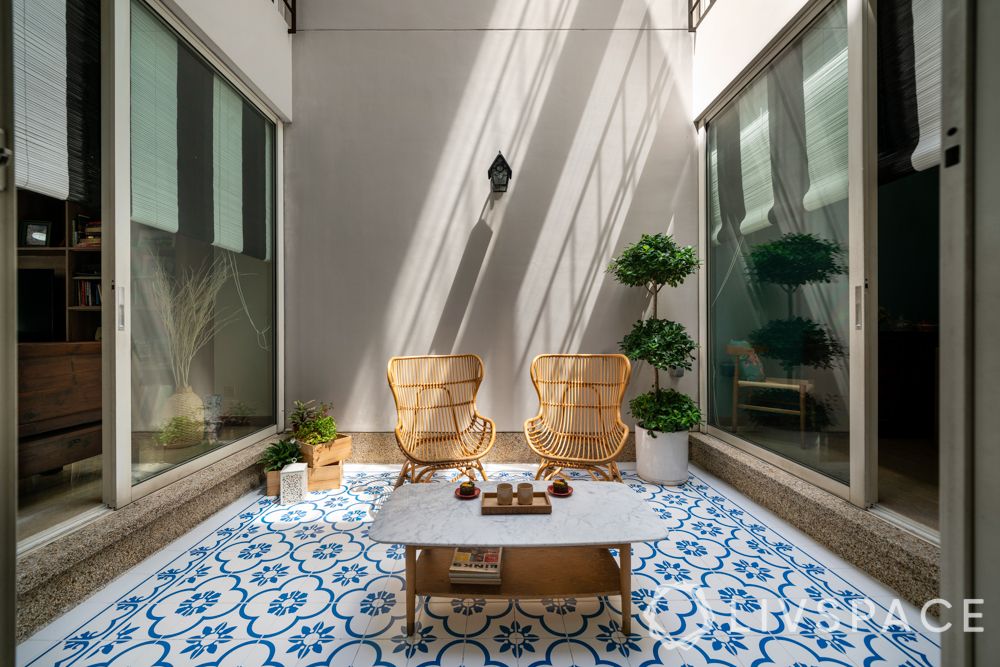 The sunroom in your HDB or condo is a great space to showcase these tiles as they light up under direct sunlight. They not only gracefully elevate the room design, but also add the perfect flush of colour to the space. You can pair Peranakan floor tiles with bamboo furniture and a coffee table to create the most perfect space for leisure-reading or lounging.
#2: Bathroom Wall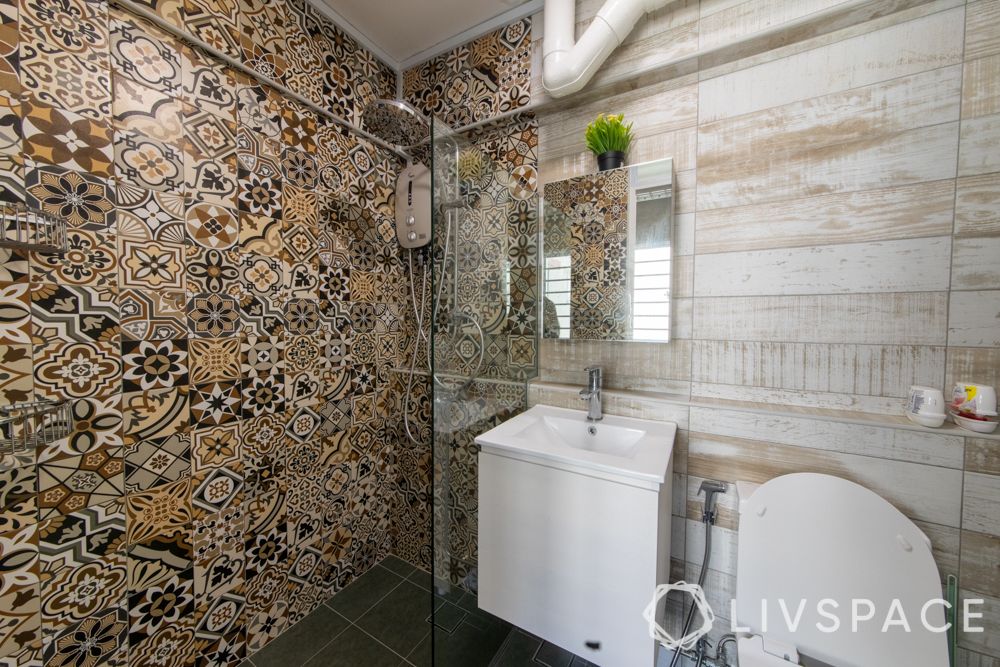 Styling your bathroom is usually about utility, but that doesn't mean it has to be boring. You can elevate your bathroom design by adding busily patterned Peranakan tiles to your toilet wall. Use the other walls to maintain the balance with lighter tones and less saturated designs. It's also important to note that these tiles are easier to clean compared to paint.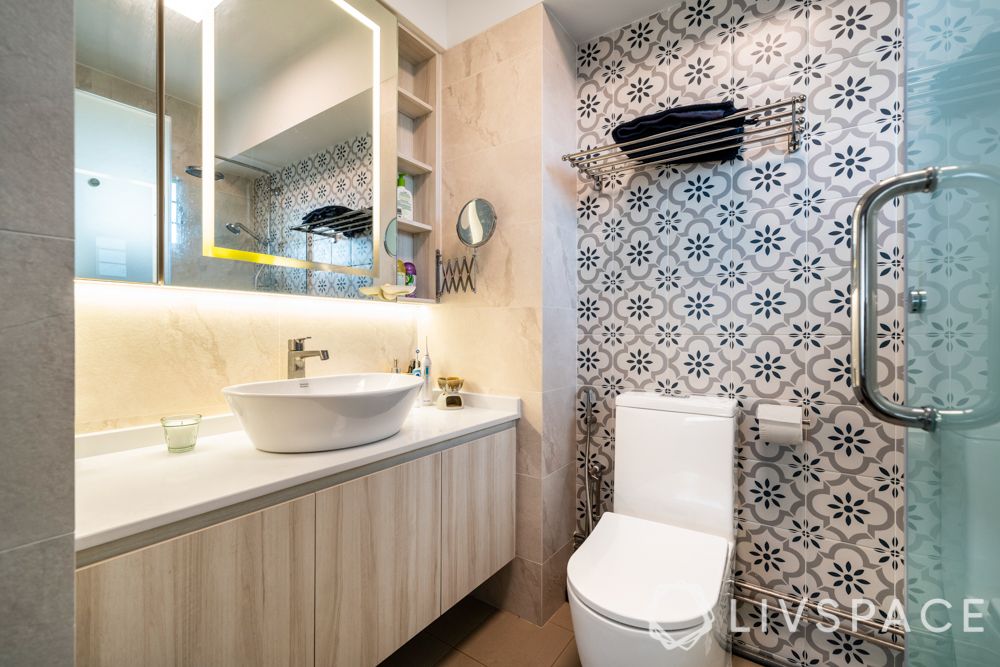 Forget the old-school wallpaper and get a Peranakan tiles toilet design as a vertical landscape in your bathroom. Not only do these beautiful tiles add texture and dimension, but also bring colour to the walls. They're so unique and distinct in style that you simply can't go wrong with them.
#3: Kitchen Backsplash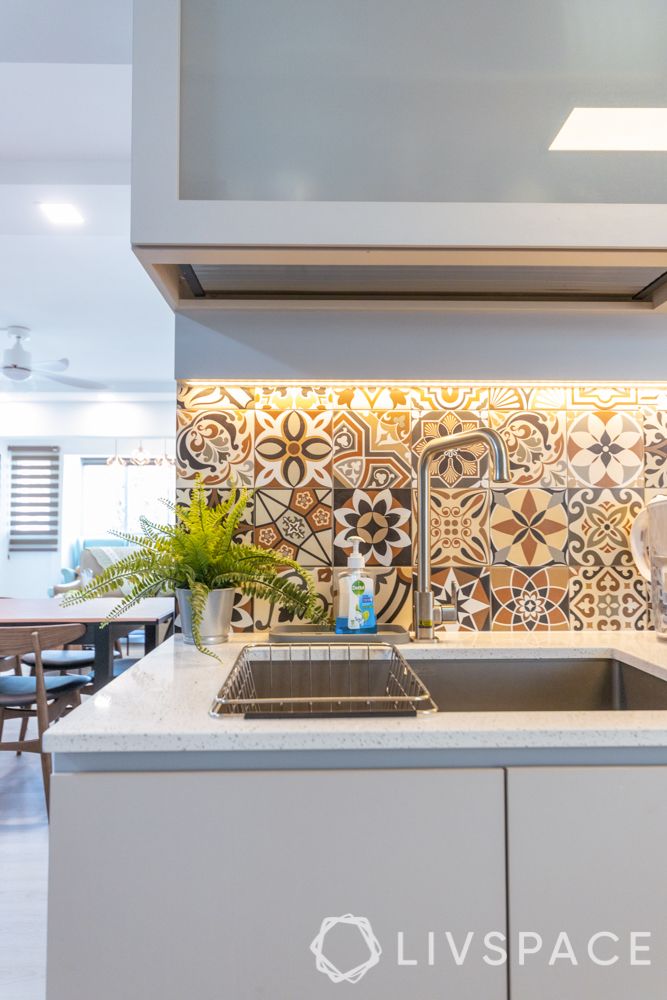 A kitchen backsplash is one of the most important features of the space, and yet, the detail to designing it is always somehow minimal. So experiment a little and give your kitchen backsplash the Peranakan kitchen design it deserves.
To create a cohesive design, pair the tiles with a white marble kitchen island or a minimalistic countertop, making the Peranakan tiles the star of your kitchen. If you love culturally-charged architecture and design, these tiles are the best options for your home. They feature designs so intricate and attractive that the end result is unparalleled.
They're not only versatile to be integrated into any space seamlessly, but also beautify the space with their variety of symbols and motifs. These tiles are undoubtedly a great addition to any part of your home, brightening up the space instantly.
Also Read: 5 Amazing Living Room Floor Tiles And What You Need to Know About Them
#4: Balconies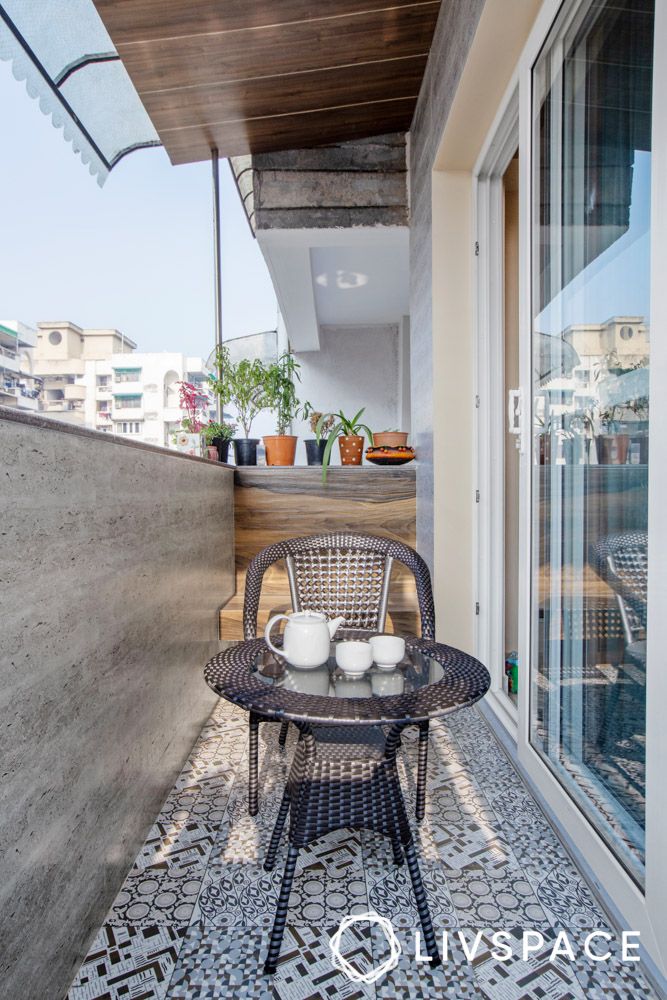 Balconies are sacred spaces that we love to unwind in. So, it's only fair that we give them a design that has an equally cosy vibe. You can either use these tiles on the balcony floor, or as a mosaic wall design. Throw in a swing and some potted plants, and it's nothing short of zen!
A Few Other Ways to Use These Tiles:
Hallways: You can add depth to your hallways by using patterned tiles to elongate the space. Moreover, they can even act as a red carpet entrance into your home. If you have relatively plain interiors with monochromes and minimalistic furniture, throw in some Peranakan tiles to add interest to the space.
Living Rooms: Give your living area a touch of personality by using Peranakan design to accentuate it. You need not necessarily lay these tiles across the entire living room either. Carve out a section and lay these tiles in a circular or rectangular shape in the middle of the floor for added effect.
Headboards: Tiled headboards are definitely a unique accessory. But when used correctly, they can be just the style boost your bedroom needs. If your bedroom seems to be lacking a strong visual element, consider using these tiles to make statement. Introduce them in your headboard or headboard wall and brace yourself for a stunning transformation!
How Can Livspace Help You?
We hope you found our ideas useful! If you want your home to be just as beautiful, then look no further. Book an online consultation with Livspace today. Have some comments or suggestions you'd like to share with us? We're all ears! Feel free to write to us at editor.sg@livspace.com.
FAQs
1. What is Peranakan Design?
The use of decorative Peranakan tiles in your interiors refers to Peranakan design.
2. What Are the Characteristics of Peranakan House Decoration?
Peranakan houses typically use colourful tiles on the floors and walls and decorative wooden carvings on their doors and windows.
3. Are Peranakan Tiles Good for the Home?
Yes, these are glazed ceramic tiles that are durable and easy to maintain.
4. How to Decorate Your Home With Peranakan Tiles?
Use them on the floors or walls of your home to add some character to the space.