Beyond Singapore's urban architecture and landscape, there lies a wonderful nostalgic history on the walls of buildings or old shophouses, many of which belong to the Peranakan community.
A very distinctive feature of these shophouses is the intricately designed tiles on the buildings, known as Peranakan tiles. The ornate beauty of these tiles has become a factor of fascination, which has led to them gaining particular favour in the local community. Incidentally, they are also becoming emblematic as a status symbol for wealthy homeowners! While the artistic detail and intricacy of these tiles are famous, the history and the origins of these tiles is a bit of a blur. Today, we dive into the finer details of this traditional decor element.
What are Peranakan tiles?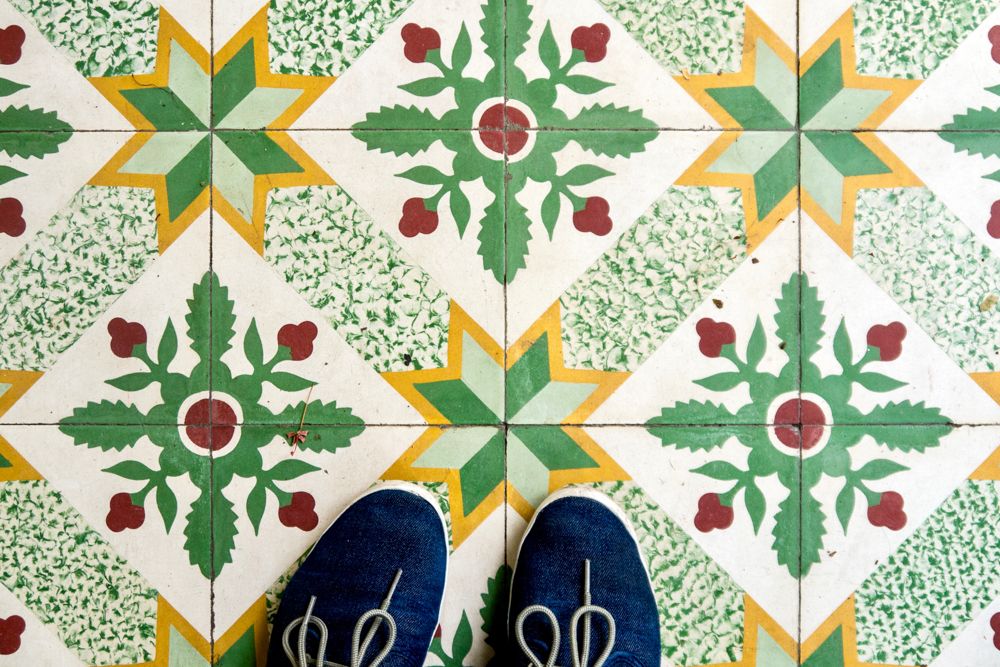 These tiles were first known as majolica tiles and were produced in Germany, Britain and Belgium. Their intricacies were greatly appreciated by the Peranakans (people of mixed Chinese and Malay/Indonesian heritage) living in Malacca and Penang in Malaysia and Singapore respectively in the early 20th century, so much so that the tiles became a distinct feature in the Peranakan community. Thereafter, they were widely known as Peranakan tiles.
If you walk down the vibrant streets of Everton Road, Blair Plain and Joo Chiat, you can see these majolica tiles on facades and the interiors of Peranakan homes. They also display intricate carving on wooden swing doors, known as pintu pagar, along with these tiles.
What are the origins of Peranakan tiles and why are they so popular in Singapore homes?
Primarily used as decorative tiles in Peranakan homes, they were used as artistic panels in porches, hallways, washstands and even courtyards. The bright decorative tiles that adorn shophouse facades, panels, courtyards and more are courtesy of those who, in the colonial times, were able to afford and popularise them.
Along with their decorative value, these tiles have made a very strong place for themselves in society. Culturally, they are a mark of the history of a community. People consider these tiles as a symbol of wealth and prosperity. Peranakan is a Malay word that means 'locally born'. The connotation goes back to the notion that many of the Peranakans are the offspring of alliances between Malay women and Chinese traders, who often migrated to British-controlled settlements like Singapore, Malacca and Penang.
Folklore and legend state that the Chinese Ming princess, Hang Li Poh, came to Malacca with a large cortege after her marriage to Sultan Mansur Shah of Malacca. This entourage settled there and married locally; their children were called 'Peranakan'.
How are Peranakan tiles different from other tiles?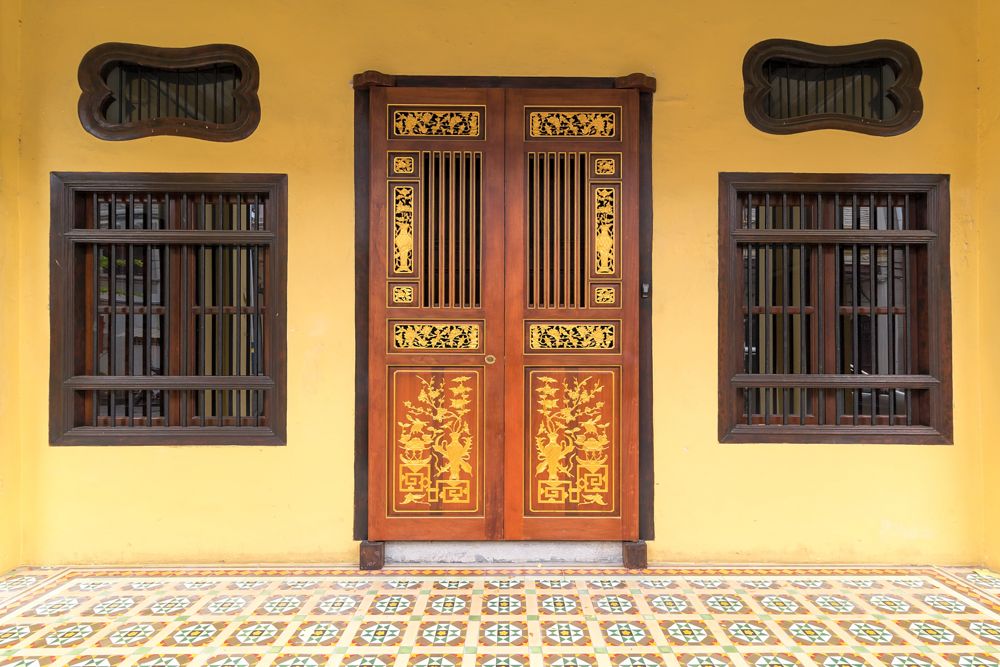 Highly intricate and artistic designs are characteristics of Peranakan tiles as is a deep-rooted folklore history. Their cultural value and heritage for the Peranakan community is just as much as its ornamental value.
The difference between other tiles and Peranakan tiles are countless with regard to their history, origins and especially their artistic appeal. The patterns and motifs on these tiles are noteworthy. The original Peranakan tiles were made from ceramic and were carved and glazed expertly for durability. They depicted oriental motifs such as fruits, fish, birds and other creatures considered auspicious. As time passed, the motifs changed and so did the method of production. What we see today are machine-print tiles with mostly geometric design, although they still use ceramic as the base of the tile.
Ways to incorporate Peranakan tiles in your home
#1: Sunroom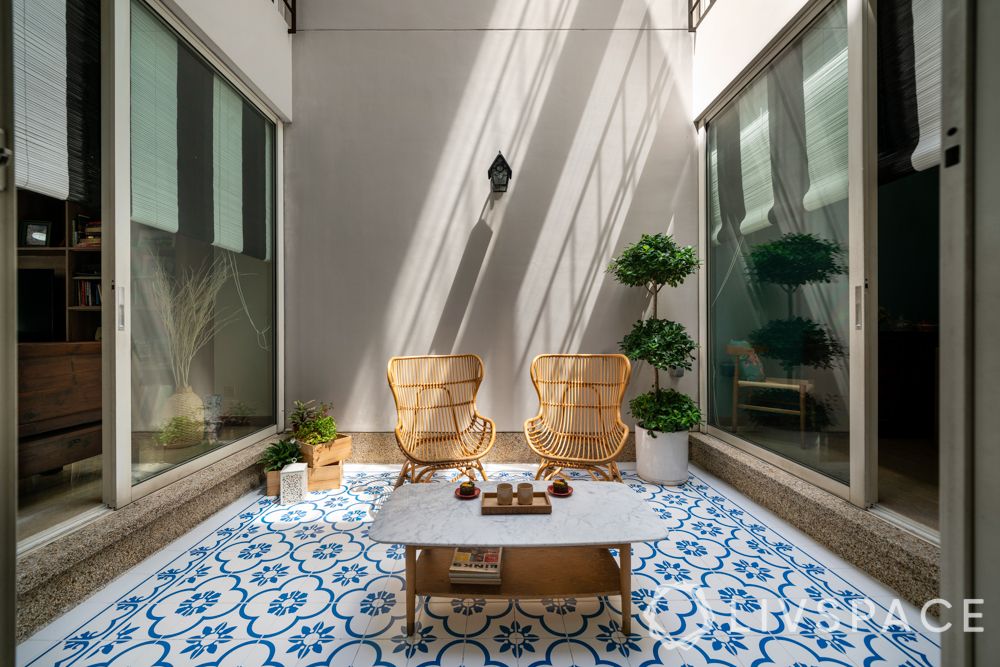 The sunroom in your HDB or condo is a great space to showcase the beautiful tiles as they light up under direct sunlight. They not only elevate the room with its aesthetic but also add the perfect flush of colour to your room. You can pair Peranakan floor tiles with bamboo furniture and a coffee table to create the most perfect space for leisurely reading or for lounging.
#2: Bathroom Wall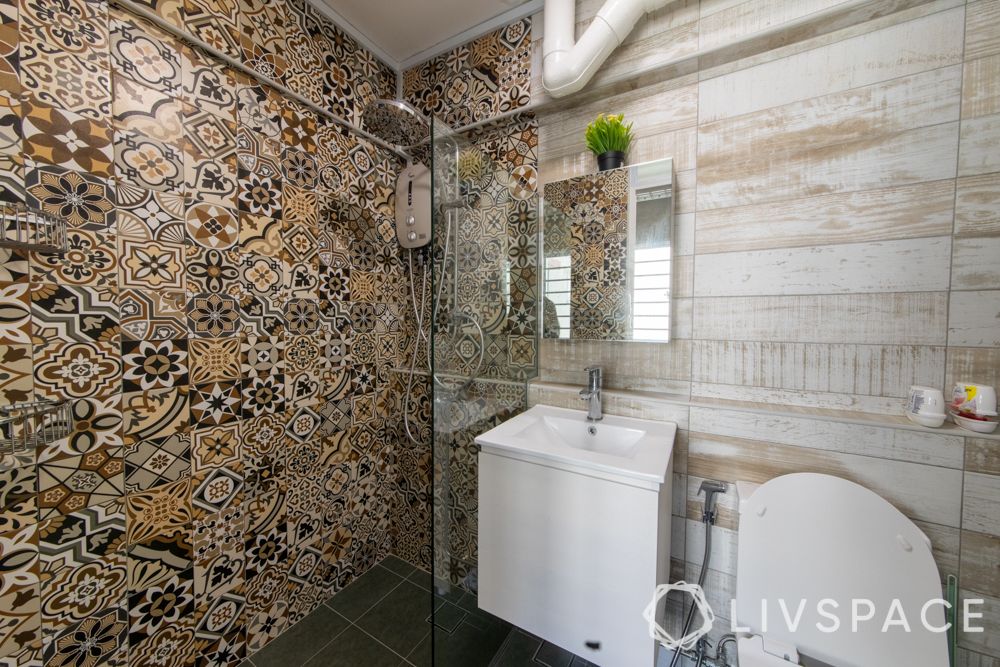 Styling your bathroom is usually about utility but that does not mean it has to be boring. You can elevate your bathroom by adding busily patterned tiles to one wall, for example, the shower stall; use the other walls to maintain the balance with lighter tones and less saturated designs. Important to note here is that these tiles are easier to clean as compared to paint.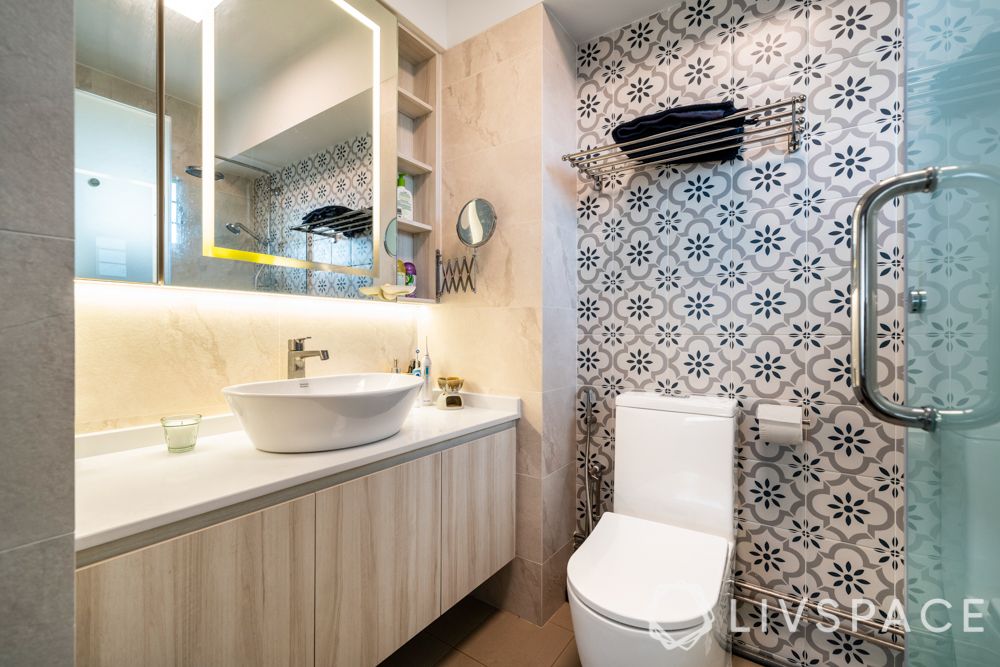 Apart from the shower stall wall, you can also pick another bathroom wall. Forget the old-school wallpaper and get Peranakan tile designs as a vertical landscape in your bathroom. Not only do these beautiful tiles add texture and dimension but also great colour to the walls. They're so unique and distinct in style you simply can't go wrong with them.
#3: Kitchen Backsplash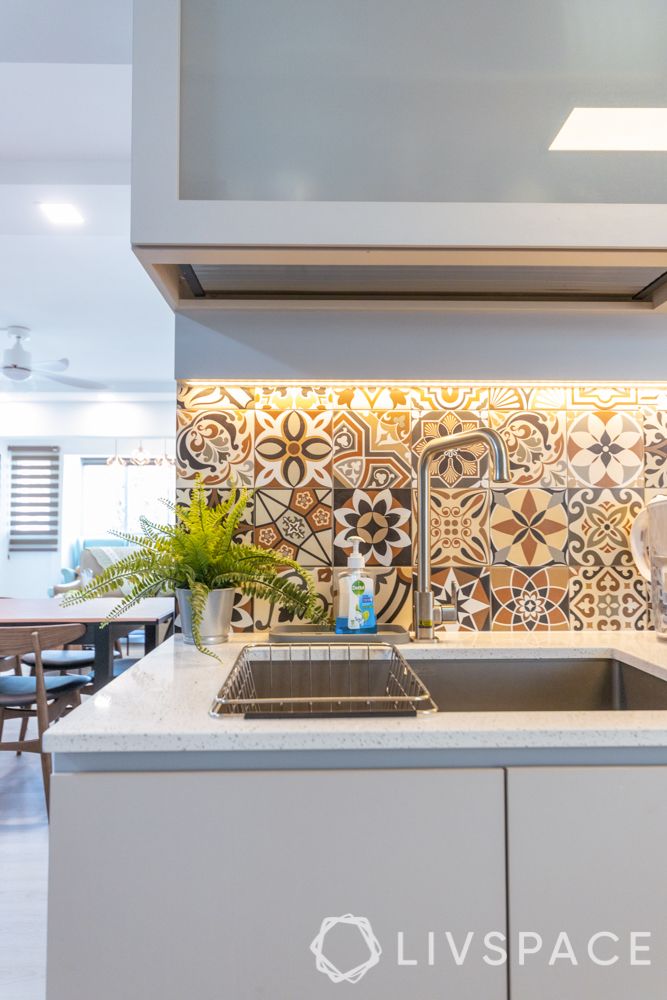 A kitchen backsplash is one of the most important features of the space and yet the detail to designing it is always somehow minimal. So experiment a little and give your kitchen backsplash the makeover it deserves with these tiles. To create a cohesive design language, pair the tiles with a white marble kitchen island or a minimalistic countertop, making the Peranakan tiles the star of your kitchen.
If you love culturally charged architecture and design, these tiles are the best option for your home. They feature designs so intricate and attractive that the end result is unparalleled. They're not only versatile, integrating into any space seamlessly, but also beautify the space with their variety of symbols and motifs. Peranakan tiles are undoubtedly a great addition to any part of your home, brightening up the space instantly.
How Can Livspace Help You?
Enjoyed reading this? If you want the perfect design for your home, then look no further. Book an online consultation with Livspace today. Delivering safe home interiors has been, and continues to be, our No. 1 priority. Click here to find out how we deliver safe interiors following all safety protocols.
Want to know more about Singaporean designs? Read 5 Vintage Decor Ideas That Will Make You Feel Proud to be a Singaporean
Send in your comments and suggestions to editor.sg@livspace.com