Colours can influence our perception of time and temperature, our performance and even our mood! There's a reason why people usually have favourite colours or are attracted to that one particular hue most of the time. But instead of a single, boring bedroom wall colour, why not go for unique but best two-colour combinations for bedroom walls that will resonate with you and your personality.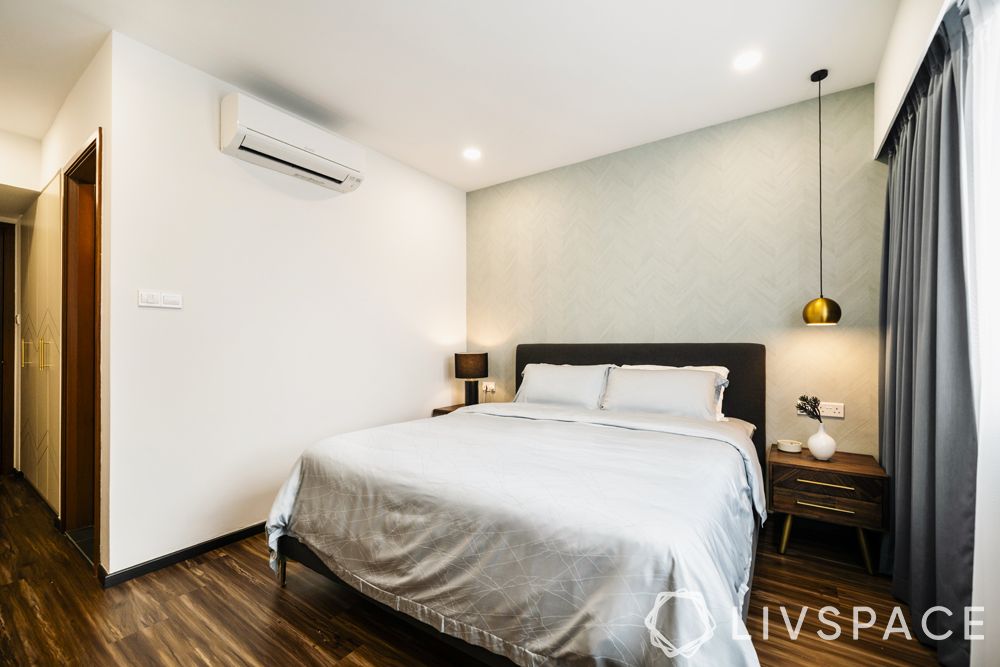 Check out these timeless bedroom two-colour combination suggestions.
Understanding Cool and Warm Bedroom Colours
Cool Colours Have Calming Effects
Cool bedroom colours like green, blue, purple, and even grey have calming effects on your psyche. They are known to improve creativity and help us relax. These cool colour combinations might even help you to improve your performance during tests and exams as compared to warm colours.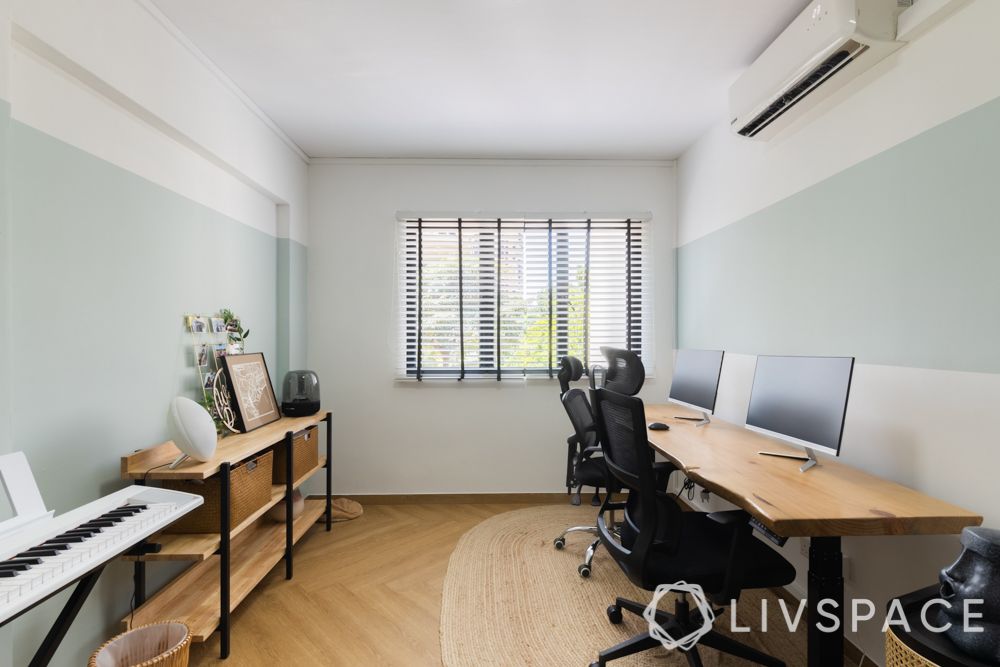 Warm Colours Evoke Emotions
Wall colours such as red, orange and yellow are purported to have stimulating effects, and can arouse emotions such as love, joy and passion. Keep that in mind when you're planning your two-colour combination for bedroom walls, stick with warm colours if you want to wake up feeling energised, or if you want to evoke passion and joy in your marriage.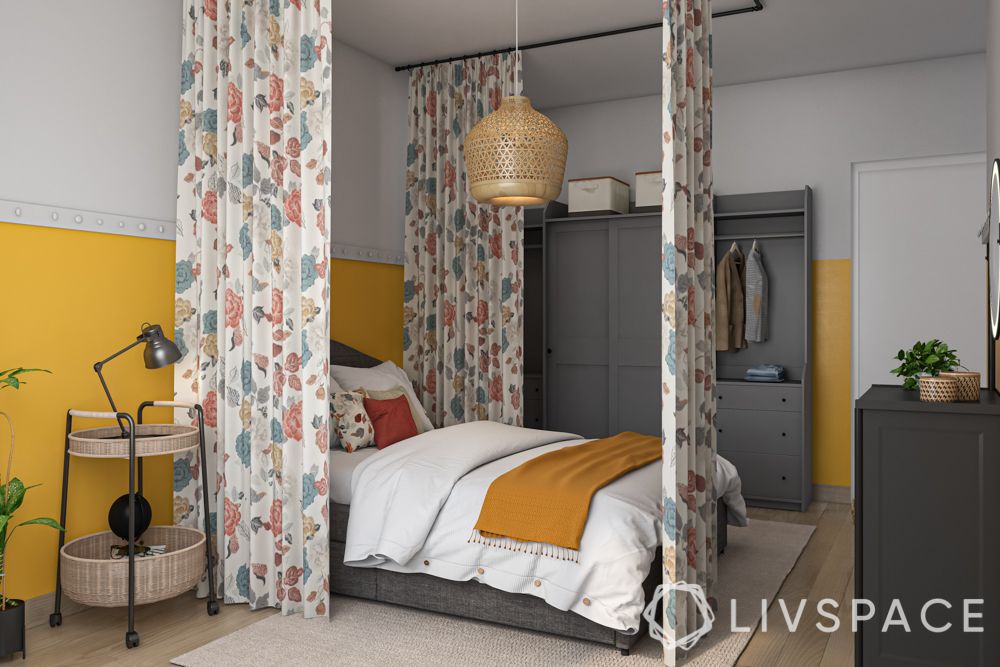 Best Two-Colour Combinations for Bedroom Walls
The array of colour combinations to choose from is just too broad to give you a perfect solution. Nevertheless, depending on your personal taste and on the room you are looking at, there are some go-to bed room two colour combinations that you might want to consider.
Classic Dark Blue and White Wall Colours
This is a great bed room two colour combination. Deeper shades of blue such as navy and indigo can have a calming effect that's attributed to their cool tones. And when combined with the brightness of white, this colour combination can make your bedroom feel a lot more cosy and welcoming.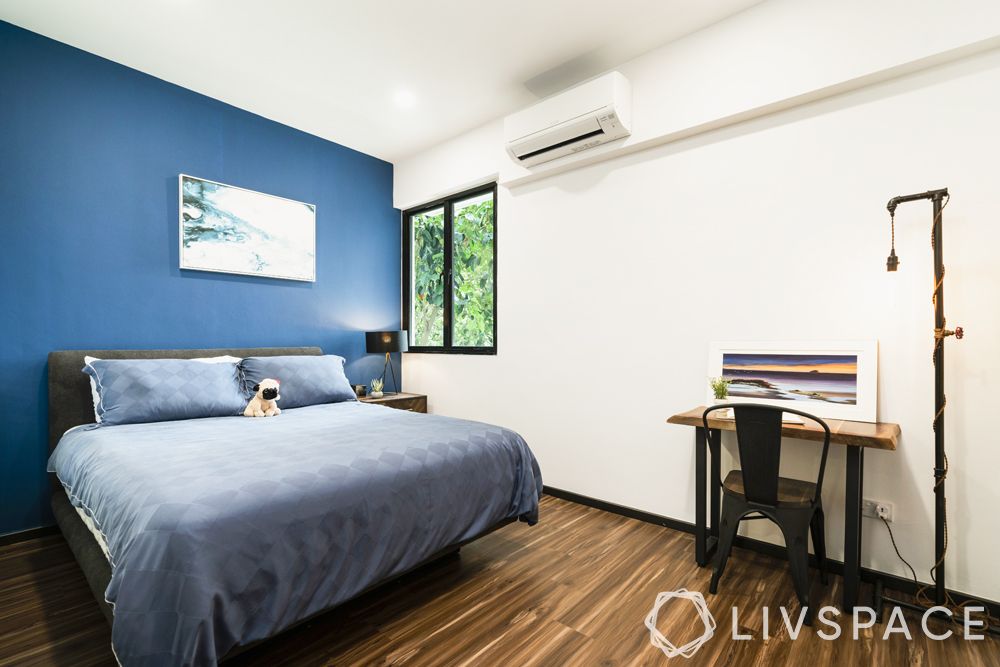 Cream and Brown Colour Combination for Expensive-Looking Interiors
Cream and brown is one of the simple yet best two-colour combinations for bedroom walls that never get old. The sobriety of brown paired with the casual elegance of cream can give your room a high-end look. It's important, however, to pick your furniture accordingly in order to highlight the aesthetic of the space.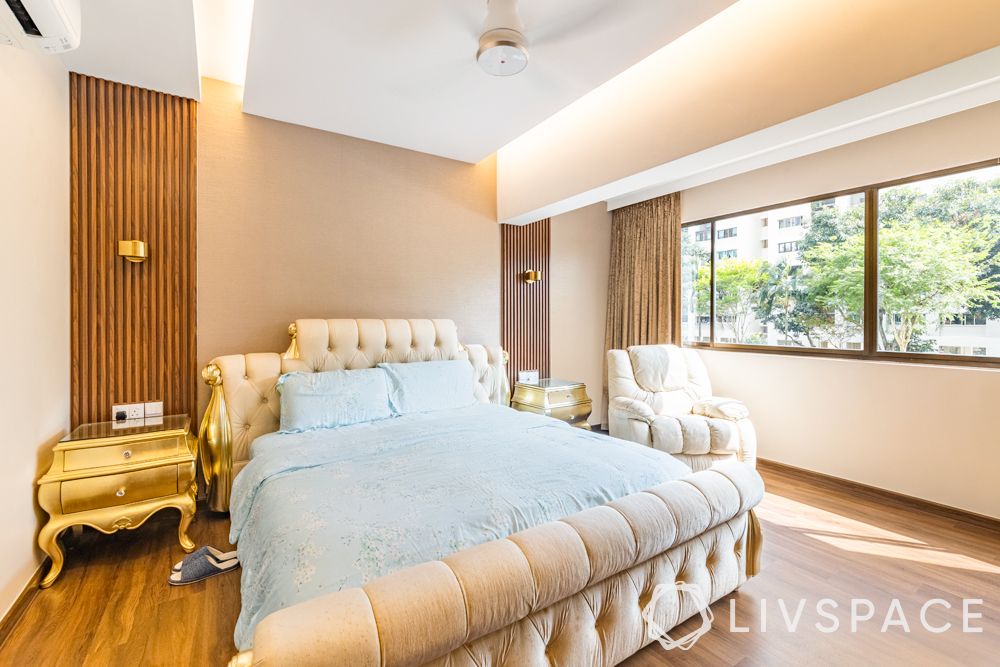 Play With Shades of the Same Colour
This is a genius way to solve your woes when choosing two-colour combination for walls. It gives the best results when you correctly choose the light and dark shades to go on respective walls. For instance, a darker colour is assigned to the accent wall while a lighter colour is applied to the walls with windows or doors in them. This creates a pleasant frame for the eyes as the dark wall colour won't contest with the bright light that comes into your bedroom.
Unique Two-Colour Combinations for Bedroom Walls
You have already seen some of the best, classic combinations of bedroom colours but there are many other colour combinations for bedrooms that go beyond the popular picks. Here are a few alternatives that may suit homeowners that are looking for something a little more unique.
Reef Green Eccentricity
There are many common shades of green that work well for a room two-colour combination and though this is a darker kind of green, it's no exception. The outcome? A bedroom colour as reassuring as its cool-colour green roots, but also so unique that you won't get bored of this two-colour combination for bedroom walls.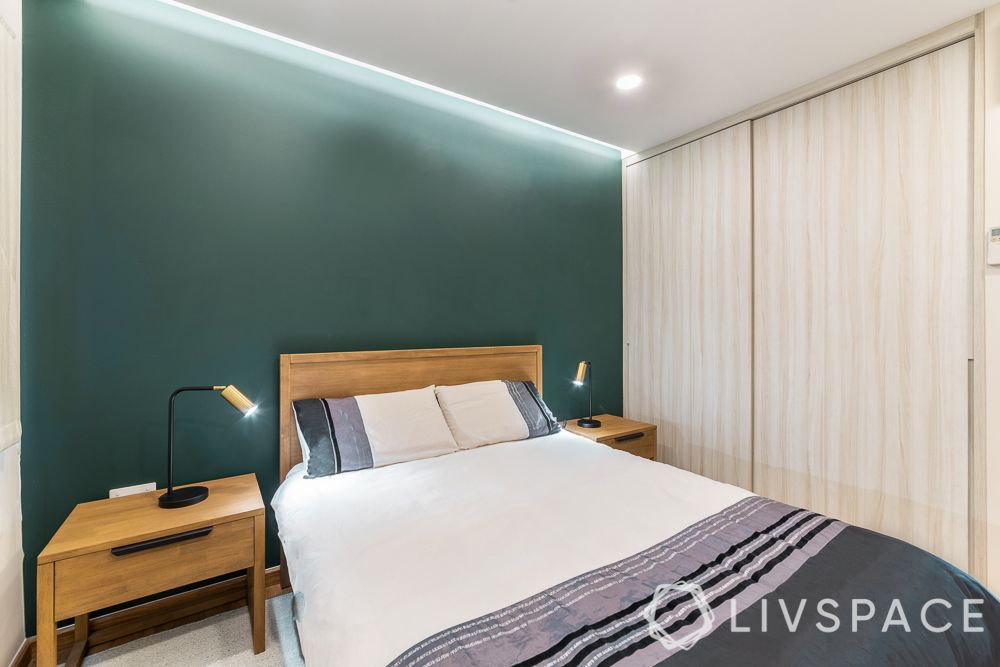 Quirky Pastel Orange and White as Colour Combination for Bedroom Walls and Ceilings
You can do wonders to your room lighting with this two-colour combination for bedroom walls if you use warm lights. The colour orange lets you interact with the brightness and reflectivity of your walls; you can go from intense warm to natural warm light by controlling the amount of orange. So, it is up to you to make the best of this color combination for bedroom walls and ceilings.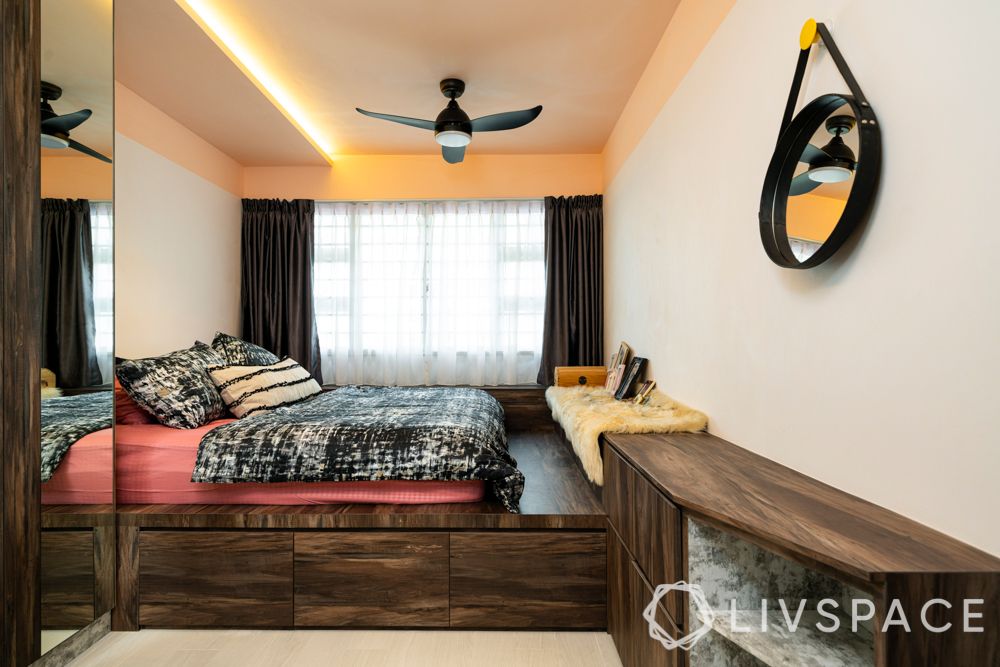 How to Choose Two-Colour Combination for Walls of a Kid's Bedroom
A rewarding two-colour wall combination for your kid's room will mean that the users are responding positively to the colours and their moods are well regulated in the room. Whether you go for warm or cool colours, make sure to ask your kids for their preferences, this will enhance their confidence in expressing themselves.
Pastel Pink with Grey as color combination for bedroom walls and ceilings
Pink with light grey for your kid's bedroom is the best two light colour combination for bedroom walls and will bring the best of both worlds. On one hand, you have the soothing effect of soft grey which will also make the bedroom look brighter and spacious. On the other hand, we have the warm and joyful traits of pastel pink.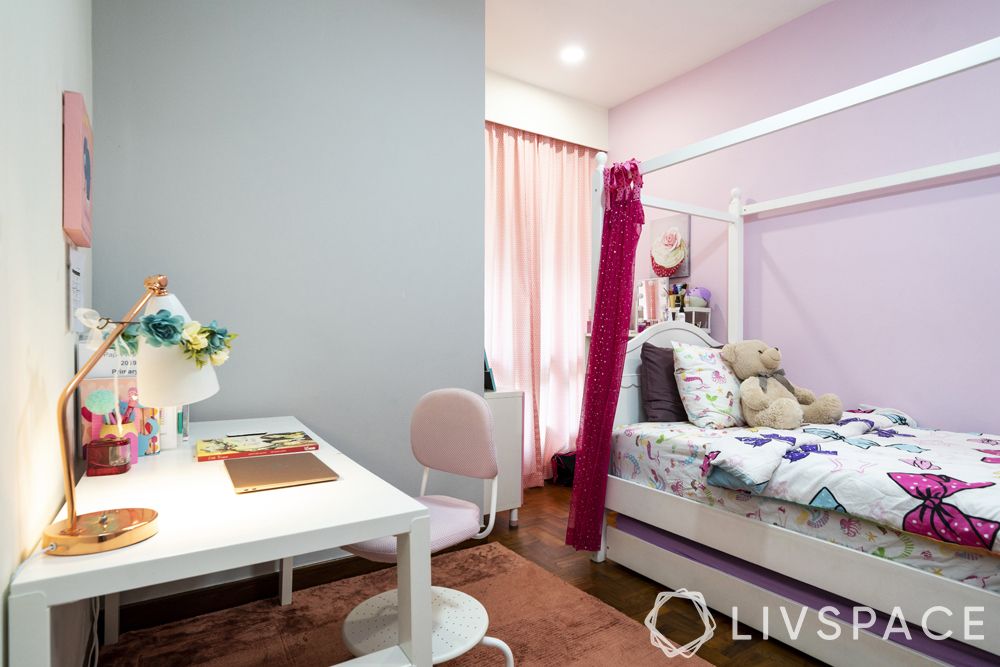 Cream and Celadon Green Two- colour Combination for Bedroom Walls
Looking for ways to enhance the sleep quality of your child? Are you hoping for more cheerful mornings? Then this two-colour combination for walls is what your kid needs. This perky shade of green can easily go well with other mainstream colours or can be a part of the two light colour combination for bedroom walls for your kids bedroom.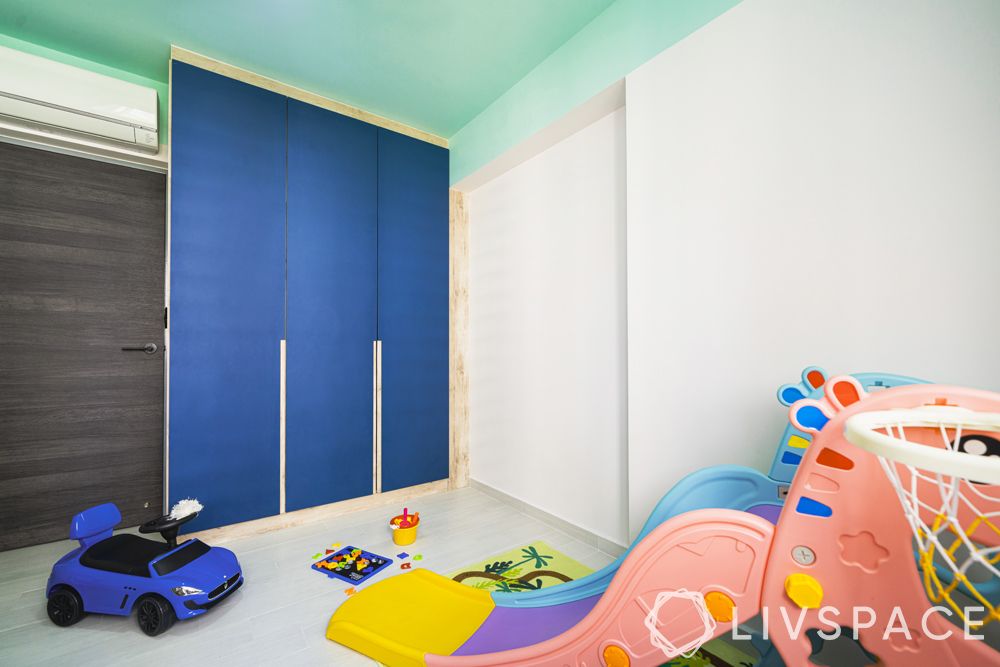 We hope you found some inspiration from our unique and bold two-colour combination bedroom walls. It is easy to think of your favourite colours, but how to employ them in your room can be a tricky task. There are always experts who can guide you to achieve your perfect room design. Also check out 11 Quick Ways to Turn Your Home From Dingy to Bright.
How can Livspace Help you with Two-colour Wall Combinations?
If you are thinking of redesigning your home with two-colour wall combination, then consider Livspace. Book an online consultation with our designers now to turn your small condo renovation ideas into reality. We are all about quality and safe interiors.
Let the pandemic not stop you from attaining your dream home. We follow strict COVID-19 safety protocols, which you can read about here.
Send in your comments and suggestions to editor.sg@livspace.com