Given the abundant choice you have today when it comes to the types of flooring for your home, it is very easy to get carried away. While you could settle for the obvious choices, we suggest you explore different flooring options for different rooms. Every material has specific characteristics, which will help you decide what you should choose.
We have listed 8 flooring materials along with their merits and demerits so that you make an informed choice while renovating your home. Also, do not forget to check out what you should not do while selecting flooring to prevent the resale value of your home from falling.
#1: Vinyl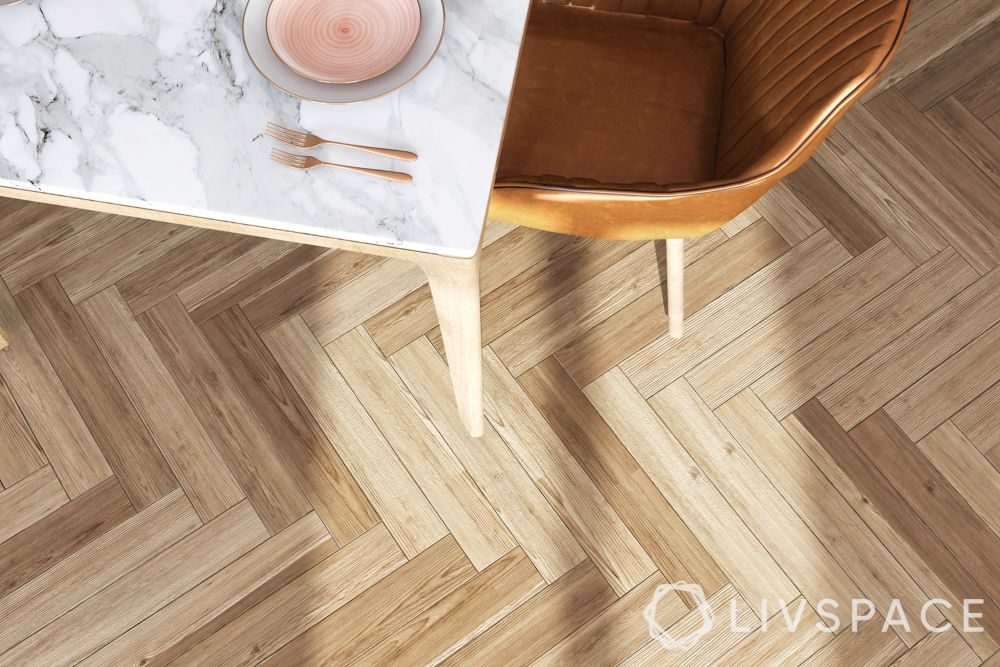 Ideal for: The dining room and bedroom
One of the most sought-after types of flooring, vinyl is a quick fix for a dull, worn-out floor. So if you're looking for a low-cost alternative, this is a great shortcut to brand new flooring. Since the main component of vinyl flooring is PVC (Polyvinyl chloride), it makes this very strong and durable. It is water- and stain-resistant but susceptible to scratches. Also, it can be easily laid on top of existing flooring without the hassle of dismantling it.
#2: Laminate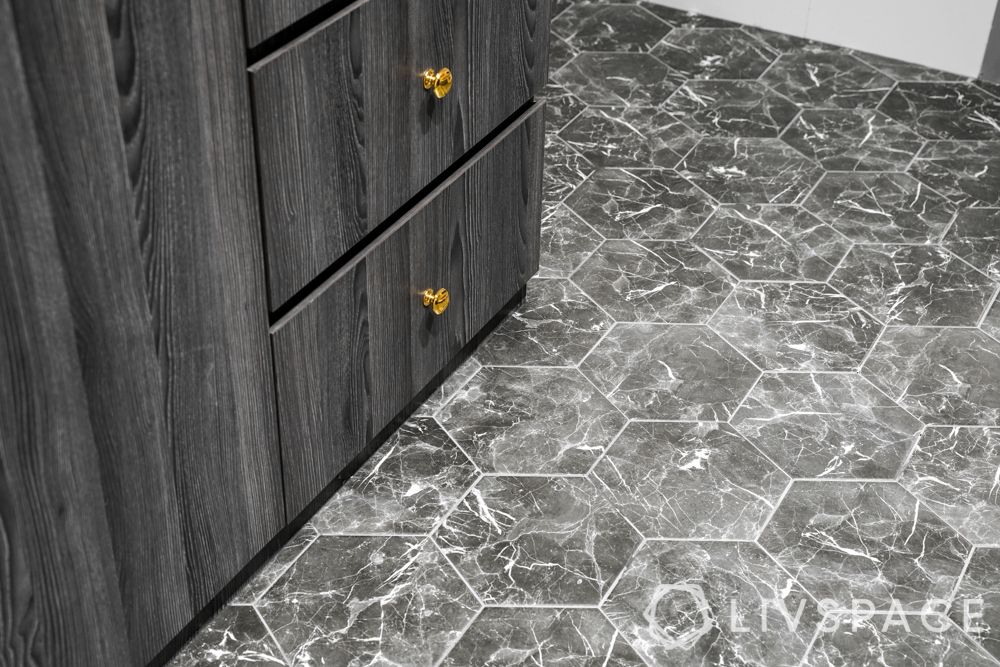 Ideal for: The bedroom and living room
An attractive, affordable alternative to hardwood flooring is laminate. Also, it possesses the ability to mimic the natural look and finish of wood, making this one of the best types of flooring out there. It is also durable and can withstand the heavy furniture in living rooms. Moreover, laminate comes in various designs, styles and plank sizes, which help in creating a unique look in any room.
#3: Marble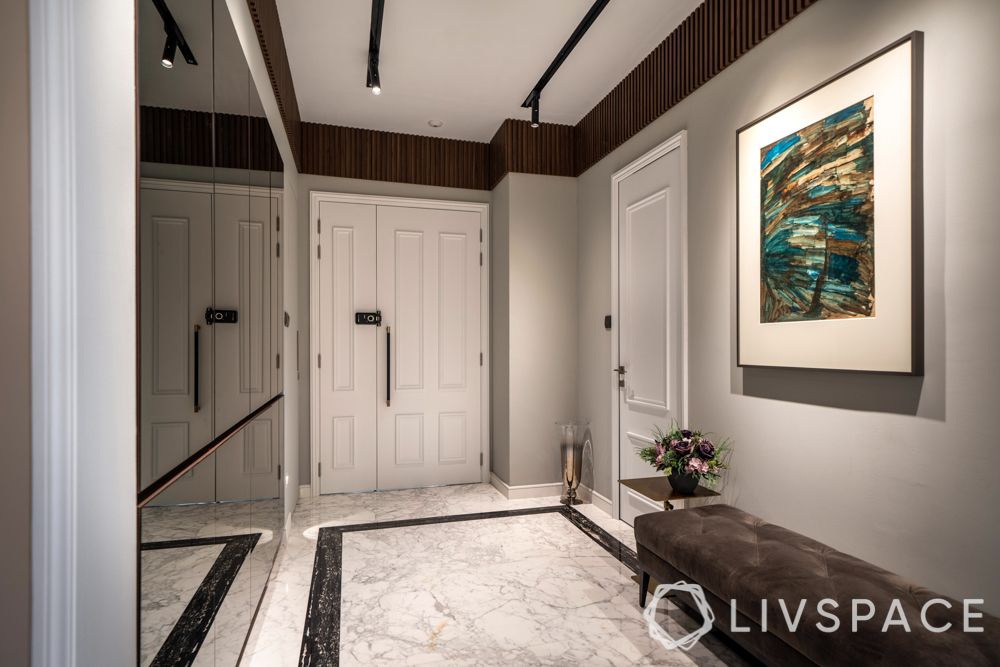 Ideal for: The foyer, living room and other common areas
Marble is undoubtedly one of the most beautiful yet pricey types of flooring in the market. This metamorphic rock that shines when polished is available in a myriad of colour options. Also, a great advantage of marble flooring lies in the fact that this stone remains cold throughout the year. Even though marble is durable, it requires regular maintenance and upkeep. Avoid using harsh scrubbers to clean marble flooring so as to prevent discolouring or scratching.
#4: Linoleum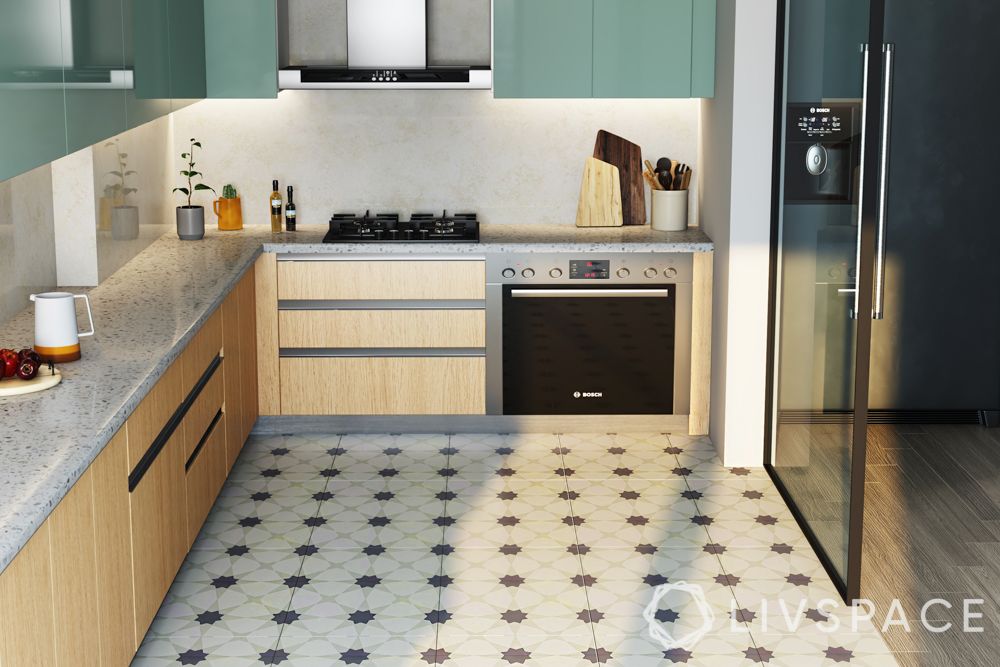 Ideal for: The kitchen and bedroom
If you are looking for a comfortable, designer and ecological flooring option, then opt for linoleum flooring. While it is available in both tile and sheet forms, linoleum tiles are easier to install; sheets, on the other hand, give the floor a seamless look. Also, all-natural linoleum floors are manufactured from linseed oil, which is a renewable resource. Once you install this flooring, you do not have to worry about it for a few years.
#5: Hardwood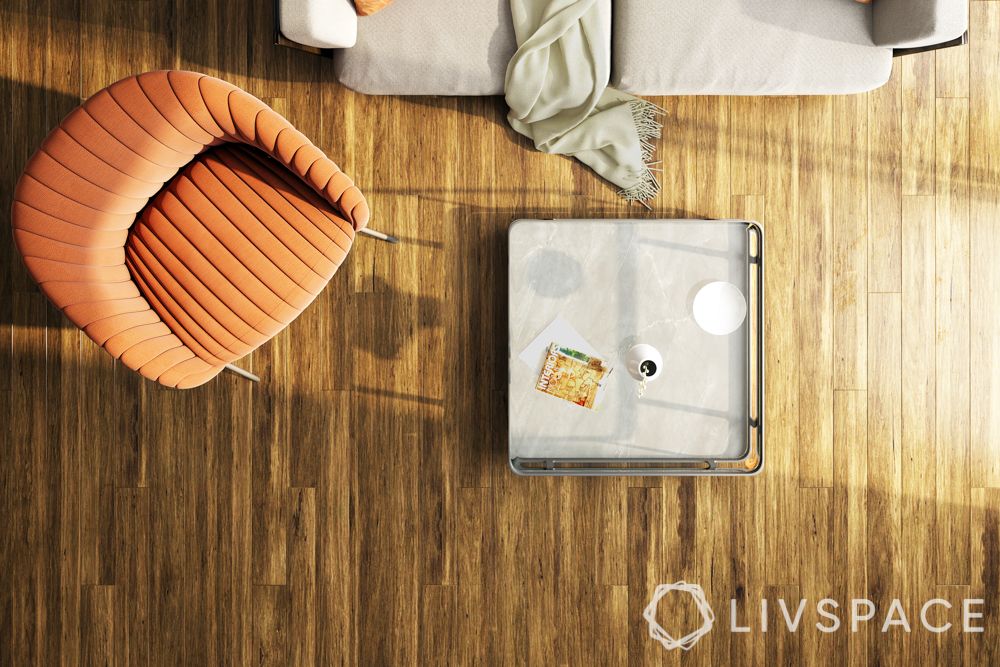 Ideal for: The bedroom and living room
Want that warm look in your bedroom with just one feature? Hardwood flooring is your best bet. It's not only attractive and durable but also warm and long-lasting. Also, dust, pollen and other allergens are easily swept and wiped away on hardwood floors. If you want to maintain the resale value of your home, then you can definitely rely on hardwood.
#6: Vitrified tiles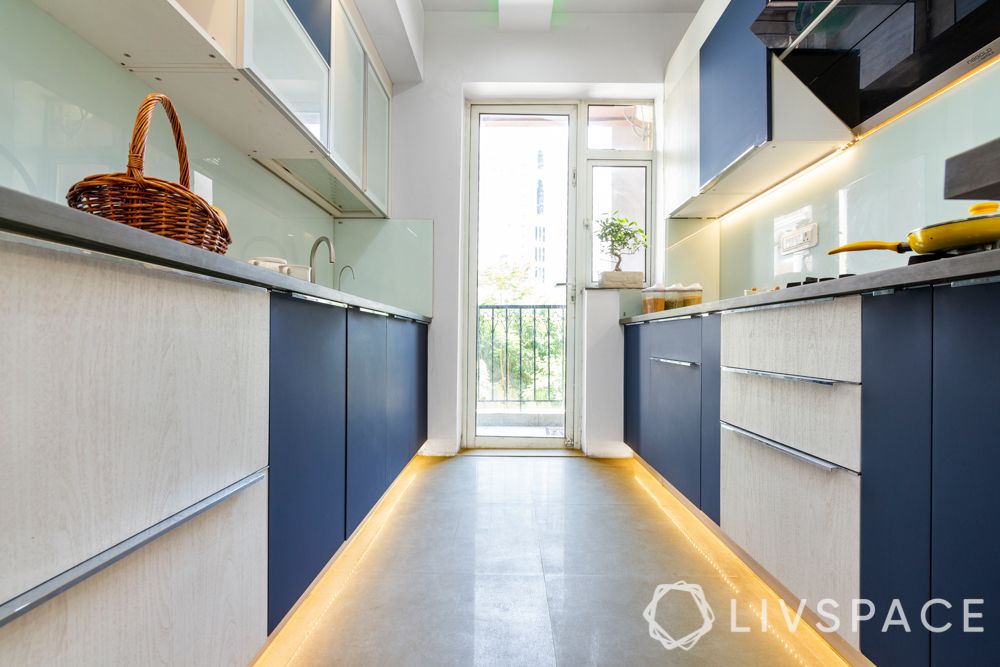 Ideal for: The bedroom and kitchen
Vitrified tiles are one of the most sought-after types of flooring for homeowners looking for durable options. Also, be it colours, patterns or sizes, there is no dearth of choices in the market. Additionally, vitrified tiles are stain-resistant and look good for years to come. However, what you need to keep in mind is that the per-square-foot cost of the tile increases with the increase in size of the tile.
#7: Cement screed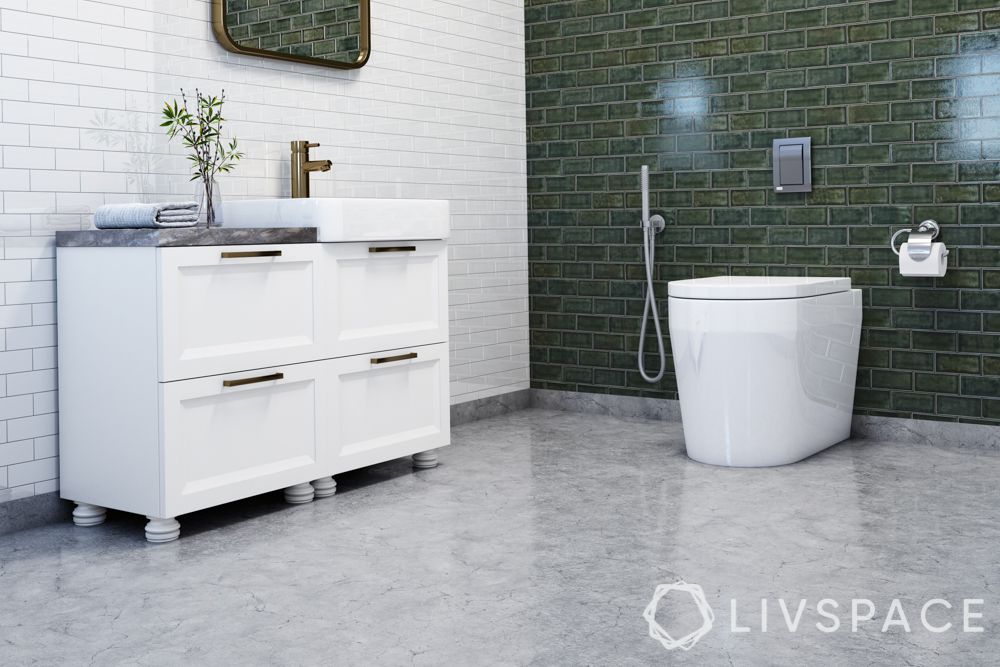 Ideal for: The bedroom, living room and dining room
Concrete floors are welcoming, warm and cosy while still maintaining an edgy touch and adding an attractive modern roughness to your space. They are also very durable and easy to clean. But keep in mind that cement screed flooring absorbs water and gets stained easily. But, do not slack off on regular maintenance of this flooring if you want to avoid an unwelcome appearance on it.
#8: Parquet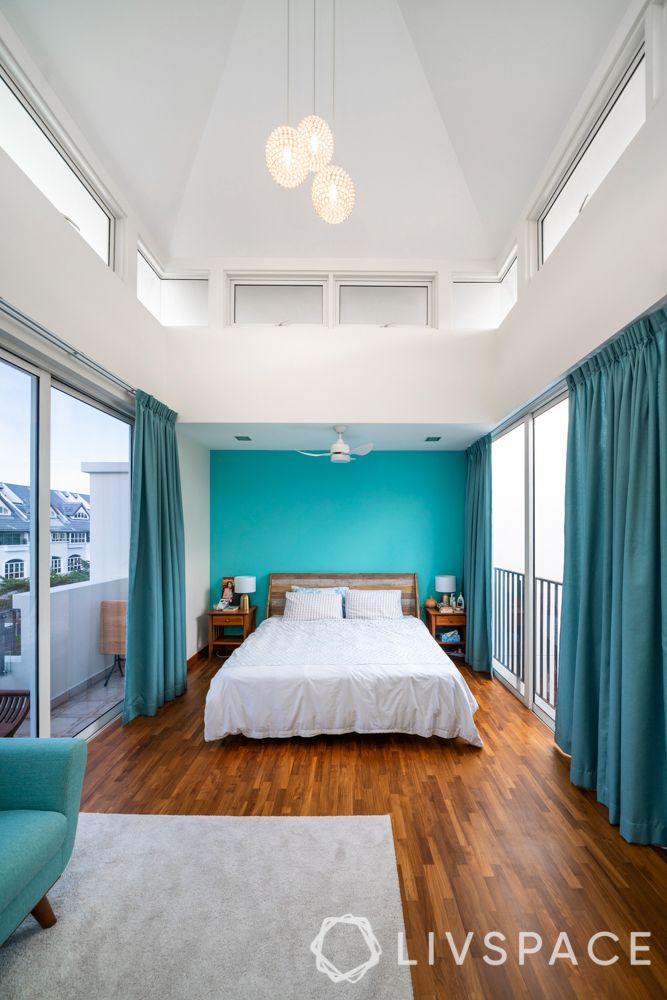 Ideal for: The bedroom
Bedroom flooring should be cosy and comfortable for bare feet, which makes parquet one of the ideal contenders. Moreover, parquet flooring can be laid in a variety of patterns, which makes the floor look extremely attractive. Also, this type of flooring never really goes out of style. And, it is also highly durable and requires minimal maintenance.
Types of flooring: a summary
| | | | | |
| --- | --- | --- | --- | --- |
| | Vinyl | Laminate | Marble | Linoleum |
| Durable | Y | Y | Y | Y |
| Water-resistant | Y | N | N | Y |
| Skid-proof | N | N | N | N |
| Stain-resistant | Y | N | N | Y |
| Scratch-resistant | Y | N | N | Y |
| Low maintenance | Y | Y | N | N |
| | | | | |
| --- | --- | --- | --- | --- |
| | Hardwood | Vitrified tiles | Cement screed | Parquet |
| Durable | Y | Y | Y | Y |
| Water-resistant | N | Y | N | N |
| Skid-proof | Y | N | Y | N |
| Stain-resistant | N | Y | N | N |
| Scratch-resistant | N | Y | Y | Y |
| Low maintenance | N | Y | N | Y |
Flooring trends for 2021
So what are you going to see on the floor — quite literally — this year? Here are 2 top trends that you should follow or look out for:
Eco-friendly flooring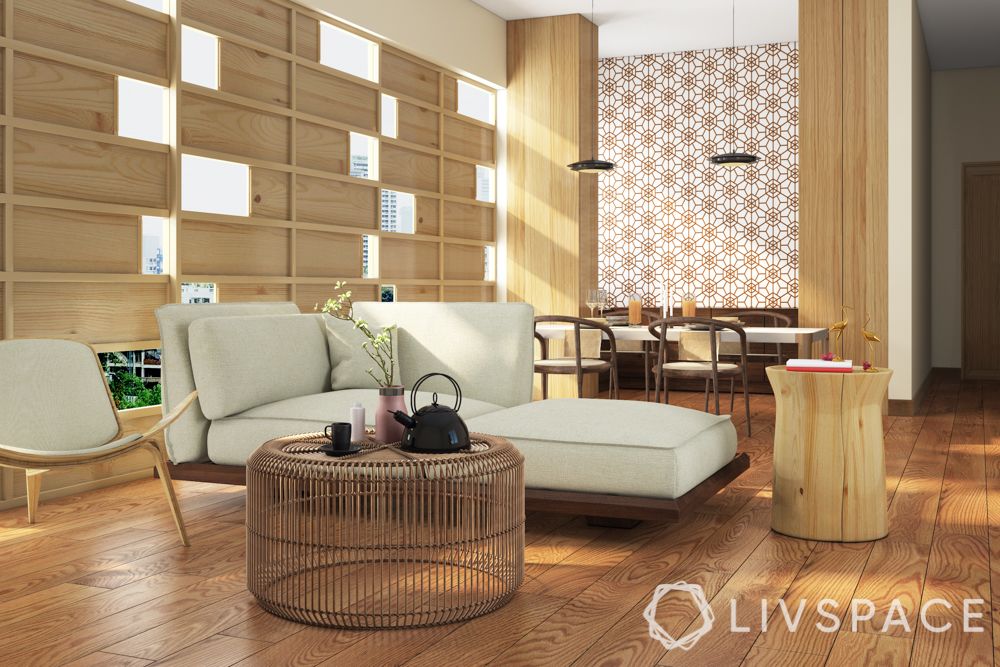 This year, and, we hope, for years to come, sustainable flooring is going to be the rage. Instead of choosing artificial materials, you are going to see a lot of people opting for eco-friendly options. The top materials in this category are bamboo, cork and linoleum. If you want to be in vogue and do your bit to help save the environment, then this trend is definitely for you.
Combination of flooring types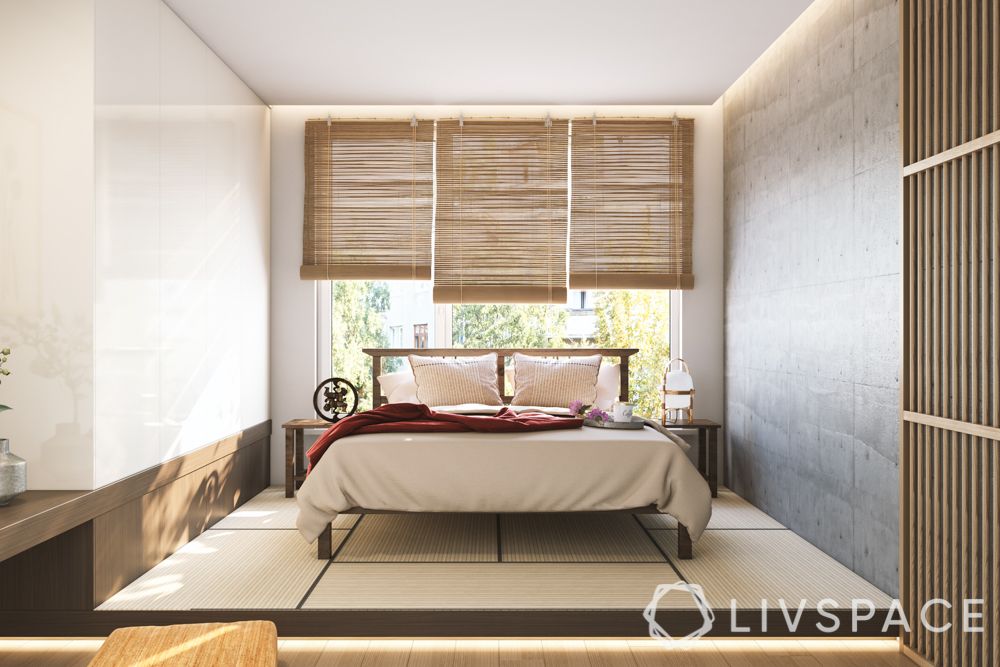 Another easy trend to try and look out for is combining flooring materials in one room. Do this by creating a demarcation between spaces with the help of flooring. Lay one of the types of flooring on raised platforms in open layouts and another on the rest of the floor. Try the trending tatami mat flooring for your bedroom around the bed and match it up with another material elsewhere.
What you should not do to retain the resale value of your home?
Flooring that is non-durable
If there is one thing that reduces the resale value of your home, then it is bad-quality flooring. Since every new buyer assesses the amount of money they will need to spend on renovation, if the flooring is durable, it will retain your home's resale value. So make sure you invest in a durable flooring material from the beginning.
Very high-maintenance flooring
Everyone loves low-maintenance materials at home since it saves them the hassle of cleaning regularly. Marble flooring at home, while attractive options, might reduce the resale value of your home. Therefore, try to avoid installing high-maintenance flooring as far as possible.
Patterned flooring
While you might prefer patterned flooring, it is always better to have plain flooring if you plan to sell your flat. Also, it is easy to match plain floors with any design style that the new homeowners might want.
That was your guide to types of flooring. So, we hope you will now make an informed choice for your home. Also check this out if you are planning your renovation budget: 2021 Home Renovation Cost Guide for Every Type of Property.
How can Livspace help you?
We hope you found our ideas useful! If you want your home to be just as beautiful, then look no further. Book an online consultation with Livspace today. Delivering safe home interiors is our No. 1 priority. Click here to find out how interiors are being delivered following all safety protocols.
Send in your comments and suggestions at editor.sg@livspace.com