Less than a decade ago, Urban Redevelopment Authority (URA) introduced a rule stating that every building floor area will be divided into a minimum of 70sqm units. This number was later increased to 85sqm and then 100sqm, leaving plenty of 3-room flats under the 80sqm mark. However, when it comes to design for small house, there's always room for creativity. 
From space-saving furniture to creating the illusion of a larger space, Livspace designer Johan Chong shows us how restrictions help breed mighty solutions for a small home.
#1: Opt for horizontal storage units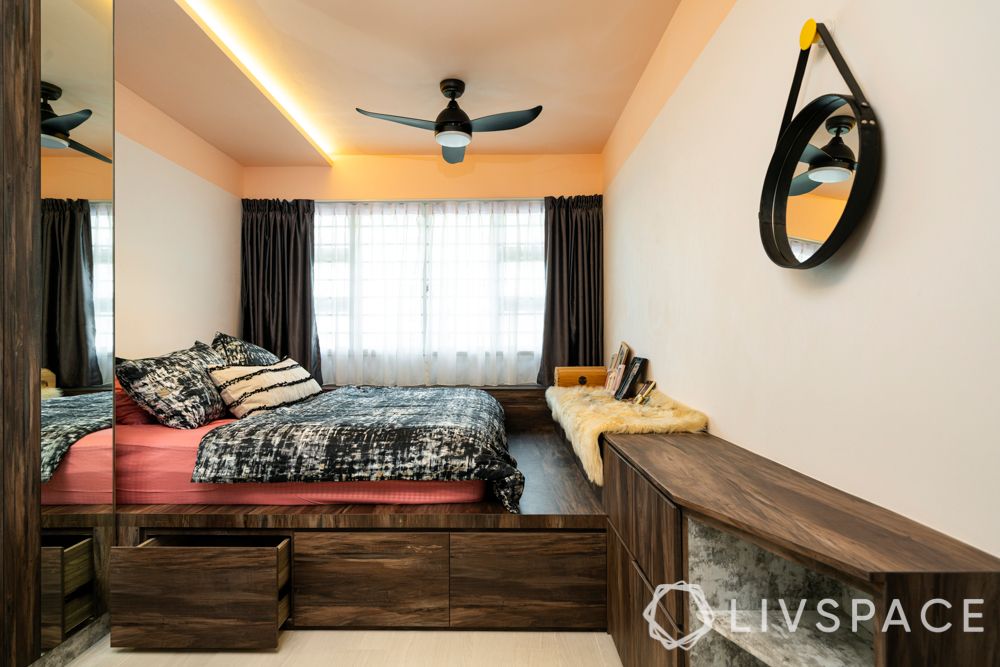 While Johan personally recommends the 5 Commandments to Organising Like Marie Kondo to minimize clutter, he also suggests to opt for drawers and pull-out cabinets as much as possible. These horizontal units are not only meant for kitchens but also for bedroom storage. In fact, we've designed several compact homes with platform beds so that homeowners could keep some of their belongings neatly in drawers under the bed. 
He suggests, "Homeowners can store many more items in horizontal units than vertical ones and as deep as they want."
#2: Choose space-saving and multi-purpose furniture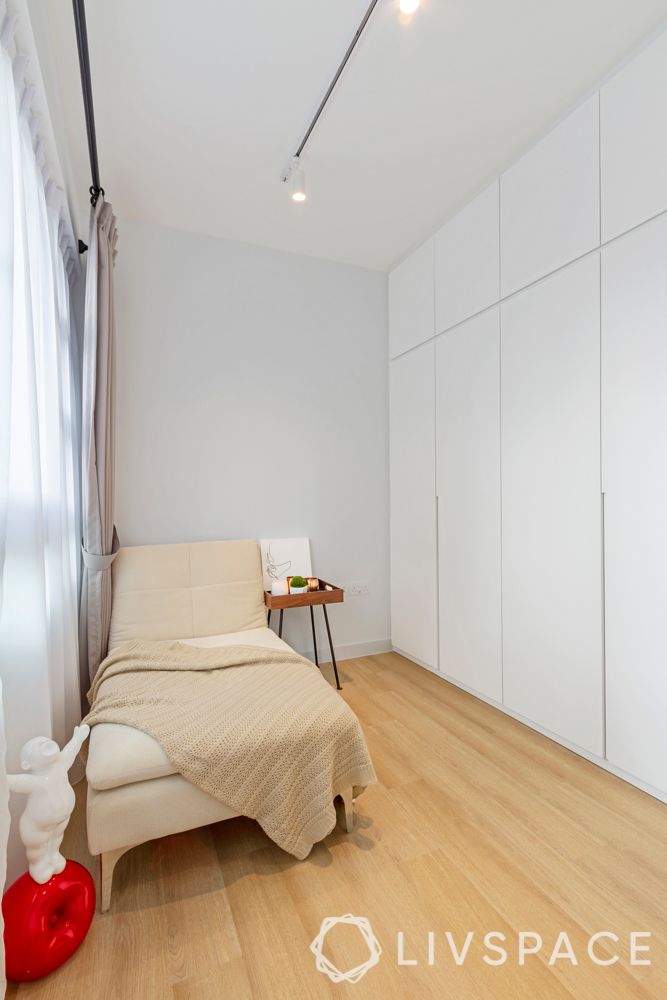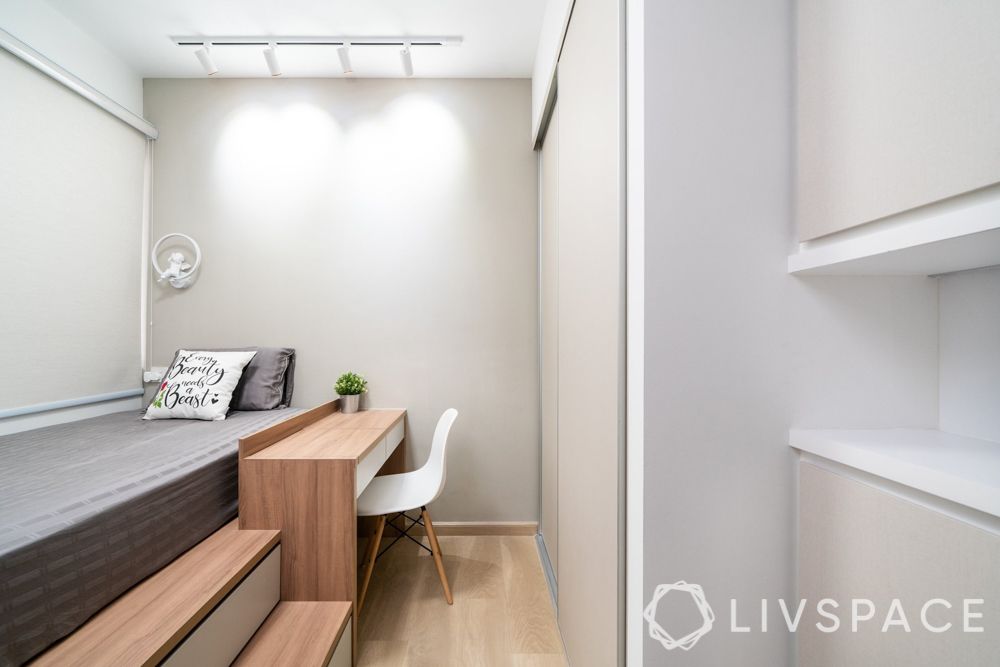 While tiny rooms come with a number of challenges, they have their own cosy charm. If you have a compact guest room, opt for a sizable lounge chair that can double up as a bed, like we've done for High Park Residences home in the above image. 
Subsequently, if you're looking for a design that can house a study unit, consider getting a platform bed with an attached study unit like the image above.
#3: Pick a smart and convenient bathroom design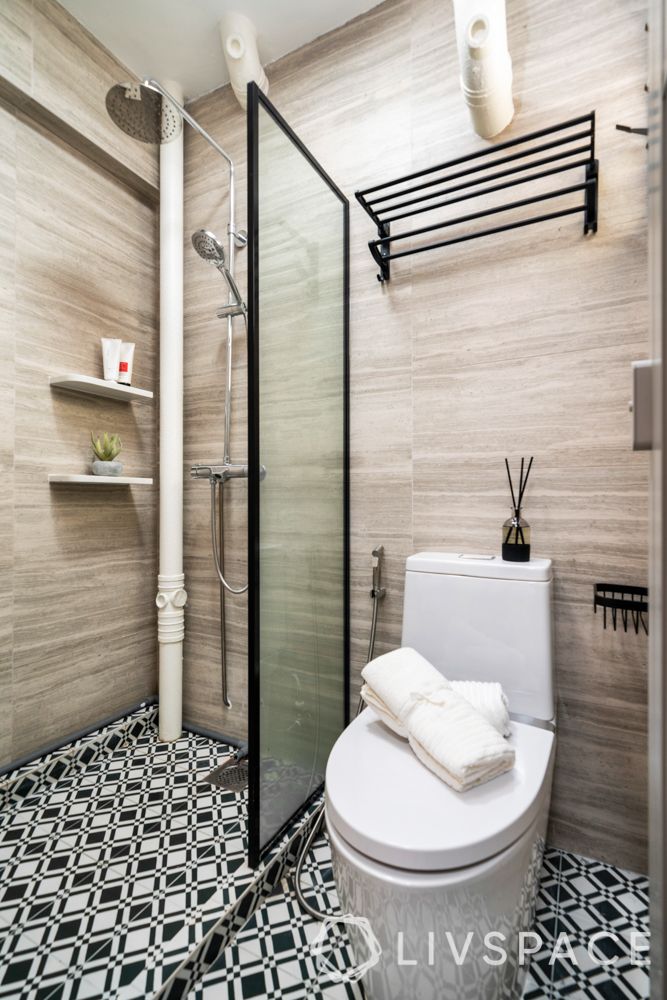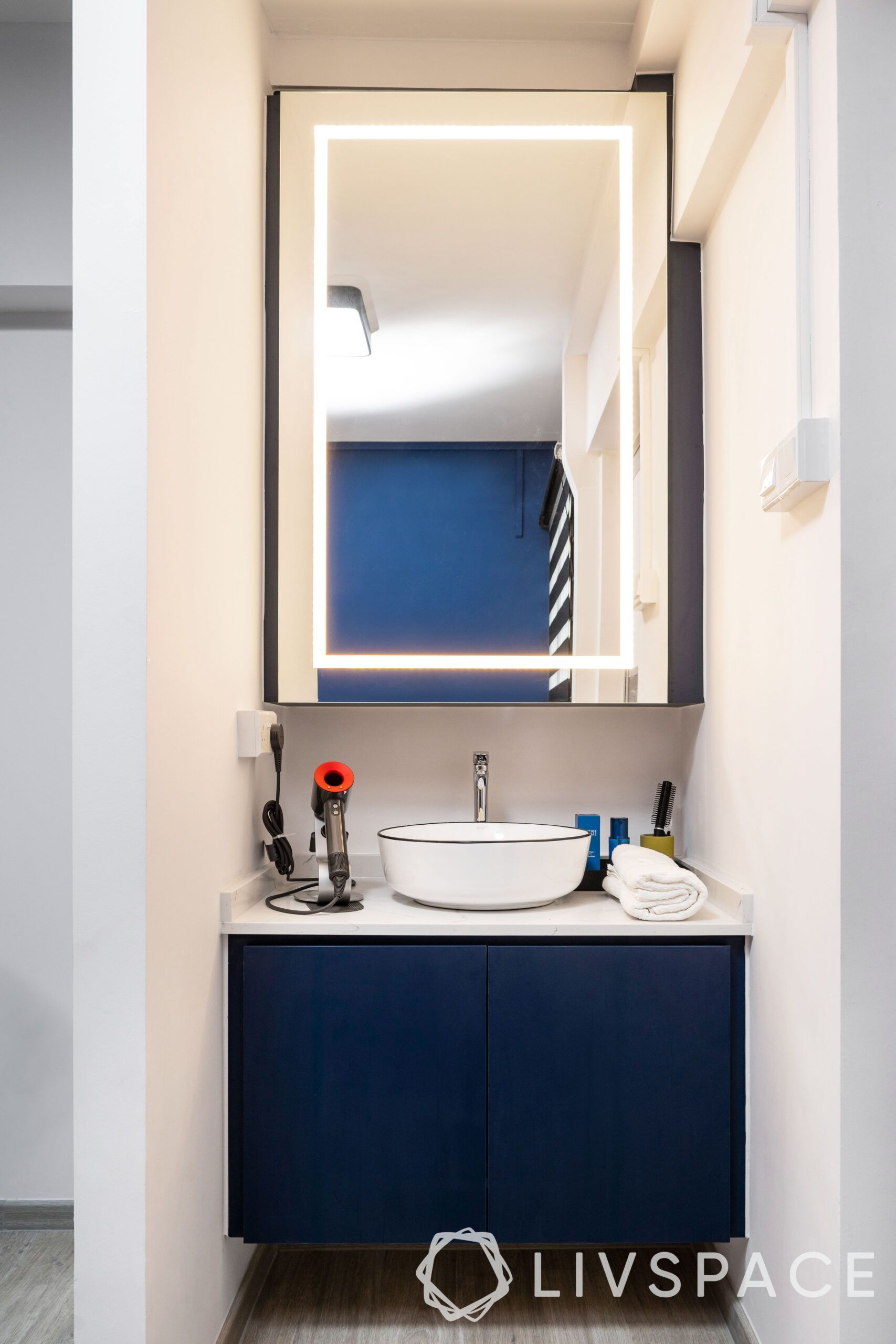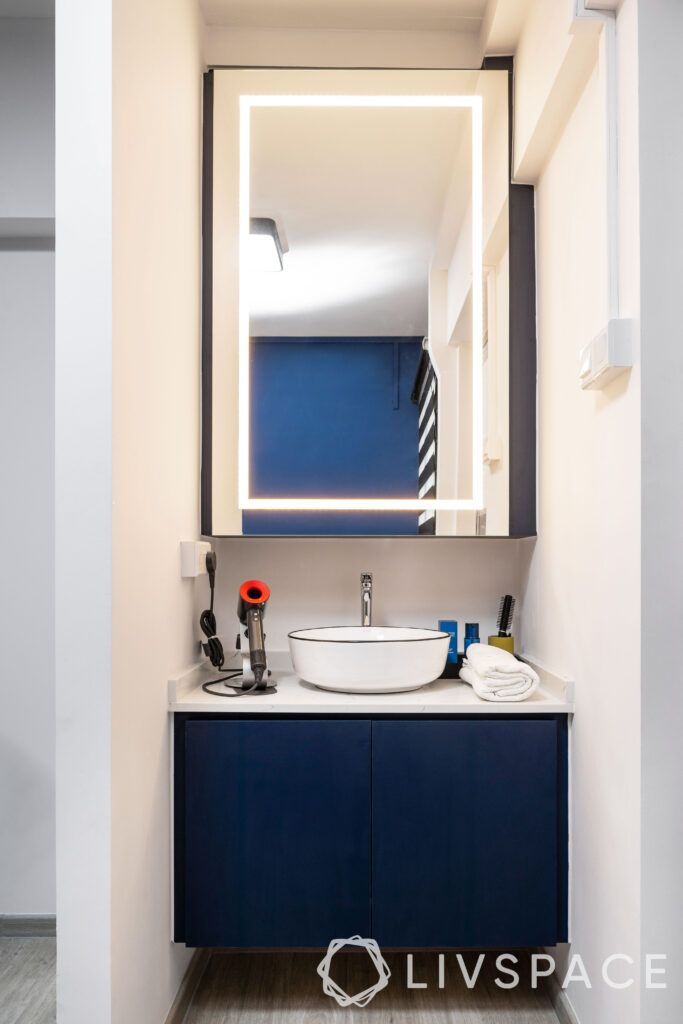 Here are some easy ways to battle the issues that come with a tiny bathroom. Having a small space does not mean you have to compromise on convenience. From your makeup routine to daily shower, here's how you can make the most of this space.
Zones: Install a glass screen to create a wet zone. Consequently, this helps to keep the rest of the bathroom dry and less slippery. You can also opt for a shower curtain.
Renovate the space: If a bathroom is compact, consider moving the sink out of the bathroom and creating a vanity space for it in the bedroom. Sounds difficult to imagine? We did it for this Houngang Ave home. 
Towel racks and shelves: Mount a towel rack and minimal floating shelves for essentials.
If you are getting a toilet renovation, take a look at How to Design a Bathroom That Stands the Test of Time for more tips!
#4: Choose getting certain furniture custom-made for that perfect fit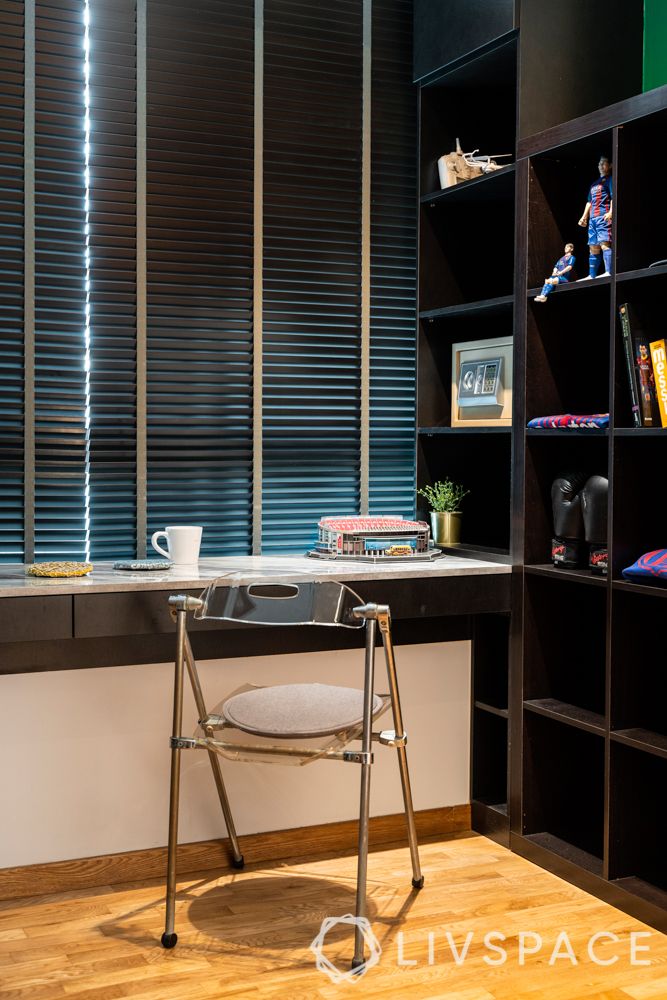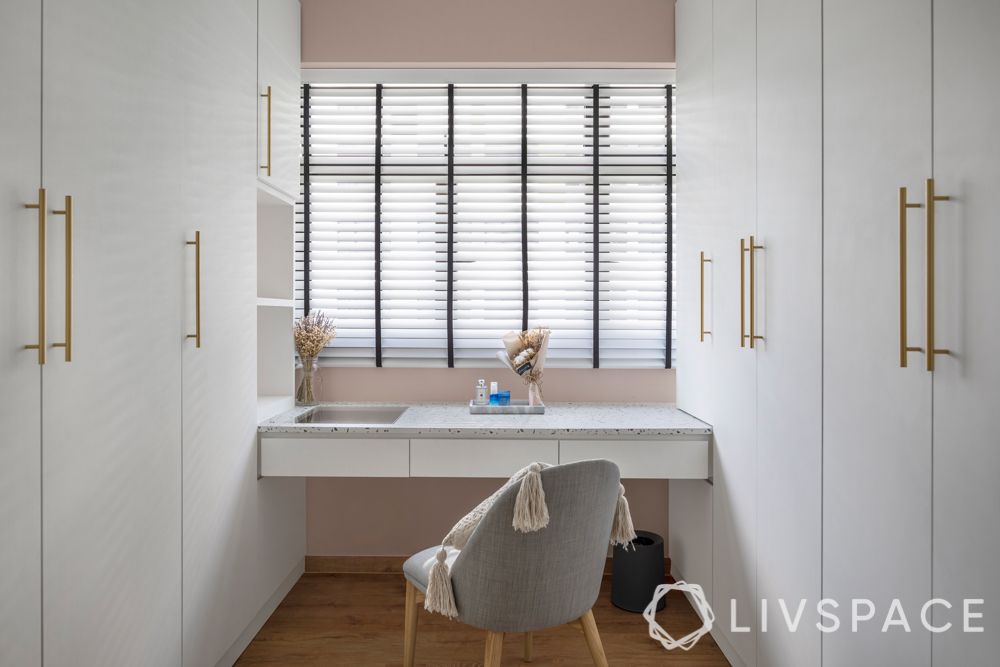 It is fairly obvious why a custom-made design are a popular option among flat owners for a small house. Most homes come with wall niches, pillars and beams, low roofs and raised platforms that cannot be removed or renovated as it may compromise the structural integrity of the home. Therefore, custom units are a great way to utilize this odd space in the best way possible. 
Make the most of the space beneath a window by adding floating shelves like the images above. The first study unit was custom designed for a homeowner who wanted a dedicated space for gaming and displaying his collectibles. Here, glossy grey laminates were used for all the storage units for a sleek look. 
On the other hand, the second image is of a compact bedroom turned into a walk-in wardrobe. Subsequently, these drawers and wardrobes are custom made to fit the room perfectly. Plywood and laminate finish pull out drawers were installed for storage.
#5: Consider these tips and tricks from designers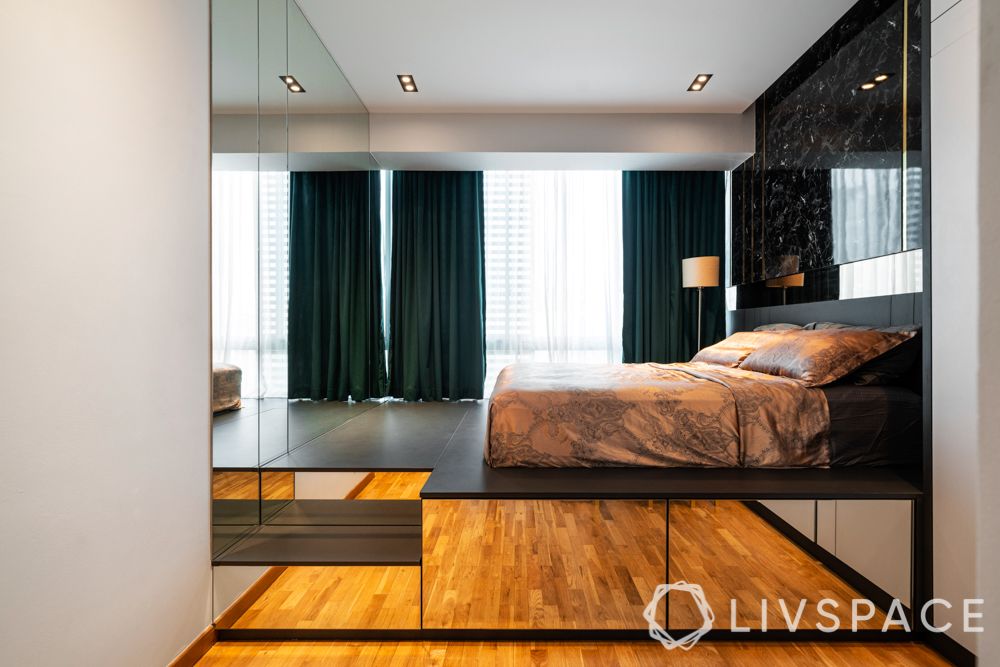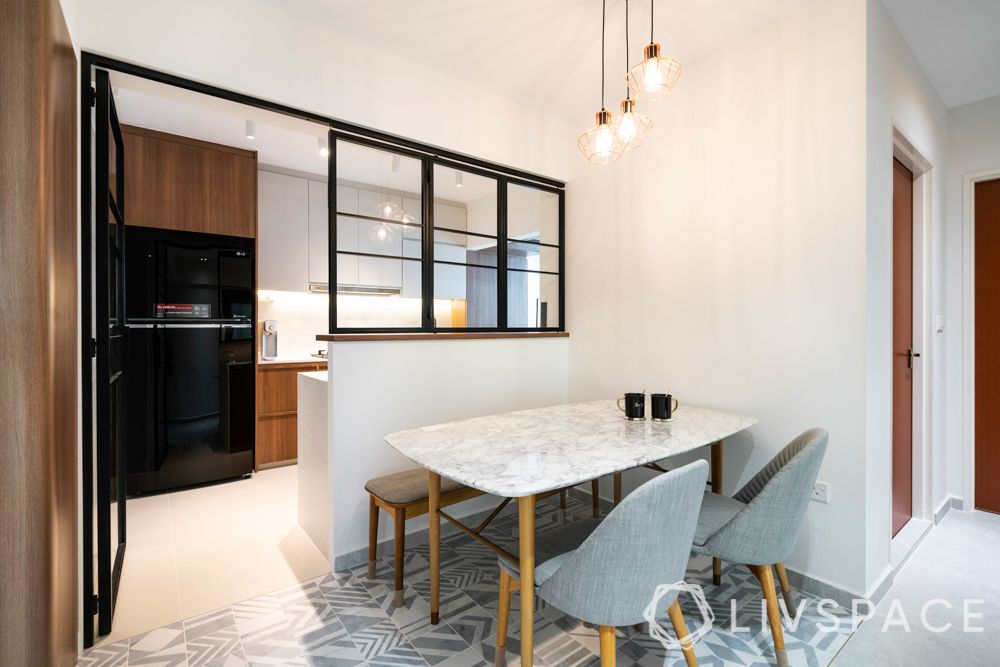 Johan says, "Design ideas for small house always have a few challenges that you won't face in a typical apartment unit."
Therefore, he lets us in on his design secrets that he has used while designing small houses.
Mirrors: Use these strategically. Place it opposite windows or behind a light source to maximise the visual effect of a larger room.
Space utilisation: This one is a popular option among flat owners. Install a serving hatch in the dining space with windows in order to avoid cramping the room. These windows can open up to giving the dining and kitchen space more ventilation.
Low-back seating: Low-back chairs and sofas give off a less cramped space without visual obstruction.
Colours: When it comes to furniture, avoid dark coloured furniture for sizable sofas and tables.
If you are considering a renovation for your home, find out How Much Does Renovation Cost in Singapore?
Send in your comments & suggestions to editor.sg@livspace.com