According to a lot of studies, people spend a considerable amount of time in their bathrooms. Therefore, while renovating their homes, most Singaporeans get their toilets renovated too to suit their needs and lifestyle. While your designer is the best person to advise the path and design for your bathroom renovation, here are some things that you can consider before you start working on it. It is best to keep these in mind so that you can discuss it with your designer and you can work together.
#1: Things to consider before starting the renovation
Who will use it?
Before you plan to renovate your bathroom, it is best to consider who is going to use this space. Are there only adults at home or do you have kids? Will guests be using the bathroom or just the people residing at home? Answering these questions will help you and your designer get a better understanding of what is needed.
How will the space be used?
Think about this. Do you intend to use the bathroom just essentially or will it be a shared space? Will you be required to get dressed there and have a dressing area? Will you be doing your laundry in there? Do you prefer having separate bath and shower areas? How much private and shared space would you require?
How much storage space will you need?
What items do you want to keep in your bathroom? Do you need a lot of storage space? How accessible do you want it to be? Thinking about these things will help your designer understand the kind of furniture you will need in there.
#2: Selecting a layout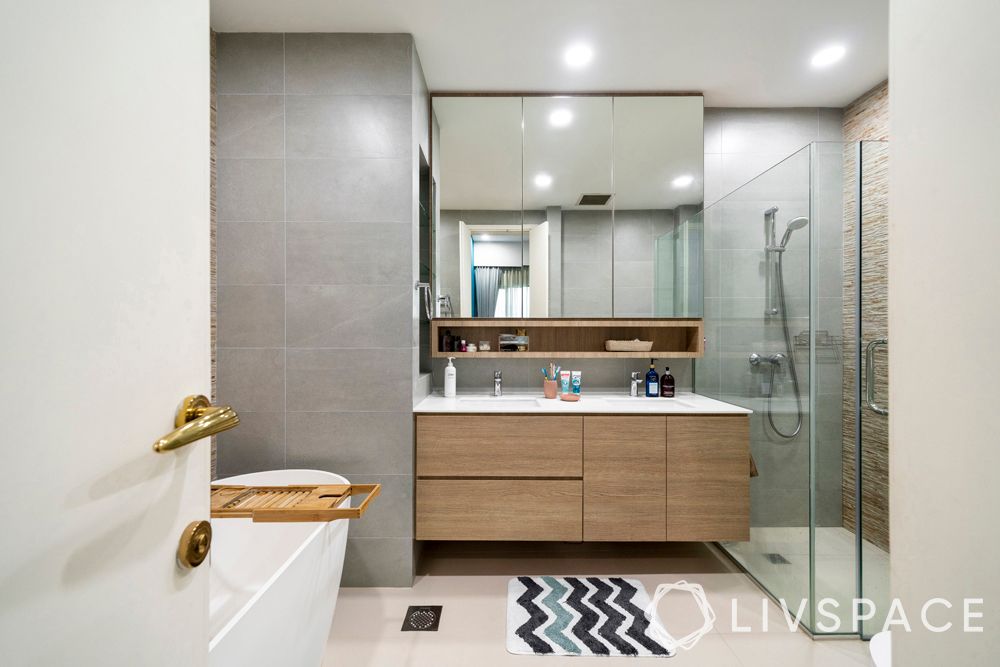 Once you've answered the above questions, you will be in a better position to understand the sort of layout you want for your bathroom. Or your designer will be able to help you with this. Storage requirement is a key player in ascertaining the layout. Deciding the layout of your bathroom starts with the placement of the tub, shower and toilet. Designers follow design ergonomics to place these in the perfect spot so that it is well spaced-out. They can help you with various layouts with/without the bathtub, separate shower area, and so on.
#3: Choose a design style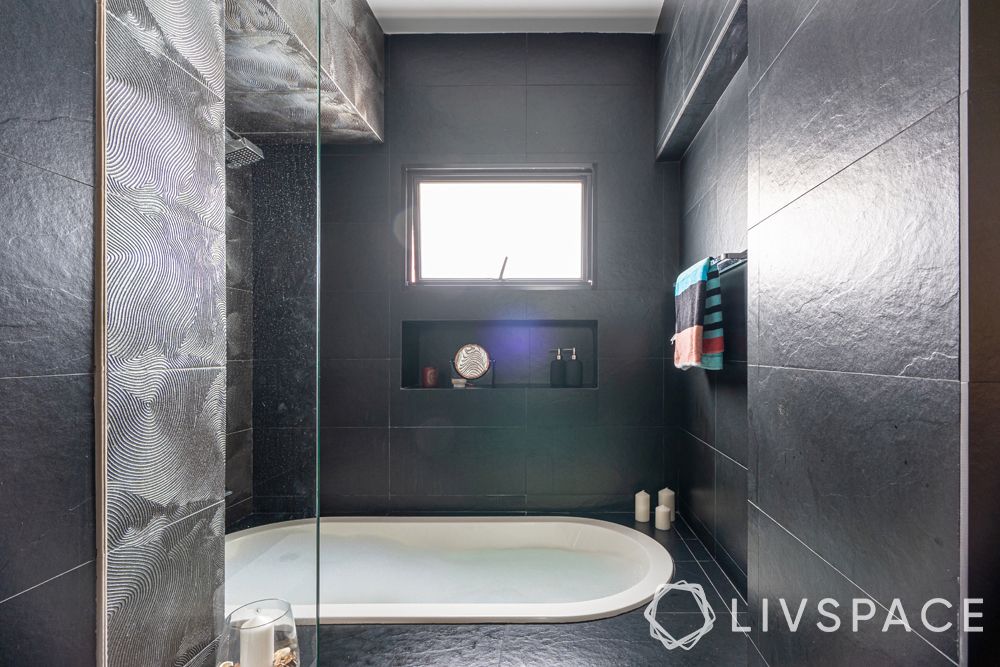 This is a personal choice but your designer can help you with trends for sure. A design style can be anything from Minimal to Scandinavian and also Industrial. Once you know your personal style, you can choose colours and tiles for your bathroom accordingly. Make sure this matches with the rest of your home interiors to an extent. Dark bathrooms look classy and so do Scandinavian designs.
#4: Choosing colours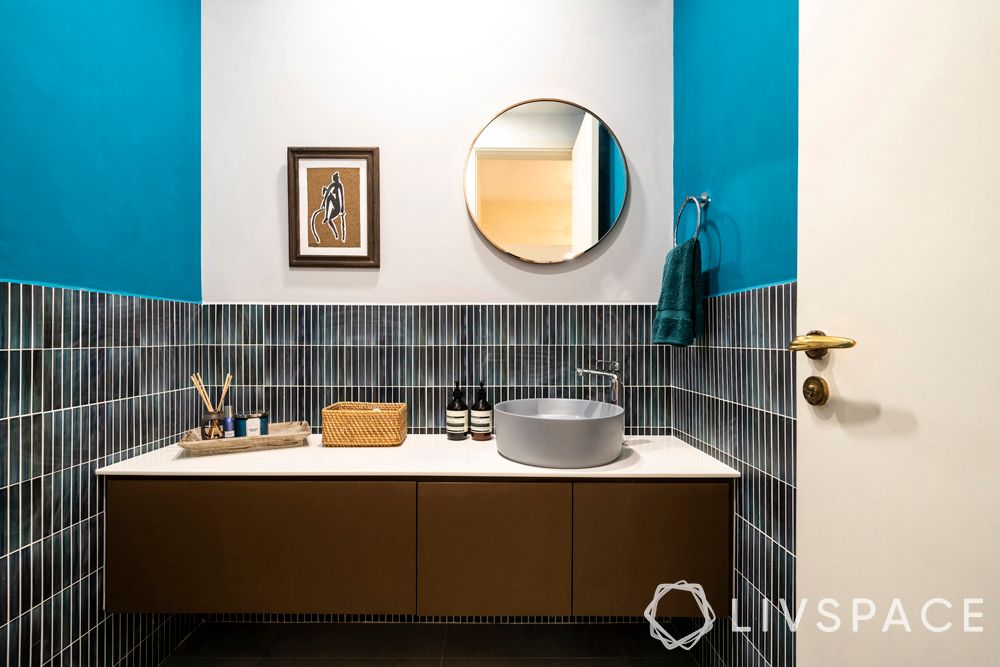 Here comes the fun part. Not all bathrooms need to look plain and boring with simple neutral walls. We suggest you break away from that timeless notion to add some character to your bathroom space. But don't freak out, we're not talking about bright colours. You can add one highlight to any one wall to bring out the design. You can use wall paint or tiles in different colours and patterns to add some cheer to this space.
#5: Choosing wall and floor tiles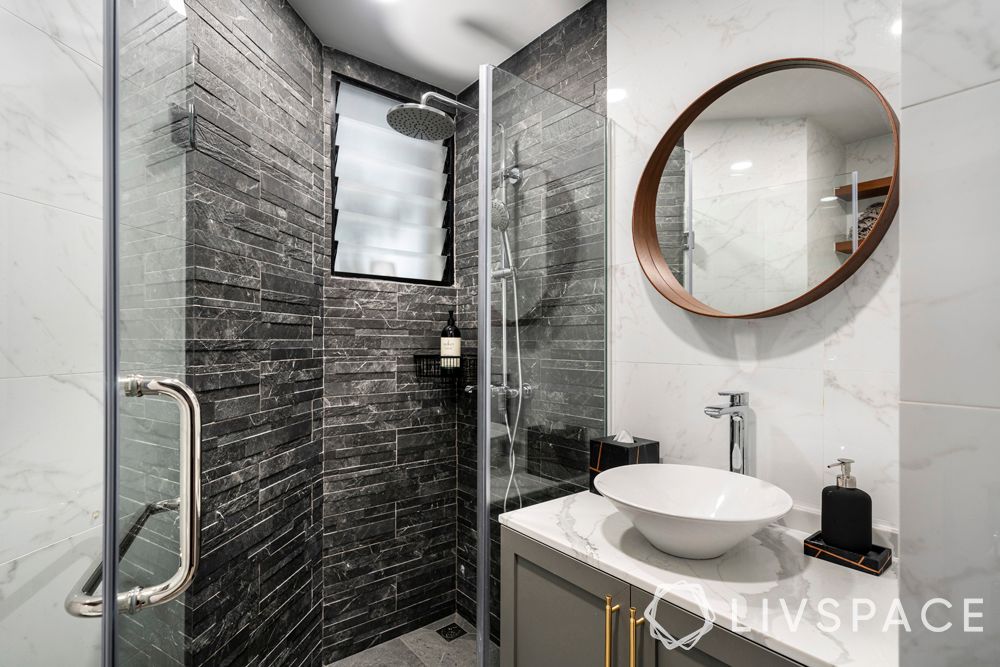 Do you love the crisp, clean look of a white bathroom or would you rather go bold with red? Whatever your preference, tiles can help you achieve the right look. Choosing the right floor and wall tiles for the bathroom is going to be the most important task at hand. This is going to ascertain how your bathroom looks. The market is flooded with tiles in all shapes, sizes and patterns and your designer will guide you. We suggest you go for tiles that can be easily scrubbed so that you do not have to deal with mold and dirty grouts lines.
#6: Vanity design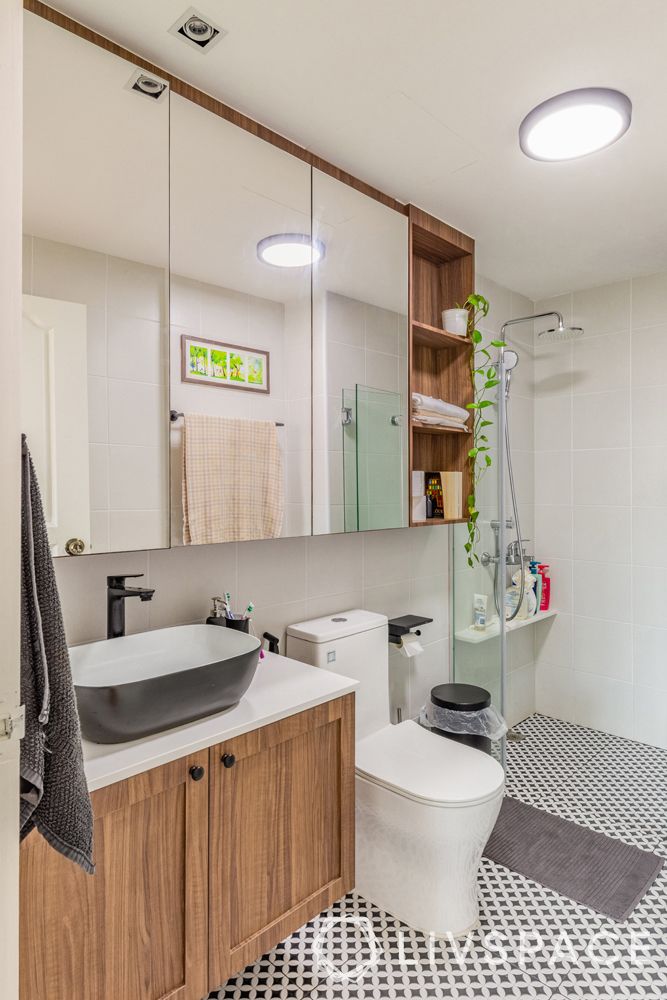 This is where we talk about storage and functionality. The design and type of vanity can be determined once you know how much storage you require in your bathroom. So, if you thought about the things to consider before starting your bathroom renovation, you know by now. From the material to the finish of your vanity, your designer can help you get the right look. Do you like concealed vanities? Then you should go for mirrored cabinets that open up into vanities.
#7: Bath fittings and fixtures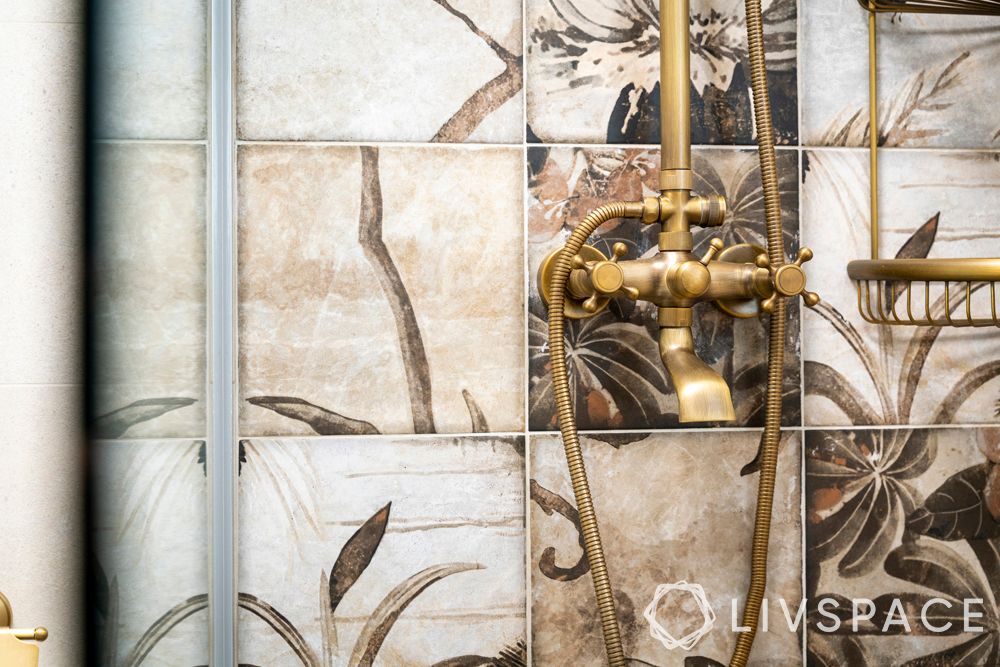 Did you know that the fittings and fixtures in your bathroom could have a huge impact on the look and feel of the space? Also, there are so many types of taps and showers in the market that you will be spoiled for choice. From traditional ones to sleek, concealed fittings, you can choose them according to the design of your bathroom. The colour can be matched to the tiles or sit in complete contrast for effect. There are a lot of brands like Kohler, Grohe, Toto, Jaguar, etc, which have a great collection of bath fittings.
#8: Lighting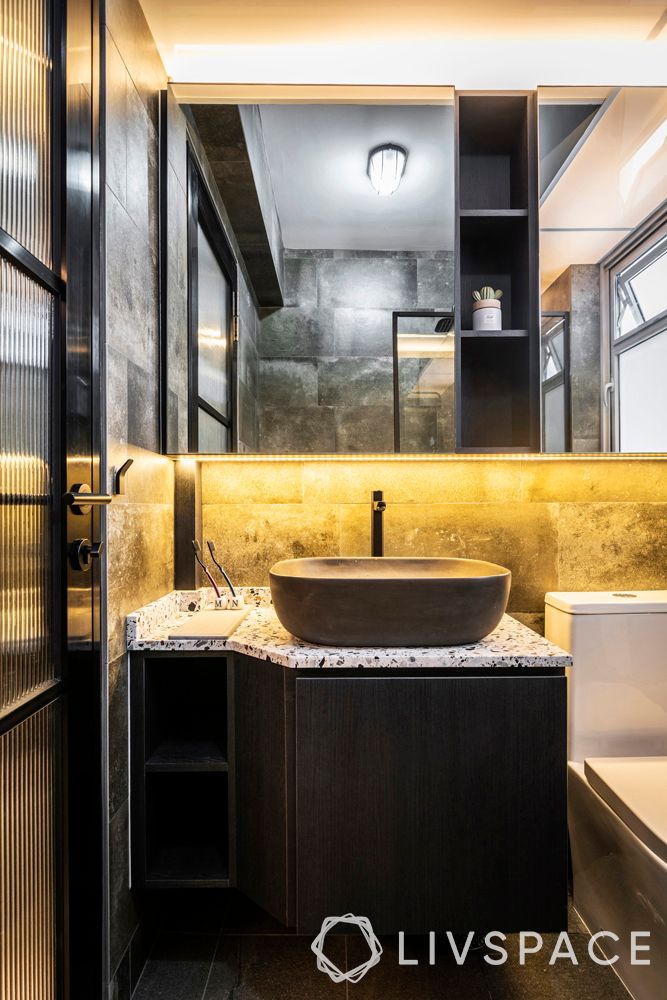 Like every room, the bathroom also needs general and ambient lighting. But in addition to that, we suggest you invest in some task lights for this space. Pendants over the vanity area or LED strip lights around the mirror are a great way to add task lighting. These days people also opt for hollywood lights around the mirror for special effect. It acts as the perfect task light for the vanity area.
Do's and don'ts
Here are somethings that you and your designer need to keep in mind while designing the bathroom:
Do look at the layout carefully. When you enter the bathroom, you should be able to spot the vanity in clear sight but the toilet should not be in clean view.
Do not choose very high maintenance or porous materials for your bathroom surfaces. You will find it very difficult to clean them later.
Do not have downlights overhead near the vanity, they will cast shadows.
Trends to look out for
#1: Sleek black fixtures make an appearance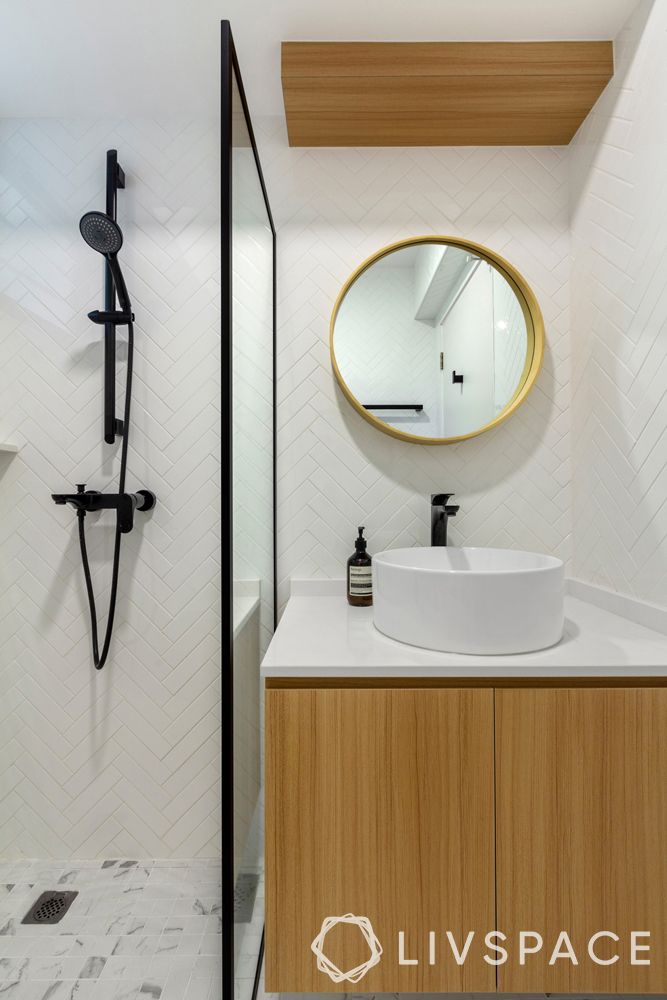 Honestly, we are obsessed with black steel fixtures. They look so sleek and classy and can change the look of your bathroom immensely. You can try black beading on glass shower partitions or black legs for your vanity unit too.
#2: Patterned walls and flooring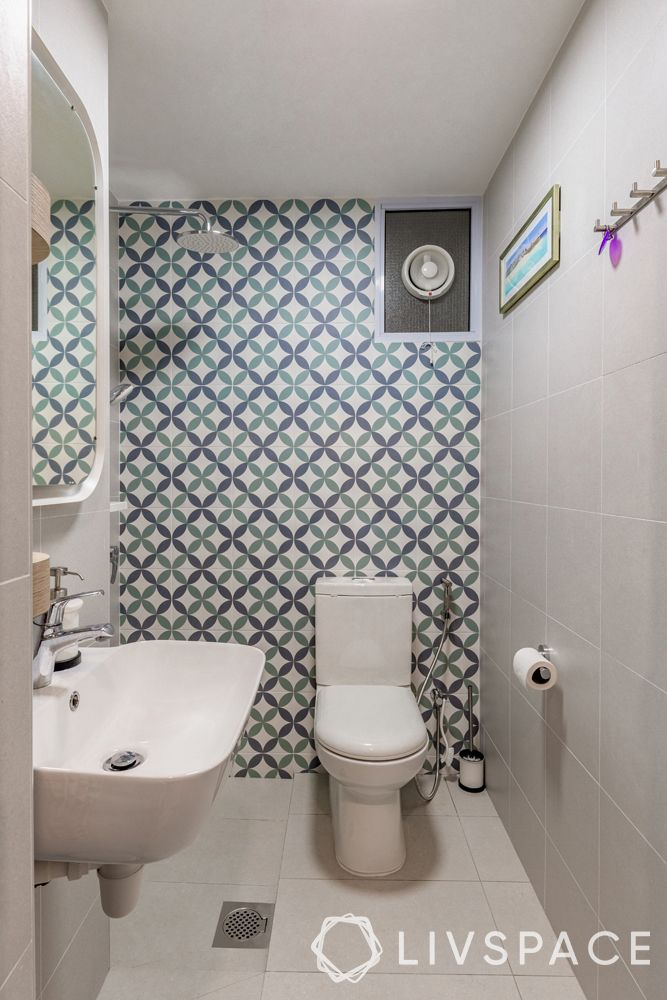 Patterned tiles make a huge difference in a bathroom. From busy patterns to mosaic and Moroccan patterns, everything is unique. You can also try your hand at pretty patterned wallpapers for the bathroom walls. Just make sure it is away from the shower area. You can add patterned tiles on the walls as well as flooring.
#3: Try natural materials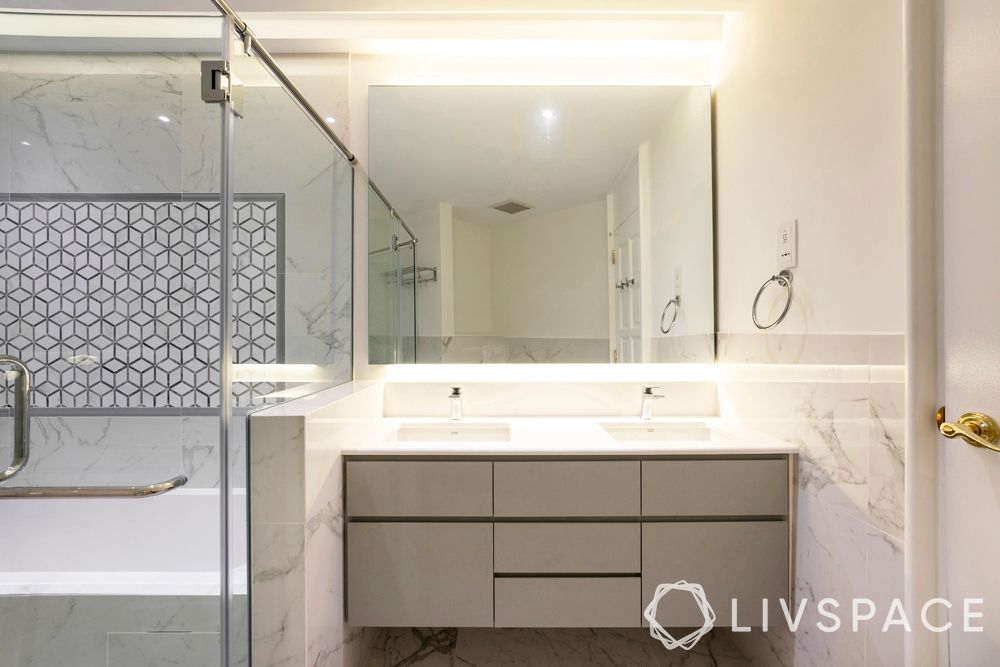 The appeal of raw materials hits differently in a bathroom. Opt for natural stones like marble and timber even if you have to make some extra effort to clean and maintain them. Use these materials for countertops, basins and even walls. These will add a touch of luxury to your bathroom. Try this trend in 2021 for sure!
#4: Floating vanities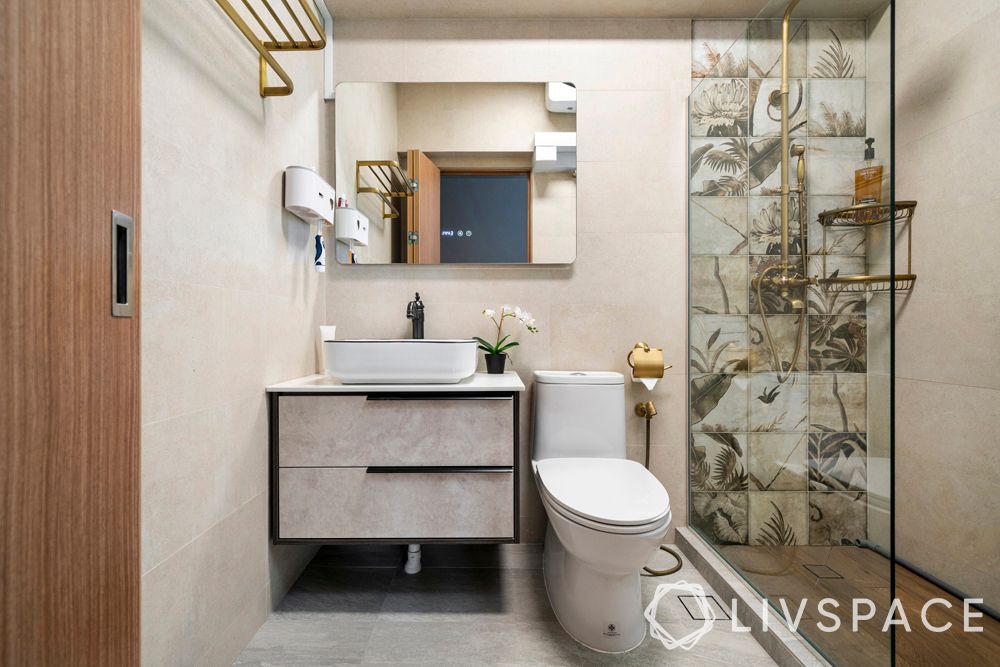 Gone are the days of having bulky or no vanity units in the bathroom. These days it's all about having floating units that leave the floor empty. They do not crowd the space and still pack in a lot of storage space.
This was our take on bathroom design and how you should approach it. We hope you enjoyed reading this. Take a look at this: Planning Your Toilet Renovation? Here's a Guide to Help You Prepare.
Send in your comments and suggestions to editor.sg@livspace.com.