This year has been very tough for all the wrong reasons, but we have some good news! We have compiled a list of the top 10 homes designed by our design interior Singapore firm. Our designers have put their heart and soul into them and you have voted for them! Take a look and borrow some ideas from each of them.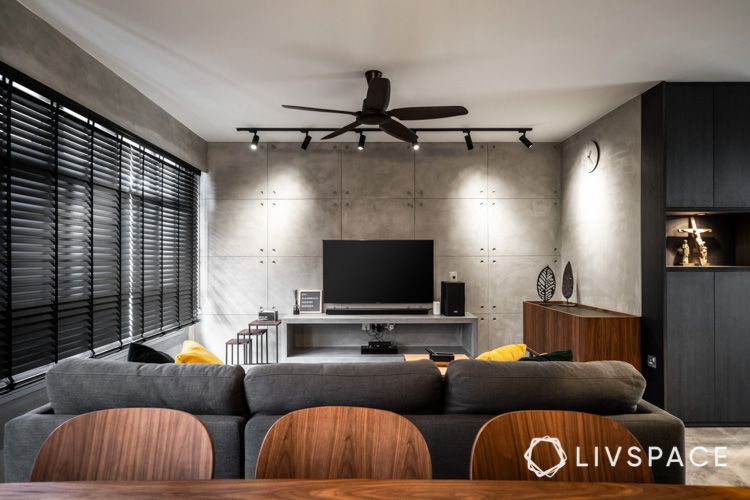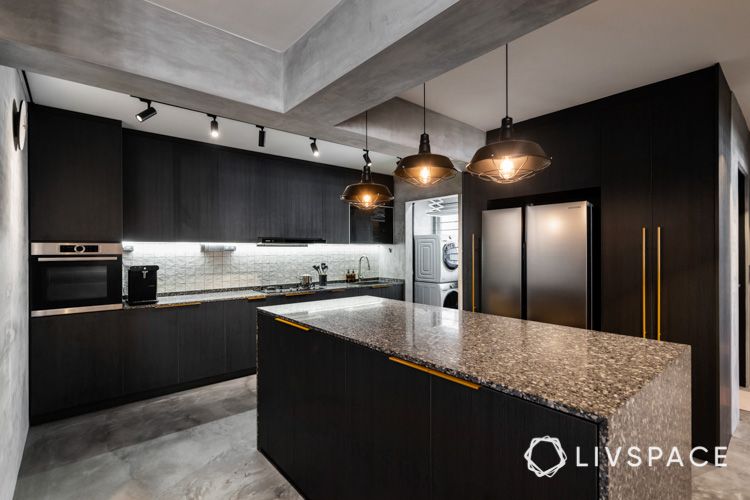 Design highlight: Industrial-themed interiors with cement screed walls and raw finishes.
Budget: $$$$$
Why will you love it?
This is an award-winning design and there are innumerable ideas to steal from this 5-room HDB. Apart from being practical, the homeowners also wanted their home to be edgy and industrial-themed. This excitement expresses itself in their design interior Singapore home that is filled with bold lighting effects, insightful design choices, and intriguingly dark finishes. Borrow these ideas from this design interior Singapore HDB, to nail the look:
Cement screed walls for that unfinished, industrial look
Greys, dark wood shades and accents of black
Layered lighting to highlight the right design features
Kitchen island stocked with storage
Wrought-iron pendant lights
"Livspace helped us connect with an interior designer, who was perfect for us. We weren't looking for something safe and Jake's concepts and ideas were bold and in sync with what we wanted. We consulted Jake to pick the appropriate lighting and furnishings too. The quality of the workmanship is also great! The cement screeding on the entire house looks great so far. It is fair to say that the contractors managed to deliver on the design we requested."

Nigel & Madaline

Livspace Homeowners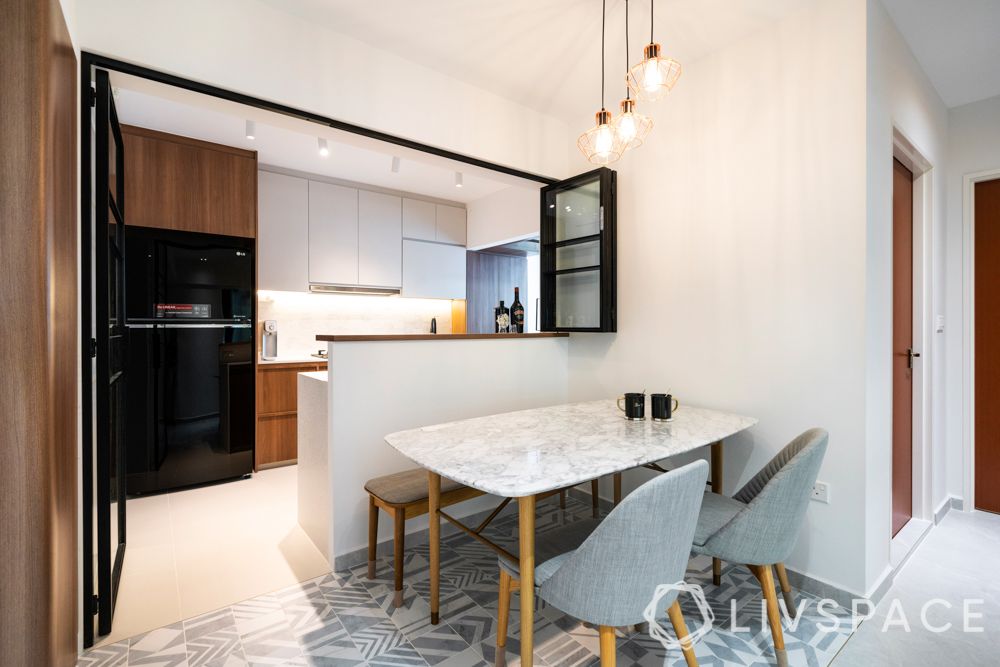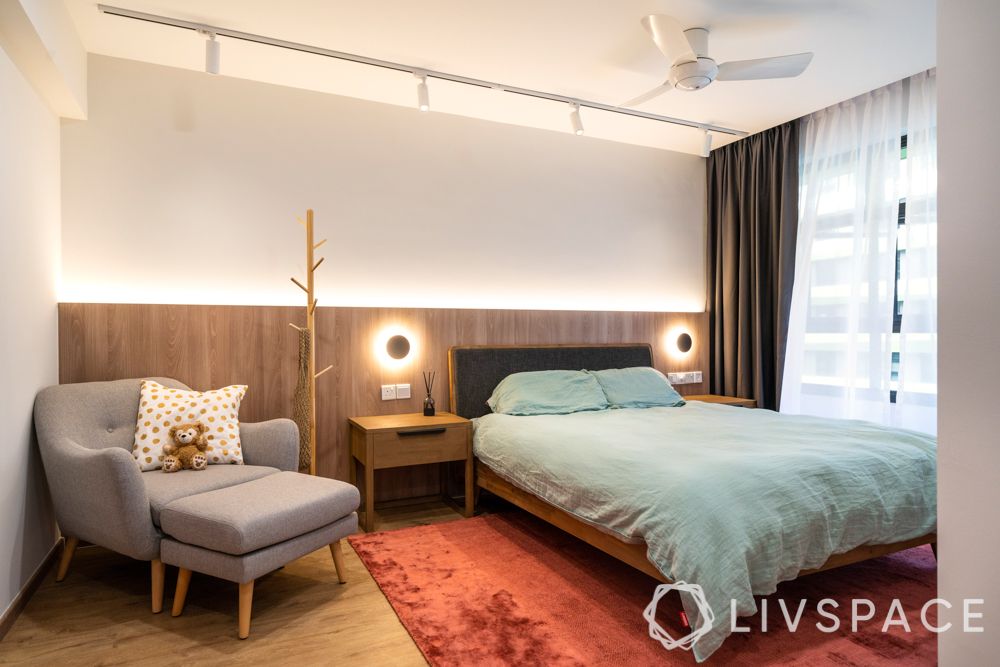 Design highlight: Minimalist design with neutral colours on the walls that let the design take centre stage.
Budget: $$$$$
Why will you love it?
This 5-room HDB BTO spanning 92 sqm is a great design inspiration for any couple who is looking to renovate their home. A mix of private spaces for the couple living here, as well as common areas to entertain friends is what makes it so special.
Some smart ideas that you can steal from this Livspace design interior singapore HDB:
Vinyl flooring for the TV unit feature wall to reduce cost and time
Bay window seating for extra storage space
Versatile seating options on the dining room
Glass door for the kitchen to facilitate conversations
Ambient lighting in the bedroom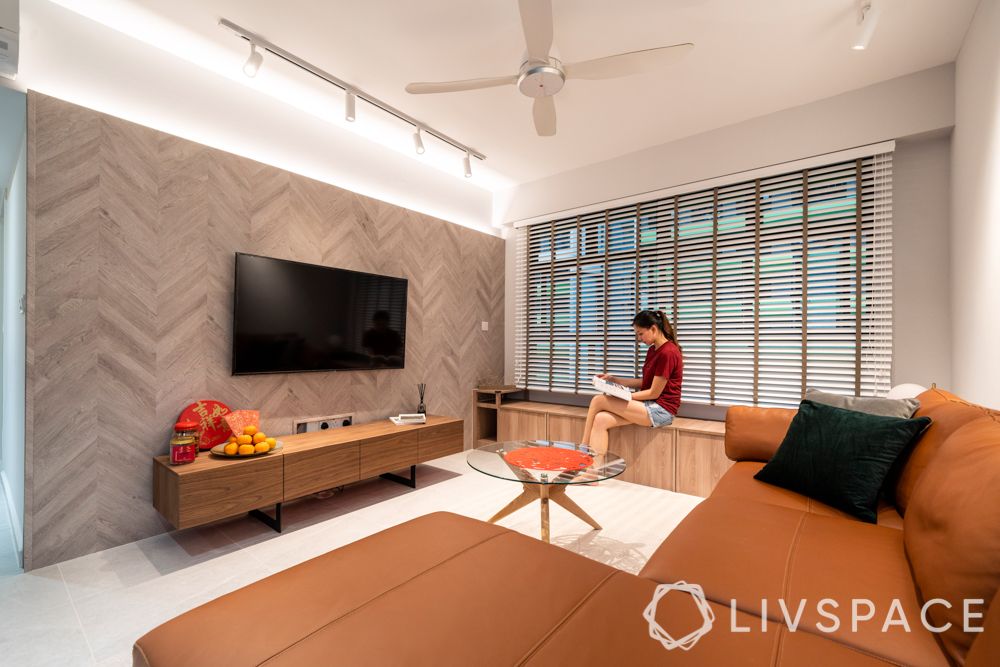 "We found Jake (Livspace interior designer) to be a professional and responsible person. He is responsive and whenever we wanted to follow up on status or were curious about certain design amendments, he was fast and always able to give us the right advice. We both love the final interior design, which is very close to the 3D designs we saw and we are happy to see our home design now and it provides us with a very great sense of belonging."

See Zhibin and Tong Shuyi

Livspace Homeowners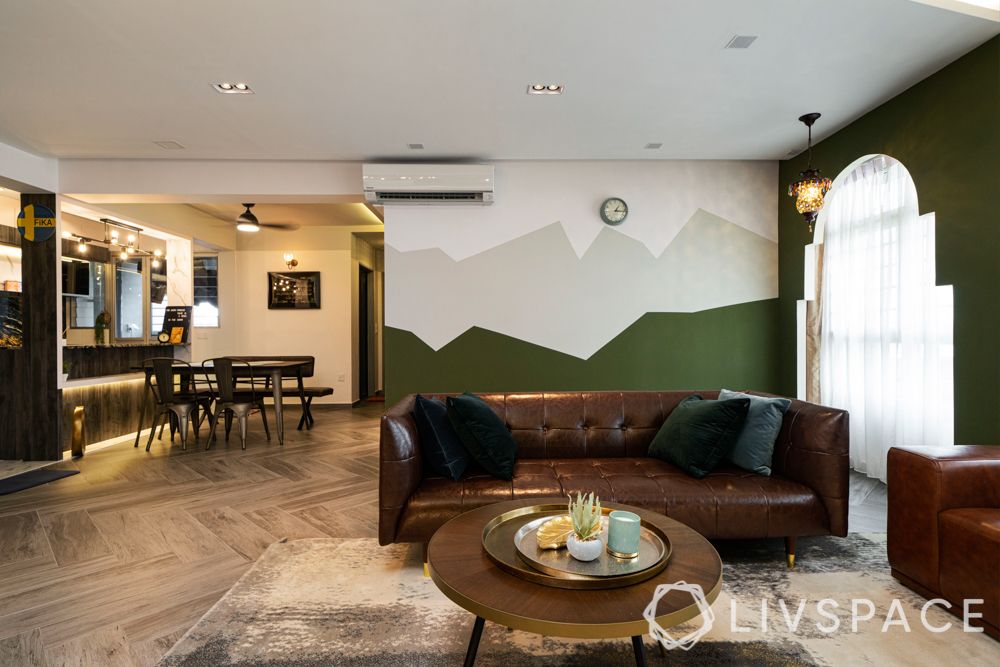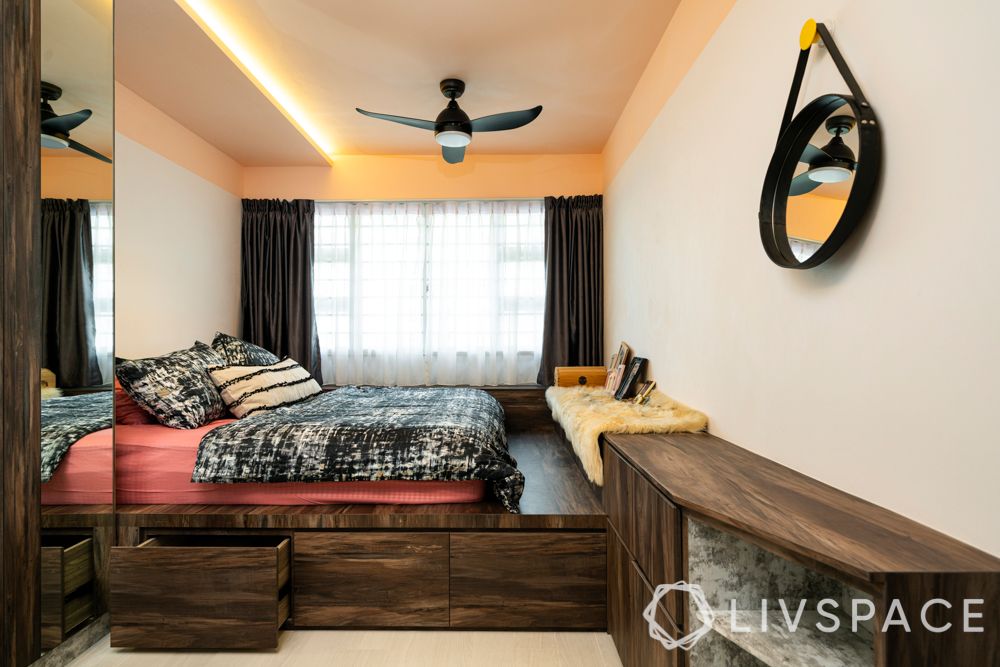 Design highlight: Modern Mediterranean design with detailed carpentry work throughout the HDB.
Budget: $$$$$
Why will you love it?
If you have ever wondered what a designer's own home looks like, you're in the right place. Plenty of details to love here. In addition, this 5-room HDB is storage-intensive and child-friendly as well. Here are some design ideas to steal from this renovation project:
Concealed storage options to make the HDB child-friendly
Use of flooring patterns to demarcate spaces
Use of mirrors to make the space look visually larger
Low maintenance and budget-friendly laminate finish in the kitchen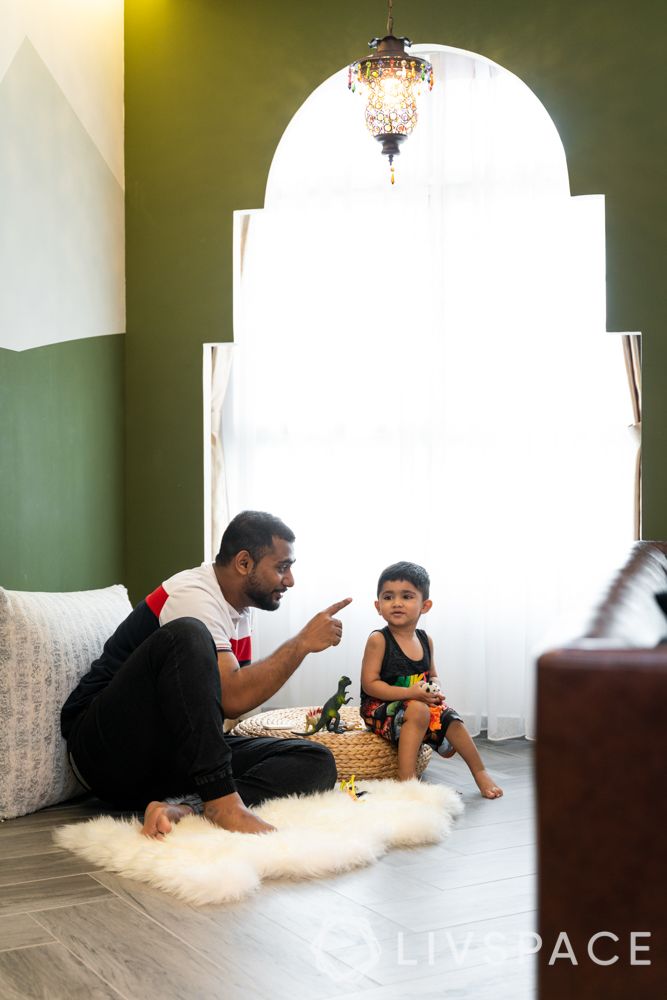 "Designing our home was a unique experience. I knew what we needed in our home, so I designed each element with care to meet our requirements. From the Mediterranean elements in the living room to the dainty-hued kitchen and lively playroom for my son, I was free to experiment. And we love the result!"

Kader S

Interior Designer & Homeowner, Livspace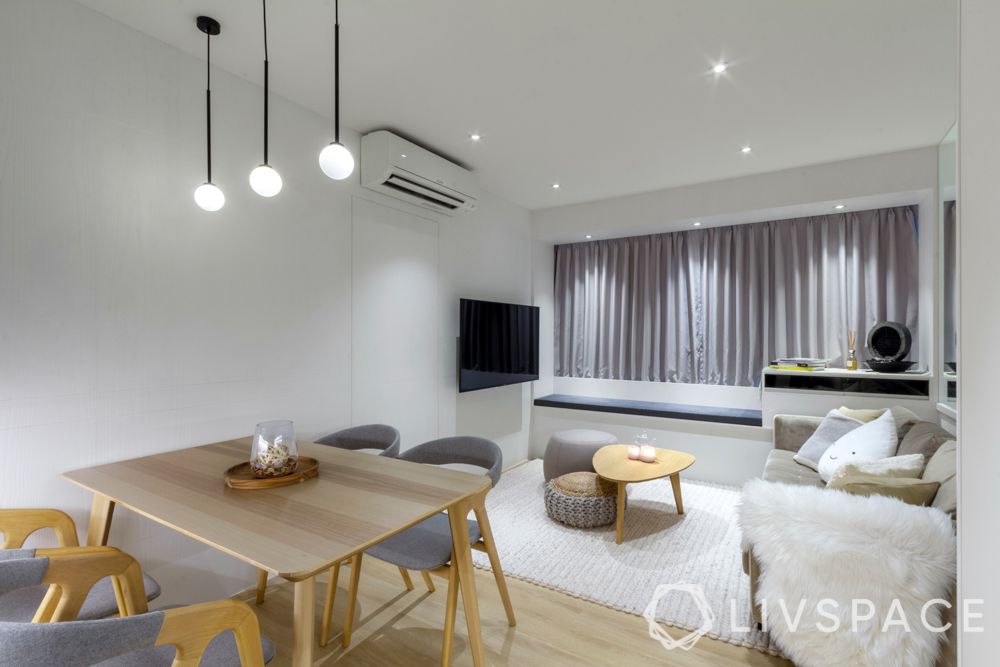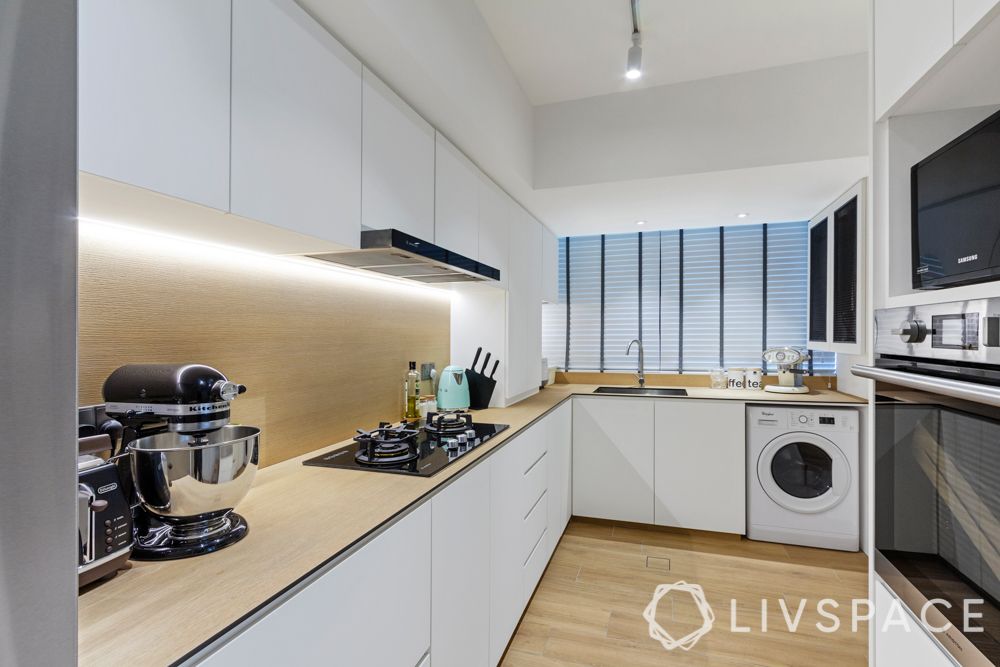 Design highlight: Minimal and clean design with ideas fit for a compact home.
Budget: $$$$$
Why will you love it?
Because William, our designer used a two-pronged approach to make this possible—use of functional spaces and a light colour palette using whites and neutrals. Let's look at some steal-worthy ideas:
Seamless all-white kitchen with open storage
Bar counter with tempered glass partition
Warm, fuzzy rugs and layered upholstery
Versatile seating in the living room to add an element of quirk
Bedroom with integrated study table
"Personally, I prefer woody and white finishes in terms of decor as well as clean spacious areas rather than dark ones. Hence, Ivan and HuiMin's taste totally resonated with me. I am glad we could create a different tone for the white interiors that they requested and deliver their home on time!"

William Chong

Interior Designer, Livspace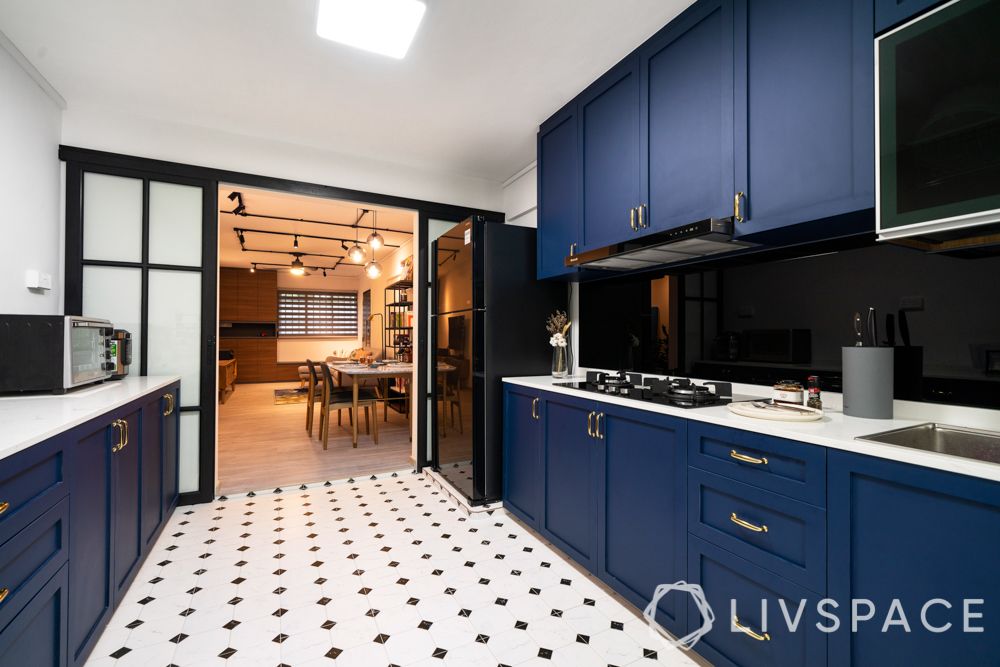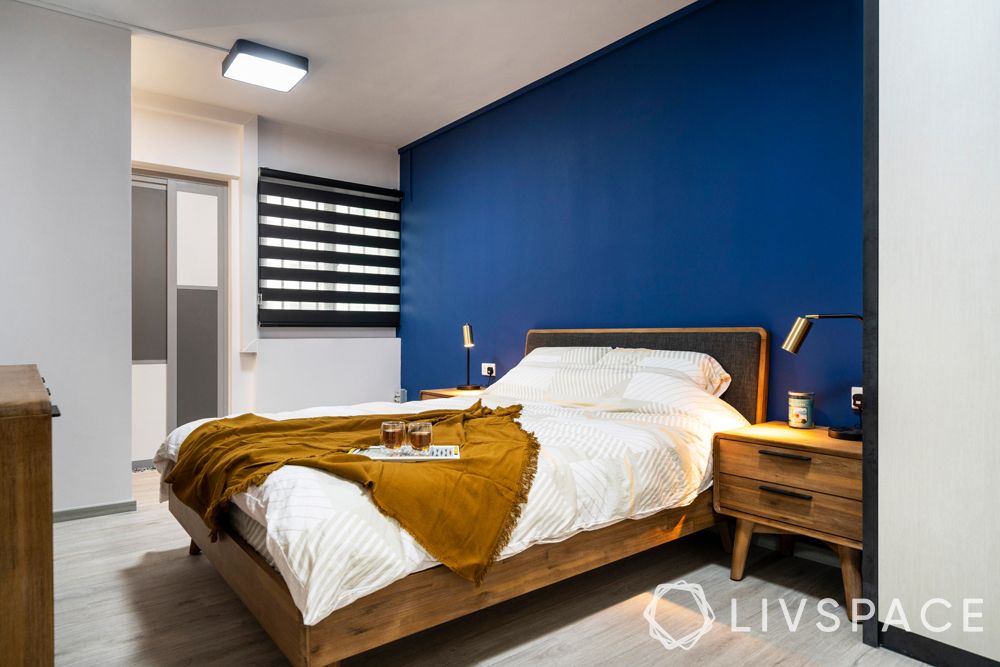 Design highlight: Modern, contemporary style of design with compact space solutions.
Budget: $$$$$
Why will you love it?
This home is proof that you can live in a compact home without compromising on comfort and style. Our designer, Shim, approached this HDB with a straightforward plan and added in a few unique tweaks to make the most of its space. Steal these ideas from this project:
Budget-friendly pendant lights in the dining room
Full-height shoe cabinet with plenty storage in the foyer
Glazed porcelain tiles in the kitchen flooring
Navy blue cabinetry in the kitchen that looks so eye-catching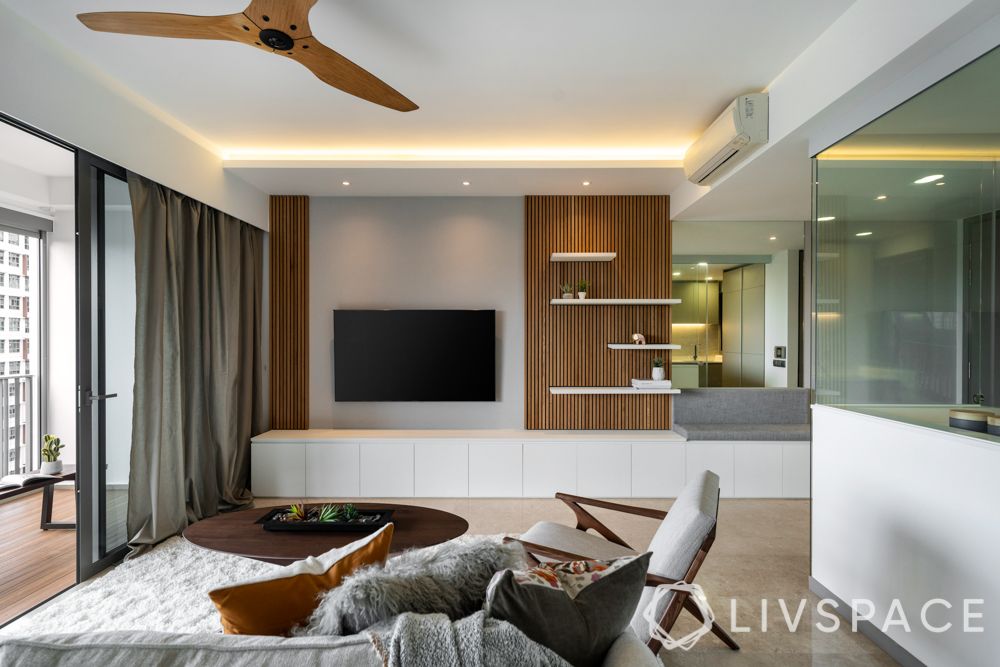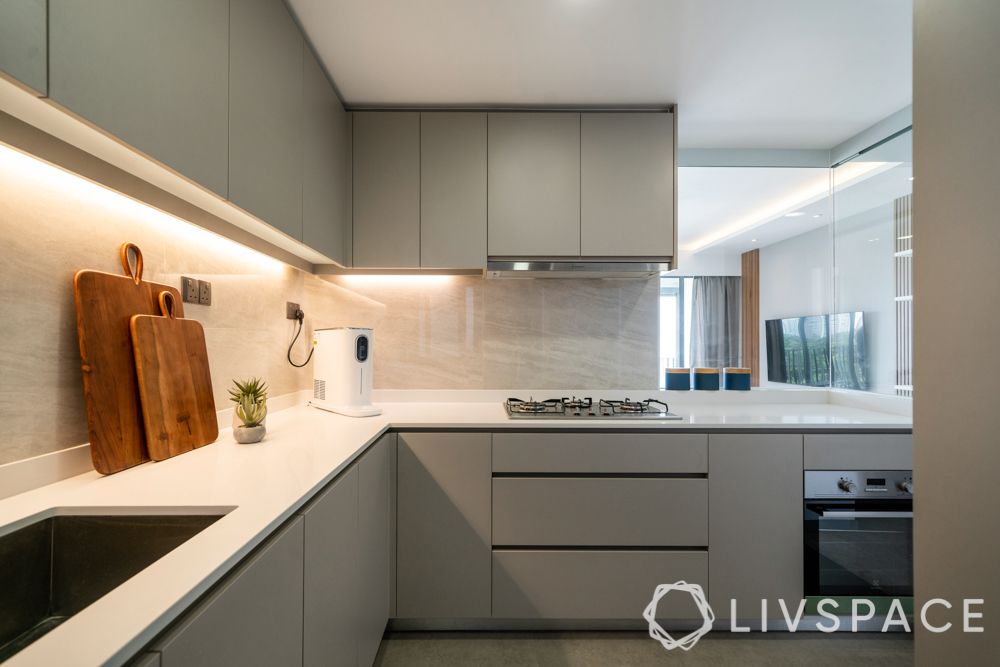 Design highlight: Light, neutral colour palette with a minimal design style.
Budget: $$$$$
Why will you love it?
This condo has been designed taking into account the needs of three generations of a family to live together comfortably. The look is open and easy-breezy leaving the condo looking clean and simple. Here are some design ideas you can try in your next renovation:
Feature wall made of oak wood panelling
Italian ceramic tiles for the walls and flooring in bathrooms
Compact study table with mobile rack
Wheel-chair accessible living room design
Lightweight and movable compact home office
"Andrea tends to listen first before sharing her ideas. Her transparency and assurance, not to mention ensuring using good quality in all materials provided, makes this whole reno experience very pleasant. Both Andrea and Kent have earned out trust. We are now left with the rectification works after the COVID situation eases; we are confident that Andrea and Livspace will continue to see to the completion of it."

Amy Law and Marcus Tan

Livspace Homeowners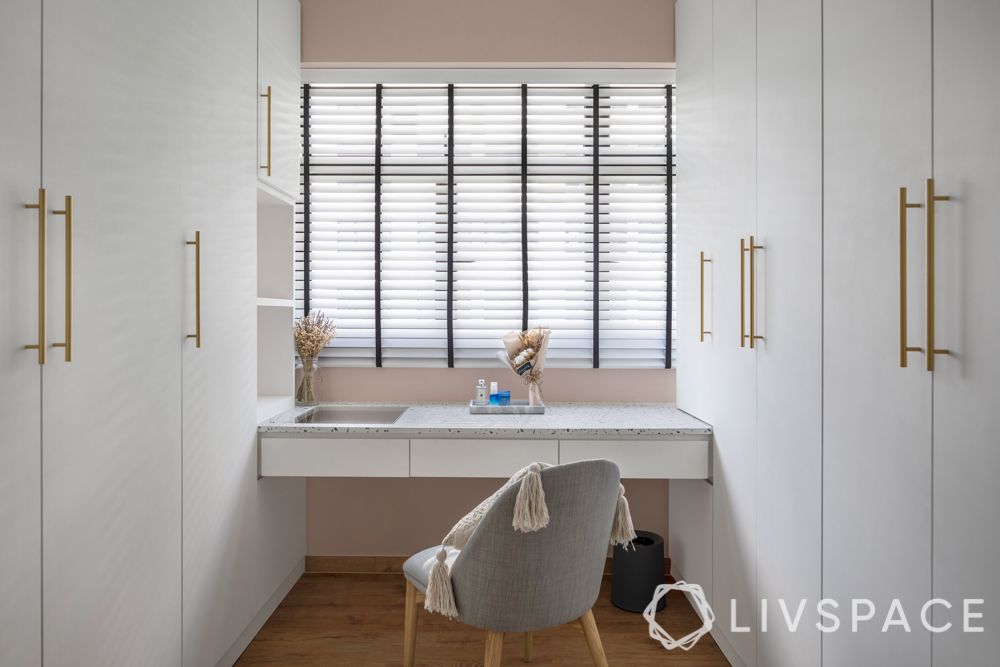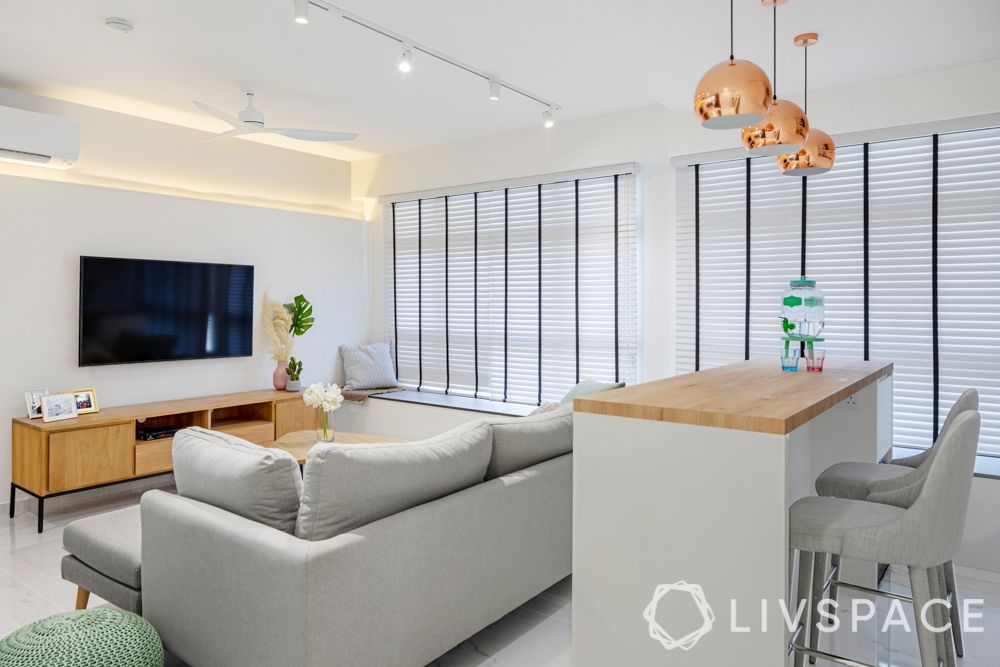 Design highlight: Scandinavian-style home with pops of pastels and stunning wooden grains.
Budget: $$$$$
Why will you love it?
This 5-room HDB has a space-efficient design characterised by cool tones. It was all about creating a light and airy home with a specific colour palette. Steal these ideas:
Bedroom with wardrobes on both sides and a vanity in between
Marble motif ceramic tiles for the kitchen backsplash
Brass gold handles in the kitchen cabinets
Durable and budget-friendly vinyl flooring in the bedroom
"My favourite part was designing the wardrobe. Using the empty room to create a layout that gave the couple a practical space. The design elements were made to suit each of their individual preferences. So the walls colours became a dusty pink while the carpentry became white and gold."

Noel Tan

Interior Designer, Livspace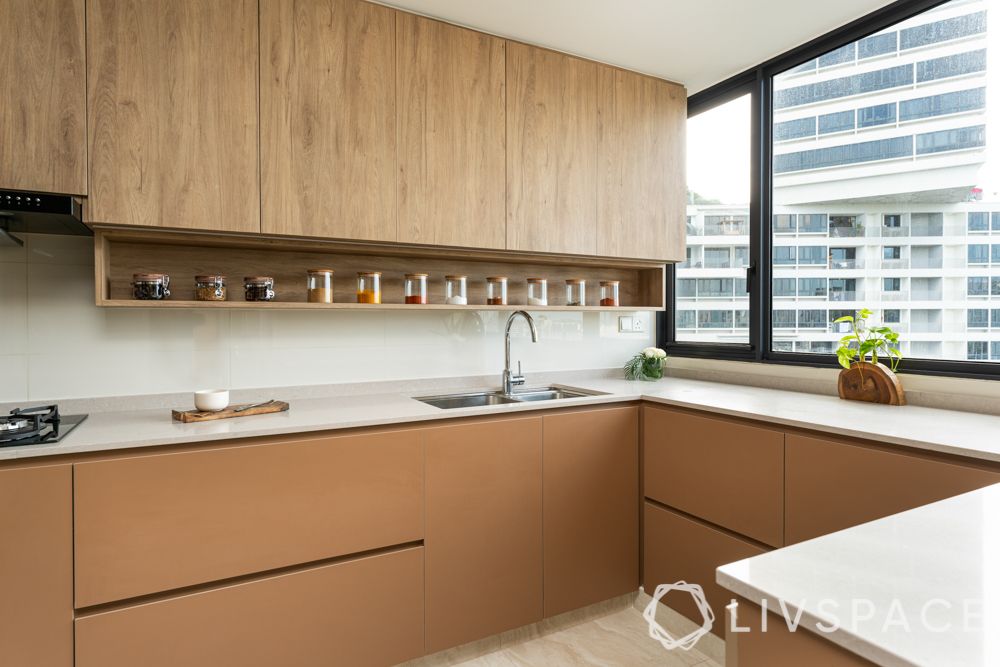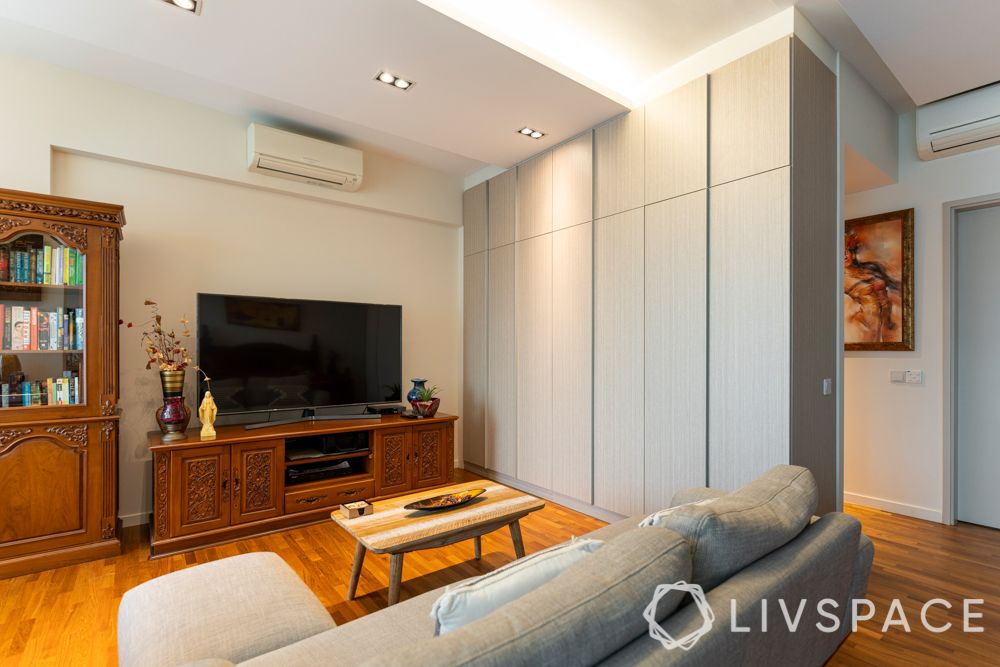 Design highlight: Low-maintenance modern decor in a spacious layout.
Budget: $$$$$
Why will you love it?
This 4-room condo is renovated to suit the various personalities of the homeowner and her family members. Enough space to display her collection of art, collectibles, a big living room, a sizable, comfortable kitchen and lots of natural light are some of the things that you will love. Here are more:
Two-toned laminates in the spacious kitchen
Lounge area in the master bedroom
Textured laminates in the bathroom
Mirrors and ornaments that act as decor for this condo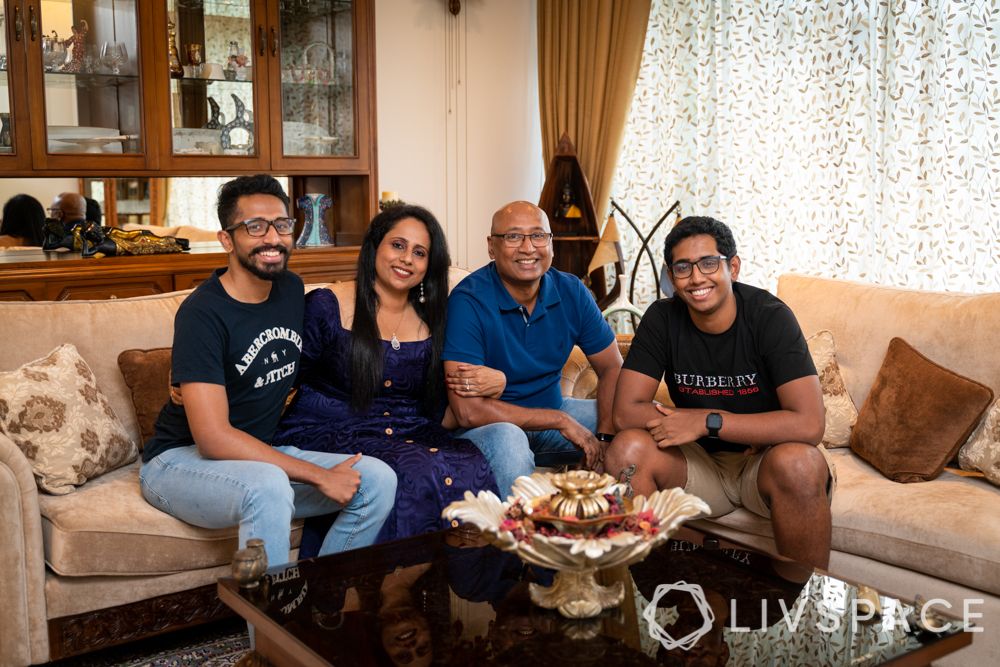 "It's a really lovely kitchen. Plus, it's very functional! Things are accessible and yet, there's enough space to work. I never feel tired working here."

Priya Subin Joseph

Livspace Homeowner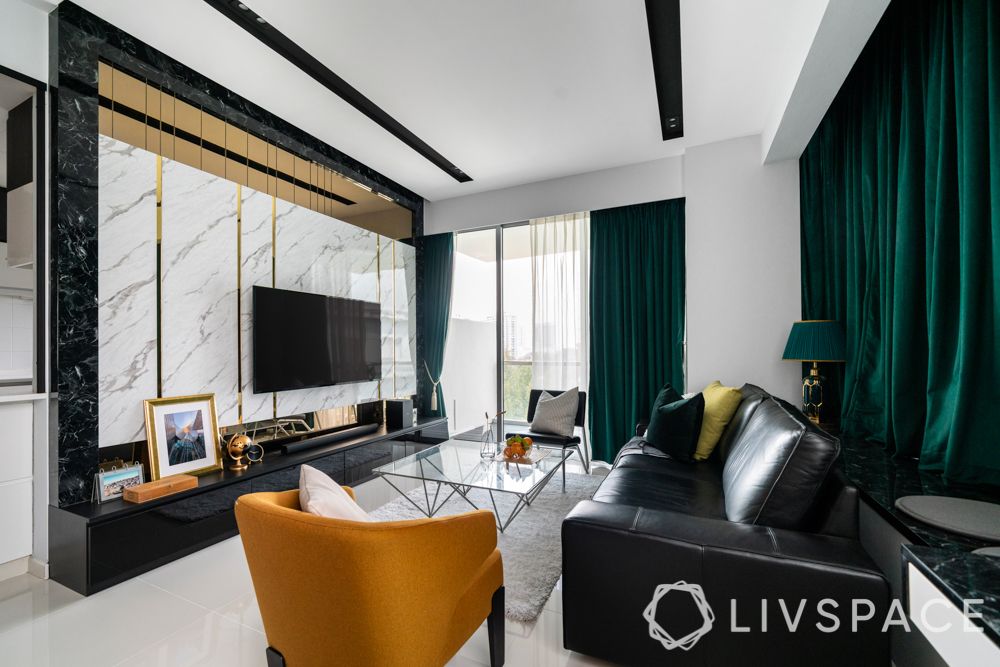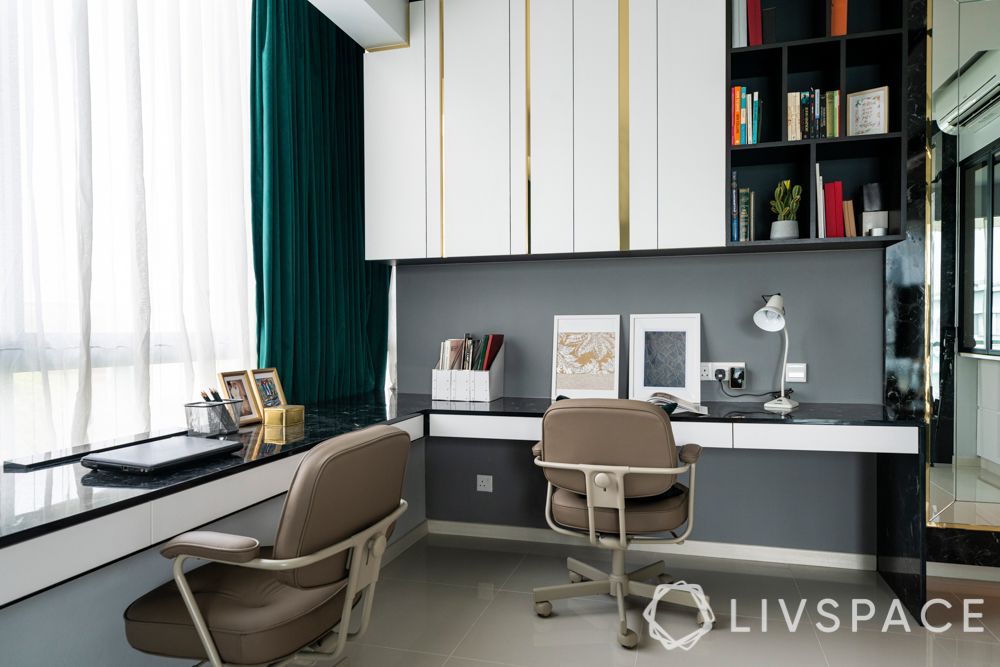 Design highlight: Plush, luxurious interiors that are inspired by hotels.
Budget: $$$$$
Why will you love it?
This home is proof that good design can transform a worn out condo drastically! Since the couple had rented out the condo for the past nine years, the wear and tear needed mending as well. In the very first meeting, Noel, our designer understood exactly what the homeowners were looking for—this is an extremely important and underestimated step. Here are some designs that you can borrow:
Marble-sque finish used throughout the home to save on cost
Custom home office with table height to suit the homeowners
Use of gold trims to highlight spaces
Platform bed for additional storage and space-efficiency
Custom carpentry in the design
"In my very first discussion with Noel, I realised that he had grasped the concept of the home we wanted. Since he could envision what we wanted in the home, the time it took to design the condo was cut down considerably. We love the final look!"

Chua N.S. and Haniza Hashim

Livspace Homeowners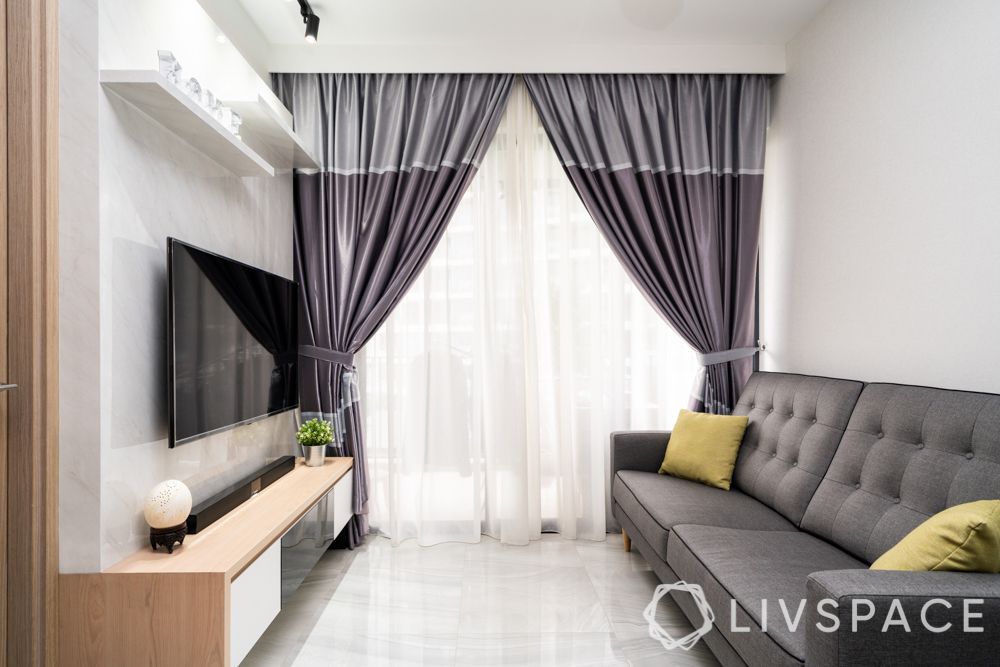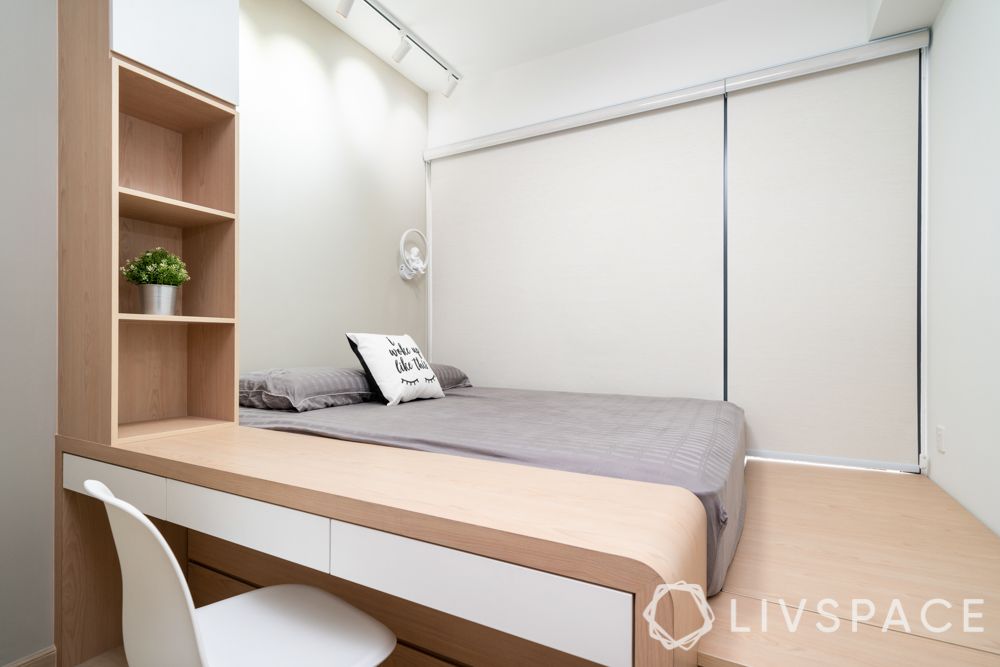 Design highlight: Modern and minimal design to keep the decor to the bare minimum.
Budget: $$$$$
Why will you love it?
For the sheer reason that this is the tiniest condo that we have renovated (55 sqm). There are some brilliant design ideas that our designer has implemented here to give the two sisters living here, a space for everything that they would need. Check out what you can borrow:
Platform beds with custom-made oak laminate
TV panel with LED strip lights
Storage-packed study units attached to the beds
Hand-picked drapes and curtains in every room
"Due to the shortage of space and the need for extensive carpentry work, everything had to be measured precisely. Therefore, we had every inch of the home measured and all specifications confirmed before any of the work started."

William Chong

Interior Designer, Livspace
This was the round-up of your favourite Livspace homes from 2020! Here is the latest home that we designed for a family at Woodlands St: The Reason Behind These Smiles is their Newly Renovated HDB.
Send in your comments and suggestions to editor.sg@livspace.com.