You're probably familiar with the concept of tiny homes, given the vast amount of content circulating on social media. But if you aren't, we're here to break it down for you. The tiny home movement began with the concept of downsizing or simplifying our living spaces. The concept is also tied into the idea of maintaining a sustainable lifestyle where less is more. In some cases, this also implies tiny mobile homes or a house on wheels. Given this, these homes are typically smaller due to their minimal nature and sustainable approach. While this style of living sparked inspiration among many homeowners, it also inspired the idea of tiny living in regular homes as well.
Though this is what the concept of tiny homes generally means in other countries, here we're referring to homes in Singapore that are relatively tiny in size. When we think about tiny homes or small homes in Singapore, we'd probably imagine something around or between 50 sqm to 70 sqm. So if your home falls under this size category, these clever tips can help you make better use of your space. Read on for more details!
#1: For an Efficient Tiny House Design, Make the Best Use of Your Vertical Space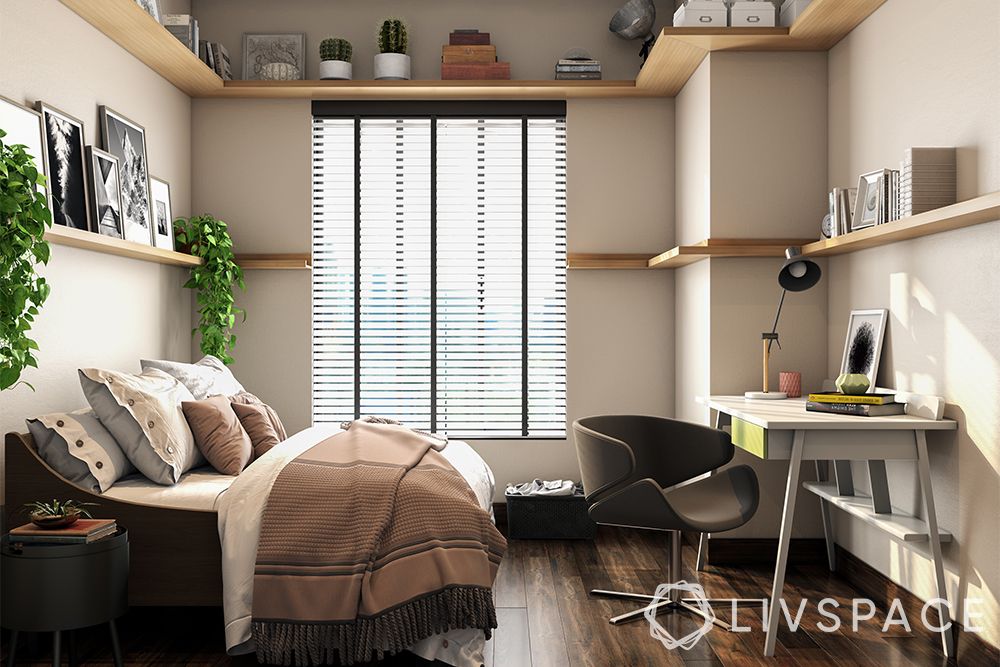 If there's one thing to keep in mind while designing tiny homes, it's that creativity is paramount. You need to get innovative with what you can use to make the most of the space you have. A great way to do this is by using empty vertical space to add storage units.
But an important point to remember here is that the type of storage unit you choose can also affect how cluttered your space looks. To avoid this, go for open shelves across your walls to store items or ornaments.
#2: Use Light-Coloured Bathroom Tiles to Make Your Bathroom Seem Bigger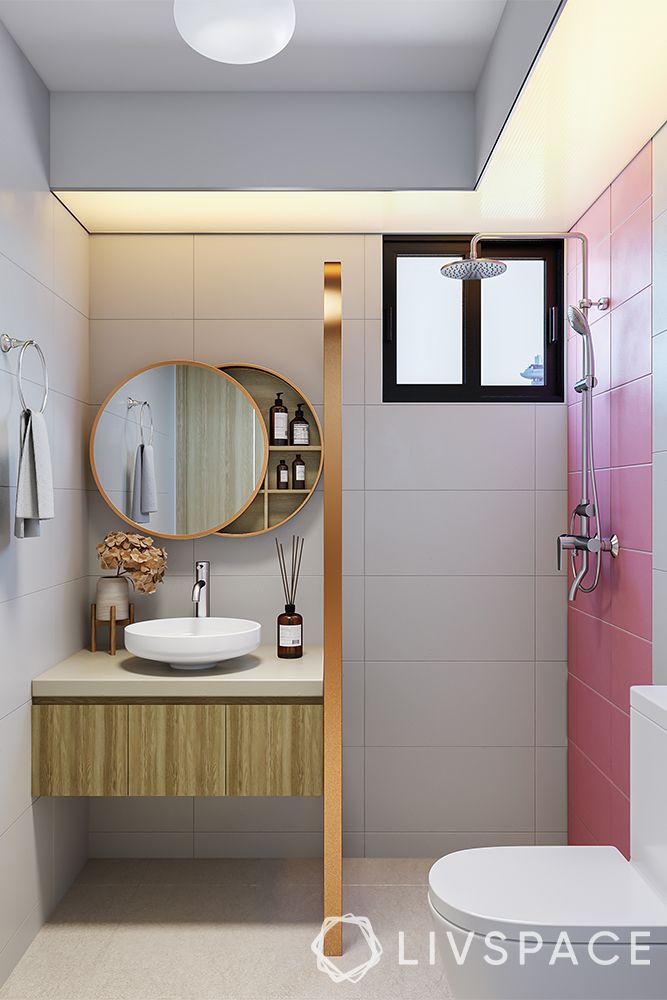 Whether you have a big or a small house, the type of tiling you use can make or break your bathroom design. This is especially true for compact bathrooms as darker colours can give off a smaller appearance. Besides this, smaller tiles are best to be avoided in small spaces as the more grout joints are visible, the smaller your bathroom appears.
So if you're planning the bathroom design for your tiny home, be sure to go for light colours in bigger tile sizes as they can create the impression of space. Similarly, opt for a floating/wall-mounted wash basin to open up more floor space for storage baskets.
#3: A Combination of Upper and Base Cabinets Can Increase Storage Space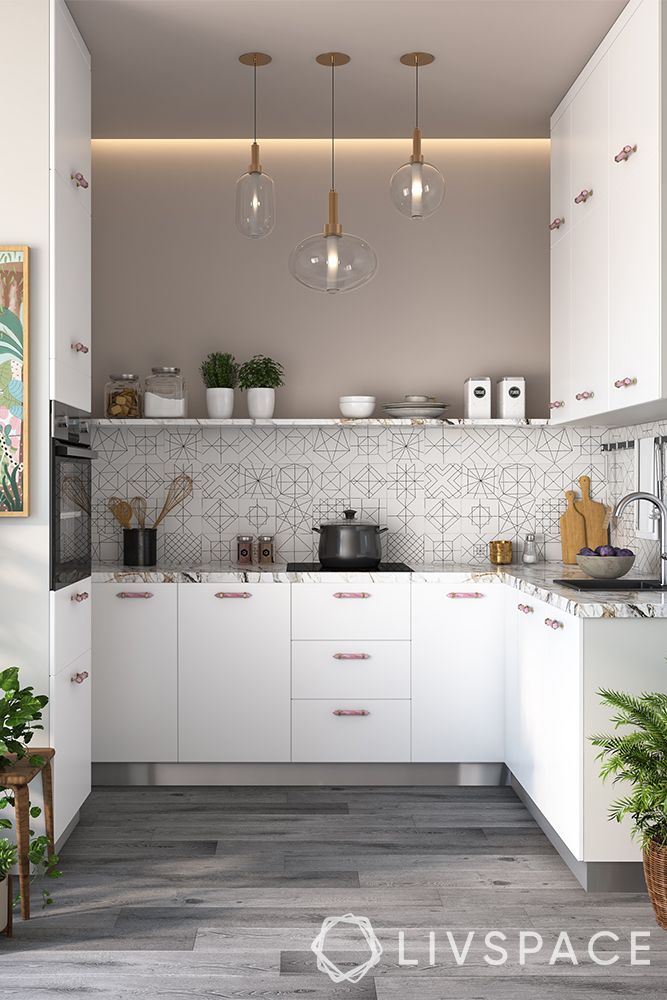 Similar to utilising available loft space in other rooms, you can apply the same logic to your tiny kitchen as well. Based on the amount of wall space you have left to work with, you can bring in a few upper cabinets or open racks to make this space storage-intensive.
If you prefer a tiny house design with a more minimal look, try to stick to neutral colours and muted palettes in the kitchen. This could also help make the kitchen appear bigger. What's more, you can also go seamless with your choice of kitchen cabinets to create a sleek finish.
#4: Mirrors Can Help Create the Illusion of Space in Tiny Homes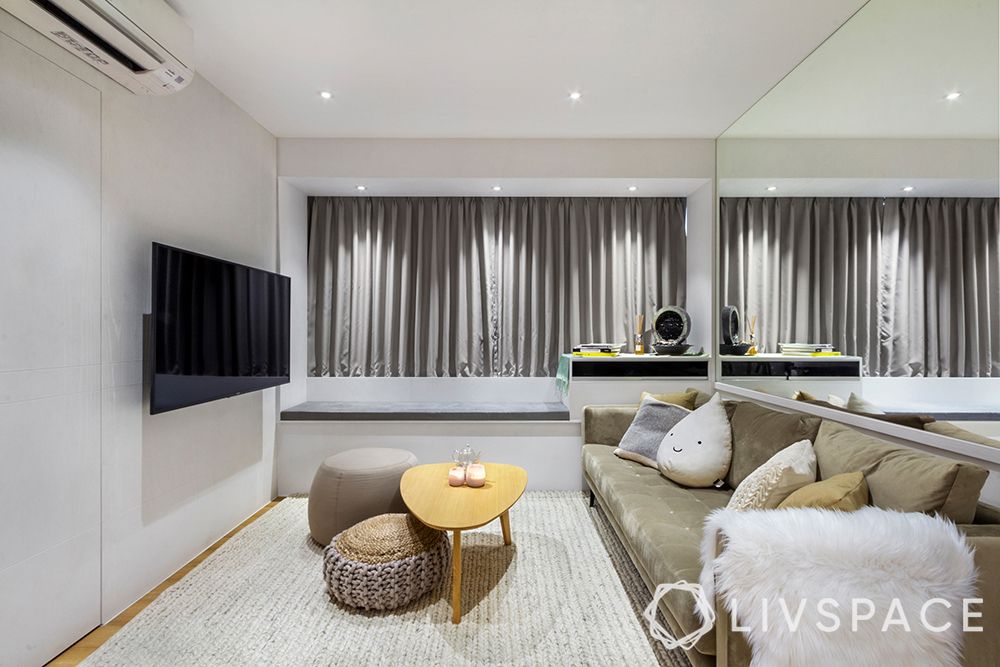 Who doesn't love a good illusion? You can even incorporate it as part of your tiny house design! When it comes to tiny homes, space can be limited but your creativity doesn't have to be. So if you'd like to live big in a tiny house, try using mirrored walls to mimic the impression of space. This simple design element can do wonders for smaller-sized homes, especially when you have lighter-coloured interiors.
#5: Combine Your Living and Dining Area into a Multipurpose Space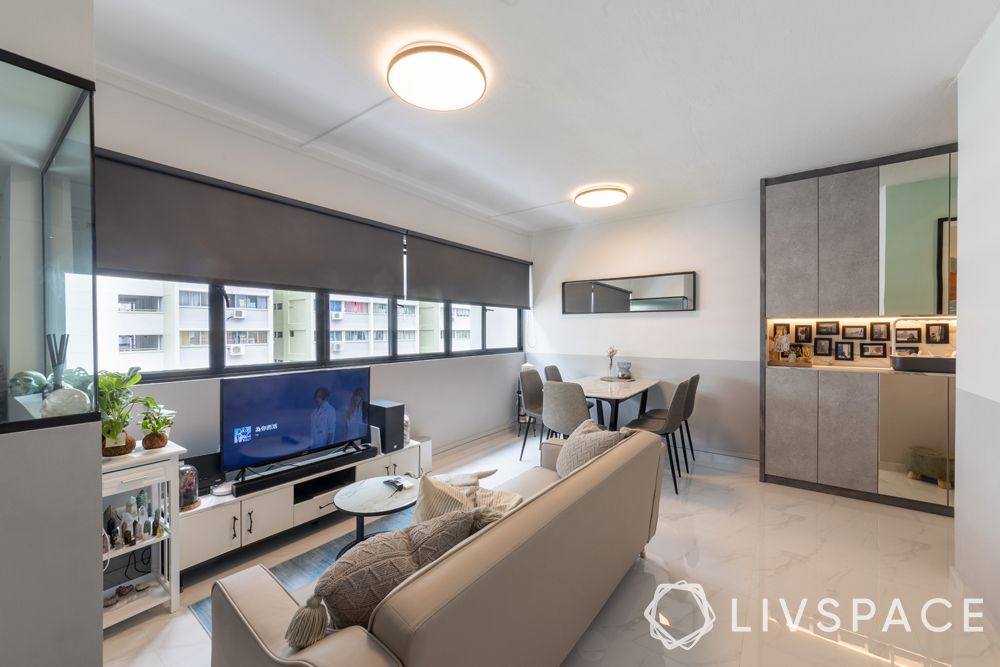 In most cases, tiny homes might not have the liberty of having separate dining and living areas, especially when it follows an open-concept plan. So when you have both these areas coexisting in one space, you will need to ensure that the traffic flow isn't disrupted when designing your small house.
Though you might not be able to use a large dining table in your living-cum-dining room, you can make do with a small table placed against a wall. By doing this, you devote one area of the room to just dining or working and the rest can be used for other activities.
#6: Choose Furniture That Embraces Multifunctional Design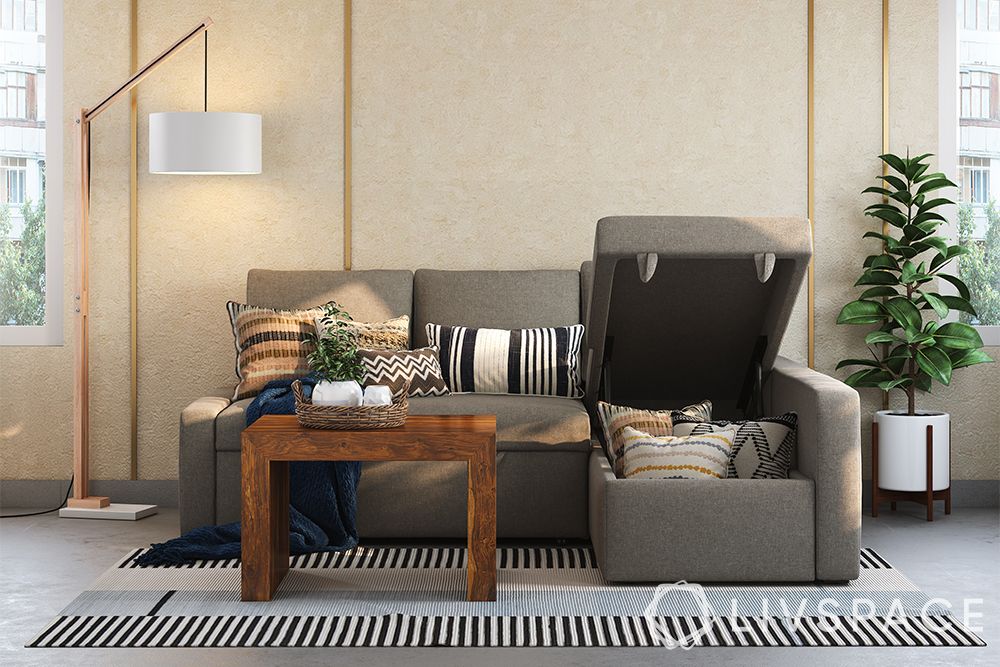 It probably comes as no surprise that multifunctional furniture is an important part of designing tiny homes. The more utility you can get out of your furniture, the more value it can bring to your tiny house design. For this, try to invest in furniture pieces that double up as concealed storage units based on your requirements.
Also, when it comes to selecting furniture options, there could be a few tricks you could try to improve the look of your space. Go for couches and chairs that have exposed legs as this gives off a less clunky look in compact spaces. This could also be really helpful when it comes to cleaning tiny homes as you can easily vacuum under your couch if its legs are exposed.
#7: Use a Platform or Hydraulic Bed to Increase Storage Space in Compact Bedrooms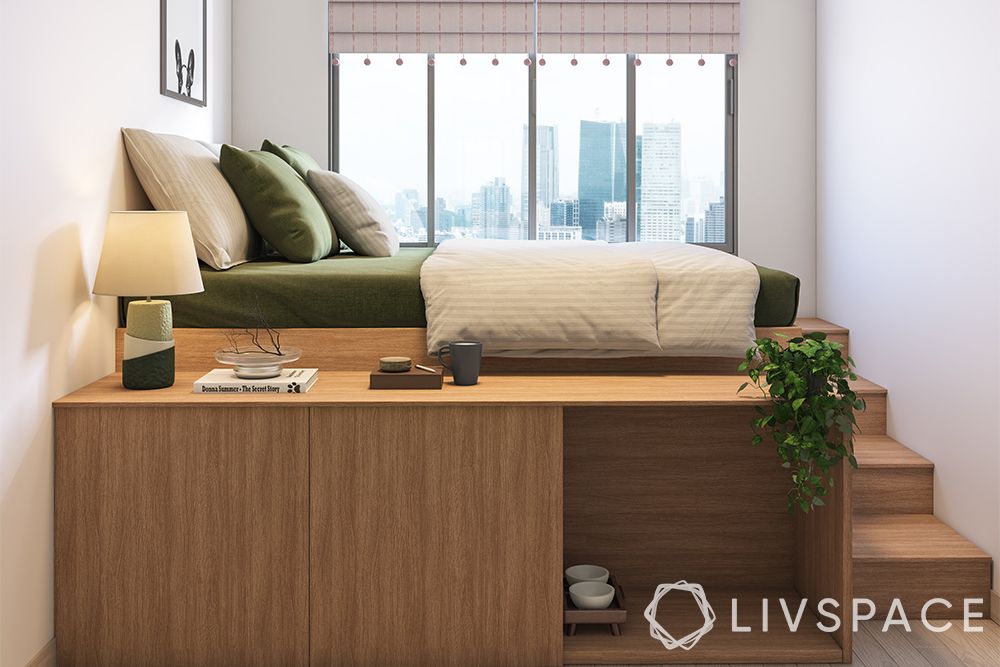 If you're wondering which bed design will best complement your tiny house design, you might want to try platform beds. The reason these work so well in small spaces is because they usually come with concealed storage beneath them. This makes them an ideal option to have in tiny homes as they can bring a lot of functionality to the table.
So if you do not have the space for a full wardrobe, you can always use the concealed storage units in a platform bed to make do. Similarly, you can also opt for a hydraulic or murphy bed since these can be ideal candidates for a storage-intensive bed design in tiny homes.
Also read:5 Ways to Do More With Less Space in Your Bedroom
#8: Play with Different Types of Lighting to Create a Spacious Effect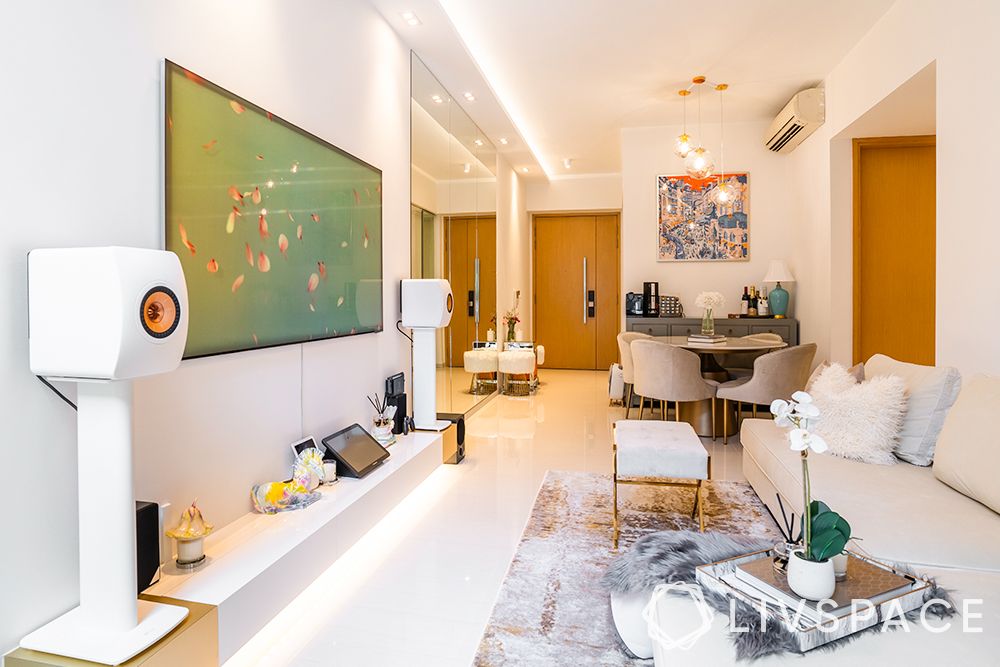 Much like how mirrors can play with the effect of space, the room lighting you use also carries the same ability. If your tiny home comes with a low ceiling, you can experiment with recessed ceiling lights to make it seem higher. You can also opt for task lights along your floors to give off the impression of more floor space.
In essence, the brighter your space is, the roomier it feels. But you don't only have to rely on indoor lighting to make this happen. If you have a large window or a balcony door, natural light can also do wonders for your tiny house design.
If you enjoyed reading about these design tips for tiny homes, you might also want to check out Top 10+ Space Saving Ideas for Compact Homes That are Worth Trying.
How Can Livspace Help You?
We hope you found our ideas useful! If you want your home to be just as beautiful, then look no further. Book an online consultation with Livspace today. Delivering safe home interiors has been our No. 1 priority. Click here to find out how interiors are being delivered following all safety protocols.