Isn't it strange how the most attention-grabbing art is often imperfect and raw? Much like how we find beauty in imperfection, there are schools of thought that are actually built around this ideology. That's the thinking behind wabi-sabi interior design, a style that's growing in popularity in Singapore and around the world.
So, what is wabi-sabi design all about? Join us as we take a tour of everything the wabi-sabi style has to offer.
But First, What Is Wabi-Sabi Interior Design?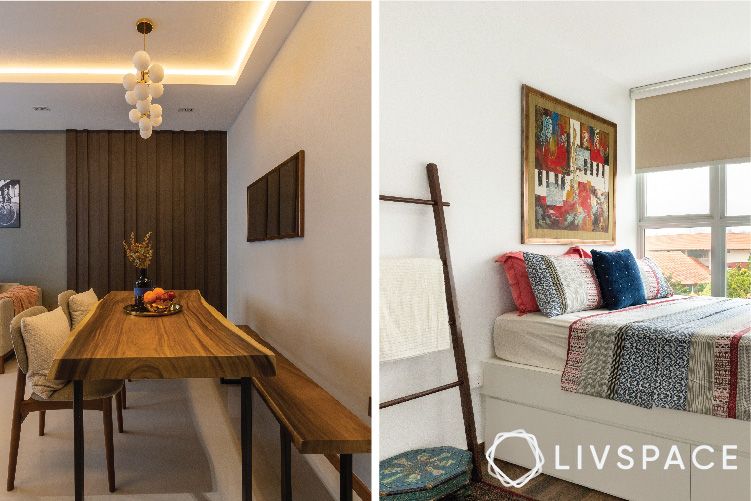 This Japanese interior design style appreciates natural and simple dwellings that embrace the concept of time, as well as its effects. Many find it hard to emulate the wabi-sabi style as it is more instinct-based rather than following a checklist. However, we can make it real simple for you.
Remember the three basic rules of interior design in wabi-sabi style: find beauty in imperfection, embellish your home with what you have, and wear-and-tear helps add character and a personal touch.
The individual decor items used in wabi-sabi interior design, from paintings to decorative pieces, speak of nostalgia and history, and are things you have an emotional connection with.
Why Is Minimalist Wabi-Sabi Interior Design in Singapore So Popular?
Minimalist and Scandinavian interiors have always been popular in Singapore. The wabi-sabi interior style has a lot in common with them. With a focus on uncluttered, wooden-accents and natural elements, it's easy to spot an overlap between wabi-sabi interior design in Singapore and the other popular styles. Being an easy-to-incorporate design style, it's no surprise that Singaporean homes love to embrace it!
What Are the Main Elements/Concepts of Wabi-Sabi Style Interiors?
a. Imperfection
Wabi-sabi interior design is the conscious pursuit of beauty in the state of imperfection. Feel free to give your finished design a rough edge. That ornamental dish that broke and needed to be repaired with glue? Give it a place of honour in your home design.
b. Uneven Aesthetic
The philosophy of wabi-sabi interior style encourages us to accept the flaws in everything around us. As a result, the wabi-sabi aesthetic favours uneven and imperfectly finished products.
c. World View
Wabi-sabi embraces the perspective that everything in the world is flawed and transient, and that is the ideal way to see the world.
d. Greenery
Consider keeping plants in your home. Either keep plants on your windowsill or put tiny houseplants like a ficus, or a hoya to your balcony. Indoor trees and plants enhance the overall aesthetic and create an inviting atmosphere in your home.
e. Keep It Simple
The key to wabi-sabi interior design is simplicity and try to include a piece of nature into the area. Wabi-sabi interiors promote simple designs with a focus on the practical elements. Build the space around the furniture, leaving lots of empty space. In addition to houseplants that can infuse the area with a touch of freshness, decorative bowls and trays are always a good choice.
Also Read: Borrow Practical Design Ideas From These 5 Best Livspace Living Rooms
10 Simple Ways to Introduce the Wabi-Sabi Style at Home
#1: Stay as Natural as Possible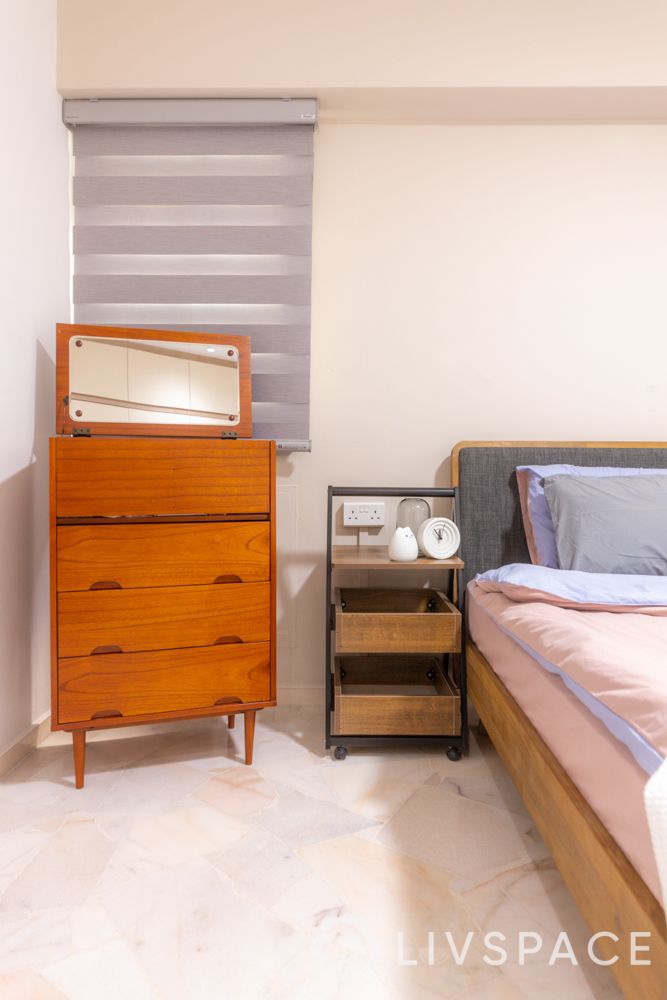 Durability is what the wabi-sabi style teaches us. Opt for lasting materials like wood, leather, wool and clay to embrace nature in all its goodness. If you've inherited an old piece of furniture with slight wear and tear, give it a prominent space in any room. The weathered look is sufficient proof that it passed the test of time — a core principle of wabi-sabi interior design.
#2: Declutter to Get the Wabi-Sabi Style Right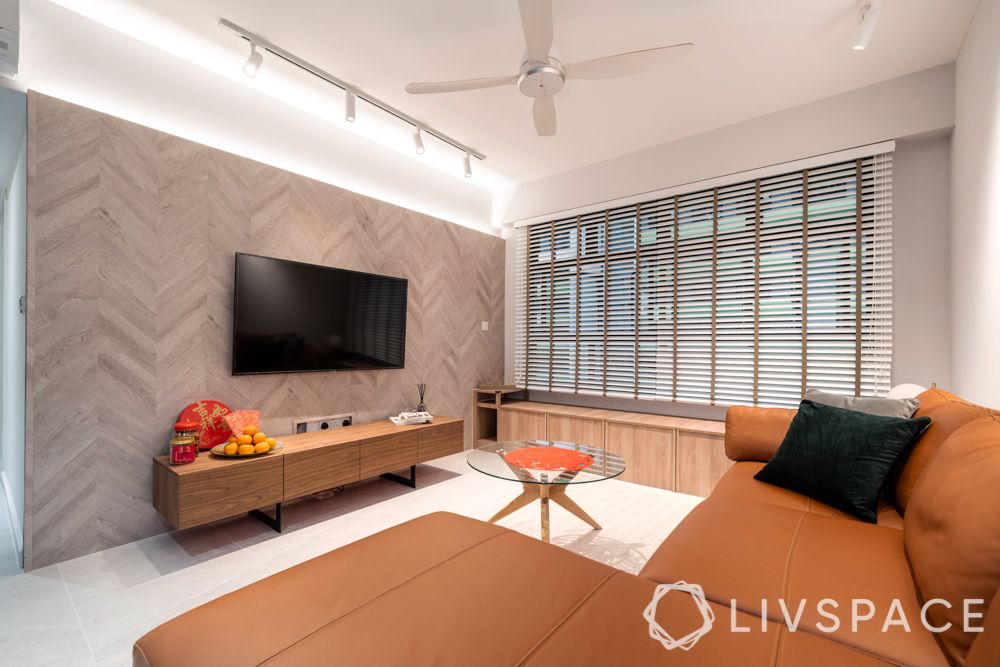 It's not about what we can afford but what we need. Minimalism and functionality is the key in wabi-sabi interior design. An open space doesn't just let you move around, but also doesn't obstruct light, air or your thought process.
#3: Wabi-Sabi Design is Big on Functionality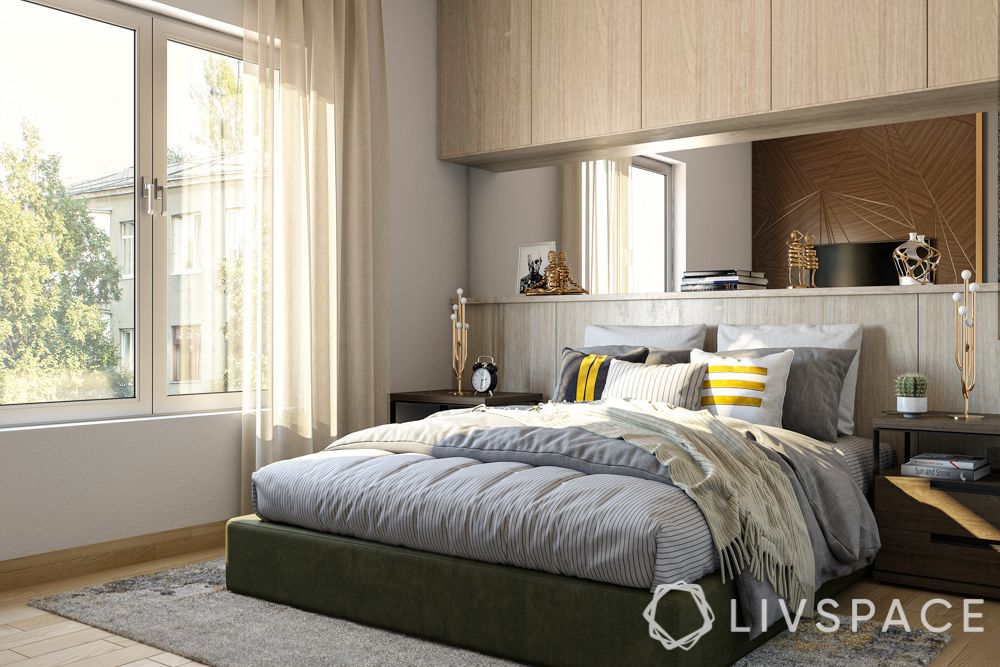 Many find it difficult to balance minimalism and elegant decor. Why not merge the two by adding decor that is useful? Invest in beautiful utilitarian objects so that your home is not filled with things that just occupy space, but also serve a purpose. Wabi-sabi interior design is all about prioritising functionality over everything else.
#4: Go Green or Go Home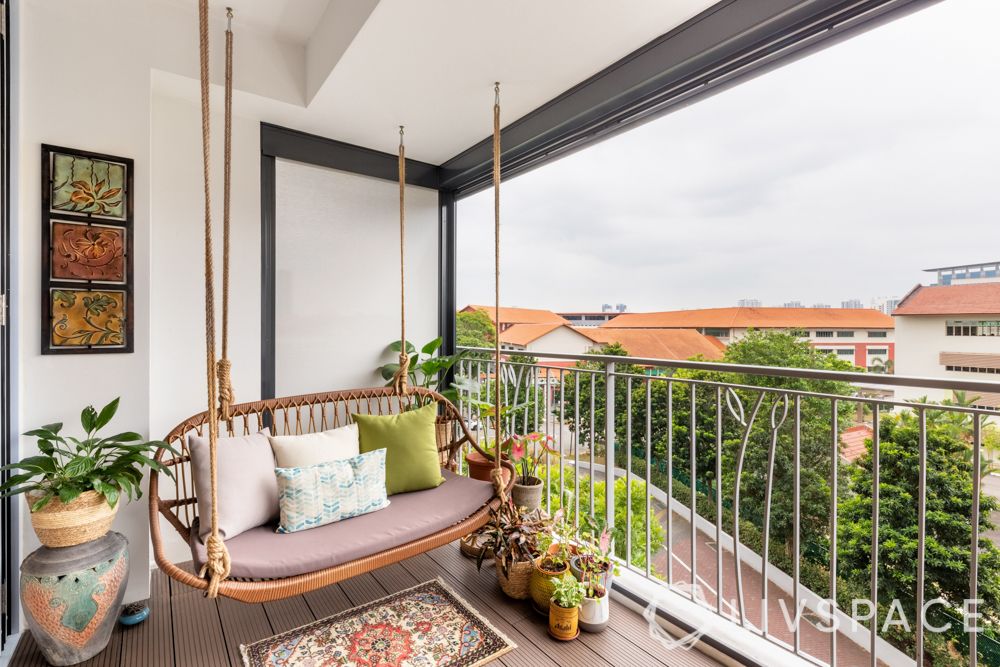 Let your home break you away from the tiresome social life and cocoon you in a relaxing ambience. Bring in planters and flowers that instil a sense of tranquillity within you.
#5: Open Up the Space to Light and Air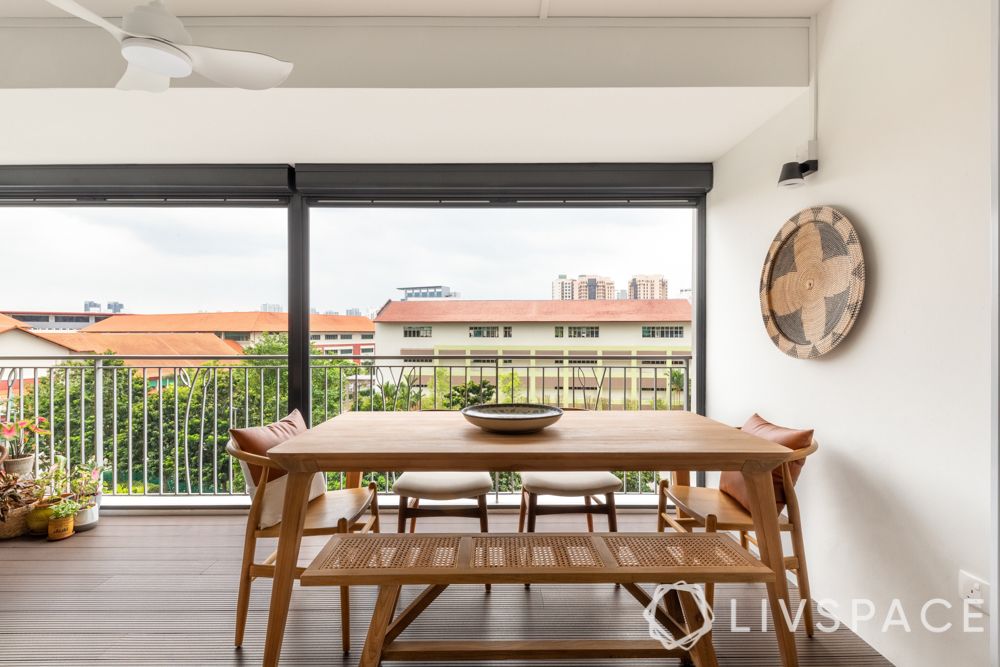 We know how air and sunlight in a room can transform the way it looks and feels. A wabi-sabi style house stresses on filtered light — to avoid harsh rays and yet flood the room with a sense of warmth. Sheer curtains, mirrors and glossy surfaces work well for this purpose.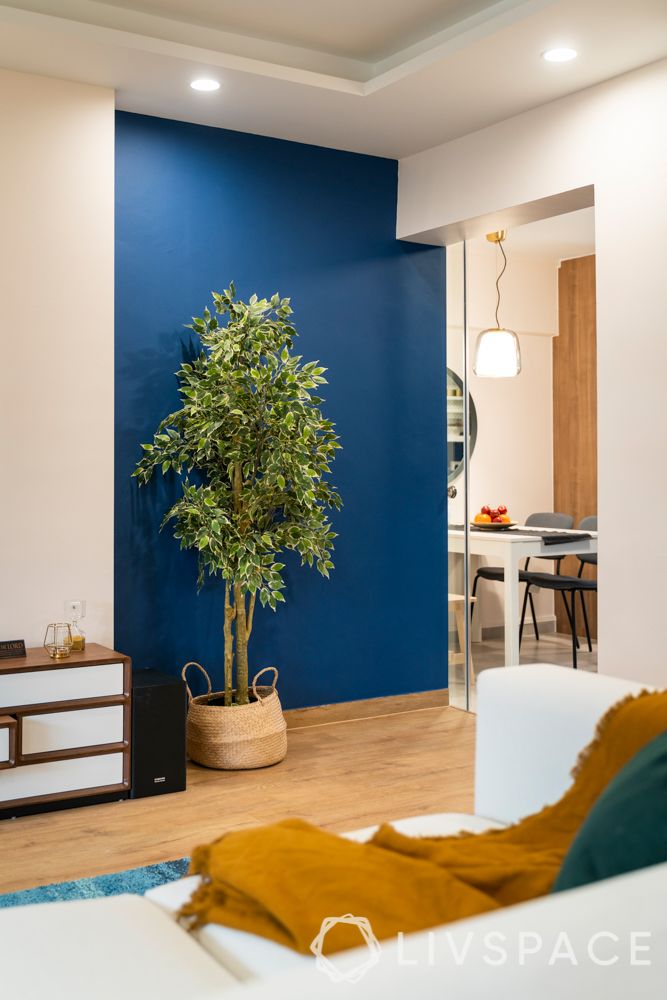 Let in fresh air and add some fragrance to boost your spirits. There is nothing more comforting than walking into a home that triggers a nostalgic memory. Bring in flowers, incense or even simmering water with essential oils to bring spring home. Try to get natural scents rather than something worked up in labs.
#6: Add Personal Touches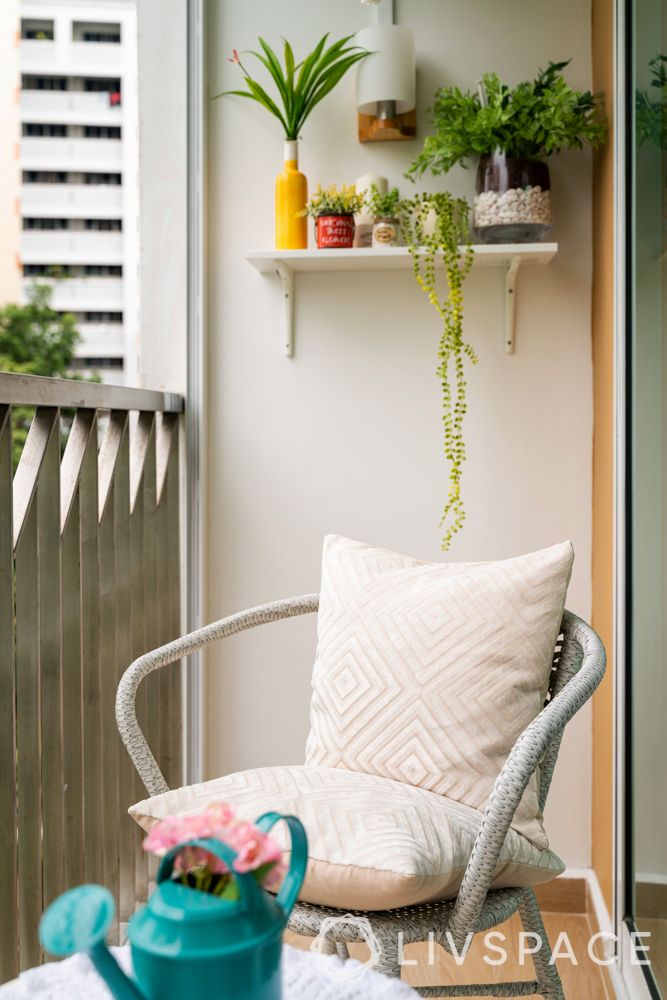 Inspire a sense of serenity with nature. Wabi-sabi manifests in heavier tones, like greys, blues and greens that reflect nature and pastel shades like cream, sand, for a muted look from the desert and the beach. Add planters, reclaimed furniture or handmade art to personalise your space.
#7: Keep Things Cozy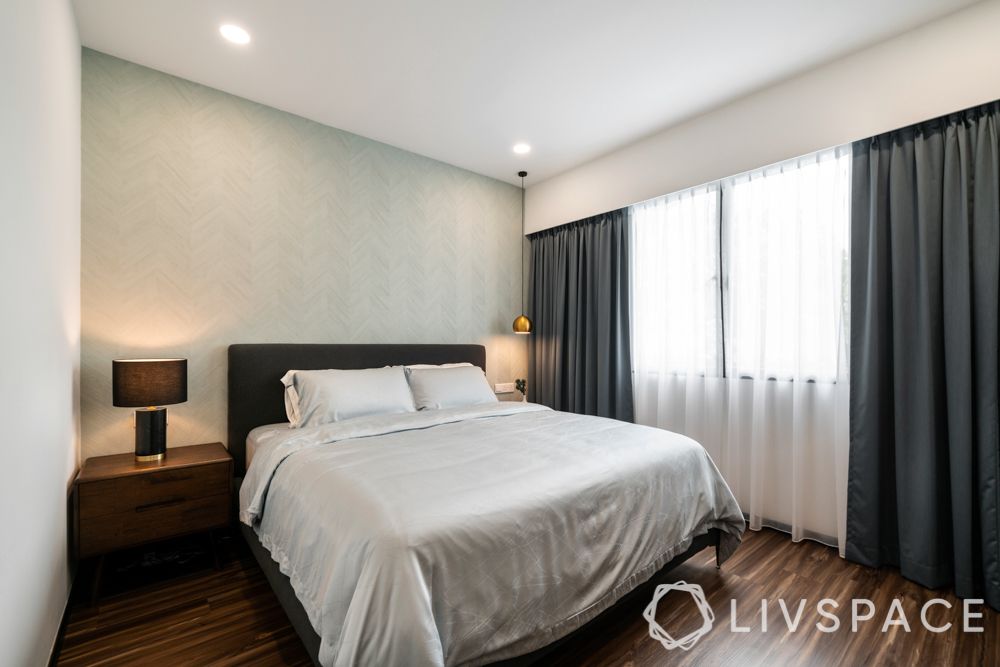 Minimalist wabi-sabi interior design focuses on giving you a chance to loosen up at home rather than just please the onlookers' eye. After all, it is all about who resides in it.
#8: Stimulate Your Senses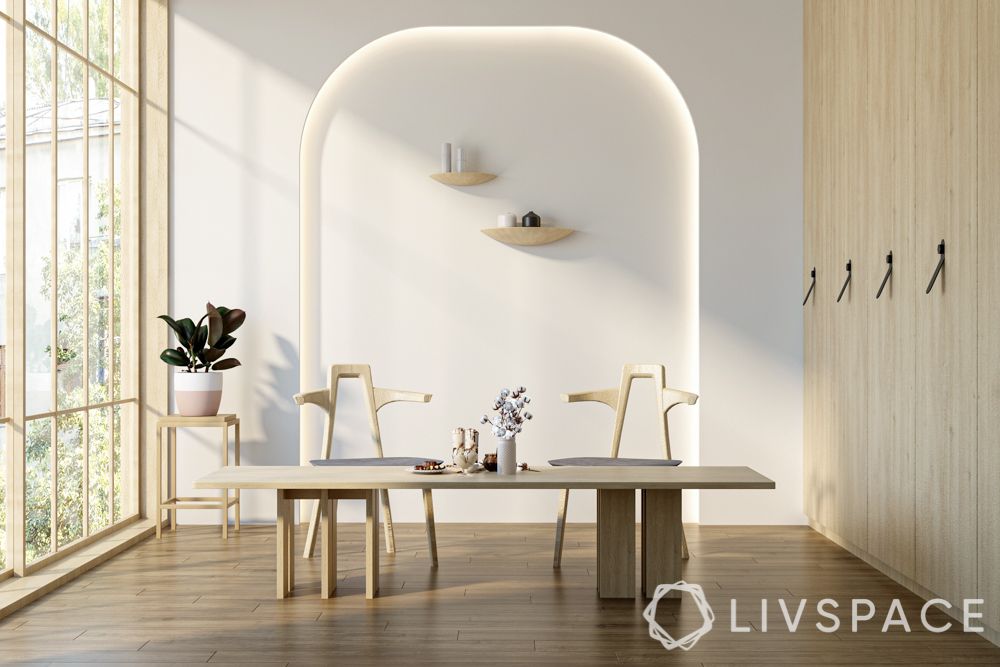 Present to your guests only what swells you with pride rather than a boring collection of trinkets. Add something with nostalgic value to keep you connected and grounded. Let the space open to allow the natural light and air to stimulate your senses.
#9: Earthy Colour Scheme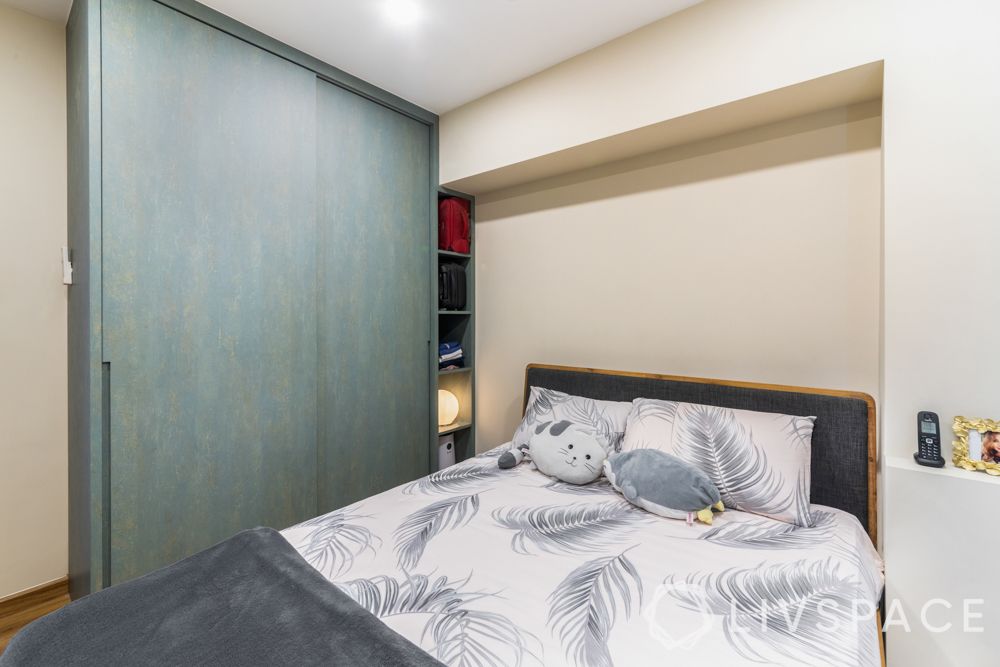 Wabi-sabi interior style are all about making you feel close to nature. So, earthy tones or pastels are always a good choice for your wardrobes and walls. Just look at the colours in this room, the shades of green and beige are perfect examples of colour scheme supporting wabi-sabi.
#10: Use Broken or Raw Items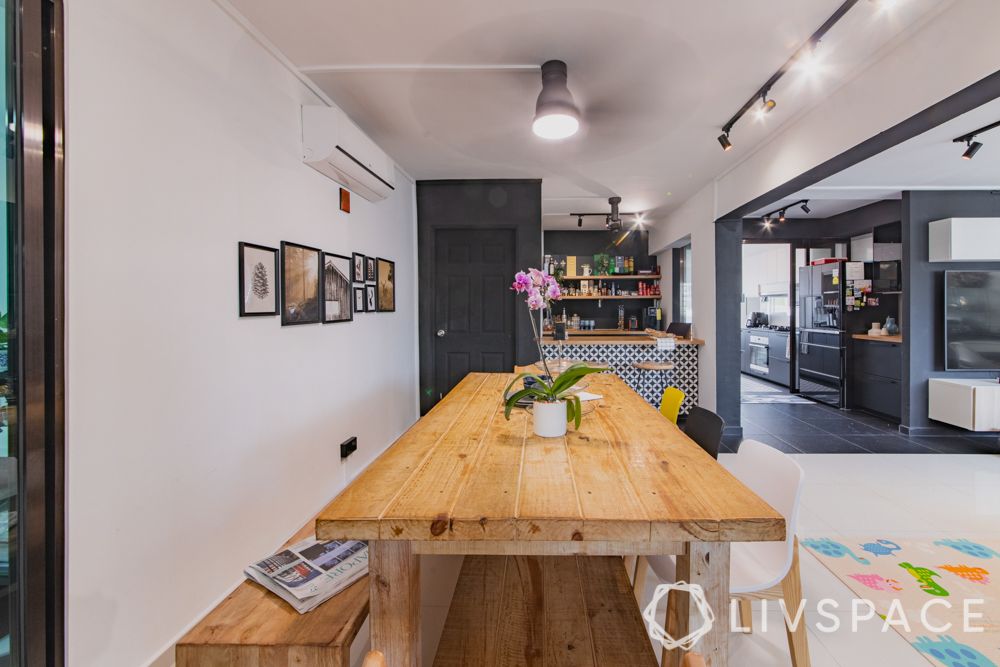 Pared back flooring, raw concrete walls, unpolished wooden surfaces — although surprising the outsiders — all revere authenticity. Wabi-sabi design enthusiasts believe that finishes cover up the originality of the material.
Also Read: How To Get the Right Contemporary Interior Design for Your Home?
Here's What You Can Expect the Wabi-Sabi Style to Look Like at Home: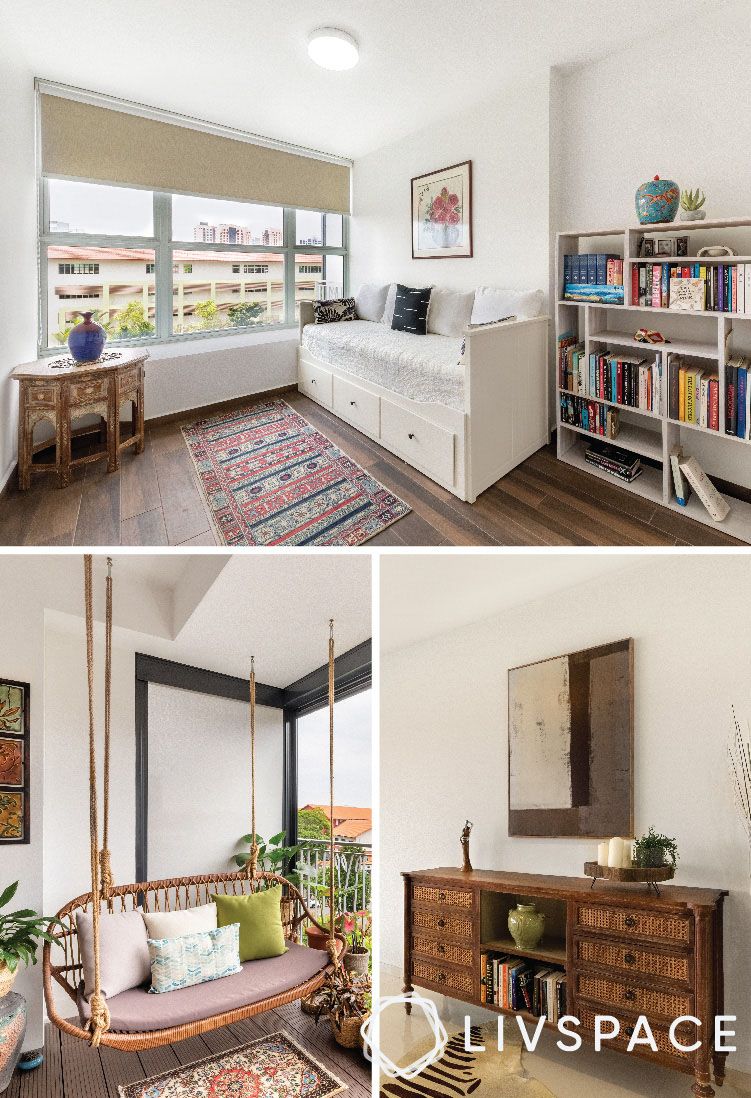 Since wabi-sabi interior design is big on embracing nostalgic artefacts in design, go for antique furniture to recreate it. This stunning home in Bishan does just that with its calming vacay vibes and ultra cosy interiors. Use materials like rattan, cane, and wood to add to the natural element of wabi-sabi design.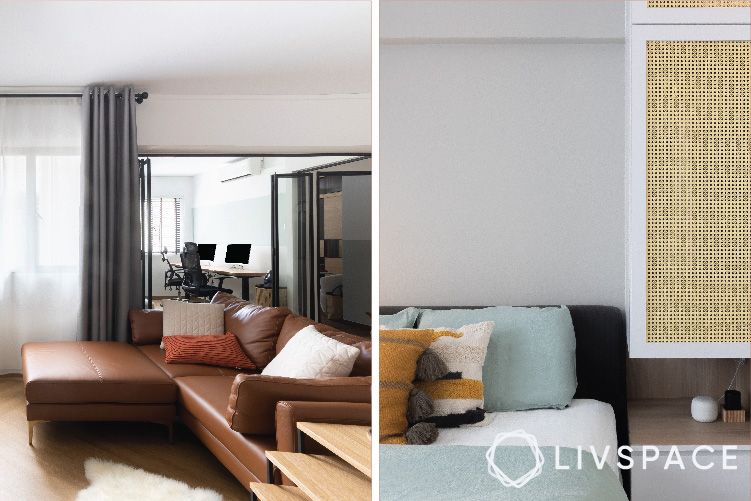 Besides using natural materials, you can also play with leather and warm shades of brown to create a welcoming ambience. This Jalan Membina home does just that by creating visual intrigue in each room. The play on various textures from the leather sofa to the rattan wardrobes helps create continuity in its wabi-sabi interior design.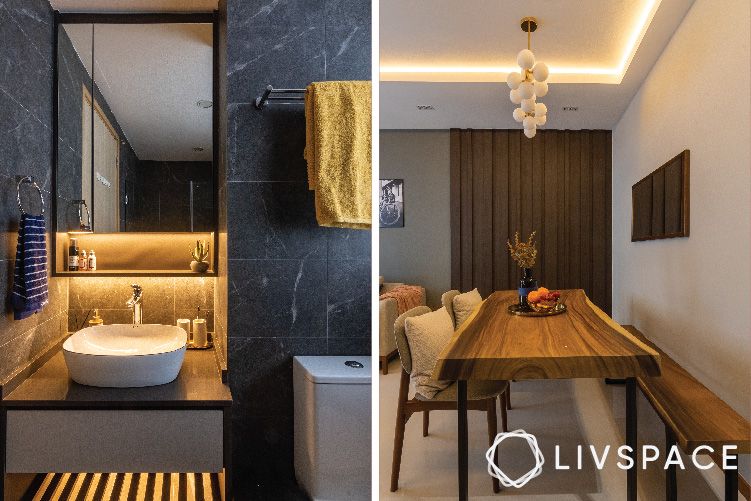 When we consider the use of natural materials, you might think it's only limited to wood. However, you can also ace your wabi-sabi interior design with cool stone tiles too. This Woodlands condo draws a parallel between the various types of natural materials you can use in wabi-sabi design. Cool black stone tiles in the bathroom offer a subtle contrast to the wooden wabi-sabi dining room of this condo.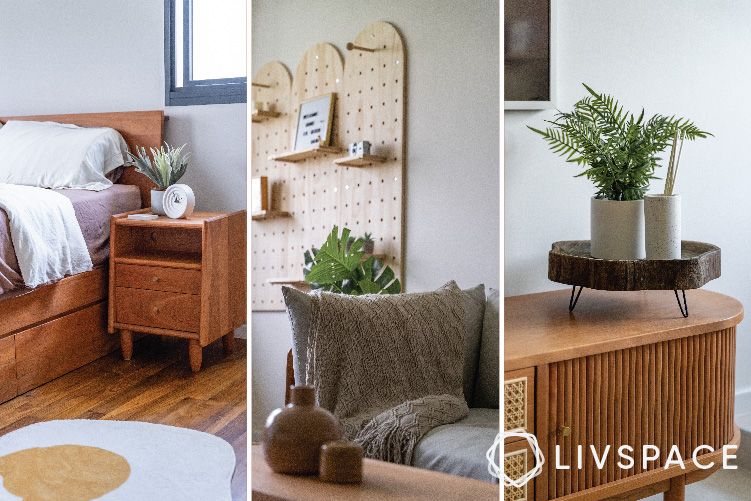 If you're stuck between bohemian styles and minimalist wabi-sabi interior design, you don't necessarily have to compromise. Luckily, there are a few commonalities in design you can take advantage of. Much like this home, you too can opt for wooden accents, earthy palettes, and as many natural decor items as possible.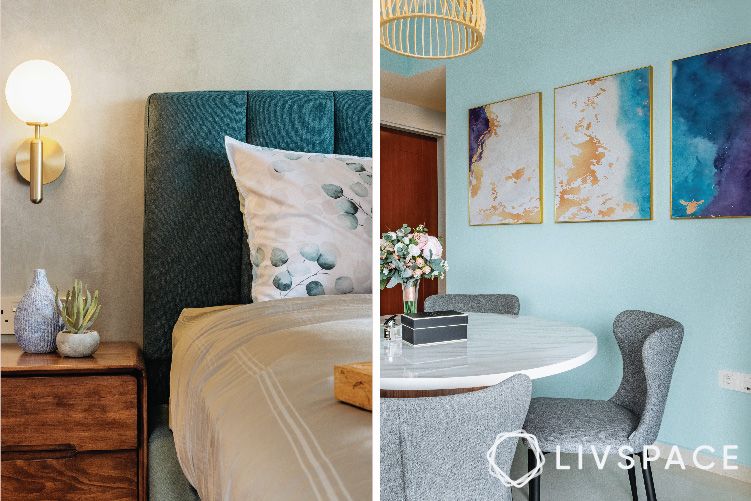 Compared to the other homes that use wabi-sabi interior design, you might have noticed the different take on colour palettes in this condo. While most wabi-sabi style homes try to incorporate earthy palettes, you don't entirely have to miss out an accent colour either. You can use calming shades of blue to soften and complement natural shades like brown.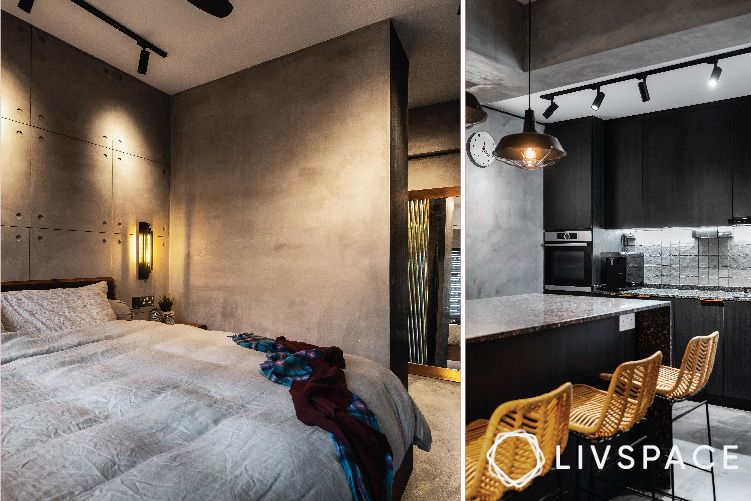 Theoretically, wabi-sabi interior design and the industrial style can seem like they're poles apart. However, when you compare them visually, it's clear to see some common threads in design. Themes like cement walls or flooring, the use of stone and natural materials, and wooden accents are often found across both styles.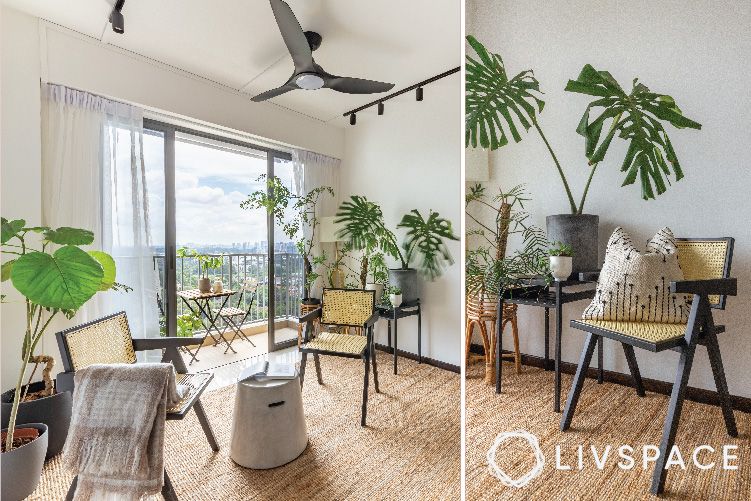 Nothing adds a vibrant contrast to all-white interiors like some fresh plants! What's more, adding greenery to your space is another principle of wabi-sabi interior design that borrows from the use of natural elements.
Similarly, notice the use of repurposed items in this living room such as the upturned bucket as a table. Such furniture elements help tell a story, which is exactly what wabi-sabi interior design attempts to do.
How Can Livspace Help you?
We hope you found our ideas useful! If you want your home to be just as beautiful, then look no further. Book an online consultation with Livspace today. Have some comments or suggestions you'd like to share with us? We're all ears! Feel free to write to us at editor.sg@livspace.com.
FAQs
1. What Is Wabi-Sabi Interior Design?
Wabi-sabi in interior design implies to choosing something natural and raw (for an authentic connection to nature and earth) over something manufactured in bulk.
2. How Can I Make My Home Wabi-Sabi?
Go for muted and earthy tones, choose raw furniture, imperfect pieces for decor and add crumpled linens to add to the look.
3. What Are Examples of Wabi-Sabi?
Some examples of wabi-sabi style interiors include an asymmetric ceramic bowl, broken bowls repaired by glue or a rustic patina over cement wall.
4. What Is the Role of Wabi-Sabi in a Design Project?
The philosophy of wabi-sabi views both life and design as 'imperfect, transient, and unfinished. values simplicity and the beauty of things in their most unprocessed and natural state. It has a distinctive look and a cosy feeling.