A dining room is the only room at home that can be used for formal get-together as well entertainment. We know that Singaporeans do not consider dining spaces as an essential part of the home. But you can still take a cue from these for your dining room design in Singapore. The dining table and chairs are the hero in most of these designs and that's why you should consider these HDB dining room design ideas for your home. With the dining area in place, your home is going to be ready for parties and family gatherings alike.
HDB Dining Room Design #1: The Sleek Space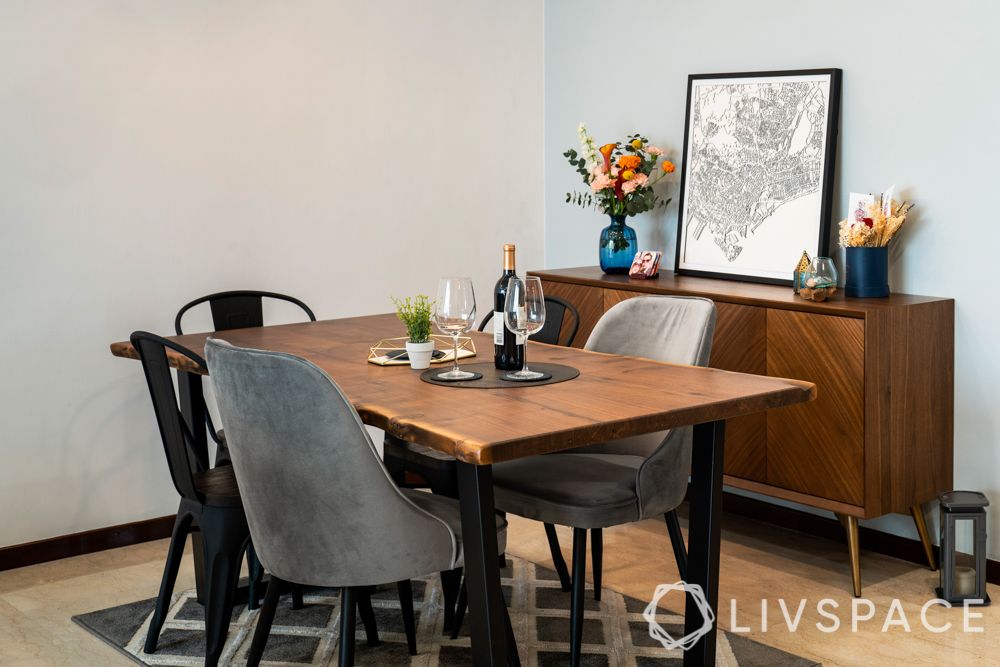 The anchor feature of this HDB dining area design is the handless and sleek chairs that complement the straight-lined dining table perfectly. There is enough room in this dining space for meals and catch-ups with your mates. A crockery unit on the side makes sure that all the crockery is stowed out of sight. All you need now are friends, family, food and conversation to get going.
Perfect for: Sneaking in a dining space for two in a compact home.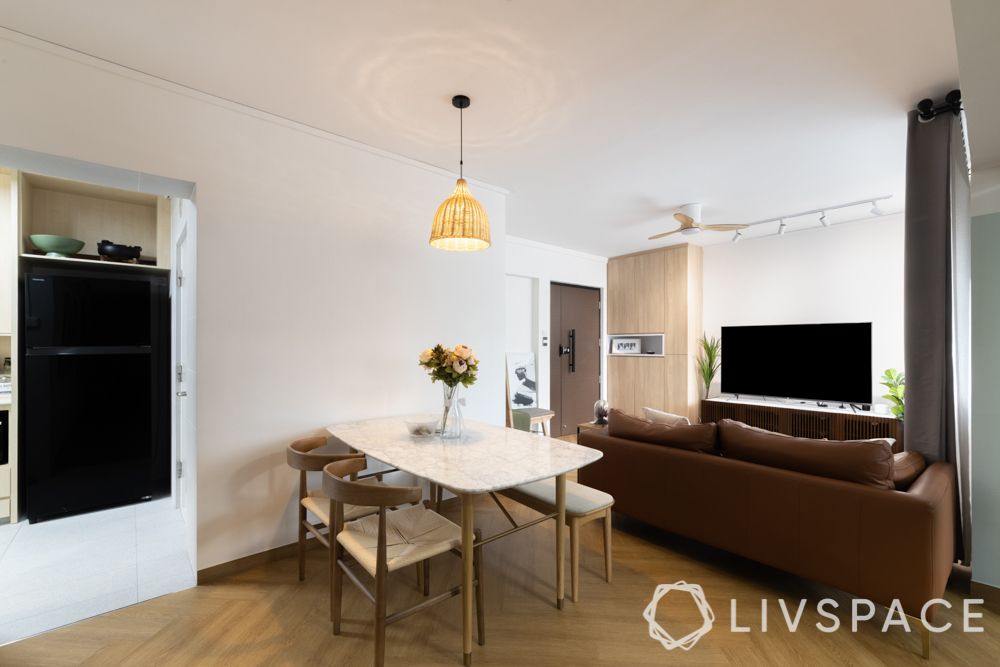 This layout combines the living and dining spaces with ease. The false ceiling with classic black drop lights visually demarcate this HDB dining area design from the living room. The wooden table coupled with a bench and chairs make for the perfect dining set. A very country-style look, this is ideal for families who love eating and chilling together.
Perfect for: Someone with a large, open floor plan who wants to create a cohesive space for living, dining and evening entertaining.
HDB Dining Room Design #3: The Space-Saver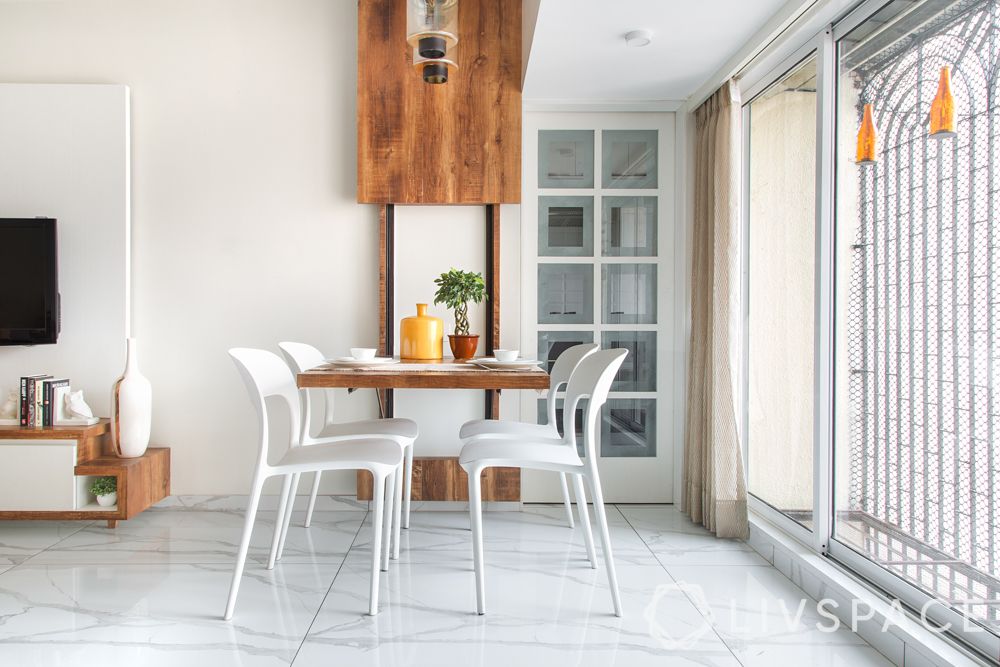 A Singapore essential, this space-saving design incorporates a foldable wooden dining table. So you don't have to worry about blocked space any more. Whenever you feel the need to use the dining area, just unfold the table and place chairs around it. We love the Scandinavian dining room vibe of this home and this area makes it every bit minimalist as well. So you have enough floor space when you're not using this small HDB dining area design.
Perfect for: Homeowners with compact homes or kids who would need floor space to play around the house.
Dining Area Design #4: Warm hues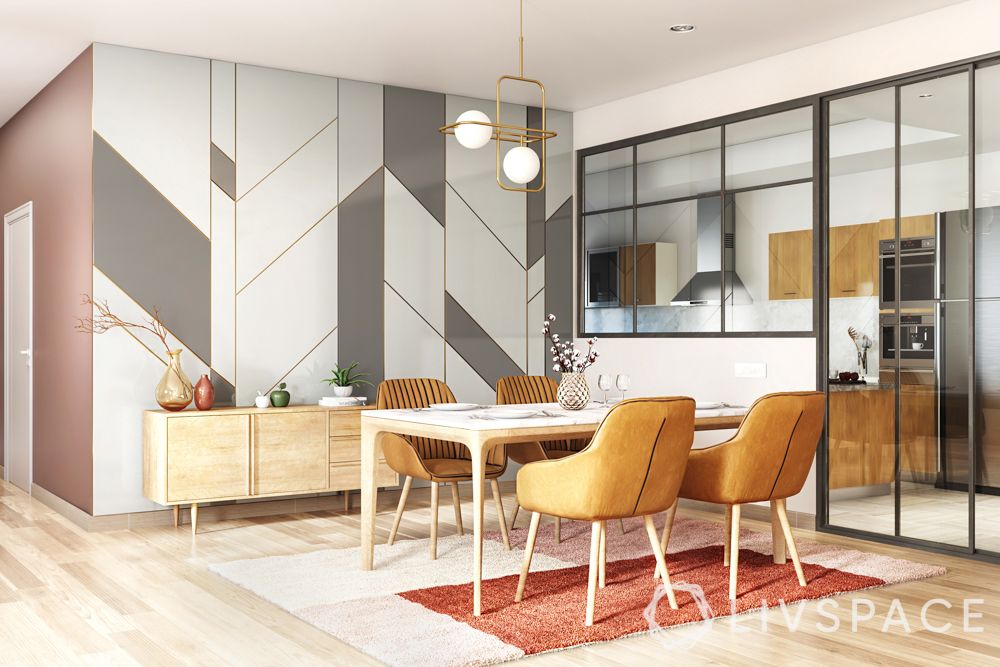 Does your HDB or condo enjoy a great view and ample sunlight? Then this HDB dining room design is made for you. Maximise on sunlight by placing mirror panels on the wall in your dining area design. To complement the warmth, opt for light tan dining chairs and a simple dining table like this one. Complete the look with a rug and abstract wall treatment on the other wall. You will love the compliments you receive for this.
Perfect for: Someone wanting an approachable yet refined space for entertaining.
HDB Dining Area Design #5: An Edgy Space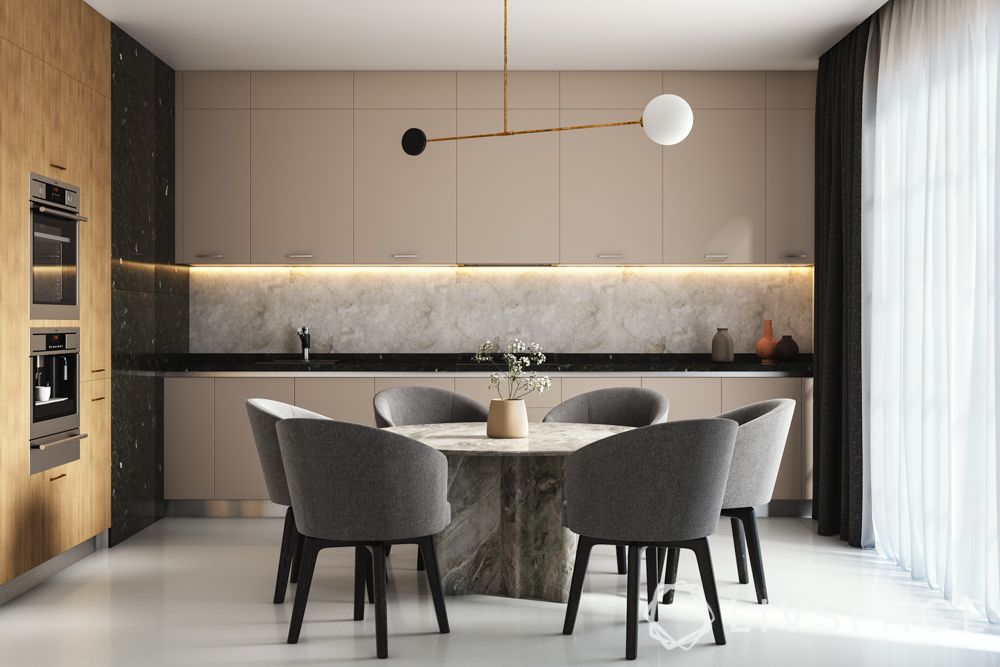 A Singapore staple, the combined kitchen and dining area is a practical choice for most HDBs and condos. But make it count by opting for a dining table cut out of stone and give it an edge by playing around with the shape. A round table is a great choice to make the space look stylish. Another feature to add to your dining area is lighting and the bubble lamps used here are so unique.
Perfect for: Family dinners or even casual get-togethers.
Check this out for more ideas: How to Make Your Dining Table Work in a Small Home.
HDB Dining Room Design #6: The Opulent Zone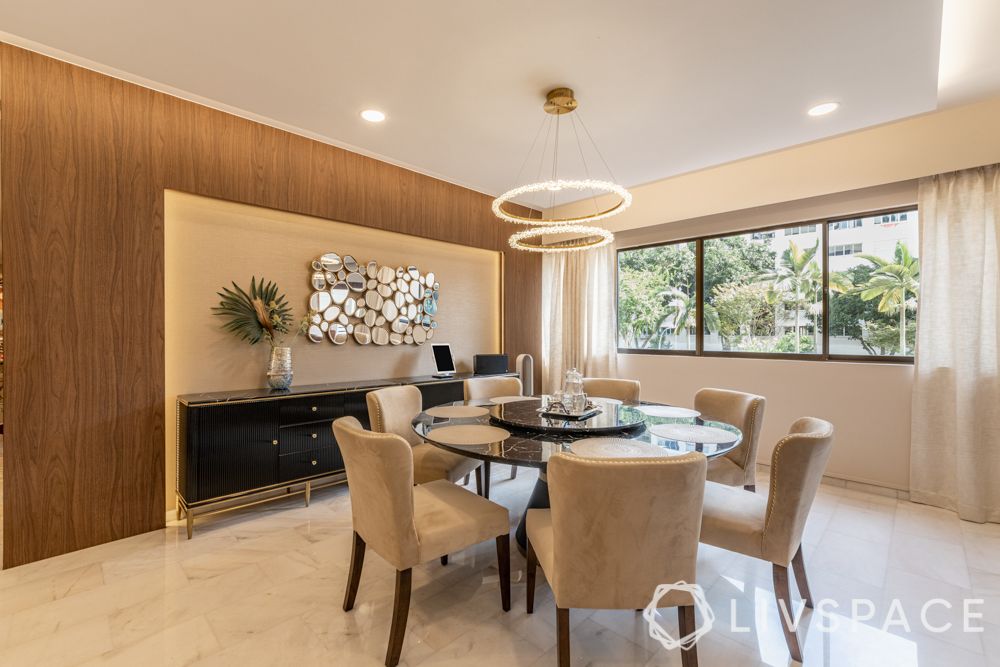 This HDB dining room design sports a round dining set with plush upholstered chairs around it. To keep up with the theme and to add that striking element, we have given it a very sleek chandelier that speaks of modern interior design. To further accentuate the look, we have added a statement mirror on the crockery unit wall that is surrounded by laminate panelling around it.
Perfect for: Lovers of a luxurious lifestyle and anyone who likes indulging in exquisite materials and finishes.
HDB Dining Area Design #7: Ideal For Two
The dining area here has one unique feature that is totally standing out. Yes, the homogeneous floor tiles are something that we totally love and it demarcates this area to make it look interesting. The versatile seating options in this area add an element of quirk as well as makes space for one more person.
Perfect for: People who love contemporary style of design. A single design highlight like the floor tiles can change the entire look of the space.
Dining Area Design #8: Bringing in Some Wooden Warmth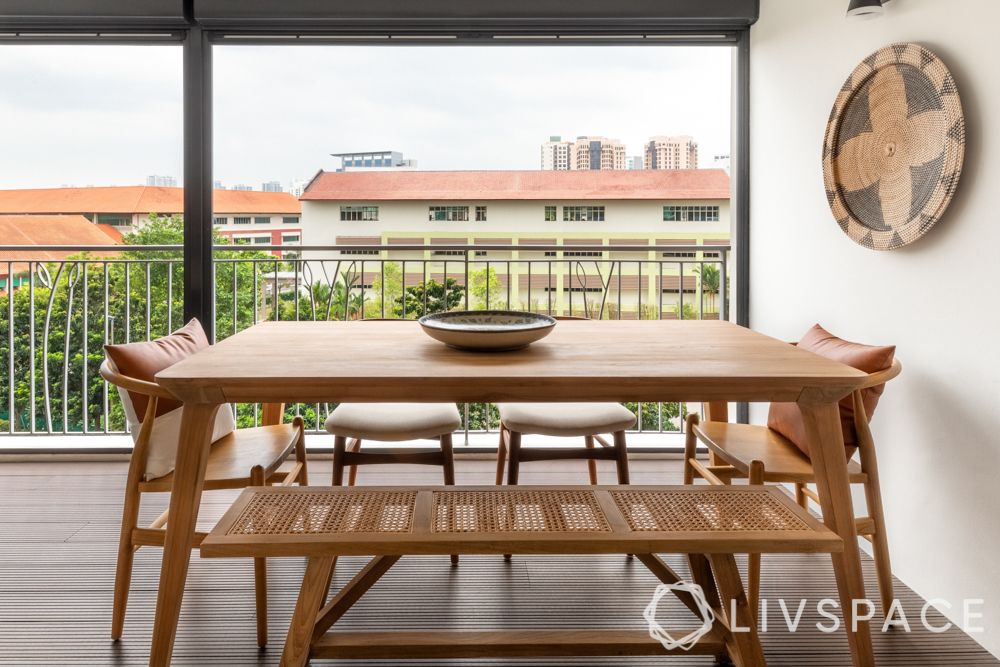 This one's a perfect dining space for anyone who loves feeling the breeze while enjoying their meals. We love the wood on wood design here and the simplicity of the dining set. It has a warm wooden dining table set with a bench that can accommodate extra people when they come over.
Perfect for: Anyone who enjoys being in the outdoors. A dining area set in the balcony is a unique concept and it will receive so many compliments.
HDB Dining Area Design #9: Set in a Niche
There are so many details to take note of in this dining area and we are awestruck! Be it the wood grain laminate on the walls or the banquet-style seating arrangement, everything here is a design marvel. Do not miss out the lovely niche display area and the dreamy white chandeliers that make this space stand out.
Perfect for: Those with a love for striking details and who would not settle for a regular design. Your guests are going to love this look!
How to Deal with a Compact Dining Space?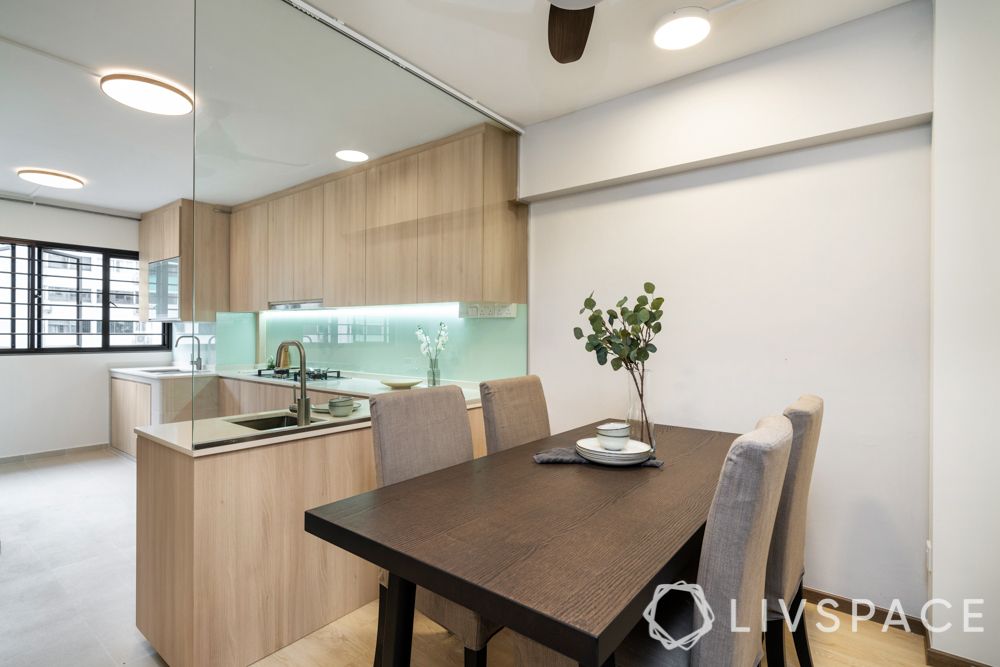 Here are some ways in which you can make your compact dining room look and feel larger:
Stick to a minimal dining table and simple chairs
Keep the walls neutral
Use appropriate lighting to illuminate the area
Find a corner to place your dining table
Utilise the space outside your kitchen
Are you ready to get that striking dining room in your home, too? If you're looking for more space-saving ideas, check this out: 10+ Space-saving Ideas for Compact Homes.
You can also check this out for dining table decor ideas:
Send in your comments & suggestions to editor.sg@livspace.com.