Don't know what to do with that big blank wall at home? No matter what your budget and style preferences are, any wall can be turned into a showstopper. With the right design, you can transform a boring wall into a feature wall, also known as an accent wall. You can experiment with materials, textures, colours and patterns to create a moody feature wall. A little DIY project is also possible if the right side of your brain is feeling active. We have curated six stunning accent wall designs for every room that you must try if you're bored of looking at plain walls.
#1: Get reflective with a mirrored feature wall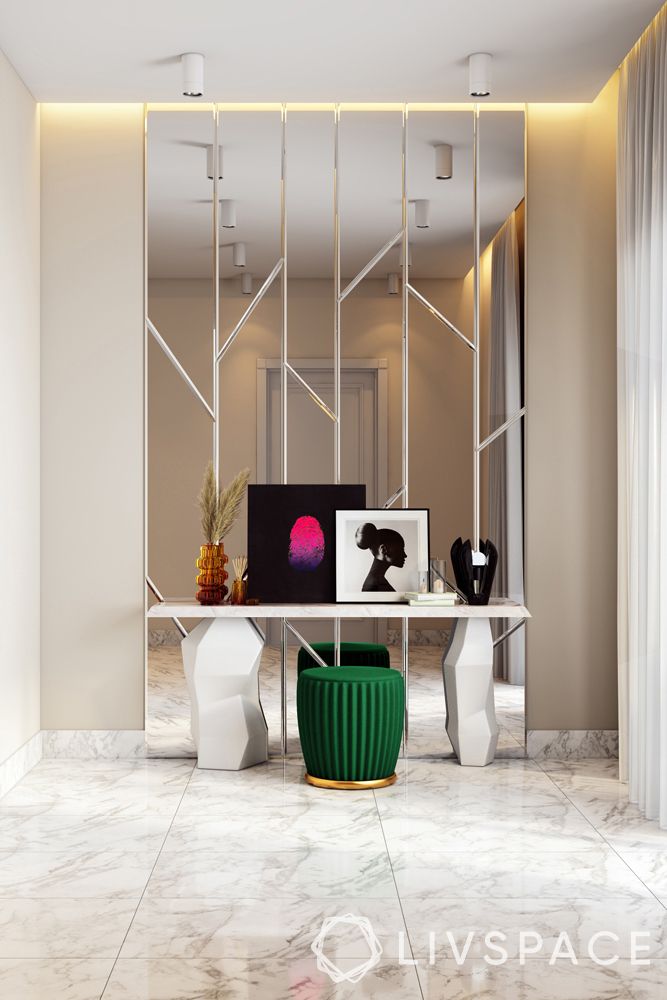 Mirrors have certain characteristics like the ability to make a space appear larger and add a luxurious touch to your interiors. Therefore, if you're looking for ways to create a design highlight at home, then try adding a mirror panel to a wall. Here, we have added panels with grooves in the foyer that look so inviting and striking as soon as you enter the home. The trick to make this work is to add the right lighting such that it bounces off the mirror to illuminate the entire space brilliantly.
#2: Opt for the popular fluted wooden panel wall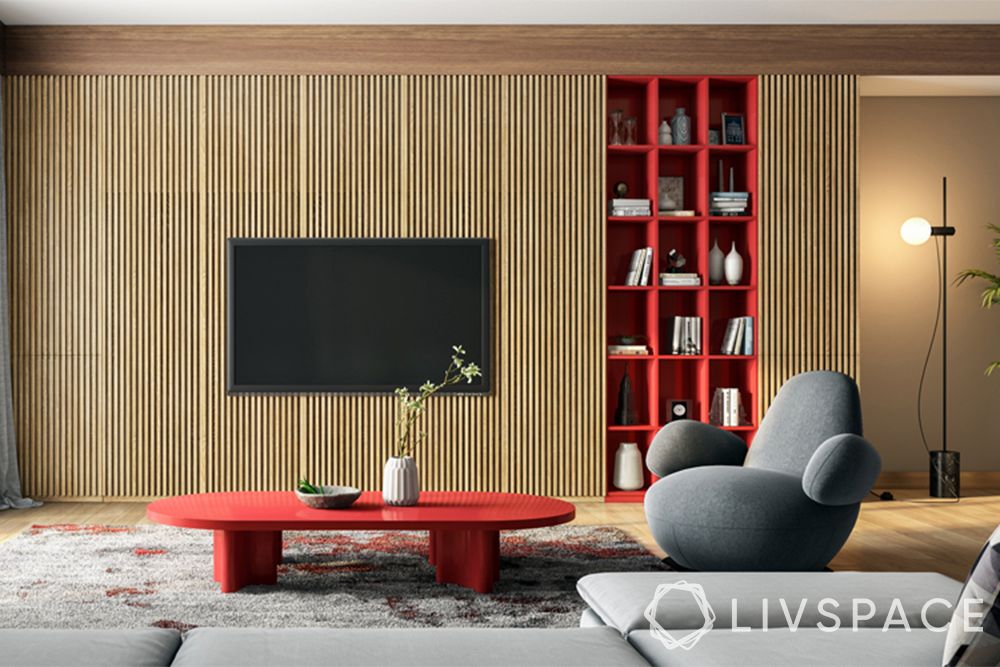 A popular concept amongst homeowners, wooden wall panels are quite the rage when it comes to dressing walls. Fluted panels are especially popular for TV unit walls when they're paired with the right furniture. It can also be used as a sliding door to conceal the TV unit and wires behind. To break away from the monotony of wood, you can consider adding a pop of colour in the form of display shelves. This is the perfect example of a classic modern design.
#3: A striking wallpaper can never let you down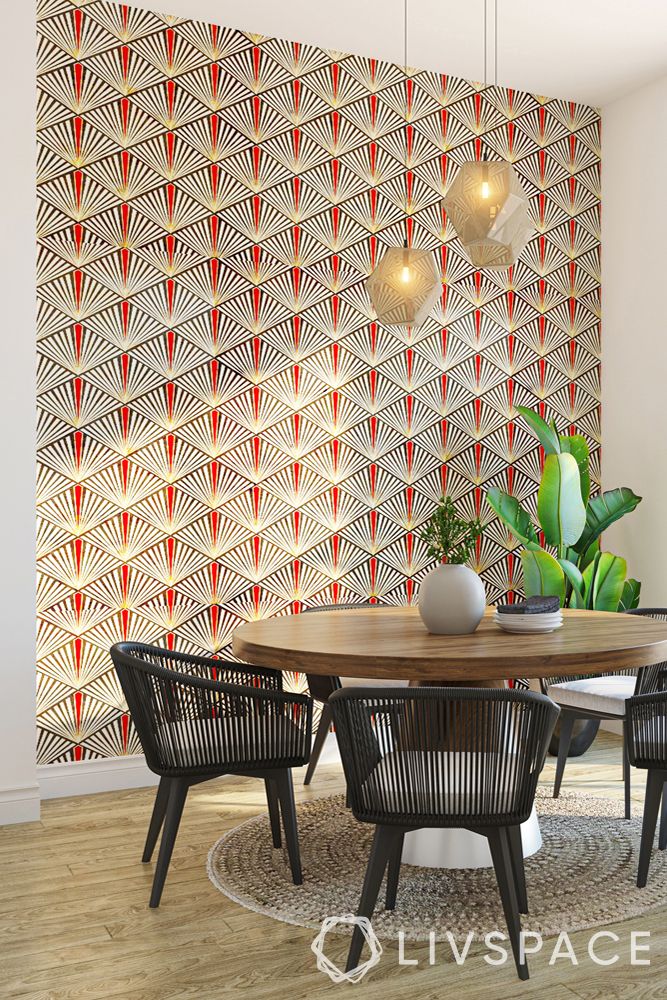 Probably the simplest way to jazz up any wall at home is to add a striking wallpaper to it. It is pocket-friendly, fun and very easy to install. You can explore a wide variety of patterns and colours when it comes to wallpapers, and here we have tried a geometric pattern with splashes of colour. It is always in trend and will make your room look stunning with ease. Make sure you keep the rest of the look simple with plain walls so that the focus stays on the feature wall.
#4: Bringing ombre trends into your home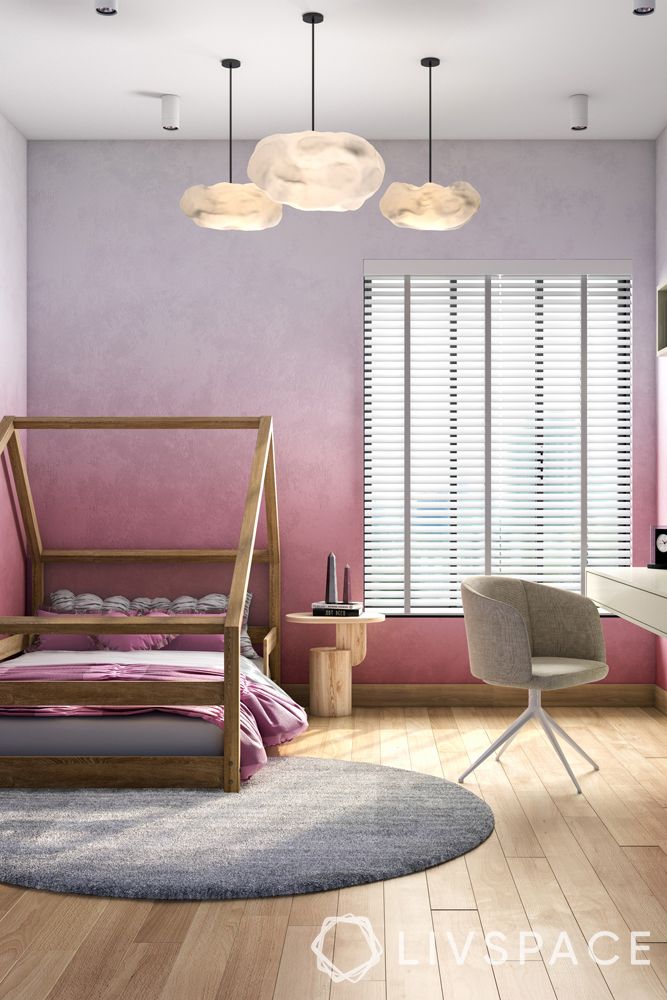 Ombre painting technique is a great idea for a feature wall. To achieve this look, you will need to have a lighter and darker shade of the same colour. Start with the darker colour first and paint in even strokes before you start blending in the lighter shade. While a professional will be able to help you with this, you can treat this as your DIY project as well. All you need is a painting kit with essential supplies like a paint roller, sponge and paint. You can either paint one wall or all the walls in a room, depending on what you like.
#5: Wall cladding is a stunning way to highlight a part of any wall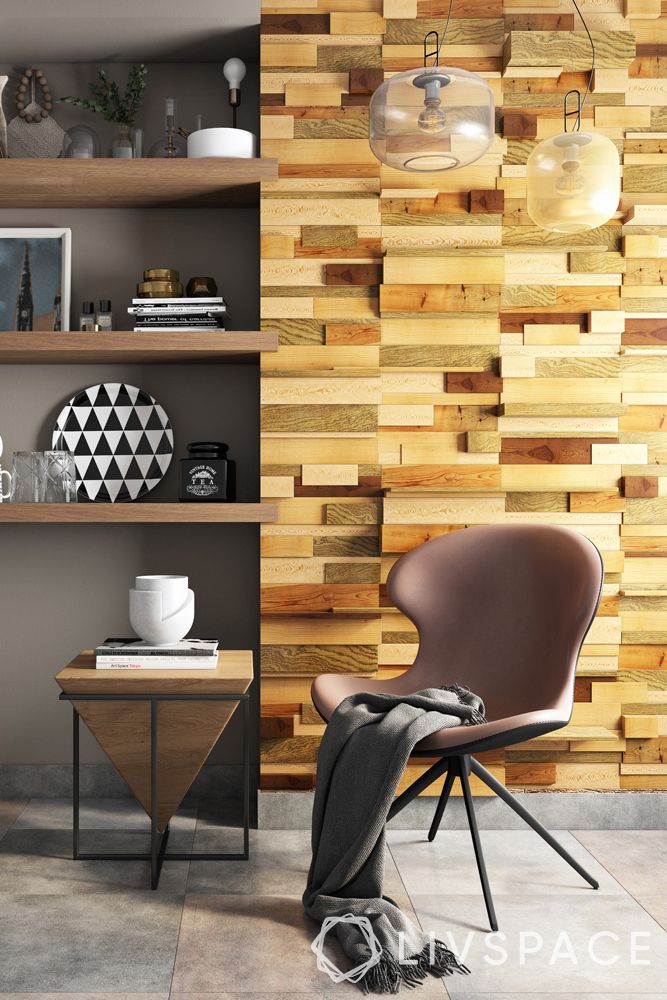 If you haven't heard of this before, wall cladding is the process of adding one material over another, so as to create a skin layer. Usually, you will spot stone cladded walls in countryside homes and they look amazing in an Industrial setup as well. Here we have featured a reading room with a wood cladded wall that provides a warm backdrop. Next to it, we have added wooden ledges that look like an extended part of the cladded feature wall.
#6: Try out the tongue and groove wall panelling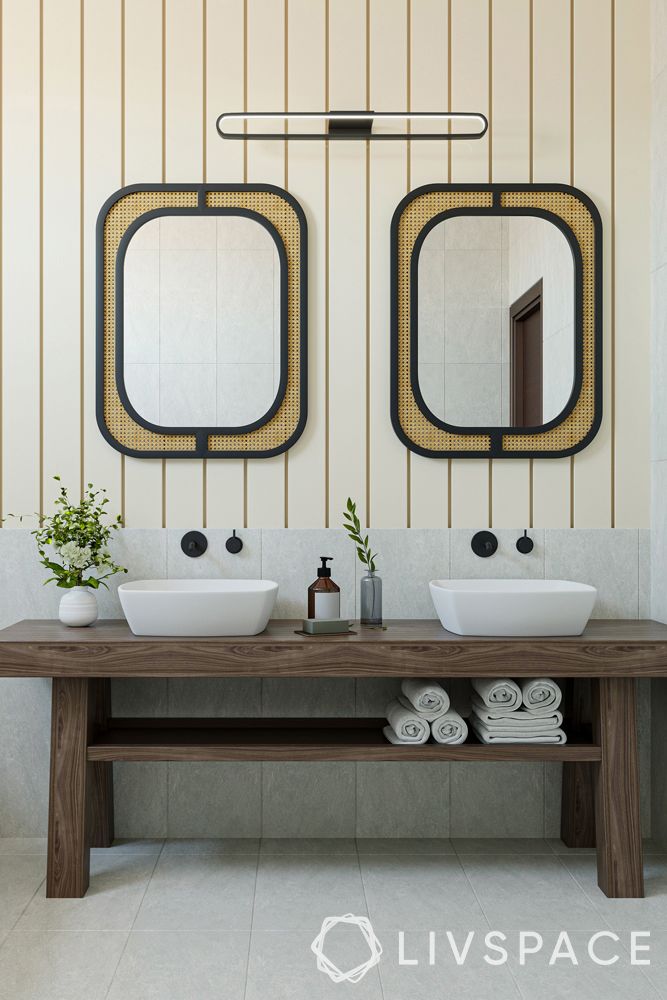 Tongue and groove panelling on the wall gives a lovely twist to any room, especially bathrooms. It looks stunning but also requires some maintenance. You need to add sufficient layers of water-resistant paint to these wood panels. This is because they need to withstand wet and humid conditions in the bathroom. But given all of these constraints, this feature wall idea is amazing for anyone looking to add a unique highlight at home.
We hope you're inspired to give your walls a makeover now. Here's How to Get Insta-worthy Walls Without Going Broke.
Send in your comments & suggestions to editor.sg@livspace.com.