Don't know what to do with that big blank wall in your HDB or condo? No matter what your budget and style preferences are, any wall can be turned into a showstopper. With the right design, you can transform a boring wall into an eye-catching feature wall, also known as an accent wall. You can experiment with materials, textures, colours and patterns to create this focal point in any room. Check out these 17 stunning feature wall designs that we've created, and see if there's something you might like!
What Is a Feature Wall?
A space can feel dull and boring if all the walls are one colour or pattern. You can alter the ambience and character of a room by focusing on one wall and giving it a distinctive, bolder texture or colour. This wall is your feature wall. Feature wall designs in Singapore use texture, colour, and contrast to energise and add interest to a space. A feature wall can influence the way a room appears and feels, enhancing your design aesthetic and making a visual statement.
Best Feature Wall Designs for Your Home
#1: Mirrored Feature Wall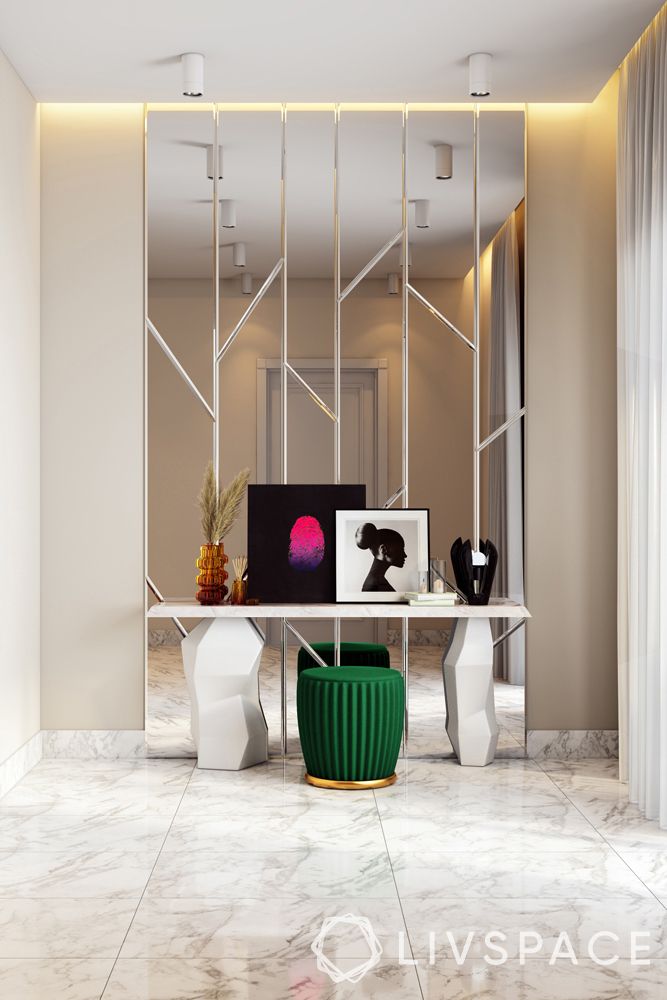 Mirrors have certain characteristics like the ability to make a space appear larger and add a luxurious touch to your interiors. So if you're looking for ways to create a design highlight at home, consider adding a mirror panel to a wall. Here, we have added panels with grooves in the foyer that look so inviting and striking as soon as you enter the home. The trick to make this work is to add the right lighting such that it bounces off the mirror to illuminate the entire space brilliantly.
#2: Fluted Panel TV Feature Wall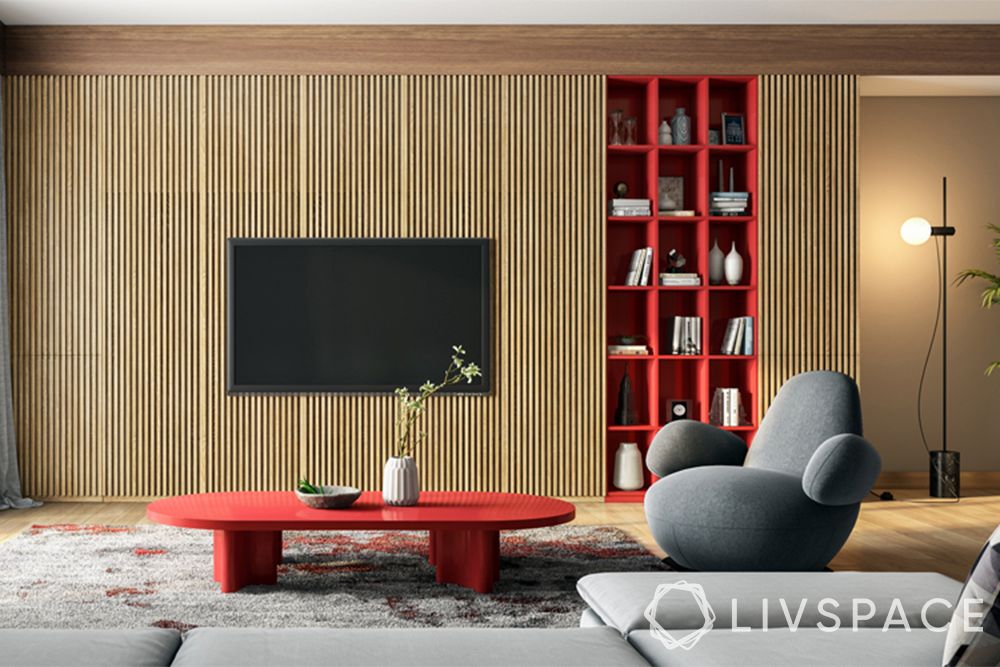 A popular concept amongst homeowners, wooden wall panels are quite the rage when it comes to dressing walls. A fluted panel feature wall is especially popular for TV unit walls when they're paired with the right furniture. It can also be used as a sliding door to conceal the TV unit and wires behind. To break away from the monotony of wood, you can consider adding a pop of colour in the form of display shelves. This is the perfect example of an on-trend design.
#3: Striking Wallpapers as Feature Wall Designs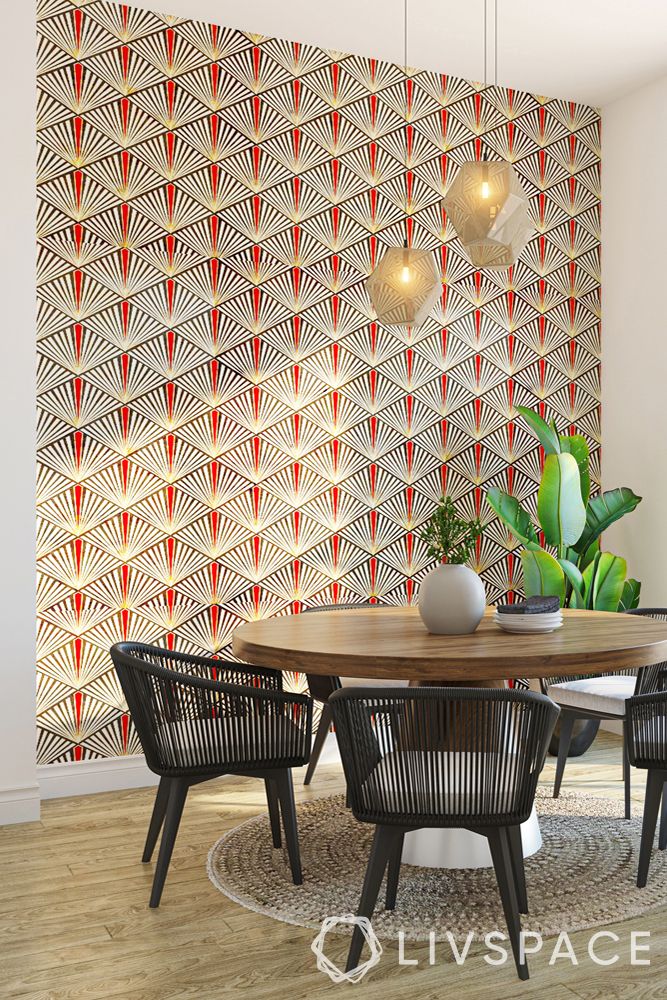 Probably the simplest way to jazz up any wall at home is to add a striking wallpaper to it. It is pocket-friendly, fun and can be easy to install. You can explore a wide variety of patterns and colours when it comes to wallpapers, and here we have tried a geometric pattern with splashes of colour. It is always in trend and will make your room look stunning with ease. Make sure you keep the rest of the look simple with plain walls so that the focus stays on the feature wall.
#4: Ombre Painted Feature Wall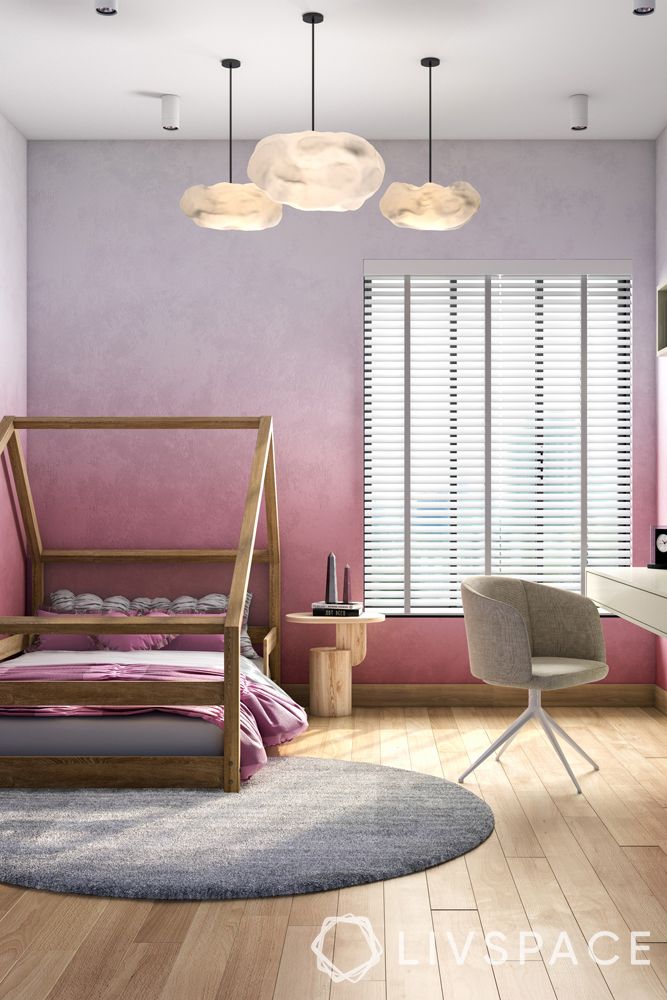 Ombre painting technique is a great idea for a feature wall. To achieve this look, you will need to have a lighter and darker shade of the same colour. Start with the darker colour first and paint in even strokes before you start blending in the lighter shade. While a Livspace professional will be able to help you with this, you can treat this as your DIY project as well. All you need is a painting kit with essential supplies like a paint roller, sponge and paint. You can either paint one wall or all the walls in a room, depending on what you like.
#5: Wall Cladding as Feature Wall Designs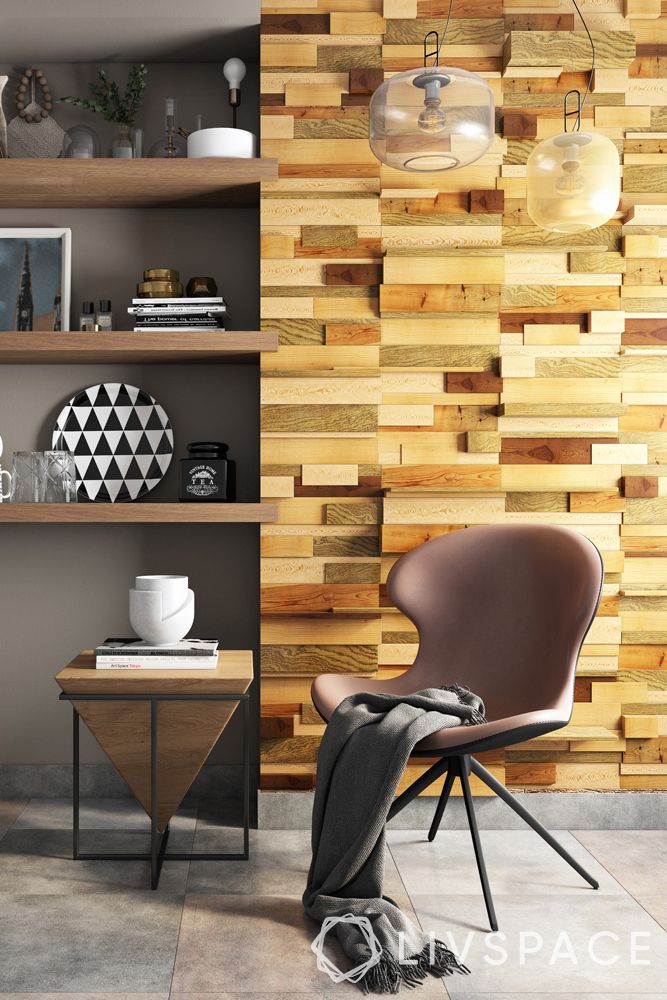 If you haven't heard of this before, wall cladding is the process of adding one material over another, so as to create a skin layer. Usually, you will spot stone cladded walls in countryside homes and they look amazing in an Industrial setup as well. Here we have featured a reading room with a wood cladded wall that provides a warm backdrop. Next to it, we have added wooden ledges that look like an extended part of the cladded feature wall.
#6: Tongue and Groove Wall Panelling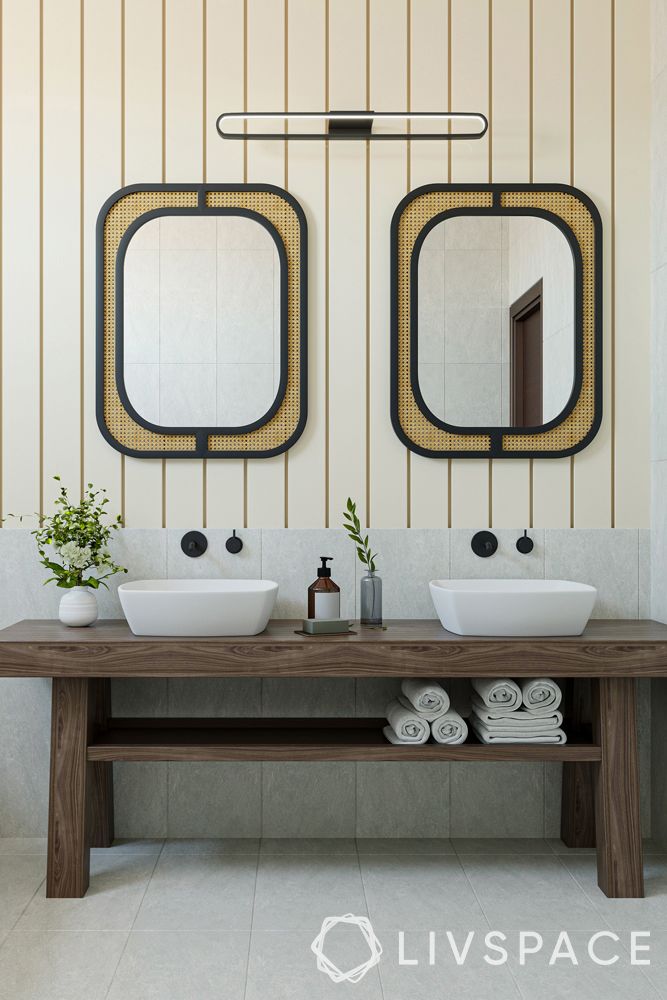 Tongue and groove panelling on the wall gives a lovely twist to any room, especially bathrooms. It looks stunning but also requires some maintenance. You need to add sufficient layers of water-resistant paint to this wood panel feature wall. This is because they need to withstand wet and humid conditions in the bathroom. But given all of these constraints, this feature
Also read: 15 Positively Stunning TV Wall Designs for Your Home
#7: Brick Feature Wall Design Ideas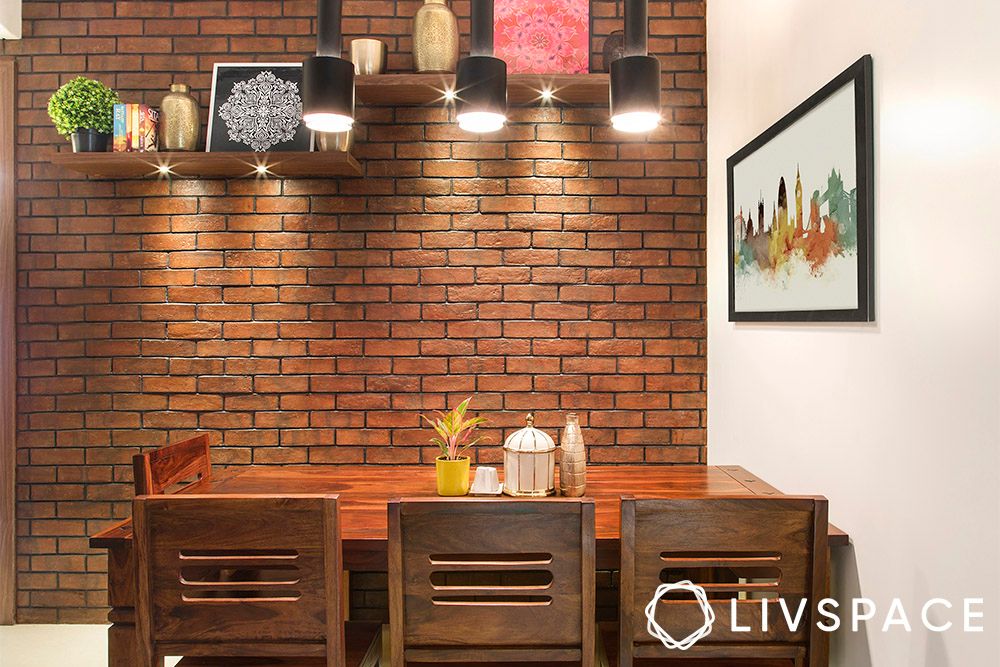 Without spending a lot of money, brick feature wall designs are a great way to give your home a rustic-chic feel. The old-fashioned yet endearing exposed brick wall serves as a casually cool backdrop or a highlight wall where you may display artwork, bookcases, and much more. But instead of exposing the natural bricks in your flat, you can also use faux brick panelling to achieve the same effect.
#8: Marble Feature Wall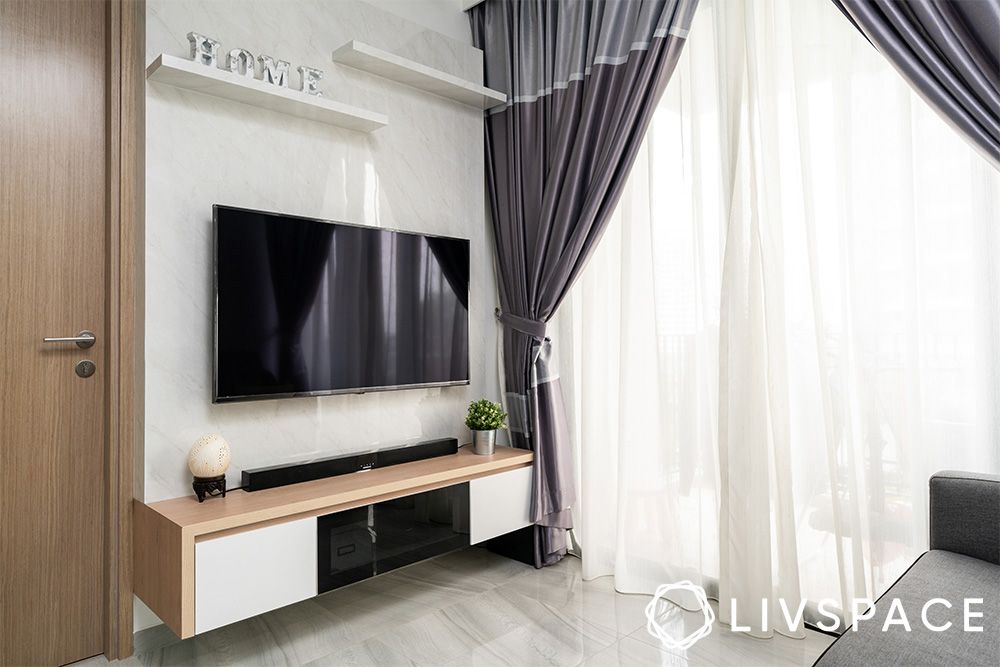 If you want to create luxurious decor, your feature wall should reflect that. With its neutral colour scheme, glossy laminate with a marble surface and a reflective finish creates an illusion of space. A floating unit also frees up floor space and makes your room look spacious.
#9: Wood Feature Wall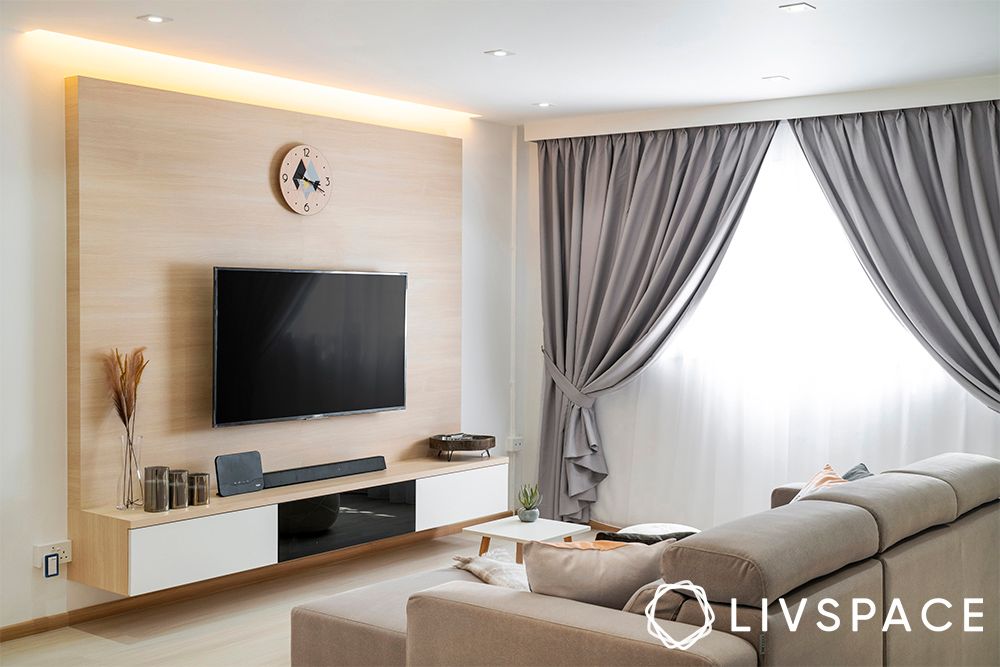 A simple room can be made more interesting by adding wooden textures on feature walls. Have a look at this wooden TV feature wall, which not only adds depth to the design but also gives the living room an impression of more space.
#10: TV Feature Wall Design Ideas With Storage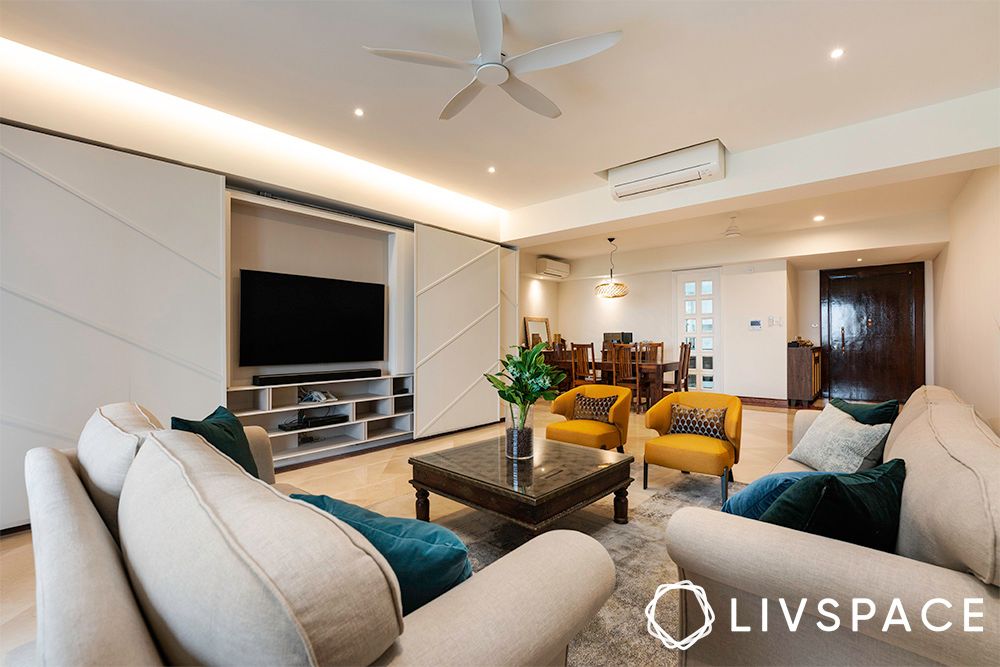 As one of the best feature wall design ideas, you can consider concealing your TV unit behind sliding glass doors. We're not kidding when we say that sliding TV feature walls are a great way to add storage to your living room. Make it stand out by adding a pattern or wallpaper to the streamlined design.
#11: Geometric Painted Feature Wall Designs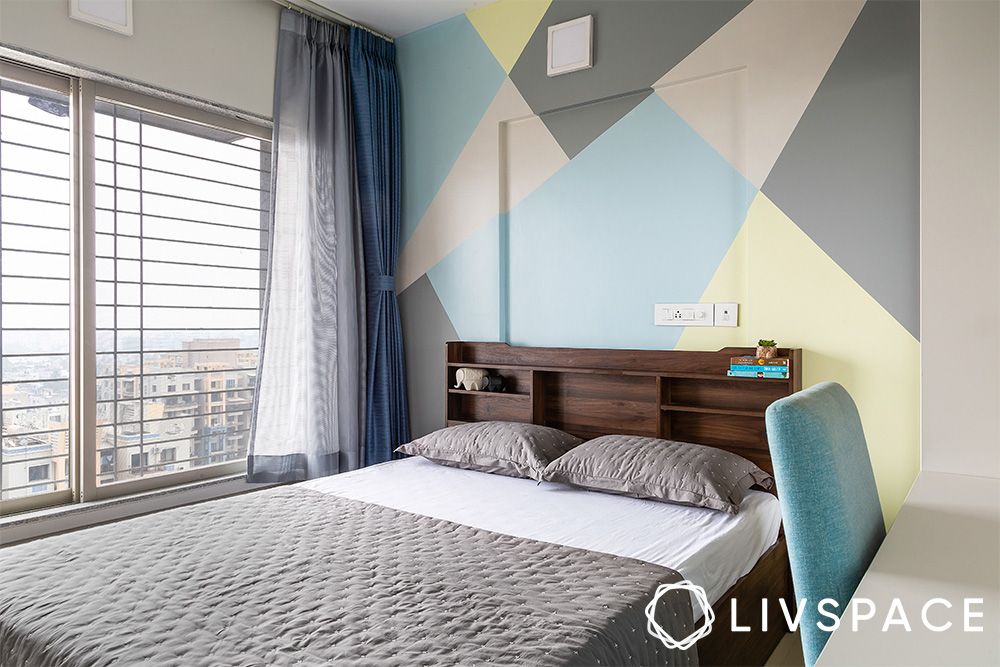 Bored of the flat patterns on the walls of your bedroom? Add colourful geometric paints and designs to add some personality. If the designs are large and broad, a geometric painted wall can also give the impression of a larger room.
#12: Feature Wall Designs with Abstract Colours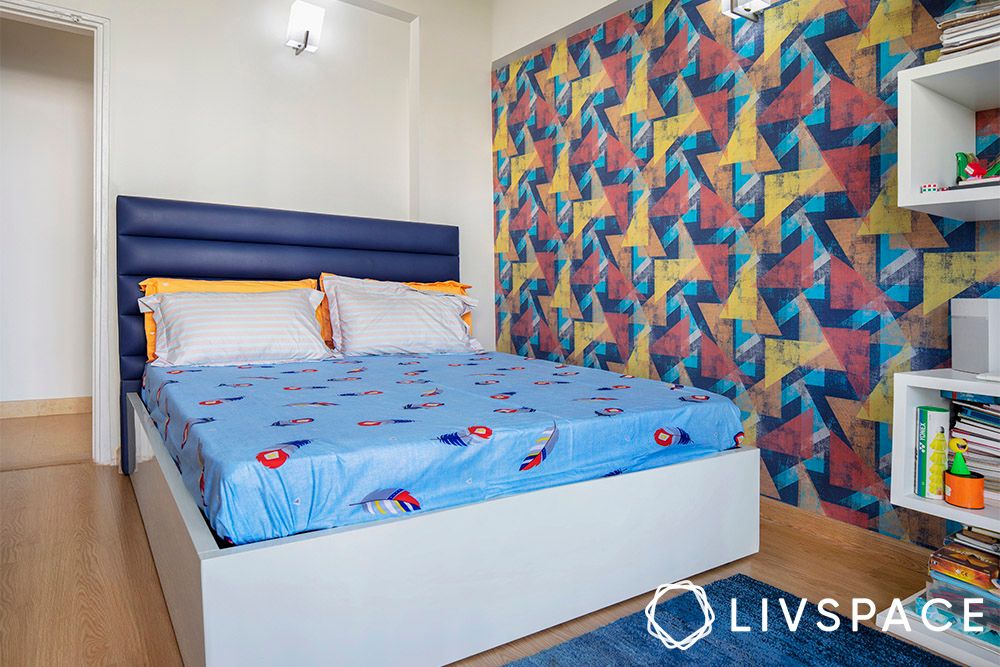 Abstract feature wall ideas make for lovely options for the kids' room that they can grow into as they become older. You won't have to worry about altering the design every few years if you use abstract wallpaper for their walls. To make the area more appealing to kids, try choosing a classic yet vibrant wallpaper design for the walls.
#13: Fabric Feature Wall Ideas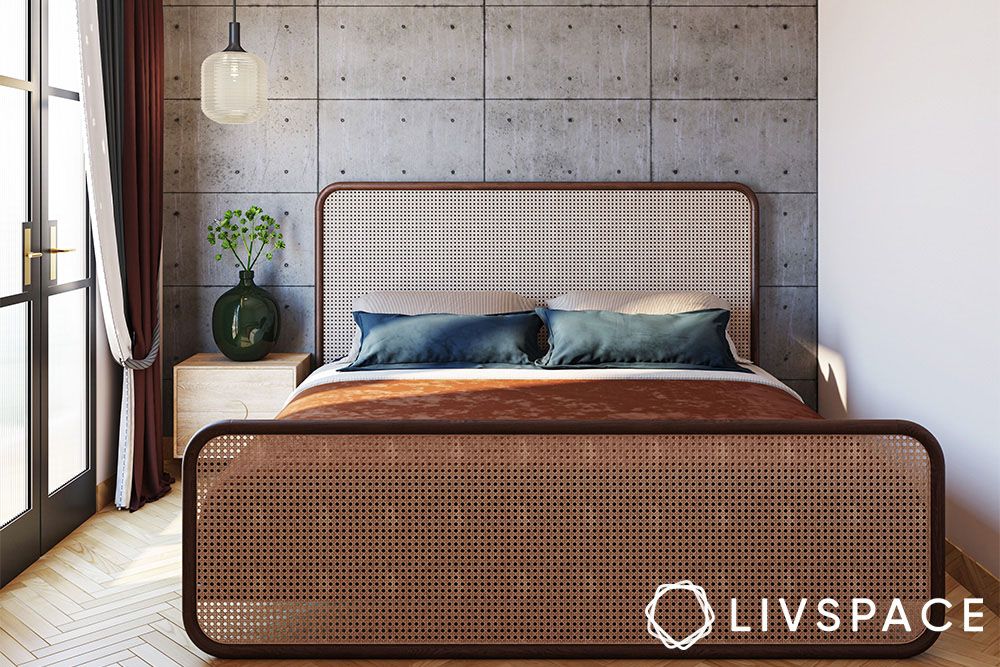 As a homeowner, if you're looking for a short-term fix for boring, barren walls, fabric wallpaper is the ideal choice. Instead of the heavy-duty glue used in traditional wallpaper, liquid starch is used to hang solid or patterned fabric panels. It may be taken down whenever you want to without harming the walls.
#14: Chalkboard Feature Wall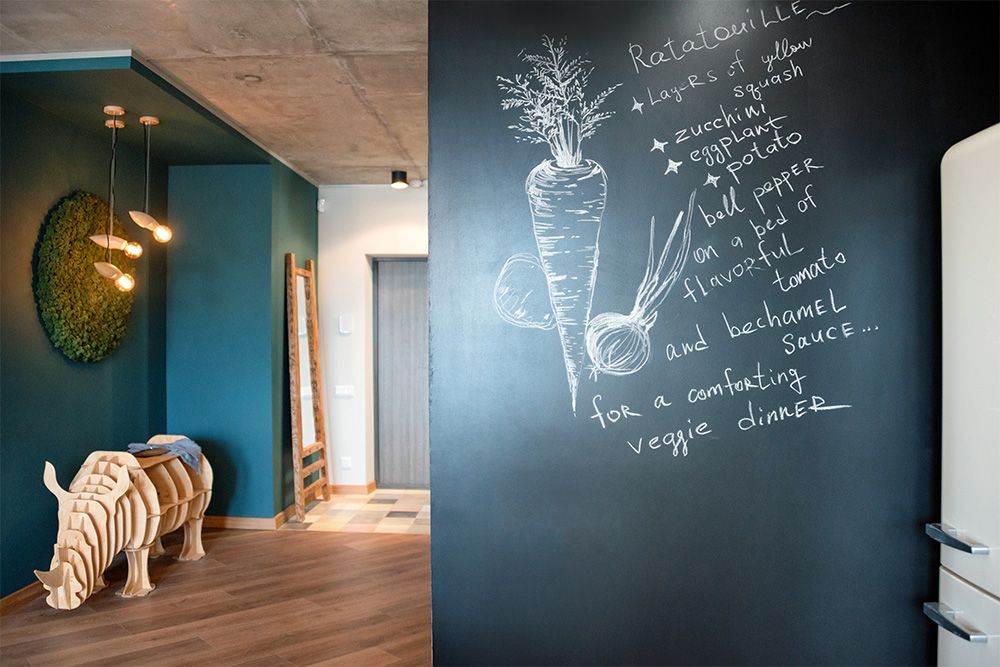 If you love to DIY, then this inventive feature wall idea is for you. You can create a literal blank canvas on your wall that you can draw on and customise whenever you want. They can be used from creating a dramatic blackboard wall to using it to highlight a small wall area. Making a chalkboard wall is quite simple; all you need is chalkboard paint which is as simple to apply as conventional paint.
Also read: Wall Painting 101: Your Ultimate Guide to Beautiful Home Interiors
#15: World Map Feature Wall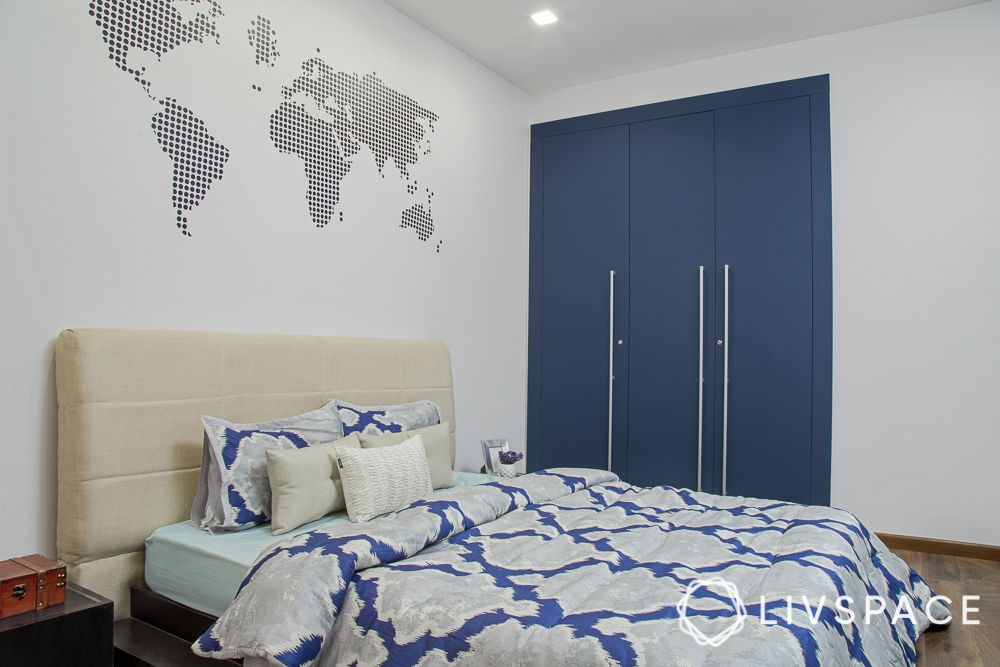 Are you a well seasoned traveller? The world map feature wall is an idea that's not just for geography lovers. This trendy decor turns an empty wall into an aspirational vision board that's charming and beautiful. Choose from wallpaper, paintings, photos, or even wall decals to create your own world map feature wall.
#16: Pretty Rainbow Accent Wall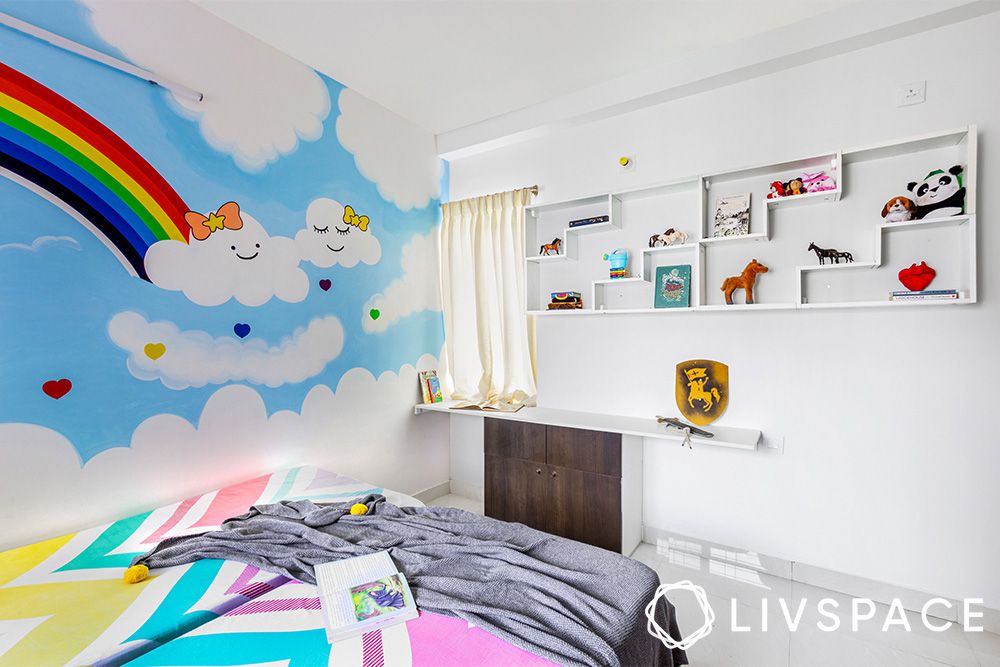 When it comes to designing children's rooms, you really don't want to cut any corners. It is always better to create a painting on the wall rather than painting the walls, just like this room. This kids' bedroom has a hand-painted rainbow wall. Being able to grow up among rainbows and dozing clouds is definitely a blessing!
#17: Herringbone Feature Wall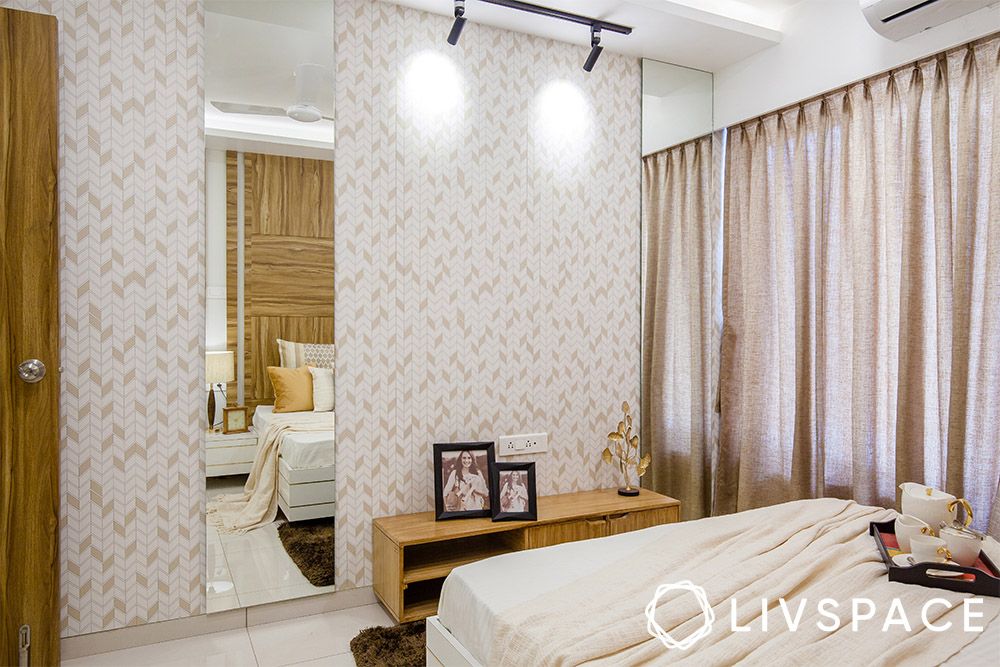 The 1600s saw the introduction of the herringbone pattern, which is still in vogue today. You can choose smaller designs with alternating colour-blocked segments for wall decor if you don't like big stripes.
Feature Wall Tips: Dos and Don'ts
DO choose an accent wall in a room that is neutral
DO incorporate a gallery of artwork or photos
DON'T be afraid to incorporate bright colours
DO consider other colours than solids
DO play with ceiling's colour to create unique feature walls
DON'T forget the wallpapers
DO include a beautiful geometric print
DO use multiple colours to liven up a kid's space room
We hope you're inspired to give your walls a makeover now. Here's How to Get Insta-worthy Walls Without Going Broke.
Contact Livspace to Get the Best Feature Wall Designs
If you want your home to be just as beautiful, then look no further. Book an online consultation with Livspace today. Delivering safe home interiors has been our No. 1 priority.
Send in your comments & suggestions to editor.sg@livspace.com.
FAQs
1. Which Wall Is Best for a Feature Wall?
It majorly depends on your room's dimensions. Keep in mind that the feature wall is a focal point that should make the room design cohesive. For instance, in the bedroom, choose the wall behind the headboard, or accentuate the wall behind a standout piece of furniture in your living area.
2. What Are Feature Wall Designs?
A feature wall is a wall that uses texture, colour, and contrast to add interest and character to a room.
3. Should a Feature Wall Be Lighter or Darker?
Usually feature walls are darker but complementary colours. However,use lighter colours for small rooms to make them look bigger.
4. How Much Does a Feature Wall Cost in Singapore?
Cost of feature walls might vary between S$500 to S$7,500 depending on the type and material used.