While we look at multiple options for the floors of our homes, none of us can deny the natural grace of the age-old favourite: marble. This stone comes with unique vein patterns that add a luxurious and opulent feel to your interiors. Traditionally associated with royalty, marble flooring still carries hints of wealth and elegance. If you'd like your flooring to add a plush feel to your interiors, consider using this material in your home. Read to know all about this porous stone and learn why it is perfect for your HDB or condo!
What is Marble Flooring?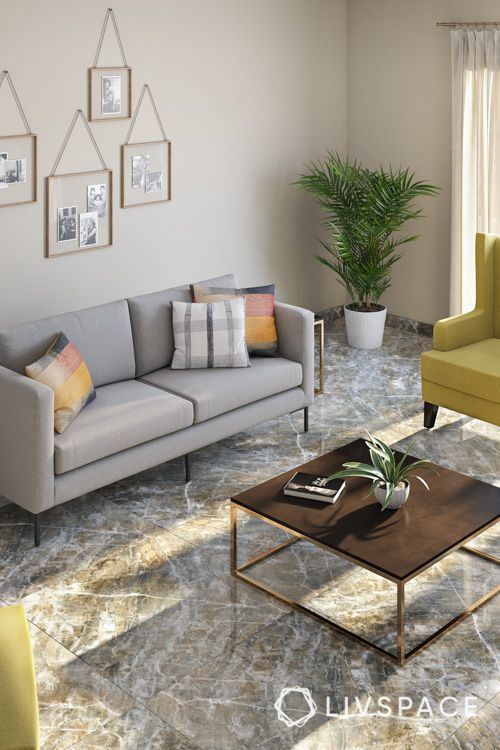 Let's start with the introduction: what is marble flooring? Marble is a metamorphic stone and a variety of marble floor colours are available in the market, ranging from fresh white to black. Lighter coloured floors are more common. This is because it is naturally formed from limestone with a small amount of impurity that imparts a distinct colour to it. You can choose the colour of this natural stone from a gorgeous selection ranging from the popular whites, dusty pinks and greys to dark green and even black!
What Marble Floor Colours and Types are Available?
There are various types of marble flooring available in the market. While they might appear similar to the untrained eye, experts distinguish them on the basis of difference in grains and vein patterns. Some common types of marble flooring include:
Carrara: One of the commonly used marbles in home interiors, this option is quarried in Carrara, a city in Italy. It is generally white, grey or bluish-grey in colour, with linear veining. This has small, fine lines or soft, feathery ones. An occasional dramatic vein pattern is, however, not unusual. You will often see this in building decor and sculptures.
Statuary: This variety of Italian marble has a uniform background with light grey hues and more dramatic veins. It tends to reflect light, which makes the interiors of the room look brighter. It is commonly used as flooring inside the home, in spaces with low foot traffic. You can also use it for making kitchen countertops. How to clean this Italian marble floor? Just wipe it with a damp cloth or use mild detergents.
Calacatta: Another Italian marble, this option is a rarity. It is generally white in colour with dark veins that form large, thick patterns, setting it apart from the other types. Often considered a luxury marble because of its rarity, this stone finds use in bathroom and kitchen flooring. However, due to its porous nature, it's best avoided in kitchen countertops. How to clean this Italian marble floor? Just wipe it with a damp cloth or use mild detergents.
Emperador: Quarried from Spain, this stone comes in a variety of shades of brown. It stands apart with fine grains and irregular veining. It tends to be darker in colour, making it a great choice for high-traffic areas.
Crema Marfil: Another marble quarried in Spain, this stone is available in several tones. The most commonly known tiles are light beige or yellow in colour, with a uniform background. However, the veining in this type differs in intensity and can be irregular. It is commonly used in exterior cladding, floors and other decorations.
Rough Marble Flooring: Apart from all these popular options, rough marble flooring is also becoming popular in households with elderly people. Rough marble flooring is used in bathrooms mostly, as they help create anti-slip surfaces.
Where Can You Use Marble at Home?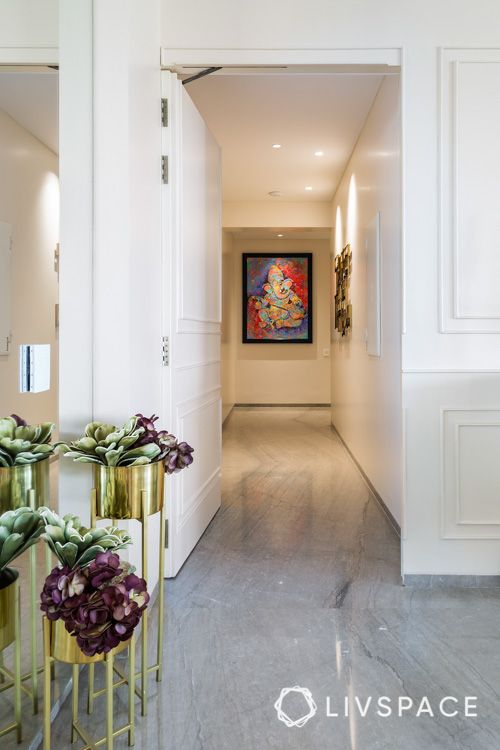 Marble floors cut down on the need for accent pieces by highlighting the very ground you walk on. Its heat-resistant nature makes it the perfect choice for the kitchen, or even a fireplace. With proper sealing and marble floor polish, this porous stone becomes waterproof. So you can even use it in your bathrooms! Needless to say, it works well in different rooms of the house.
However, marble floor polishing can make it slippery. So if you have children or elderly relatives at home, this could be a recipe for disaster. In that case, you can opt for rough marble flooring which is anti-slippery.
Why Should You Opt for Marble Flooring?
Pros:
Aesthetics: The beauty of marble is hard to match. You can also pick from a wide range of marble floor colours, vein patterns and grains to find the perfect fit for your home. Moreover, much like fingerprints, you will never find two slabs of stone with the same veining.
Longevity: Homeowners who install these floors typically do not need to change it in their lifetime. This stone might be high-maintenance, but with the right care, it will see your house through an exceptionally long time.
Heat resistance: The natural stone does not alter even at high temperatures. You could safely use it in the area immediately surrounding a fireplace without a shred of worry. What's more, the floors remain cool even in hot summers!
Allergy-proof: If you're worried about multiple allergens or bacteria breeding on the floors of your home, marble is the best choice for you. This stone prevents the breeding of bacteria and allergens.
Cons:
Difficult to maintain: It's no secret that stone is porous, which makes it easily stained. Marble floor polishing and its annual sealing needs to be a regular exercise to keep it at its best state.
Fragile: Marble flooring is susceptible to damage from regular items—soil and sand, fruit juices, coffee, wine, and even water. Moreover, if the stone is not installed properly, it can crack or chip easily.
Expensive: Quality marble can be expensive. Moreover, its maintenance can cost a pretty penny as well. Ensure that you are willing to invest in this flooring option before opting for it!
What Design Styles Complement Marble Flooring?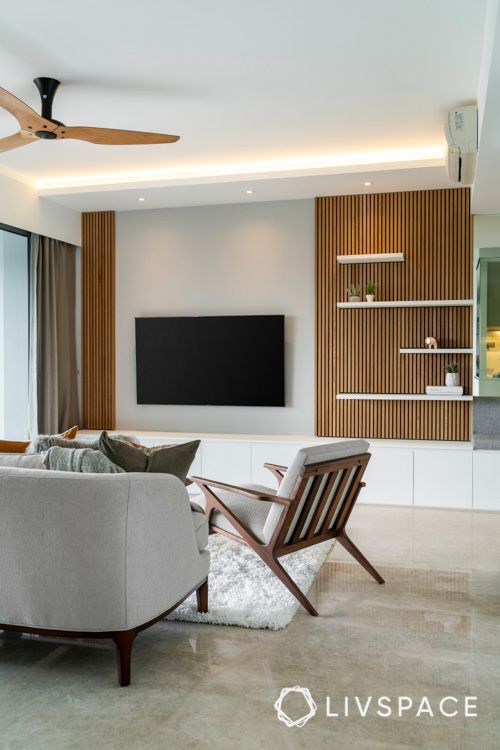 The timeless nature of these floors makes them sit right in any home. However, if you're looking for design styles that work wonders with it, both classical and contemporary interiors work perfectly. An interior design that's high on luxury is also a great place for marble flooring. And if you thought you cannot use this option in your minimalist home, you might be wrong. Since minimalist design is all about making the most of the least number of elements, you can opt for marble floors that make a bold statement on their own.
How to Maintain Marble Flooring?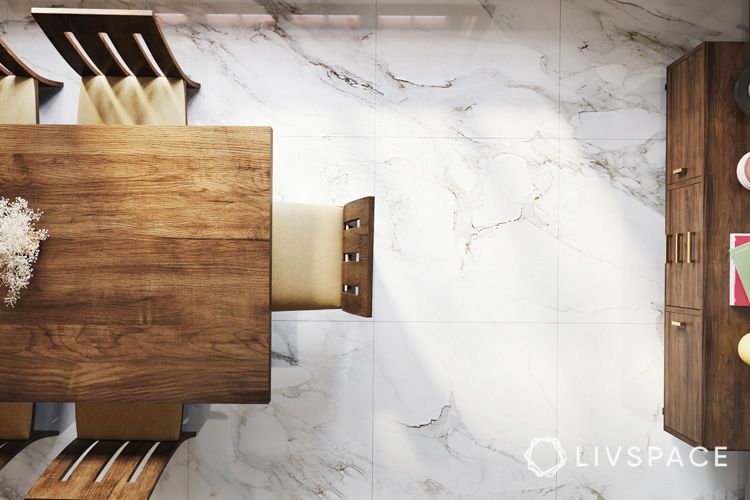 The porous marble is commonly considered difficult to maintain, but before you accept this as a fact, think again! It is true that this flooring is susceptible to stains, even from tea, coffee, and fruit juices. But you can still have pristine floors! Here's how to maintain marble flooring in its best condition:
Regular cleaning: The biggest question is how to clean marble floors. Use a soft cloth or a mop to clean your floors regularly. Choose mild cleaning products and steer clear of acids and alkaline products that could damage this stone. Instead, a mild product will keep your floor in top shape for a long time.
Cleaning up spills: In case of a liquid spill, clean the stain as soon as possible to prevent it from leaving a lasting mark. If not, sprinkle baking soda on your marble surface and wipe it away with a clean, damp cloth. Be careful not to leave scratch marks. Also ensure that you wipe away all the baking soda!
Sealing the floors: If you want to protect your floors from stains, consider using a floor sealant. This forms a protective layer over the natural stone and prevents direct exposure to potentially harmful solvents. If you are planning to have marble floors in your kitchen or bathroom, then a sealant becomes a necessity to avoid the seepage of water.
Polishing: This enhances the natural glow of marble while simultaneously reducing its absorbency. So go ahead and choose marble floor polish to make your floors easier to maintain. However, this process also causes the thinning of marble, so ensure that you let the right amount of time pass before repeating this process.
Frequently Asked Questions About Marble Flooring
What Type of Marble is Best for Floors at Home?
You can never go wrong with white floors. If you have a compact home and want to make it look more spacious, a glossy white marble can work wonders. You can also opt for light-coloured stones if it suits your home decor, or darker coloured ones for a more dramatic effect.
Can Marble Floors be Dangerous to Your Health?
Marble floor polish can make the floor slippery, which might pose a risk if you have children or elderly relatives at home. Go for rough marble flooring in that case! Other than that, this natural stone is quite safe for you and your family. In fact, it prevents the breeding of bacteria and allergens, making it a safe choice.
Can you Install Marble Flooring Yourself?
No. Experts suggest that you hire skilled labour to lay marble in your home. This is because the natural stone sheets are heavy. Moreover, it needs to be installed on a solid subfloor to prevent cracks later.
How to Avoid the Cracking of Marble?
Check for natural defects in the marble before zeroing in on your flooring choice. Ensure that the stone tiles are installed correctly by experienced labour to prevent problems in the long run. Moreover, marble is vulnerable in a humid environment, so try to keep the surroundings as dry as possible.
What is the Approximate Cost of Marble Floors?
The cost of marble tiles in Singapore starts from S$4.99 per square foot and can go up to S$9.98, or even beyond, especially if you opt for darker coloured stone.
Since Marble is an Expensive Stone, is the Investment in This Flooring Worth the Cost?
Definitely. Marble floors are highly durable, and most homeowners do not need to change them over the course of their lives. Moreover, the stone is heat-proof. Hence, it is always cool to the feet, which is a blessing in a warm country like Singapore. Further, if you plan to sell your house, the floor can amp up the value of the home.
How Can Livspace Help You?
Now that you know what is marble flooring and why you should opt for marble floors at home, check out how to tackle indoor humidity to keep your flooring at its best! Book an online consultation with Livspace today.
Send in your comments & suggestions to editor.sg@livspace.com.