The first thing you notice about a person or place is believed to leave a lasting impression. When the same theory is applied to a home, the first thing people notice would be the entryway or foyer. Therefore, a good foyer design is imperative as it sets the tone for the whole house.
If your home has a stipulated entryway, you're in luck! But, if your entrance opens up into your living spaces with minimal privacy, you're still in luck! We have collated some ideas for foyer design that Livspace designer Johan Chong shared with us.
What is a foyer in a house?
An entryway/foyer serves as a transitional space between the door and private spaces of your home. It creates a space where visitors can be greeted without giving them visual and physical access to the rest of the house.
What should I put in my foyer?
Generally, a foyer is a place where you leave your shoes and keys. But, it can be more than that. A foyer design for home can have all the things you want it to have. Our recommendations include:
Seating so that it is easier to put on your shoes
A closed storage unit to store all your shoes and grab-and-go things. You can use the tabletop for display too.
Accents like artwork, statement pieces, mirror or even flowers
Lighting fixtures like pendants and chandeliers
A simple rack for your coats, bags and umbrellas
How to design a foyer?
#1: Determine the boundaries of a foyer design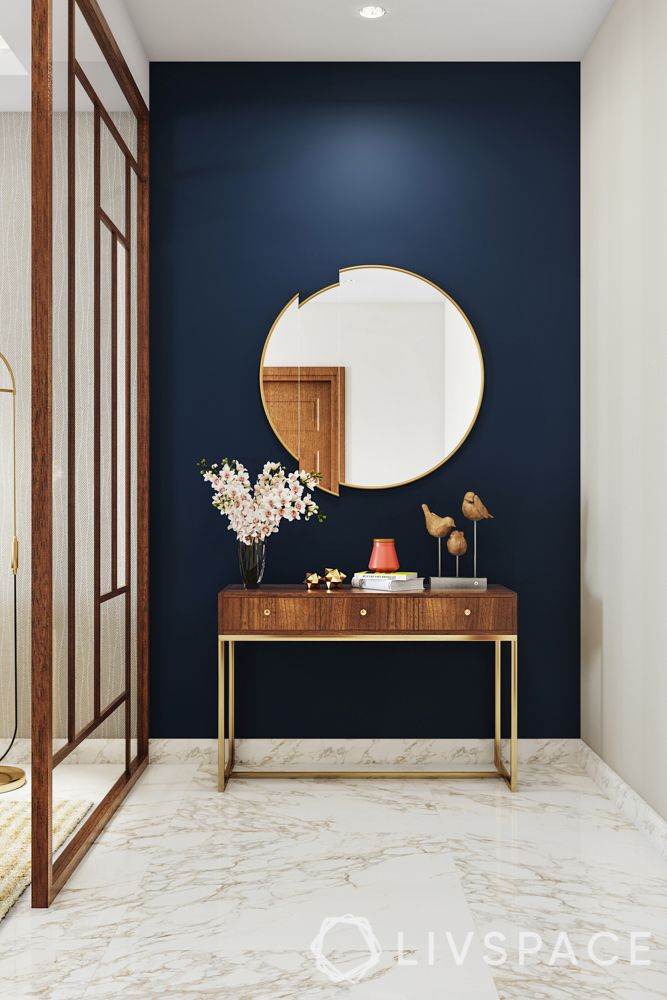 While most compact condos and HDBs do not have an assigned foyer space, luxury condos come with a private elevator that almost always has a spacious entryway. A foyer should have a clear definition from the rest of the home. When boundaries are created between the foyer and the living room, visitors have a clear idea as to where the entrance ends and the home begins. Here's one way to do that – go for a minimal and see-through room divider. The minimal wooden frame partition in the above image isn't bulky and clearly demarcates the two spaces.
#2: Lighting: A deal breaker or not?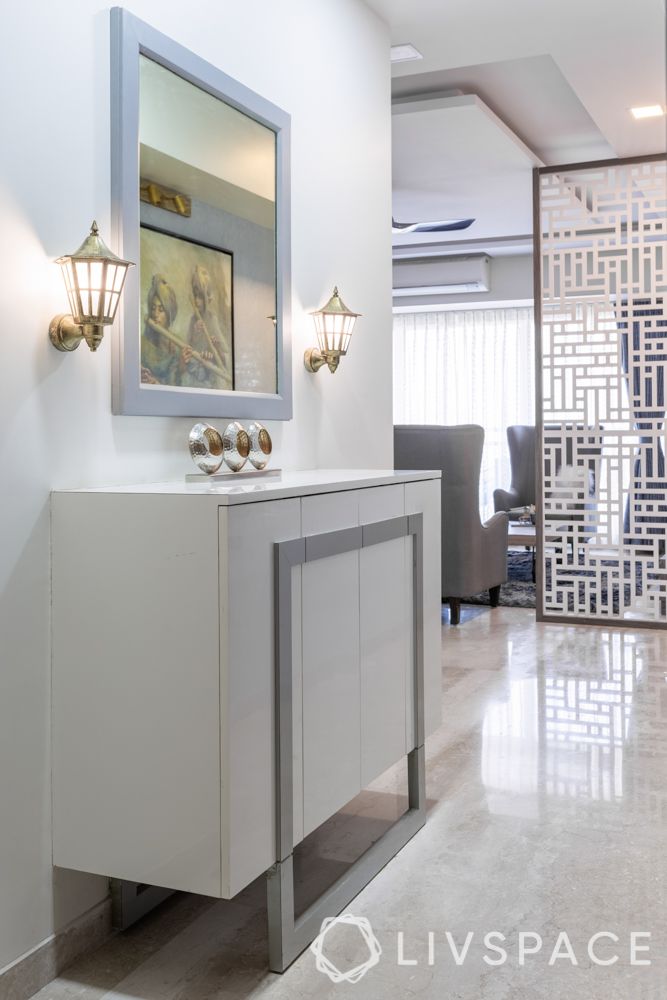 A dark corner used to greet your guests is hardly a warm welcome. Lighting is everything when it comes to designing a foyer! In order to make an impression and add to the glam, ambient lighting is your best choice, followed by accent lighting. Since the foyer is not designed for reading or even relaxing, the lighting need not be task-oriented. However, the lighting should be enough to get a good glance of yourself in the mirror as you step in or out. Opt for chandeliers, pendant lights and wall sconces for that perfect glow. Avoid installing floor lamps and recessed lights here. As the former will take up too much space and the latter is unnecessary in any modern house foyer.
#3: Create a cosy nook with seating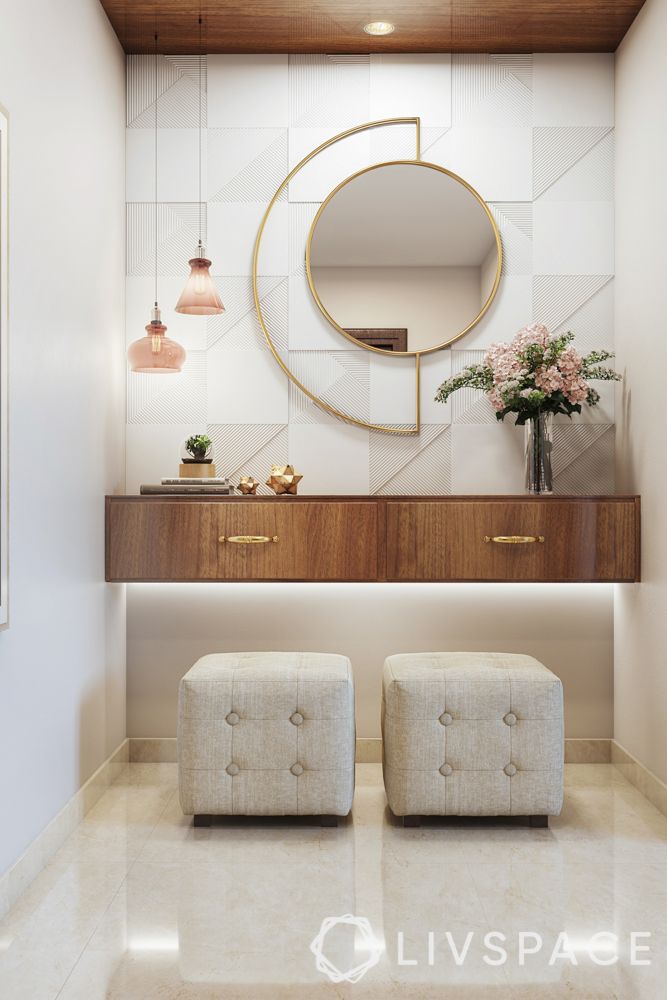 Homeowners that have a no-shoe rule in the home must adhere to this tip. Your guests no longer have to lean on your shoulder to take off their shoes. Moreover, you can comfortably put on your shoes instead of leaning on a wall while doing so. Often missed out in a modern foyer design is a simple seat to put on or take off your shoes. This creates a convenient space to set down your bags as well.
#4: Stage it with storage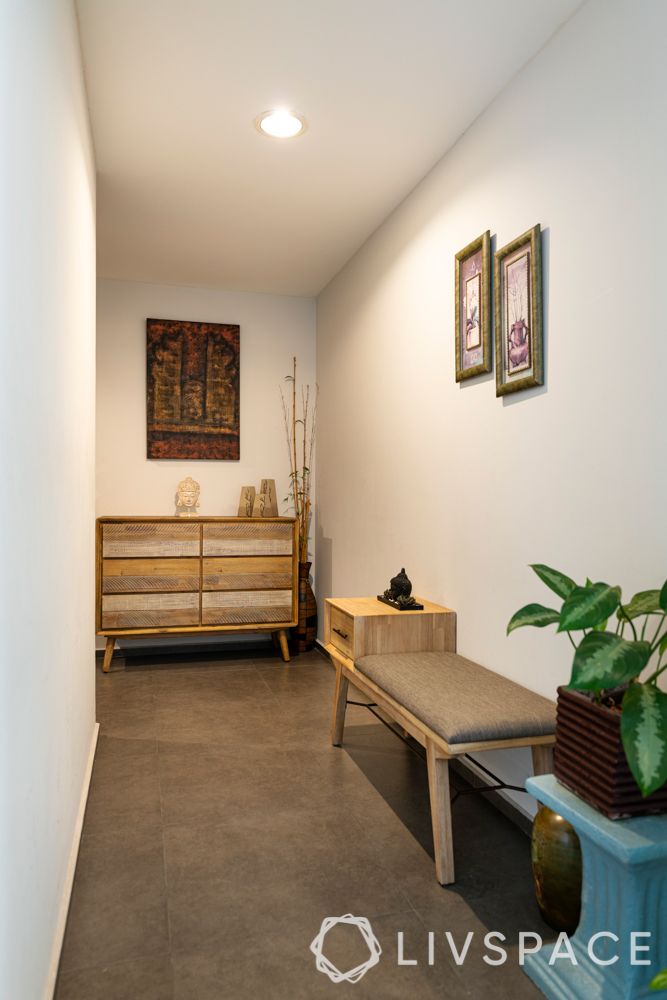 "Above all decor, a foyer must have these essentials: a shoe rack, a seating area and a key holder. Furthermore, he says that an umbrella holder and mirror can add to the convenience of the room but it can always do without it," says Johan Chong.
To make the most of your small foyer design, reclaim your compact space with suitable storage. However, when it comes to selecting a shoe rack, you may be faced with countless options. Many of these include open racks but if you don't want your footwear on display, opt for a closed hinged cabinet. Remember, while an open shoe rack will keep your shoes odour-free and dry, a closed shoe rack will prevent them from collecting dirt and dust.
#5: Colours play a major role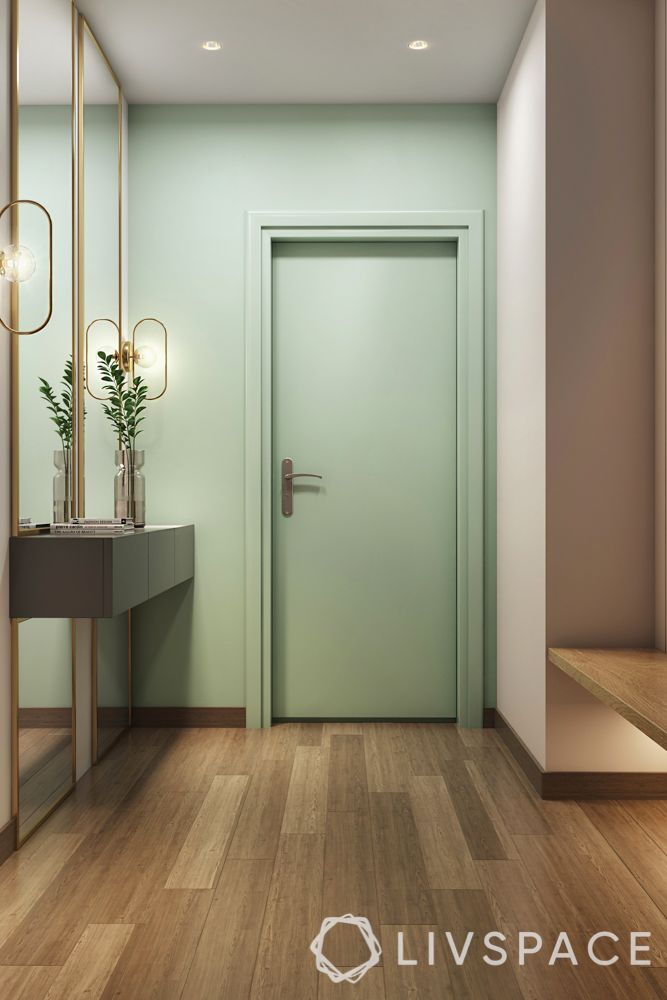 "If the cover is how we judge a book then, the foyer is the same for our home. It sets the expectation," says Johan.
While the colour scheme for any entryway depends on the style of the home, you can always opt for a contrasting colour to demarcate its boundaries. Capitalise on this space and go all out with a contrasting wall colour that clearly separates it from any other room. Here, a pastel mint green is the perfect accompaniment to a dusty rose colour and is the subtle focus of the space due to the matching door.
#6: Amp up your foyer design with plants and decor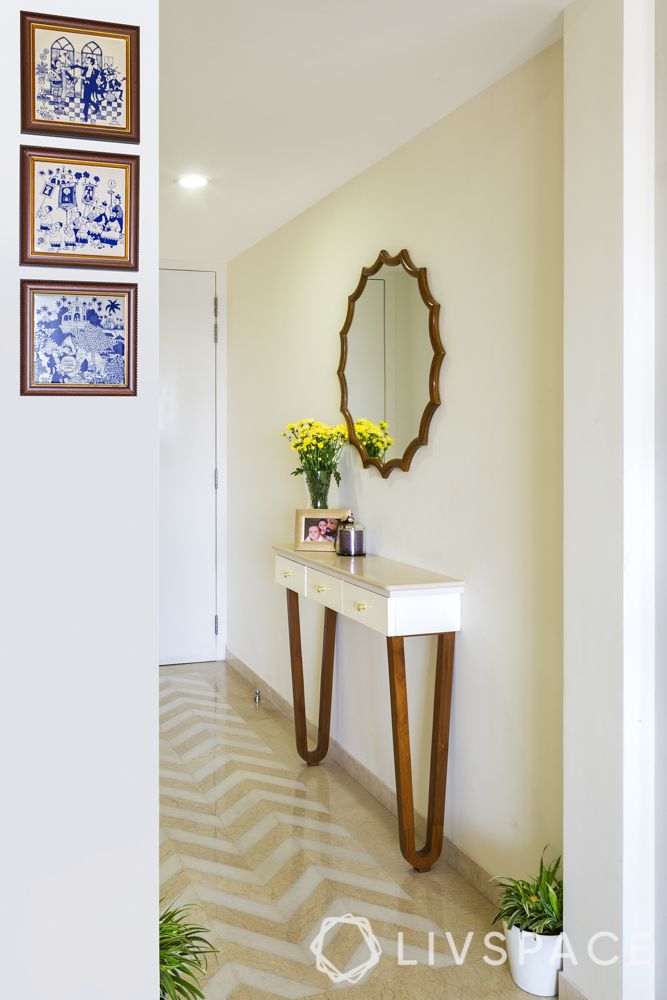 Here's a quick way to make your guests feel extra welcome in your modern house foyer. Plants have the ability to freshen up any space. Use this to your advantage by placing them to create a boundary.
Some foyer designs for flats are known for their compact and narrow spaces. There's a way to fix it! Bounce light into the space by using mirrors. This helps in making the small foyer design look bigger and brighter. Moreover, you can get a good glance at yourself before you step up to see if your tie is even or if you've got any lipstick smudges.
#7: What is a recessed foyer design in a HDB?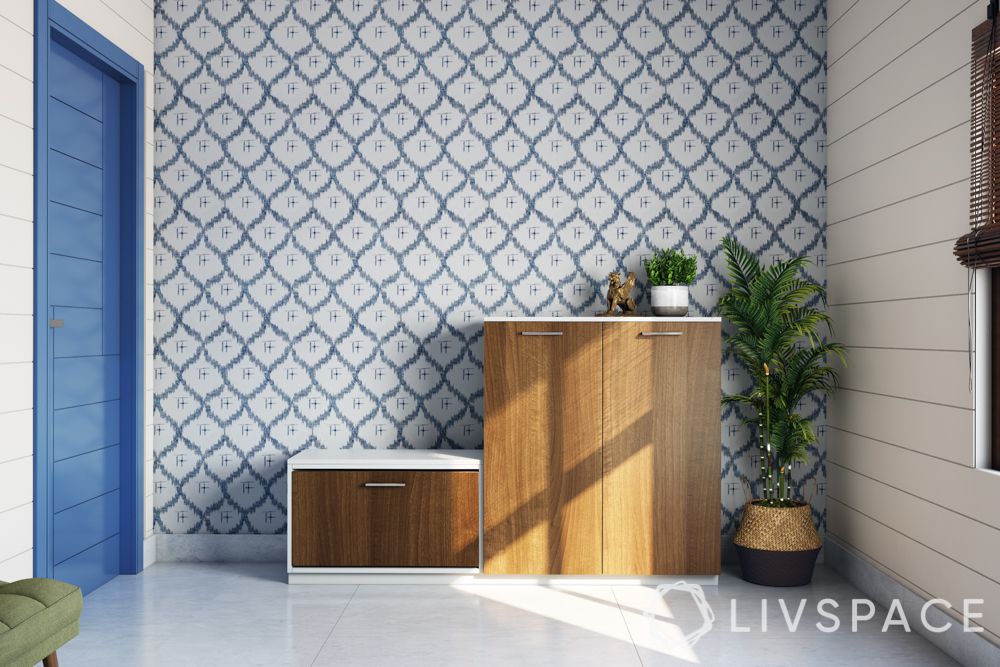 Homeowners of older HDB flats are allowed to purchase the recess or passageway area outside their unit. This space is often renovated into a semi-outdoor entryway, making it a recessed foyer. You can then go ahead and design it the way you like. A simple foyer design idea we suggest is to add a shoe rack for functionality and plants for decor.
How can Livspace help you?
We hope you liked our foyer design ideas. If you want to execute one of these ideas for your foyer, then look no further. Schedule an online consultation with Livspace today. Delivering safe and quality home interiors is our No. 1 priority. Click here to find out how interiors are being delivered following all safety protocols.
If you are looking for more inspiration, check out: How to Get Insta-worthy Walls Without Going Broke
Write to us with suggestions or comments at editor.sg@livspace.com