If you are lucky enough to have a balcony at your disposal and are looking for ideas to turn them into beautiful spaces instead of keeping them basic, we are here to help. Whether you want to enjoy some peace and quiet or throw parties on your balcony, a well-designed space can make all the difference. Here are some of the best and most enviable balconies from homes we've designed so far.
#1: The Perfect Outdoor Seating
Who said you cannot have meals on your balcony? With this simple setup, it is easy to enjoy the outdoors and yet stay safe from harsh weather conditions. Check out the sunshade that is a must when you are planning a setting like this. We also love the fresh green vertical garden that is such a great addition.
Check out the rest of this pretty home here: Video Tour: This Condo Has the Best of Japanese and Minimalist Style
#2: That's Ideal for a Luncheon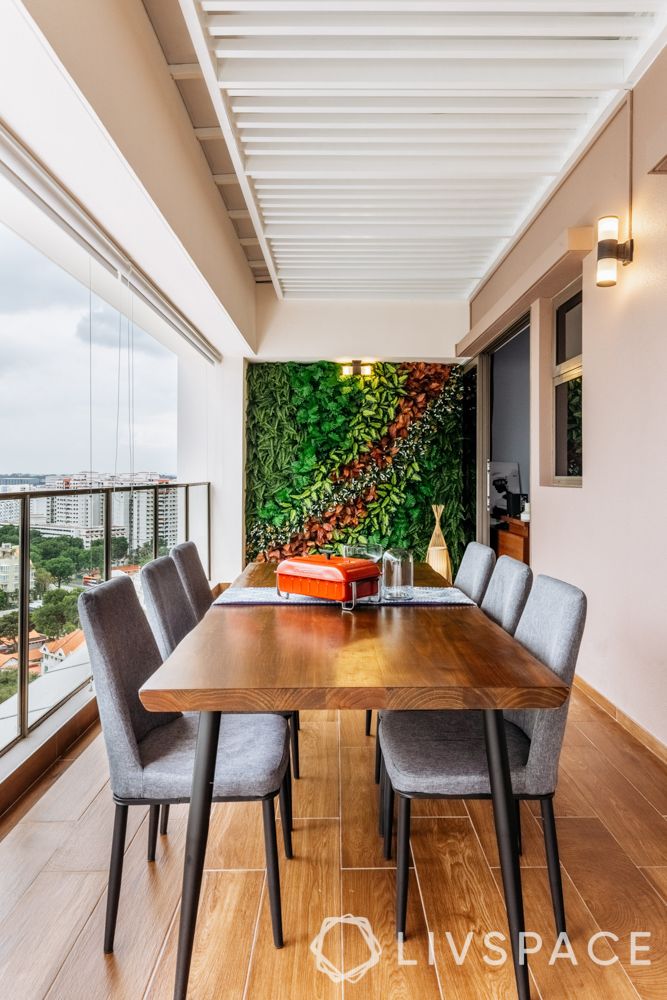 Gather your friends and family and invite them over. Why? Well, when you have a balcony like this, the question is why not! The perfect setup for a barbeque night against the backdrop of the city skyline, this is one of our favourite balcony designs. And the wooden table sitting pretty on wooden flooring is a winner.
#3: For Families to Get Together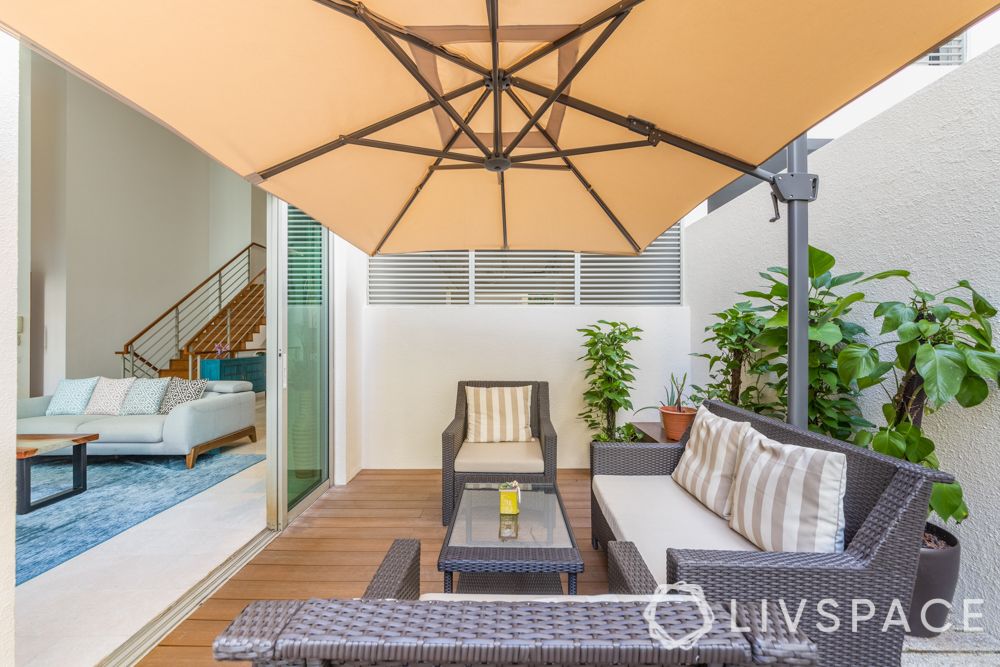 For everyone who has a balcony but does not have the provision to cover it up, this one's for you. Get a free-hanging parasol that you can carry around with you when you move. It comes in various sizes and you are sure to find the right one for your balcony.
Check out this home: Fall in Love With the Rustic Yet Modern Vibe of This Spacious Condo
#4: The Deck for Dinners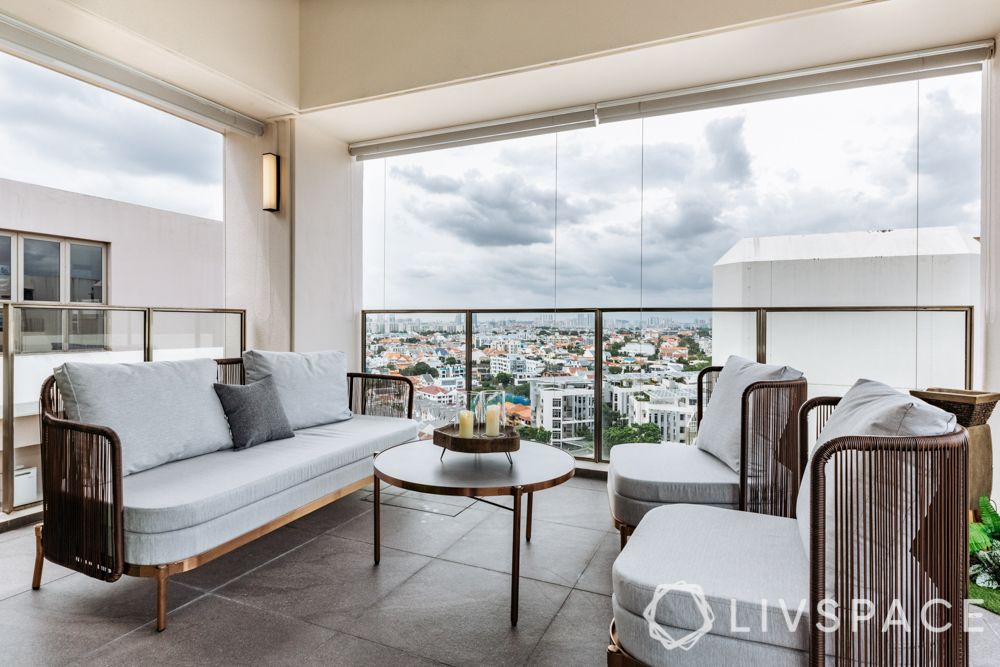 This spacious balcony has the perfect outdoor furniture with comfy cushions and a laid-back vibe. Fully covered and offering a breathtaking view of the city, this is one of those balconies that looks so Zen and calm that even we want to chill here.
Check out this condo here: Video Tour: This Condo Has the Best of Japanese and Minimalist Style
#5: Solo Swing for the Dreamers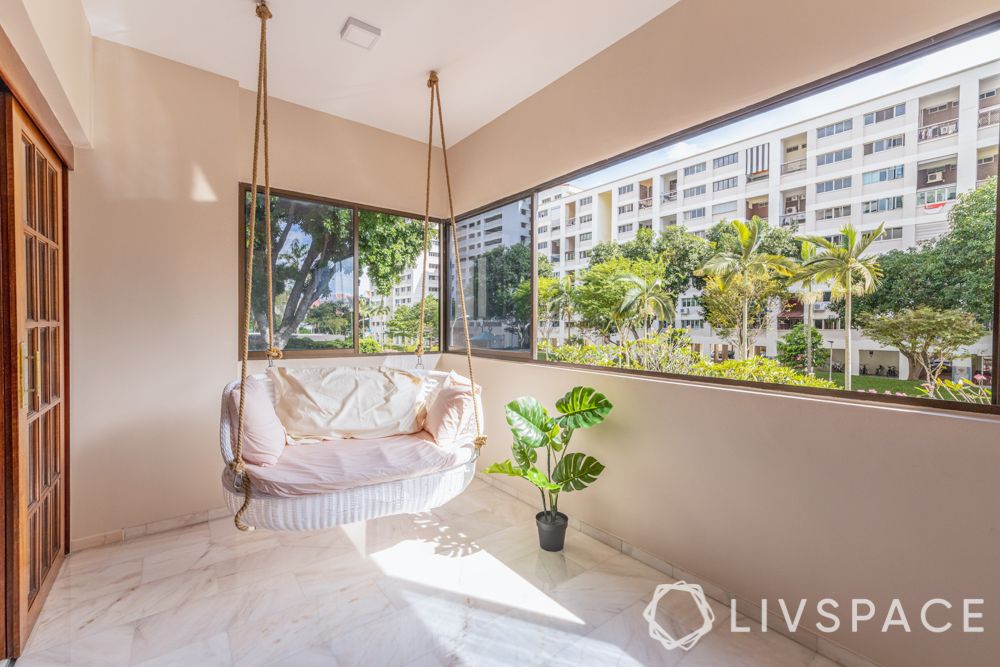 Are you someone who loves spending quality time with yourself? Then check out this pretty balcony that features a solo swing that looks absolutely comfortable. Enjoying the right amount of sunlight and yet tucked in a corner, this balcony is for anyone who likes boho vibes.
Want to see how the rest of this home looks? Check it out: How to Ace That Modern Yet Chic Look for a 4-room Condo
#6: Kids Get Their Space too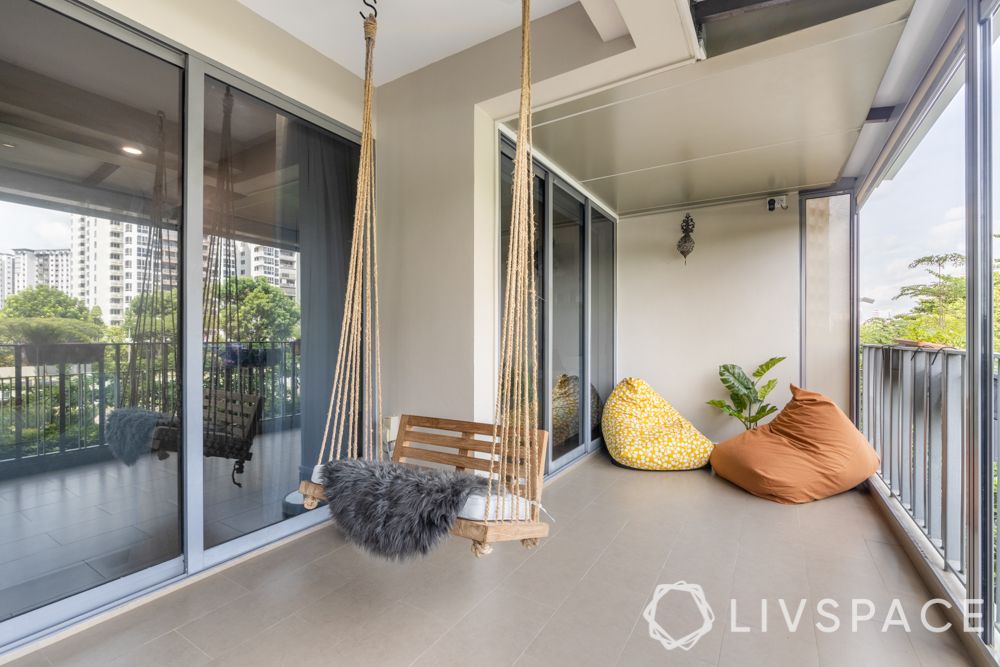 Divide those balconies if you enjoy a good amount of square footage in that space. Give the kids a corner and see them stuck there for hours during the day. All you need to do is place some colourful bean bags and pouffes in a corner of your balcony and you're done. Also, a suspended swing is a must in every boho balcony!
#7: The Dining Table Comes Out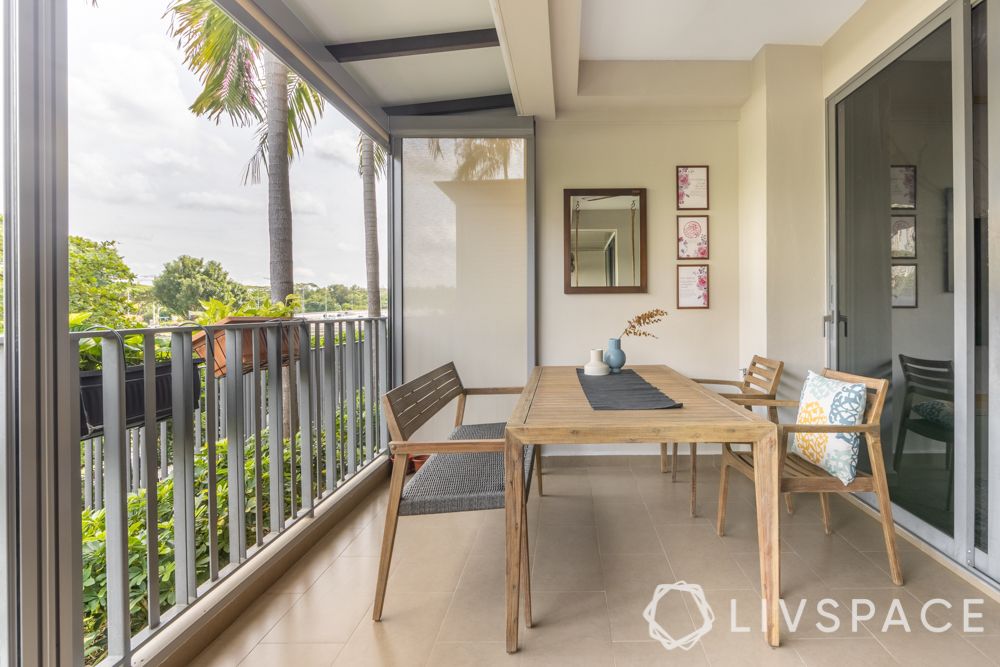 So you love dining outdoors but the current situation does not allow you to do that. We get it. Just ditch the conventional dining area at home and move your dining table to your balcony. Tada! Your very own outdoor dining experience is ready. Decorate the walls with frames and wall art to give it a personal touch.
#8: Bar or Breakfast Corner?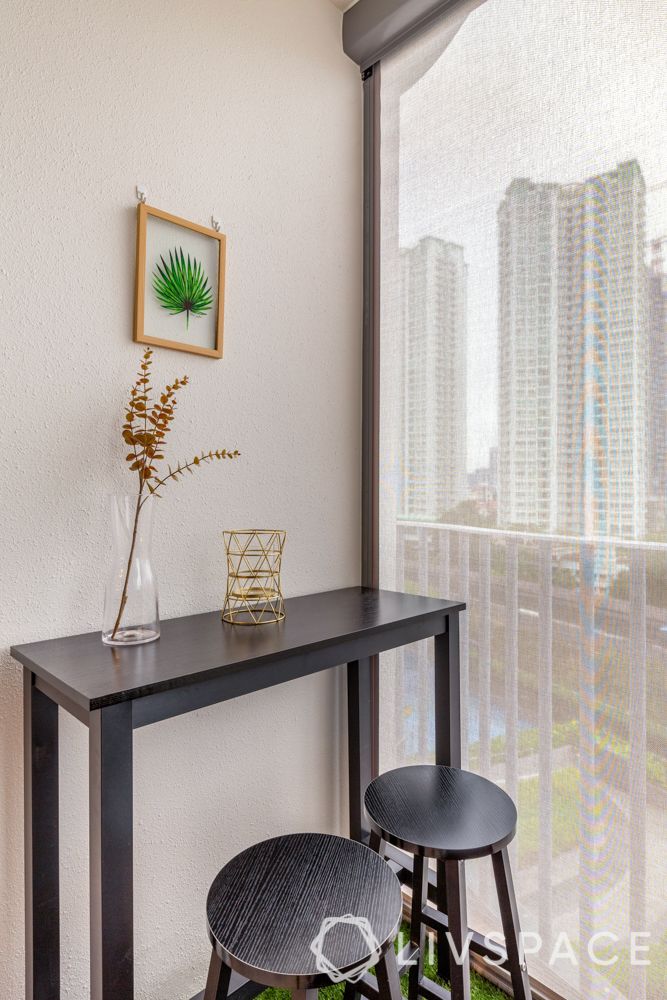 Bored of your regular bar-and-breakfast counter inside? Take a cue from this cute high table setup right here. With bar stools for company, this corner calls for some cosy time with a drink in those balconies. This requires minimal effort and gives you the feeling of owning your own rooftop bar area.
#9: Plant Lovers, Where You At?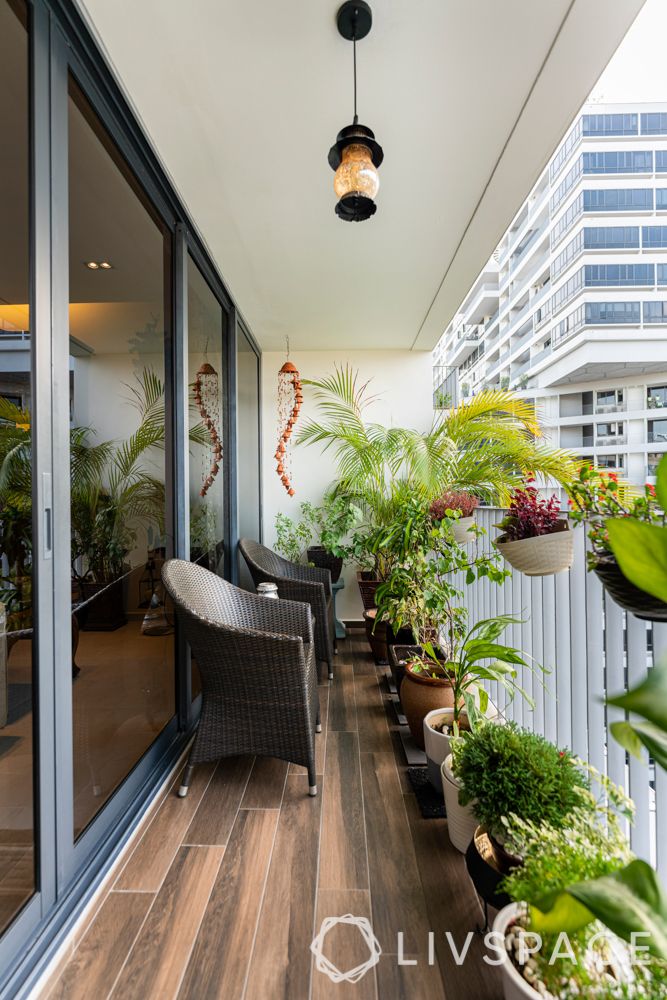 Got a green thumb? Then flaunt it! And what better way to do it than on your balcony. This way, your plants get their share of fresh air and water and you get to relax in lush greenery. A compact balcony need not be deprived of decor or beauty. Take a hint from this one right here!
Check out the rest of this home here: A Condo Renovation That Celebrates Female Influences
#10: Leave Some Free Floor Space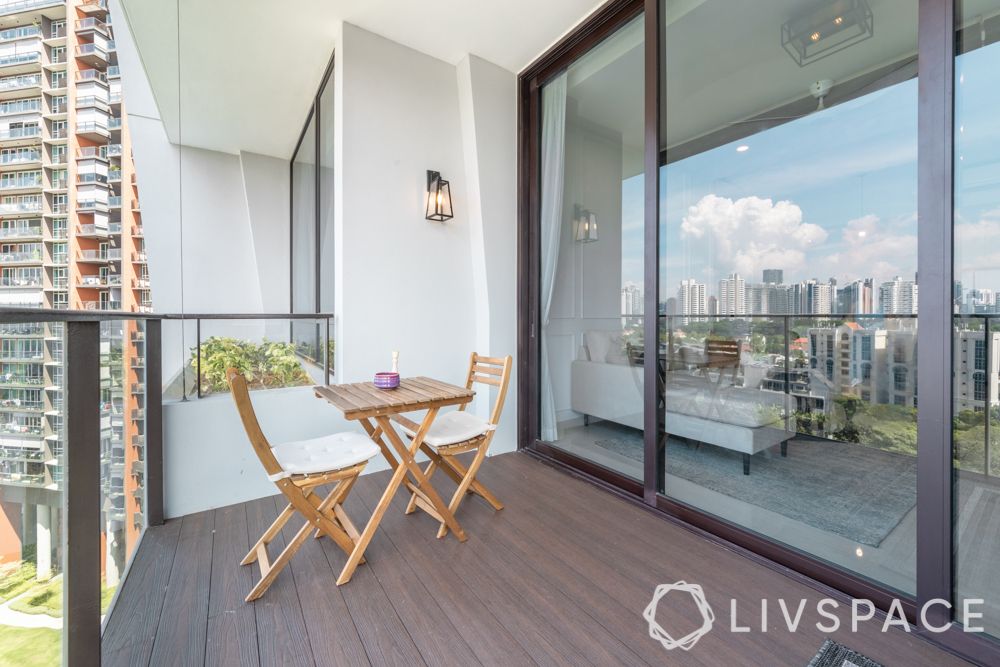 When you have one of those huge balconies, you need not use up the entire floor space to place furniture. You can get compact folding garden furniture and place it in one corner, leaving the rest of the floor free for leisurely strolls. Learn from this balcony.
Check out how this home looks: Gorgeous 5-Room Condo Makeover With a Mix of Styles to Flaunt
#11: A Cosy Corner for Two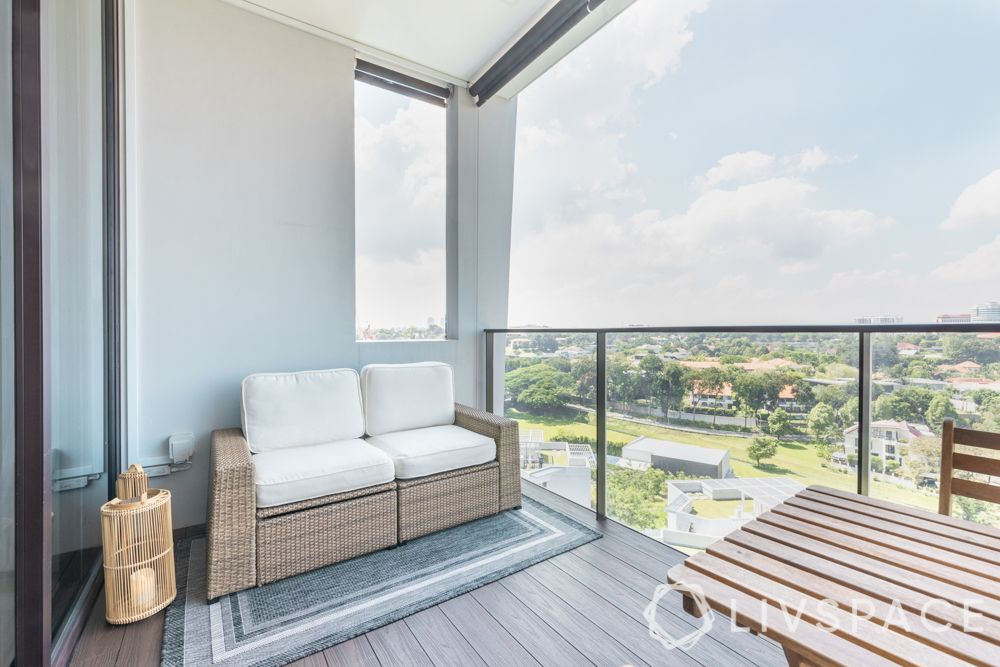 Would you believe this is the same balcony as the previous one? Yes, even after leaving so much free floor space, you can have another sitout in the other corner. Here, we have placed a rattan sofa and a rug that looks so snug. You can remove it when it's raining outside.
#12: A Fully Functional Deck Area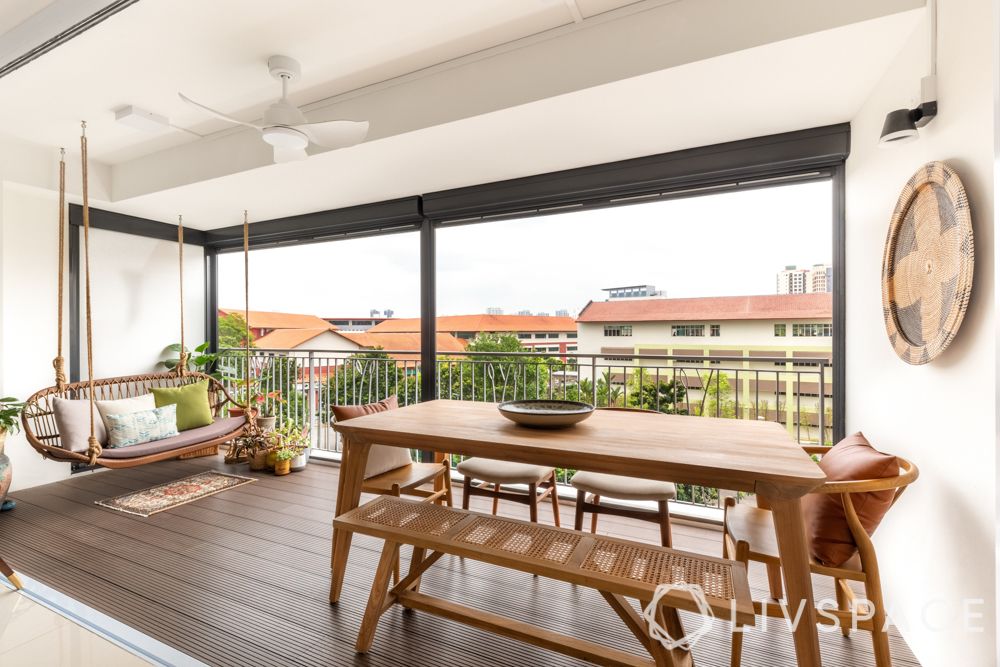 This is one of those balconies that you will want to build from scratch, just as these homeowners have done. They built this deck area just outside their living room because they wanted to have a relaxed dining area and lounging zone at home. Check out the plush use of warm wood in abundance.
Here's how the rest of this home looks: 10-Year-Old Resale HDB Gets Staycation Vibes and a Chic Makeover
#13: Who Needs a Reading Corner?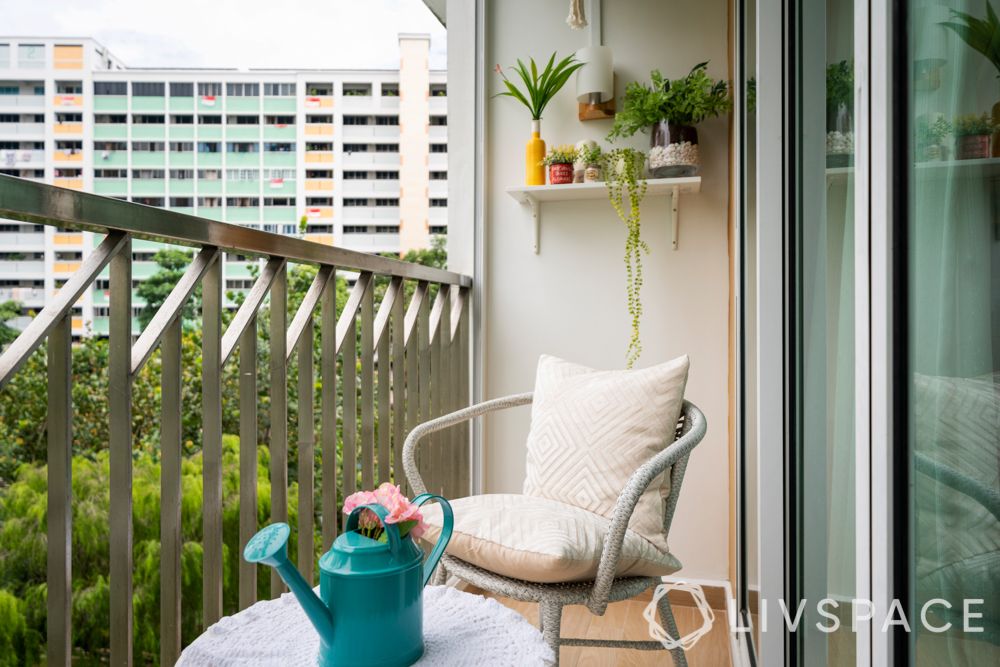 For all the singles out there, this balcony is just for you. A single rattan chair with a coffee table for company is what this balcony is made of. The cute wall shelf with plants is a great addition as decor and to add that element of freshness.
How Can Livspace Help You?
Everyone loves a great balcony design at home. If you are thinking of redesigning your balcony or home, then Livspace designer can give you just the right ideas. Book an online consultation with our designers now to turn your dream balcony into reality. We are all about quality and safe interiors.
Let the pandemic not stop you from attaining your dream home. We follow strict COVID-19 safety protocols, which you can read about here.
We hope you enjoyed reading this. If you are looking for bedroom decor ideas, you must check this out: We Got Inspired by IKEA to Give you 8 Bedroom Decor Ideas you Will Love.
Let us know which balconies you loved the best! Send in your comments & suggestions to editor.sg@livspace.com.