After a long hard day, when all you want is to sit back and relax in your personal space, settle with Netflix or a book – is your bedroom designed for complete relaxation? Do you find your compact bedroom to be cluttered and difficult to move around? Your bedroom design shouldn't exhaust you and it should reflect your sense of style as well. After all, it is your personal sanctuary. If not, here are ten of our latest designs that's sure to tick all the boxes.
#1: Let colours do the talking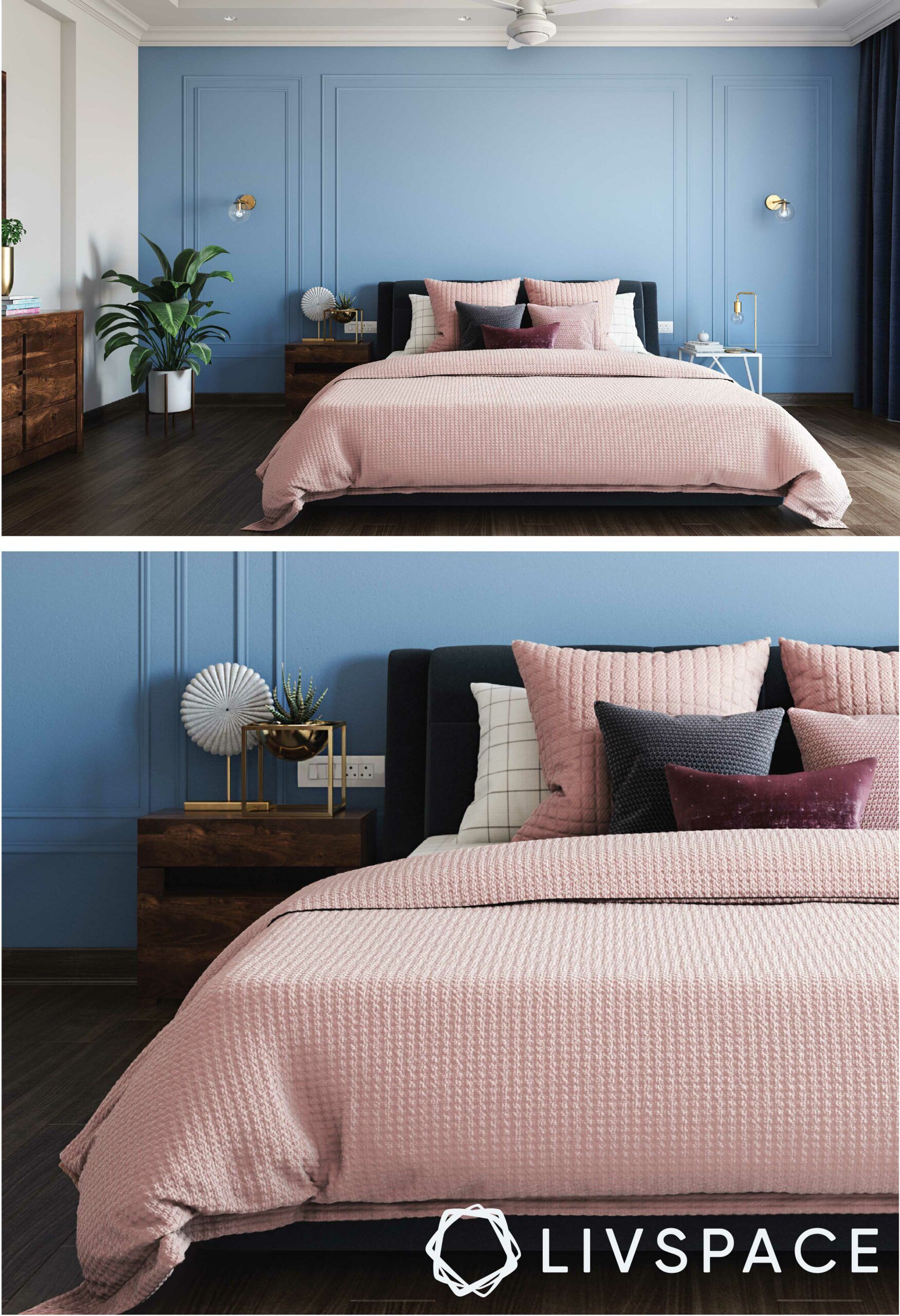 If you're all about making an effortless style statement, indulge in a bedroom that's to the point and play with the walls. We love how this room stands without extra furniture and sticks to the basics – a bed, side table and dresser. This way the powder blue wall is kept as the focal point. In addition, the wooden flooring that matches with all the furniture ties the look together.
Our Favourite Detail: While the powder blue wall dominates the room, it also tones it down at the same thanks to its elegant trims.
#2: A sink-in & relaxed bedroom design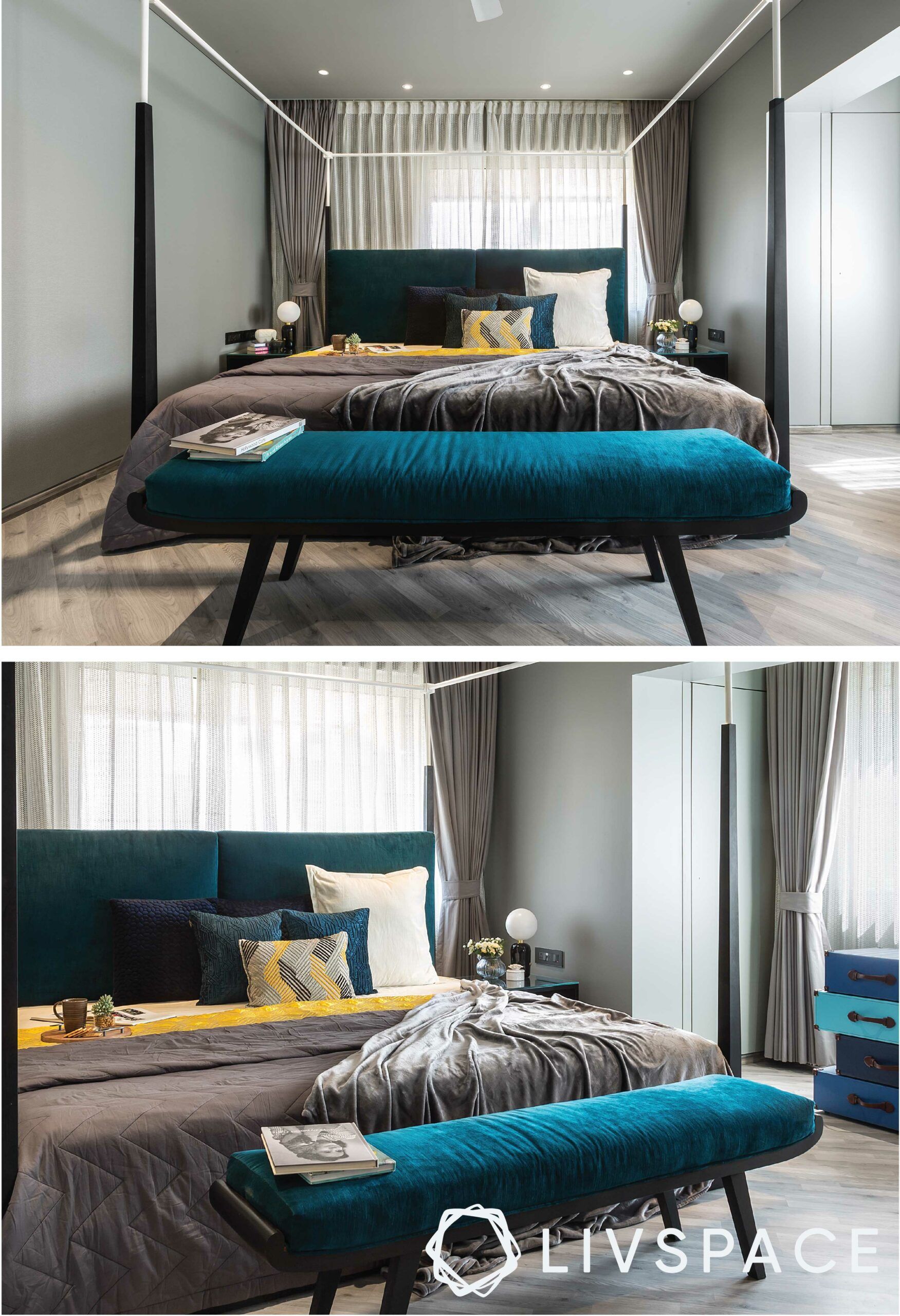 This bedroom is a perfect score on style and comfort. The bed is a modern twist on a four-poster frame with an upholstered headboard. In addition, the chest of drawers on the side also gets its own unique twist by resembling a stack of suitcases painted in hues of teal. A bench placed in front of the bed brings in added comfort.
Our Favourite Detail: Notice how the upholstered bench plays match with the headboard? The choice of keeping the dark teal bench in a rich velvet fabric certainly takes it up a notch too. If you want to see the full tour, take a look at A Potpourri of Styles for this 5-Room Condo
#3: Industrial-inspired bedroom design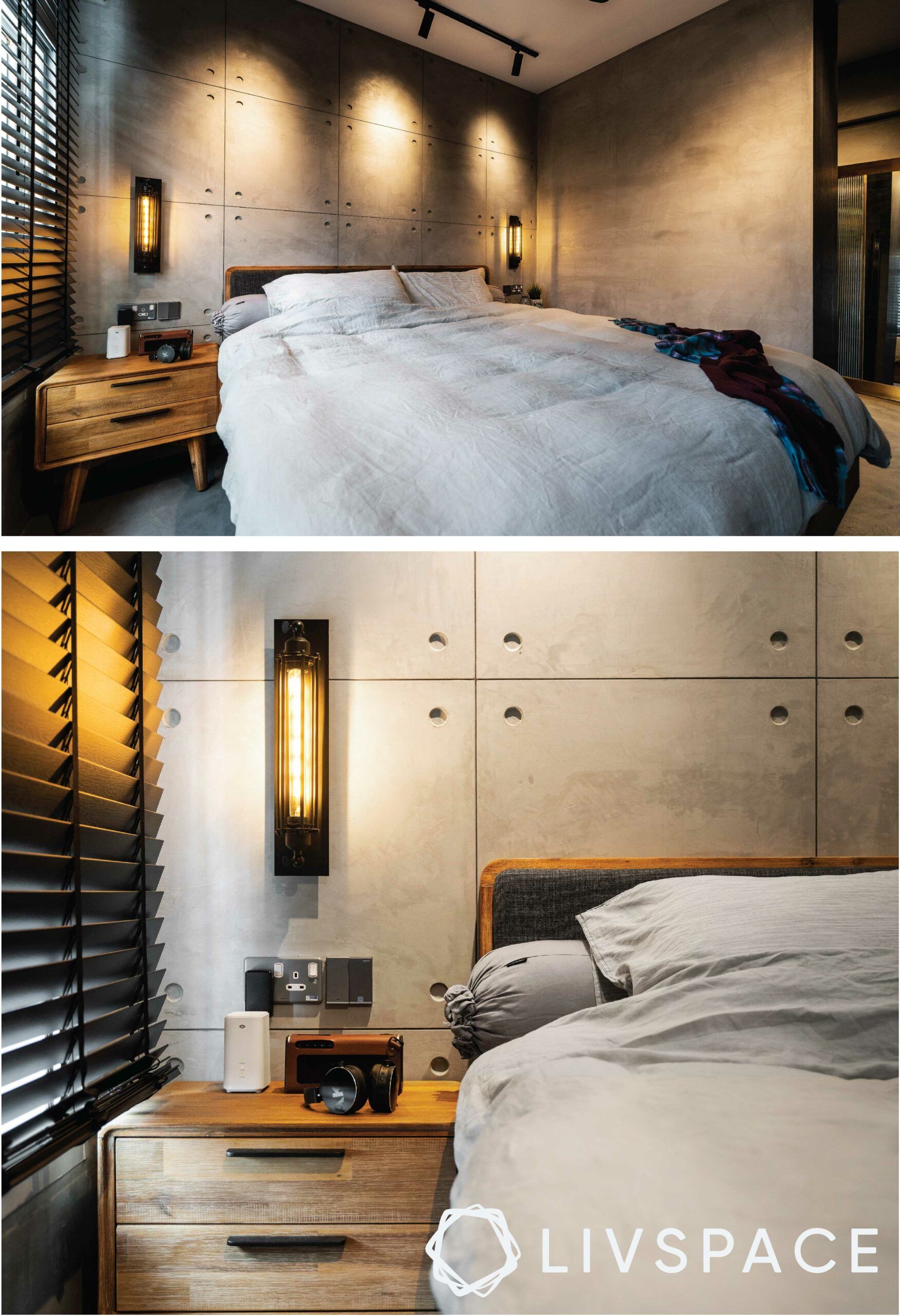 Raw and industrial – this bedroom design is perfect if you're looking for something edgy. Featuring cement screed walls, dark fixtures and blinds, and wooden furniture, the room is both warm and contemporary.
Our Favourite Detail: The play of lights and shadows cast on the walls thanks to track lights on the ceiling and the wall-mounted profile light in wrought iron on either side of the bed.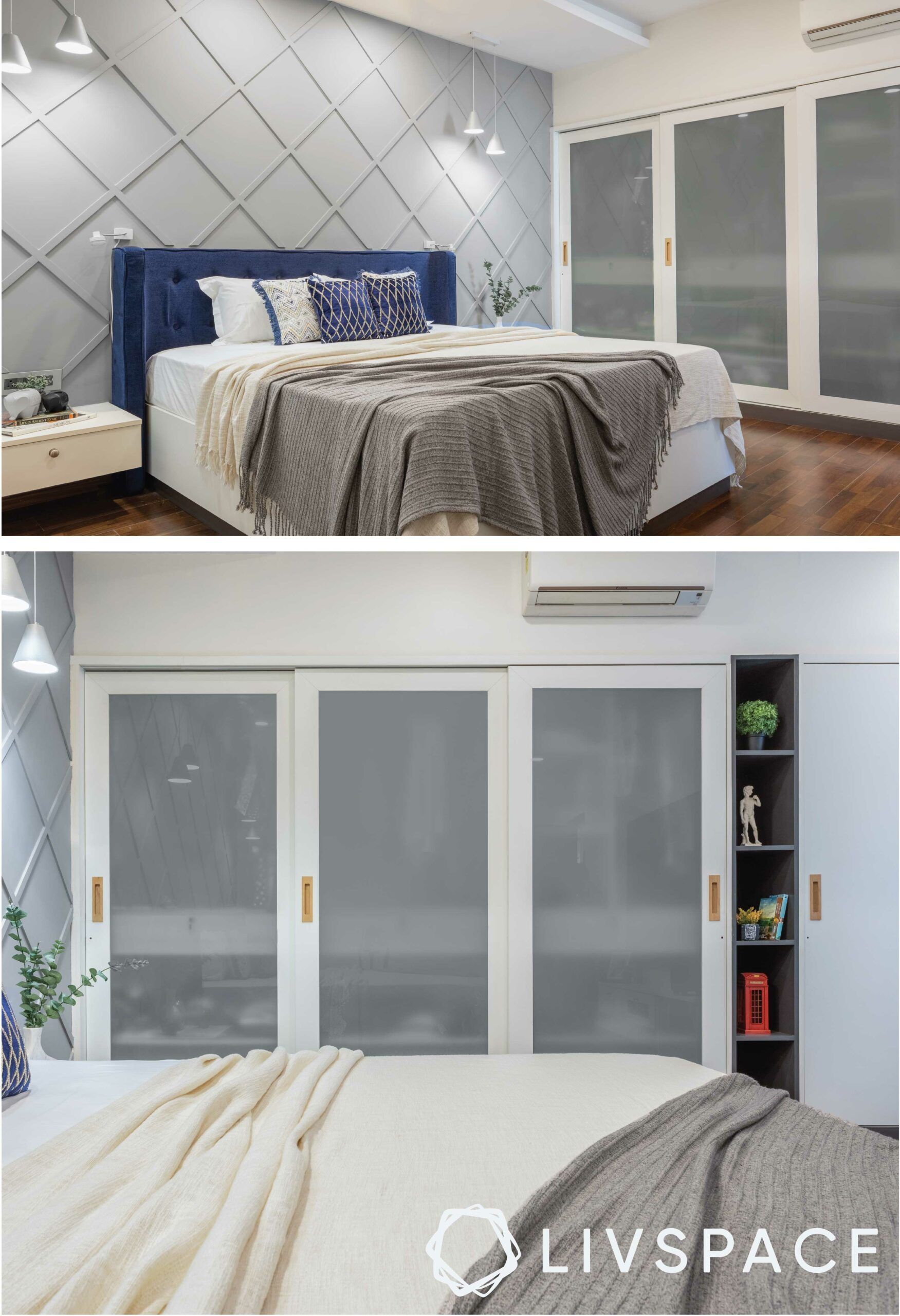 With whiffs of Scandinavian design, this bedroom is dressed in royal blues, greys and whites. The pendant lights on either sides of the bed, floating side tables, and of course, the grey backdrop with painted wooden trims keep the room minimally stylishly. The wall-to-wall wardrobe also complements the entire look.
Our Favourite Detail: The frosted glass doors for the wardrobe is an excellent hack to give an impression of an open and bigger bedroom for compact HDBs or condos. You can also flaunt your favourite collectibles or potted plants in the open shelf.
#5: Pastels for the win bedroom design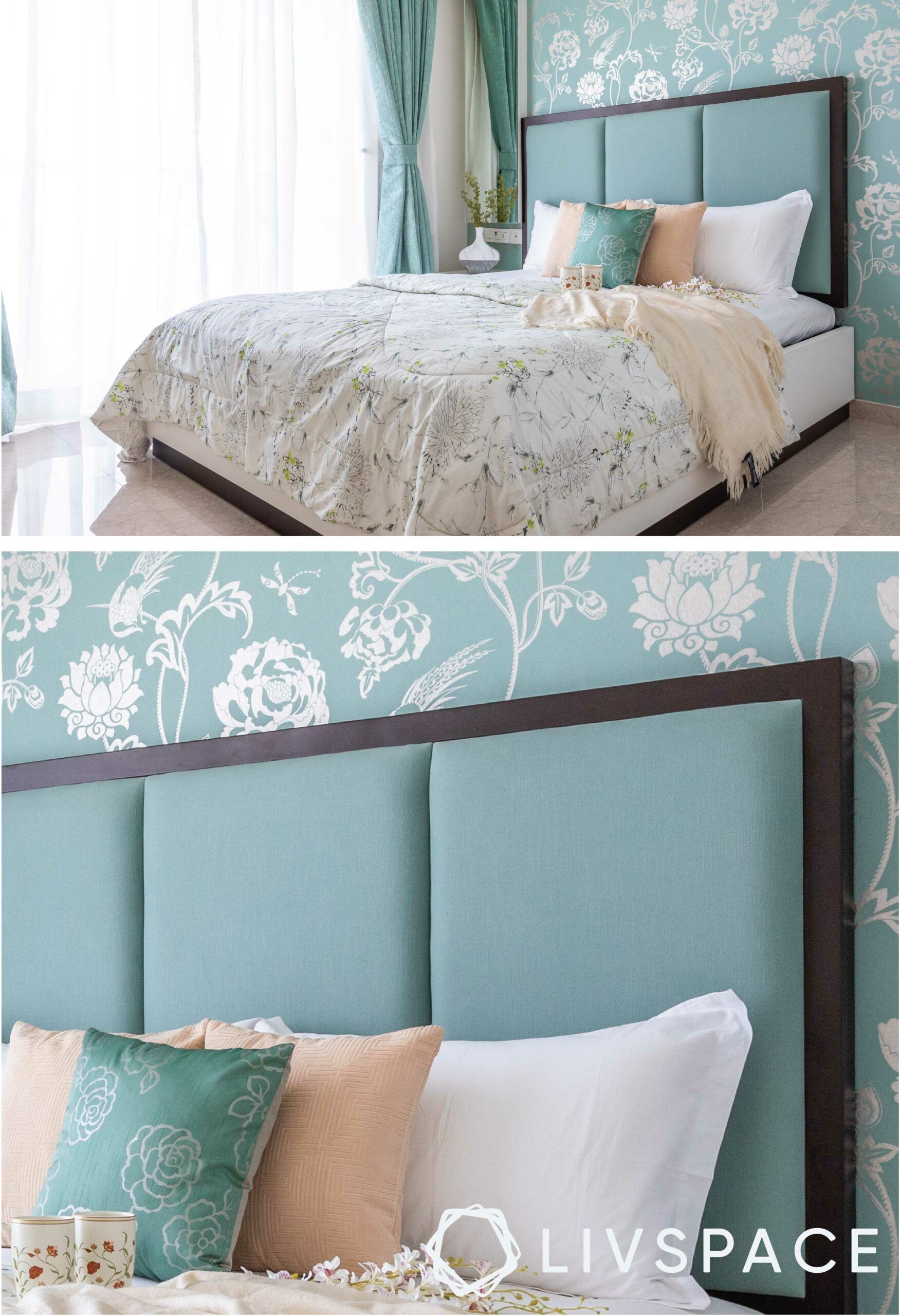 Nothing beats a dreamy simple bedroom design to unwind in. If you want to feel light and refreshed, consider this design that's dipped in soft pastels. From the wall-mounted headboard to the soft furnishings, minty green is certainly a visual treat and can help you get the slumber you are looking for!
Our Favourite Detail: The floral wallpaper definitely holds your attention. We especially love the silver tint that gives it an extra oomph. Like all things pastels? You might enjoy Pleasing Pastel Colors for Home Decor.
#6: A play on visual textures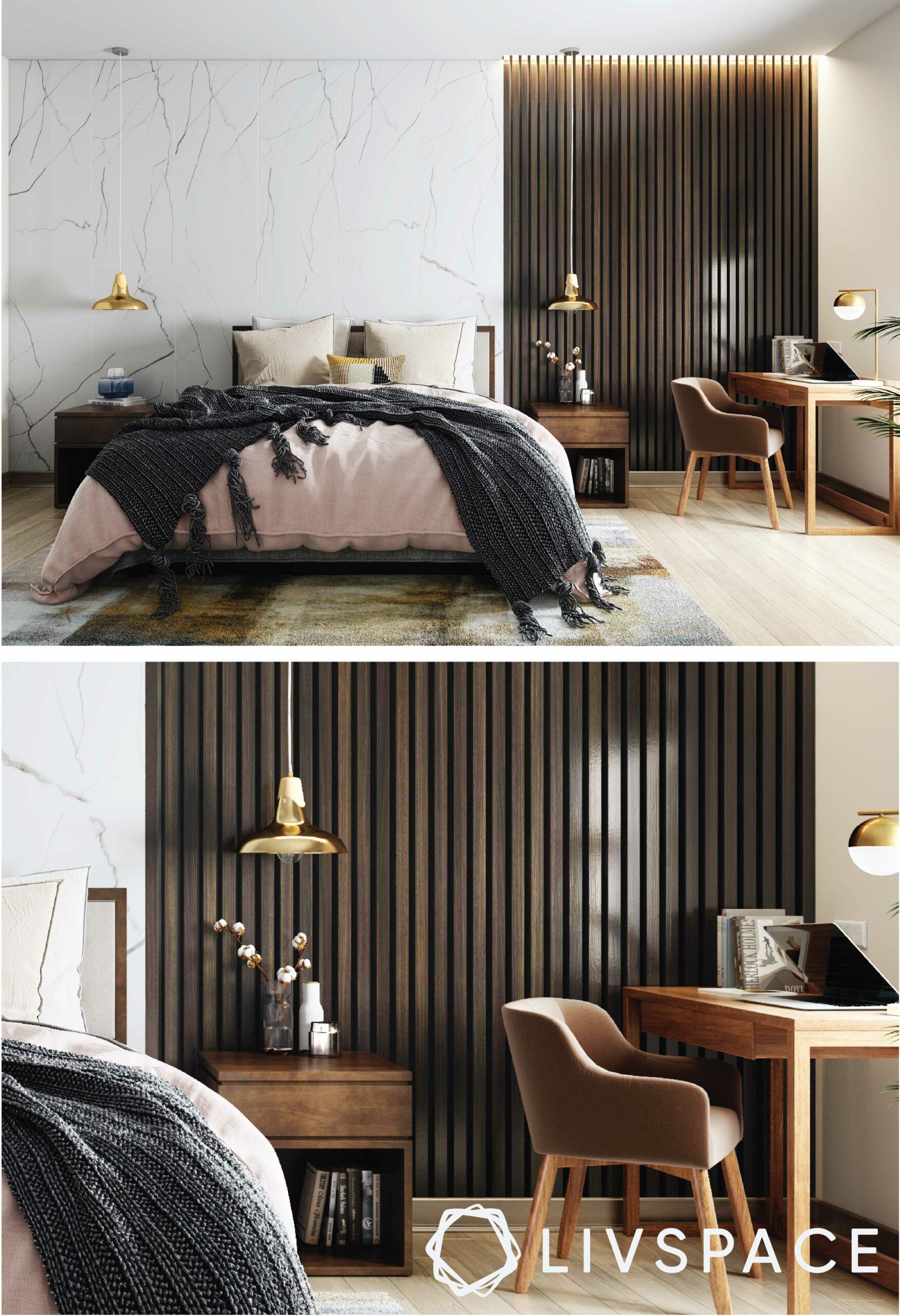 For a touch of drama, we suggest turning your walls into a work of art. The walls in this bedroom is marked by marble detailing on one side and wooden cladding on the other side. While keeping things swanky, it also gives your room an impression of depth. In addition, the pendants light on either side of the bed and the study nook add to the functionality of the room.
Our Favourite Detail: We love how the walls act as a visual divider to the corners of the room. The marble-esque wall helps you to relax when you are in bed while the wall cladding serves as the focal backdrop when you are at the study table.
#7: Clean and minimal bedroom design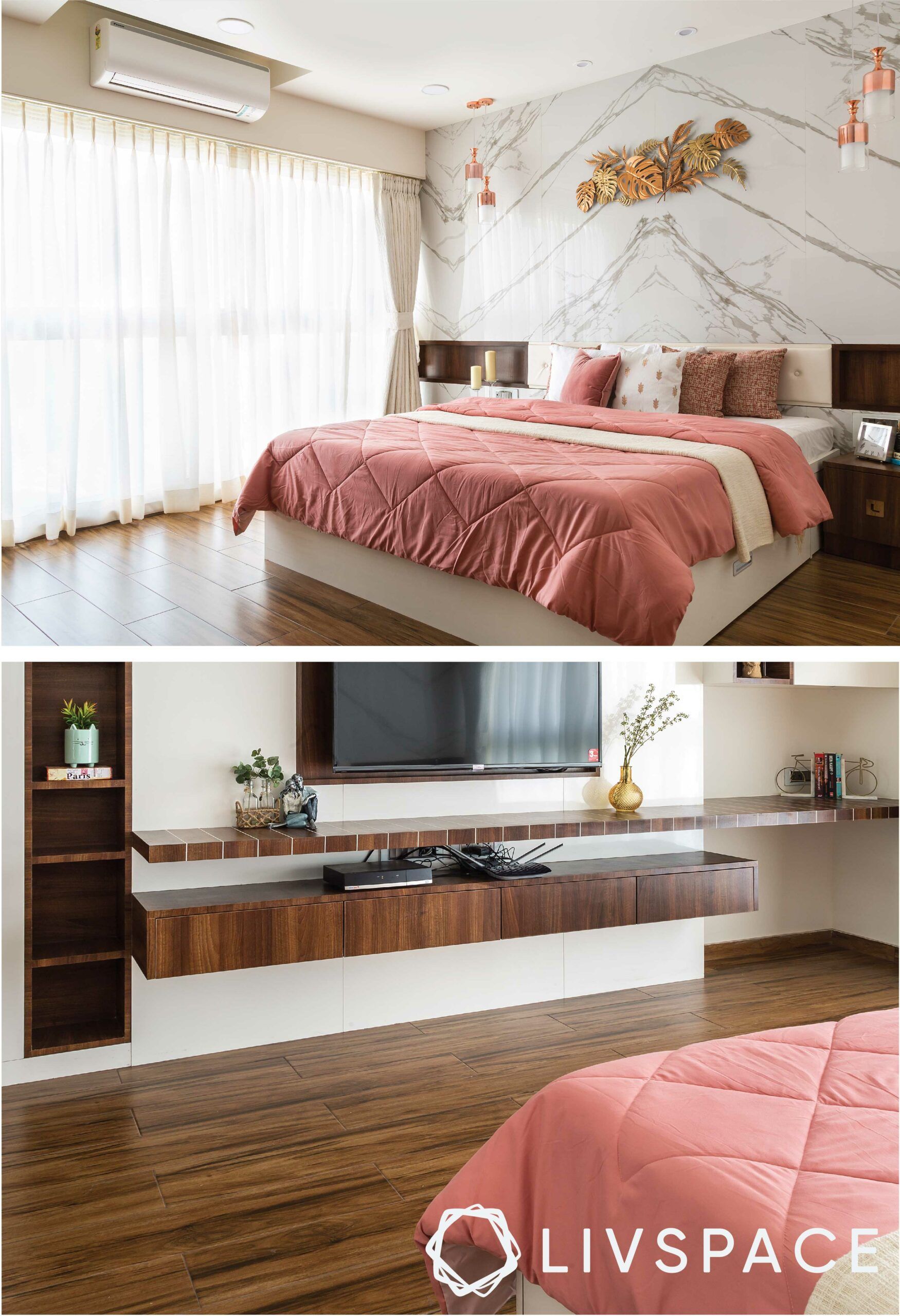 Looking for something luxe and minimal? This bedroom is just your answer! With a marble backdrop and rose gold metal accents, the modern bedroom design acts as a befitting treat to your day. Also, while you have bedside tables to keep your knick-knacks, a wooden niche has been cast into the marble wall to keep things intriguing and functional. In addition, you can bask in the abundance of sunlight since nothing is blocking the gorgeous balcony.
Our Favourite Detail: While the marble centre wall is an instant stunner, the wall-mounted TV unit on the opposite side scores on efficiency. It's "floating" design, open shelves to display your essentials, and extended table top acts as makeshift study too.
#8: Monochrome & dramatic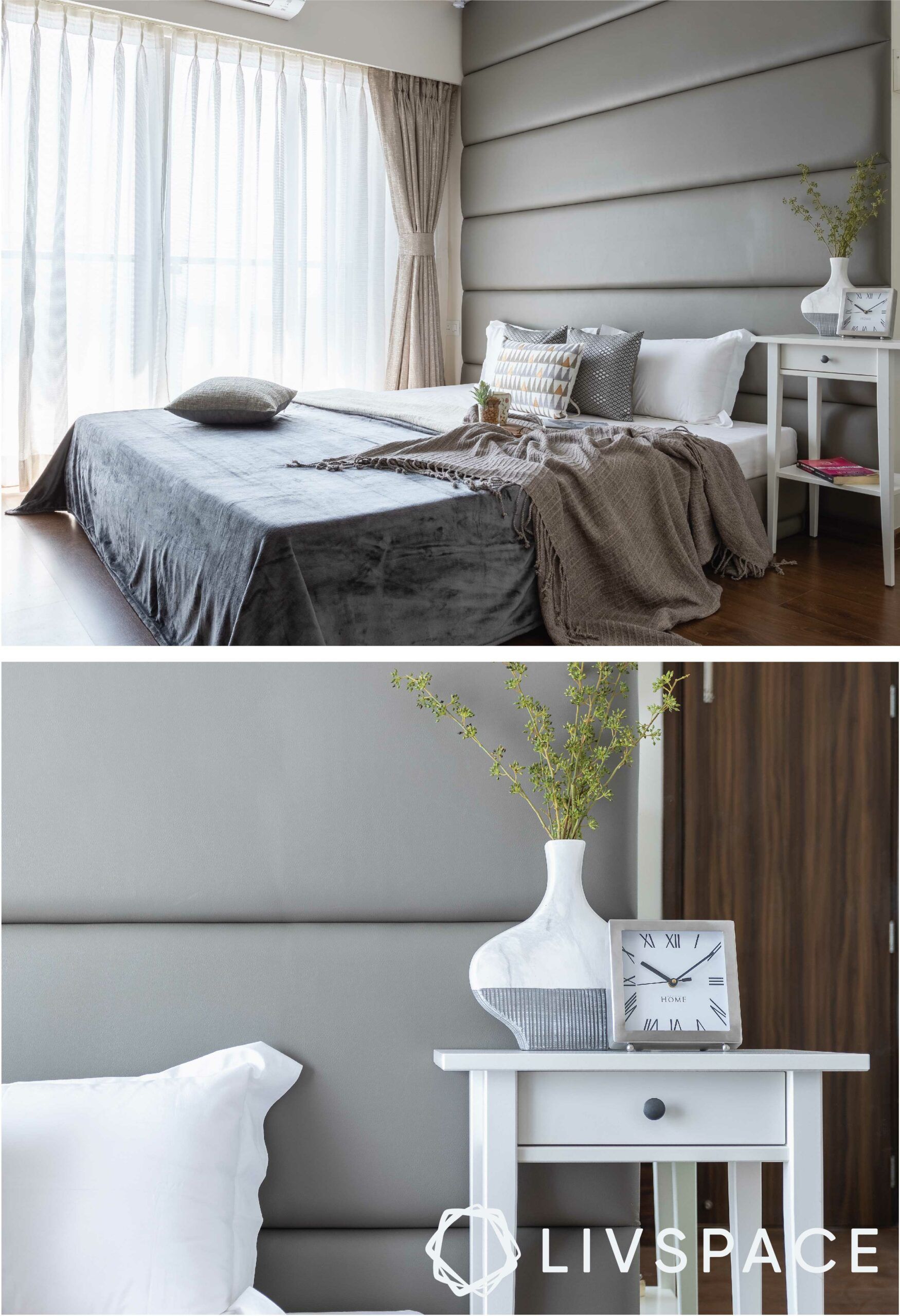 Super compact bedroom? We suggest spicing things up with a dramatic headboard like this bedroom. The floor-to-ceiling element oozes comfort and elegance in a slate grey hue and you can easily match your pillows and bed linens for continuity.
Our Favourite Detail: On the lines of effortless style, the tall bedside table with a lone drawer and shelf complements the entire look.
#9: Soft-hued bedroom with dainty details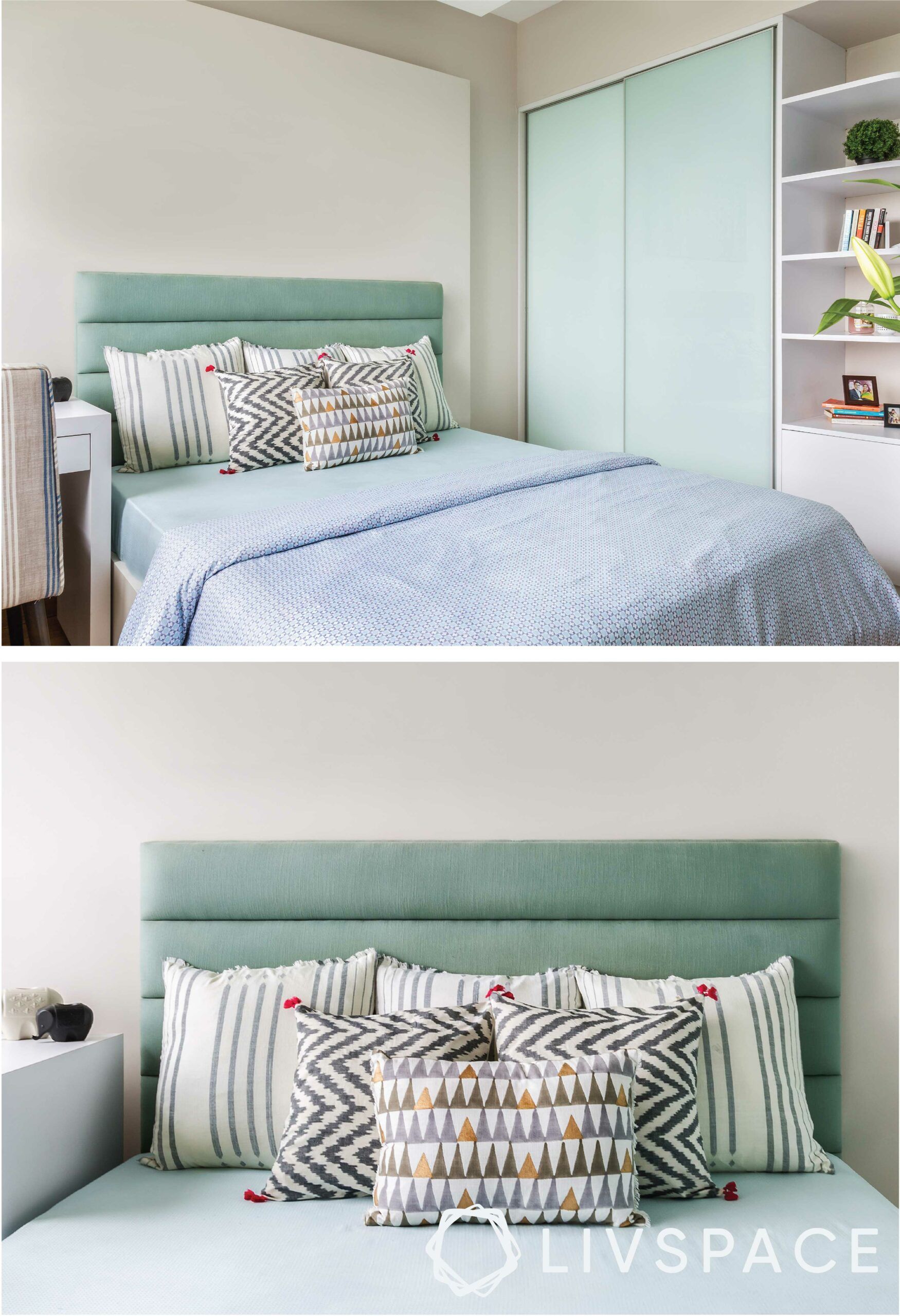 Feel you can't do much with your cosy HDB or condo bedroom? This is the inspiration you are looking for. Notice how the room covers only the basics? From the sliding wardrobe with back painted glass shutters to the white open cabinet to stash books and display photos, everything is dressed in soft hues.
Our Favourite Detail: The light green panelled headboard is just the right size for the compact room.
#10: Clutter-free in lavender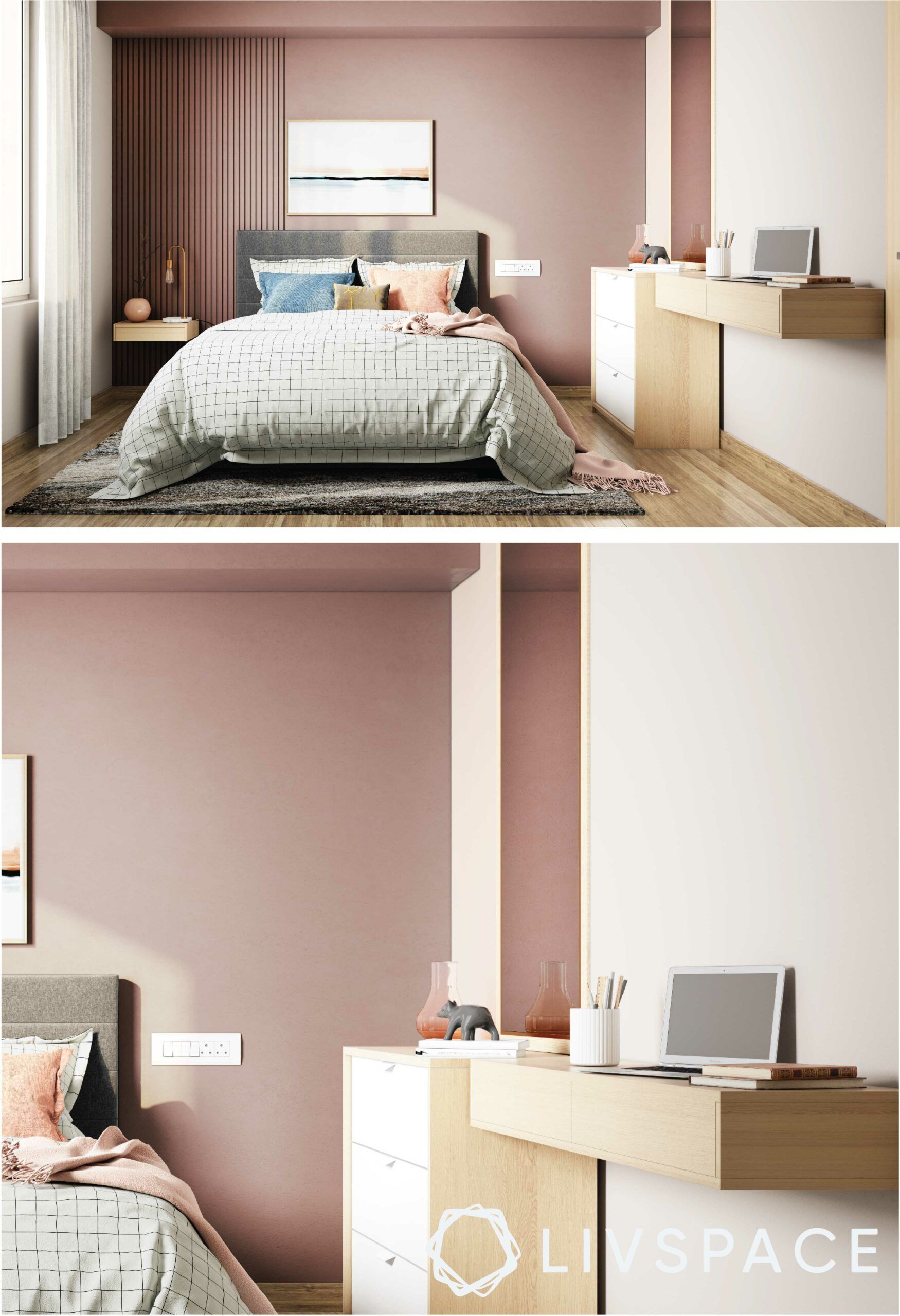 If you're really cramped for space, our other suggestion for bedroom ideas is to bring in wall-mounted furniture. This bedroom with a lavender centre wall flaunts a light-toned side table, a cabinet of drawers, and a study table.
Our Favourite Detail: The wall-mounted table that with two seamless drawers helps create the illusion of a bigger bedroom. Also, there's plenty of leg room if you pull up a chair!
How can Livspace Help You?
Feeling inspired? Livspace experts can help you with amazing bedroom designs. Book a consultation and get quality and safe interiors.
You can read about our COVID-19 safety practices here.
Also, if you loved seeing these modern bedroom designs 2021, take a look at how to Design Your Home Like a Minimalist.
Send in your comments & suggestions to editor.sg@livspace.com