Bedrooms are almost like an extension of your personality. It's private and intimate. But what do you do when you want all your essentials and the perfect ambience in your main bedroom especially if it's small in size? That's how a smart bedroom interior design can help! Whether you are looking for something fresh and minimal or a little pop of oomph, there's a way around typically small Singaporian bedrooms. Or any size for that matter!
Ideas for Bedroom Interior Design #1: In wood & white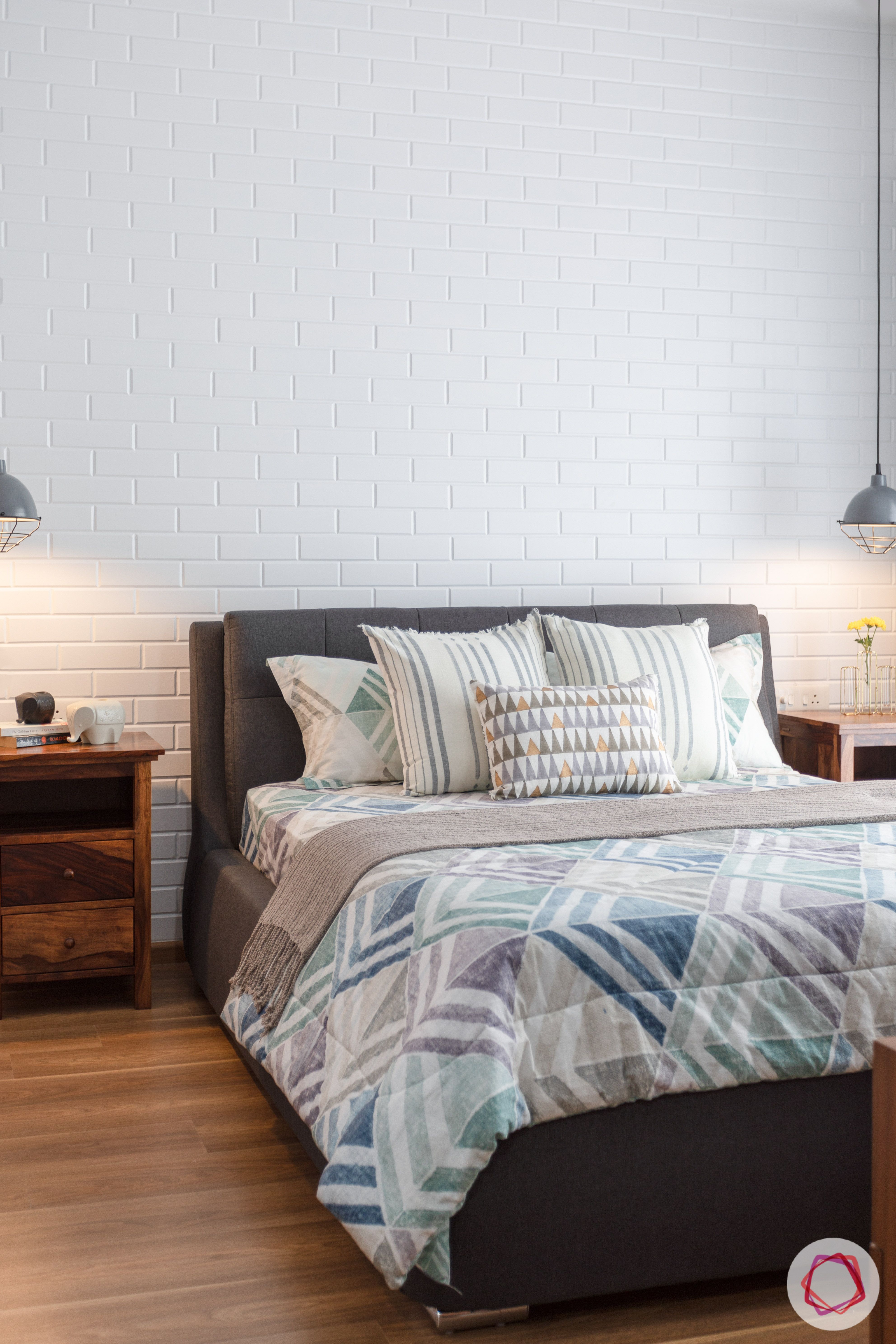 Soft and minimal, this bedroom is all about no distractions and complete downtime. From the white exposed brick walls to the sleek pendant lights on either corner, the space looks cosy and snug. The inspiration for this particular bedroom renovation comes from typical New York loft designs. The wooden flooring accentuates the complete look.
Ideas for Bedroom Interior Design #2: Marble as the accent element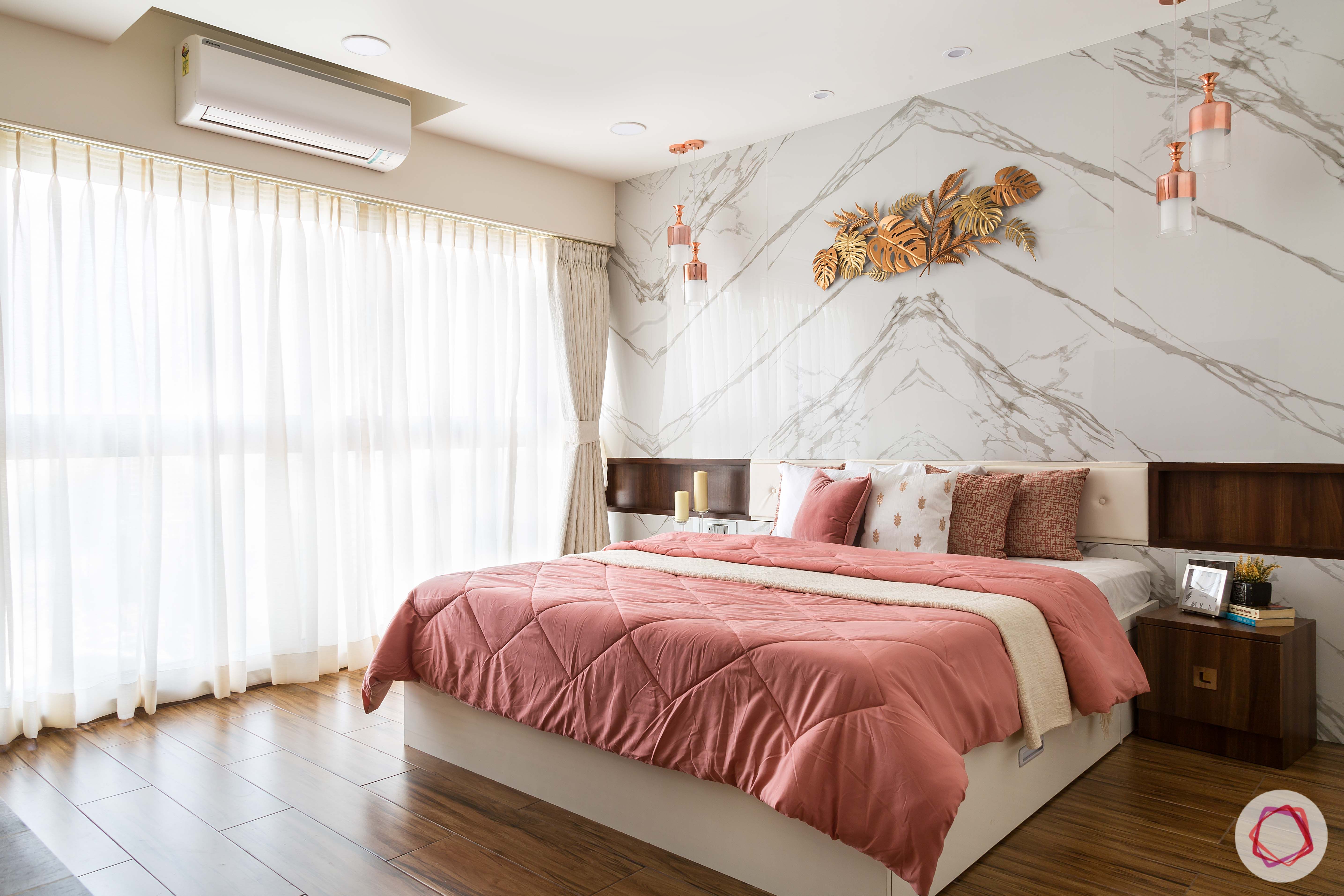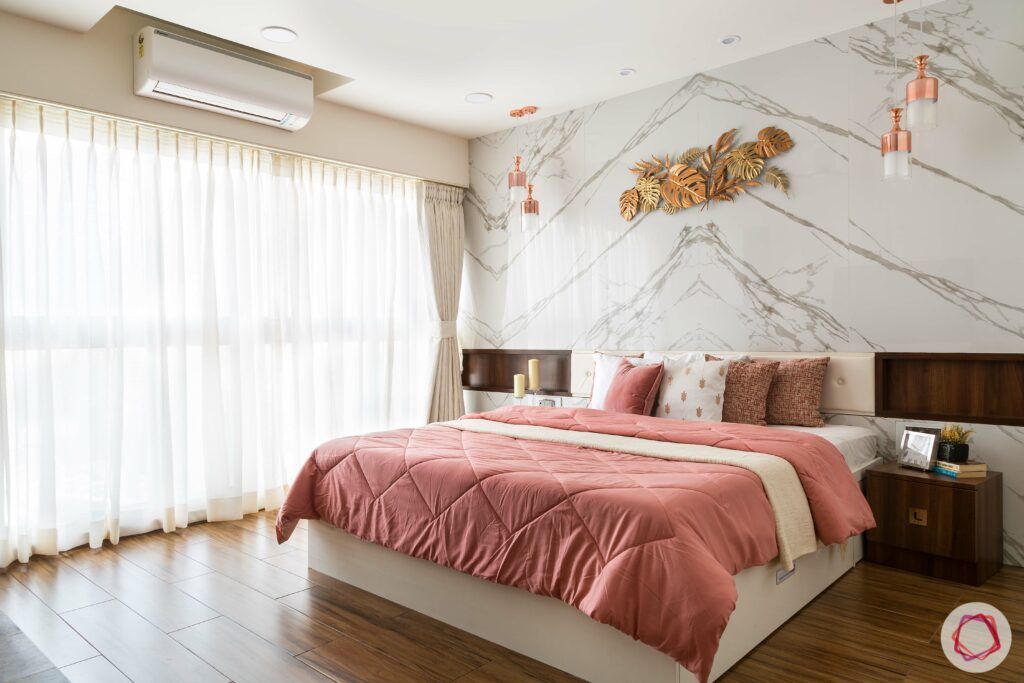 If you love the elegant veins of marble for a sheen look, we suggest using it as the backdrop of your bedroom. Like we did for this bedroom. Standing out in subtle glamour, the marble accent wall reflects all that sunshine pouring into the room. It flaunts niches as well for you to stash your essentials. A gold-toned metallic piece holds the centre with two pendant lights on either side. The softness from the white upholstered headboard and the warmth from the wooden flooring completes the look.
Ideas for Bedroom Interior Design #3: Chic with a pop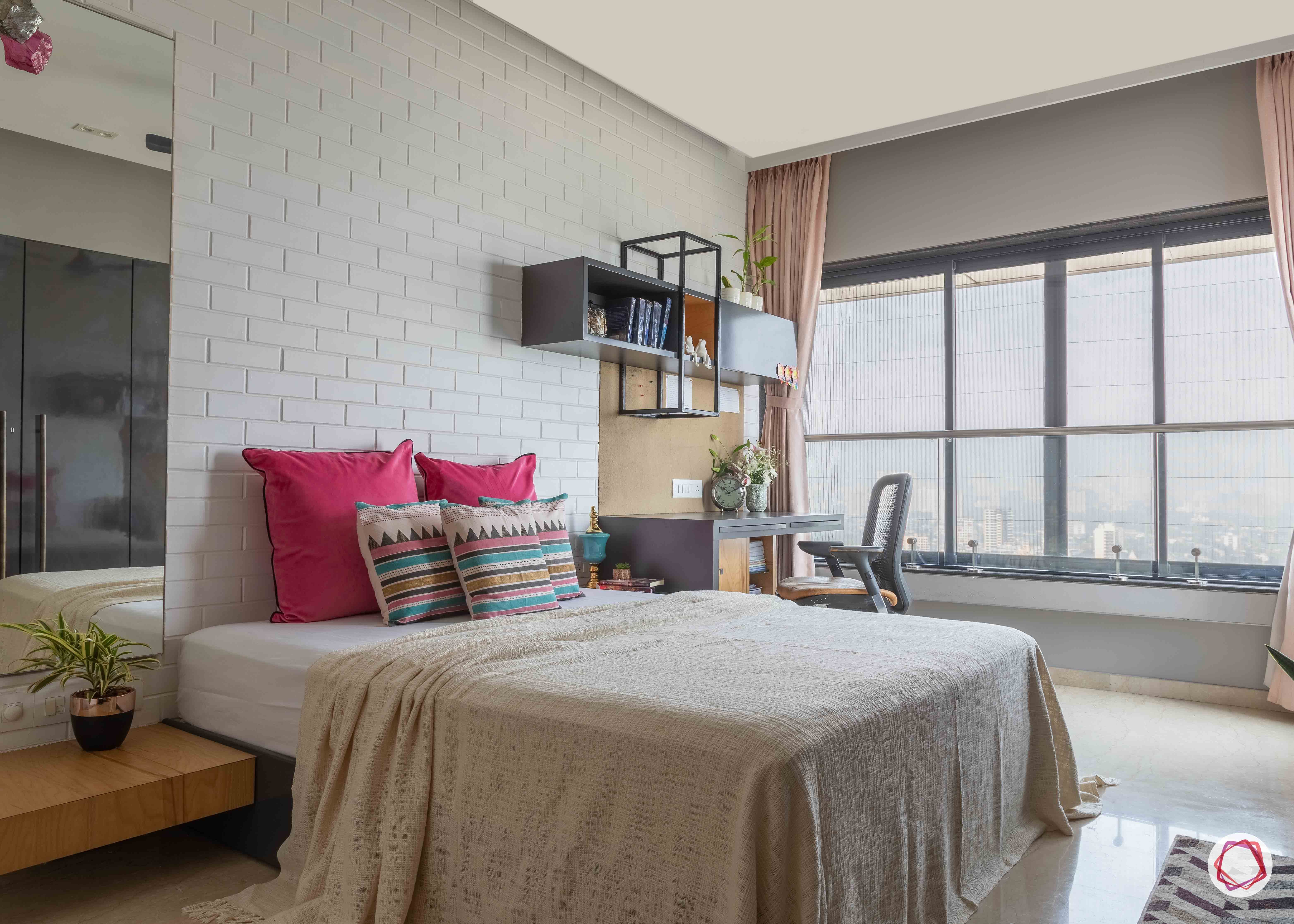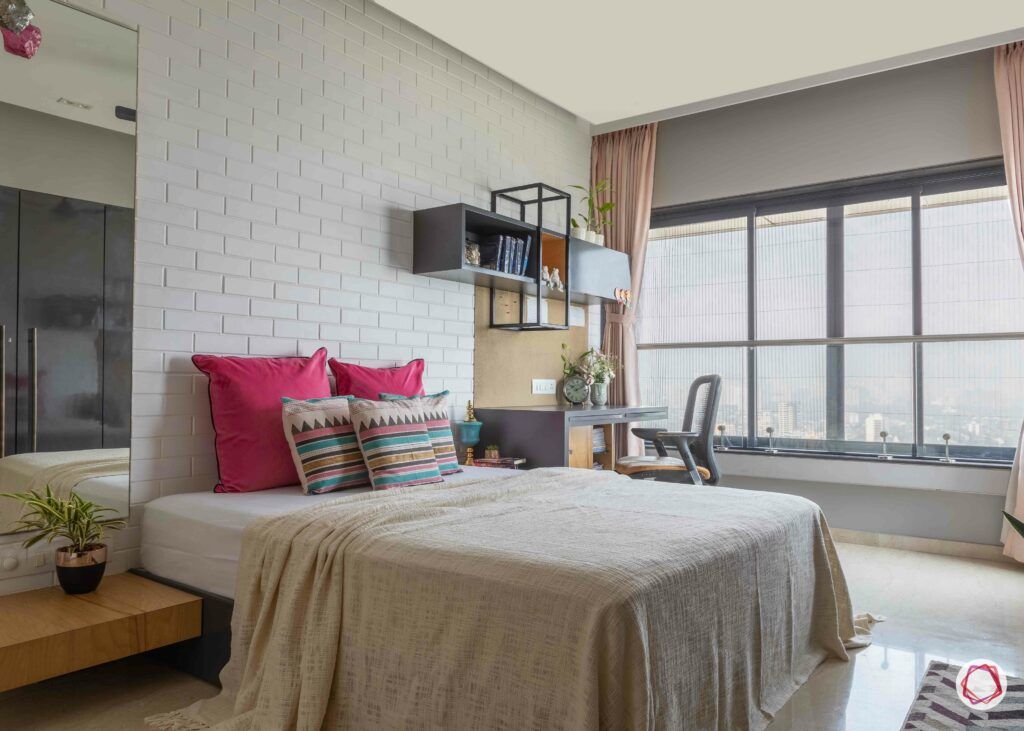 Chic? Check. Trendy? Yes! This bedroom renovation is clean and muted. The absence of a headboard helps to keep the focus on the white brick tiles. A mirror and sleek table offers a corner to dress up. While the study table stands in shades of oak and dark grey, it also flaunts a pin up board for notes and photographs. The pop of pink from the pillow is in a complementing contrast to the room.
Ideas for Bedroom Interior Design #4: Clean & Simple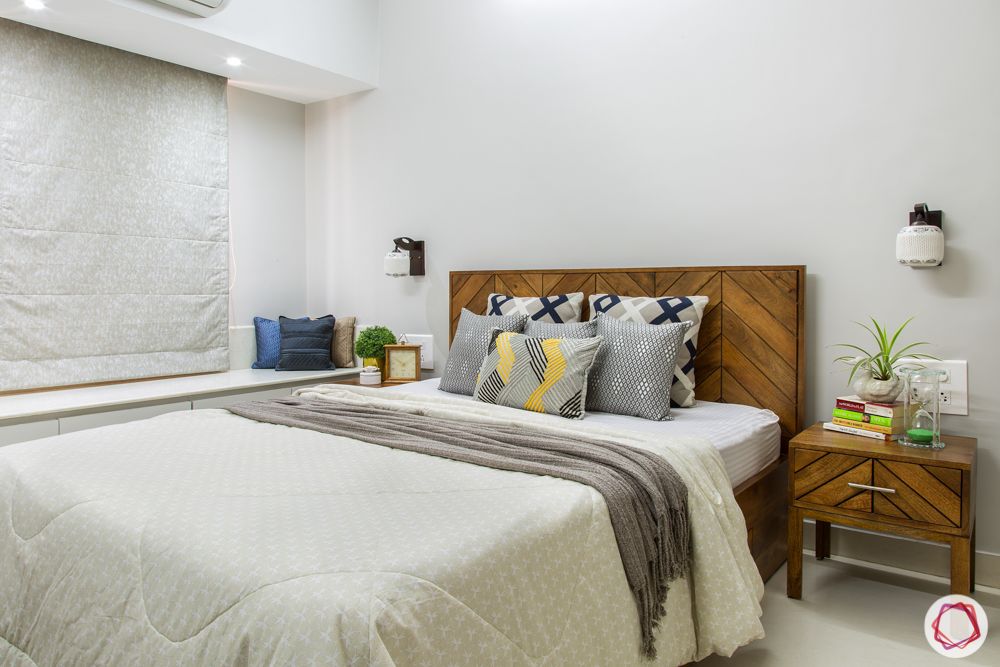 Straight to the point your kind of thing? This bedroom renovation is kept simple in a grey and wood palette. If you are looking for a warm and inviting setup, a wooden bed with prominent headboard makes a good focal point. Play match and put in wooden bedside tables. A window seat is an amazing way to squeeze in a seating option and snuggle up with a cup of Joe.
Ideas for Bedroom Interior Design #5: Travel-inspired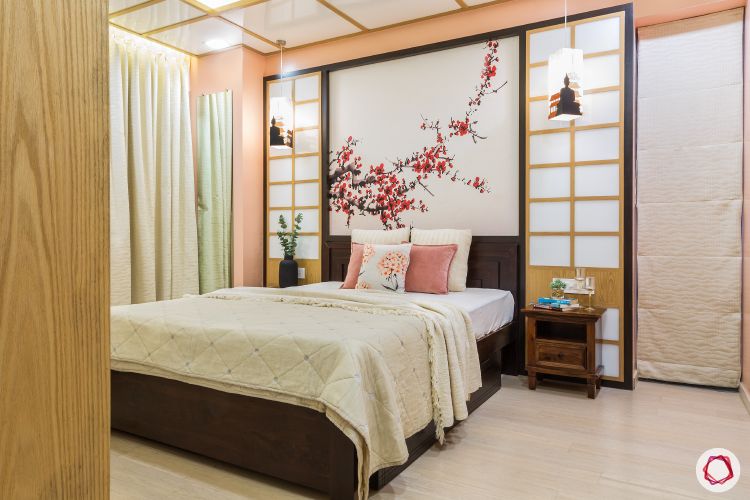 Want a piece of your vacation etched in your main bedroom? Take cues from this Japan-inspired room we designed for a family who loves to travel. A cherry blossom wall is the first thing that catches your eye, followed by the false ceiling done up in acrylic sheets and wooden frames. The salmon-hued wall adds a touch of softness as well.
Ideas for Bedroom Interior Design #6: Subtly Victorian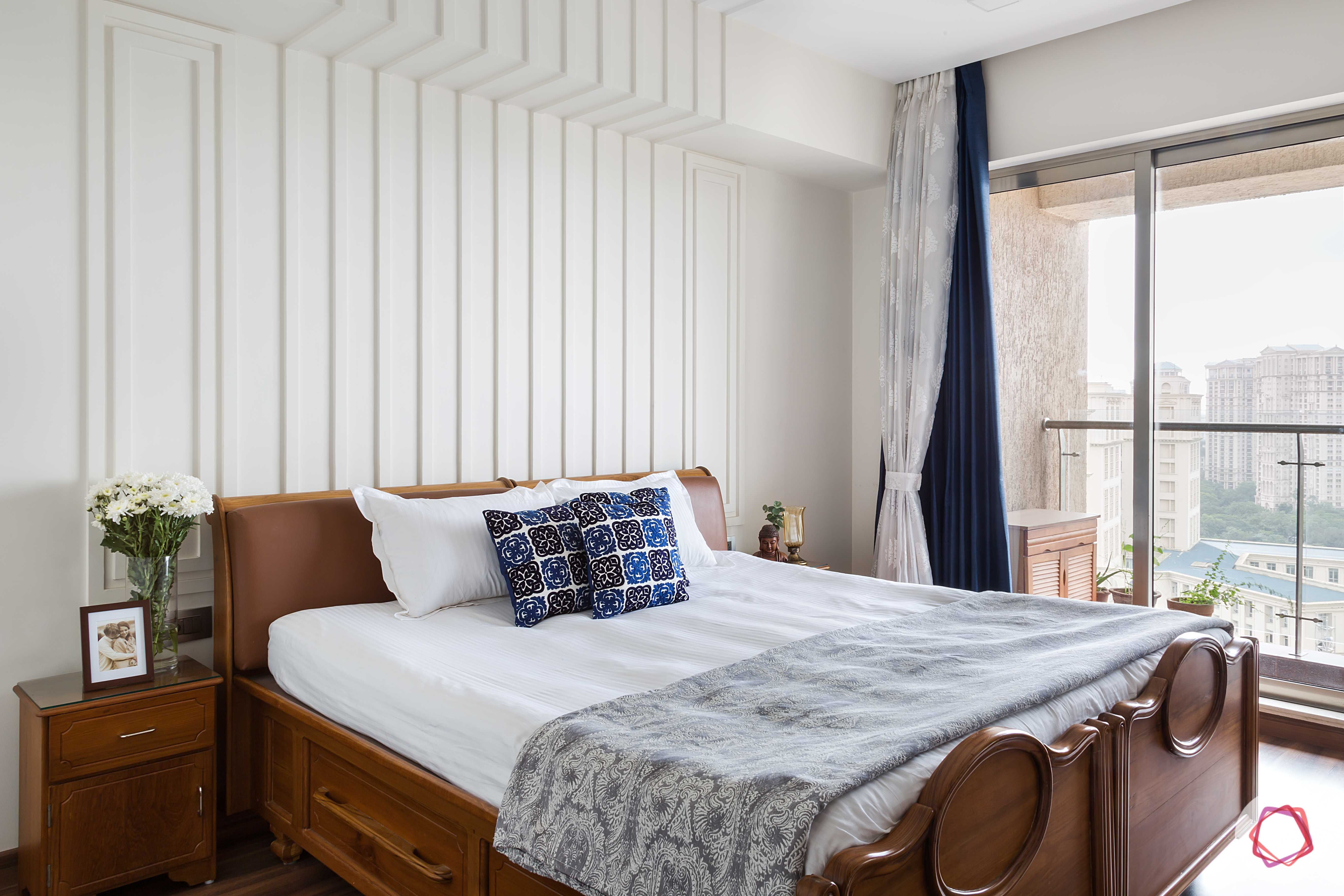 Something about wall mouldings scream the uber popular Victorian era. This bedroom renovation that can be easily replicated for your condo or HDB is flawlessly chic. Propped against wall mouldings that run to the ceiling as well, a dark wooden bed and matching bedside table makes for a cosy unwinding zone.
Send in your comments and suggestions.