Wardrobes are a crucial aspect of a home and there are plenty of wardrobe designs available in the market for you to choose from. If you ask us our opinion about what kind of wardrobes are the most sought after, it is hands down, wardrobes with mirrors. A mirrored wardrobe is favoured by most people for several reasons, which we get into below. So read on to discover just why they are so popular!
Should you buy a mirrored wardrobe?
Here are the reasons why you should consider buying a mirrored wardrobe:
It is a functional and space-saving option. How? A mirrored wardrobe removes the need for a vanity unit and makes the wardrobe appear less bulky.
It reflects light and brightens up the space.
It makes the room look large and spacious. This is a boon especially in compact bedrooms.
It enhances the aesthetic appeal of the room.
Need we say more? If you are convinced of the benefits of having a mirrored wardrobe, take a look at some of the best designs by Livspace.
Best Mirrored Wardrobe Designs by Livspace
#1: Wardrobe With Full-Length Mirror Panels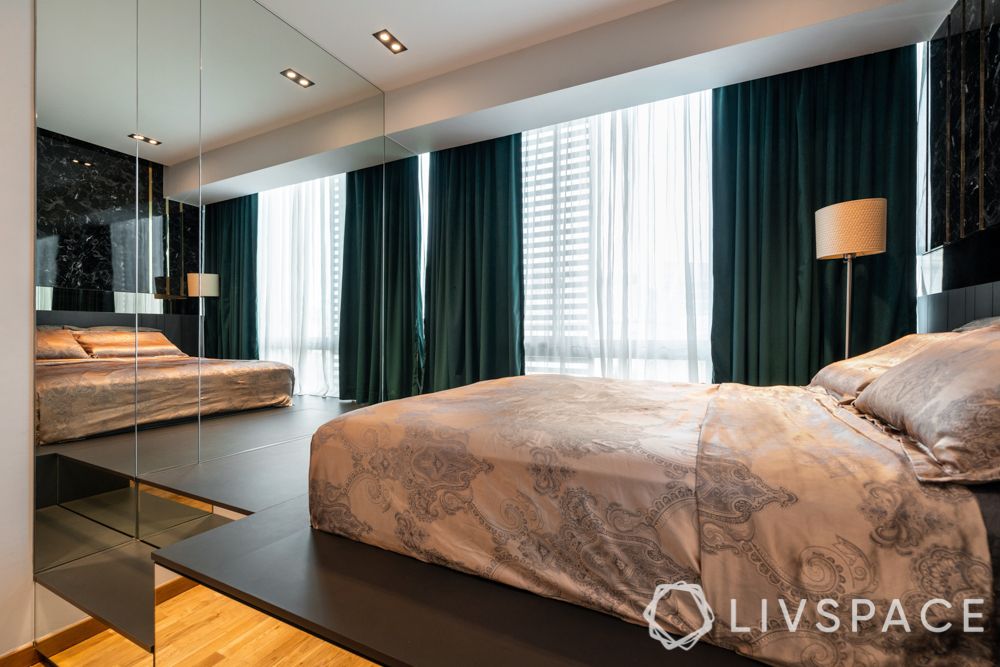 This mirrored wardrobe design is a great option for compact homes. By giving an illusion of a larger space, the mirror panels on the wardrobe instantly open up the room.
#2: White Floor-to-Ceiling Wardrobe With Mirrors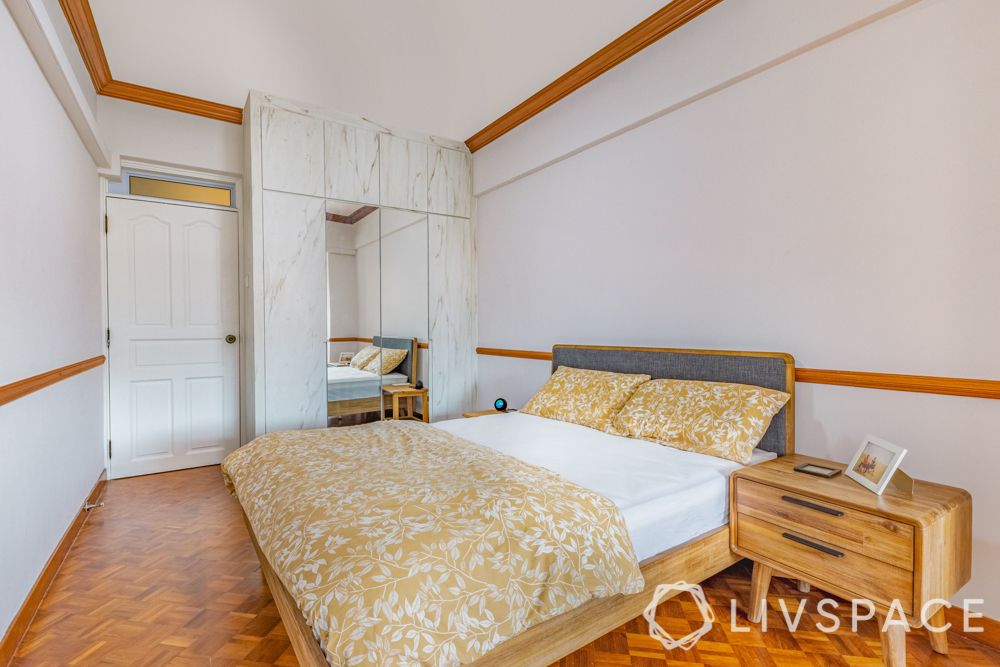 This distressed-looking mirrored wardrobe fits perfectly in a corner of the room. There is no dearth of storage space in this floor-to-ceiling wardrobe. With centred mirrors, it also doubles up as a vanity unit.
#3: Multifunctional Wardrobe Unit With Mirror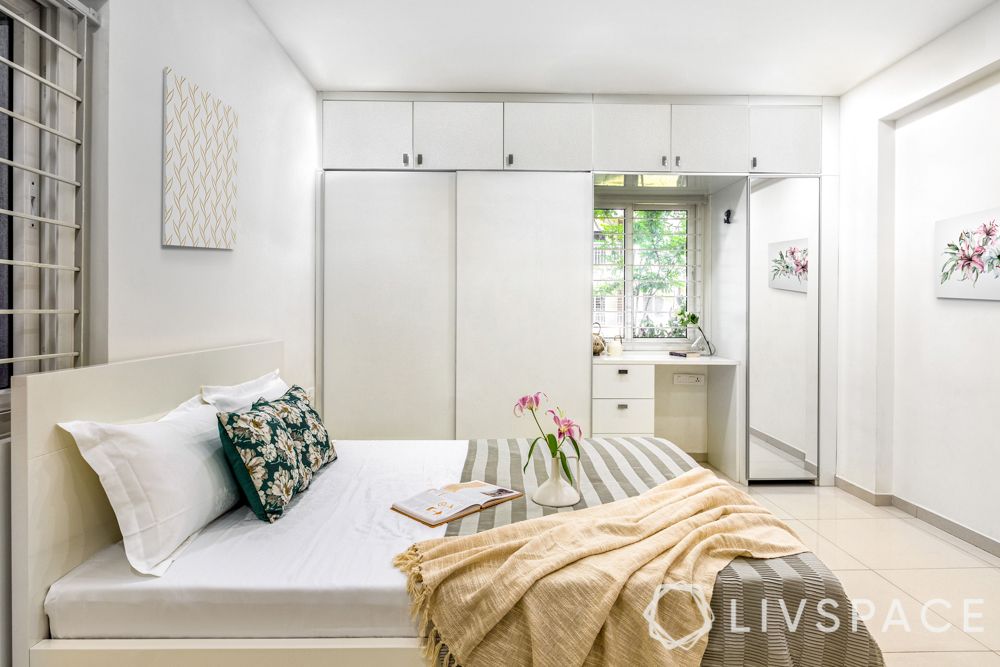 Combining swing doors, sliding doors and lofts, this white wardrobe is multifunctional. It is a storage space, study desk and dressing unit all in one. It is one of the most practical ways to fit in a mirror on the wardrobe.
#4: Sliding Wooden Wardrobe With Mirrors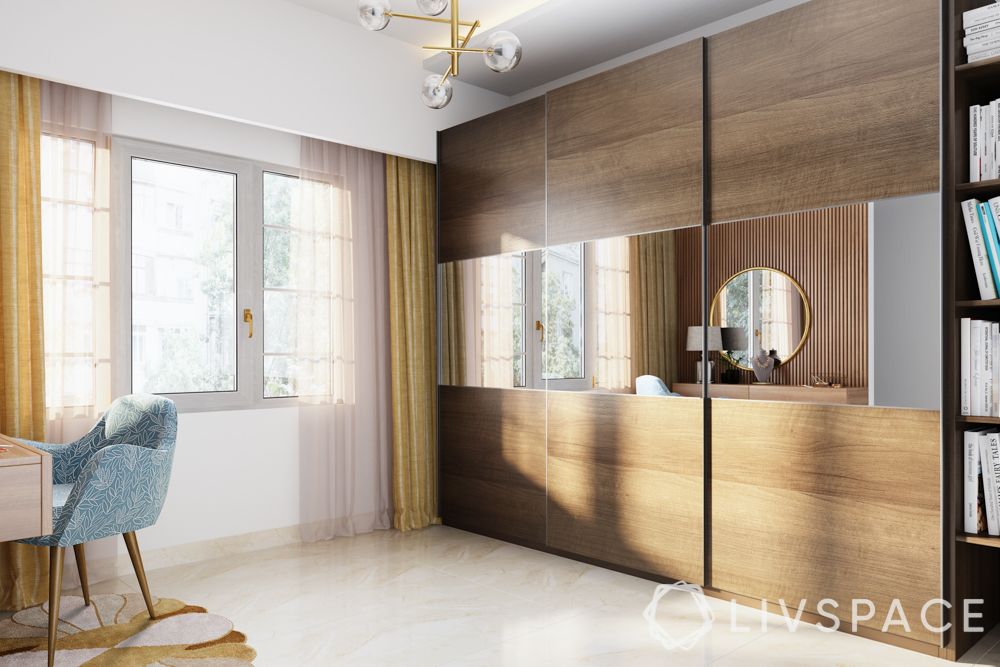 Enhance the classic wooden finish by installing mirrors in the centre of the wardrobe. This is a good option if you wish to break the monotony of a neutral background and add a touch of elegance to the space.
#5: Blue Mirrored Sliding Wardrobe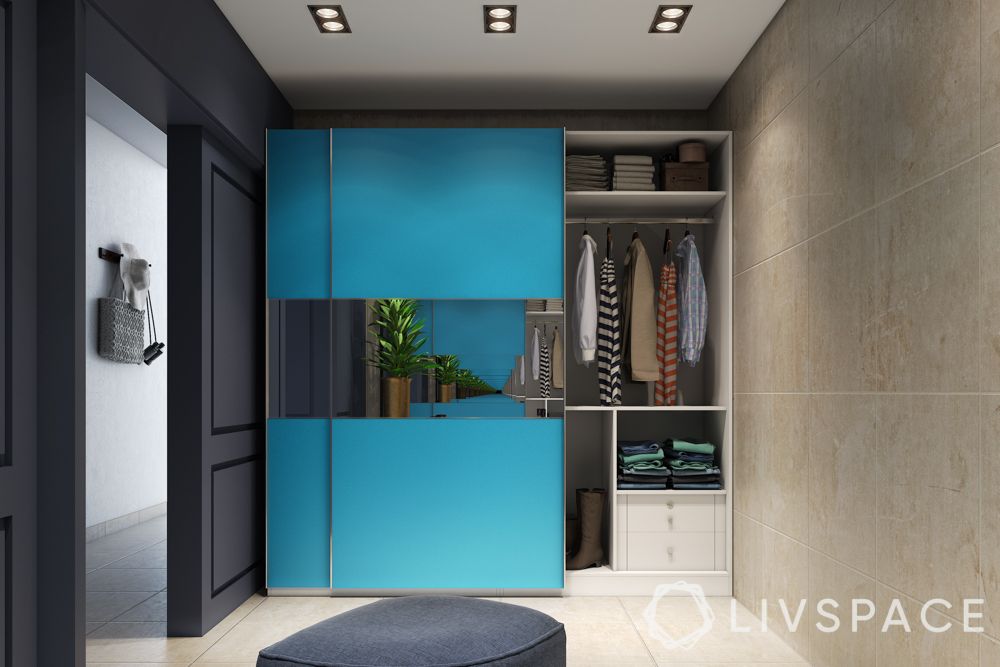 Not a fan of wooden and neutral finishes? Then add a bit of drama with a bright colour like blue. This mirrored wardrobe has sliding doors, making it ideal for compact spaces.
#6: White Mirrored Wardrobe With Sliding Doors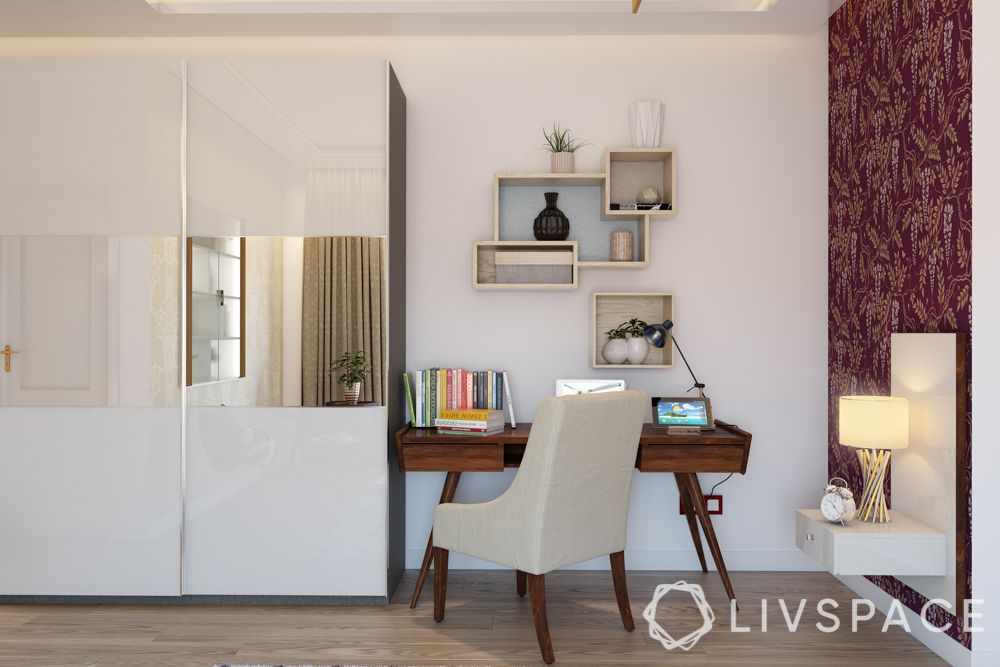 This stand-alone wardrobe design is another practical choice for cramped spaces. Finished with white laminate and mirrors, it doesn't appear bulky and hence does not overwhelm the space.
ALSO READ: How to Make the Best of Your Compact Bedroom with a Sliding Door Wardrobe
#7: White Wardrobe Sliding Mirrored Door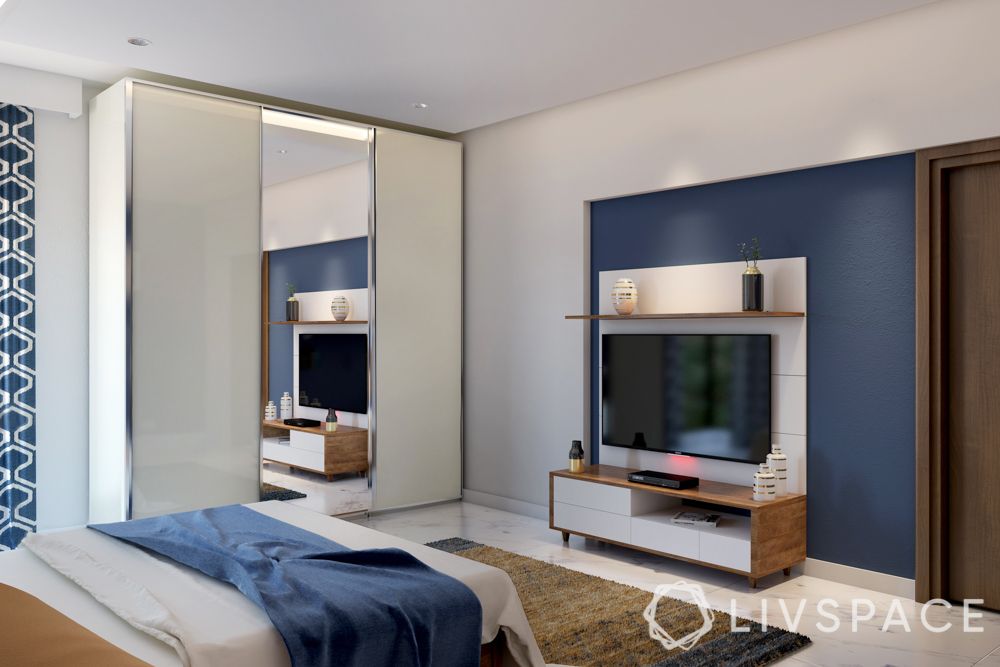 Pretty and sleek, this wardrobe has a sliding mirrored door in the centre. This is a smart wardrobe design as you can use the centre cupboard as a vanity unit.
#8: Wardrobe With Full-Length Mirrored Doors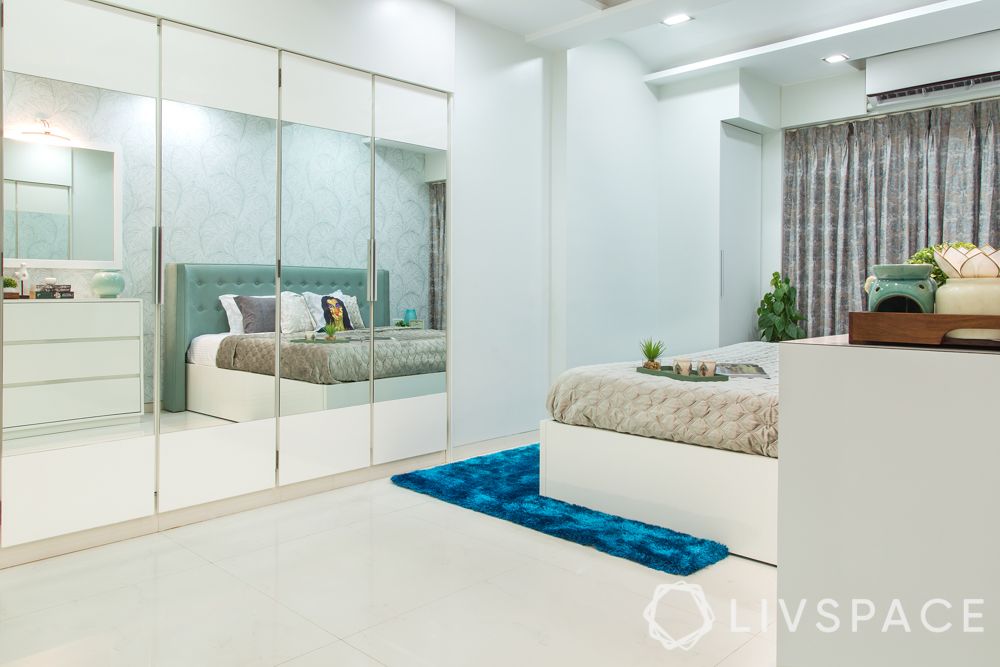 This is another design that we highly recommend for compact homes. The full-length mirrored doors make the room appear visually large. And who can deny the posh look it exudes?
#9: Four-Door Wardrobe With Mirrors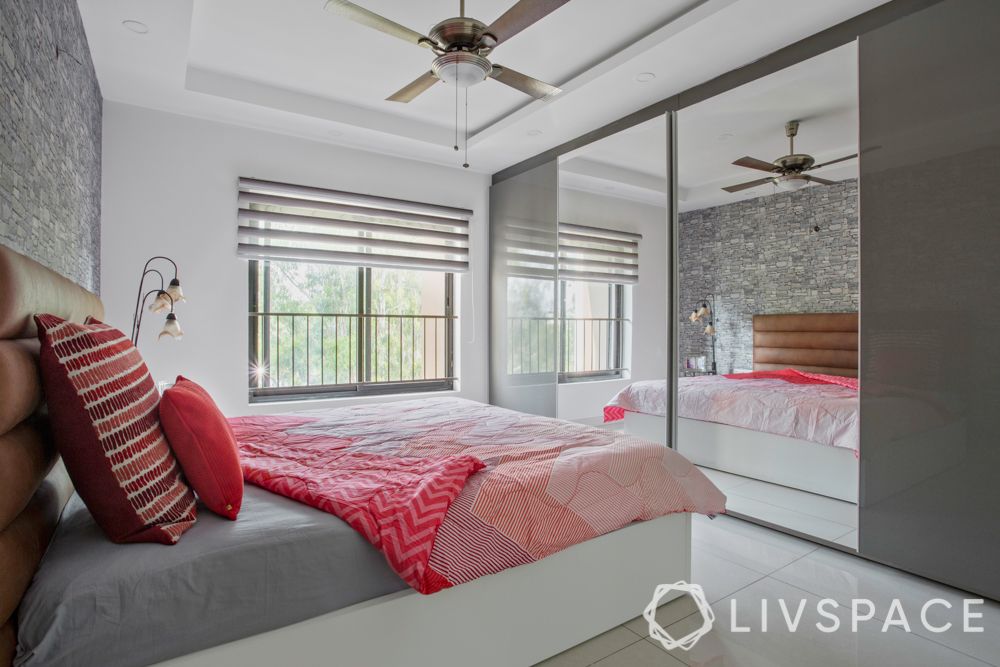 You can also try out a four-doored wardrobe with mirrors if you have space to spare, just like this one. The sliding half-mirrored doors make this large wardrobe appear less bulky.
#10: Vintage-Style Mirrored Wardrobe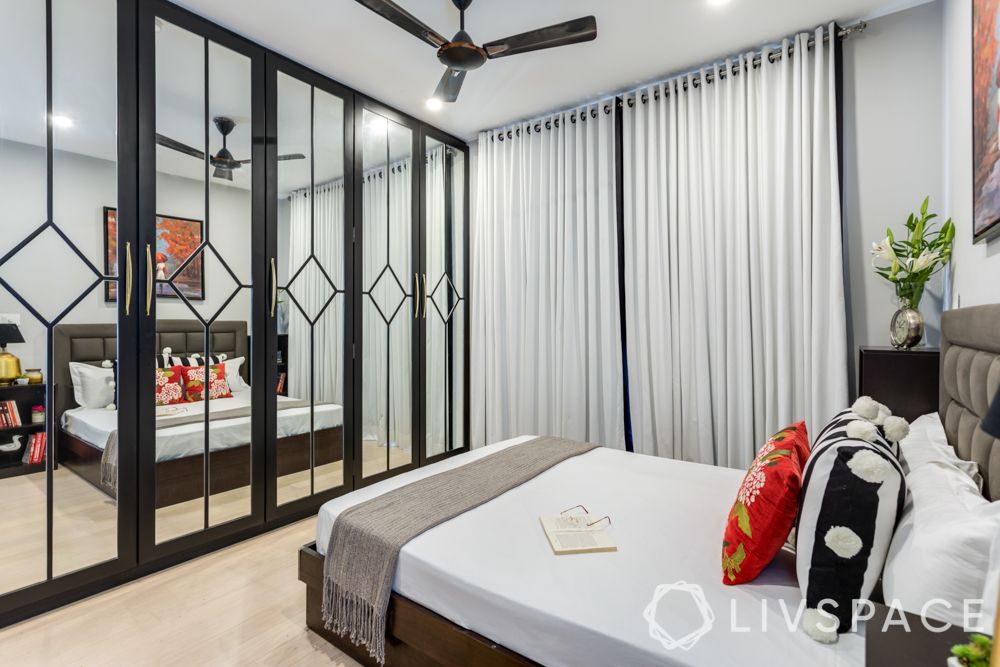 If you are a person who leans towards everything classic and vintage, then this armour-style wardrobe is for you. Done up using black laminate and mirror panels, this design can make any room look stunning.
#11: English-Style White Wardrobe With Mirrors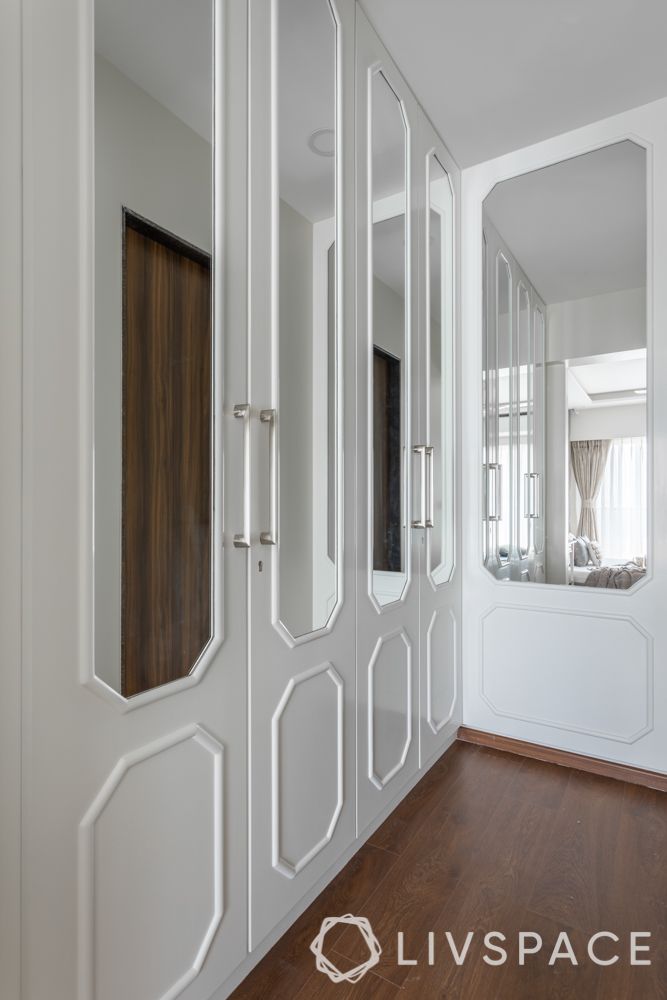 We have got one more vintage design for you. With classic mirror panels in the centre of every door, this white wardrobe design exudes English elegance.
#12: Grey-and-Wooden Wardrobe With Mirror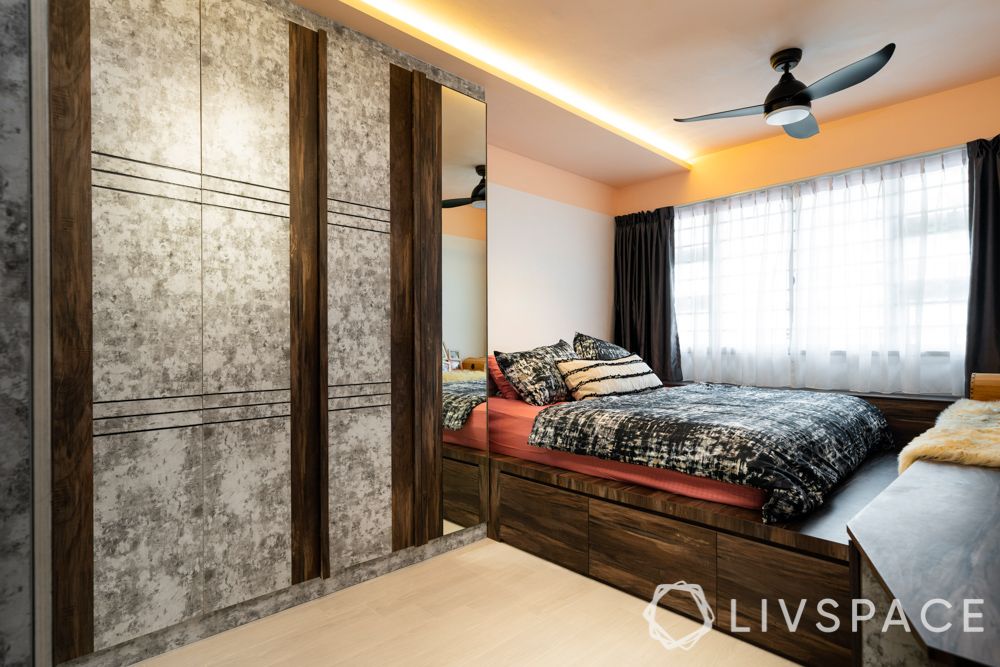 Don't like big mirrors? Take a look at this wardrobe in grey with a wooden laminate finish and a narrow mirror at one end. It is practical and serves the requirement perfectly without being over the top.
#13: Plush Grey Wardrobe with Sliding Mirrored Shutters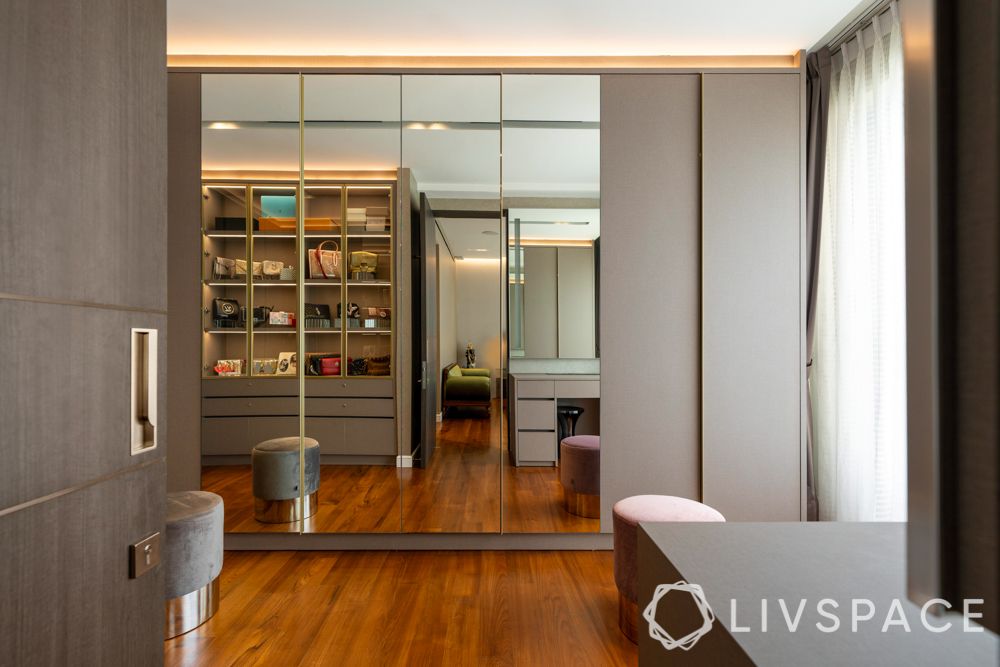 This plush grey wardrobe is a part of a walk-in closet. It has three sliding doors, of which two are mirrored. This wardrobe design is ideal for mid-sized and large rooms.
ALSO READ: 5 Perfect Ways to Make Space for a Walk-In Wardrobe in the Bedroom
How can Livspace help you?
We bet our mirrored wardrobe designs have left you spoilt for choice. If you also want such beautiful designs for your home, then Livspace is your go-to expert. Book a consultation with our talented designers for safe and quality interiors. You can learn more about our COVID-19 safety standards here.
While you are browsing wardrobe designs, learn How to Solve Every Storage Problem With the Right Wardrobe.
Send in your comments and suggestions to editor.sg@livspace.com