When the question 'what is important in a kitchen' comes up, most people's answers would be framed around functionality. There is also another important aspect aside from functionality — style. It is always suggested to go for a timeless style and aesthetic for a kitchen. Why? Because classic designs last longer than passing trends. On that note, we would like to introduce you to one of the most popular and timeless styles in kitchen design: shaker-style cabinets.
What are shaker-style cabinets?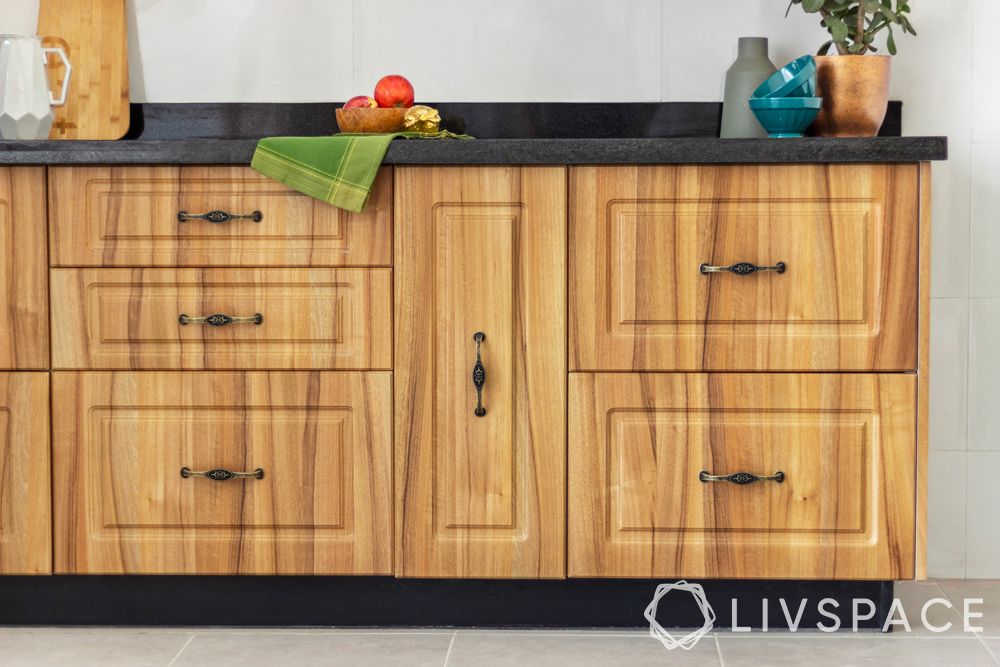 Shaker-style cabinets got its name from its creators, the Shakers, a 19th-century religious community. Governed by simplicity and utility, shaker cabinetry exudes a minimalistic look.
A four-piece frame surrounding a recessed centre slab is what defines shaker cabinetry. The reason behind its popularity is that it is simple and easy to maintain. Moreover, it can fit in any kitchen design, be it traditional or modern.
Without further ado, let's look at some shaker-style cabinet designs by Livspace.
Best Shaker-Style Kitchen Cabinets by Livspace
#1: Shaker Cabinets in a Farmhouse-Style Kitchen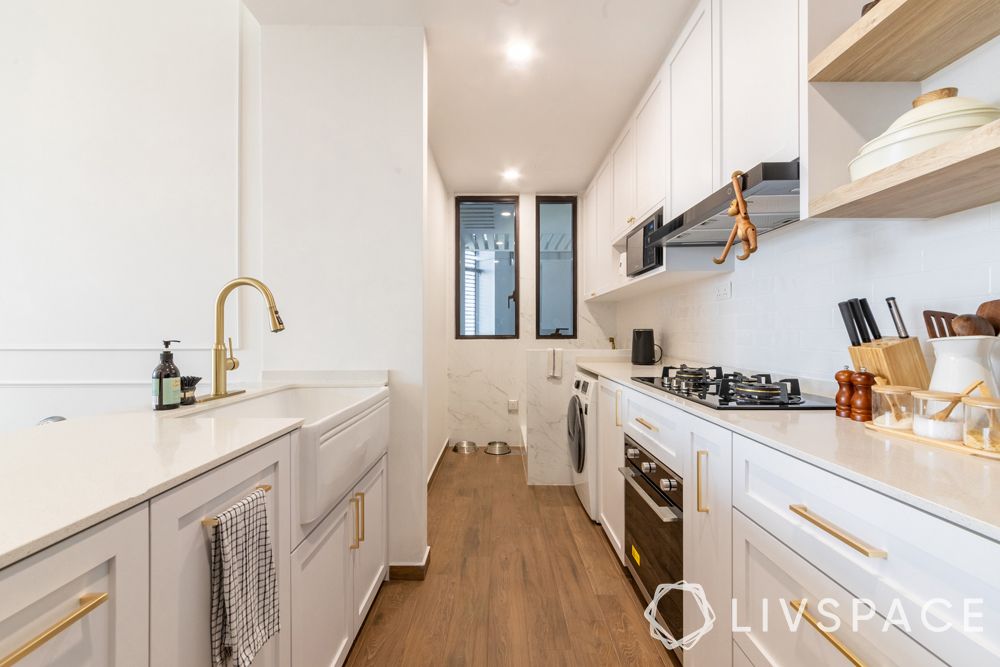 The shaker cabinets in this open kitchen are finished in white laminate. Clean and tidy, this farmhouse-style kitchen's elegance is further elevated by the gold handles.
#2: Distressed Wooden Shaker-Style Cabinets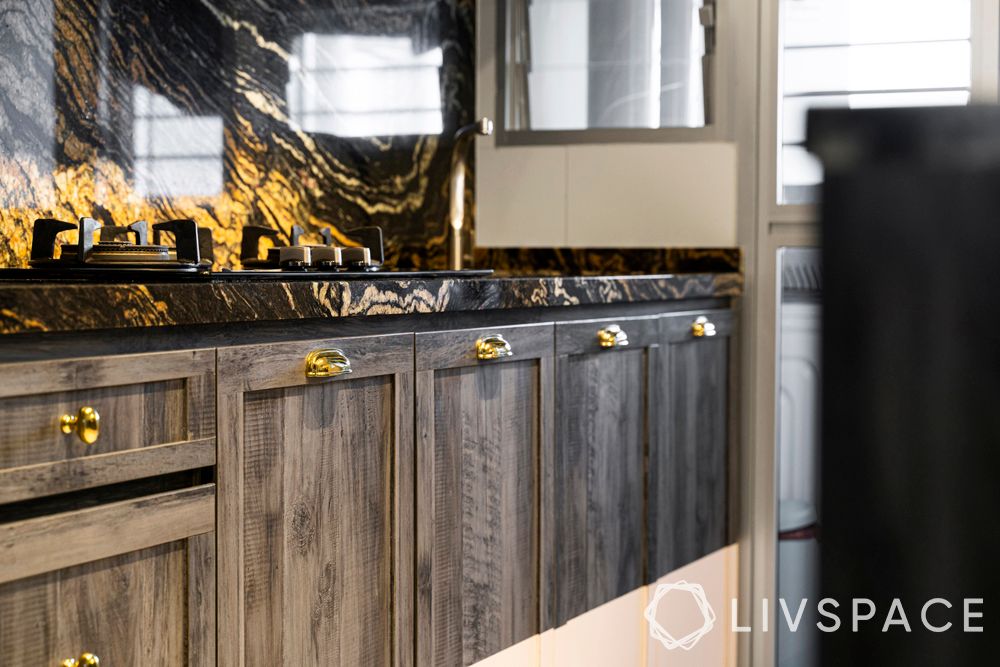 If you are one who likes experimenting with colours, this kitchen will impress you. The shaker-style base cabinets are finished with a combination of grey distressed wood and white laminate doors. Additionally, gold-coloured handles accentuate the cabinets.
#3: Modern White Kitchen With Shaker-Style Cabinetry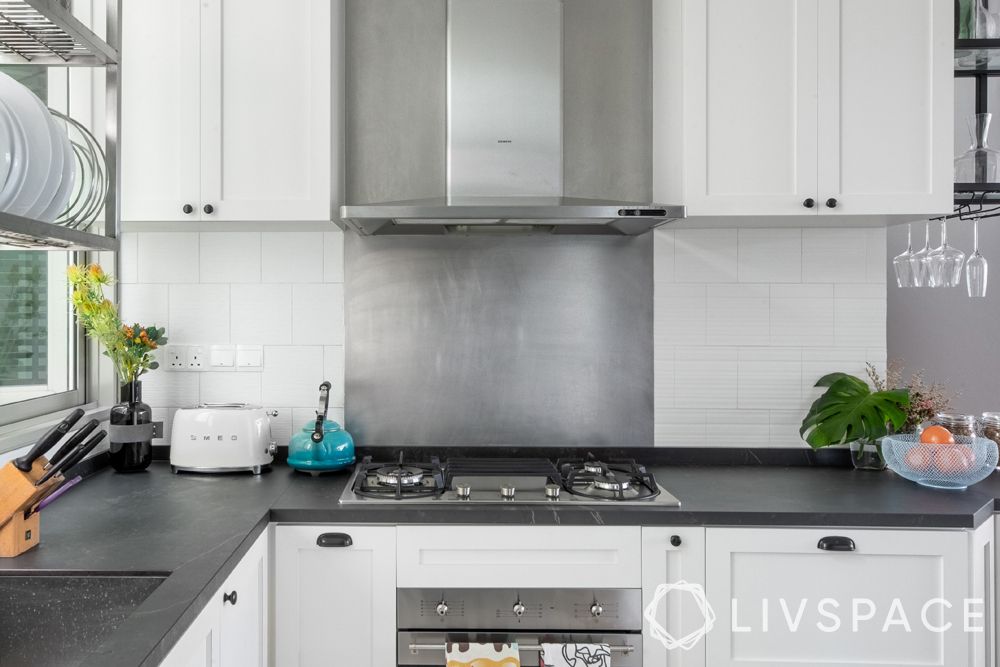 In this kitchen, the traditional white shaker cabinets have black handles and sit perfectly with the modern kitchen appliances. Simple and sophisticated, this design is for people who don't care much for grandiose.
ALSO READ: What Should Your Kitchen Cabinets be Made of?
#4: White Shaker Cabinets With Modern Handles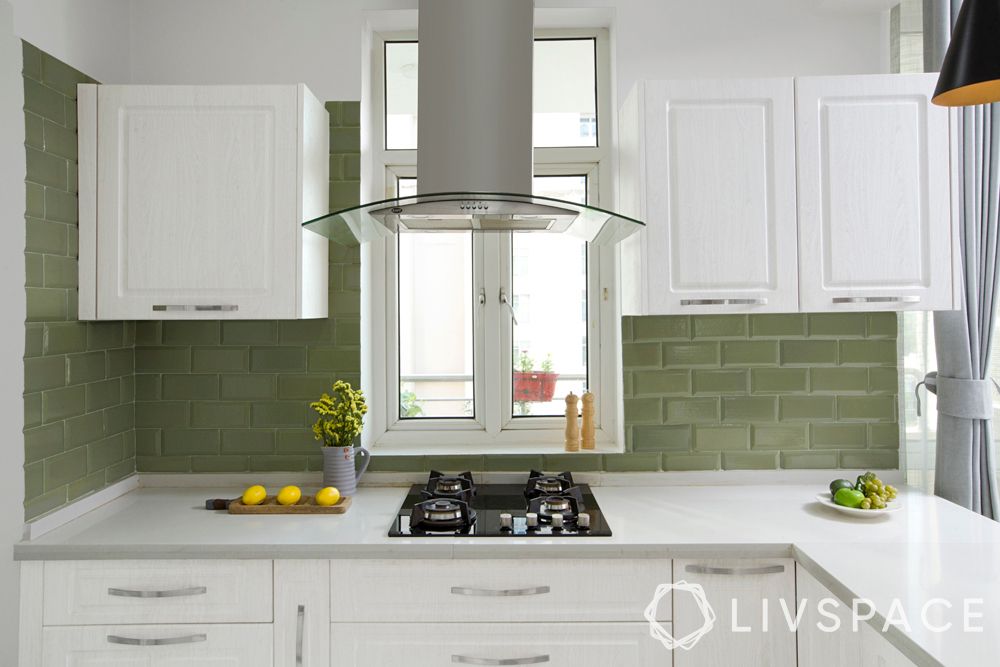 Another classic white cabinet design but this one stands out for its handles. This kitchen's cabinets have flat silver bar pulls. It is one of the easiest ways to introduce modernity to a classic design.
#5: Eclectic Shaker-Style Cabinets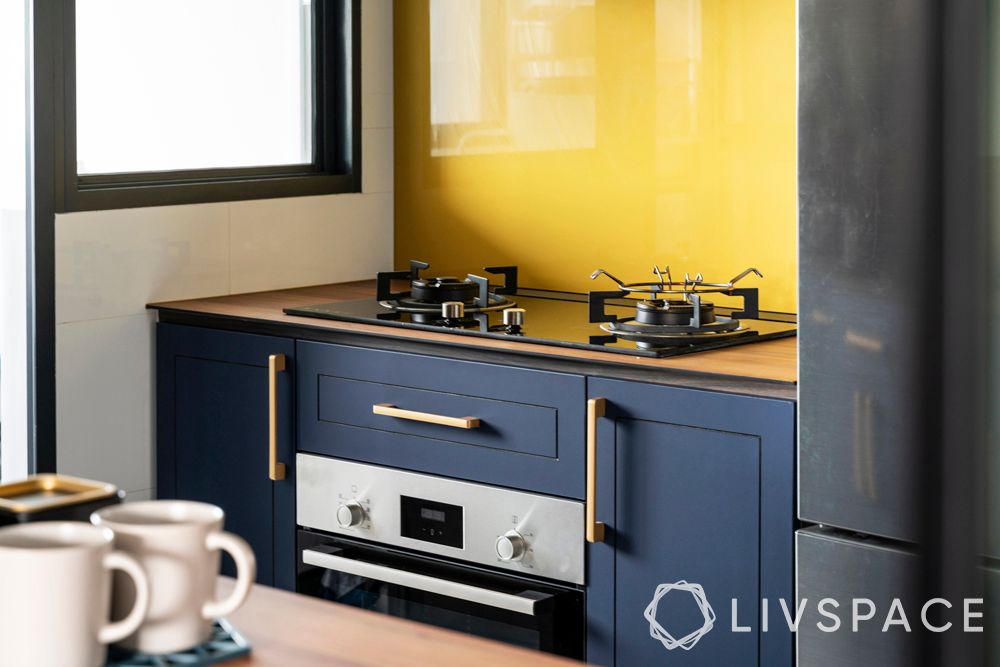 Shaker cabinets are known to follow a neutral colour scheme. But who is to say that it must stay the same way? You can always shake things up with bright colours. Take inspiration from this blue-and-yellow eclectic kitchen.
#6: A Completely Traditional Kitchen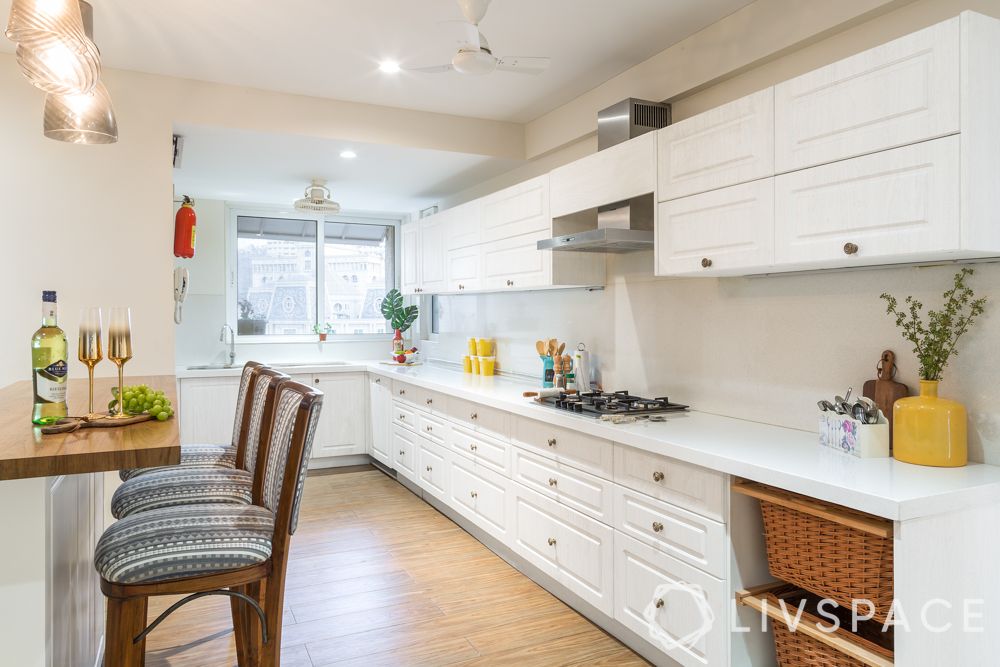 How about a full traditional kitchen? The shaker-style cabinetry in this all-white kitchen is flawless. Look at the carved knobs on the drawers and cabinets; it does add old-time charm, doesn't it?
#7: White Cabinets Against a Quirky Backdrop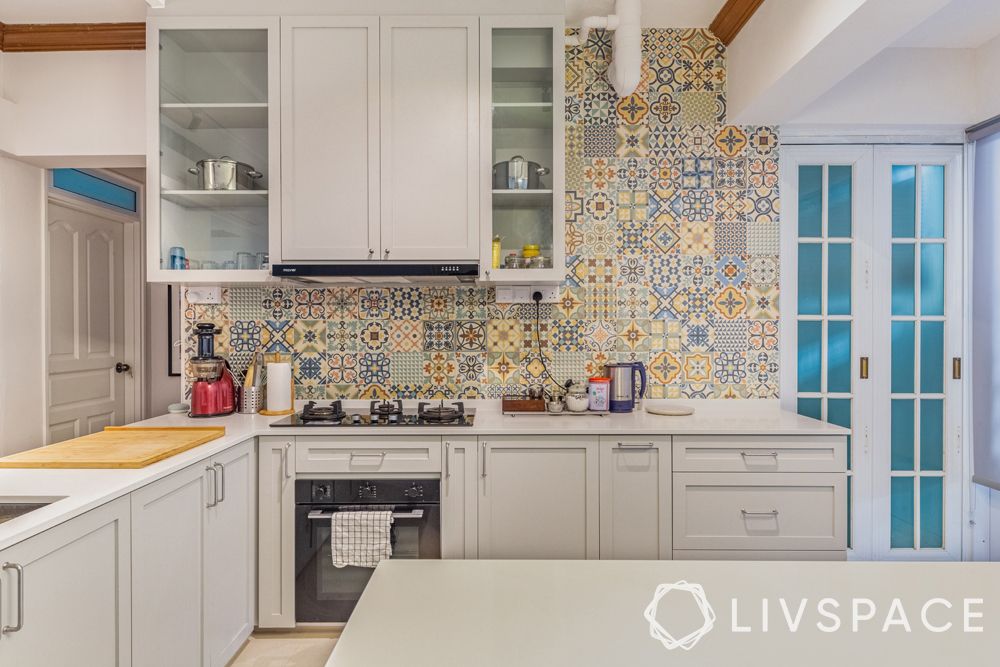 Want white cabinetry but don't want it to look pale? Then pair your shaker cabinets with a quirky backsplash like this kitchen. Remember that shaker-style cabinets are flexible and complement most design styles.
ALSO READ: 9 Great Kitchen Design Styles: Which One Should You Try?
#8: Open Kitchen With Shaker Cabinetry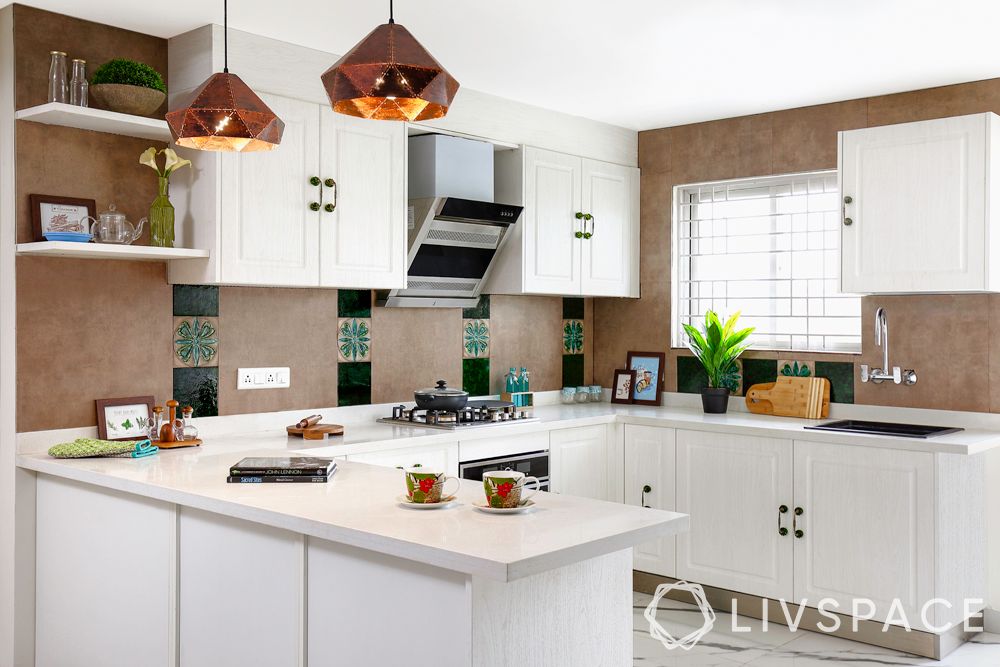 Another testament to shaker cabinetry's flexibility is this open kitchen. The rustic metal handles for the cabinets simply elevate the look of this farmhouse-style kitchen.
#9: Open Kitchen With Blue Shaker Cabinets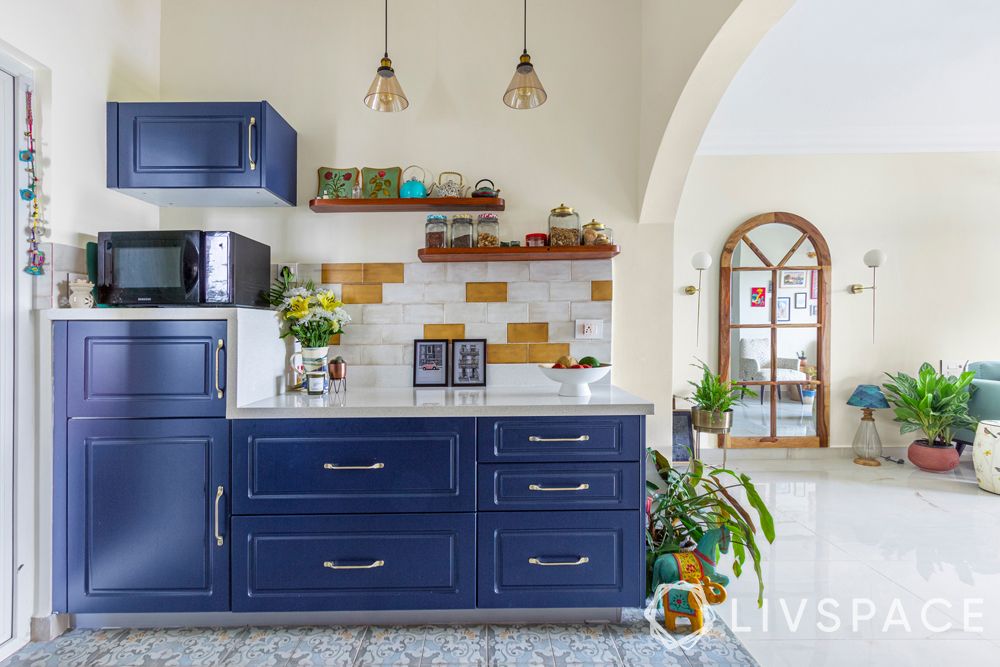 Again, if you love colours, don't hesitate to experiment with them. This open kitchen with blue shaker-style cabinets is one of our favourites. The matte-finished blue cabinets have flat silver bar pulls, making it a gorgeous combo.
#10: Rustic Wooden Kitchen With Shaker Cabinets
We would like to end this gallery of kitchen cabinets with a wooden kitchen. The warm tone and curved handles ooze rustic charm. The old-timey kitchen is also very cosy.
How can Livspace help you?
We hope you are impressed with our designs of the famous shaker-style cabinets. If you also want to get this wonderful design for your kitchen, contact Livspace. We deliver quality interiors even as we prioritise safety while doing so.. Book a consultation now!
Learn more about our COVID-19 safety practices here.
Here's something that could help you with your kitchen renovation: A Quick and Easy Guide to Getting the Right Cabinetry for Your Kitchen in 2021.
Send in your thoughts and suggestions at editor.sg@livspace.com.