Earlier, you would spot home offices /study room designs in selective flats, mostly belonging to the elite or business class. But after the pandemic hit the world, including Singapore, this concept has become somewhat democratic. As most people are working from home, an office or study room has become an inevitable part of the house. Even Livspace designers have been working on some pretty and functional study room designs in their projects.
If you are still working from your couch and just browsing for office or study room designs, we will make your dream study room design ideas come true. Here is a curated list of the the latest study room designs by Livspace.
But first, let's get to the basics:
What Are the Things You Should Consider Before You Design Your Study Room?
Well, there is no hard and fast rule when it comes to setting up a study room. But there are a few things you must take into consideration: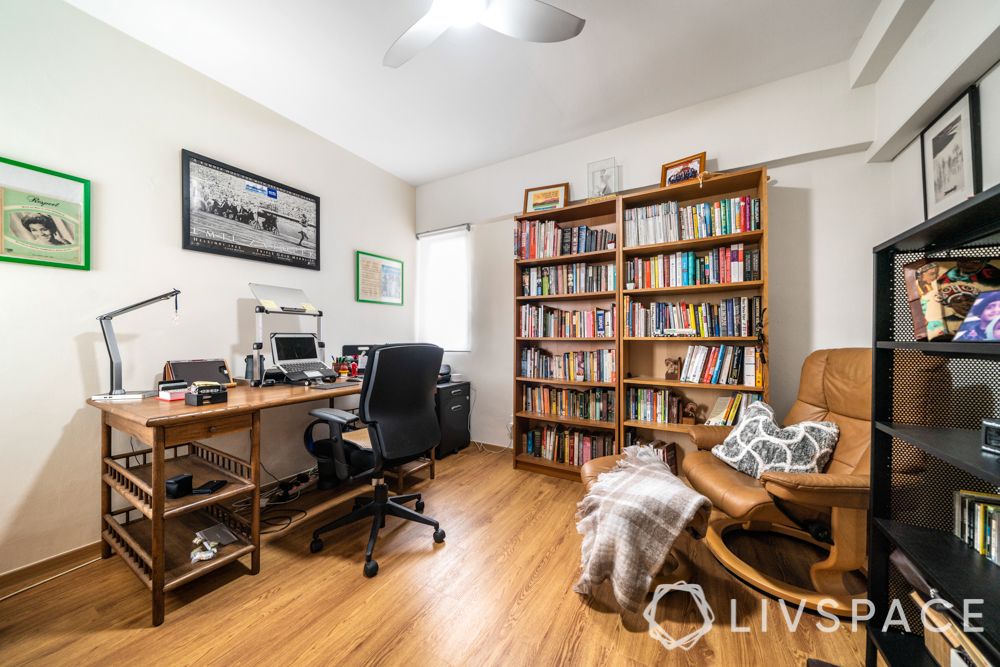 #1: The Space
For an ideal study room design, choose an area that gets ample light, is spacious and away from household activities. For this, a spot near the window is best. Make a note of the dimensions too to get perfectly fitting furniture.
#2: The Colour
Neutral, white and pale colours are best when it comes to study room interiors as it calms the mind and can result in enhanced productivity.
#3: The Furniture
The essential furniture that you need to get is a desk and office chair. They must comply with your working style. You are going to use the office chair more than you intend to, so invest in a durable, ergonomic and stylish one.
#4: The Storage and Organisers
To maintain a neat and clutter-free space, invest in storage units and organisers. Efficient and space-saving storage options are abundant. So, choose the one that ticks all your boxes.
#5: The Lighting
Keep your energy and productivity levels up with proper lighting. Natural light is most preferred, but if that's not possible, have a combination of lighting options such as lamps, pendant lights, recessed lights etc.
#6: The Accessories
Personalise your workspace with artwork and accessories, but ensure that you don't clutter. Feel free to skip this step if you are not into accessorising.
Also Read: Work From Home: 5 Clever Ways to Squeeze a Home Office Into Any Room
Now that you know what goes into a simple study room design, take a look at our gallery for inspiration.
Latest Study Room Designs From Livspace Homes
#1: An All-Wood Study Room Design With Basics in Place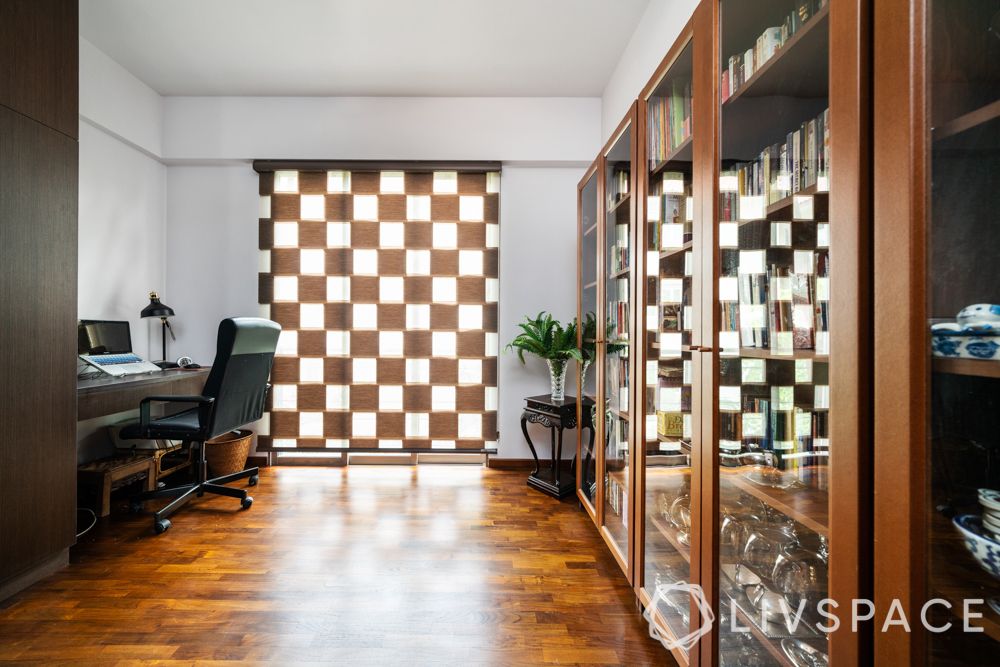 What we love: The large cabinet for storage
Best suited for: Mid-sized spaces
This room is perfect if you expect quietness in your workspace. Along with a simple desk and office chair, a large wooden wardrobe also adorns the polished parquet flooring in this Livspace home. Additionally, the wooden tones add warmth to this home office.
#2: An Empty Nook By the Balcony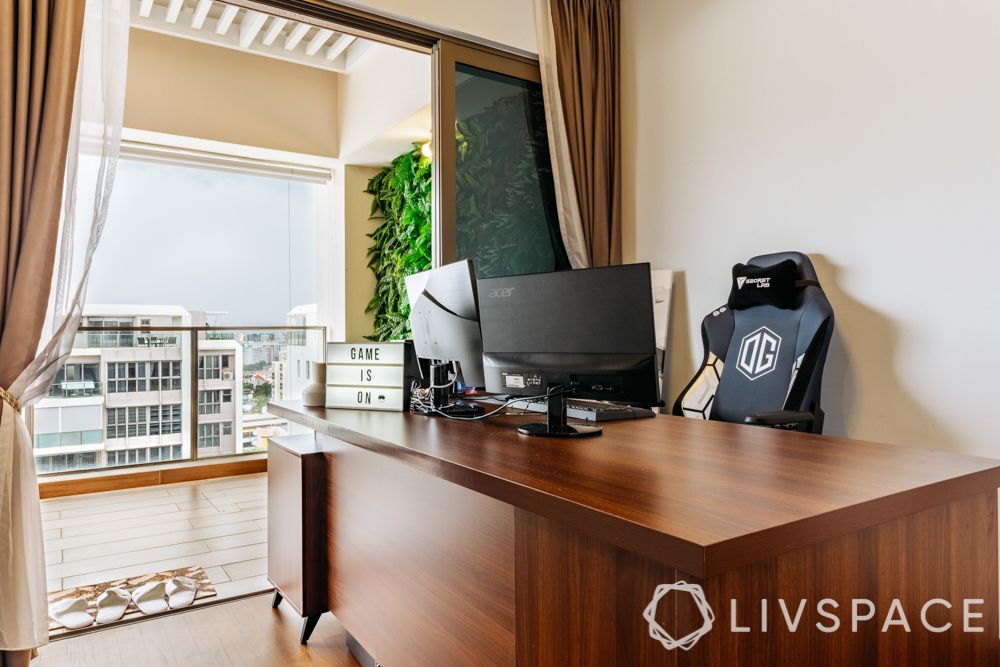 What we love: The placement, allowing a flood of natural light
Best suited for: Compact and mid-sized homes
The compact setup is what we all can work with. Choose a desk that doubles up as storage and add an ergonomic chair to complete it. The space you select for this home office design is important. Go for an area that gets a lot of natural light, like the one you see above.
#3: An All-White Minimal Study Unit Design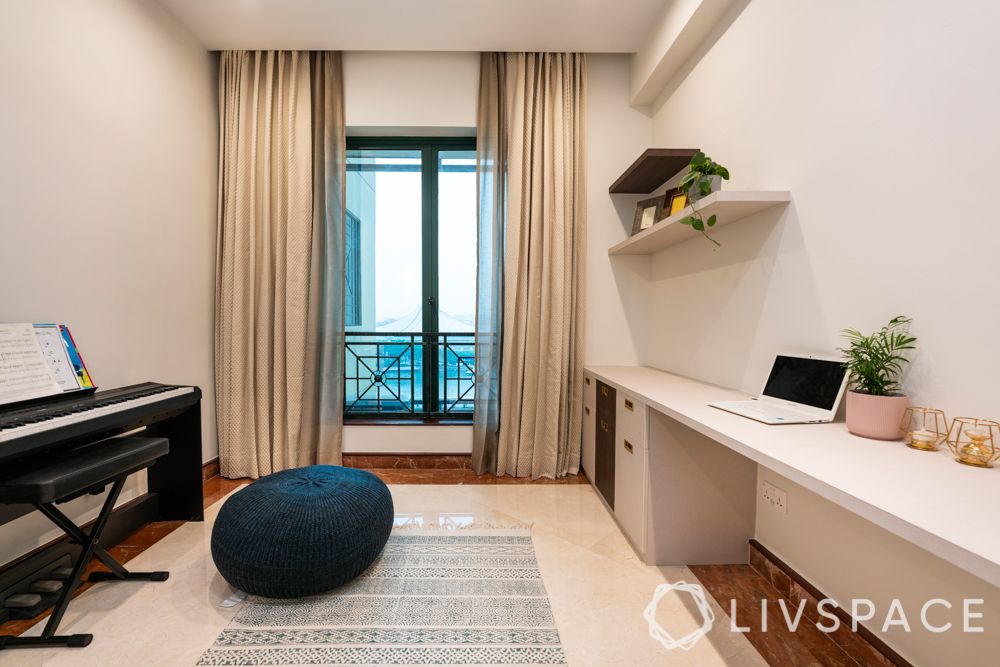 What we love: The long sleek desk
Best suited for: Compact and mid-sized spaces
Neutrals like white and beige are best for study rooms as they are believed to declutter the mind and boost positive energy. This room is an example of a minimalist set-up, bearing only the essentials. Allowing for a larger workstation, the long desk also comes with drawers and cabinets for storage. An extra wall shelf is added for displaying photos and plants.
#4: Marble Finish for an Elegant Look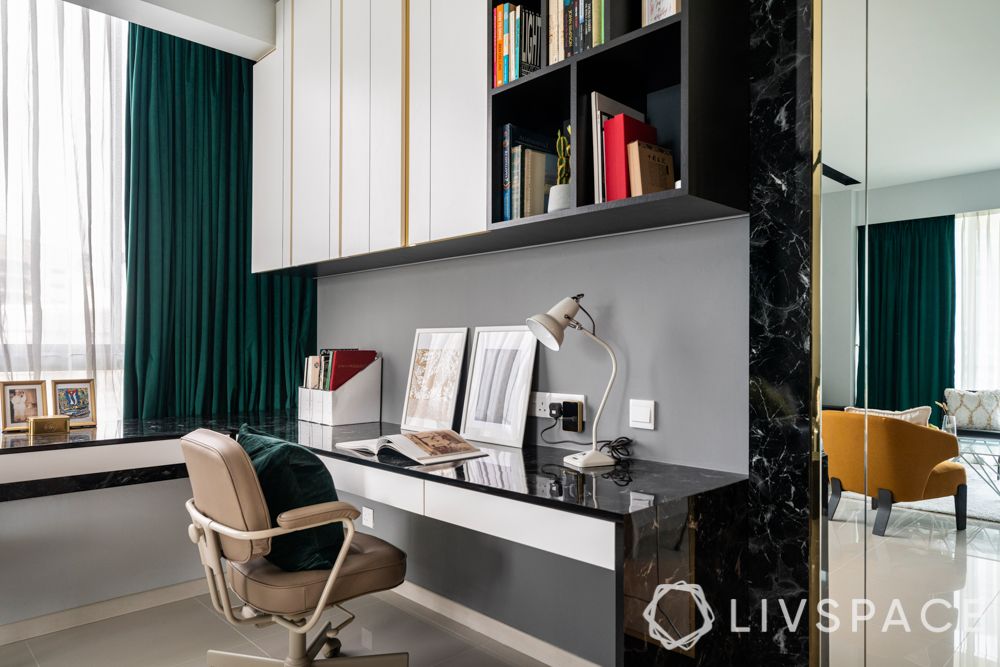 What we love: Chic black marble and smooth white laminate finish
Best suited for: Compact spaces
This compact study is very stylish as it incorporates various colours and finishes. The desk is L-shaped, forming a ledge by the window and allowing for more space. Vertical space is also utilised for open and closed cabinets. A beige ergonomic chair and the table lamp increases the functionality fashionably.
#5: A Storage-Intensive Study Nook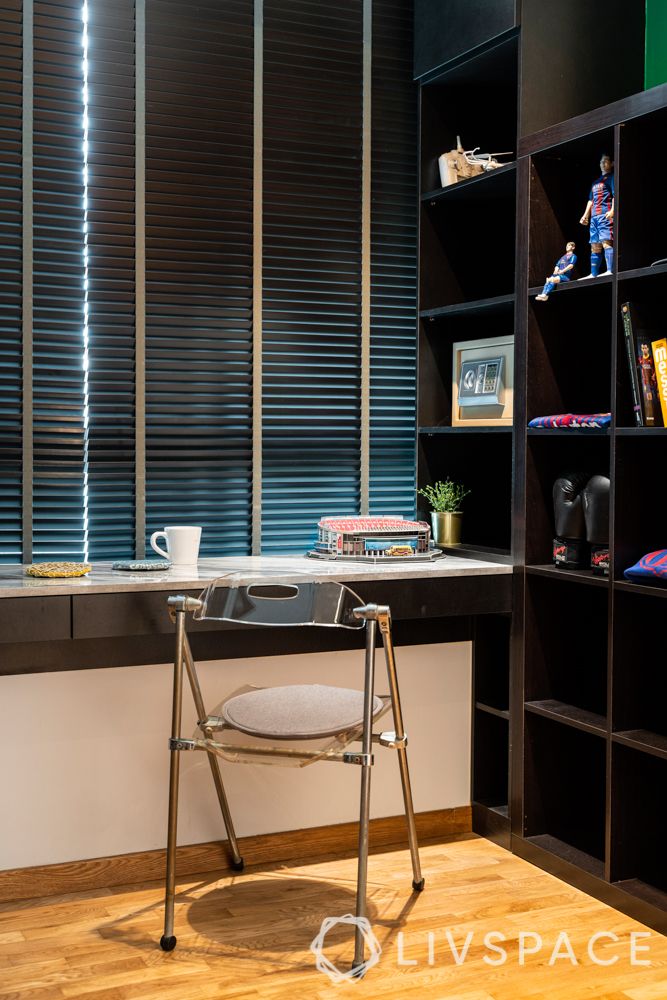 What we love: The floor-to-ceiling open storage unit
Best suited for: Compact spaces

The window ledge is a perfect spot for a simple study room design. Take this one, for example, it neither occupies a lot of floor space nor does it obstruct the window, making it an ideal solution for small rooms. For storage, all you need to do is integrate the desk with an open unit. Look at the several compartments in this one; it screams convenience!
#6: Optimise the Space With a Wall-Mounted Bookshelf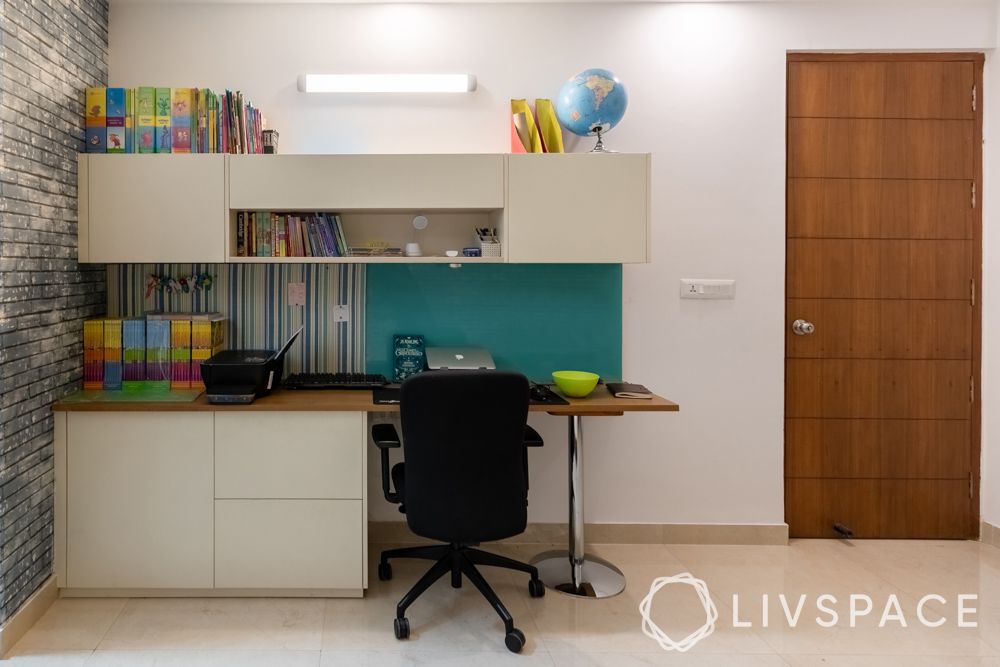 What we love: Everything (what's not to love!)
Best suited for: Compact spaces
In this home, the compact space has ben tactfully optimised by placing the study strategically just blow a wall-mounted bookshelf. We mean, WOW! The top shelves can hold the books and accessories, and the base ones are for storage. We absolutely love this design because it not only optimises space really well but is also comfortable and looks neat.
#7: Minimal, Functional and High on Storage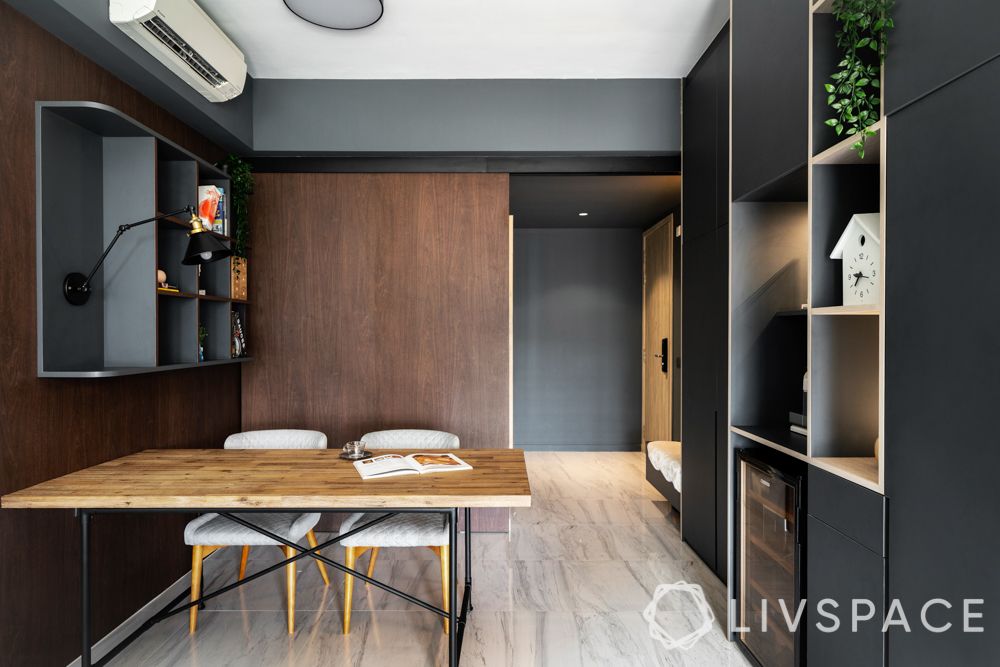 What we love: The marriage of grey and wood tones
Best suited for: Compact condos
Following an open layout, this home needed a dedicated home office as a priority. So, the Livspace team used one of the walls to set it up. A wall-mounted table, two chairs and a floating storage unit is all it took to create this stylish space. Notice that the floating shelf also has a built-in lamp, so lighting for those long nights is sorted too.
#8: A Modern Pretty Pastel Green Study Room Design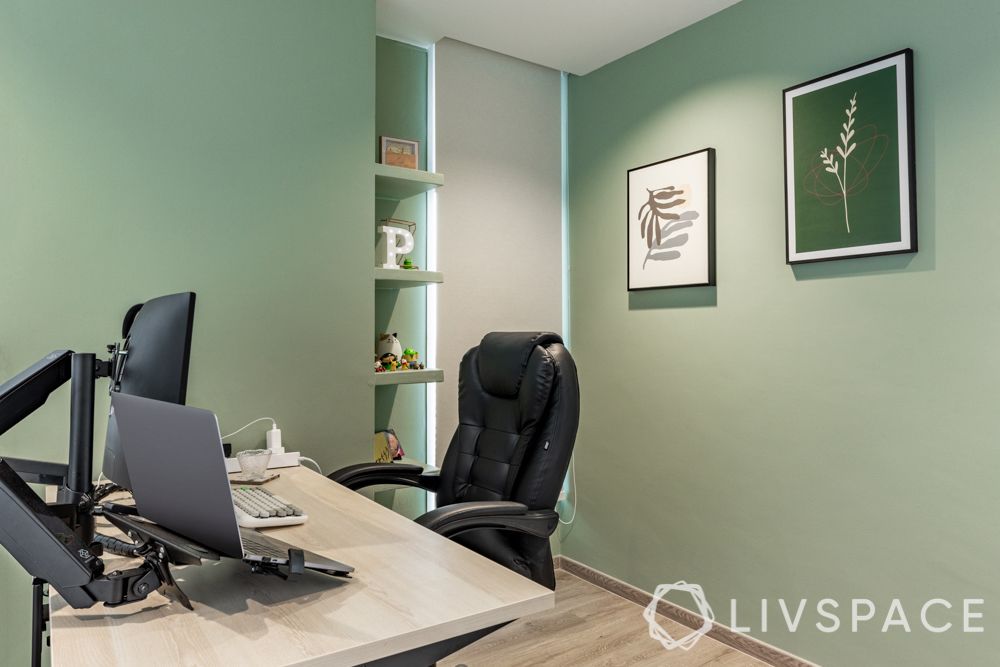 What we love: Vanity shelves for display
Best suited for: Compact and mid-sized spaces
Fresh and tasteful, this study is all about aesthetics. Clad in pastel green, the room has paintings and many decor items on display. A vanity shelf is made especially for ornaments. The light wooden desk and the ergonomic office chair go perfectly with the look.
#9: A Convenient and Small Study Room Design in a Room Corner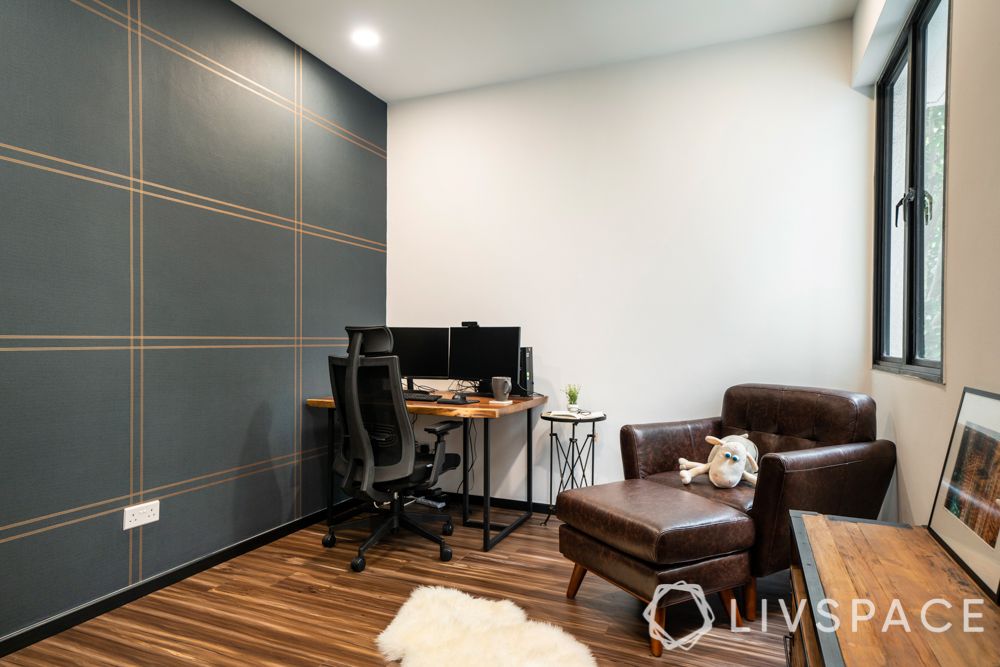 What we love: The chocolate-coloured chaise
Best suited for: Compact and mid-sized spaces
With darker tones, this study is classy and elegant. If you are looking for study room wall designs, take this grey wall with gold accents for inspiration. This compact office has got a metal-legged desk and a black office chair. What's more? A cosy chaise to spend your breaks on. There is also a console table for storage and a furry rug for that extra bit of cosiness.
#10: A Desk With an Integrated Dresser in the Bedroom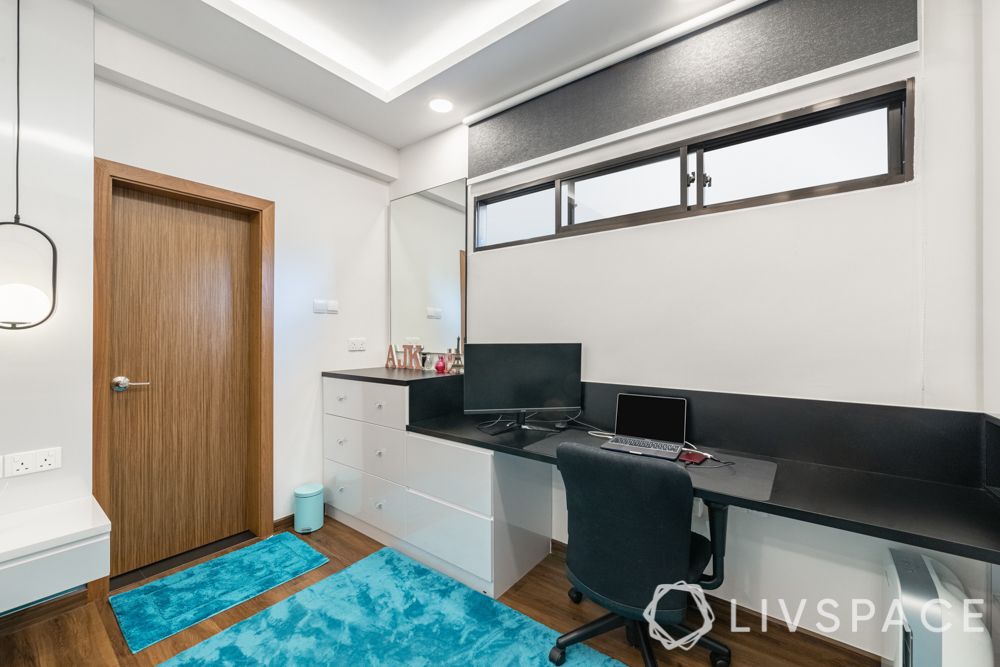 What we love: The multi-functional desk-cum-dresser unit
Best suited for: Compact spaces
Have a wall to spare in your bedroom? Then this svelte study room design is for you. Complete with a chest of drawers, the desk is also integrated with the dresser unit, lining all the furniture on one side and making more space for other things.
Also Read: 10 Bedroom Design Ideas you Would Want to Save for Inspiration
#11: A Modern Study Room Design to Accommodate Two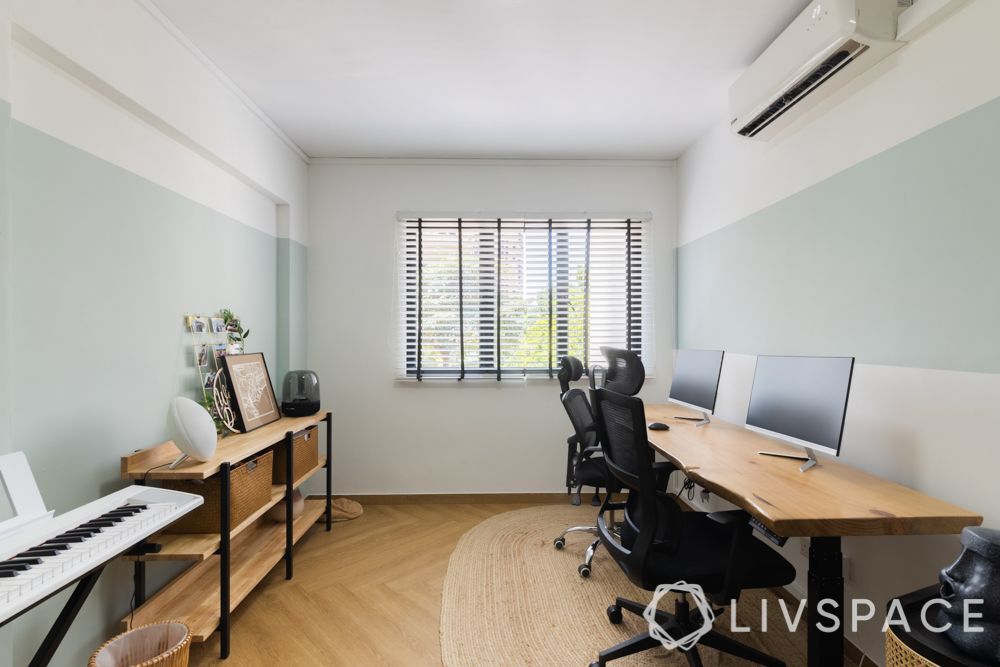 What we love: The adjustable study table
Best suited for: Compact and mid-sized spaces
Covered in pastel and light wood, this study room is created for two people. It is separated by an accordion door from the living room. The long desk here is adjustable; it can be changed according to one's working posture. It also features a stand-alone open unit for display and storage.
#12: Study Room Ideas By the Bed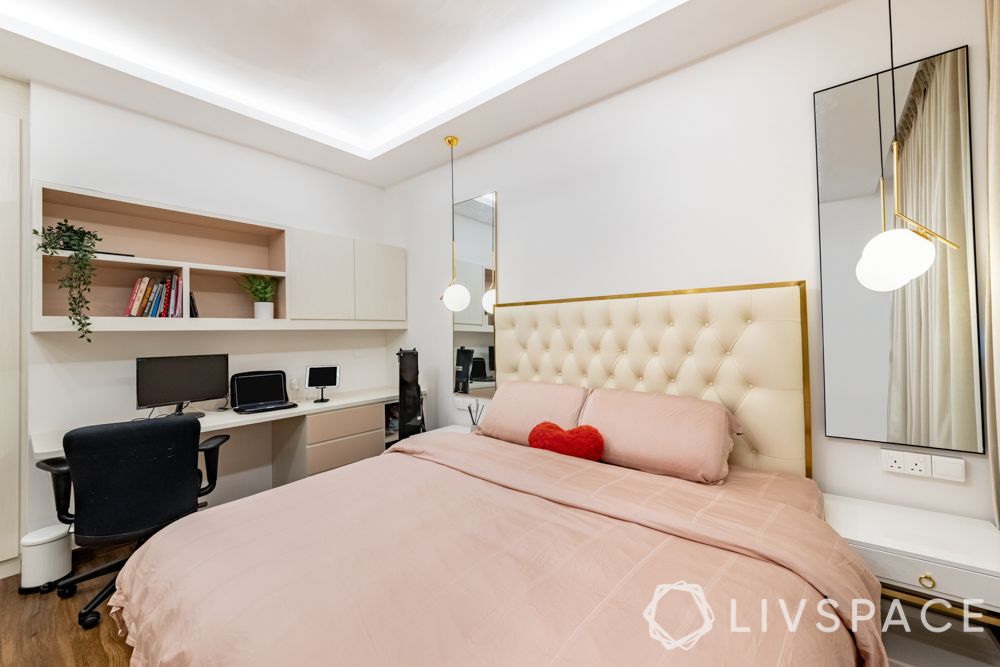 What we love: The pretty overhead unit
Best suited for: Compact and mid-sized spaces
This bedroom is aesthetically pleasing with a melange of white, beige and pink. The white and beige table is gorgeous as well as functional. Just look at the number of drawers and cabinets! The workstation is also big with enough space to fit in all the electronics.
#13: Light and Bright in the Bedroom Corner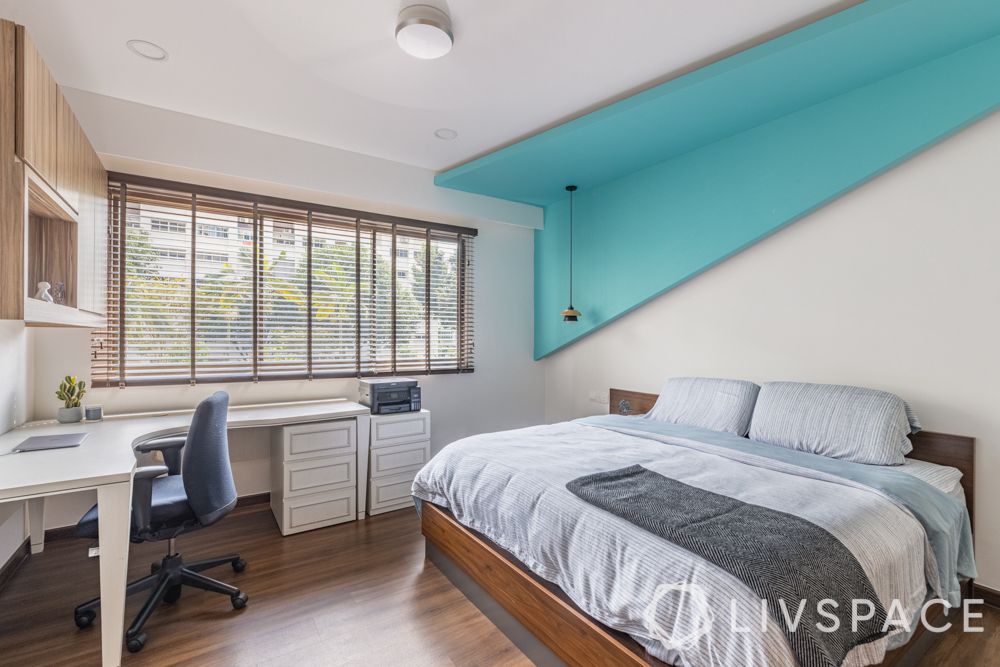 What we love: The L-shaped desk that fits perfectly in the corner
Best suited for: Compact and mid-sized spaces
This is again a study room design with bed. It features an L-shaped white desk complete with drawers and cabinets. The large window with Venetian blinds looks neat and allows natural light to flow in, brightening up the room.
#14: A Study With a Separate Reading Nook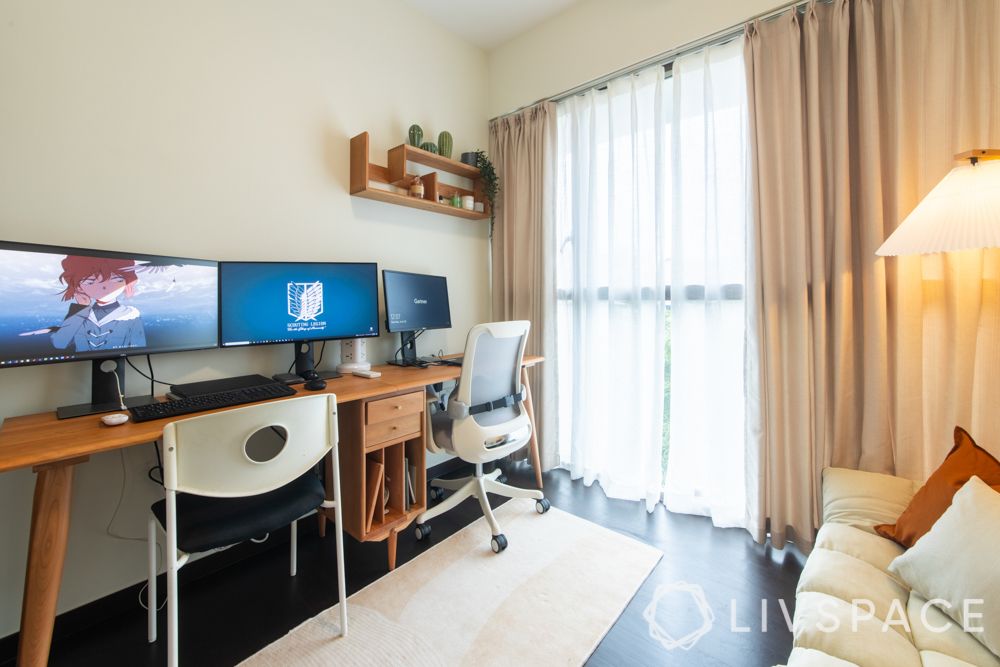 What we love: The long desk with slender legs
Best suited for: Compact spaces
With a long desk to hold all your electronics and simple chairs, this study room design is best suited for those narrow spaces. A small display shelf above the desk is for flaunting some knick-knacks. There is also a reading nook in the opposite corner that you can use to unwind. What more do you need in a study room?
#15: A Simple Set-Up in a Neutral Background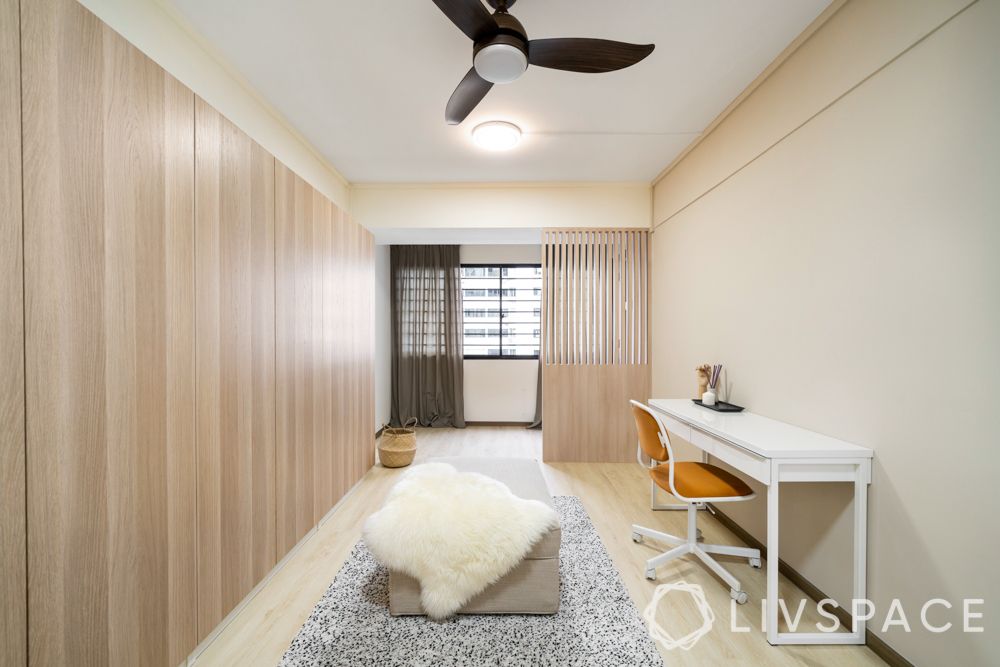 What we love: The light wooden wall
Best suited for: Compact and mid-size spaces
We recommend this simple study room design if you are one to get distracted easily. With a clean design, this room only has the essential furniture — a minimal desk, a chair and an ottoman — and some soft furnishings for that added warmth. Notice that it is also brightly lit with a ceiling light and natural light flowing in through the window.
#16: Multipurpose Study Unit Design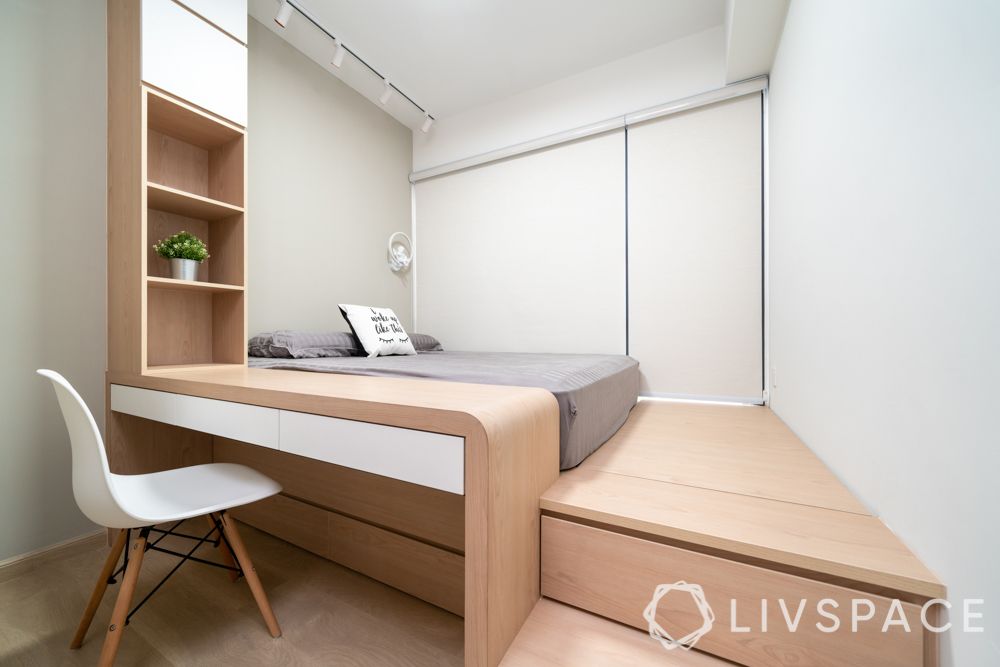 What we love: The hidden platform storage
Best suited for: Compact and mid-size spaces
This design is apt for small and compact homes. Our designers have fitted study desks and beds that were specially designed to fit the two tiny rooms like a glove. These units include a lot of hidden platform storage and are built of plywood and oak laminate.
#17: Upper-West Style Study Room Design Ideas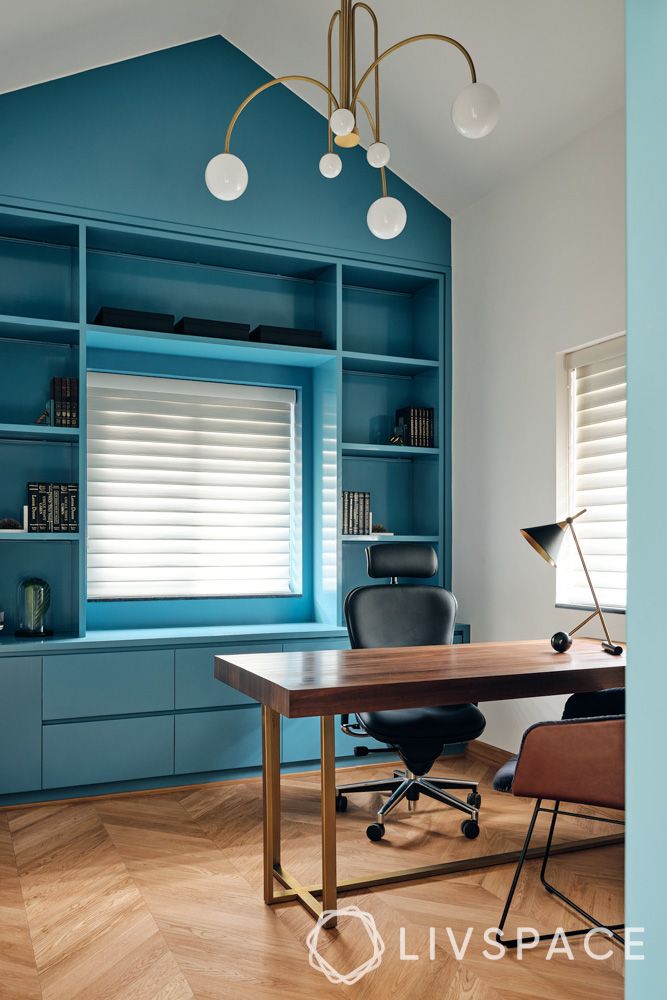 What we love: The simple and clean design
Best suited for: Mid-sized or big spaces
Your workstation may be as basic as a countertop without any drawers or storage spaces beneath it, just like this home. Your one wall might be a strong pop colour, and the other walls can be white and simple for a clean design. Add a luxe touch to the design by adding chandeliers or statement lights.
#18: Study Room by the Window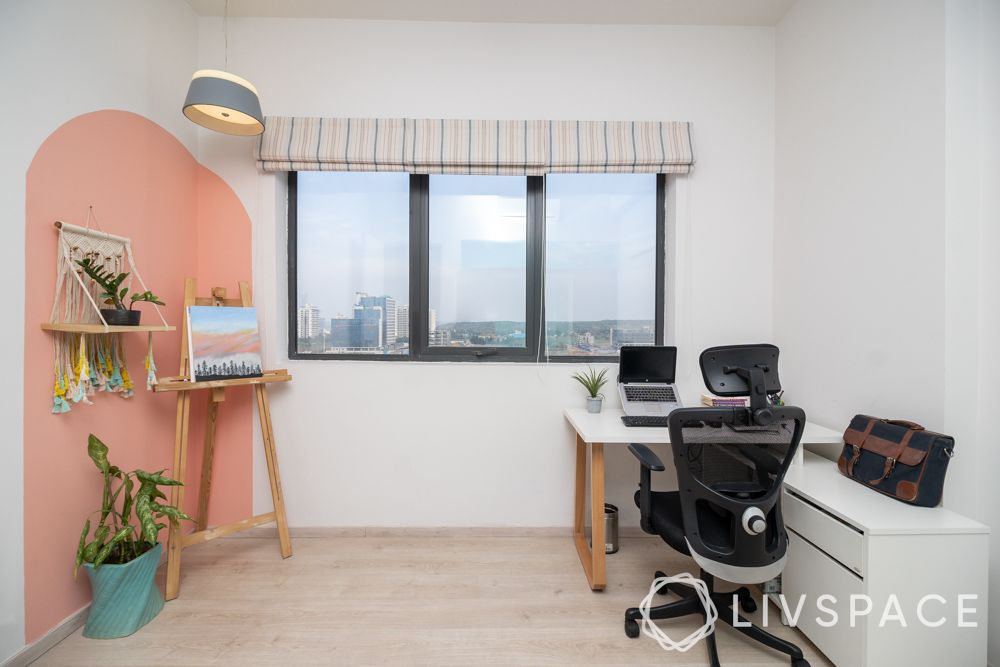 What we love: Inspirational posters, artwork and vision boards
Best suited for: Mid-sized or big spaces
Take a look at this study space just beside the window. The study room is spacious and includes a little accent wall painted in a peach colour. There is a window so that you may take a break from working or studying and take in the view.
#19: Modern Study Room Style
What we love: The mobile cabinet unit under study desk
Best suited for: Compact and mid-size spaces
Replicating this straightforward study unit design is simple and quick. It is made up of a compact mobile cabinet unit and a wall-mounted board. For a bedroom with no walls, this unit is ideal. Your workstation and storage can be installed in a vacant window area.
How Can Livspace Help You?
Hope you enjoyed and found our latest collection of study room designs helpful. If you too want such a beautiful and functional office or study room, let Livspace help you create it. Book a consultation with one of our expert designers.
For more information on building the best study room design, How to Optimise Space for Your Study Rooms is worth a read.
FAQs
1. How Can I Design My Study Room?
To design your study room, evaluate your space and floor plan, adopt an inspiring colour scheme and ergonomic furniture, install bookshelves and adjust the lighting.
2. How a Study Room Should Look Like?
A study room should be comfortable, serene, and warm. To ensure that you can concentrate properly while working or studying there, it shouldn't include any distracting features like a television.
3. How Do I Turn My Room Into a Study Room?
There are five steps to turn your room into a study room: finalise a space, set up a colour scheme, comfortable furniture, add warm and good lighting, and add storage cabinets.
4. What Should I Hang in My Study Room?
You can add inspirational posters, artwork and vision boards to decorate your study room.
5. Which Colour Is Best for Study Room?
The best colour for the study room is white as it is known to bring the calm energy to the space and help you concentrate better. Other colours you can go for include pastel green and pink, cream and beige.