By far, kitchens remain an important part of home renovation for most of us, both in terms of scale and cost of kitchen renovation. So you should always be prepared and know what you are getting into. Sometimes, you might not need a complete kitchen renovation and can just make do with the essentials. So before you hire a professional designer or a contractor, we suggest you consider the important factors from this kitchen renovation guide and prepare in advance.
Kitchen Renovation Guide: When do you Need a Renovation?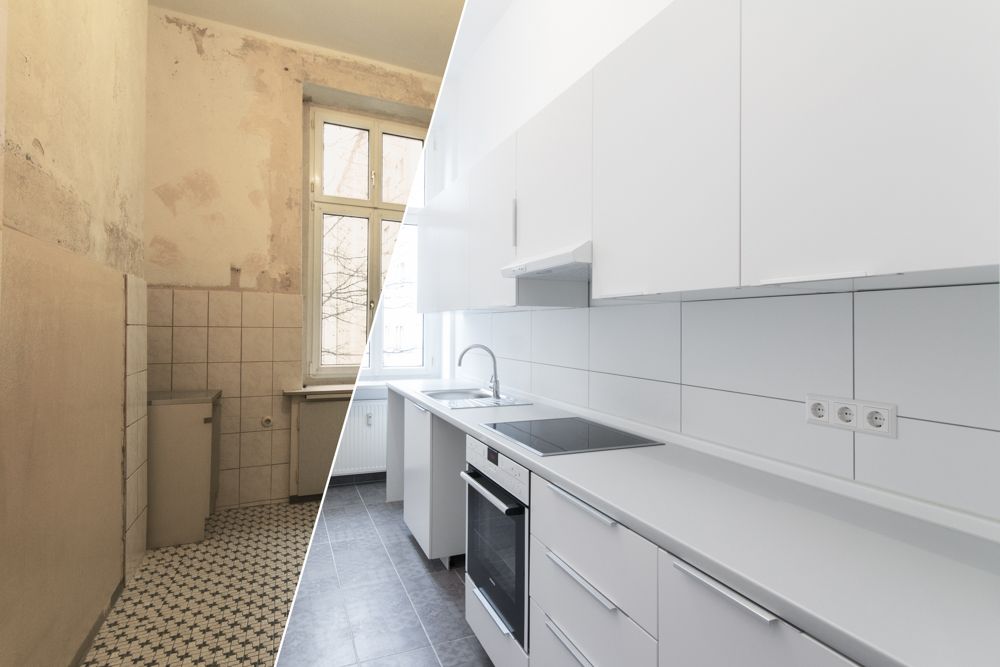 The first step to giving any room a makeover is to establish why you're doing it. What is the purpose? Is your kitchen too cramped? Do you need more storage space? Does it lack style or look outdated? You need to arrive at one or more of these answers in order to know why you're going for a kitchen renovation.
For example, if you plan to spend a lot of time in the kitchen because you've developed a passion for cooking, then you need to make slight changes to accommodate your current scenario. Or if you're planning to entertain a lot of guests and friends, then you might want to change it to an open plan kitchen. Apart from these, some obvious reasons are moving into a resale flat or a new home. While structural changes might not be required all the time, some minor design changes are always welcome for a fresh look.
Here's What you Get with a Kitchen Renovation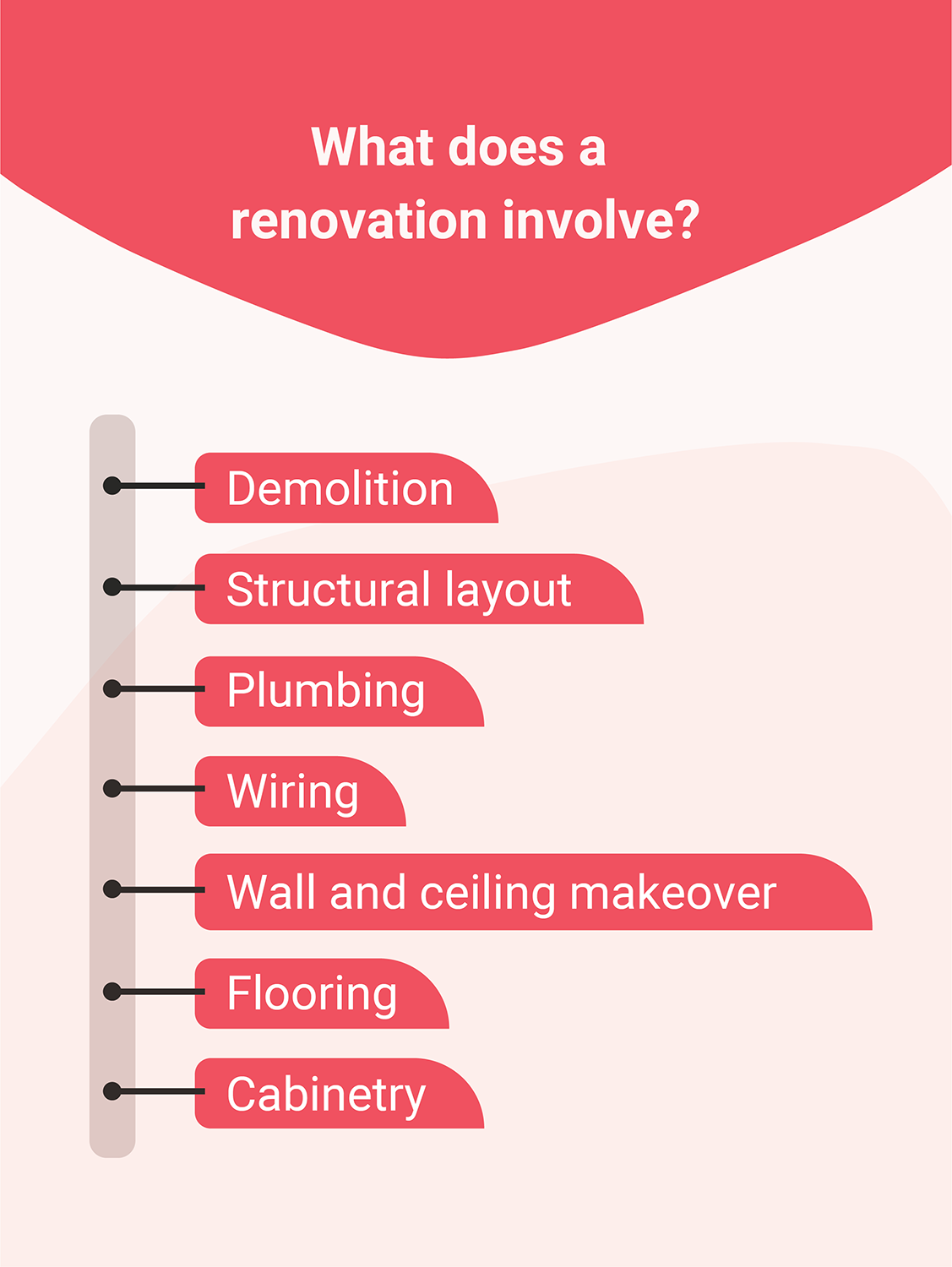 Depending on the extent of kitchen renovation you want to get involved in, various factors come into play. Let us divide it into parts so it's easier to understand.
Full Kitchen Renovation Guide
For a complete renovation, where you're planning to hack the walls and give your kitchen a whole new layout, you will need to demolish the walls and counters and make major structural changes. If your current kitchen is closed and you need a semi-open or an open kitchen now, then you will need a complete overhaul. Every contractor and designer is equipped to provide these services under their purview.
Partial Kitchen Renovation Guide
If you're happy and satisfied with your kitchen layout and want to make changes to only the design, then you need a designer who can focus on changing the look and feel of your kitchen. Structural changes are excluded from this type of renovation. You along with your designer can select floor and wall tiles that will change the way your kitchen looks. Another major element that determines a kitchen renovation is the cabinetry. You can change the entire cabinetry or a part of it, as you wish.
Whom do you Approach for Guidance/Design?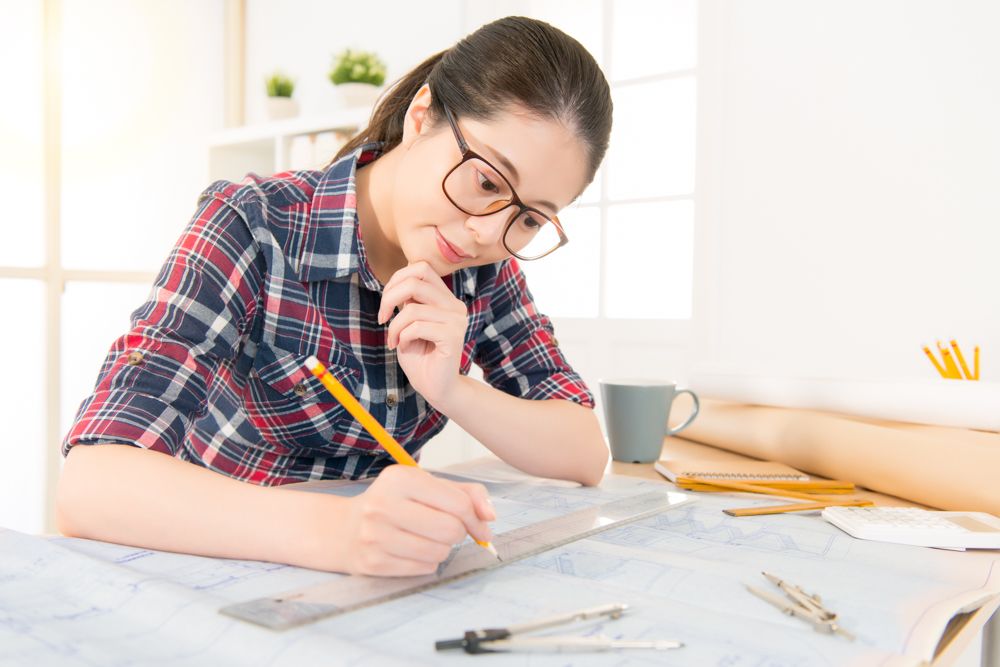 You have two options when it comes to kitchen renovation – a contractor or an interior designer. One is great for preset designs and the other is ideal when you need innovative ideas for your home renovation. While a renovation contractor is someone who is works on the functionality of the finished home, an interior designer works with homeowners to craft a home suited to their tastes, requirements and lifestyle. If you need help renovating your entire kitchen, including consultation, design and project execution, an interior designer would be the better option.
Read this for more information on both: How to Pick Between a Renovation Contractor and an Interior Designer?
What's the Cost of Kitchen Renovation Involved?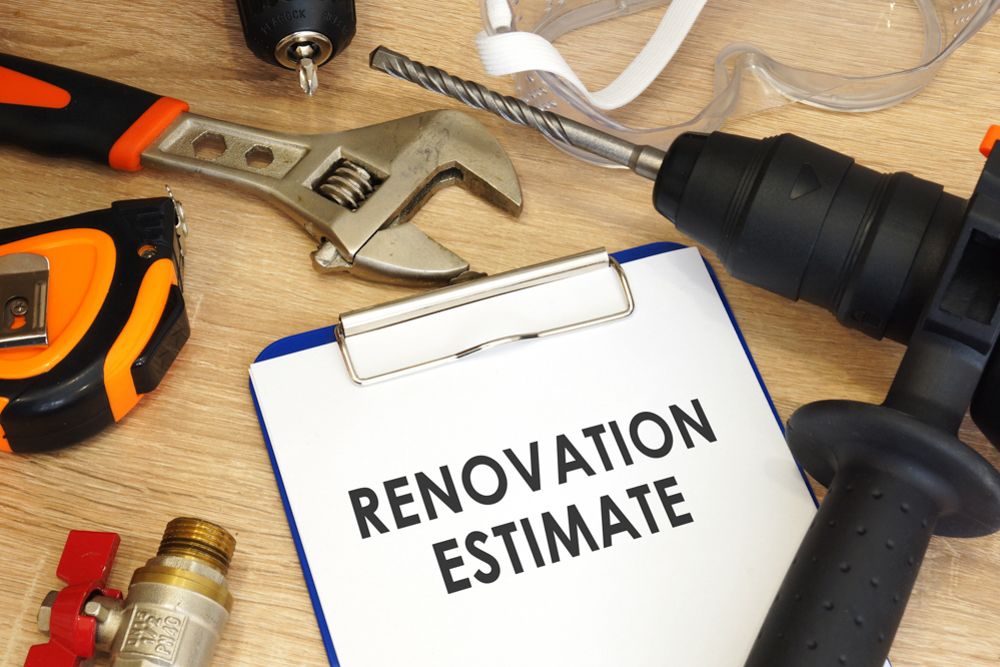 Whether you want to redo your entire kitchen or renovate it in parts, you must know the details of what you're going to be spending on. Your kitchen renovation budget is a sum total of a lot of factors, but to give you an idea, if you're only looking at carpentry work, then you can expect to spend around S$5,000.
On the other hand, if you're looking at overall hacking and remodeling, then you will end up spending something in between S$10,000 – S$15,000. These are just estimates and the actual cost of kitchen renovation may vary, but you can always save up on materials, cabinetry and extent of tile work.
Check out more details here: What You Need to Know About Cost of Kitchen Renovation for HDB Resale.
How Much Time will a Renovation Take?
It depends on the level and extent of renovation but a complete kitchen renovation will easily take you upto 6-8 weeks on an average. This includes design, material selection, plumbing, remodelling, tile work and so on.
What No One Told You, But You Must Prepare For
There are some little things that you need to take into account when you are getting a kitchen renovation. It's easy to miss out on these details while thinking about the larger picture. So make a note of the following:
#1: It will Cost you Quite a Bit
No matter how much you plan and budget your kitchen renovation, you need to accept that it is going to be an expensive affair. A kitchen remodel can account for about 60% of your home renovation. You can cut corners but be aware that you need to set apart a major amount for this.
#2: Think through the Level of Activity Beforehand
It might sound funny, but think about the sort of lifestyle you will be leading post renovation. Are you going to throw a lot of parties? Are you planning to bake? Will you have kids around the house? These little decisions can change the way you want your kitchen to look.
#3: The Countertop is Important
You will not believe it but your kitchen countertop is an essential decision. The material of your countertop will affect your budget, maintenance activity and the overall look of the kitchen.
#4: Ventilation is Imperative
Whether you have windows before renovation or not, you need to make sure that your kitchen is well-ventilated. Especially if you have an open layout where fumes can escape into your house. Install windows near the stove and wet areas if possible.
#5: Deciding the Type of Sink is Essential
There are various types of sinks available in Singapore. From single bowl, double and top-mounted to undermount, sinks can be critical. Choose the right one so that you do not fret later.
#6: Pre-loved Appliances can be Bought at Discounted Rates
This is probably one of the best pieces of advice that we can give you to save some bucks on your kitchen renovation. Instead of spending on brand new appliances, you can get your hands on some great deals on second-hand appliances.
#7: Check Everything that is Getting Installed
When on-site work happens, it often leads to carton boxes piling up, and we forget to check things as they arrive. Make sure you always check everything that is getting installed before installation, so that you're not caught off guard later on.
#8: Weigh the Level of Renovation you Actually Need
You actually might not need a full-blown renovation. Sometimes, a fresh lick of paint or just new appliances and tiles can do the trick. Take some time and think through this before you jump in.
Best Kitchen Transformations by our Designers
We know you love looking at transformations just as much as we do. Here are two of our favourite kitchen renovation guide stories so far. Our designers have really transformed these spaces and the results speak for themselves.
Kitchen Renovation Before and After #1: From a Cluttered Kitchen to a Swanky New One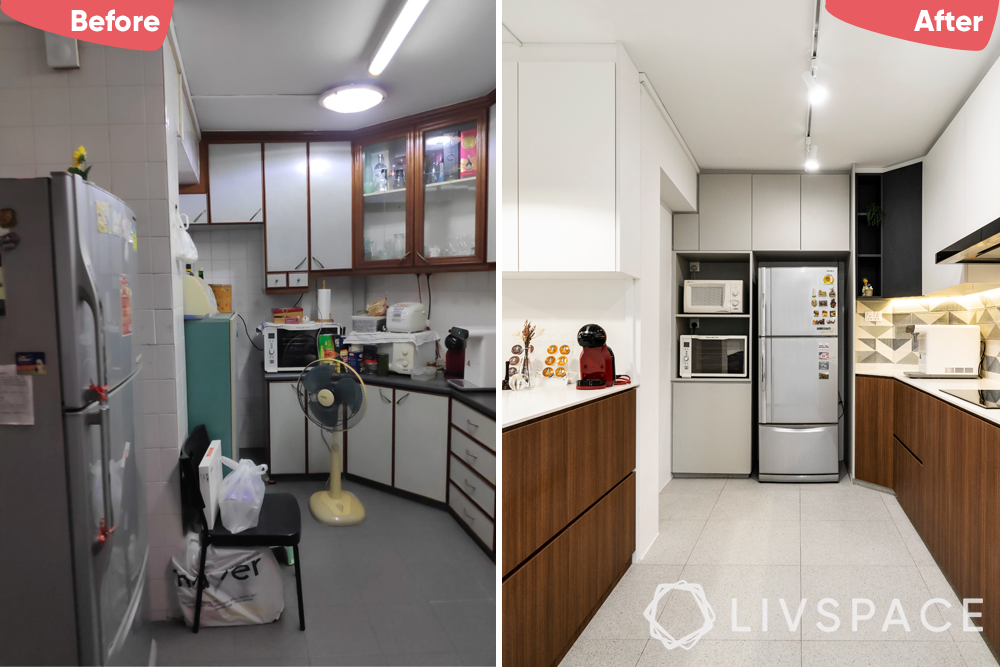 For this kitchen, we knocked down one part of the kitchen to accommodate a peninsula island that gives more definition to the open kitchen. The designer tiles on the backsplash standout in this stark white kitchen. Track lights and seamless cabinetry are like cherries on top of the cake!
Check out more about this home here: The Reason Behind These Smiles is their Newly Renovated HDB.
Kitchen Renovation Before and After #2: A Brand New Layout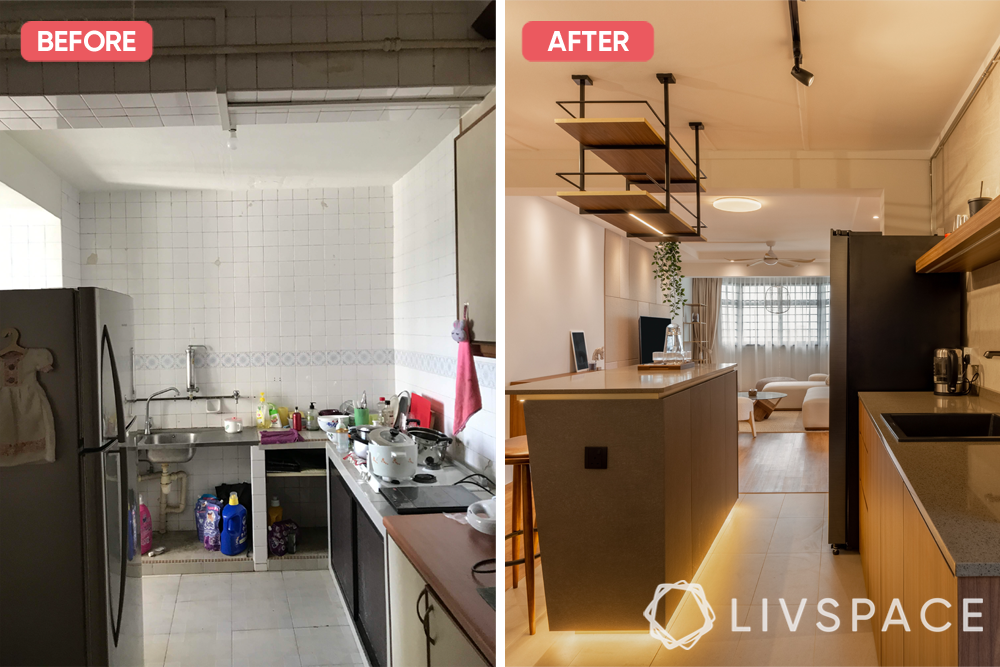 Just look at these kitchen renovation before and after images! While designing and planning the layout of this kitchen, the designer kept in mind that he had to make this area more accessible and easy to facilitate social interaction. So he demolished the walls and added a lovely island that also functions as a serving bar counter with tall stools for company. Now, this kitchen looks warm, welcoming and attractive, just like the homeowners wanted it.
Check out how this home looks here: This 5-room HDB Flaunts a Simple and Luxurious Look.
See more makeovers here: Extreme Kitchen Makeovers That Will Inspire You to Get One Too
Check out this modern and luxe family home:
We hope you are better prepared with this handy kitchen renovation guide at your disposal. Need Designer Tips for Organising a Small Kitchen? Check This Out.
Send in your comments & suggestions to editor.sg@livspace.com.