Designing or remodelling a bathroom is a major project and you cannot go wrong with it, since that is one room at home where you spend most of your time, according to various studies. Does it intimidate you to start planning a home renovation? While your designer can take care of it for you, it is best to prepare yourself too. In this edition we are going to talk about toilet design and everything that you need to keep in mind while planning a toilet renovation. From thumb rules to compact bathroom secrets and trends, we have it all!
Guidelines to design a toilet – A checklist
To begin with, we have created this quick checklist for you, which enlists measurements that you need to keep in mind while you think about toilet design and renovation. This is a handy checklist and you should save this and keep it with you.
#1: Entry door
When thinking about the door for your toilet, we recommend you keep at least 32" of clear way. If space is a constraint, then make sure you have at least a 24" door. Also, the International Residential Code is silent as to door widths and heights of interior doors. Just make sure you check with your local codes for requirements. In layman terms, just make sure your door opens comfortably and you have enough space for the same.
#2: Ceiling height
As per the Building Code Requirement, the minimum height between the ceiling and floor should be 80″ over the fixture and at the front clearance area for fixtures. A shower or tub equipped with a shower head shall have a minimum floor to ceiling height of 80″ above a minimum area 30″ X 30″ at the shower head.
#3: Floor clearance
Your toilet design should be planned in such a way that there at least 30" clear floor space in front of bath fixtures and walls. A minimum space of at least 21″ must be planned in front of the lavatory, toilet, bidet, and tub and at least 24″ must be planned in front of a shower entry.
#4: Lavatory placement
As a rule of thumb, there should be enough clearance around the lavatory. The distance from the centerline of the lavatory to the sidewall/tall obstacle should be at least 15"-20". For practical reasons, make sure you maintain this distance, since the absence of this will make it very difficult for you to clean the lavatory.
#5: Shower size
Hate the thought of hitting the walls while you stretch to take a bath in the shower? We feel you. So make sure you maintain the interior shower size as at least 36″ X 36″. Although the Building Code Requirement says that even 30" X 30" is good enough for a compact bathroom.
#6: Lighting
While general and ambient lighting is a must, it is also recommended that you have certain task lights in the functional zones of your bathroom, viz., vanity, shower and so on. The toilet design should be such that at least one wall-switch-controlled must be provided at the entrance.
#7: Storage
You might feel that your toilet design doesn't need storage but let us correct you. Always provide adequate storage space for bath linen, toiletries, grooming accessories and so on. You vanity should be able to take care of most of these requirements.
Rules to design toilets in HDBs and BTOs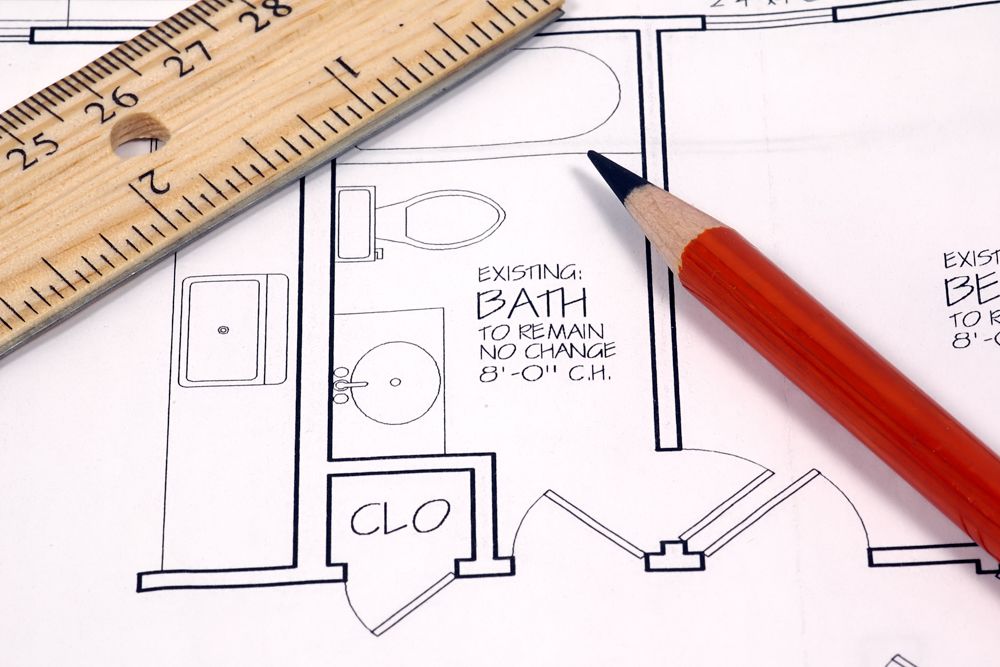 When it comes to toilet design for HDBs and BTOs the rules are slightly different. We are listing down some basic points for you that will help you be better prepared. Keep the following in mind:
Tiling for bathrooms cannot be hacked in a new HDB for a minimum of 3 years
If necessary, you can overlay tiles within 3 years
If your new HDB toilet design comes without tiles, you can lay new tiles
In a renovation HDB you can hack and relay tiles as you please
In a BTO toilet design, the heater ducting is already embedded and you just need to connect your heater
Usually, BTO toilets will not have any false ceiling
Builders will definitely give one lighting point on the ceiling in BTO toilets
How to design a toilet without making it look cramped?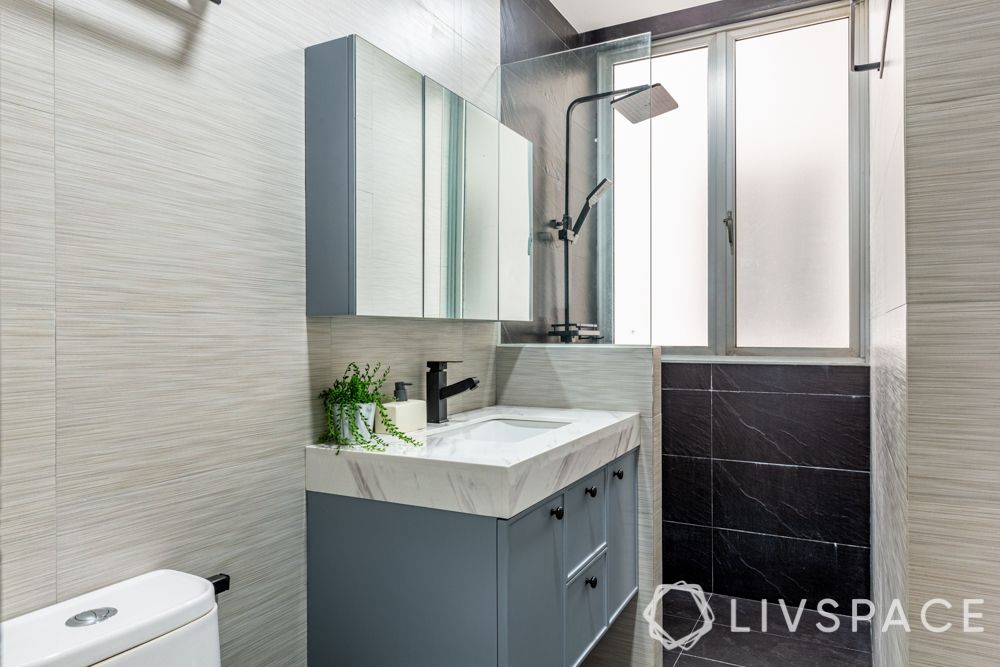 Just because you have a tiny bathroom or less than required square footage, doesn't mean you have to compromise on the look and feel of it. You can easily bridge the gap with clever design tips and ideas that will make the available space work harder. Try these design tricks:
Try one bold accent: It is often assumed that dark colours make small spaces look more cramped. Dark colours and metallics pair impeccably.
Scandinavian look always works: Keep the walls neutral and add a dash of colour if you want. Accessories are the easiest to play around with.
Make the floor your canvas: So what if your bathroom is small? You can still pretty it up by using a unique colour scheme paired with beautiful patterns. Add corner shelves for extra space.
Add maximum storage: Instead of a freestanding storage unit, go for in-built storage. This way your storage will be concealed in the wall and you will have enough free floor space. You can shop for storage shelves that can be placed behind the WC.
Find a spot for everything without overcrowding counters: We understand that it is difficult to incorporate a complete vanity unit in a compact space. But you can still have all your essentials in your bathroom. All you need to do is get wall ledges pinned up at designated spots like next to the plug point, next to the washbasin and so on.
Utilise wall space intelligently: Don't have free floor or counter space at all? Vertical storage is your go-to option! Create niches in your bathroom wall and place your items there. You do not need any extra space for this hack. An entire wall can be turned into storage with the right placement and material.
What is the right kind of storage for toilets?
When it comes to toilet design, it is best to stick to functionality over too much style. Adding extra storage never hurts and it is best to stick to vertical storage in the bathroom. Get a vanity that has huge cabinets and drawers and additional counter space for everyday toiletries. A tall unit next to the vanity is the best way to maximise available corner space. In the shower area, it is best to install corner shelves where you can place your shower essentials. These are the basic types of storage that you must have when you're thinking about toilet design.
When should you renovate your toilet?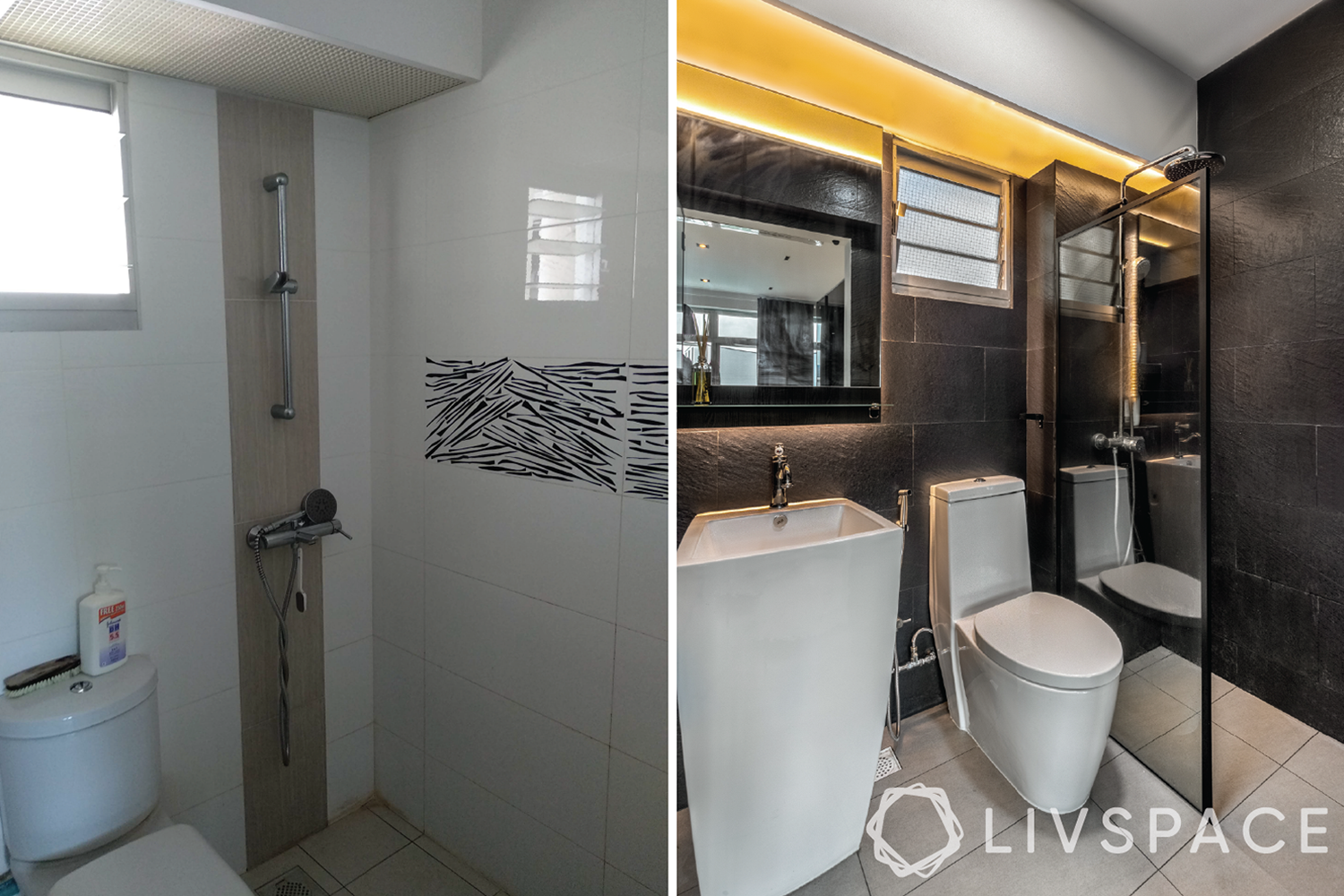 Toilet renovation is one of the most important aspects of a renovation, especially in resale flats. This is because we want the space to look cleaner and in tandem with the rest of the home design. There are a few things that you can consider which will help you decide whether you need a toilet renovation and the extent of overhaul required.
What are you looking for?
The primary and most important question to answer before you start the toilet design process is whether you are looking at a regular, functional space or a designer hotel-style look for your bathroom. Are there elders in your home? Or kids? Then you will need extra features to facilitate their needs as well. Another thing to consider is the number of people that will be using it—whether it is only for family members or guests as well. Answering these questions will help you and your designer decide the way forward.
Things you should keep in mind
Always go for easy and low maintenance materials for your toilet design.
Keep basic dimensions handy.
Be cognizant of the fact that conserving water is essential.
What should you definitely renovate?
Tiles should definitely be replaced with new ones. New tiles can instantly amp up the look of your toilet and add a touch of style to boring interiors.
Shower cubicles are a powerhouse of dirt and water stains. Hack the existing glass shower cubicle and build a new one. Make sure you get a compact glass partition just enough to sustain water splashes.
A good vanity unit goes a long way. You should invest in a material that won't wear out in humidity since your bathroom is going to remain damp.
Is the ventilation good?
This is a common mistake that most of us make while getting our toilet design. We forget to account for ventilation. While an exhaust fan might seem enough, we suggest you consider a window if possible, especially in the shower cubicle since it might get suffocating in there.
Are the fittings and fixtures leaky?
Leaky taps can be a pain and you will find yourself running to your plumber every now and then. Make sure you get taps that fit in just right. Top-mount sinks are the most common types of sinks and they fit in almost every kind of countertop. Shower heads come in different types and sizes like handheld, rain, and so on. Check the water pressure in your toilet to know which shower head will be the best.
Read this for more details: Planning Your Toilet Renovation? Here's a Guide to Help You Prepare.
What is trending in toilet design this year?
#1: Larger shower areas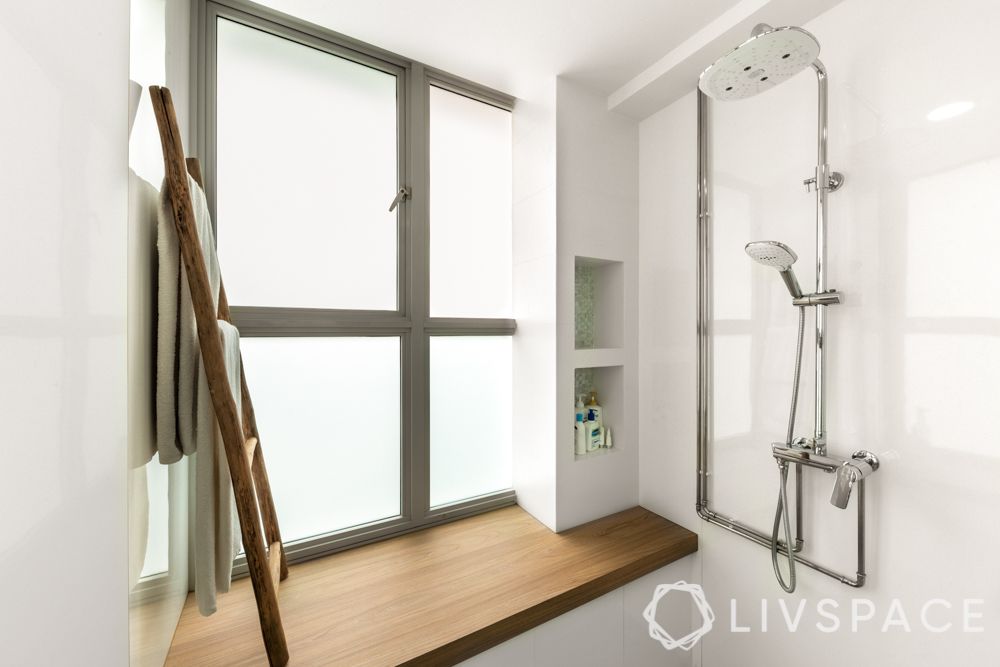 If space and budget permit, you should definitely consider getting a slightly larger shower area. Yes, it increases maintenance, but since we are all spending a lot of time at home, this will really help you in the long run. Dedicating some space to seating is also good. In addition to this, you can have niche storage in the shower area, instead of just shelves.
#2: Metallic sanitaryware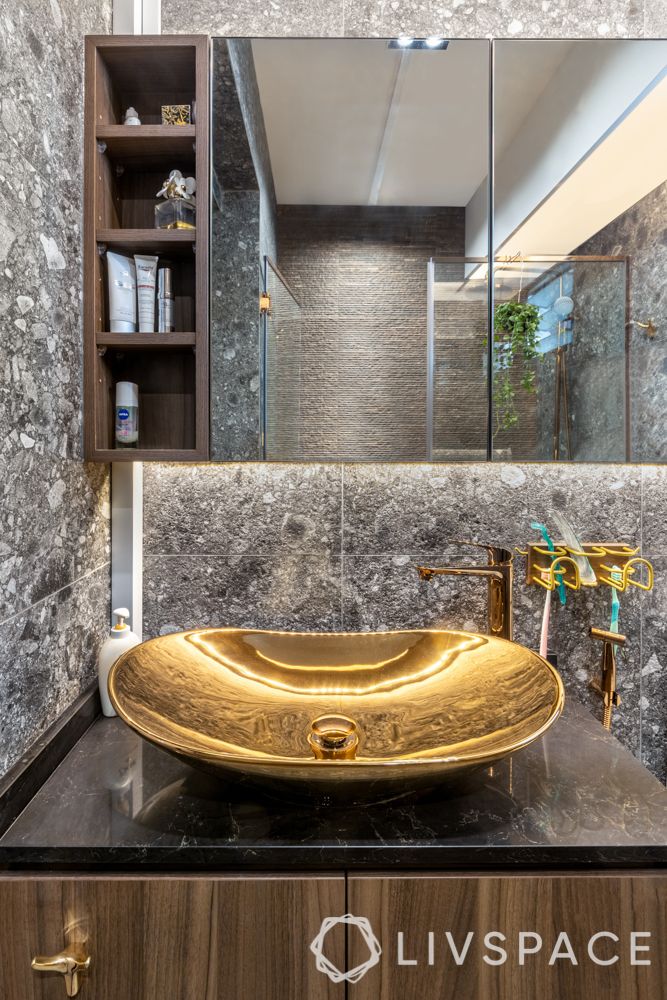 This is the year of unprecedented events, but a little bling did no harm to anyone. Metallic bathware can really jazz up dull toilet design interiors. You can get taps and fixtures in shiny metal or go bold with a statement metallic sink like this one.
#3: Big mirrors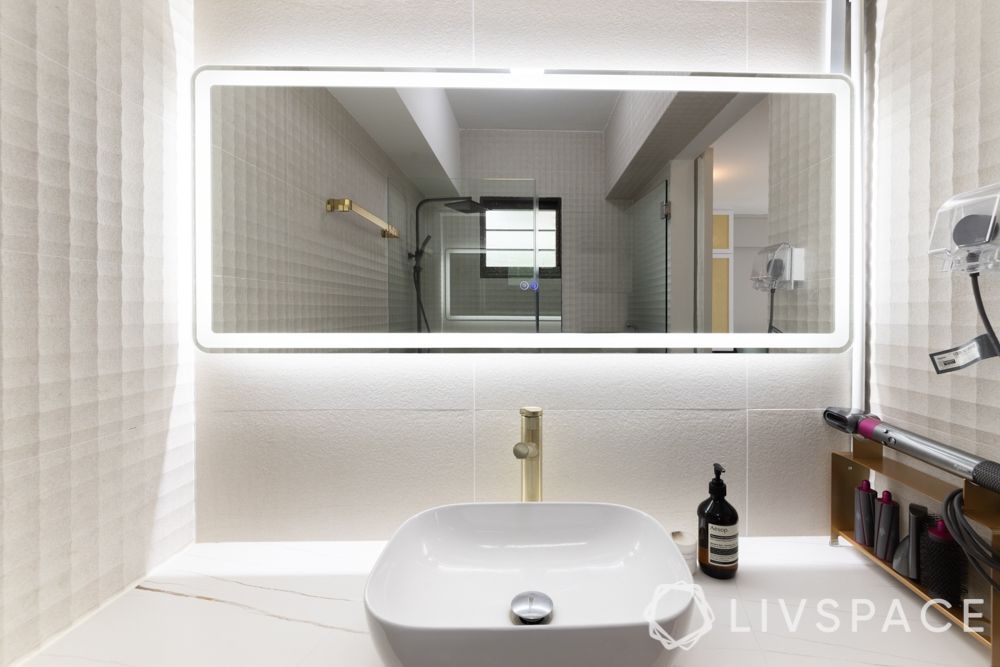 What is the point of wasting a wall by getting a small mirror when you can have a wall-to-wall mirror instead? Toilet design trend experts are hinting towards life-size mirrors for your vanity. We suggest you get some LED lights installed around it or get hollywood lights to add zing.
#4: Floating vanities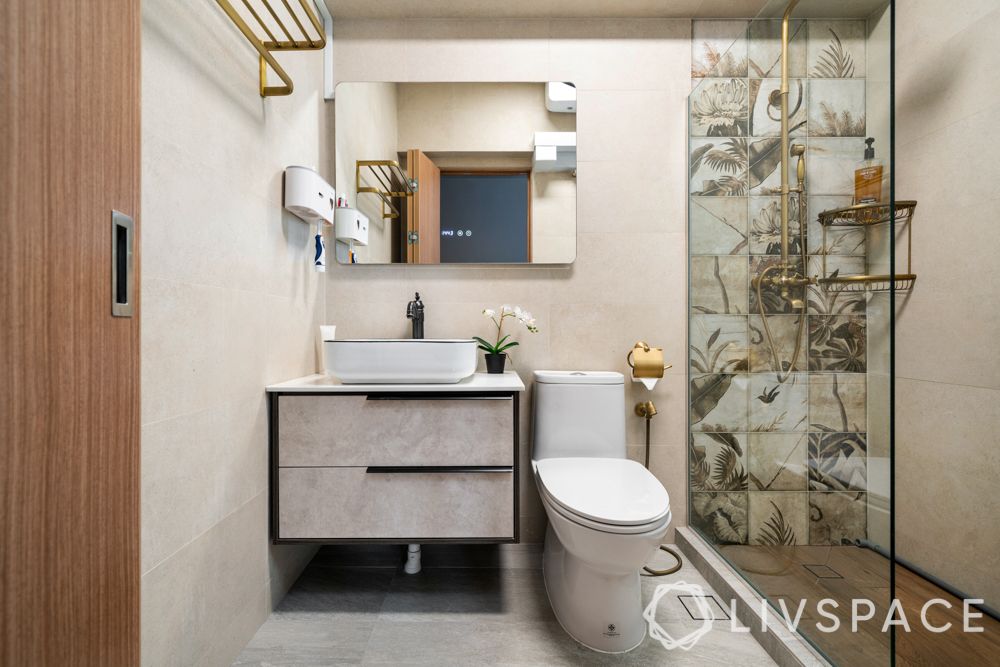 This is a practical trend that all of us should follow. Floating vanities not only look good but also help you in keeping the floor free. It is also easy to clean the bathroom since you can reach the bottom of the vanity easily.
#5: Homogeneous tiles instead of mix 'n match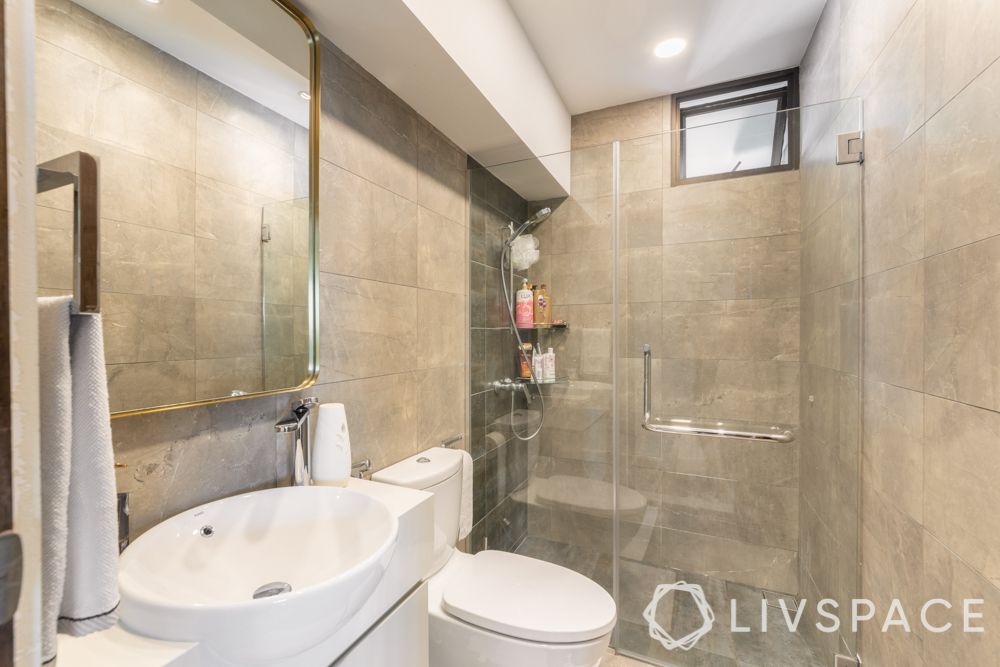 Here are 10 amazing toilet designs from our expert designers
#1: Bold black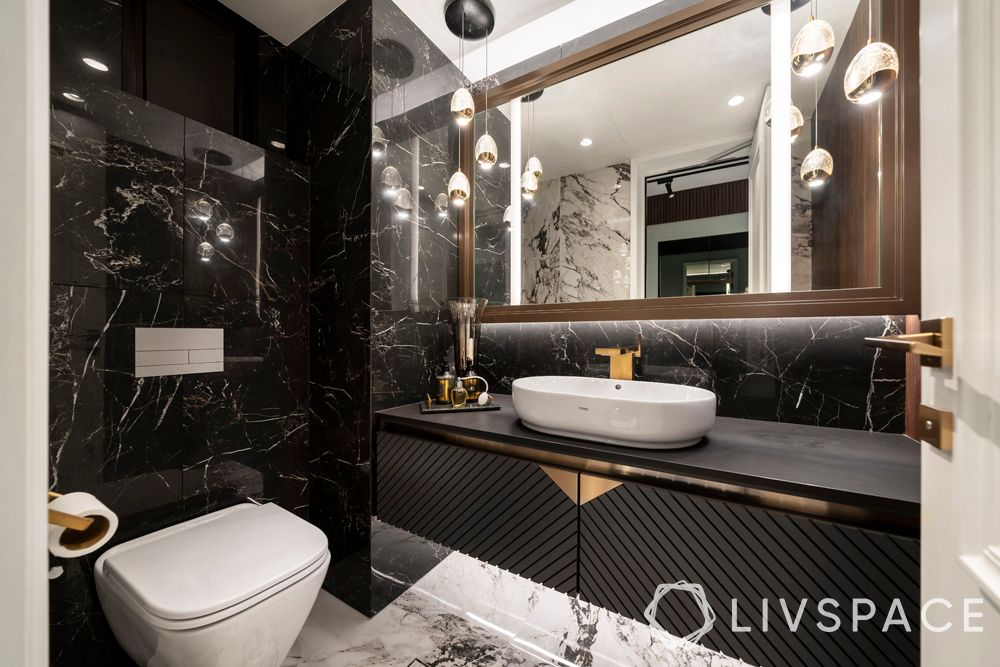 #2: Wood on white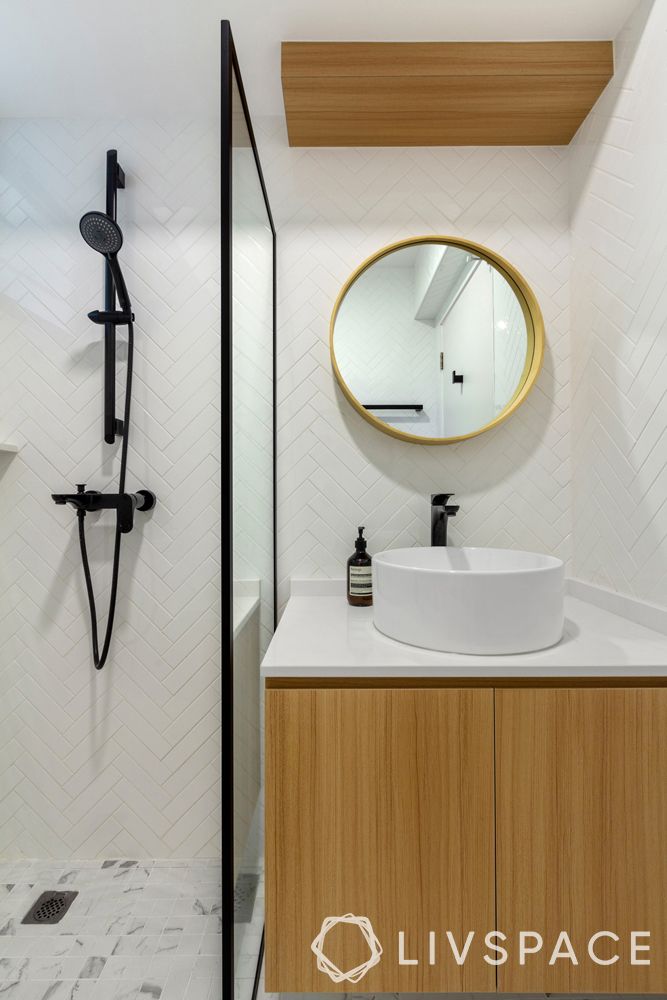 #3: Mosaic magic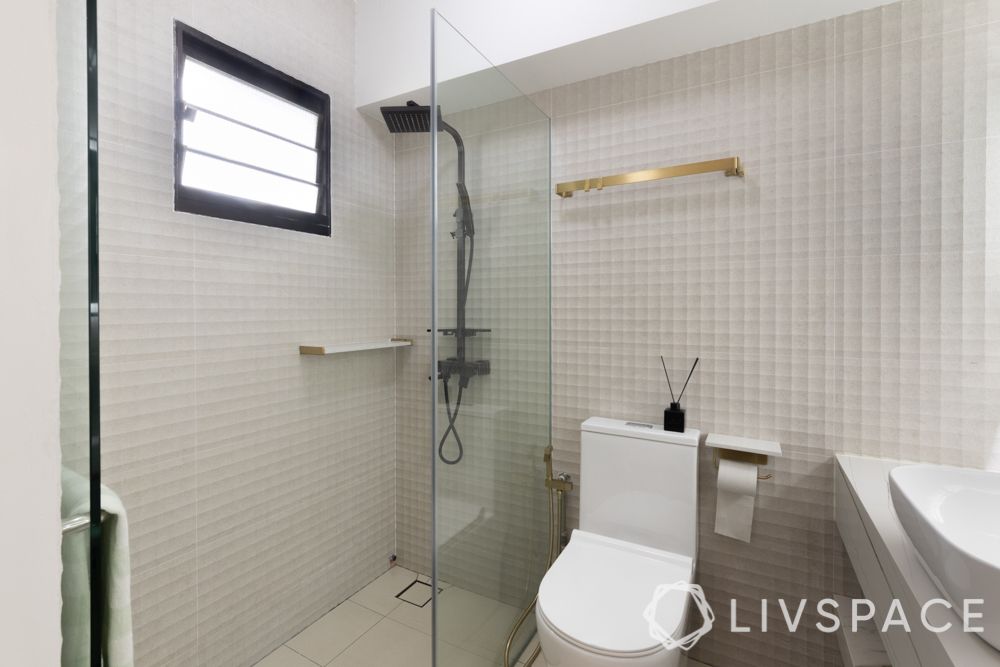 #4: A separate shower area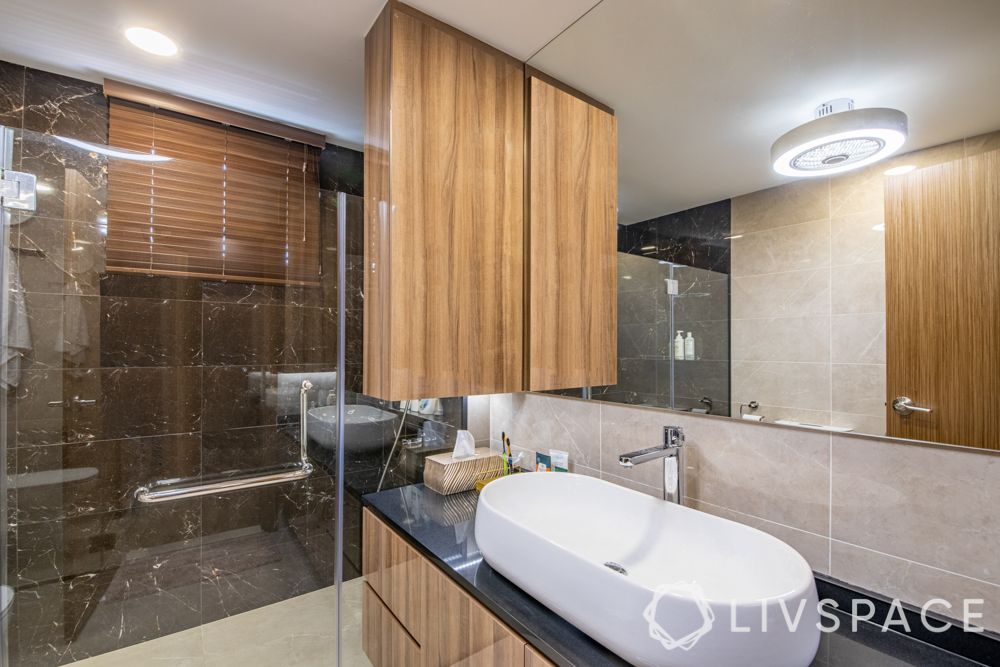 #5: A touch of bling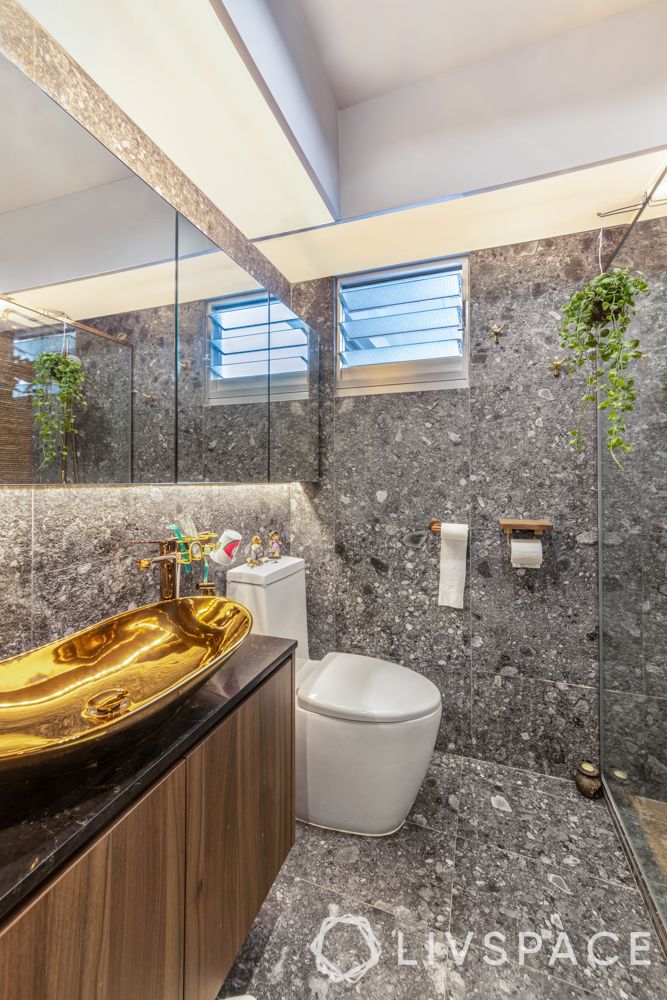 #6: Compact and efficient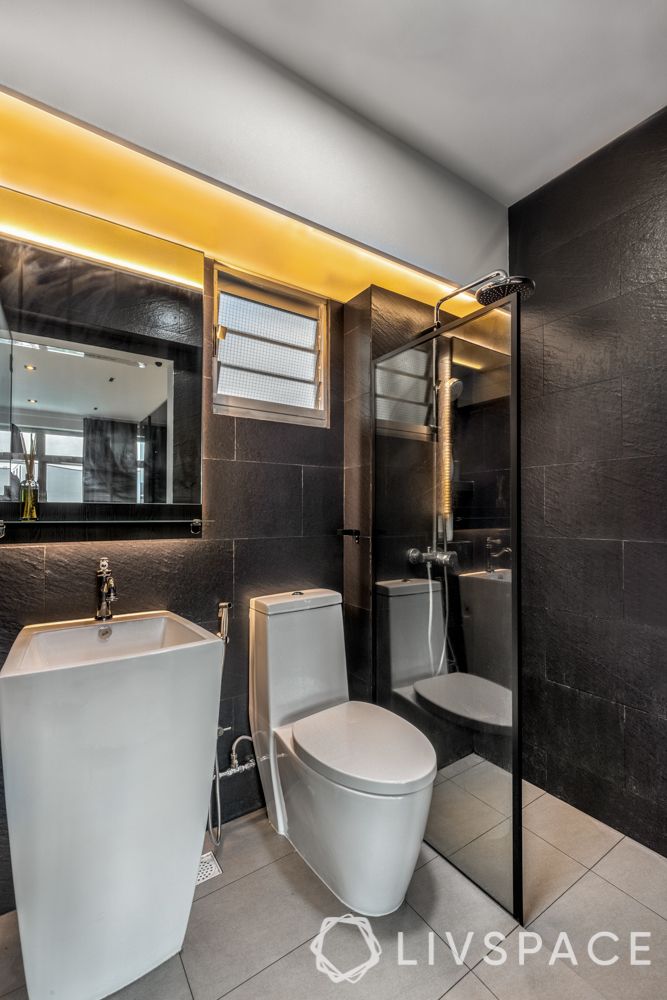 #7: A hint of pink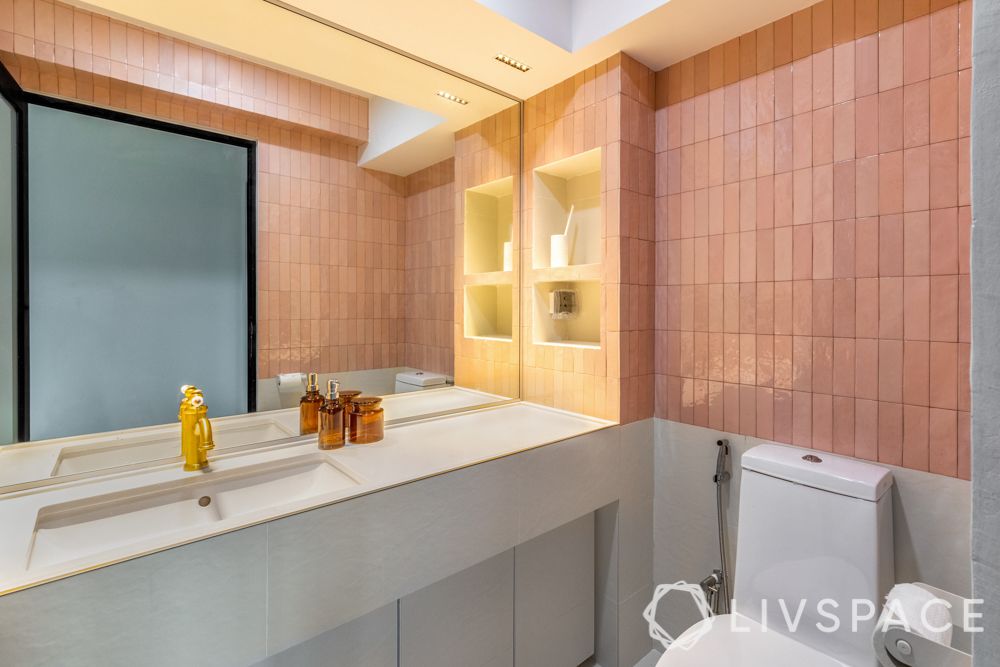 #8: Hotel-style vanity area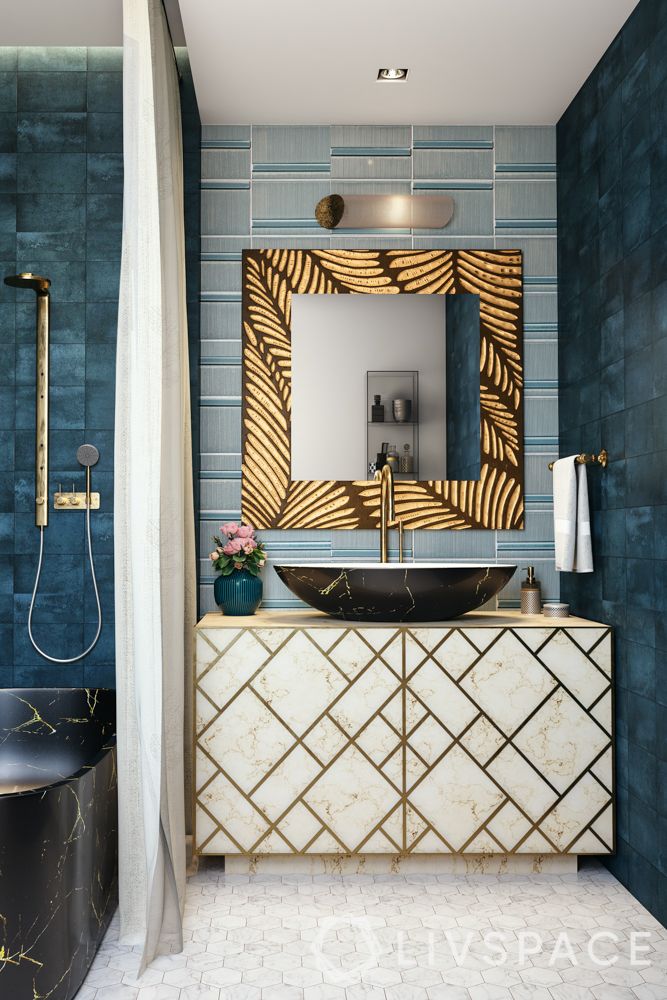 #9: Transporting you to the Tropics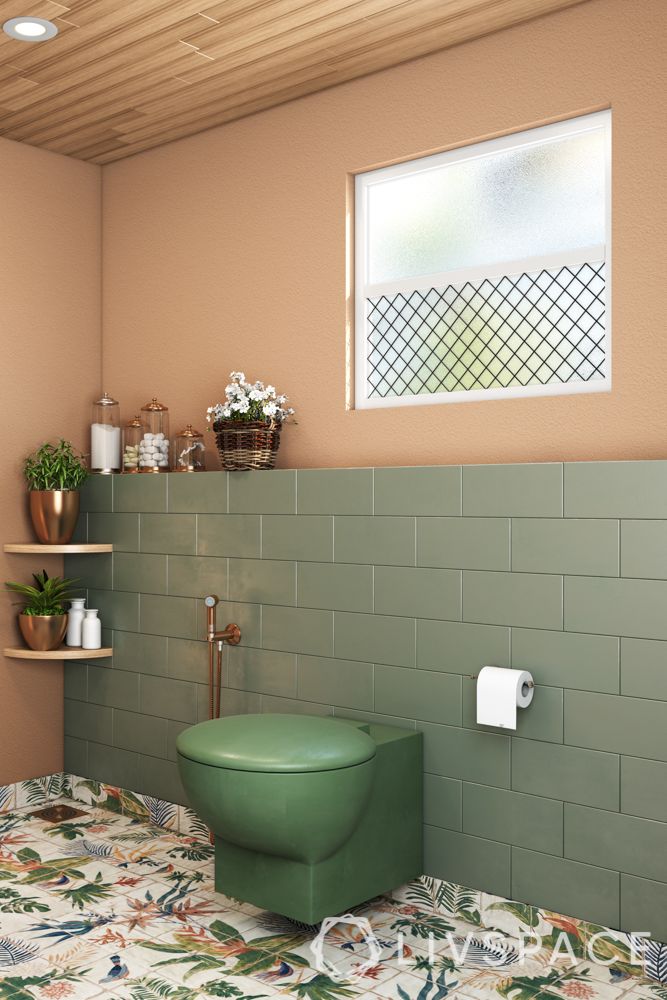 #10: Let the floor do the talking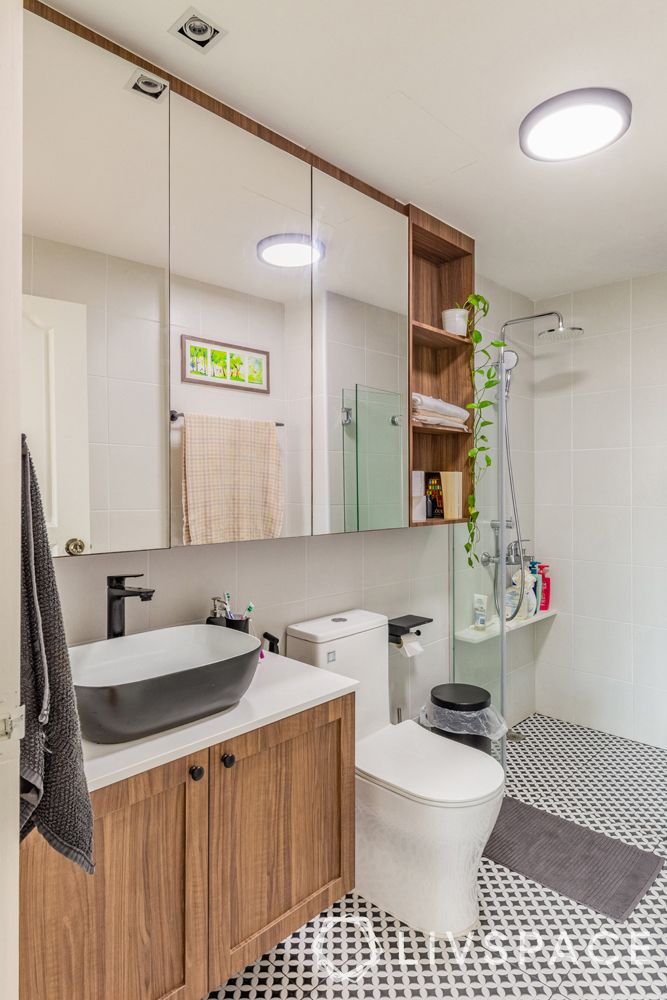 We hope you keep this guide handy the next time you are thinking about toilet design and renovation. Check this out for cost details: Everything You Need to Know About Toilet Renovation Cost.
Send in your comments & suggestions to editor.sg@livspace.com.