Looking to revamp your HDB bathroom with a bathtub? Before you dive into the installation process of an HDB bathtub, it's crucial that you ask the right questions and make informed decisions. From HDB permits to plumbing regulations to HDB bathtub designs that can work for you, we have all the answers.
1. Will I need a permit for my HDB bathtub in Singapore?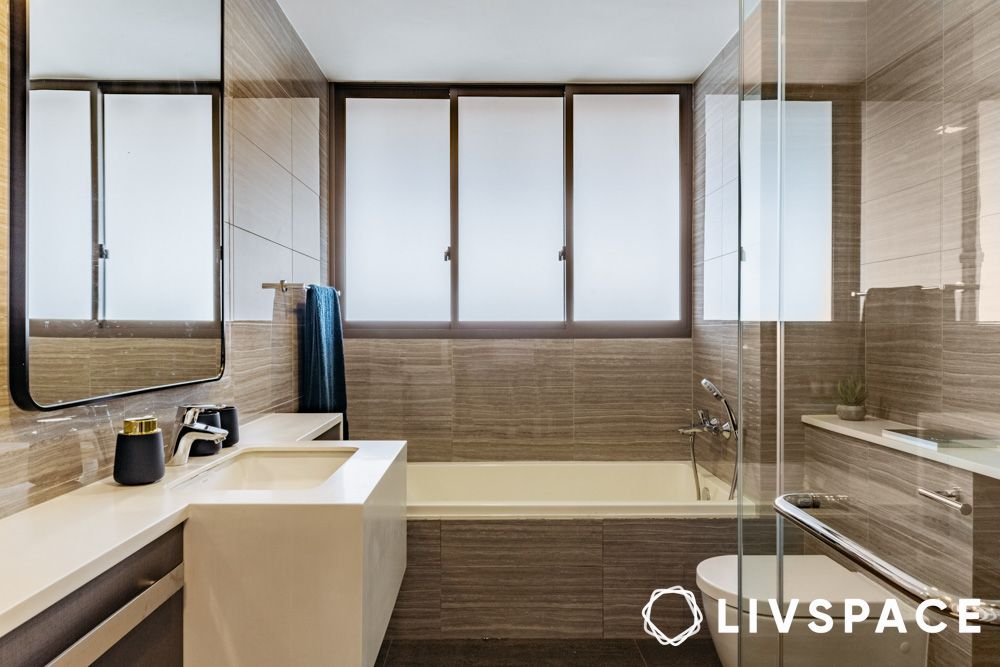 The Housing & Development Board in Singapore generally doesn't require you to apply for a bathtub permit. However, if a bathtub installation in Singapore requires hacking the walls or the flooring, you need to apply for a permit.
The weight of your HDB bathtub cannot exceed 150 kg and the total weight of your HDB bathtub, including water and a person, shouldn't exceed 400 kg
Consider installing an acrylic bathtub in Singapore, as they weigh no more than 50 kg
2. What to keep in mind while constructing a bathtub?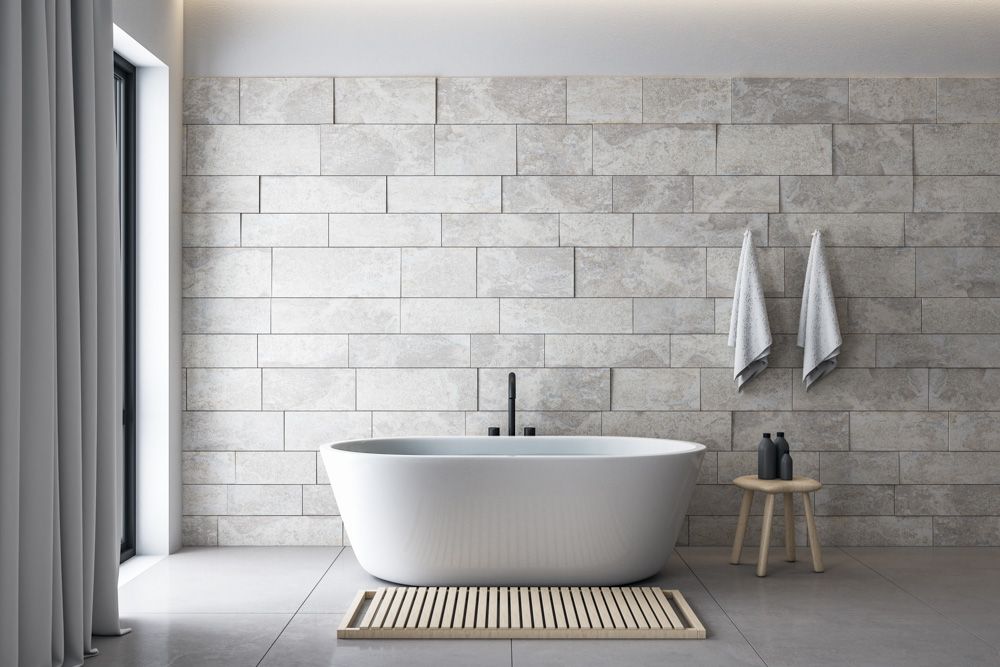 Before mapping a bathtub in your HDB toilet design, these are the three things you need to look out for:
The size of your HDB bathtub
The location of drainage pipe(s)
The bathroom space
These three factors become increasingly complex when you are trying to renovate an existing HDB bathroom and add a bathtub. You may need to hack some walls and some parts of the floor to lay drainage pipes.
Also Read: 10 Inspirational HDB Toilet and Bathroom Designs Under S$5K
3. Are there any plumbing and tiling regulations?
Yes! HDB directs all Singapore homeowners to abide by a few rules when it comes to plumbing, drainage, flooring and tiling of an HDB bathtub design:
If you have plans to conceal the water pipes under the flooring, remember that the floor slab cannot be tampered with and has to remain intact
All piping work has to be performed by a PUB licensed plumber who adheres to PUB's specific directives
You can raise the floor up to 50 mm in thickness
You also have to leave the area beneath an HDB bathtub (known as the void area) empty
For future maintenance, an HDB bathtub design should have an inspection opening and weep holes
4. Should I pick a built-in or freestanding bathtub for my HDB flat?
The choice of a built-in or freestanding bathtub depends on personal preferences, space available and weight restrictions.
If you are able to find a freestanding bathtub that's not too heavy, go for it. It allows you more flexibility to move it around. Also, the legs are placed in such a way that there's some gap between the floor and the HDB bathtub.
You can use an additional support structure to give your bathtub more foundation.
5. Is it a good idea to install a small bathtub in my Singapore HDB home?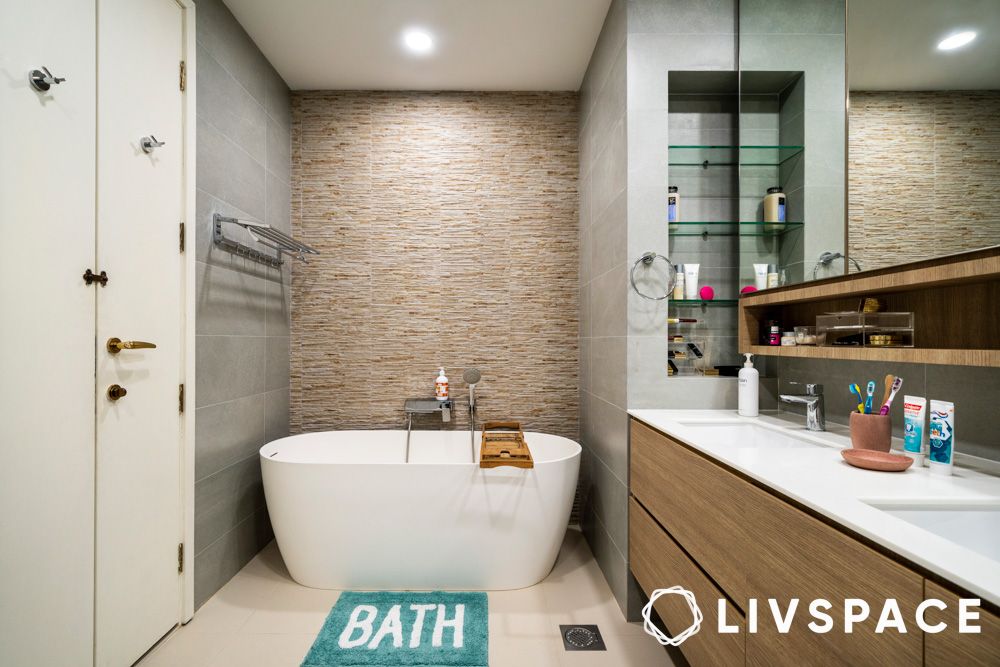 If you are a new homeowner who has just received the keys to your HDB flat, the practical answer is yes. It's advised to opt for a small bathtub design for your HDB home because most HDB flats have small bathrooms.
You will not be permitted to expand your bathroom area until you have completed three years from the block completion date.
6. Can I have a long bathtub for my HDB toilet?
No! Bathtubs that are 1800 mm or larger aren't permitted by HDB, Singapore.
Also Read: HDB BTO Renovation FAQ: What You Need to Know Before Getting the Keys to Your Flat
7. How to install a jacuzzi in my Singapore home?
If you want to install a jacuzzi in your HDB home, you need to purchase a ready-made jacuzzi bathroom in Singapore. That's because constructing a hot tub is not permitted in the HDB flat.
Moreover, the jacuzzi design has to comply with the 400 kg total weight of the bathtub, including water and person. Not only that, as a jacuzzi bathtub uses warm water, proper water drainage must be ensured by the PUB licensed plumber.
8. What are the popular HDB bathtub designs to choose from?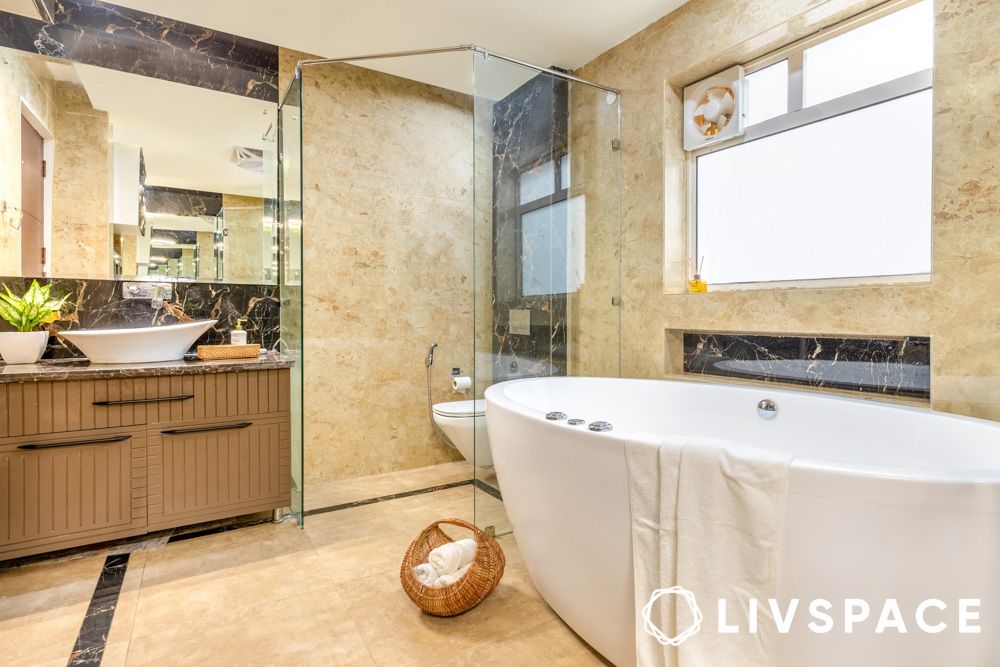 There are three HDB bathtub designs you can choose from:
Freestanding or standalone bathtubs which are readily available
Built-in bathtubs require a little more space
Alcove bathtubs are space-efficient and quite sophisticated in appearance
You can also consider a Japanese bathtub in Singapore. It's popular as a soaking tub, takes up less space and is much deeper than the standard tub, allowing water to stay warm for longer durations.
For your HDB approved bathtub design, you can also choose between a jacuzzi and non-jacuzzi tub design.
9. Does a bathtub price in Singapore include installation?
No, a bathtub price in Singapore just involves the cost of the bathtub. The additional renovation, hacking and construction is taken care of by the PUB licensed plumber who will cite a cost based on the exact nature of your requirements.
10. How to maintain my HDB bathtub?
Regular maintenance can seem like a chore, but it's the only thing that will make your bathtub withstand the test of time.
Scrub it regularly to avoid mould
Be gentle when you are cleaning to avoid scratches
Use a soft sponge or a microfiber
Bathtub or not, we can help you design your dream home as per your needs.
So, check this beautiful 5-room BTO design in Tampines:
How Can Livspace Help You?
We are Asia's fastest growing home renovation service provider
We cover you for 5 years
Also, we get you the best, high-quality materials
We hope you found our ideas useful! If you want beautiful interiors for your home, look no further. Book an online consultation with Livspace today. Have some comments or suggestions you would like to share with us? We are all ears! Feel free to write to us at editor.sg@livspace.com.