Be it a small bedroom or a spacious one, having a study unit does make life easier. If you're working from home, you will need a working desk to perform well. So, why not find the space for it in a quiet corner of your bedroom? Picking out a study unit for a bedroom requires you to decide on storage space, measurements and even style. Here are some of our favourite HDB bedroom design with study table for rooms of all sizes. If you have limited space, a spacious bedroom or just want a minimal design, this one's for you!
#1: Multipurpose study units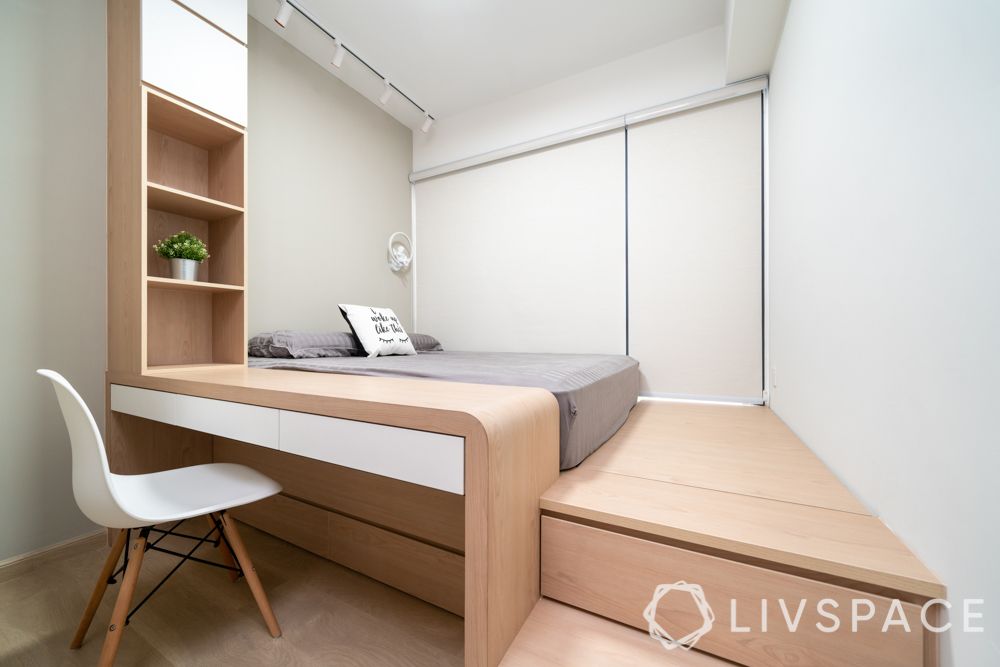 Completely designed by Livspace designer William Chong, this flat is compact and unique. With two small rooms, William has installed custom made beds and study units to fit the space like a glove. These units are made of oak laminate and plywood and come with plenty of hidden platform storage.
#2: Workspace for a compact bedroom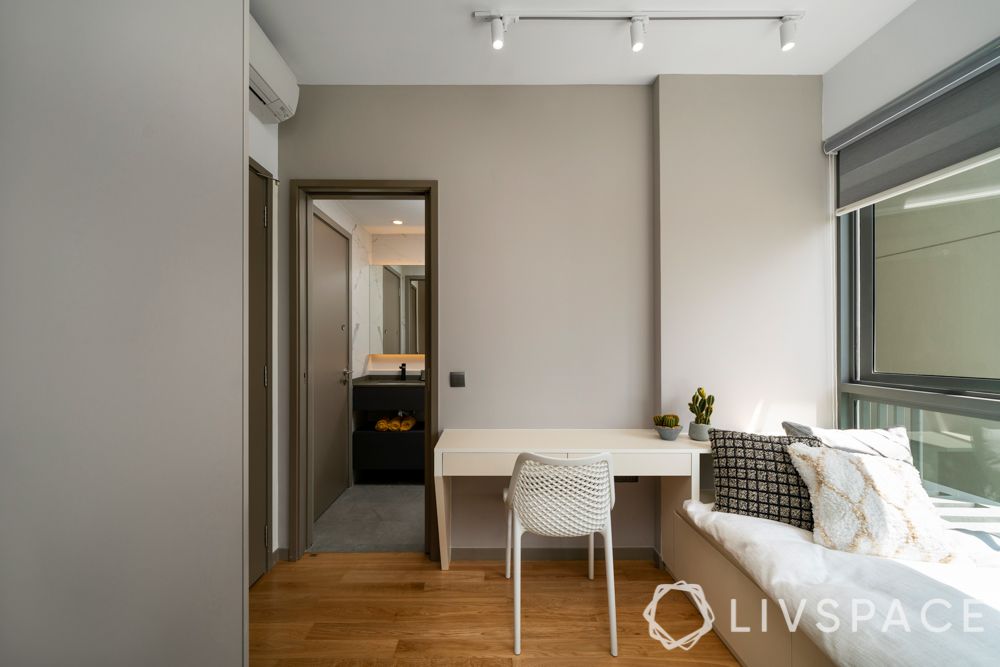 This bedroom is designed for a couple that specifically wanted home offices in their rooms. A bright white colour was picked for all the interiors to give the compact room a spacious feel. This custom bed and study unit design is ideal for small bedrooms with little to no wall space. It has a minimal design with clean lines and is made to fit against the available wall.
#3: Minimal unit for a spacious bedroom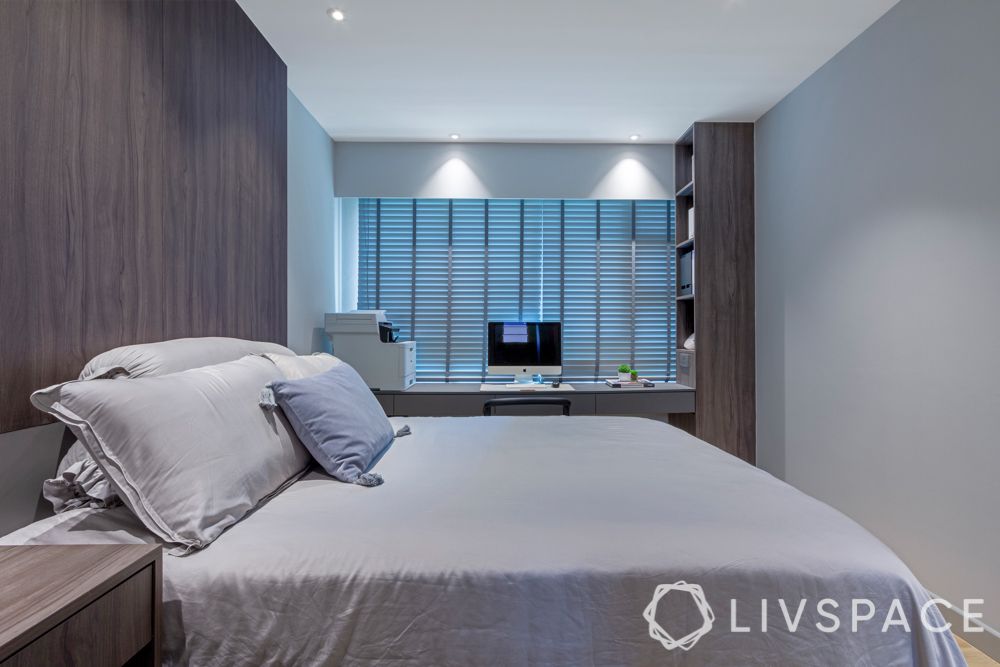 A big bedroom doesn't necessarily call for a sizable study unit. Here, this cool grey toned bedroom has a complete workstation with ample space for office equipment, a computer and even a bookshelf. Consider installing a wall to wall unit next to a window with a floor to ceiling bookshelf. Ensure that the unit is installed below the window ledge in order to let in as much sunlight as possible.
#4: High on open storage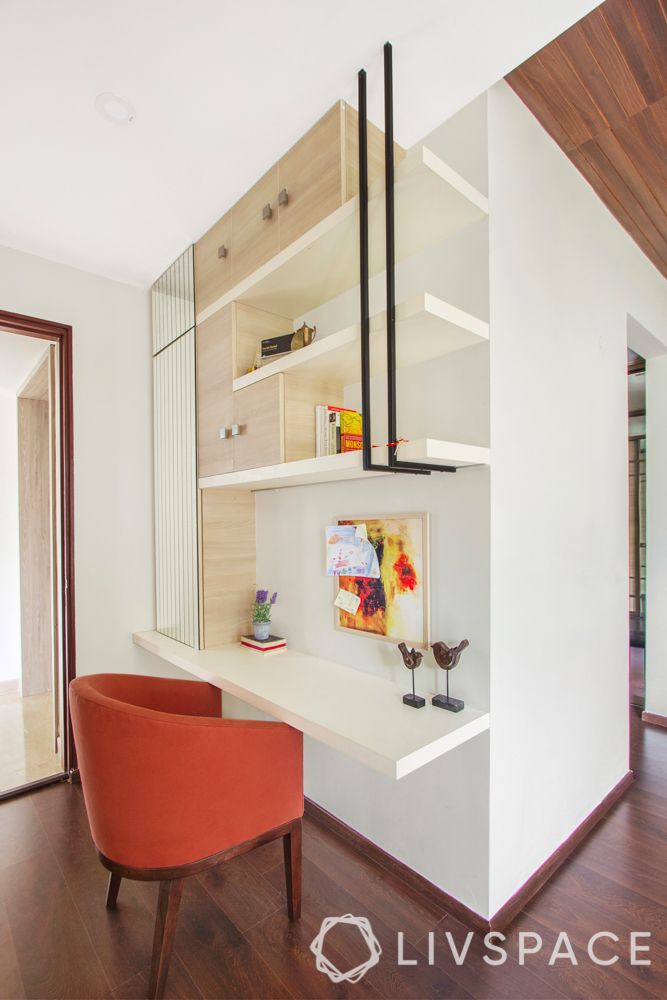 If you are searching for HDB bedroom design with study table that's high on storage, then this is for you. The open storage in this unit is ideal for collectables and coffee table books. The bright orange chair adds a pop of colour to the beige unit. You can also mix it up with a unit of closed storage to store electronics and books.
#5: Ceiling to floor study unit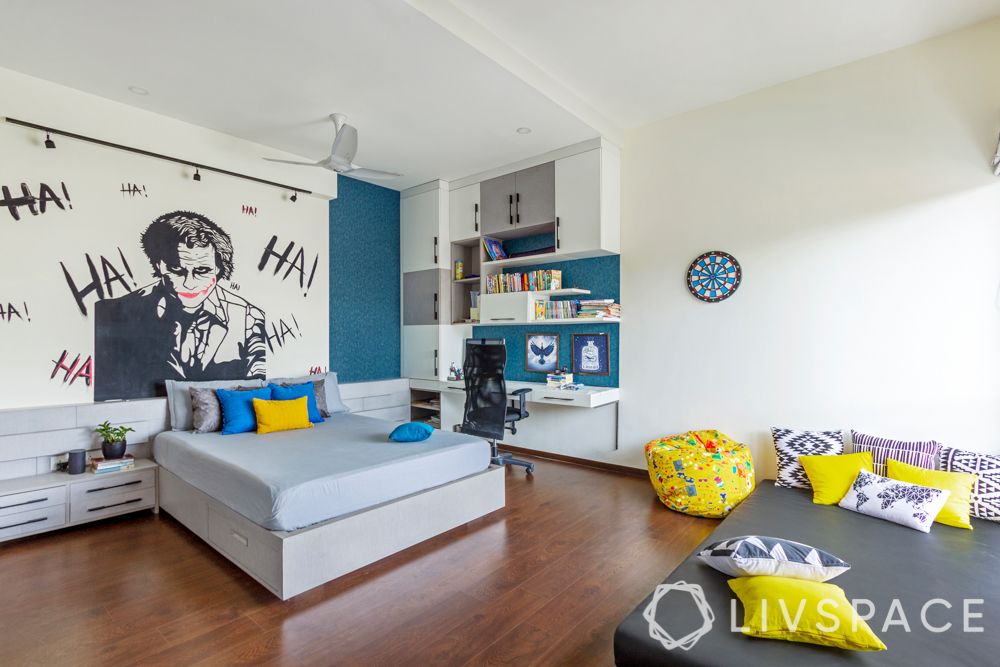 Here's a study unit your kid is going to love using. This space is custom designer and packed with plenty of open and closed storage modules. Moreover, the walls have fun colours all over matching with the theme of the room. Ensure that your unit has an ergonomic chair for those spending long hours using these study tables.
#6: Custom study corner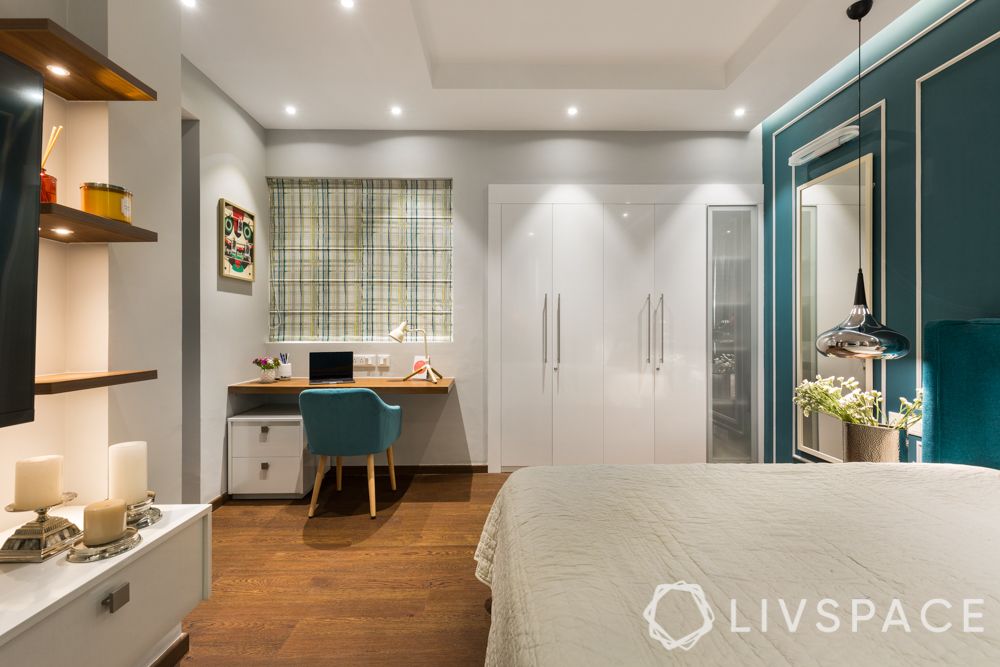 This simple study design is easy and quick to recreate. It consists of two elements—a wall-mounted board and a small movable cabinet unit. This unit is perfect for a bedroom with no wall space. You can utilize an empty window space to install your desk and storage.
#7: Simple wall-mounted unit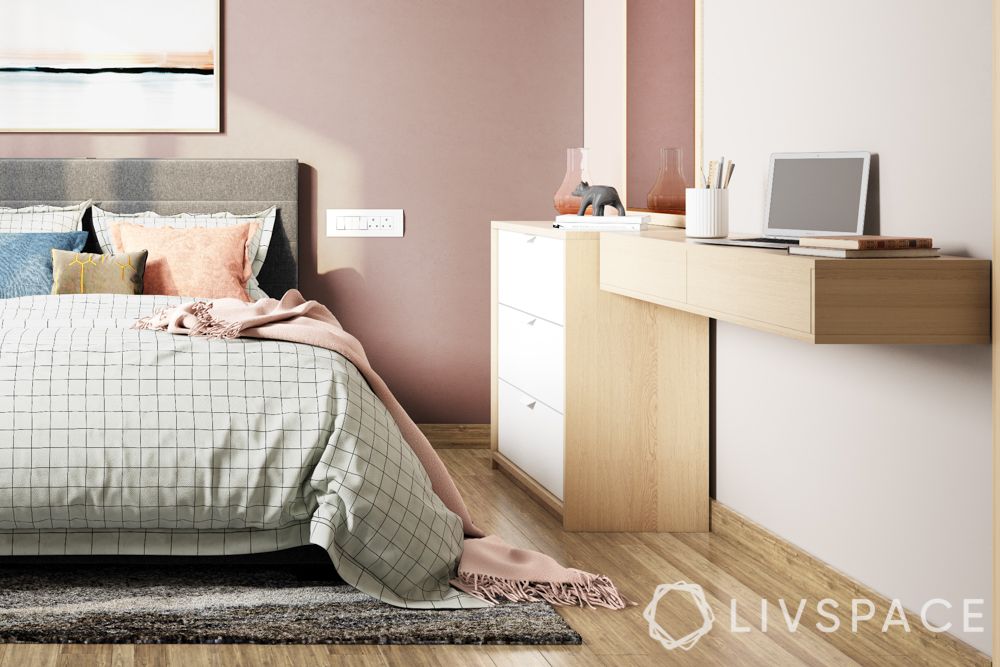 This unit is unlike the others. It is minimal and works for small as well as spacious bedrooms. Consequently, if you want a multi-purpose unit that can double up as a vanity unit, this is the ideal design for you. Here we have opted for a wall mounted ledge desk with drawers in a light wooden laminate to match the other storage units in the room.
#8: Custom built workstation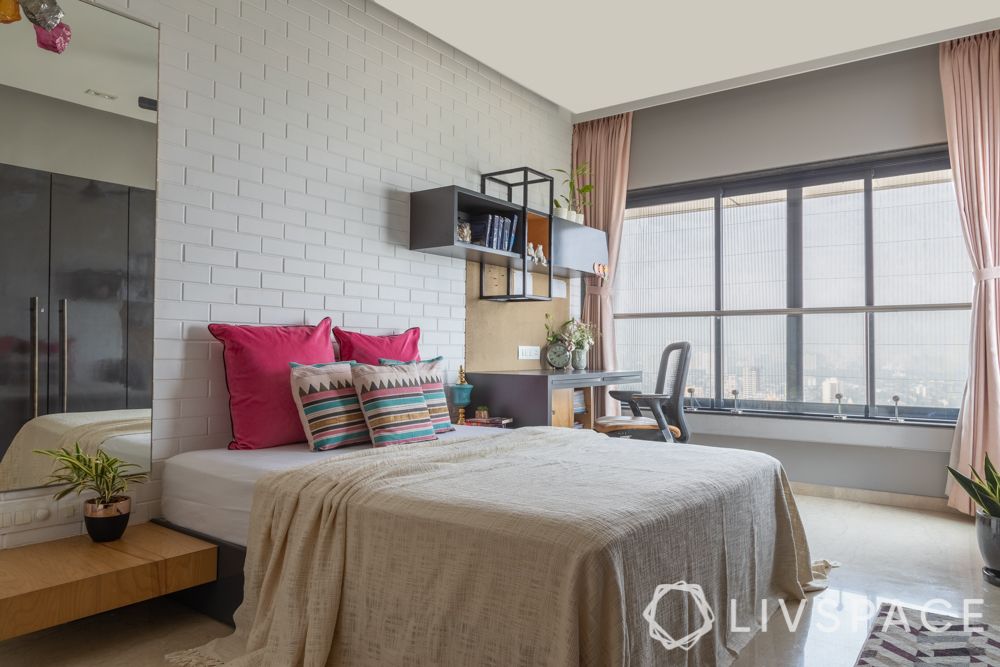 A popular and space-saving hack for any room is a wall-mounted unit. Moreover, these sleek units make the best use of the available space on the wall. Here, this trendy study table is in oak and shades of grey. The unit has plenty of storage space for books as well as curios.
If you liked these HDB bedroom design with study table, you might also enjoy The A-Z of Home Offices and How to Make it a Comfortable.
Send in your thoughts and suggestions at editor.sg@livspace.com.