Sometimes you're bound by space or budget when it comes to renovating your home. But with some intelligent designing and planning, you can overcome those hurdles. You can make rooms multi-functional or add a design style that is out-of-the-box to make your HDB look better. So the next time you are planning your HDB design, keep these ideas in mind and ask your designer to help you out.
#1: Hacking Walls to Get a Spacious Open Floor Layout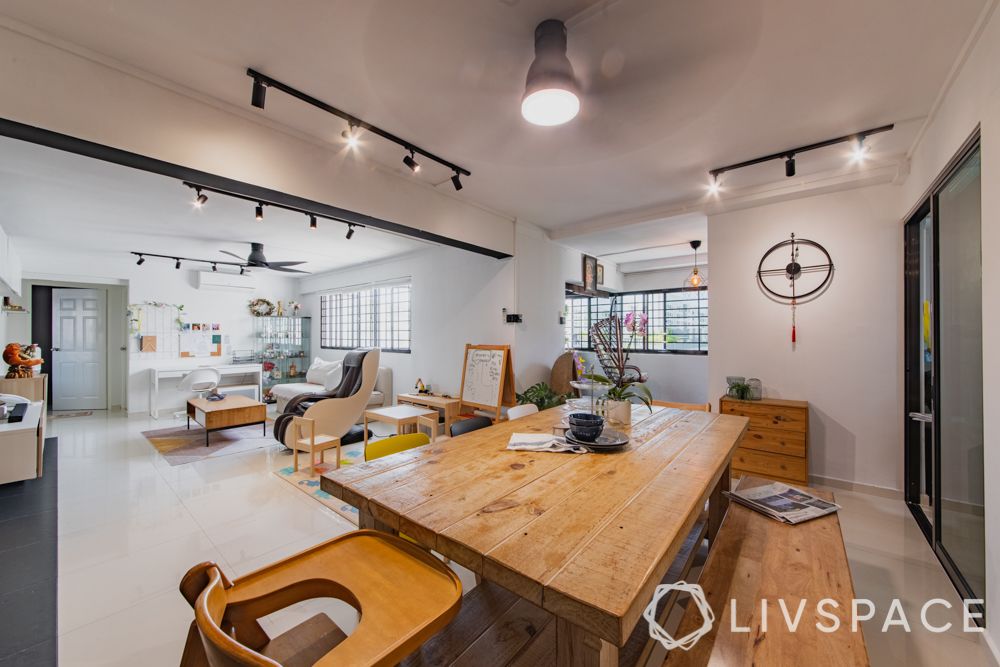 When you have a young family, enclosed spaces just don't work favourably. You need to give your kids some open space to run around and play. For this flat, our designer Pallavi Bhagwat had a clever HDB living room design up her sleeve. Since the original layout of the home had too many walls blocking space unnecessarily, she knocked down the walls and turned the entire living room into an open plan space. You can borrow several smart HDB living room design ideas from this 30-Year-Old Jumbo Flat Renovated to Suit the Lovely Family.
#2: The Ultimate Modern Kitchen in HDB Design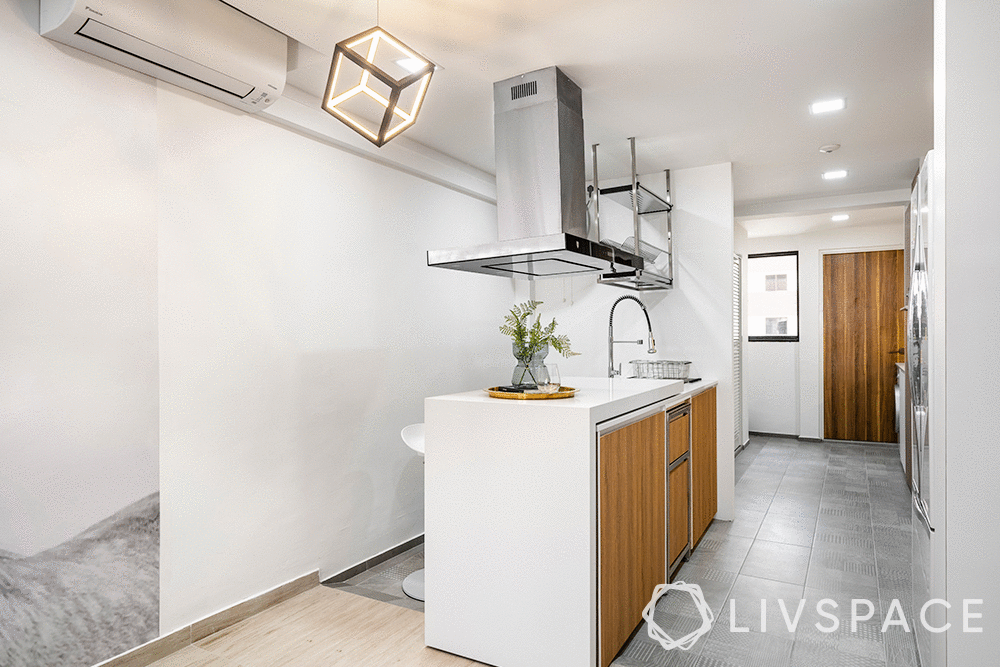 Most flats in Singapore have scarce space for typical room-by-room designing of their interiors. So Thomas Chng, a Livspace designer and Woo Liew Mei, the homeowner, decided to go bold and incorporated the dining room essentials into the kitchen. A retractable table from the island is designed to allow dining in the kitchen itself. At other times the island acts as the social breakfast counter without consuming a lot of floor space. Learn more about This 72 sq. m. HDB Design with Seamless Storage in Almost Every Room.
#3: Tidy Up the Frame with a Smart HDB Design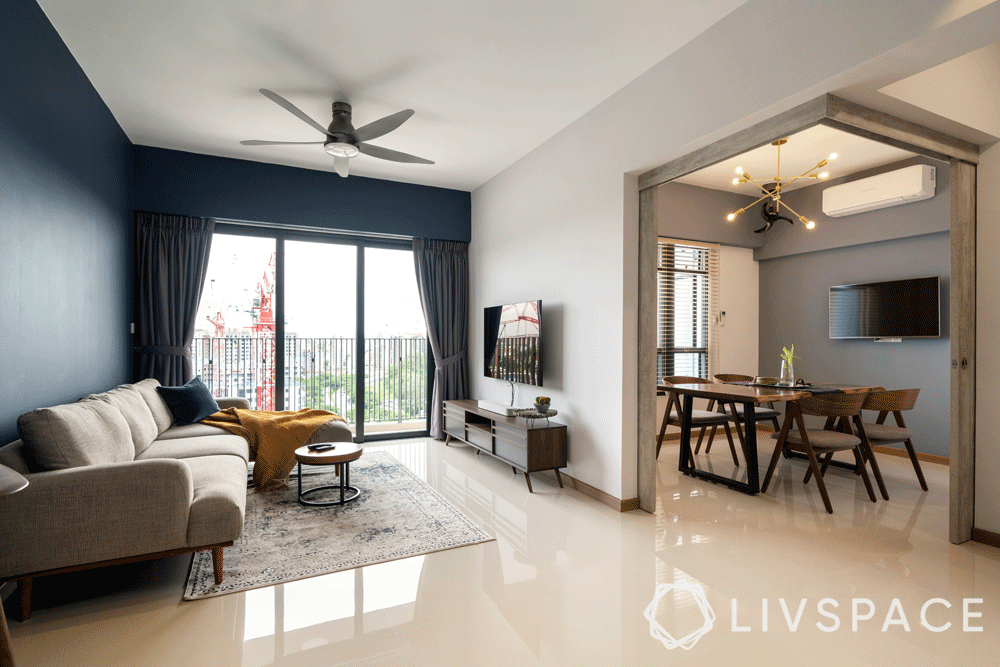 While this HDB partition living room was meant for a newlywed couple who didn't have many uses for a spare room and turned it into a closed dining area. It can just as easily serve a family with kids or elders by offering a private dining cum family room. Johan Ng, their designer put together many eclectic HDB design solutions and you can read How to Design a New and Stylish 4 Room BTO to learn more about Shankie and Debbie's experience with us.
#4. A Comfortable and Sized Bedroom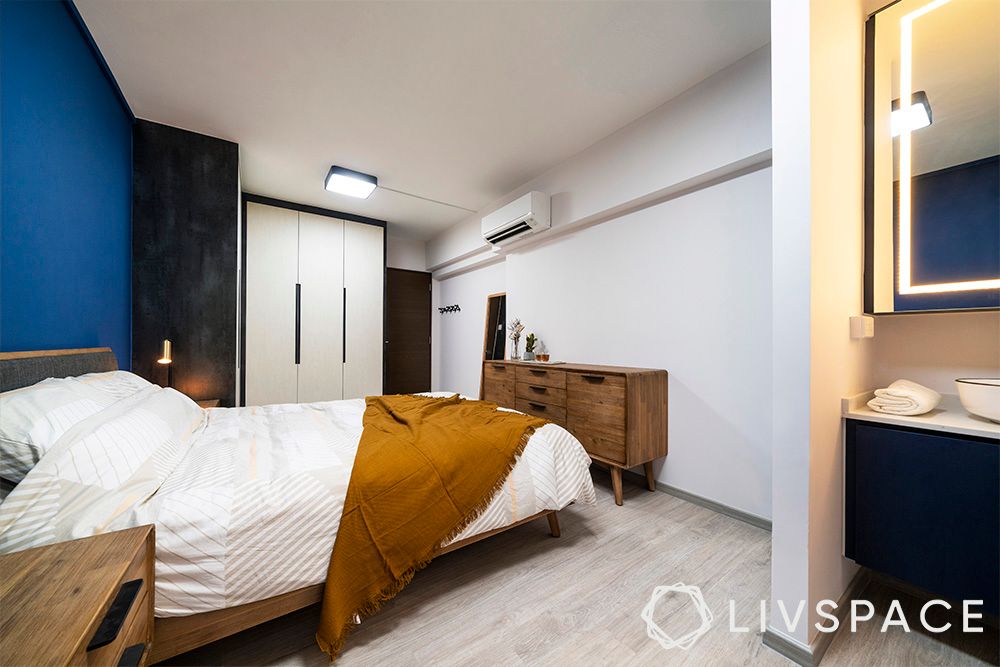 Since the homeowners of this flat desired a bigger bedroom, it called for extensive civil changes. Consequently, the original wall with the main entrance to the bedroom was knocked down. And a new wall was erected to increase the bedroom space by over 70 sq ft. This allowed us to add in extra storage and play boldly with the room colours. This is one of the many great HDB design ideas in this Exclusive Renovation for an 85 sqm Home.
#5. A Home Office That Pushes Productivity
Want to add an office to your home but don't have a room to spare? You can always create a partition in your living room to design a glass study room in your HDB. For this flat, we used a collapsible glass door that leads to this home office. Given that the pandemic has altered the way we live, most homeowners are opting for a home office setup where they can work and relax. The study table is the hero here. The couple really enjoyed assembling it together and it can be customised according to their needs.
Check out the rest of the HDB Design here: 4 Room HDB Renovation for a Couple Who Loves Scandi and Clean Look.
#6: A Stress Relieving HDB Design for a Bathroom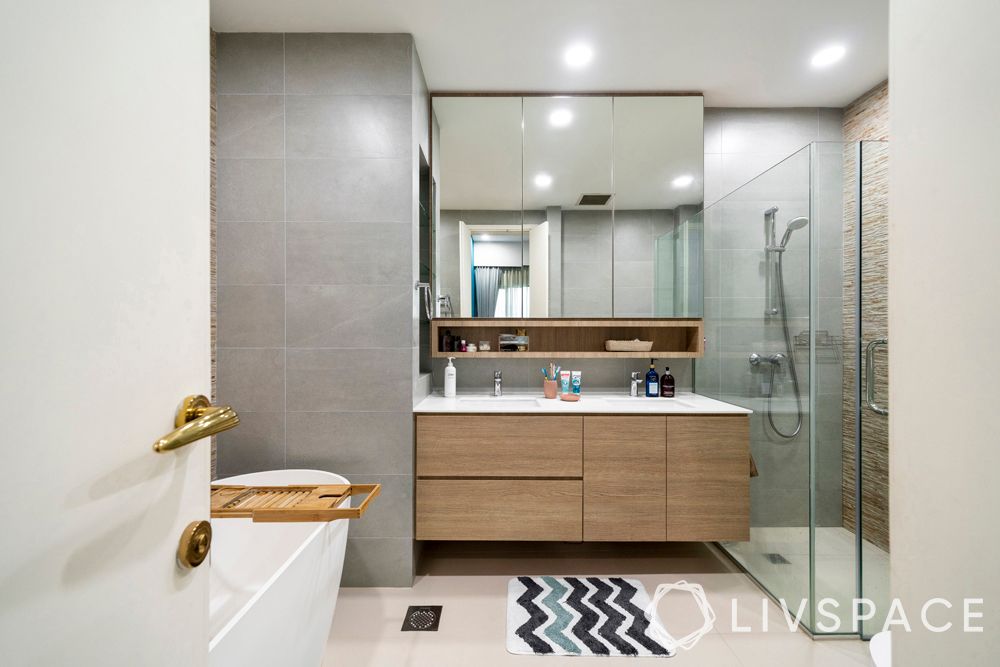 Bathrooms have a way of changing your demeanour by offering privacy that relaxes you. And if you do your bathroom design right, you will have one assured corner in the house where you can let go of all the stress. It is always best to look at trends and decide what kind of aesthetics please you and what amenities you can afford in your bathrooms existing HDB design. Here are 6 Trending Toilet Designs That You Must Look Out For.
#7: Japanese-Inspired Intimate Meditation/Activity Room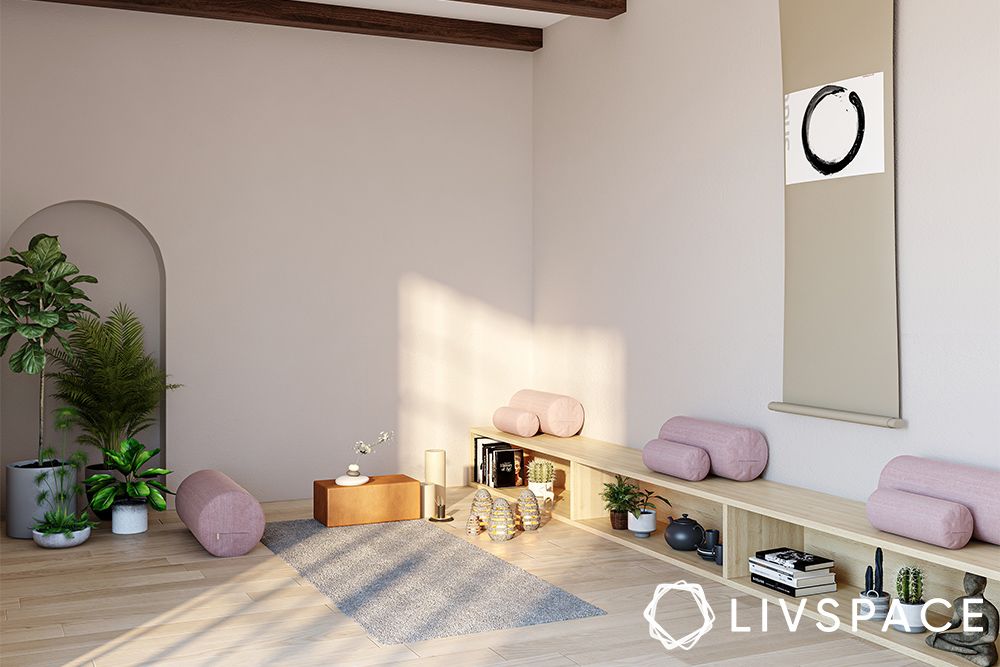 We know how spare bedrooms have become home offices lately, but here's another HDB design idea — An activity room. You can have a few rewarding hours in the day to yourself pursuing your personal needs and hobbies. As healthy as Japanese-style furniture may be, it is also aesthetically appealing to most. It allows for a lot of free movement around the room and is flexible to any kind of storage units you might want to keep.
For more ergonomic HDB design ideas read These 6 Japanese Design Elements Could be Game-changers for Your Flat.
We hope you are inspired to be bolder during your interior renovations and have found a way to understand as well as communicate your needs.
How Can Livspace Help You?
We hope you found our ideas useful! If you want your home to be just as beautiful, then look no further. Book an online consultation with Livspace today.
Send in your comments & suggestions to editor.sg@livspace.com.