Do you always keep wondering how great it would be if you could pack in some extra storage space in your compact bedroom? Or how you can make your kitchen more functional with minor changes? Our homeowners faced similar issues while getting their homes renovated and our designers provided innovative solutions for each. Check out these common problems that we solved with some great design concepts. We are sure you will steal at least one of these HDB design ideas for your home.
Problem #1: Need more storage and appliances in a compact kitchen
A very common concern that most homeowners in Singapore have.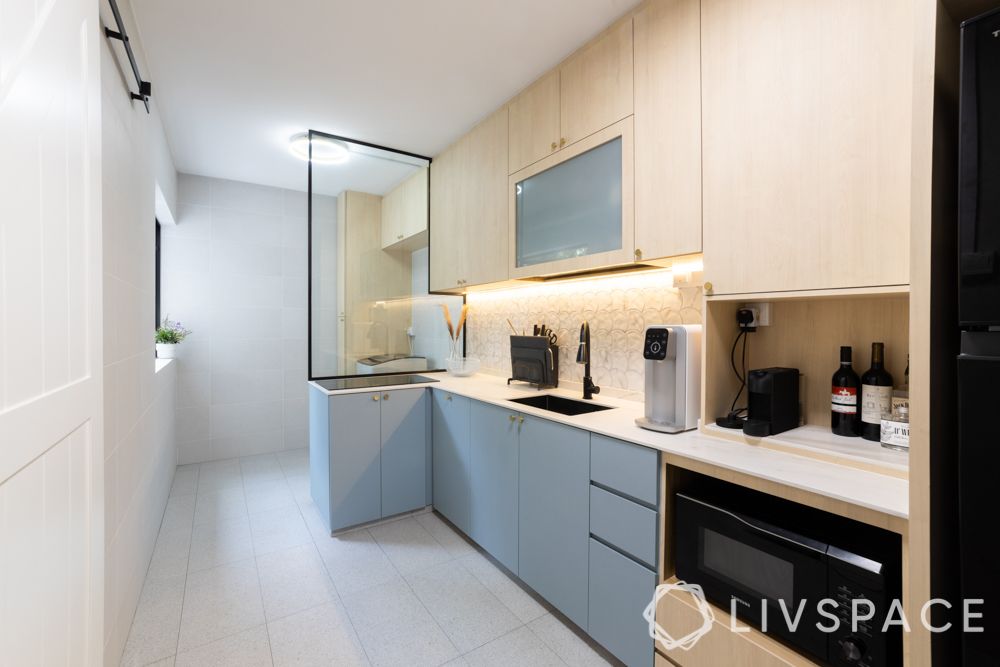 Solution: More cabinetry and built-in appliances
Having a compact kitchen does not mean you cannot have the appliances that you need or the kind of storage you require. Utilising the vertical space is the best way to optimise space for storage. You should also invest in built-in appliances or have designated niches for appliances so that your countertop is not cluttered.
Check out this home where we solved this issue: 4 Room HDB Renovation for a Couple Who Loves Scandi and Clean Look.
Problem #2: Need more storage in the bedroom
This happens when all we have are wardrobes but need that extra space.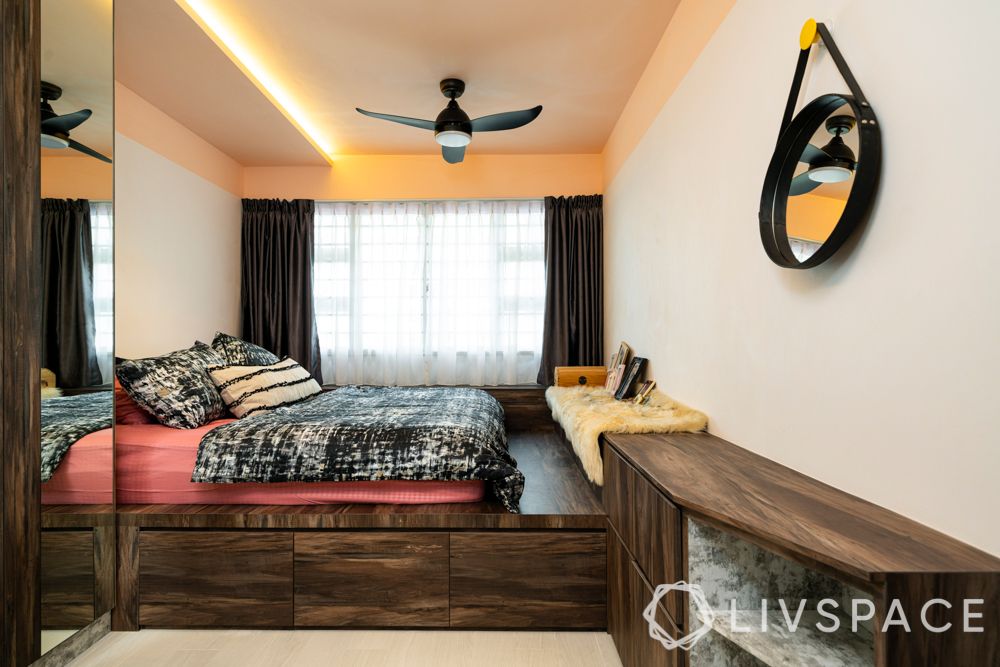 Solution: Platform bed with storage underneath
One of the best ways to combat this problem is to get a platform bed with storage underneath. This is certainly one of our favourite HDB design ideas and we're totally bowled over by it. While this bedroom has ample space for wardrobes, our designer added a platform bed so that the homeowners can have extra storage space there.
Check out this home here: What Happens When an Interior Designer Crafts His HDB Interiors?
Problem #3: I have a very open layout and want to demarcate spaces without erecting walls
Having an open layout is great but imagine not being able to separate areas.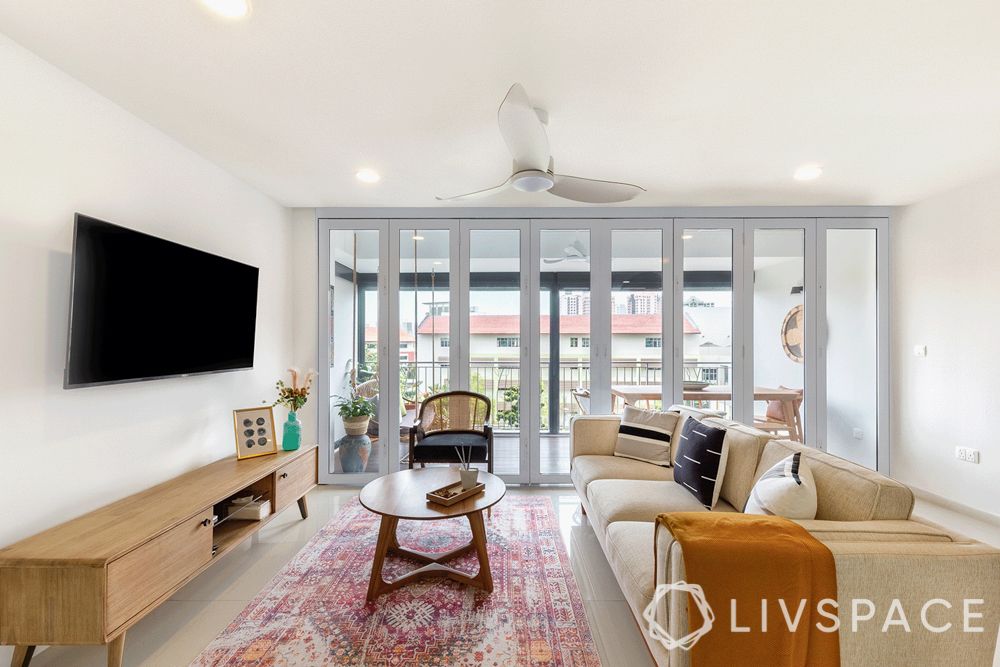 Solution: Collapsible glass doors
This is one of the most ingenious HDB design ideas of all times. If your home has an open layout—meaning the living room, dining room and other common areas lie in one huge space—then you will need this tip. Our designer created a deck area with an outdoor dining space just by adding a foldable glass door in the living room. Whether you need a break or decide to have a home office, this idea will work perfectly well.
Check out more details on this HDB here: 10-Year-Old Resale HDB Gets Staycation Vibes and a Chic Makeover.
Problem #4: I want to make my foyer more functional
Most people forget their foyer exists and ignore the utilisation of space here.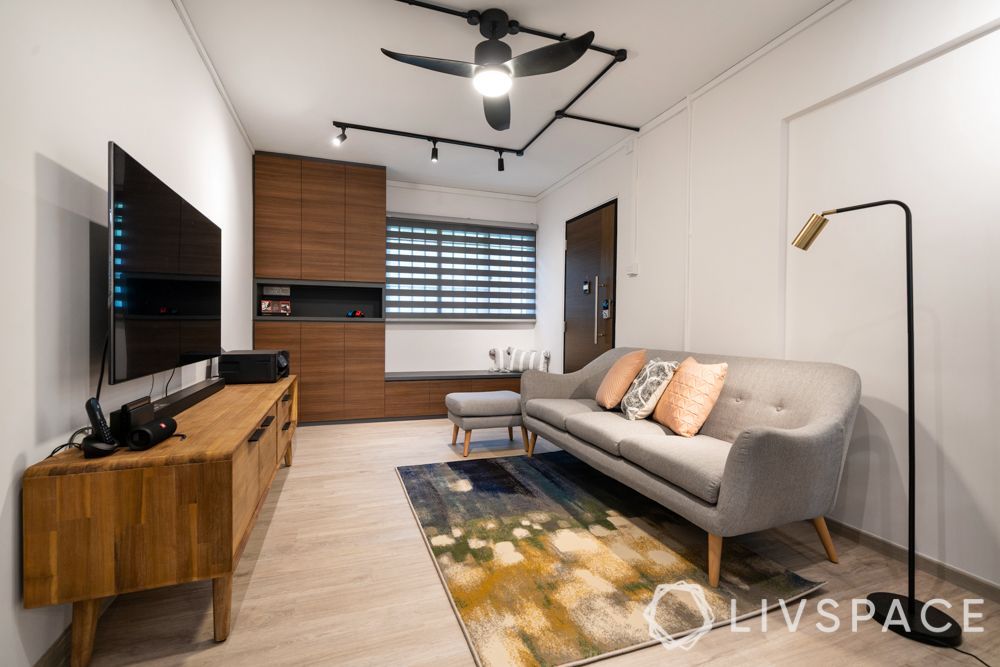 Solution: Add a storage cabinet with seating on one end
You do not need to treat the foyer as just an entryway. While you can always add a regular shoe rack and a coat hanger there, it is possible to make it more functional. We converted this space into a formal seating area. And since we needed to add storage, our designer customised a full wall cabinet with ample storage space and a seat for comfort.
See how the rest of the home looks: Revealing its Exclusive Renovation Secrets: An 85 sqm Home Tour.
Problem #5: I want to utilise a large recessed space in my open plan HDB
You will miss it if you do not think of niches as potential solutions for a lot of problems.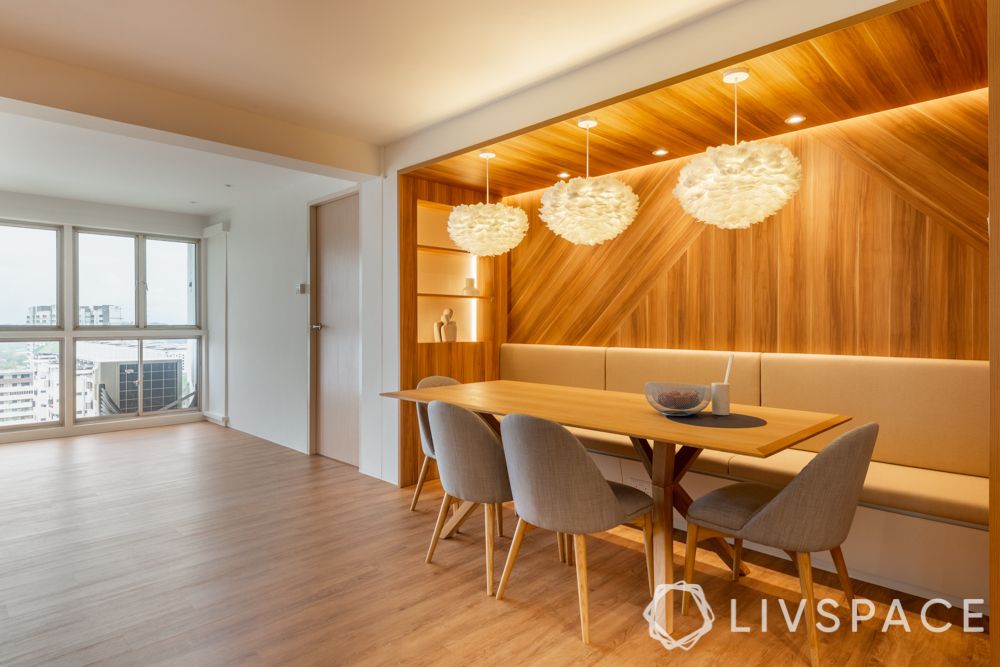 Solution: Turn it into a statement dining area
In this HDB, the homeowners were very keen on keeping the dining room in the wall niche. Our designer was convinced that he had to make it right. Therefore, she used the large cavity in the wall to place the dining table with statement lighting and bold laminate on the wall. How stunning is that?
Check out the entire HDB here: Extreme Makeover: This 5-room HDB Flaunts a Simple and Luxurious Look.
Problem #6: I don't want to feel cooped up in the kitchen when I have friends over
A feeling of loneliness even when your friends and family are at home.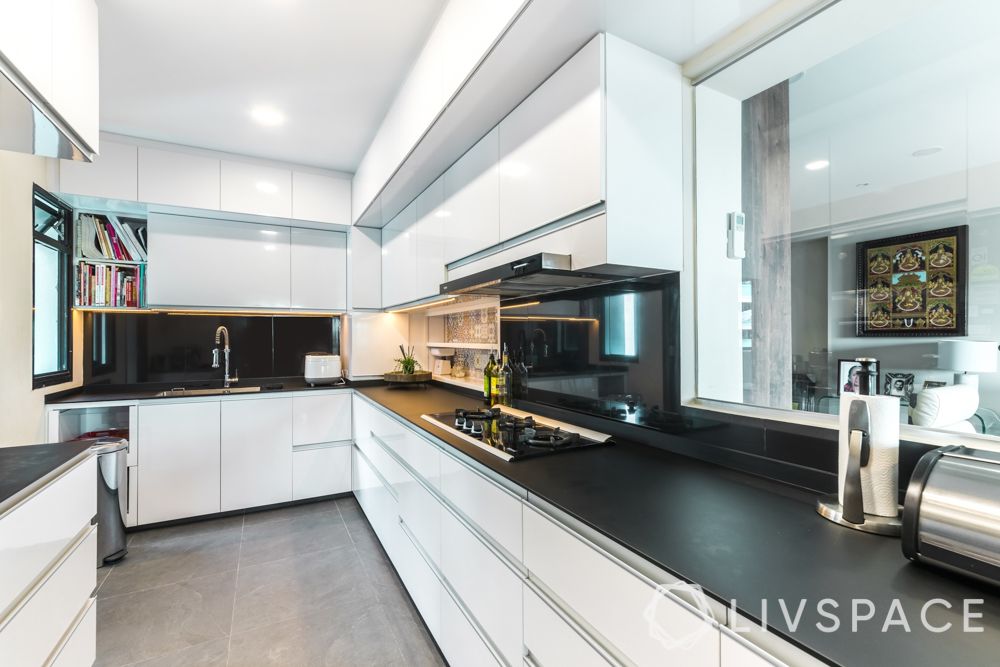 Our designer decided it would be most conducive to have a window that connects the kitchen to the rest of the home. A clear glass partition will allow the person in the kitchen to participate in conversations happening outside. So, a semi-open kitchen layout with a glass window works wonders.
See the rest of the home here: Ample Light and Pretty Functional Furniture for This 5-room HDB.
We hope you found answers to some of your concerns here. If you are looking for more ideas, check this out: Here are 5 Smart Ways to Make Your HDB More Functional.
Send in your comments & suggestions to editor.sg@livspace.com.