Looking to get your hands on kitchen renovation ideas that help you stand out? Why not take a look at our most-loved HDB kitchen renovation designs that have delivered joy, ensured convenience and maximised efficiency?
Lately, a new trend has been emerging: HDB kitchen designs are being built with open-concept layouts. After all, open layouts can help improve the performance of typically compact HDB kitchen designs.
While many HDB owners chose to keep the existing galley kitchen layouts, we see most of them opting for modular storage, easy maintenance options and installations that help enhance workflows. Let's show you what's hot and what's not from our Singapore homeowners!
A. Parallel/Galley HDB Kitchen Renovation Ideas
#1: A Parallel HDB Kitchen Design for Prem and Tracy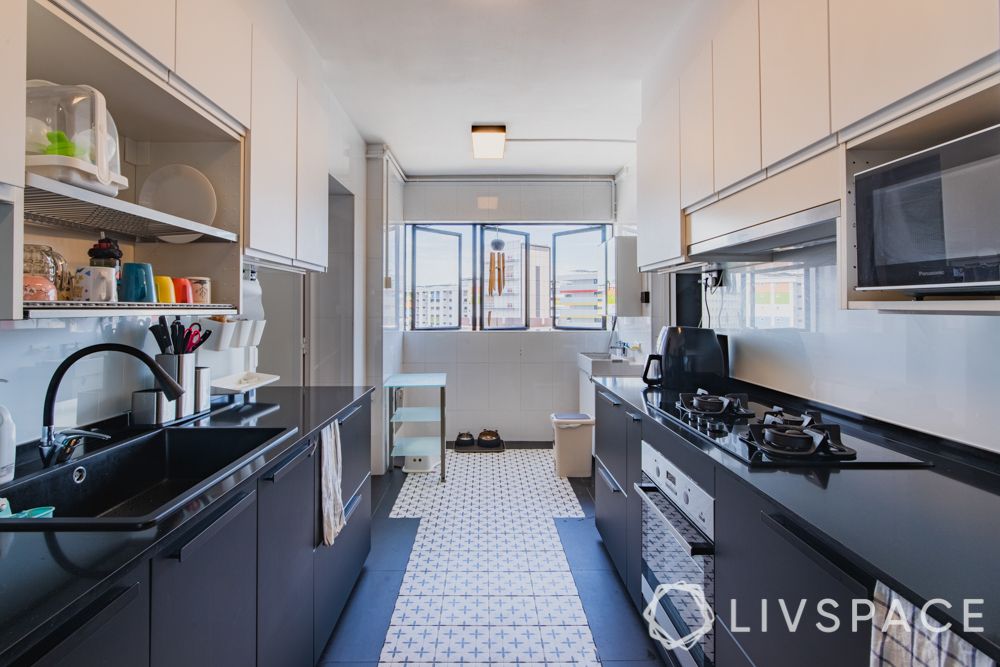 This 30-year-old HDB kitchen renovation is a tale of beauty, easy maintenance and monochrome magic melded into one.
The parallel layout facilitates a small, comfortable work triangle. Prem and Tracy host guests frequently. Hence, they required an HDB kitchen design that suited their workflow and required major plumbing changes.
Livspace designer Pallavi Bhagwat understood their requirements and included clever supplementary units to ease the workload in the HDB kitchen. For instance, she installed a double layered drying tray above the sink to enable quick and easy washing of utensils.
Not to forget, the beautiful floor tiles and a completely seamless chimney over the hob add to the aesthetics of this HDB kitchen renovation!
#2: 4-Room HDB Kitchen Design for Yin and Liu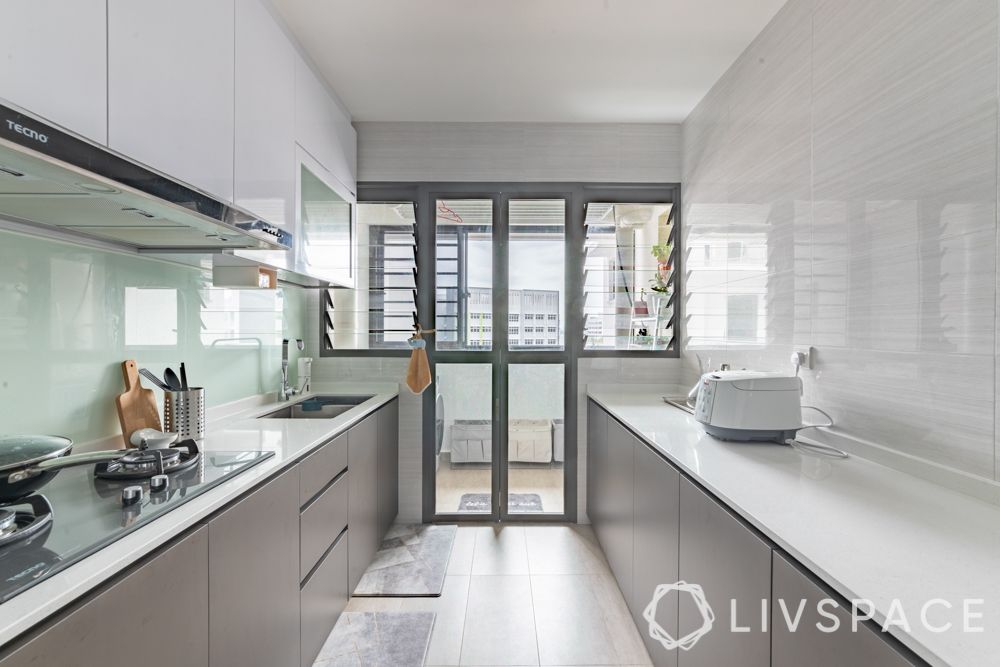 Liu loves to cook, and she asked for a storage-compliant HDB kitchen renovation that could accommodate all her appliances without crowding the workstation.
After the renovation, an ample amount of natural light beams into this 4-room HDB kitchen design, and the white laminate and tiles help reflect it even more. The handleless cabinetry of this HDB kitchen allows Liu to move freely in the kitchen and keeps her workflow uninterrupted.
A tall unit houses all her appliances in the dry zone of the kitchen, and the large preparation counter helps her set up quickly for immediate guests or meals.
Looking for HDB 4-room kitchen renovation ideas that can help you maximise space? Take a few pages from Liu's HDB kitchen design, where a tall unit houses all the appliances in the dry zone of the kitchen. Not only that, the large prep counter helps her set up in no time, and entertain many guests.
Also Read: A Beautiful 4-Room HDB BTO With A Fully Functional Budget Home Office
#3: Resale HDB Kitchen Design for Roslyn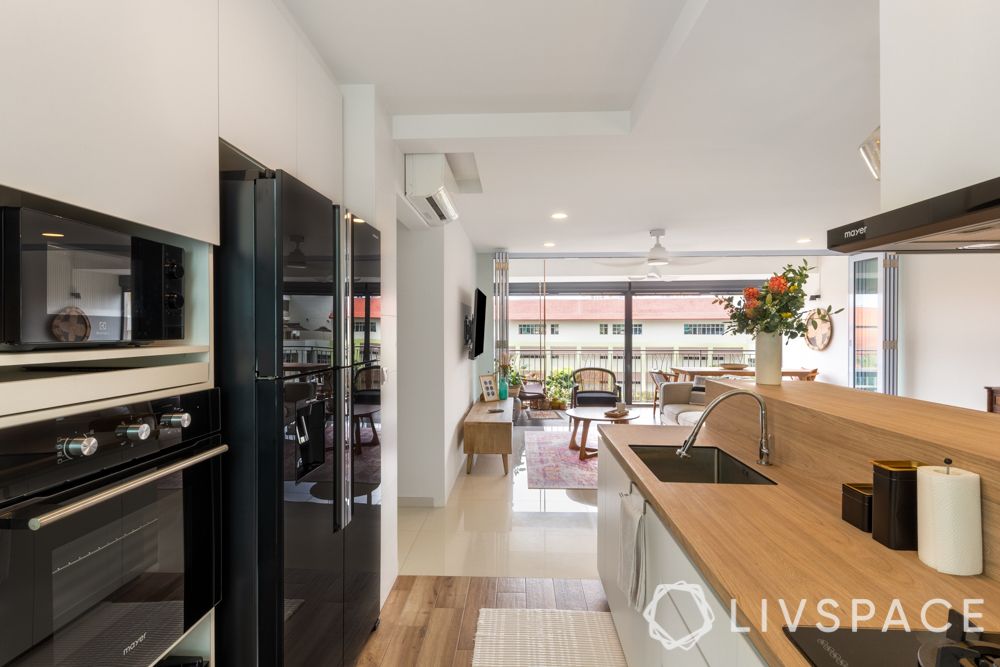 Roslyn wanted an open-concept HDB kitchen design so that she could chat with her family while she cooked their favourite meals. So, Livspace designer Weigen Pan conceptualised and executed this open layout kitchen with an attached breakfast counter.
The colour scheme of the living room matches the HDB kitchen design because of the KompacPlus countertop. The latter also matches the wooden laminate look of the backsplash.
Have a look at the HDB kitchen cabinets finished in white laminate, and you will see how everything falls into place together. This HDB kitchen reno also has an efficient and comfortable work triangle for Roslyn, who wished that the living and dining rooms remain in sight at all times.
It worked really well, wouldn't you say?
#4: HDB Kitchen Reno for Shankie and Debbie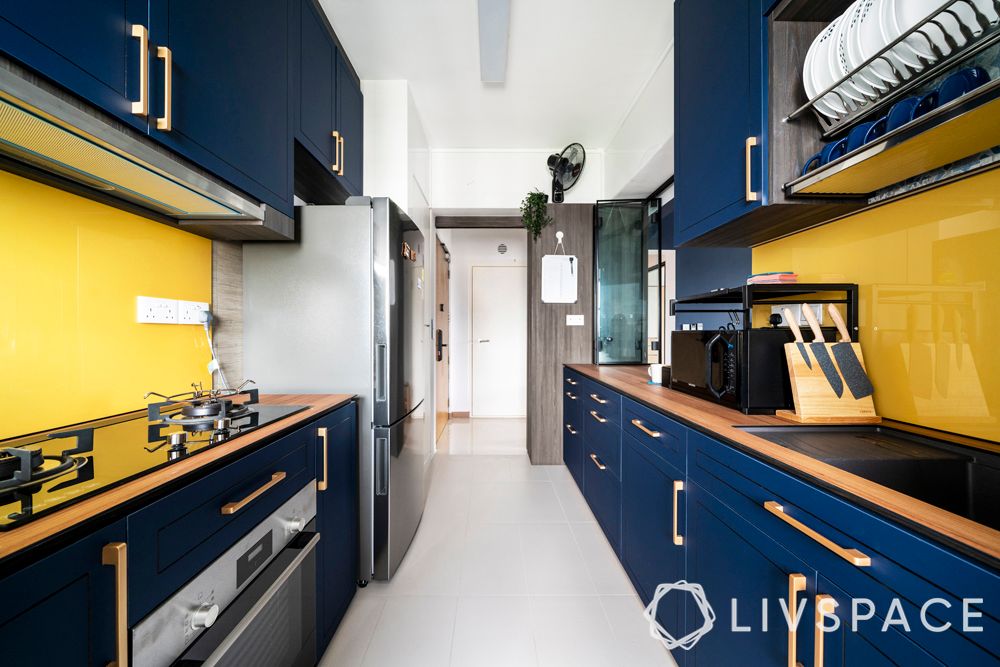 Livspace designer Johan Ng delivered a bright and eclectic kitchen for this young couple. The cabinets of this kitchen HDB have been finished in EDL's Fenix laminate. Apart from being fingerprint-resistant and antibacterial, this nanotechnology-based laminate offers many other benefits.
The reason for using royal blue cabinets in this HDB kitchen reno is quite straightforward: the couple loved this colour and wanted to have it reflected throughout their house. The yellow backsplash, however, was a pleasant surprise for Shankie and Debbie.
Tour the full home here.
B. Spacious U-Shaped HDB Kitchen Reno Tales
#1: Yvonne Yeo's HDB Kitchen Renovation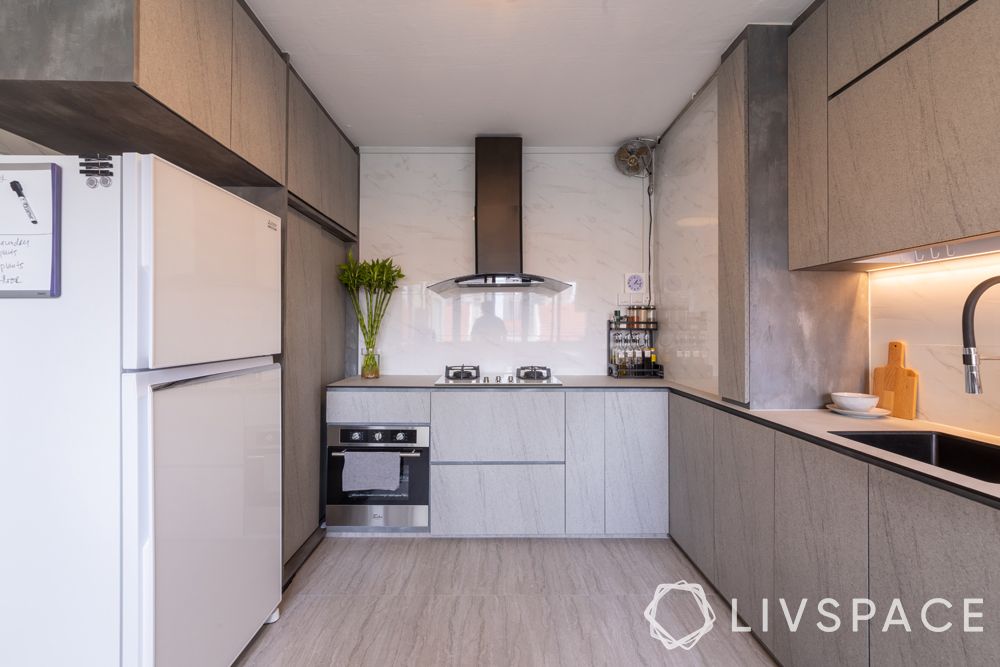 Yvonne's grey kitchen was designed by Wanting Liu, who understood that her flat had less storage space and would do better with a U-shaped HDB kitchen renovation. Such kitchens offer a bigger worktop area and under-cabinet storage.
Also, keeping in mind Yvonne's love for bright and airy spaces, Wanting installed LED cove lights under her upper kitchen cabinets. The segregation of hot, wet and dry areas is the result of Yvonne's request for a smooth workflow in the kitchen.
#2: 5-Room HDB Kitchen Design for Mr Mohandas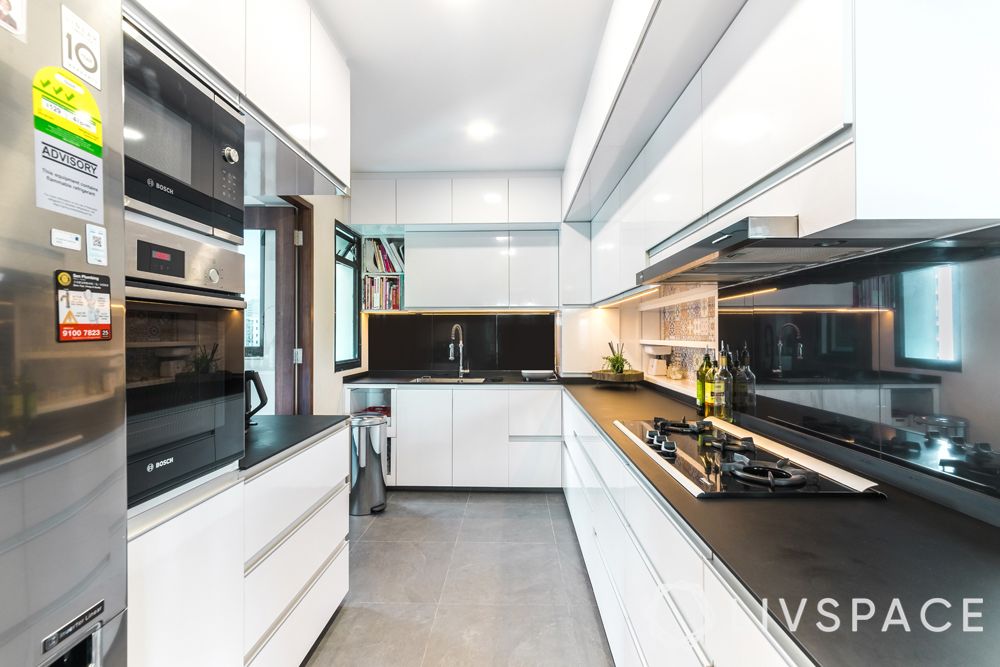 Mr Mohandas wanted an open HDB kitchen design that not only would help him socialise while in the kitchen, but also keep the fumes from spreading throughout the house.
Hence, our designer Ankita Gupta planned this wonderful semi-open layout for the kitchen. As you can see, it is a fully equipped HDB kitchen renovation with the latest accessories and appliances that help power Mohandas' cooking sessions!
C. L-Shaped Compact Kitchen Designs
#1: HDB Kitchen Reno for Alvin and Jeehui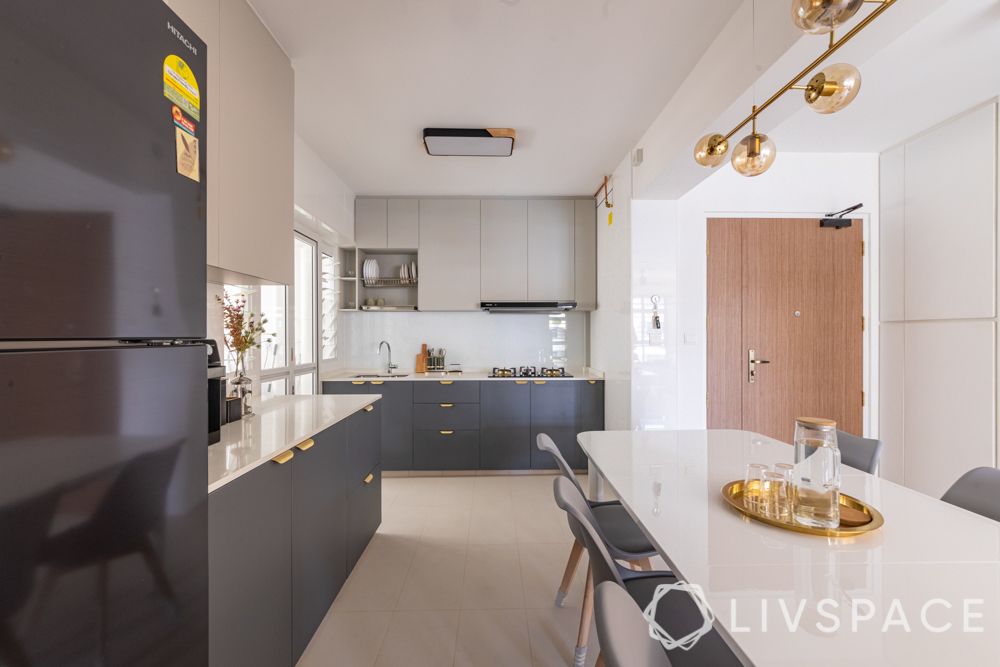 Our designer Winny advised Alvin and Jeehui to keep an open floor plan for this 4-room HDB flat to make it seem bigger.
The grey and ivory cabinets in this 4-room HDB kitchen design match the furnishings in the living and dining room, and the golden handles give this kitchen a luxe look. Not to forget, the glass backsplash maximises functionality by being easy to clean. Plus, it also reflects natural light in the room.
Also Read: Learn How to Get a Practical and Snug Home From This Couple's HDB Designed Between S$25K–S$50K
#2: HDB Kitchen Design for Aziz and Juanda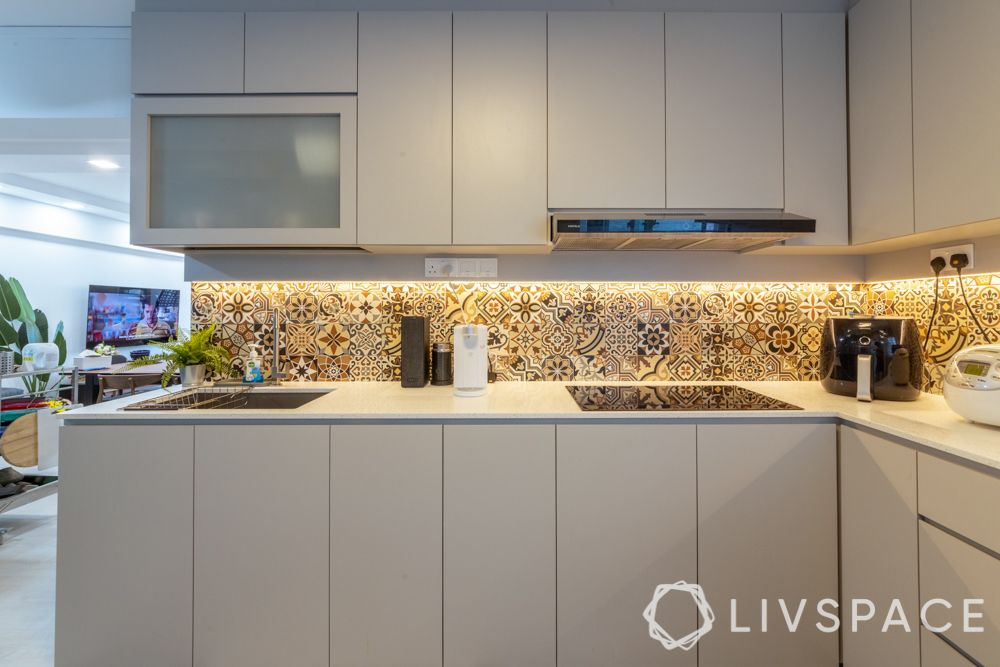 Designer Syafiq Azmad made this contemporary storage-compliant HDB kitchen with tall upper cabinets that incorporate lofts and make the ceiling seem higher at the same time.
Warm task lighting under the cabinets accentuates the Peranakan Moroccan backsplash tiles. The extravagant tall unit has ample storage space for appliances. It is attached to an inviting breakfast island with a white stone countertop.
D. One-Wall HDB Kitchen Renovation Ideas From Singapore
#1: One-Wall Kitchen With Island for Kader and Mallika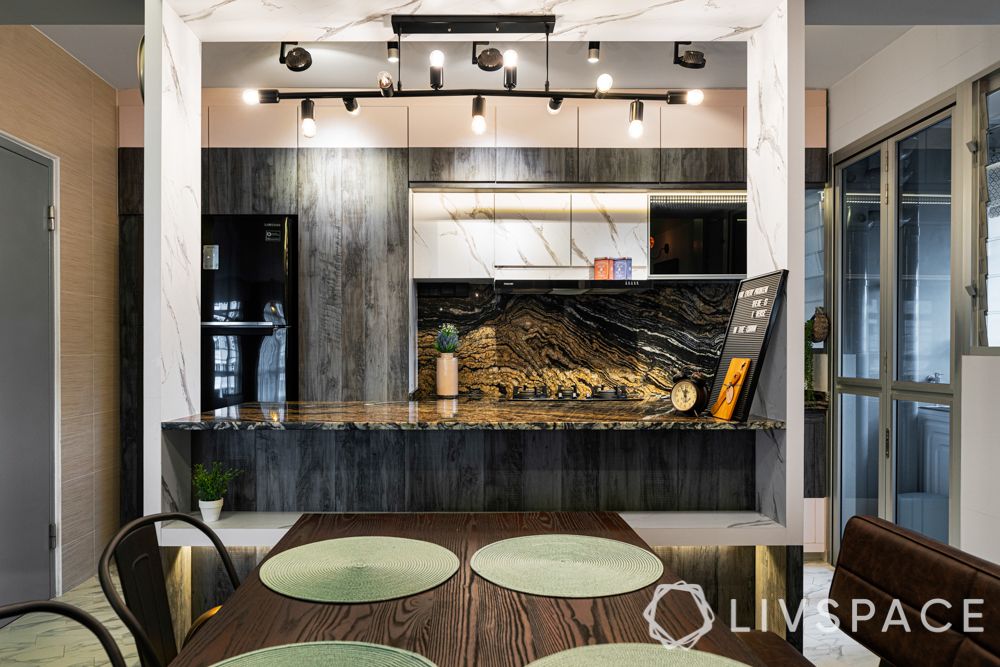 Kader S, a Livspace interior designer, renovated his kitchen, blending rustic and bling elements together. His choice of materials is compatible with the heavy-duty cooking that takes place in the house.
For instance, the black and gold countertop and backsplash are easy to maintain and recite the same colour scheme of the house. The rustic looking laminate-finished cabinets have golden brass knobs to facilitate opening and closing.
Evidently, these HDB kitchen cabinet designs are ideal for every Singaporean who wants to add a stylish touch to their space.
#2: A Classic Case of Compact HDB Kitchen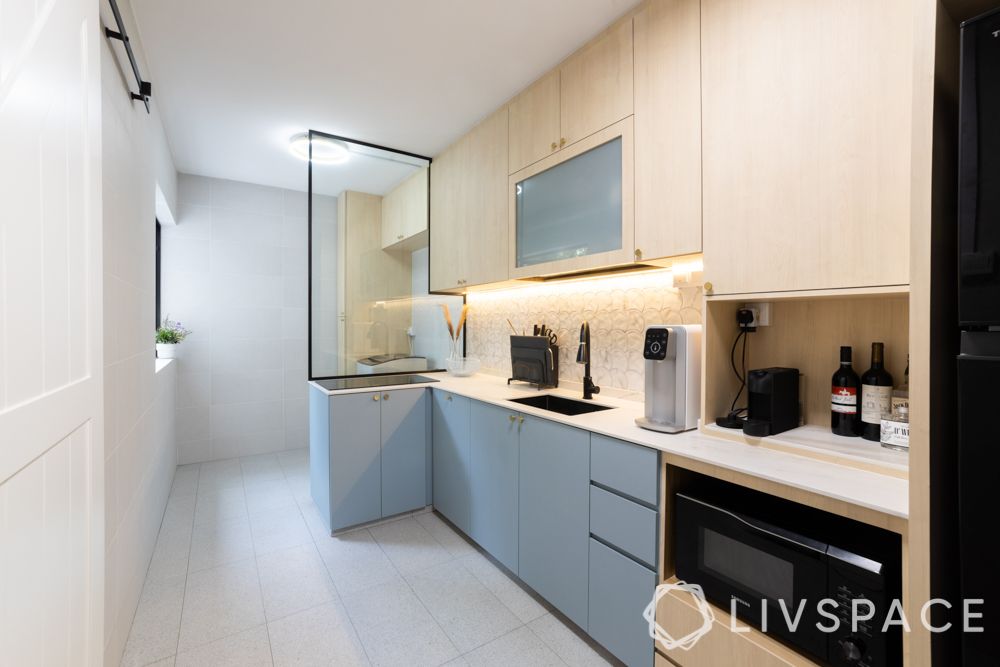 Many resale HDBs have a closed one-wall kitchen layout. Hacking this design is not always feasible or favourable, which was the case for Wei and Dionne's home. A white sliding-door separates their old HDB kitchen design from the dining room and keeps the odours from spreading.
The pastel blue and white oak laminates keep the kitchen bright and warm. The light colour scheme of the kitchen makes it appear larger than it is.
There's a carefully layered lighting that has been done in this HDB kitchen renovation — the typical flush mount ambient lights and the undercabinet task light.
And the most interesting element of their kitchen is the white 3D backsplash tiles that complete the overall luxe look!
How Can Livspace Help You?
We hope you found our ideas useful! If you want your kitchen to be just as beautiful, then look no further. Book an online consultation with Livspace today.
We give you the best high-quality materials
We cover you for 5 years on our modular products
Also, we have designs that match your style
Send in your thoughts and suggestions to editor.sg@livspace.com.