Getting a renovation done is often a once in a lifetime task. That is probably why we want to get everything right. And nothing works like real life HDB renovation ideas when you are on the verge of having one yourself. Therefore, we present to you the best HDB renovations done by Livspace.
Let's set the expectations right at the onset. Every home has a unique renovation of its own. However, if you are in need for inspiration, these are some HDB renovation ideas you might want to explore. After all, they are the best HDB renovation projects done by Livspace!
#1: 17-year-old HDB Redesigned for Young Family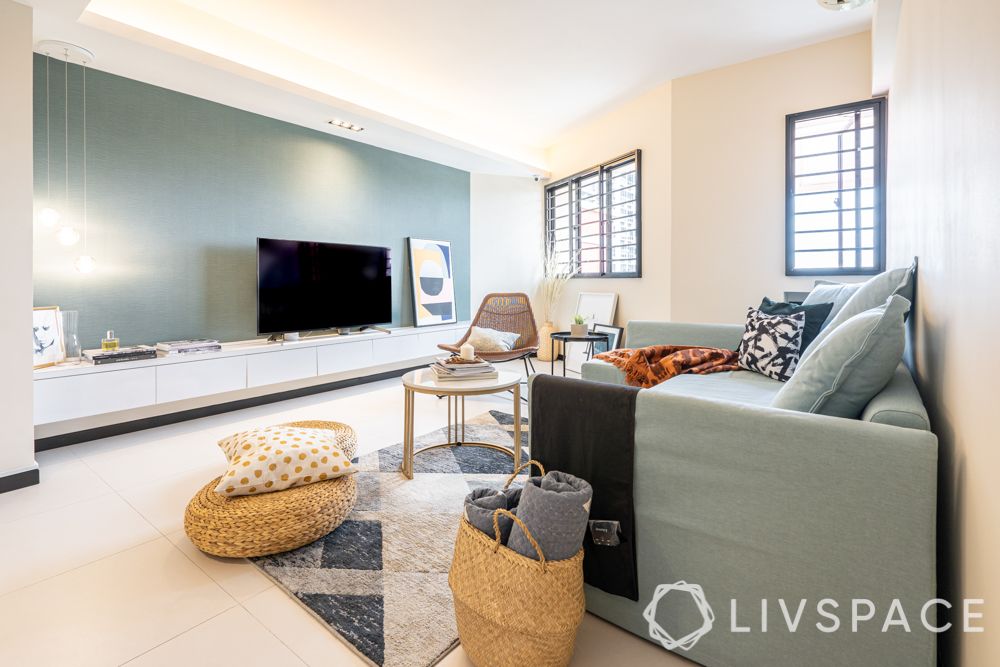 This is one of our best HDB renovation projects where a 17-year-old apartment was redesigned for a young family with a toddler and a pet dog. As is typically the case with young families, storage has been snuck into every nook and corner of this 148 sqm HDB. However, it is all carefully concealed and cast into niches. The master bedroom with a wall-to-wall rolling shutter wardrobe and a snug study is our favourite here. 
Design Takeaway
Take the full HDB tour here: Everything in this Stunning 17-year-old HDB Was Redesigned. 
#2: This Child-friendly HDB is a Maximalist's Dream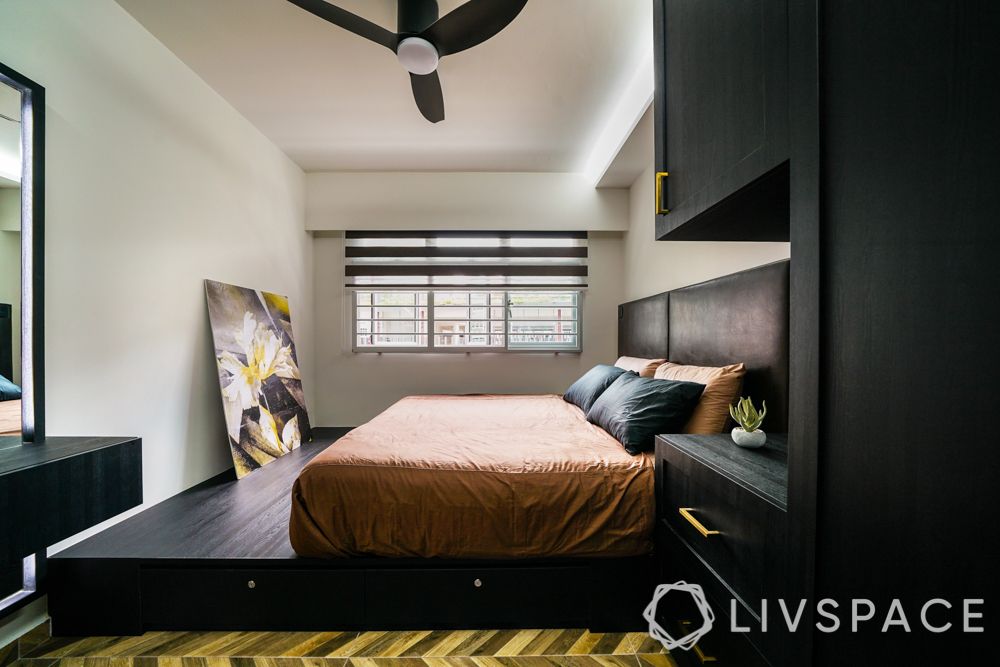 This HDB integrates the preferences of a couple that has very distinct tastes. So while Habib Noor wanted sleek modern interiors in dark colours, his wife prefered warm wooden finishes. Moreover, being new parents, they wanted certain special elements as part of their HDB renovation ideas. For instance, this platform bed has empty space to keep their baby's cry at night.
Design Takeaway
To get a full tour, click Dark Colours and Rich Textures Define This 93 sq. m. HDB BTO. 
#3: All White Renovation for 30-year-old HDB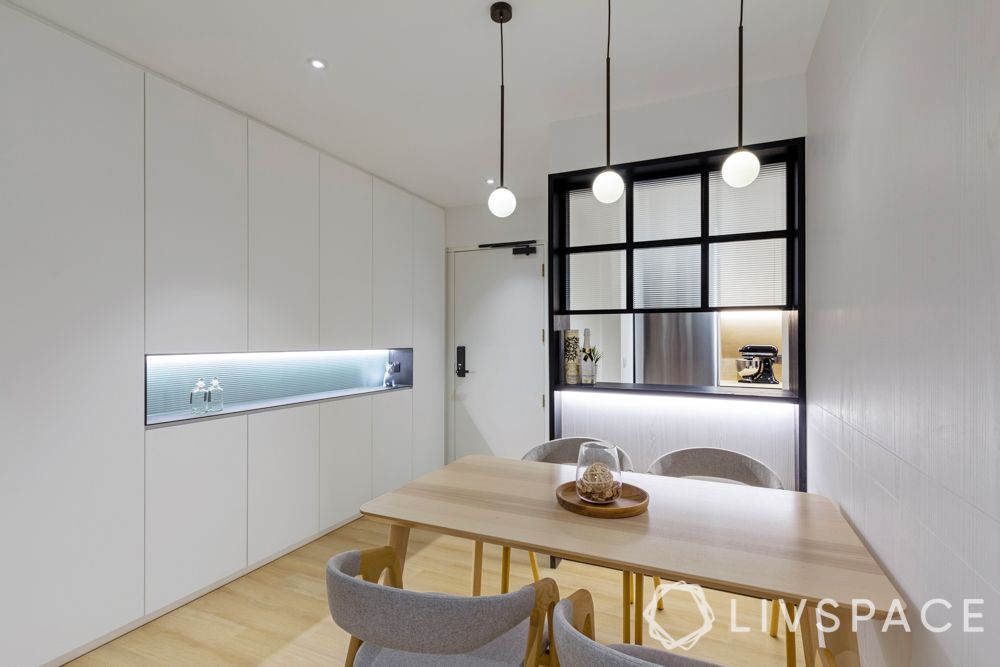 This is one of our best HDB renovation projects where a 30-year-old home was redesigned for a couple that runs their business from home. We love the seamless all-white HDB kitchen design created for a baking enthusiast and also the mini bar that doubles up as a partition between the dining space and kitchen. Oh! Did we forget to mention that this home has a gaming den?
Design Takeaway
For a full tour, click here: This 3-Room HDB Will Teach You How to Make Compact Homes Look Spacious. 
#4: Clutter-free HDB Interior Design to Open Up Space
This BTO was designed for a couple that is soon to be married and is full of fun young elements. We totally love how the designer has knocked down the wall between the master and spare bedroom to make room for the extra storage the couple needed. Also, the semi open kitchen with an open and shut glass partition is quite the design marvel!
Design Takeaway
You can find the full tour and more HDB BTO design ideas here: Modern, Clutter-free and Elegant: A 92 sqm Home That Will Surprise You.
#5: When a Designer Renovates his own HDB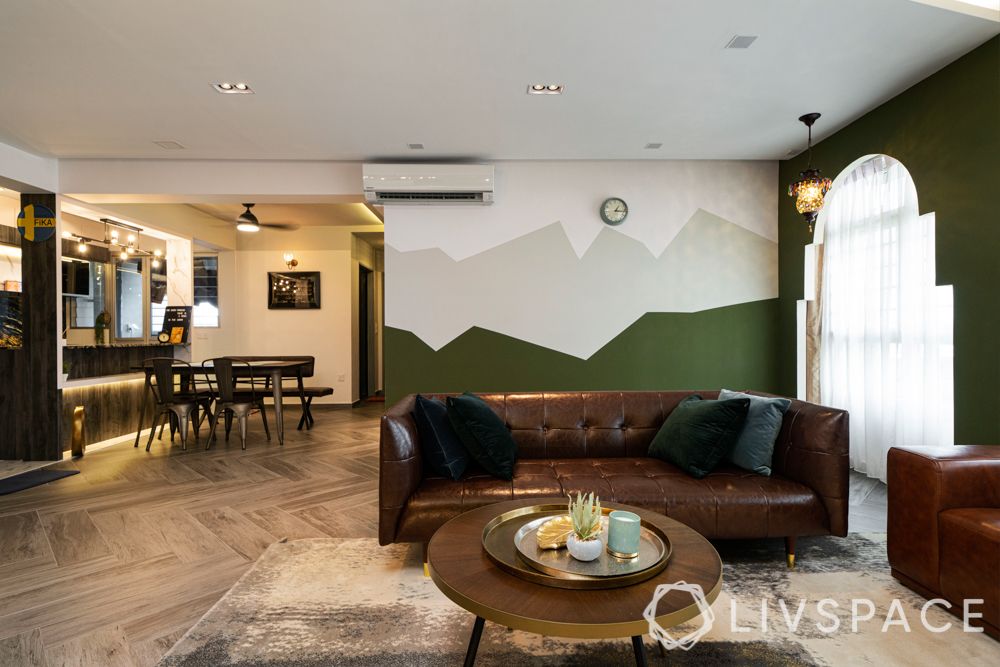 If you're looking for an HDB renovation idea, why not look at a designer's own HDB? This home is rare as a painter's self-portrait because it is a home designed by an interior designer for himself and his family! The first thing we notice about Livspace designer Kader's home is the delicate Mediterranean colours. But there is much more here than meets the eye. The child-friendly concealed storage, for example, is another bright feather on this HDB's cap!
Design Takeaway
For a full tour, click here: What Happens When an Interior Designer Crafts His HDB Interiors?
How Can Livspace Help you?
Like our HDB renovation ideas? If you want such beautiful interiors for your home too, Livspace is at your expertise. Book a consultation with Livspace and spruce up your home. Our expert designers will deliver quality and safe interiors. Learn more about our COVID-19 safety standards here.
If you enjoyed reading about our best HDB renovation ideas, also explore our one-stop renovation guide for first-time homeowners. 
Send in your thoughts and suggestions to editor.sg@livspace.com.