Think of some of the most neglected spaces in your home. A few spots might come to mind, but there's one area that tends to be overlooked by every Singaporean! This, of course, is none other than our loyal service yards. Though they come with multiple use cases, we tend to overlook the many service yard ideas that can make it better.
So, why not give this nifty space the attention it deserves by using some creative service yard ideas to better optimise the space. Here are 10 service yard ideas you do not want to miss:
#1: Walls Are Tall for a Reason: Use Them for Storage!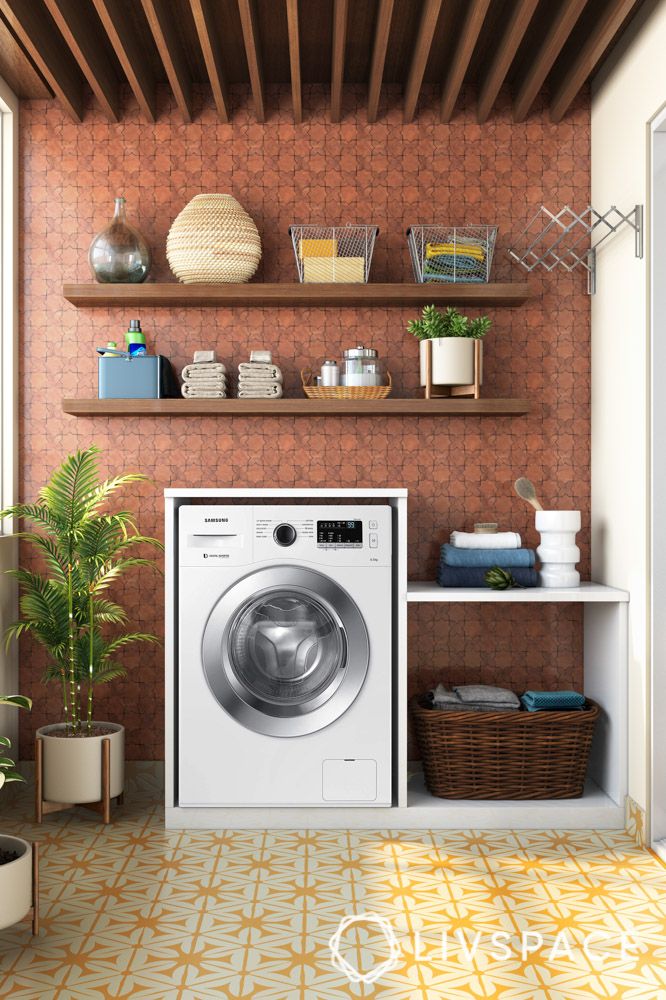 With homes getting smaller, it's a shame to waste any available space on the wrong HDB service yard design. If your home lacks storage space, the walls of your service yard are a great way to make up for it. You can either cover the entire wall in a floor-to-ceiling shelving unit, or you can go for modular storage solutions based on your requirements. Just make sure your storage units aren't too bulky or you'd end up back at the drawing board in terms of space constraints.
Also Read: Beat Your Home Renovation Woes With These 10 Exciting Wall Design Solutions
#2: Embrace Your Green Thumb and Get Potting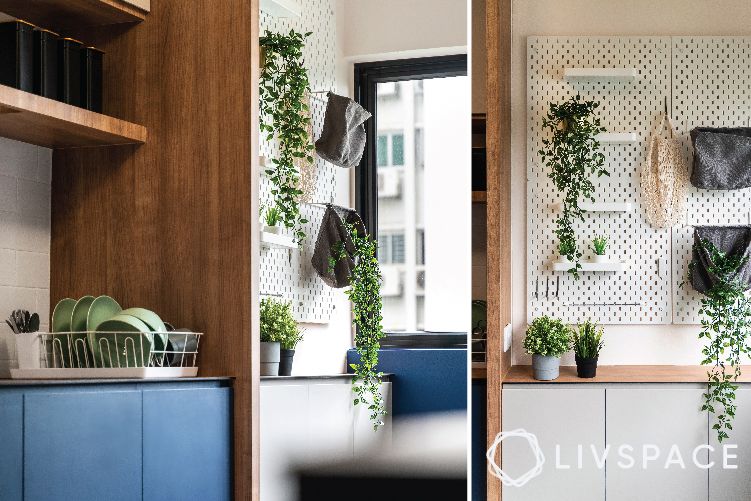 Have you ever watched a Studio Ghibli movie and wished to experience pastoral life? If you use the right HDB service yard ideas, you can make that dream a reality. Live out your Howl's Moving Castle fantasies by cooking with fresh produce right from your own garden. All you need is a sturdy pegboard, some planters, and the willingness to raise some plants and herbs!
#3: Upwards and Onwards With an Adjustable/Suspended Clothes Line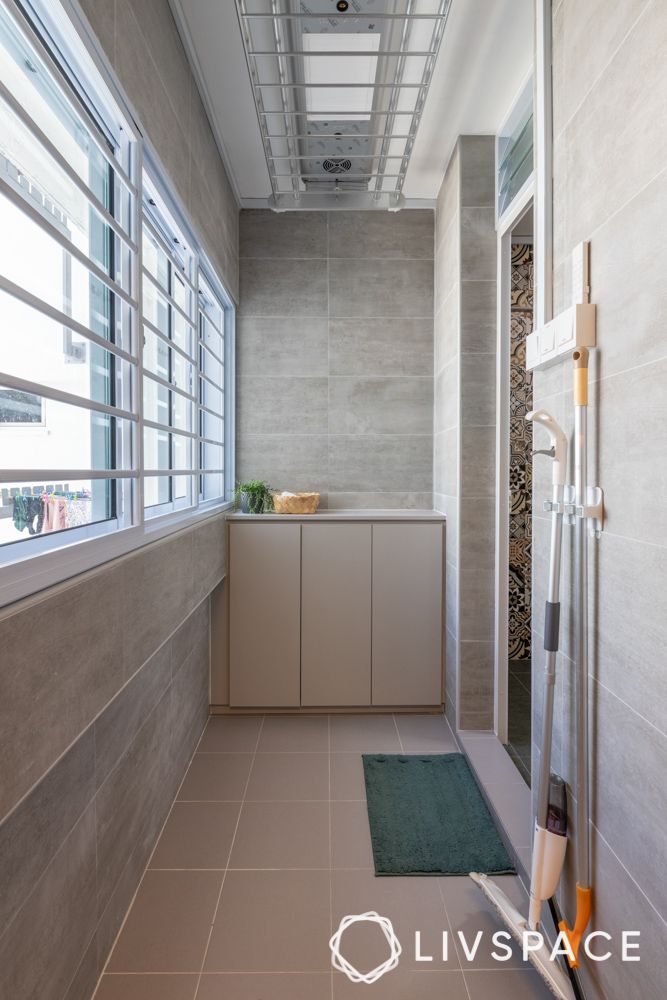 Picture this: you've just woken up, making your way to the kitchen for your morning cup of coffee. Mug in-tow, you turn towards your service yard to catch a glimpse of the scenic view that lies beyond it… Alas, all you see is a pair of freshly washed intimates glaring back at you.
This is probably why it might be best to buckle down on an HDB service yard design that can help kickstart your morning on the right foot. Save yourself the trouble and go for an adjustable or motorised clothesline that withdraws back into the ceiling. With this, you can easily clear some space for an unobstructed view of your service yard's window.
#4: Decorative Doors Can Conceal Unsightly Laundry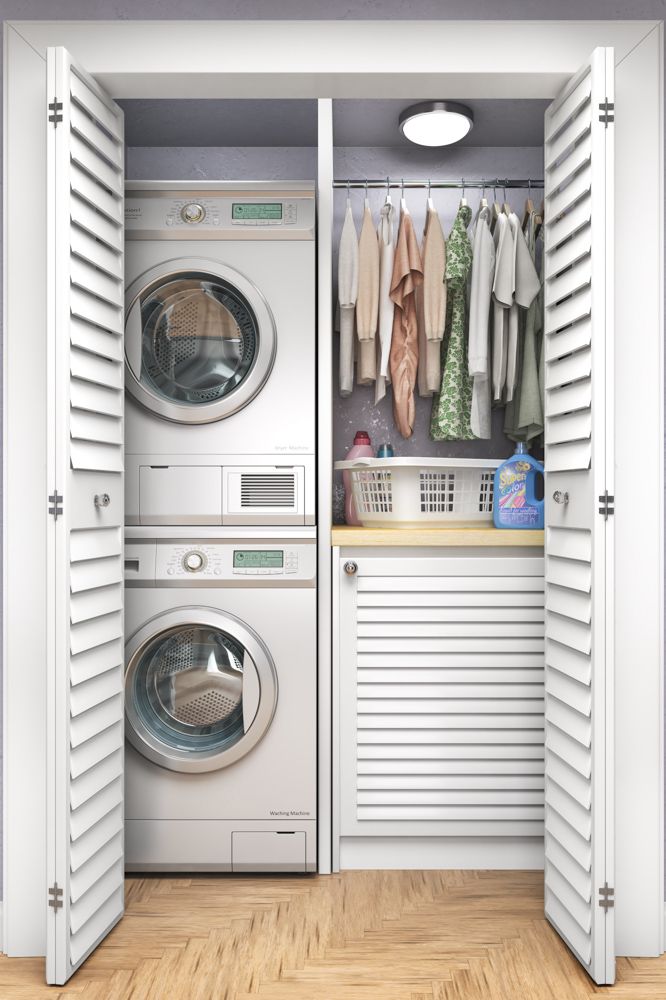 Nobody likes to air their dirty laundry, especially not in the literal sense. Take this possibility out of the equation by using decorative HDB service yard ideas that conceal unsightly corners. In fact, you can even take it a step further by using louvred doors to cash in on the vintage aesthetic.
If doors are an expensive investment, feel free to keep it simple with a pair of curtains. But make sure your curtains are fire-resistant and not too opaque since this can minimise the natural light coming into your kitchen.
#5: Save Yourself a Trip to the Bedroom Wardrobe With Cupboards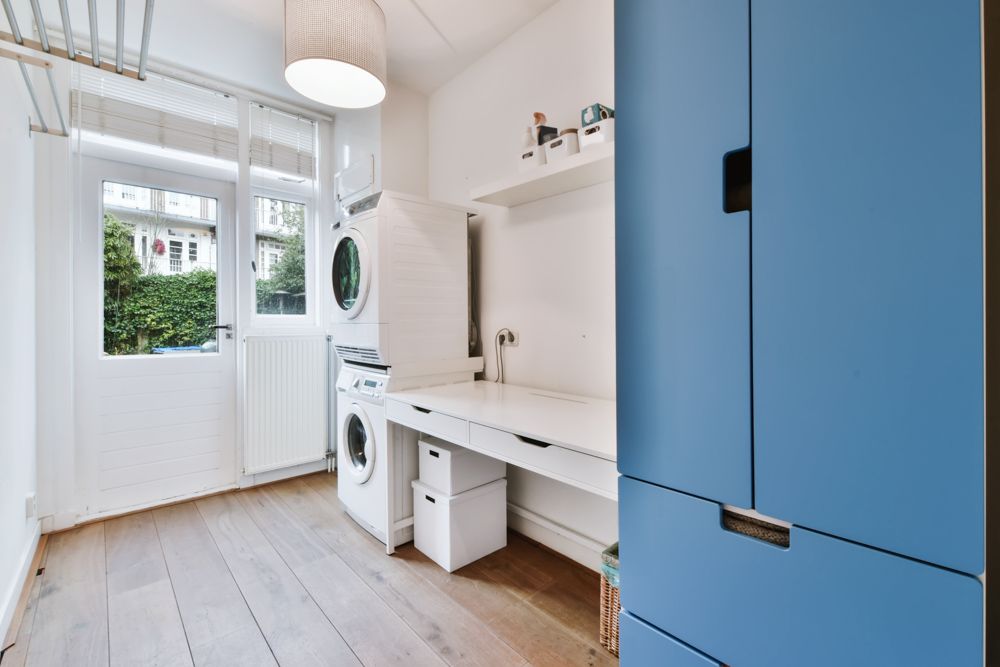 If you're someone who hates making more than one trip, whether it's to unload groceries or laundry, we feel you. Instead of getting a workout from doing laundry, how about you make use of some simple service yard ideas for storage? If you have the space for it, add a small storage unit or cupboard to store your washed clothes.
#6: Open Up Those Vistas With Glass Door Partitioning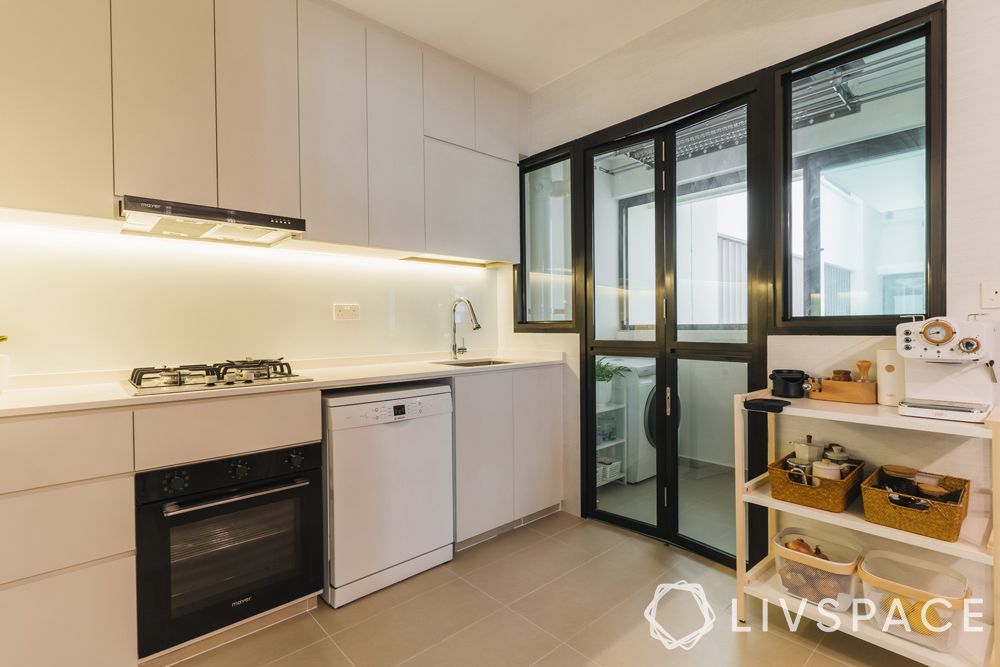 Blessed with a great view outside your service yard? Situations like that are probably rare to find, so don't be afraid to make the most of it. Keep those stunning views clear and unobstructed by using a glass partition as service yard ideas.
The glass promotes a feeling of openness while simultaneously segmenting both the kitchen and service yard. Better yet, you can continue to take in those views from the comfort of your kitchen without being blown away by strong winds.
#7: Small Spaces Call for Creative Space Optimisation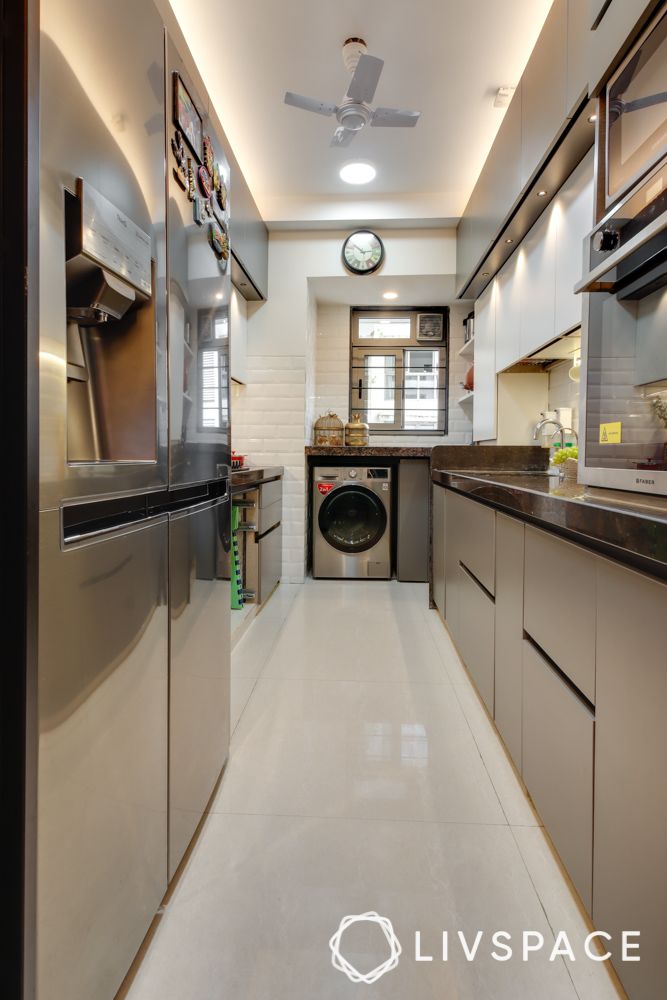 Who would have thought space can become as big a luxury as branded goods these days? This is especially true if you live in a tiny home where every inch of space counts. Here's where you need to get clever with service yard design to ensure you're optimising your space to the fullest.
Perhaps consider opening out your service yard and making it a part of your kitchen. You can even add a worktop here to extend counter space into the service yard.
#8: Does Anyone Else Enjoy Working With a View?
From the above points, you might have discovered that we're pretty big on spectacular views. And if having a nice view is just as important to you, you definitely want to make the most of it. Luckily, we have just the right service yard design to help you with this!
Consider turning your service yard into a home office niche with a pull-down table. This way, all you need is a chair and some shelves and you have a unique makeshift workstation.
#9: Don't Have a Dedicated Service Yard? Get Crafty and Make One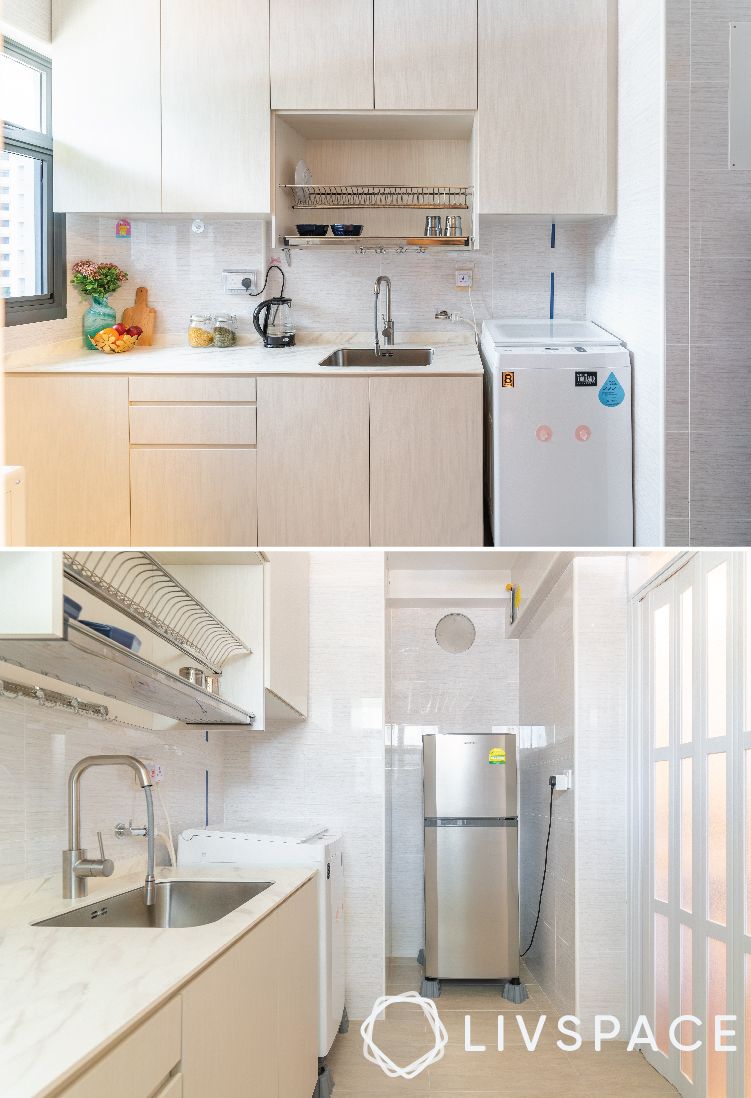 If you ousted your laundry appliances to make more room for your kitchen, you might be wondering where to store these exiled electronics. Even if you don't have a dedicated space, you can still welcome them back into the kitchen. Your service yard design can extend as far as your kitchen too, if you allow it.
Make use of modular cabinets so you can easily customise a niche for your washing machine. However, just be sure to not place your stove next to it since you can risk a fire.
#10: Pawsome Playhouse Your Pets Will Adore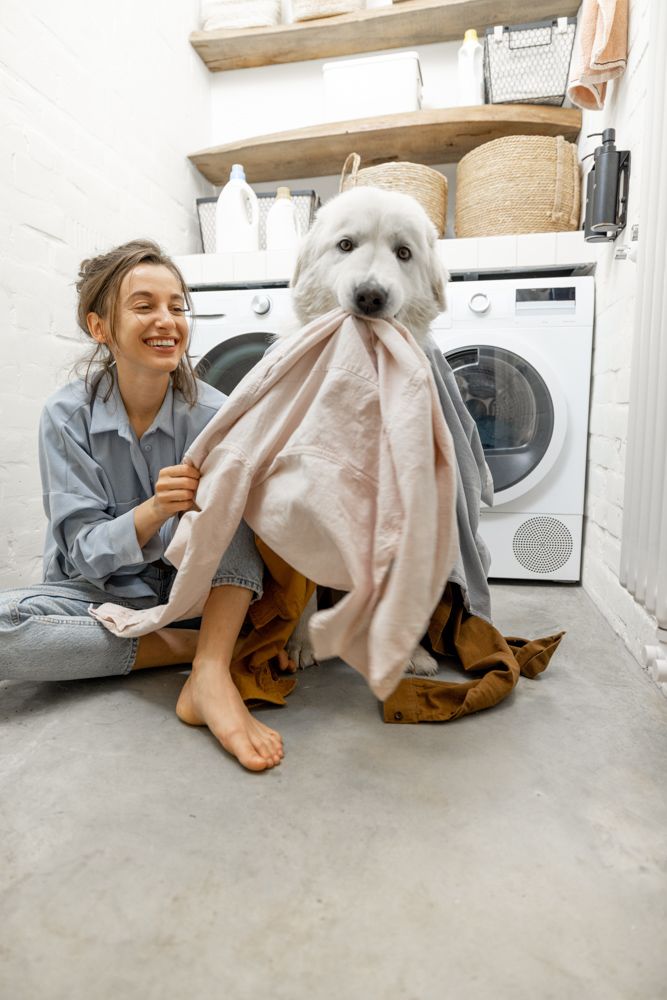 Our pets deserve their own private space just as much as we do, so how about using some pet-friendly service yard ideas to make this happen? You can customise your HDB/BTO service yard design to create a fun play area for your pets.
In fact, you can even take it a step further by adding a shower or feeding area exclusively for your fur babies. So, if you hate having to fish out wads of your pet's fur from the drain after bath time, this is the next best solution for you.
How Can Livspace Help You?
We hope you found these service yard ideas useful! If you want your home to be just as beautiful, then look no further. Book an online consultation with Livspace today. Have some comments and suggestions you'd like to share with us? We're all ears! Feel free to write to us at editor.sg@livspace.com.