Did you just purchase an HDB apartment recently? Then, designing or renovating your toilet in Singapore HDB will be the next natural step. To renovate your bathroom in Singapore, to your surprise, you don't need to worry too much about spending a lot of money. You may acquire the greatest functional yet lovely bathroom interior design under $5k too. Check out this list of HDB toilet designs under $5k we've curated for you!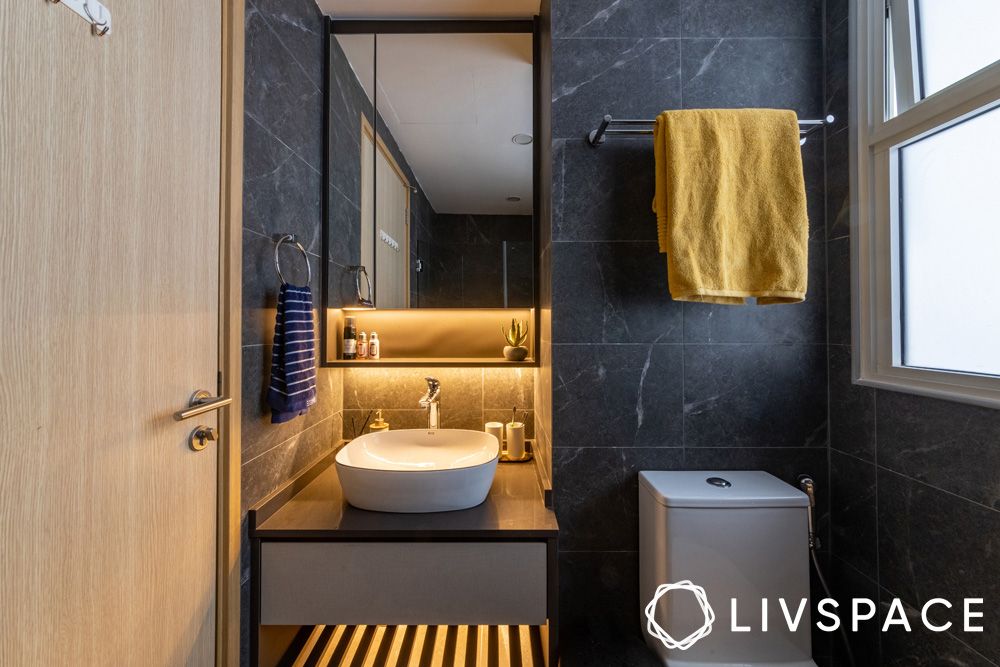 This bathroom design under $5k has undergone a few changes to mirror the new Scandinavian interior design of the Woodland drive house. Livspace designer Winny gave this bathroom a makeover with the addition of new floor and wall tiles that coordinate with the colour schemes used throughout the house. This bathroom's storage cabinet was a wise investment because it takes up little room and holds a lot of toiletries. And yes, dark themes are especially attractive in compact bathroom designs.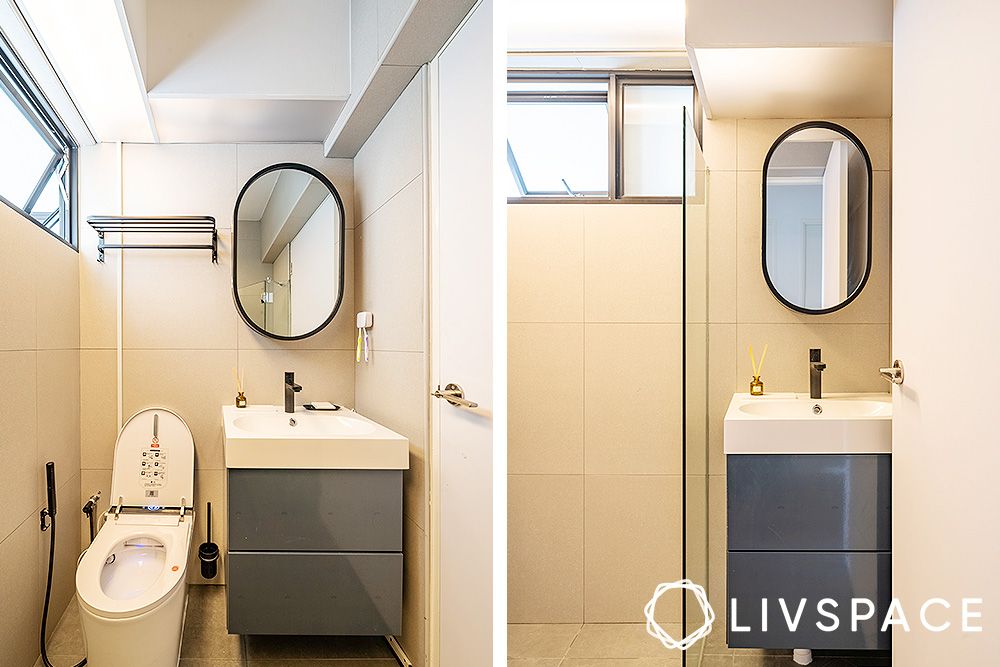 As part of the home's new boho interior design, the bathroom underwent renovations in addition to the wall hacking. This HDB BTO toilet design under $5k received a makeover from our designer Mizan thanks to a new layer of wall and floor tiles that coordinate with the colour schemes used throughout the house. Due to their ability to create the impression of a larger area, light colours are as significant in compact bathrooms. Also try to incorporate large-sized tiles in bathrooms to make them look bigger.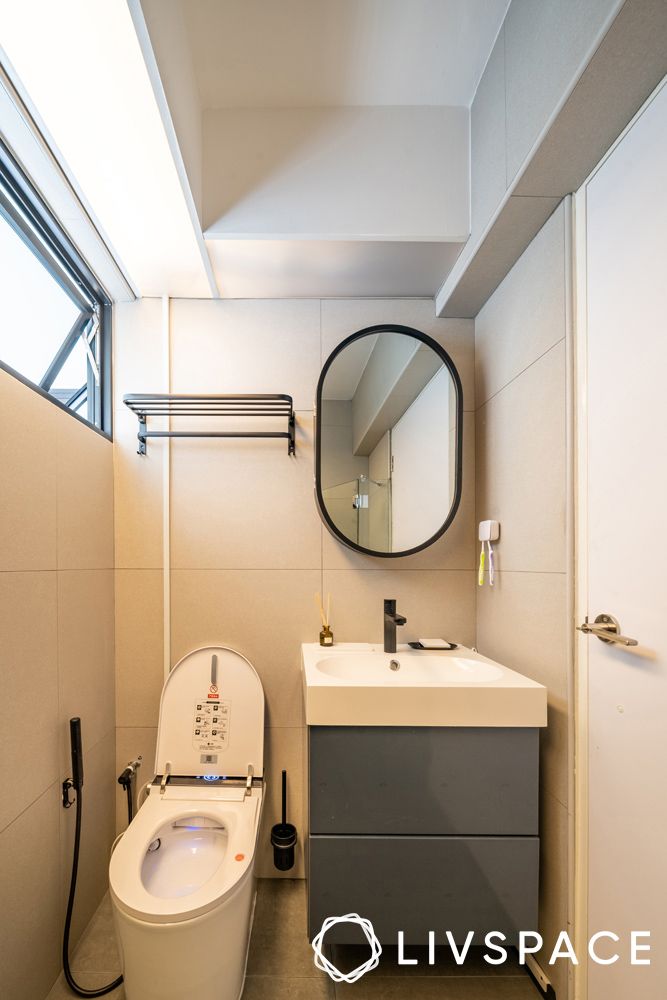 Bathrooms that are used by more than one person may rapidly run out of storage space without the proper storage furniture. In order to prevent this, our designers created this bathroom with a lot of storage for both dry and wet regions. A glass wall can be used to separate the dry and wet spaces. The bigger bathroom wall tiles with less grout joints help create the impression of space.
Aso Read: 6 Trendy but Timeless Bathroom Colours to Try in Your Next Renovation.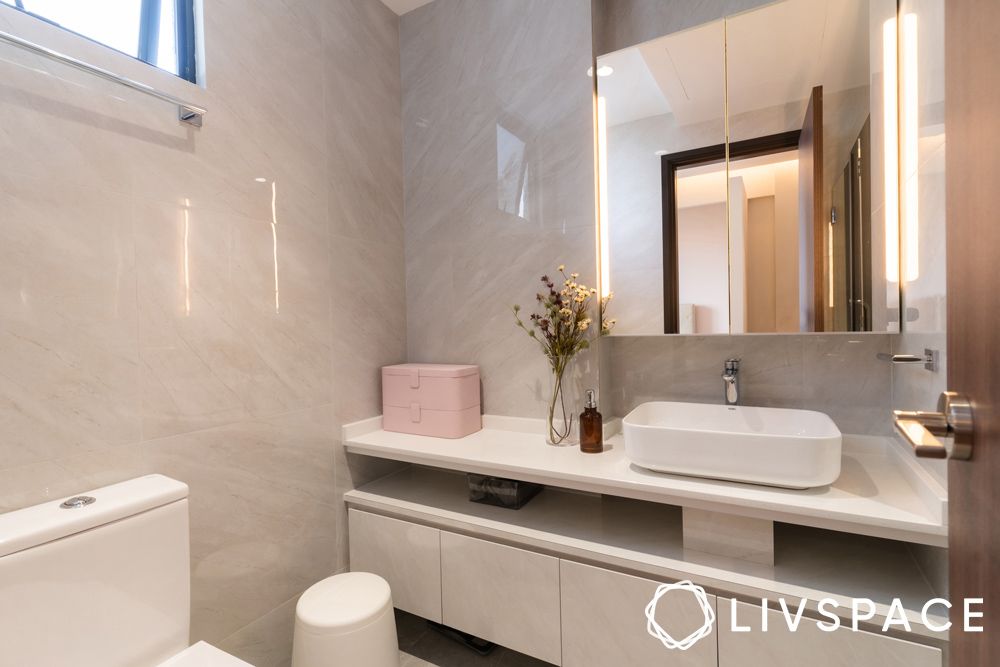 This resale condo's original bathroom was completely different and was in need of an exquisite makeover. The goal of our designer was to make this area as luminous and opulent as the rest of the house in order to preserve consistency throughout the home renovation. Our designer Eleonora used her magic to bring in a modern vanity cabinet and warm lighting all around the bathroom mirror to complete the look. It's difficult to imagine that this toilet interior design under $5k is part of a 20 year-old resale property given the brand-new contemporary design!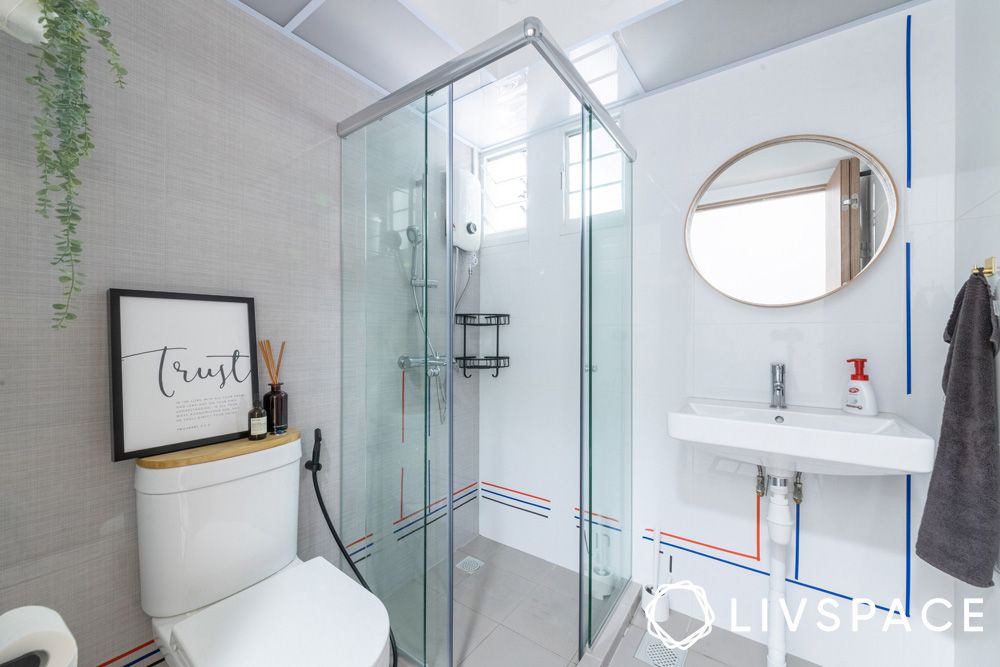 While working on this compact HDB BTO toilet design under $5k, our designers were restricted by space, as in most HDB toilets. They were, nevertheless, able to give the bathroom a contemporary appearance, though. This HDB bathroom interior design in $5k includes a shower stall, and even features floating cupboards with wood finishes for all the storage requirements.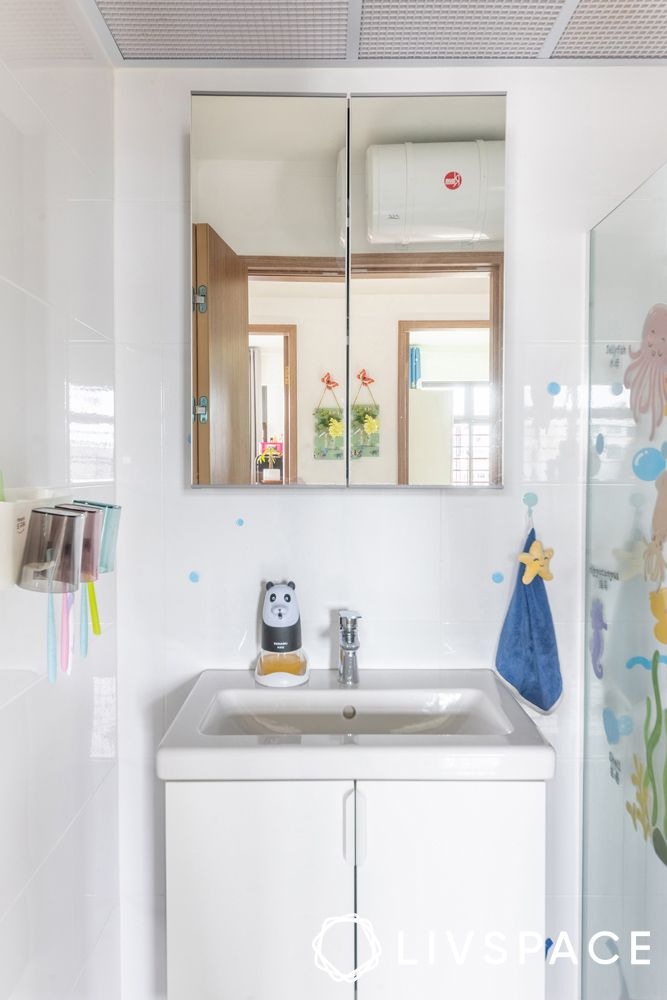 The entire family utilises a single bathroom. Therefore, this HDB toilet design under $5k has more storage and is bright and cheery. Yin and Liu living in this property have a son who can readily access the toiletries because they are fastened at a lower height. Double swing shutters on the mirror cabinet allow one person to utilise the mirror while the other reaches inside. The mirror in this bathroom is storage-intensive too.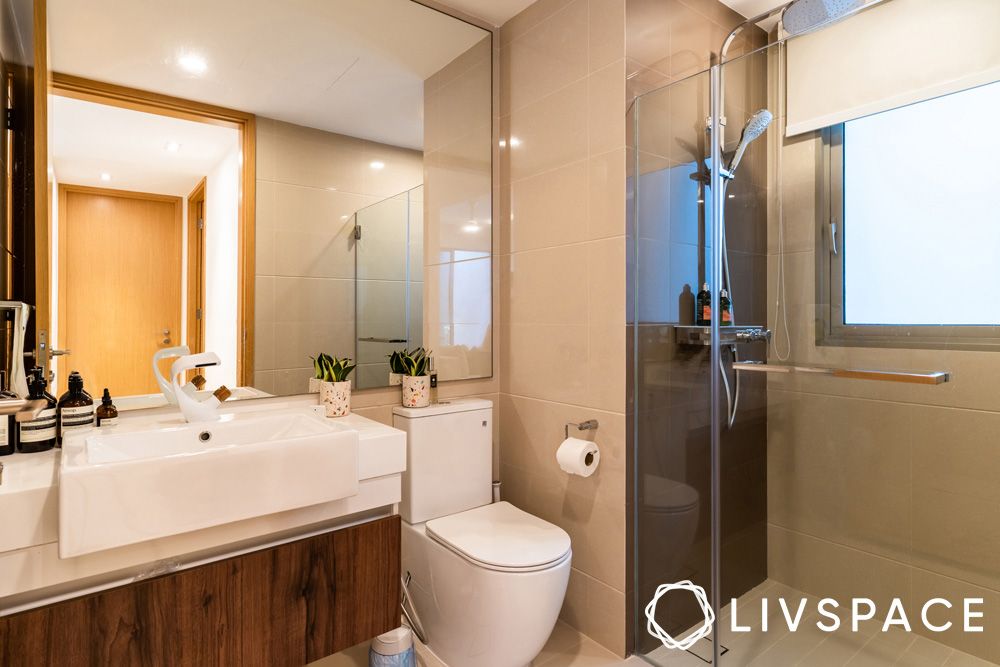 This modern bathroom design under $5k is roomy and adorned in beige and brown. It includes glass partitions separating the wet and dry regions. It also includes a wooden vanity unit with lots of storage. The space is widened even more by a huge mirror that covers the wall behind the vanity. Off-white furnishings and decor give the area a spa-like atmosphere. 
Also Read: 6 Unbelievable Before and After Bathroom Makeovers to Inspire You.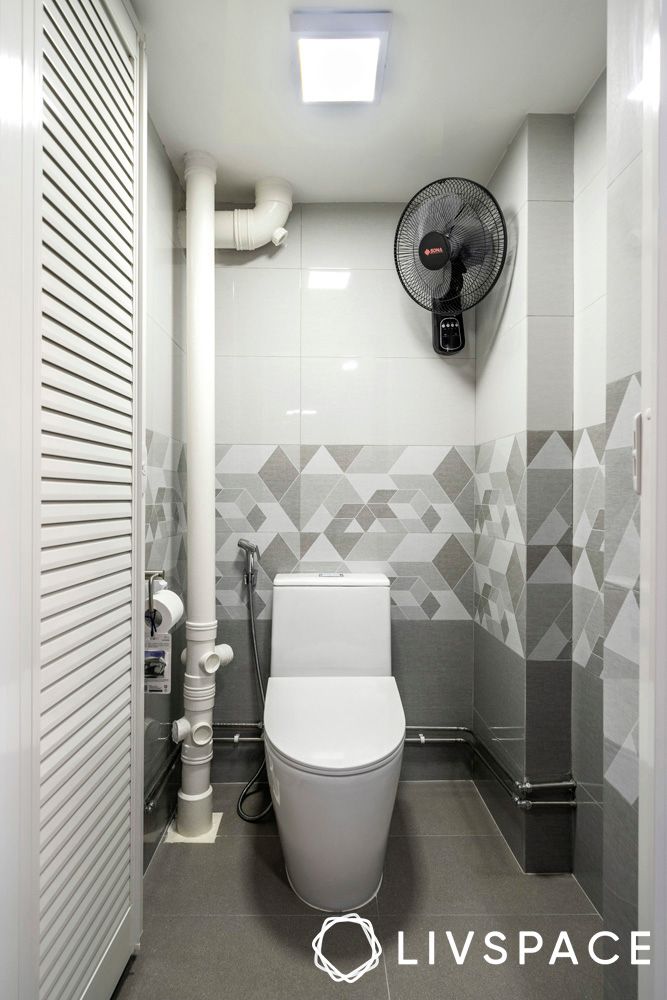 This resale 3-room HDB bathroom interior design in 5k is compact but well made, employing only the barest necessities. Unlike the usual bathroom units, it is not unduly packed with accents. The toiletries are kept on fixed metal shelves instead. We also adore how neutral this toilet's colours are. Up to the white ceiling, the grey flooring and wall tiles provide a seamless appearance to this HDB BTO toilet design under 5k.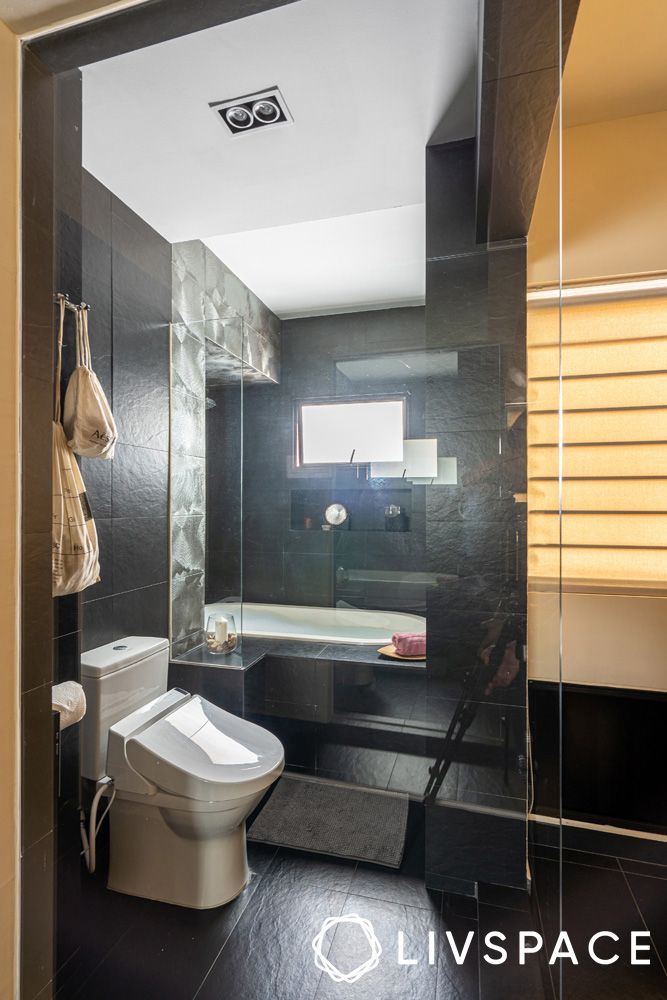 A few minor adjustments here and there have changed the basic layout of this bathroom in this apartment. The uniform black tiles give this bathroom design under 5k a luxe aesthetic. Using homogenous tiles also gives an impression of spaciousness.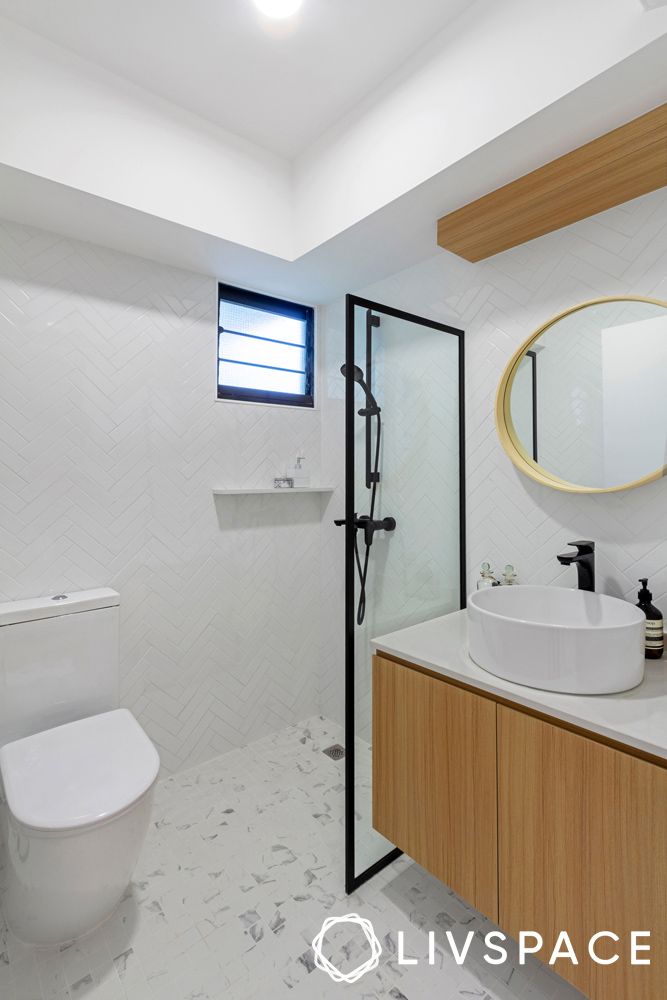 In this HDB toilet design under $5k, the space has undergone a comprehensive renovation. The master bedroom has white ceramic toiletries. To complement the sleek design with boxed-in pipes, the toilet has a backlit mirror on its vanity cabinet and smooth ceramic surfaces.
Also Read: Attractive Wall and Floor Tiles Are All You Need for Your Bathroom Makeover
How Can Livspace Help You? 
We hope you enjoyed some of our best HDB toilet designs under $5k. If you have a registered BTO and want the bathroom designs under $5k to be just as beautiful, then look no further. Book an online consultation with Livspace today. Delivering safe home interiors has been our No. 1 priority. Click here to find out how interiors are being delivered following all safety protocols.