Did you know that we spend a LOT of our time in the bathroom without even realising it? To be precise, an average of about one and a half years of our lifetime! Considering that, don't you think your HDB toilet makeover design deserves a makeover like right now?
But no matter the size of your bathroom, you can still make it look pretty. We have some amazing modern HDB toilet design ideas for small and big-sized bathrooms. Check them out and see how you can renovate yours.
Practical HDB Toilet Design Ideas for Compact Bathrooms
All of us dream of owning spacious homes with big bathrooms, but sadly, with the shrinking flat sizes these days, our bathrooms get even smaller. But at Livspace, we strive to design homes that are both bespoke and functional at the same time. Look at some of these HDB toilet design ideas that our designers have put together for the owners of some compact HDBs.
#1: Let's Talk Lighting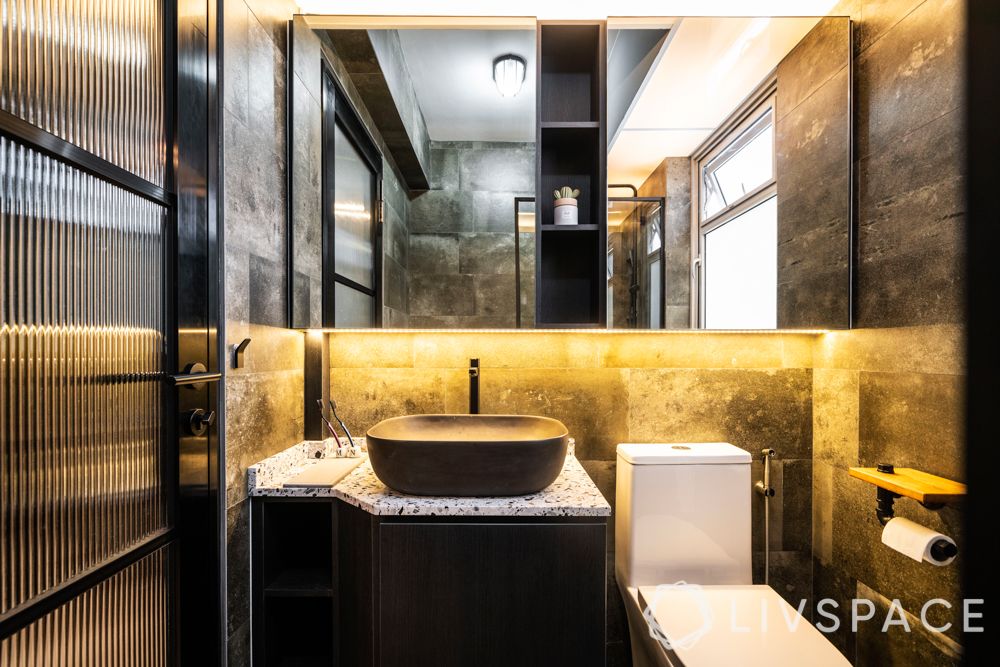 If there's one design feature that should be taken care of while designing bathrooms, it has to be the lighting. Our designer has added warm, under cabinet lighting which acts as the perfect task light in this compact yet modern HDB toilet design. It perfectly illuminates the countertop on the bathroom vanity and creates a soft and seamless look. You can also add task lights like this in addition to ambient lighting like recessed lights.
Here are some design tips: The A-Z of Bathroom Design and Trends That Are Hot This Year
#2: Flooring is also Important for HDB Toilet Makeover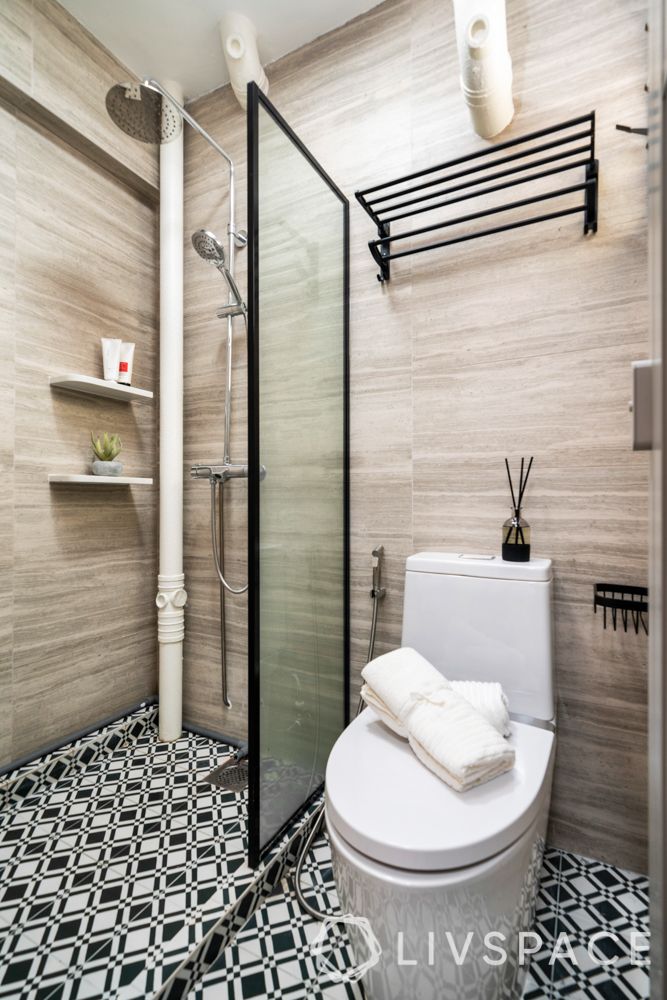 More often than not, a major problem with HDB toilet design is space. But does that deter our designers from adding a glamorous element to it? Definitely not. As you can see here, glazed porcelain tiles are the hero in this bathroom. They take away all the attention from the fact that this is a 35 sq ft space. Wall shelves also add to the storage requirements.
Check out the rest of this home looks: Revealing its Exclusive Renovation Secrets: An 85 sqm Home Tour
#3: Do Not Forget Wall Treatments for HDB Toilet Makeover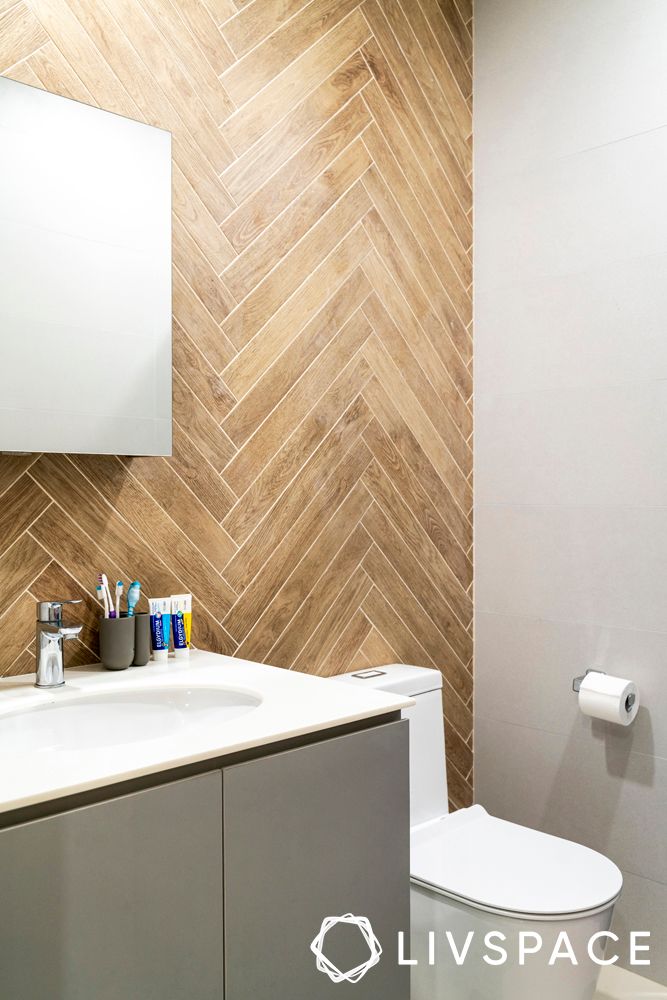 Don't you love bathrooms with a clean wall? This HBD toilet design incorporates a pristine white herringbone-patterned wall with tiles. Complementing it is the quartz countertop on the vanity. Also, our designer felt that a light laminate would be the perfect match for the white walls, and we agree! You too can give your compact a bathroom a sleek look with patterned tiles.
Check out how the rest of this home looks: How We Made This Compact 3-Room HDB Look Spacious
Spacious Bathrooms can Look like a Dream
Yes, some of us are lucky to own bathrooms that are huge and spacious. While there are a lot of design features that you can add, our designers have picked up some classics. From an all-white HDB toilet design to a hint of colour to add that highlight, these designs will give you serious renovation goals.
#4: Hotel-style Modern HDB Toilet Designs are Love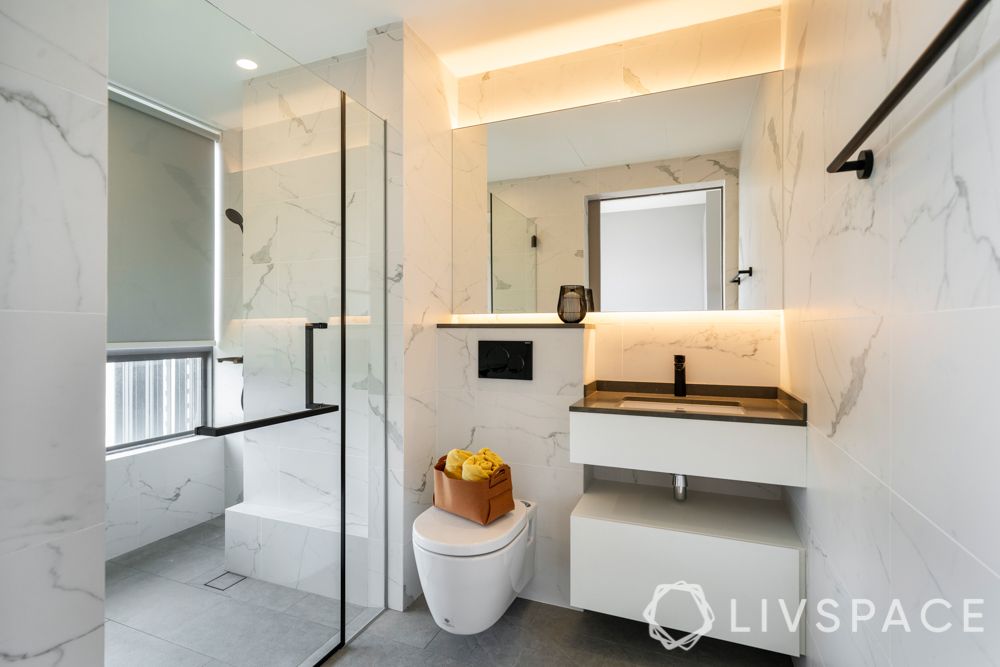 We have completely fallen in love with this modern HDB toilet design. Look at that spacious and well-designed bathroom. All the walls wear a harmonious look in here and the theme is all-white—one of our favourites. And if you are lucky to have enough natural light seeping in through the window, then white will only make your bathroom appear bigger and brighter.
#5: Add a Touch of Luxury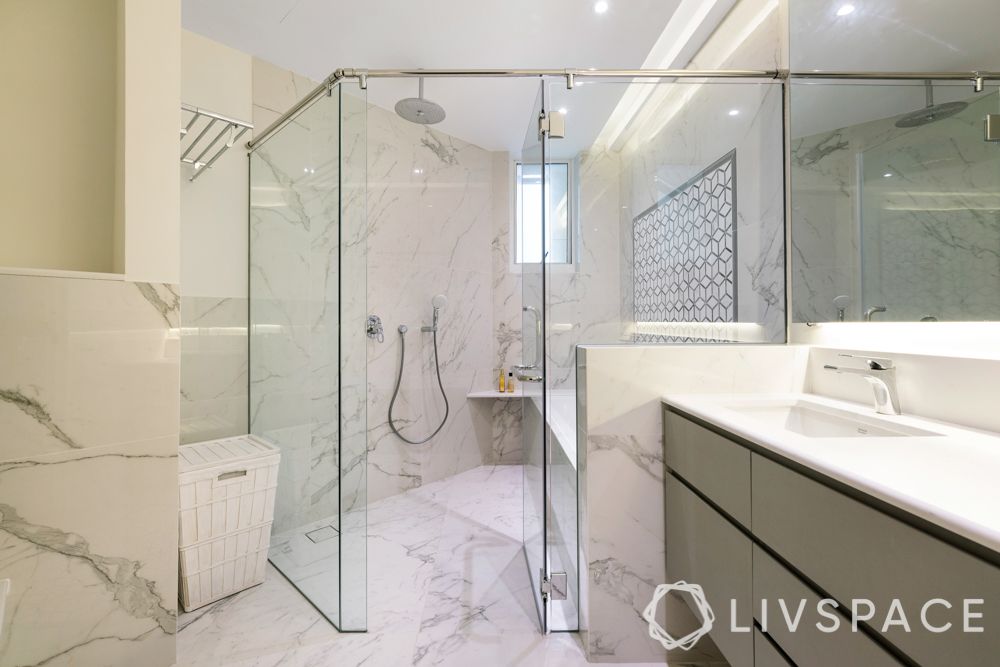 How often do you see a bathroom completely decked in marble? One of our designers did this for a client and they absolutely loved it. You can spot marble framing and handcrafted marble mosaic flooring everywhere. There's a quartz latch above the bathtub and a tempered glass screen that separates it from the dry area. Do not miss the insert marble decorative tiles above the tub that elevates the look. If you love living in luxury, then this one's for you!
Check out how the rest of this home looks: Muted Colours & Elegant Detailing for this 4-room Condo
#6: Let Colours Take Over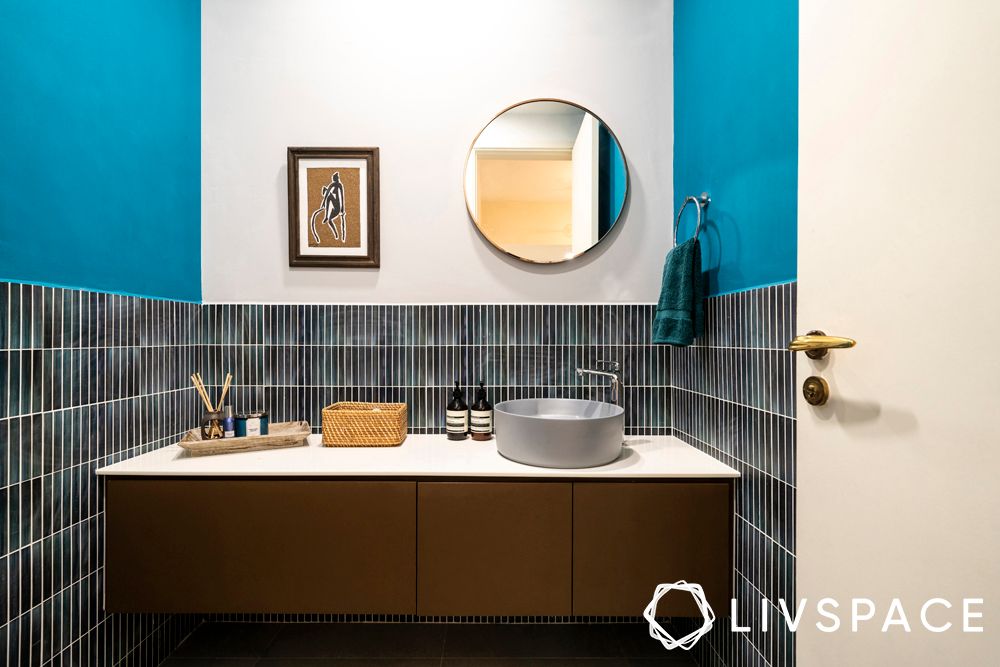 There's nothing that a little splash of colour cannot cure. The next time you are renovating your bathroom, please consider some colour, if you're a fan. You can paint your vanity in your favourite shade to add a personal touch to your HDB toilet design. We love how the teal blue accent really ups the style quotient of this space.
Check out how the rest of this home looks: Muted Colours & Elegant Detailing for this 4-room Condo
How can Livspace Help You in HDB Toilet Makeover?
If you are looking for a modern HDB toilet design ideas, our designers can help you from beginning to end. They are well-experienced to handle every requirement and they select the right materials and fixtures for your bathroom. Whether you are looking for aesthetic changes or a major overhaul, you can bank on us. And be assured that your toilet design is in safe hands. To contact our team, you can click on the button below:
Now that we have spoken about design, read this to know more about the durability of your bathroom: How to Design a Bathroom That Stands the Test of Time
Send in your thoughts and suggestions to editor.sg@livspace.com.