In a city like Singapore, with skyrocketing real estate costs, living with your partner, kids, and your parents sounds like an impossible dream. This is where a 3Gen HDB flat can be a great solution. Wondering if you're eligible for one and how you can get the best 3Gen flat interior design for your home? Then this guide is for you.
Additionally, to show you how Livspace and IKEA can bring your dream home to life, we also designed a sample floor plan of a 5-room 3Gen flat at Bidadari Alkaff Oasis. Join us as we tell you all there is to know about 3Gen HDB flats, as well as how to design them.
1. What Are 3Gen Flats and Their Features?
A 3Gen flat is a new type of HDB property that has more space compared to other HDB flats. As the name suggests, a 3Gen flat is designed to comfortably fit multigenerational families under one roof. Typically, a 3Gen HDB flat has the following features:
The available space ranges around 115 sqm, or 1,237 sq. ft.
They come with four bedrooms (two bedrooms have attached bathrooms)
Other essential rooms include the kitchen, a common bathroom, and the living/dining areas
3Gen HDB flats also come with a household shelter as well as a service yard
2. How Can You Qualify for a 3Gen Flat?
To apply for a 3Gen flat, you need to fulfil one of the following eligibility criteria:
Married couple with parent(s)
Courting couple with parent(s)
Widow/widower with child and parent(s)
A divorcee with child and parent(s)
In addition to the above criteria, at least one parent needs to be a Singapore citizen or a permanent resident.
3. What Are the Advantages of a 3Gen HDB Flat?
A 3Gen flat is much bigger and more spacious than other HDB flats
It can be easier to get a 3Gen BTO, as up to 30% of BTO units are allocated for first-timer families under the Married Child Priority Scheme. However, only 5% of BTOs are allocated for second-timer families
A 3Gen flat interior design can match the needs of both kids and the elderly, without the need for additional renovations
It can help you save costs as you do not have to hire caregivers for your elderly parents or babysitters for your kids. This is because you can rely on your family members to help out instead of hiring help. You can also share utilities between multiple people
4. What Should You Know Before Buying a 3Gen Home?
Criteria
Points to Note
Resale Potential
3Gen flats come with a minimum occupancy period
of five years, post which you can only sell or sublet to
eligible multi-generational families. This can lead to
limited resale potential.
Monthly Household Income
Working parents' average monthly salaries will be
included in your monthly household income.
Due to this, you may exceed the income ceiling,
which will make it difficult to apply for housing grants.
Registered Occupant Requirements
Parents needs to be registered as occupiers and
occupiers cannot own another property locally
or abroad.
Also Read: A 30-Year-Old Jumbo Flat Has Been Renovated to Suit This Lovely Family
5. What Are the Differences Between 3Gen Flats and Other Types of HDB flats?
2-Room
3-Room
4-Room
5-Room
3Gen
> An affordable
housing
option
for lower-income
households,
seniors,
and singles.
> Senior citizens
can avail
shorter leases
to further
reduce flat
prices for
2-room
flexi HDBs
Offers a compact
living space
that can
cater to
simple living
needs
This type of
flat is ideal
for young
couples or
parents
Being on the
bigger side,
5-room flats
are ideal for
larger households
of 5 or more
members
> Multigenerational
families can easily
live under one roof
in a 3Gen flat.
> This type of HDB
supports the needs
of extended families.
Offerings:

> 1 bedroom
> 1 bathroom
> Living/ Dining
> Kitchen
> Household shelter
Offerings:

> 2 bedrooms,
1 of which
is a master
bedroom
with attached
bathroom
> Common
bathroom
> Living/
Dining
> Kitchen/
Utility area
> Household
shelter
Offerings:

> 3 bedrooms,
1 of which
is a master
bedroom
with attached
bathroom*
> Common
bathroom
> Living/
Dining
> Kitchen
> Service
yard
> Household
shelter
Offerings:

> 3 bedrooms,
1 of which
is a master bedroom
with
attached
bathroom
> Common
bathroom
> Living/
Dining
> Kitchen
> Service
yard
> Household
shelter
> Suggested
study
Offerings:

> 4 bedrooms,
2 of which
have attached
bathrooms
> Common
bathroom
> Living/
Dining
> Kitchen
> Service
yard
> Household
shelter
*Some features might not be available in resale flats. All the above details have been taken from the HDB's website. Refer to the HDB's website for more details on the various types of flats offered.
6. Plan Your 3Gen Flat Interior Design Using This Home as an Example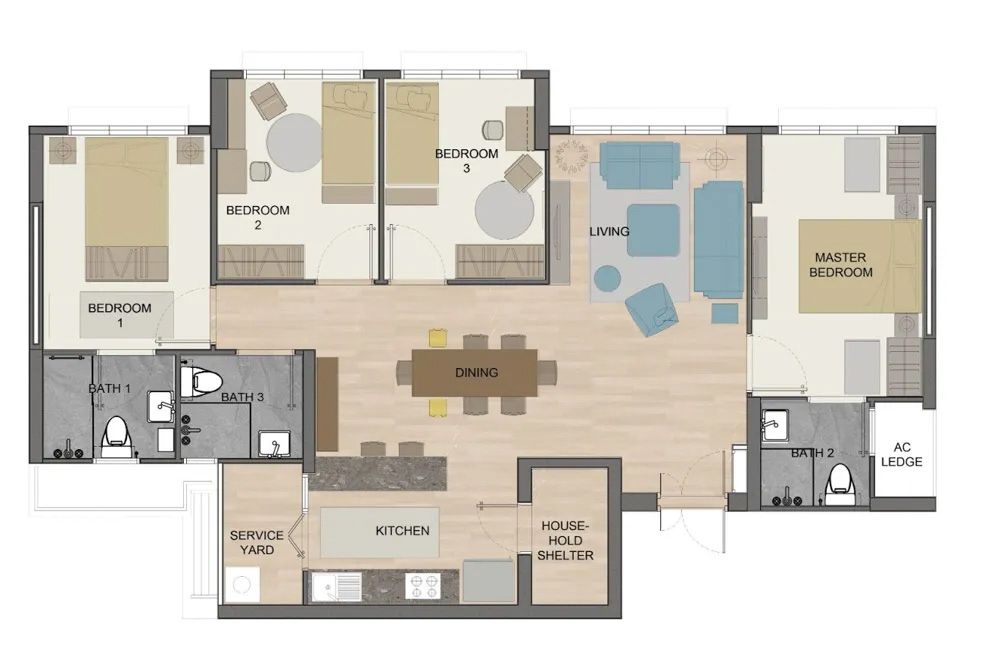 This sample 3Gen HDB renovation is envisioned for a six-member family that comprises grandparents, parents (John and Audrey), and two girls (Jessie and Joy) aged eight and five. Conceptualised by Livspace Designer Vidati Jumati, this 3Gen BTO design spans 115 sqm and is furnished by IKEA.
The home includes four bedrooms (two bedrooms have attached bathrooms), one common bathroom, an open-concept living, dining, and kitchen area, as well as a service yard and household shelter.
The Moodboard We've Followed for This 3Gen Flat Interior Design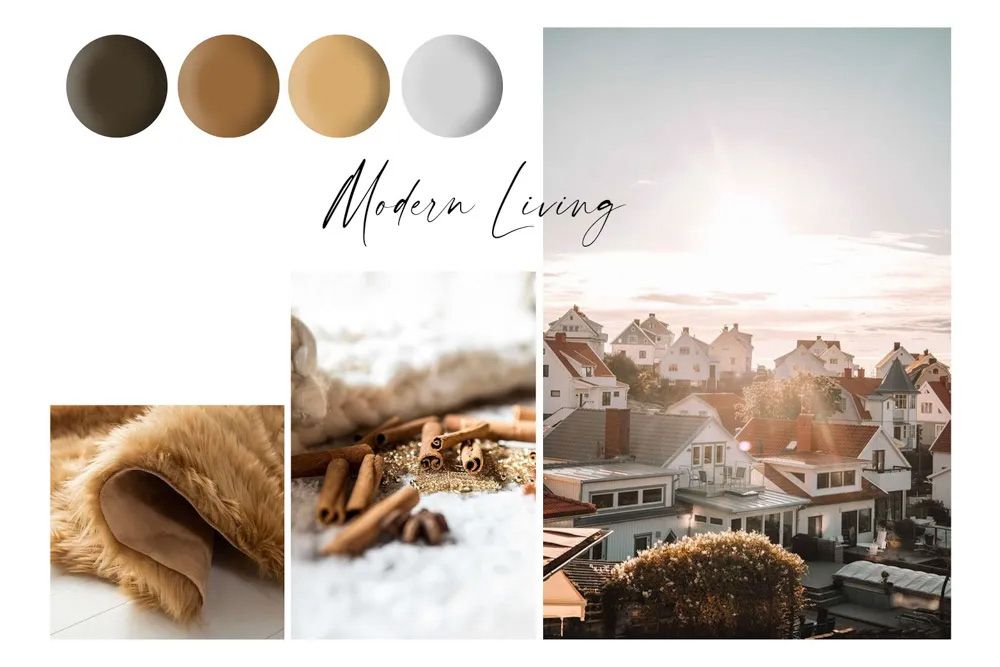 Before we dive into the design details of this 3Gen flat interior design, we'd like to introduce you to the theme we followed. As our designer says:
7. Take a Tour of This Sample 3Gen HDB Flat
Let's take a look at the different rooms in this 3Gen flat layout and how each of them were brought to life.
#1: The Living Room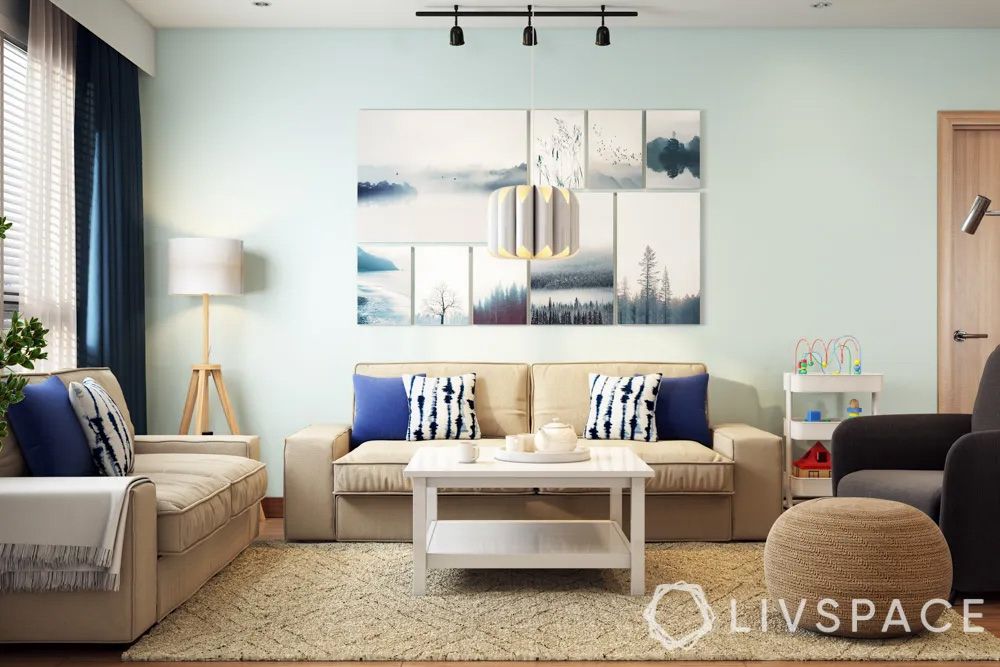 This family, like every other family, loves spending time together in the living room. Naturally, this called for a 3Gen flat renovation design that can accommodate everyone comfortably. We accomplished this by adding ample seating in the form of sofas, chairs, and pouffes.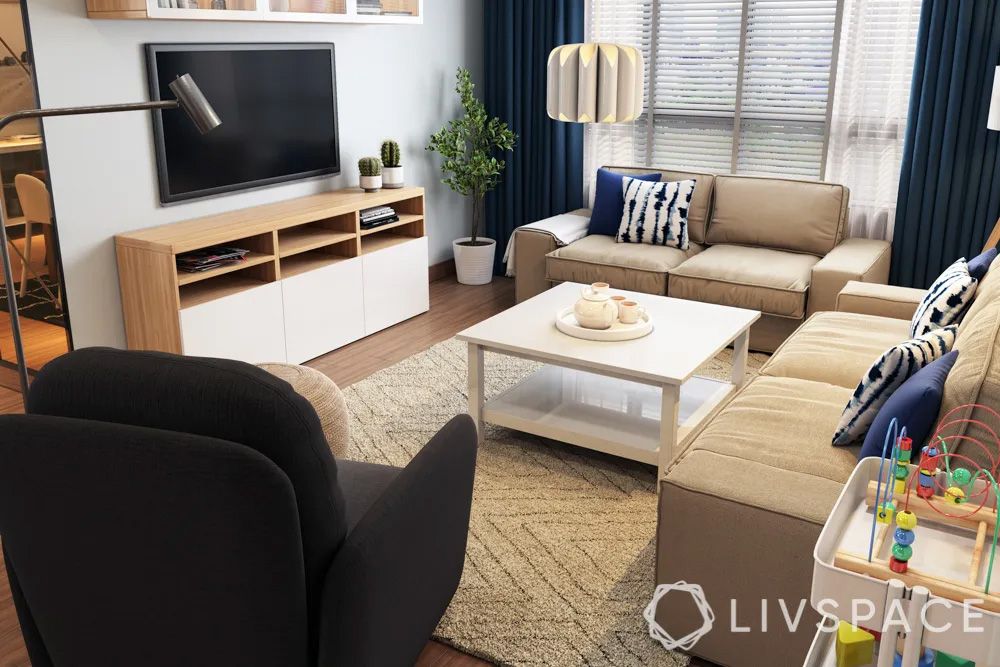 For the living room in this 3Gen flat, we followed a modern Scandinavian approach and decorated it with all the essential furniture required for a shared space. We added a square centre table and arranged the sofa set around it to facilitate inclusive conversations.
Additionally, a TV unit and storage cabinet were combined to solve storage issues in a communal space. For lighting, we kept it simple with a single pendant light, track lighting, and a floor lamp.
#2: The Dining Room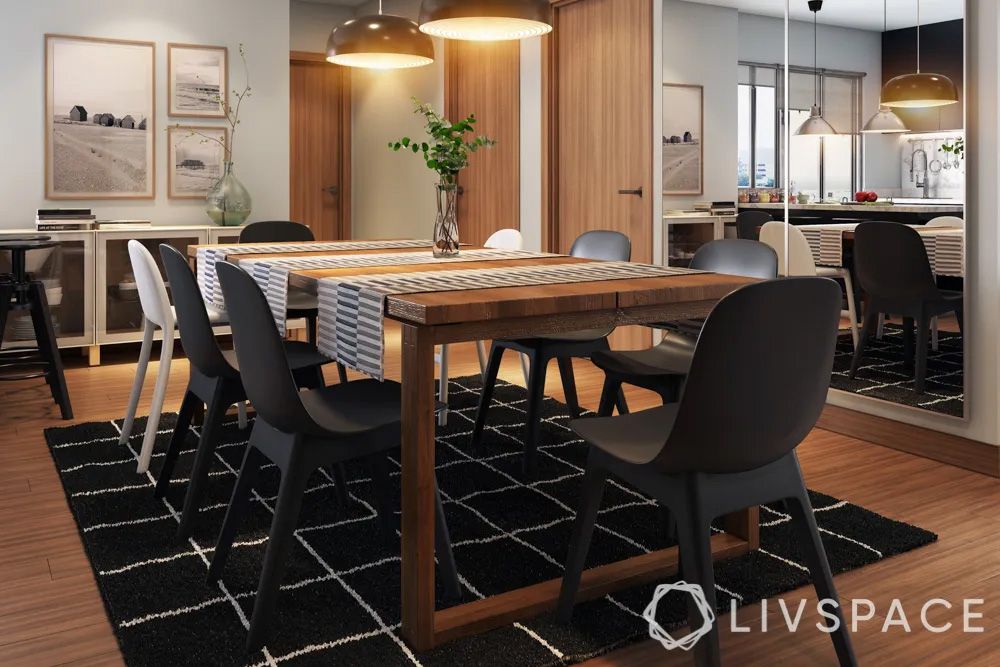 A six-member 3Gen flat layout can run the risk of getting too cramped with everyone gathered in one place. So, the best solution for this is to include mirrors that can help visually elongate the space.
We did exactly this by using the Hovet mirror from IKEA, which fits perfectly on the chosen wall. Similarly, we used a six-seater wooden dining table with black and white chairs to further accommodate seating in this 3Gen flat interior design.
#3: The Kitchen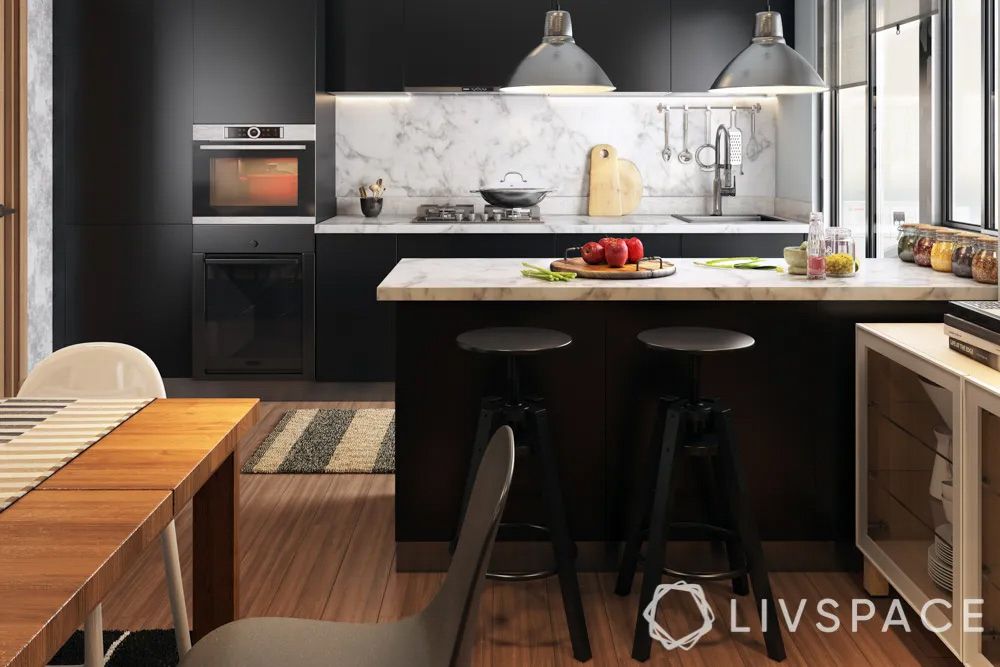 While working on this 3Gen flat interior design, we were especially focused on the kitchen. We knew that this open kitchen had to look attractive yet have all the necessary accessories of a functional kitchen.
We chose visual textures like marble and matte finishes to create contrast in this space. The monochromatic colour scheme in the kitchen helps it stand out from the other open spaces in this 3Gen flat layout.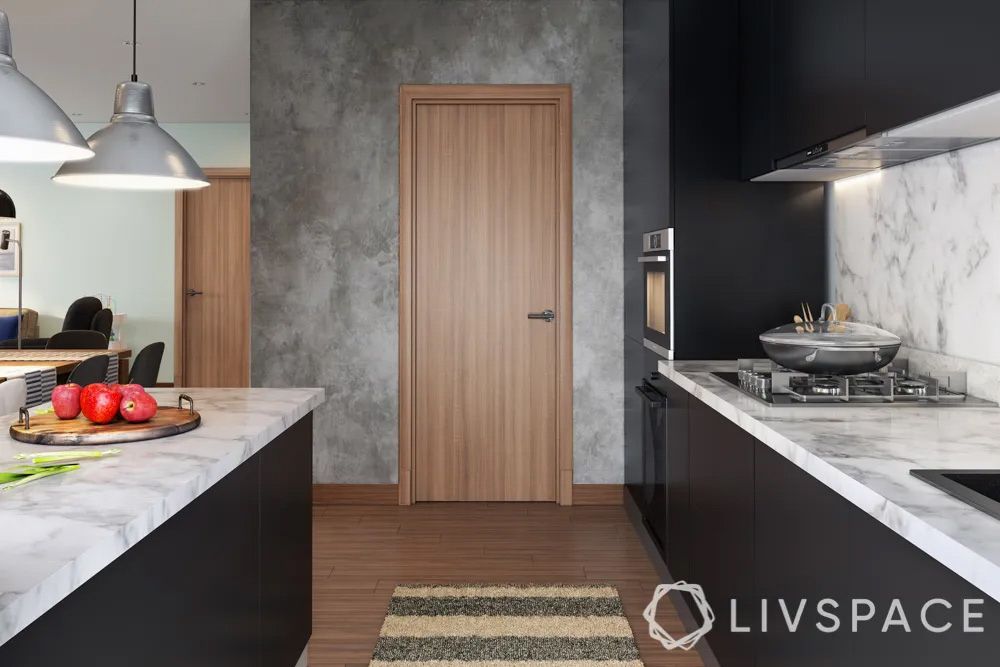 Handleless cabinets look sleek in an open kitchen like this, while pendant lights above the breakfast counter create the right focus, ensuring a modern look for the kitchen in this 3Gen flat interior design.
#4: The Grandparents' Bedroom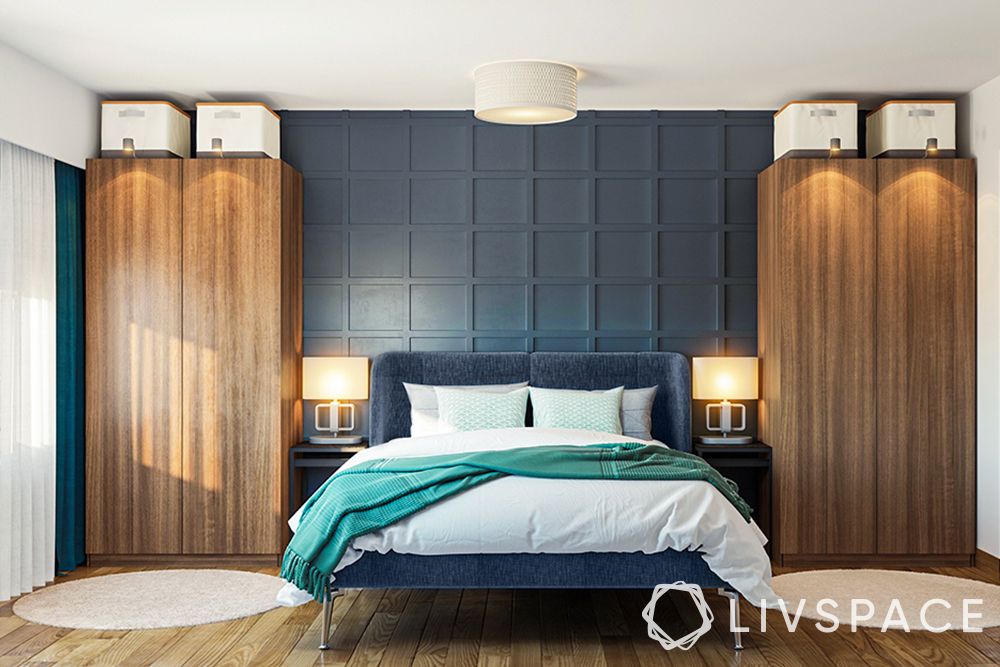 The grandparents' bedroom is easily one of the cosiest spaces in this 3Gen flat interior design. Featuring a fully upholstered bed from IKEA and functional PAX wardrobes flanking it, this bedroom is ideal for an elderly couple.
Notice how the pathway around the bed is unobstructed? This helps aid in seamless traffic flow in and around the room, making it easier for the grandparents to move around and access each area in the bedroom.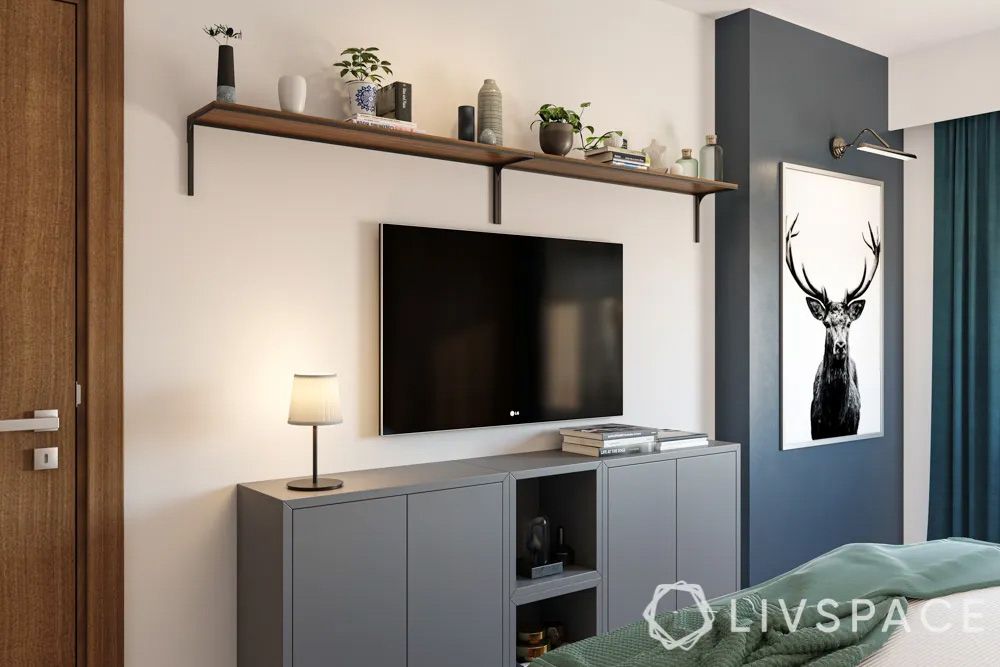 We also topped the flooring in this HDB 3Gen bedroom with vinyl, which can be one of the best materials for bedroom floors. Refraining from harsh lighting, we went with Drum table lamps for the bedside tables and a matching ceiling light. Also, a TV unit with cabinets and open storage in grey play well with the colour scheme of this room.
#5: The Parents' Bedroom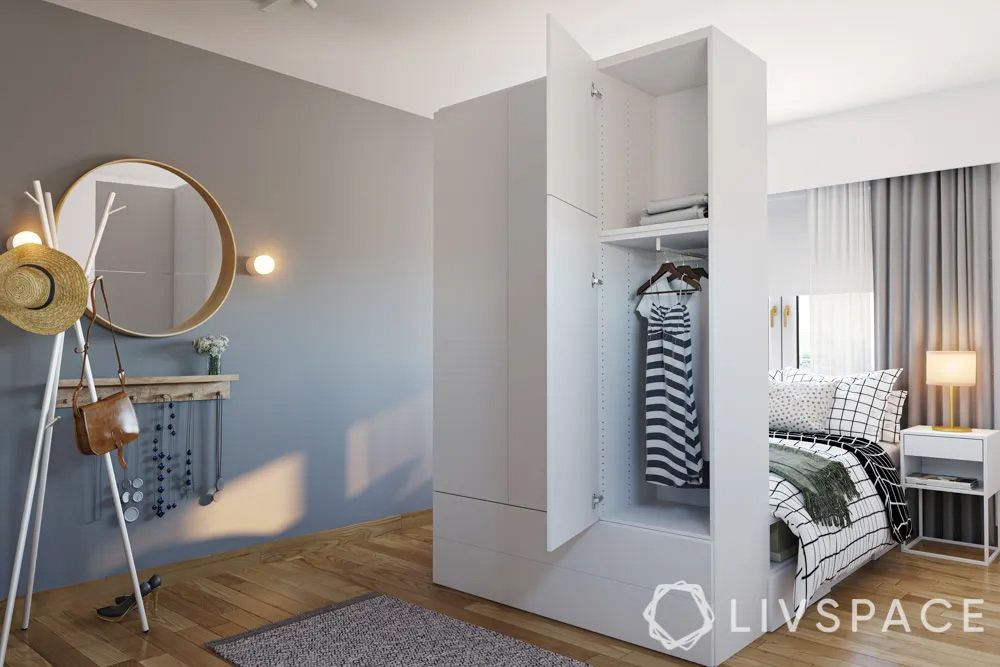 The colour theme we followed for the parents' bedroom in this 3Gen HDB flat was simply white, perfect to give that Swedish summer vibe. Outfitted with the efficient and space-saving Platsa bed frame with doors, this bedroom has ample free floor space.
Additionally, the dressing area features a round wall mirror flanked by LED wall lights on either side and a display rack with hooks below. Ceiling track lights take care of illuminating the wardrobe.
#6: Jessie's Bedroom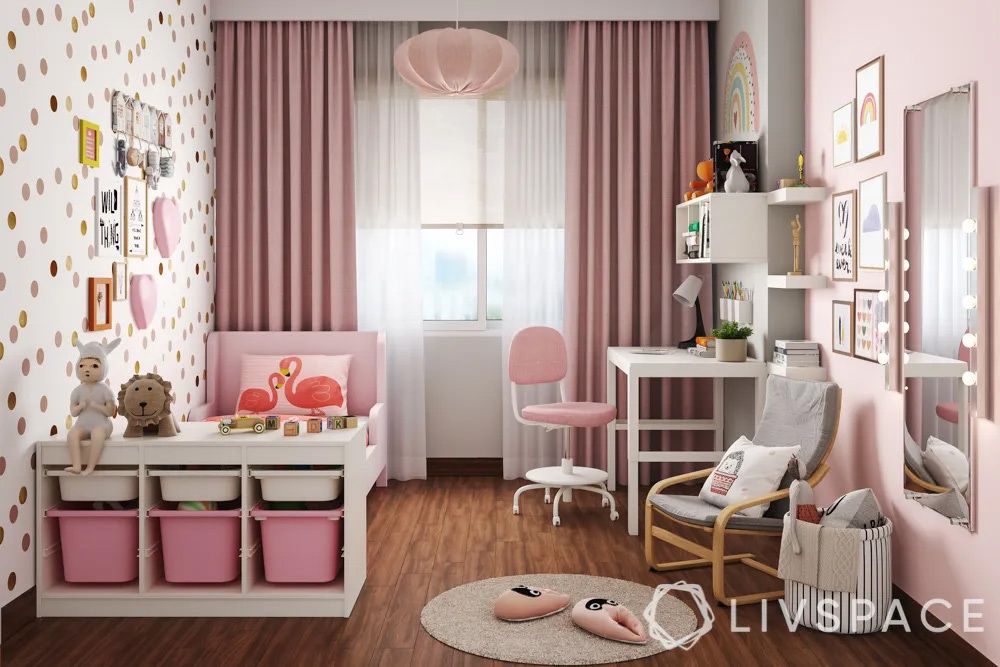 A girl's bedroom can't get any brighter and chirpier than this pretty pink theme in this 3Gen HDB flat. In fact, the kids' rooms are probably a couple of the most vibrant spaces in the entire home, as they break away from mature colour palettes.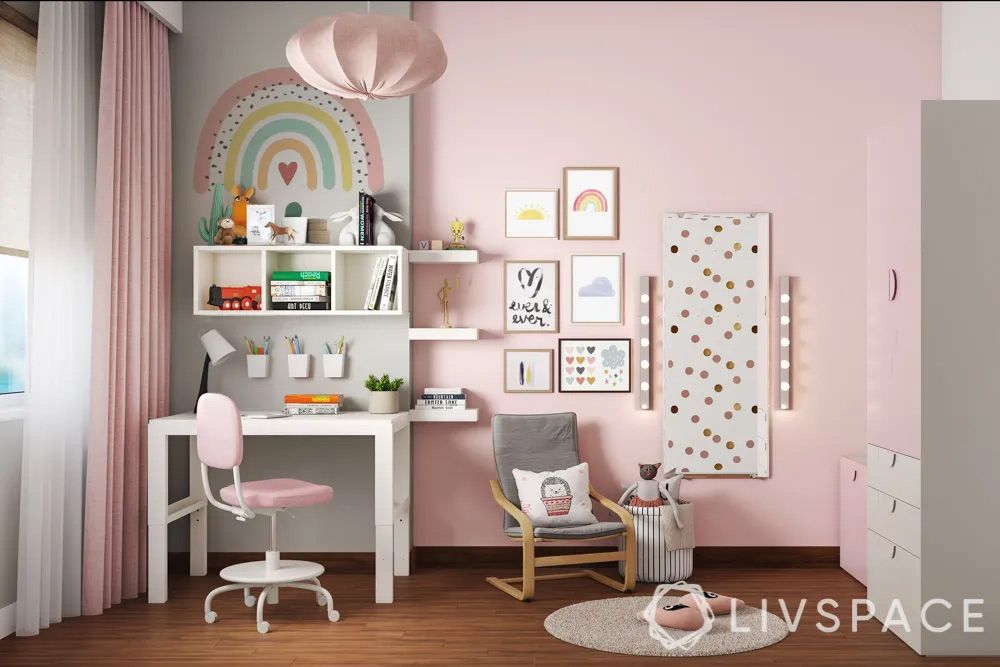 From storage cabinets to bookshelves and a dressing corner, this bedroom has everything that a young girl needs in her room. Moreover, since she's a growing child, her storage needs are also addressed with the help of wardrobes, storage baskets, and wall shelves.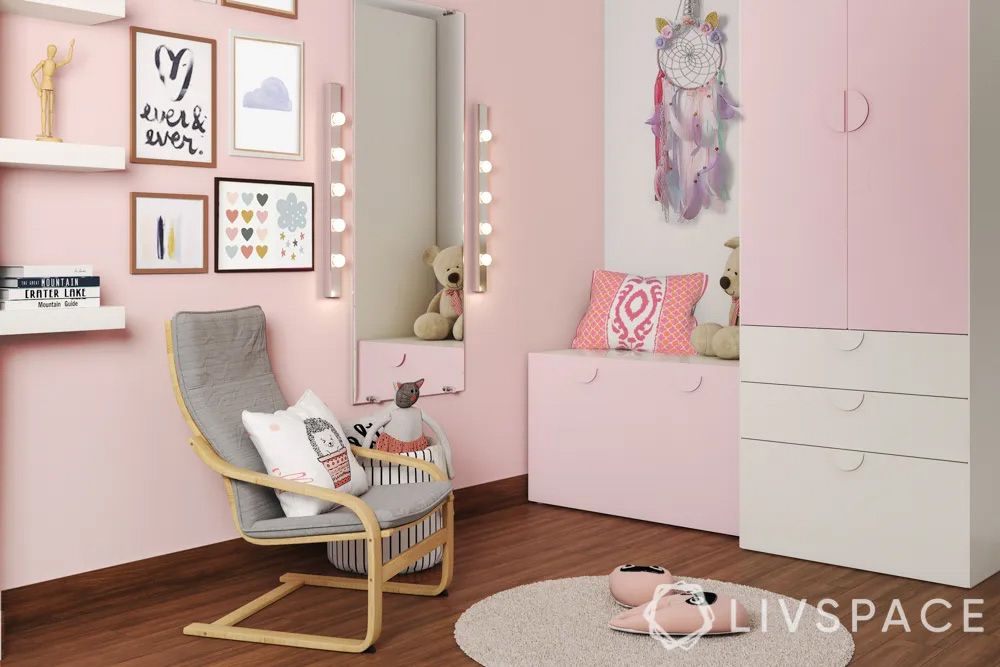 On one side is the bed with storage baskets for Jessie's toys and on the other, we placed the Sundvik children's table. Also, some pretty wall art and a children's armchair make for a cute reading corner for her.
#7: Joy's Bedroom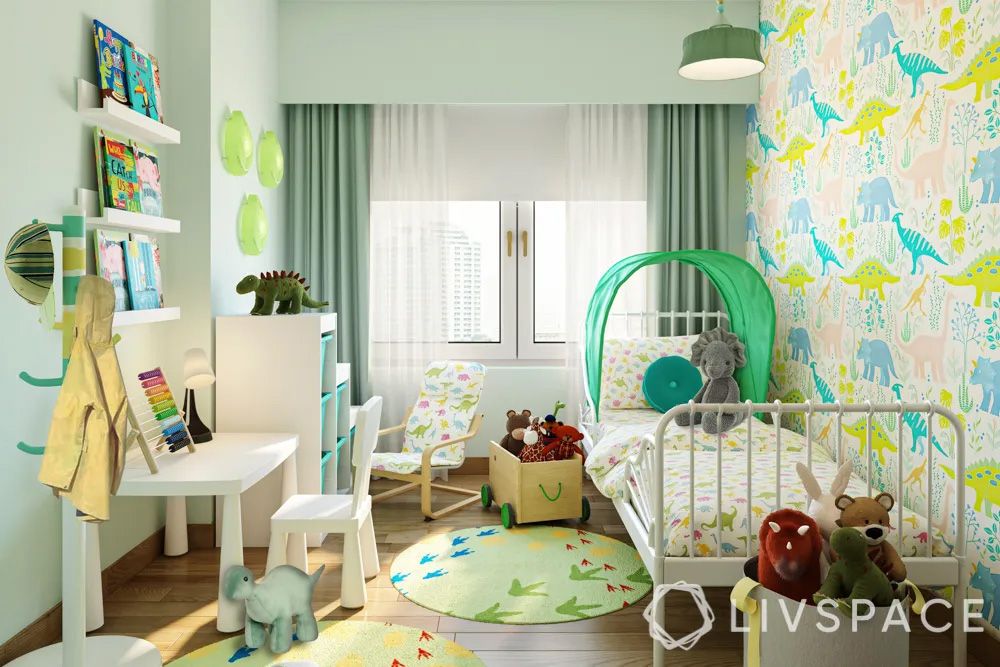 The tiniest one at home calls this fresh green-themed bedroom his space. The cute quotient of this 3Gen flat interior design was enhanced by adding a dinosaur wallpaper, which also worked as a great feature wall.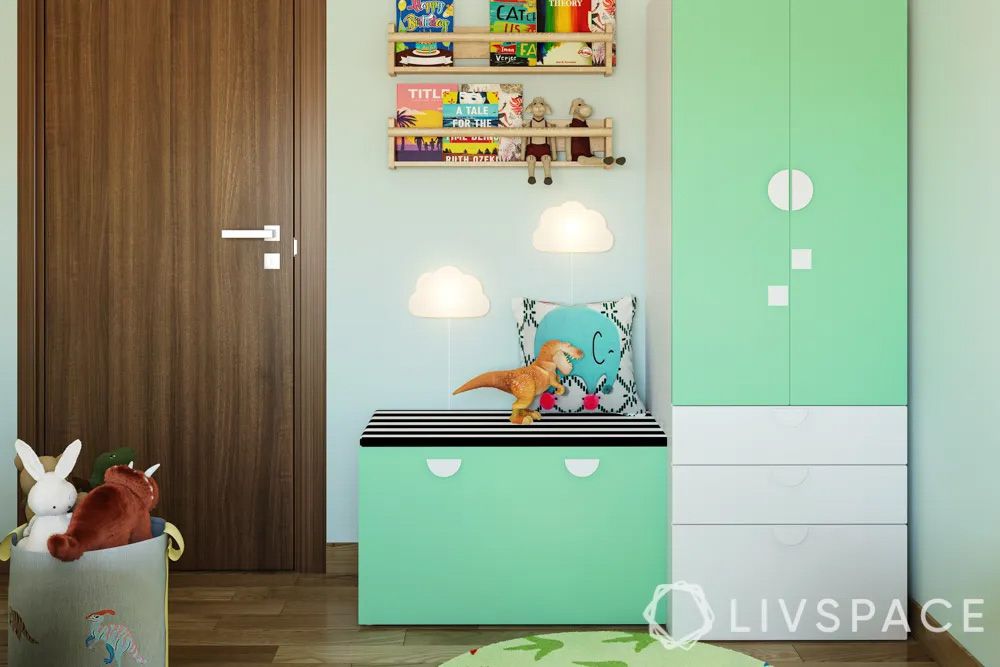 Flat woven rugs make the floor more comfortable and safe for play time. We also added a storage unit with baskets to keep Joy's toys close. A children's study desk and chair allow the child enough space to play and read. The Smastad wardrobe with an attached toy storage unit completes the look.
Also Read: These 10+ Renovation Ideas for HDBs From Livspace Are Worth Checking Out
#8: The Bathrooms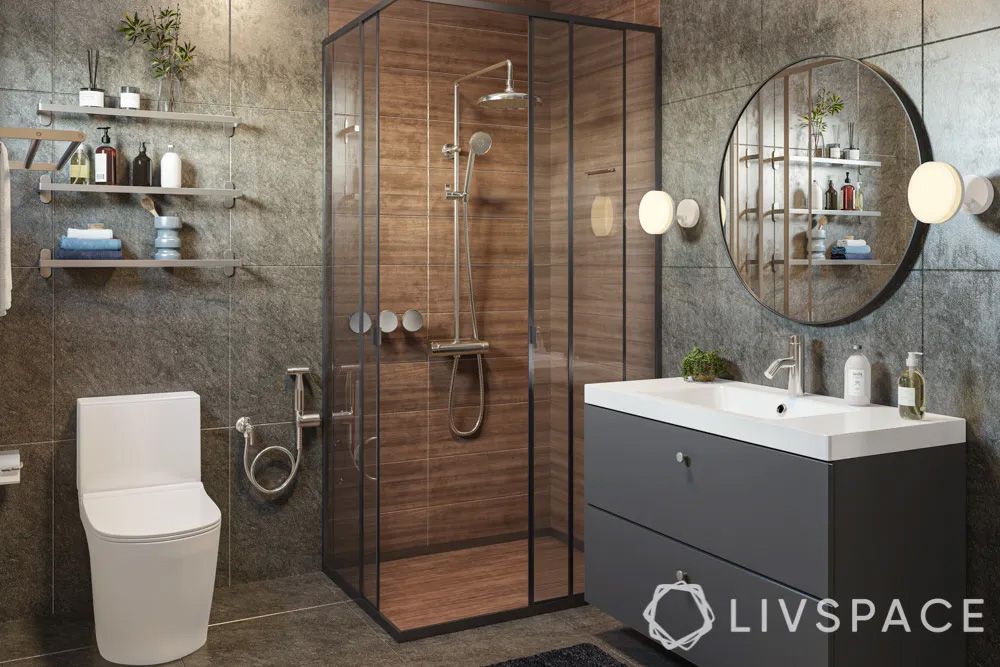 The bathrooms in this 3Gen flat interior design were planned carefully with sustainable materials. Also, all bathrooms come with glass shower cubicles and wall-mounted vanity units. The image above is that of the grandparents' bathroom.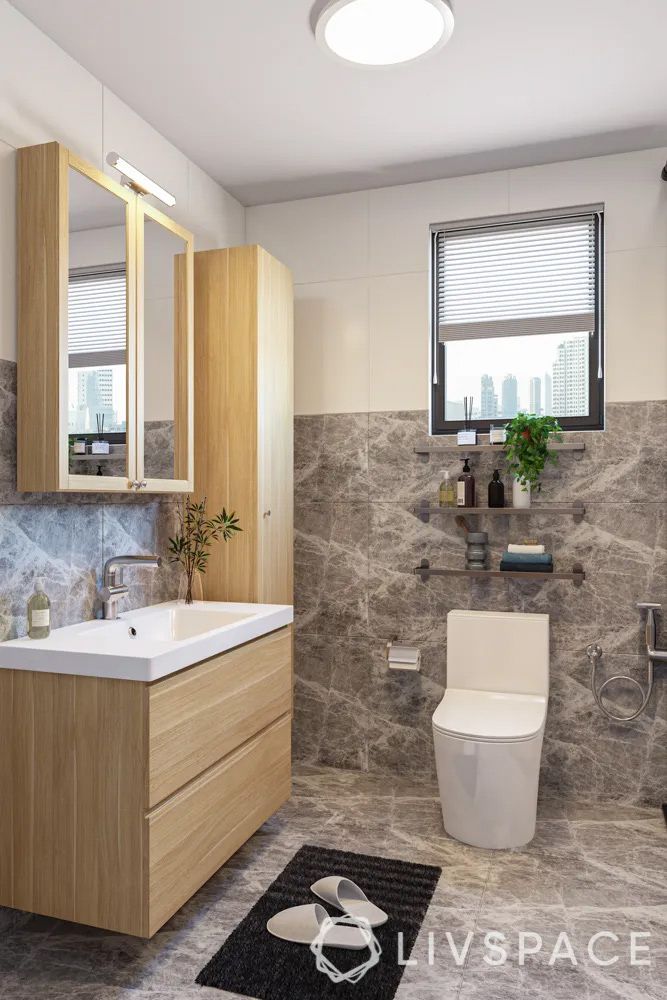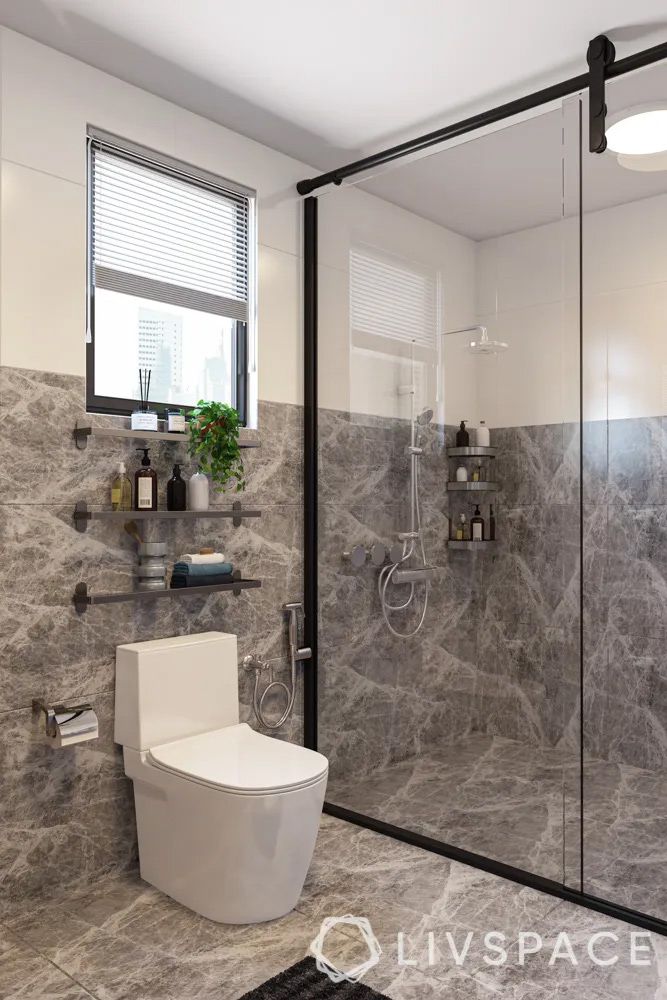 While we went with a darker colour tone for the grandparents' bathroom, the parents' bathroom, featured above, uses homogeneous tiles on the walls and floor.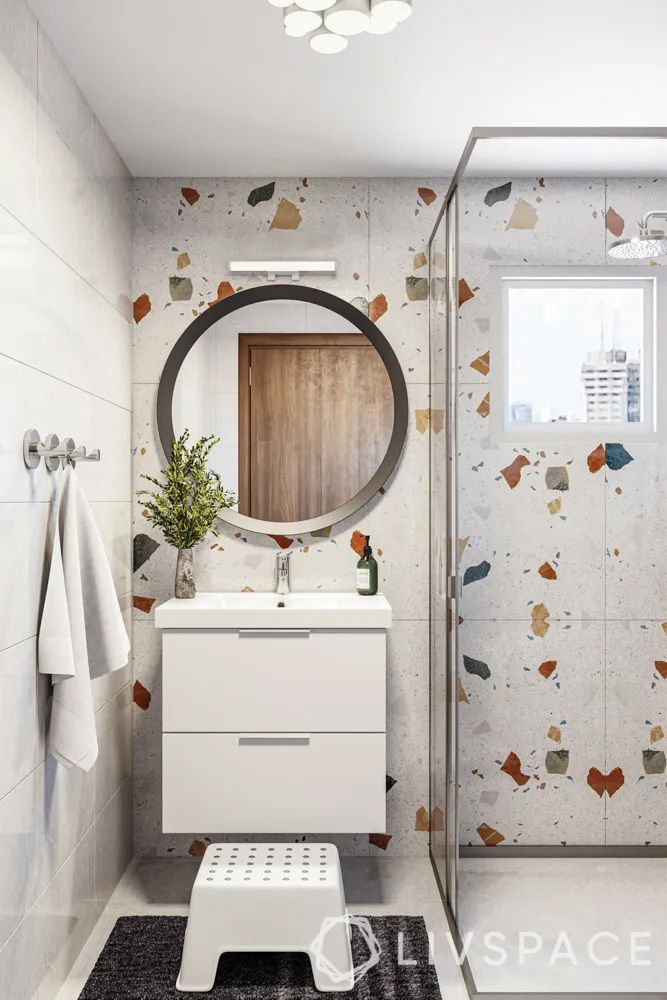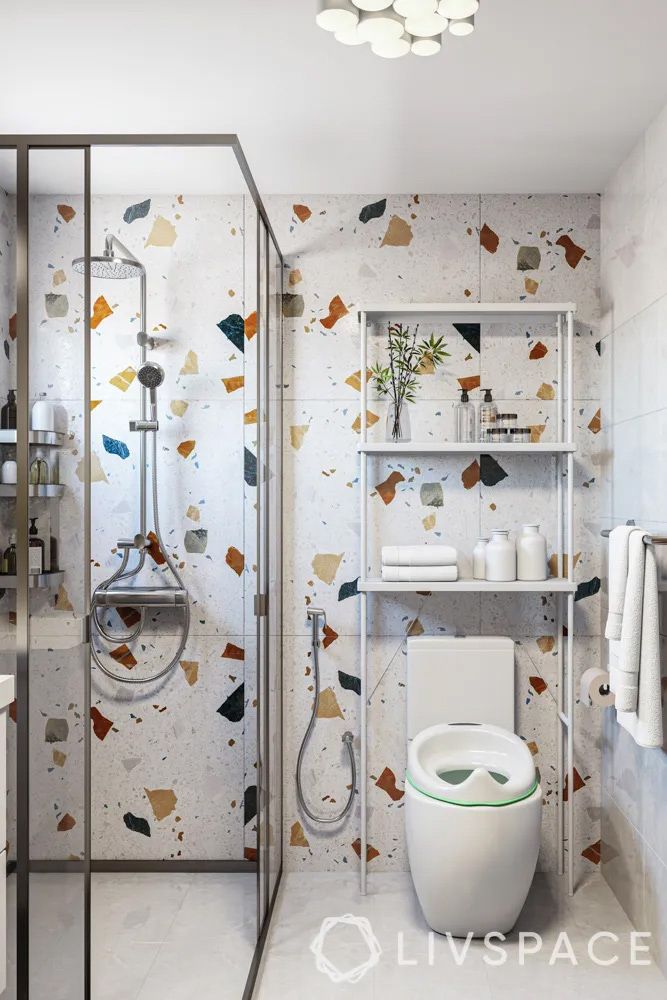 The stand-out feature in the common toilet is the feature wall that mimics terrazzo-style patterns. All bathrooms have ambient and task lighting – pendants, cabinet lights, and LED wall lights.
How Can Livspace Help You?
We hope you enjoyed this 3Gen flat interior design guide! If you want beautiful interiors for your home, look no further. Book an online consultation with Livspace today.
Have some comments or suggestions you'd like to share with us? We're all ears! Feel free to write to us at editor.sg@livspace.com.
Disclaimer: All contents of the story are specific to the time of publication. Mentions of costs, budget, materials, and finishes can vary with reference to current rates. Talk to our designer for more details on pricing and availability.