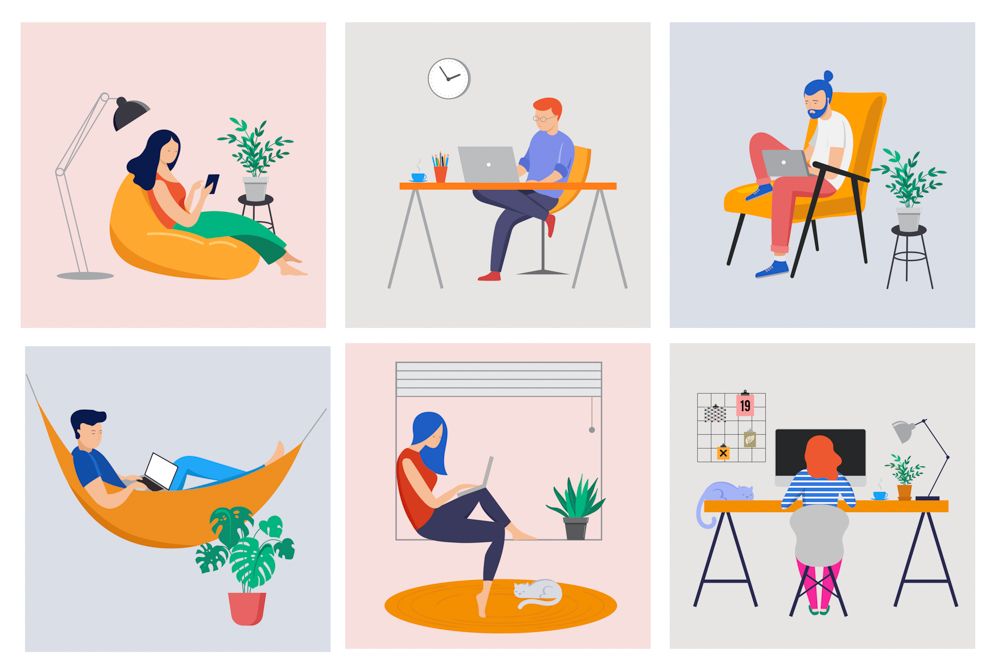 Designing a home office or a study is becoming an important part of home design in Singapore. With the current situation and the increasing culture of working from home, a comfortable study room is a must. As you spend more time indoors and in your home office, you will figure out the problems in your current setting. Balancing comfort, function and aesthetics is of prime importance.
If you're not sure how to start renovating your study, let us break it down for you. Read on to find out the essentials of a home office and how to design a space where you can increase productivity and relax at the same time, with inputs from our expert Business Manager, Sheik Kader.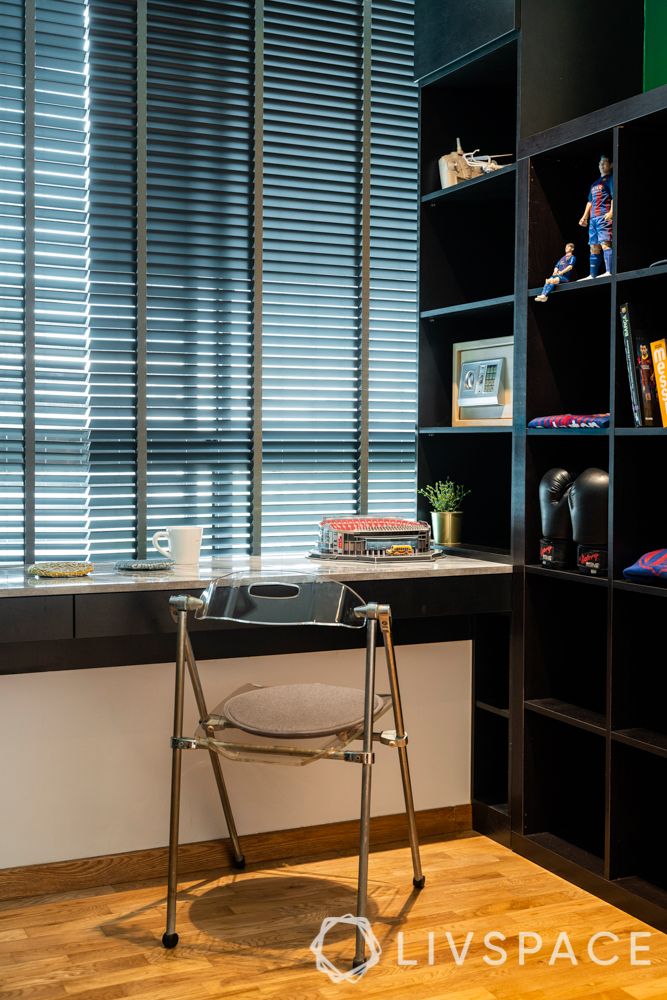 What is a home office or study?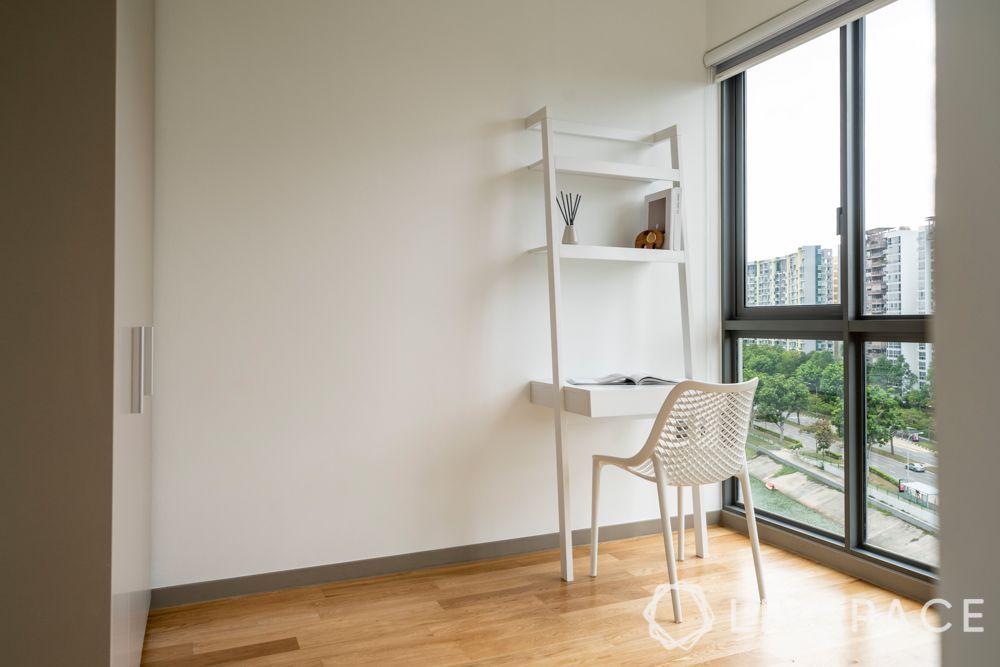 This room is a space where you can work out of, at home. Naturally, if you are going to be working out of home, you will need a dedicated office to be able to concentrate. Most HDBs and condos have a dedicated home office in the plan.
Some homeowners also integrate a study desk in their bedrooms if they do not have a separate room for the same and they would require a small home office design.
Things to consider while getting started on a home office design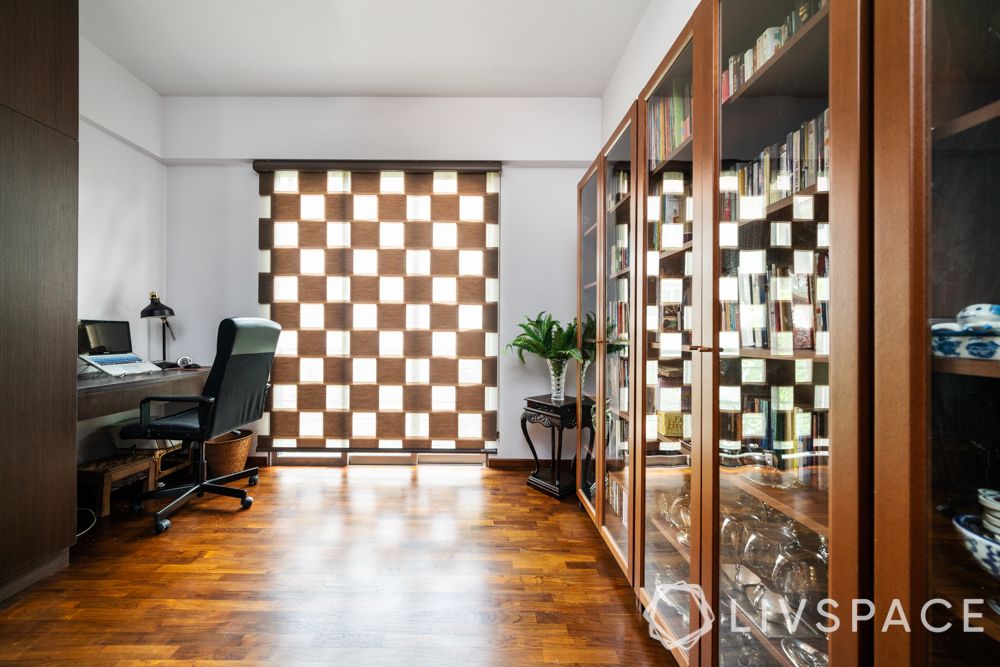 Before you start renovating or designing a new home office, there are some things that you should keep in mind. Make sure you factor in all of these things before you get to the actual work.
Location: If you have a specific room at home, then there isn't much that you can do. But in case you can select a location on your own then make sure you consider your activities and make your home office there. For instance, if you are a working parent stretched for time, then you can try turning your breakfast counter into a study.
Assess the space required: Ideally, your home office should have ample space to walk around or at least have a desk and a chair that can fit in comfortably.
Think about the light: Wherever you set up your home office, make sure that area receives ample natural light. This will help keep you focussed and keep the space positive.
Desk and chair selection: The desk and chair you choose are going to affect your physical health for a long time to come. Since you are going to spend hours together at this spot, you want to pick the most ergonomic furniture.
Storage requirements: Make sure there is some arrangement for basic storage since you will hate the sight of files and books lying around all the time. You will also need specific spots for placing your printers and other gadgets.
How to make a home office look professional?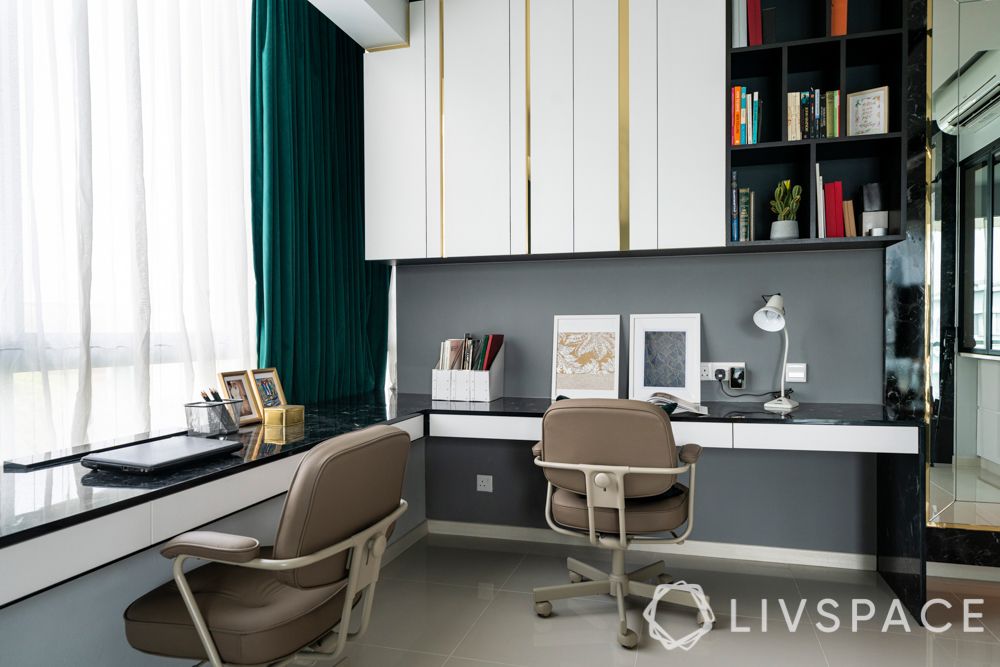 You are going to be taking official calls and video conferencing from your home office and this space should look as professional as your office (or at least close).
For this, you need to keep this space clutter-free and use light colours on the wall.
Just like meeting rooms, you can consider noticeboards to visualise your goals and achievements, also keep track of your to-dos and deadlines.
Keep a provision for ample power points and hidden compartments to keep all the cables and wires concealed.
Can your home office be a multi-functional space?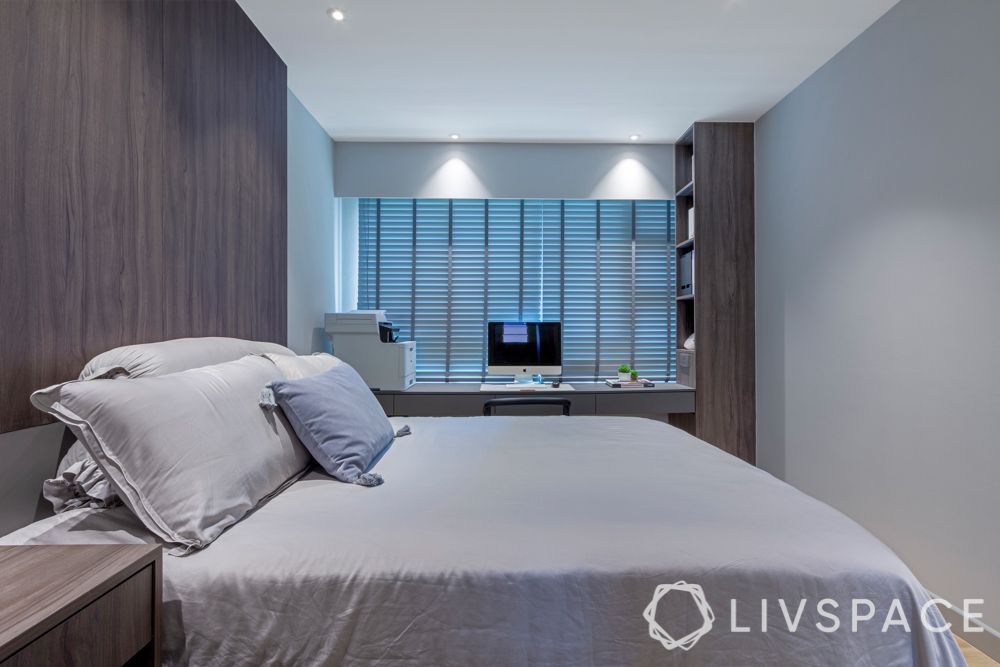 Very often, you might not be able to enjoy the luxury of space to create a separate home office. In such cases, you can definitely create multi-functional spaces. For example, you can place a study table in your bedroom. If you are an individual with a room to yourself then this idea will work perfectly well for you. Just like how we designed for this home. A sleek ledge with a bookshelf occupies the extreme end of this bedroom by the window. The bookshelf is a great way to squeeze in some extra storage.
How can you make this space more comfortable?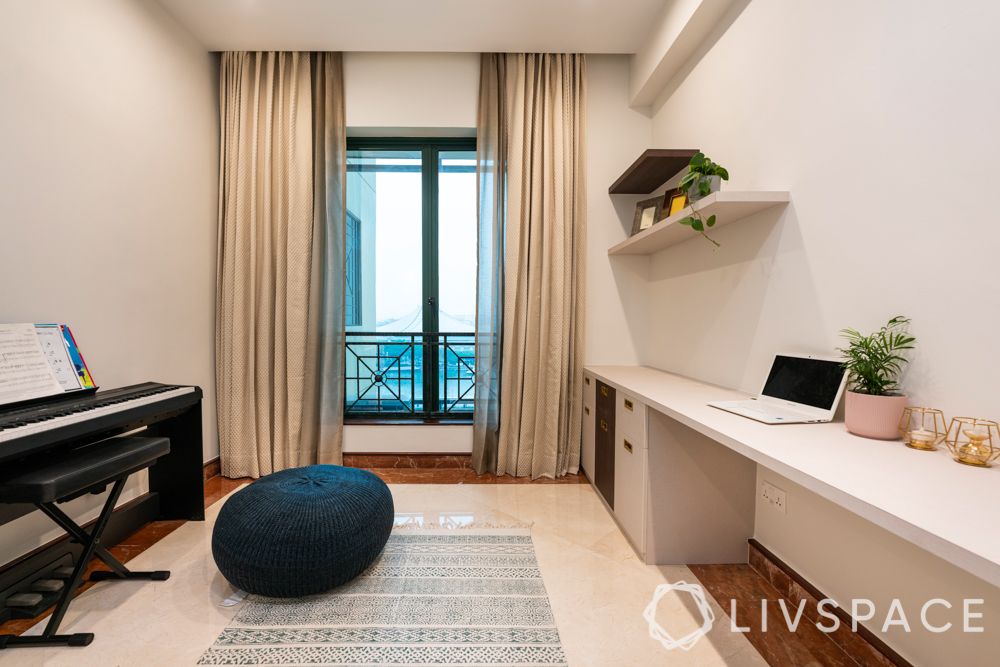 Our designer suggests that your home office should definitely have a chill vibe to it. Because when you are working a little late, you will feel like relaxing for a bit. To do this you can place a day bed or bean bags where you can stretch yourself.
We also suggest turning this into your hobby-cum-study room so that you can take a quick break between work to play your favourite instrument.
What is the right type of lighting for a home office?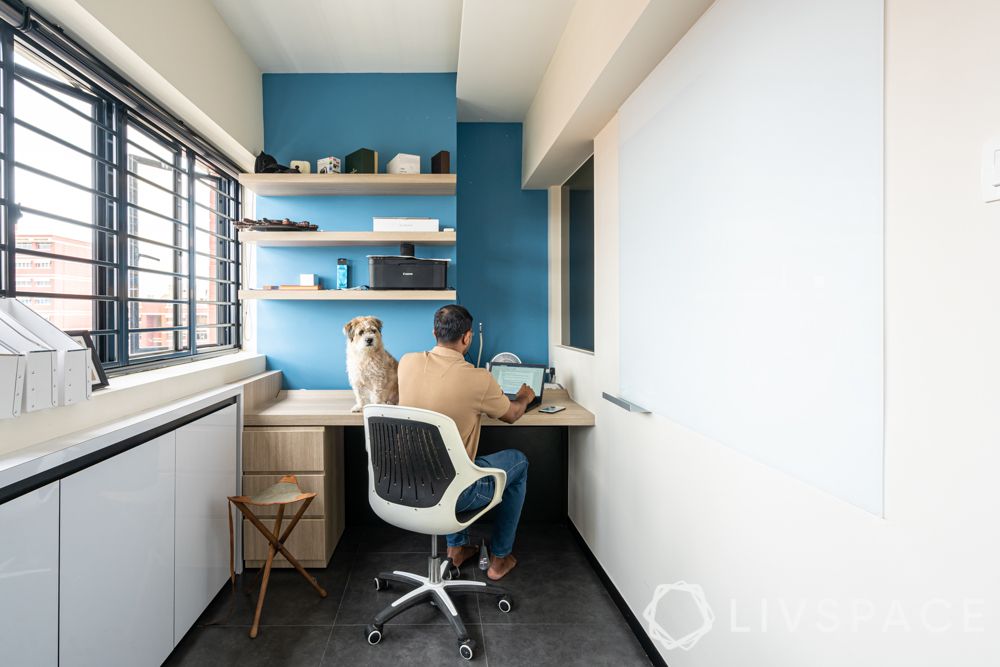 When you are spending 7-8 hours on an average in one place, you need adequate lighting so that you do not strain your mind and your eyes. We suggest you place LED lamps on your desk to brighten things up. Natural light has a positive impact on your mood, and especially on your eyes. It helps minimize the stress on your eyes while reading or writing. If you have a window in your room or dorm, try to position your desk near it. Read about different types of lights to choose the right kind for your study.
How can you personalise this space?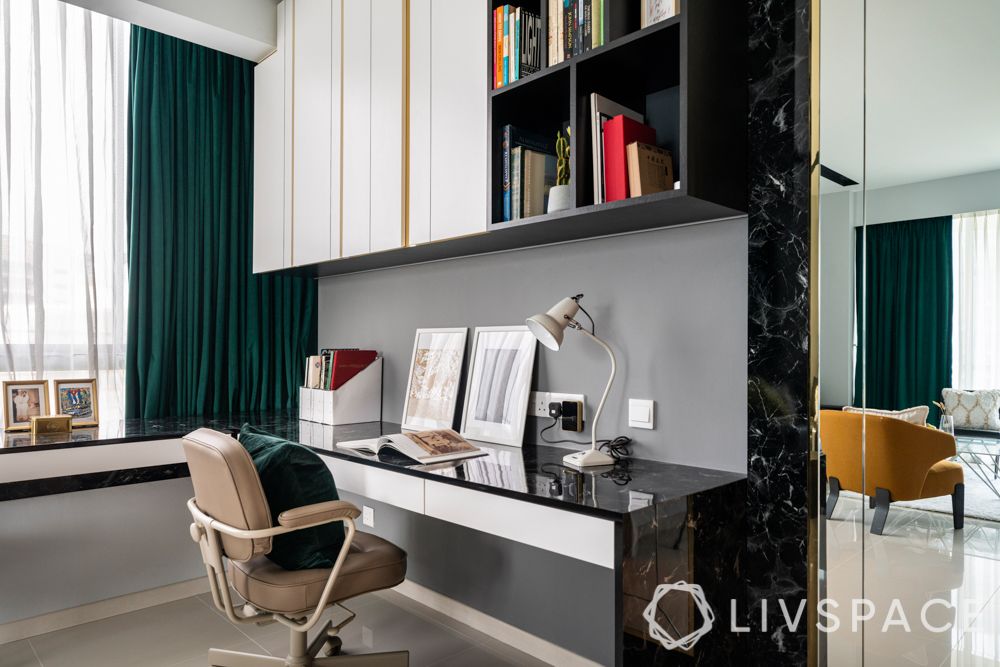 Now comes the fun part. Make your home office your own in every way possible. Place photographs of your family and close ones on your desk. Add little curios from your favourite travel destinations to take you back in time when you're feeling stressed. You can also throw in some cushions and rugs in your favourite colour to add some character to neutral home office spaces.
If you liked these home office setup ideas, then check How to Optimise Space for Your Study Rooms.
Send in your thoughts and suggestions at editor.sg@livspace.com.