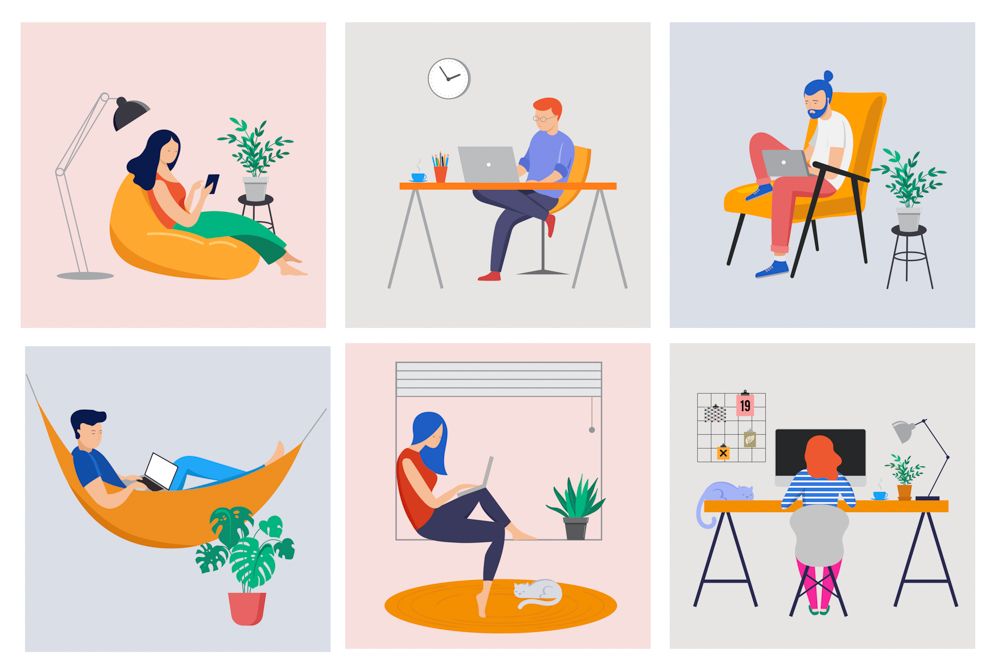 As you spend time designing a home office, you will start figuring out the problems in your current setting. Balancing comfort, function and aesthetics is of prime importance in an office. Thus, we have curated some home office ideas that will help you escape back ache and other spine-related problems that can crop up due to an unbalanced design.
Our expert Business Manager, Sheik Kader shared some really useful home office ideas for Singapore.. In case you already have a study, we have also included points on how you can organise your work from home table. Read on to find out the essentials of an office and how to design a space where you can increase productivity and relax at the same time.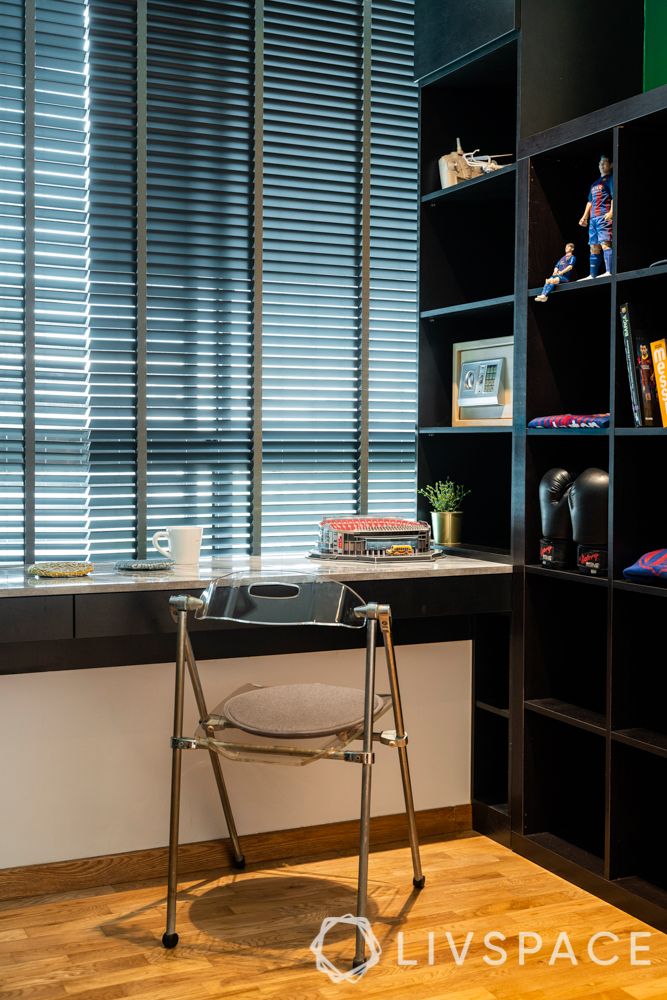 What is a Home Office or Study?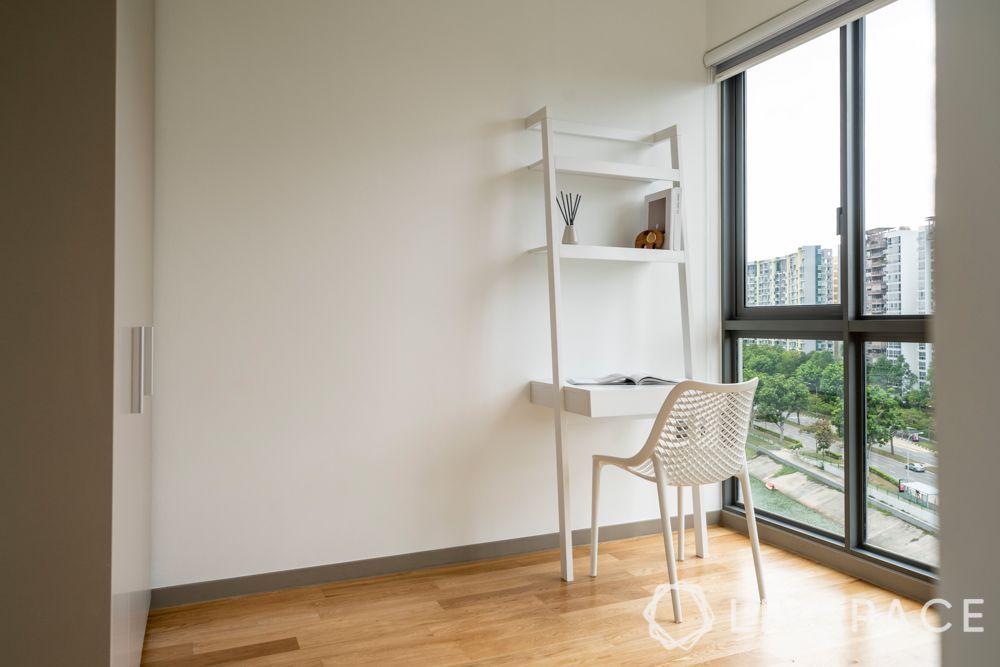 If you are someone who spends a lot of time working from home, it makes sense to have a dedicated space. Most home designs in Singapore HDB and Condos are ideally dedicated spaces where you can work in peace. However, if you have a compact house and do not have much space for carving a dedicated home office, integrating a study desk in the bedroom can be one of the most efficient small home office ideas.. Want some more inspiration for small office designs? Read Here.
Things to Consider While Getting Started on an Office Design in Singapore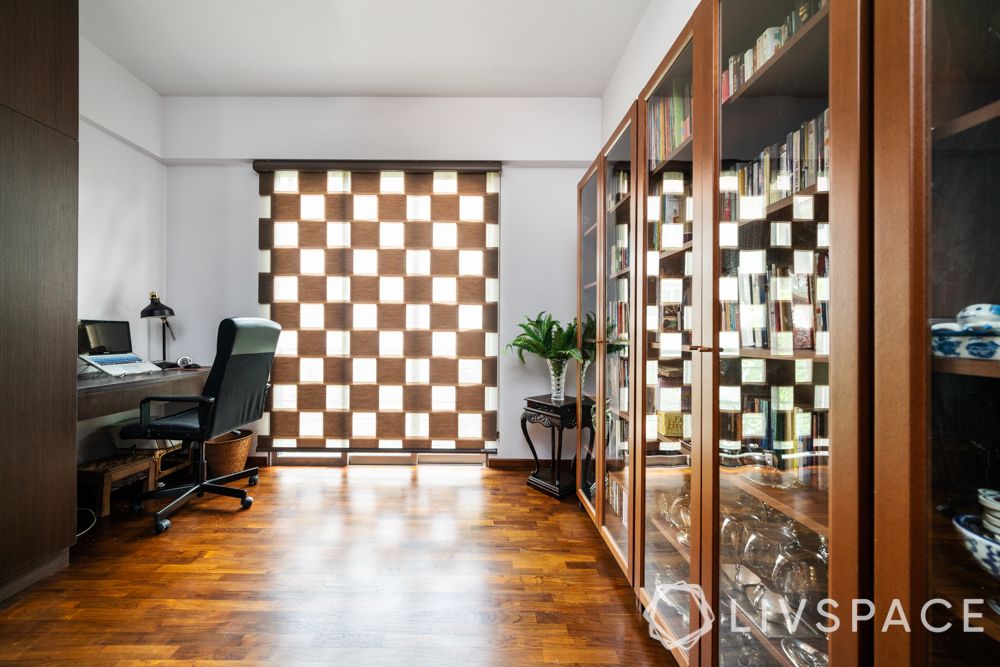 Before you finalise your office design in Singapore, there are some things that you should keep in mind. Make sure you factor in all of these things before you get to the actual work.
Location: Always consider the placement of your home office, especially when it comes to small office ideas where you do not have the liberty of space. Considering your daily engagements is also a good way to understand where your work from home table should be. For example, you may consider placing your work space near the baby's room if you are a working parent.
Assess the space required: Ideally, your home should have ample space to walk around or at least have a desk and a chair that can fit in comfortably.
Think about the light: One of the ideas is to make sure that the area receives ample natural light. This will help keep you focussed and keep the space positive.
Desk and chair selection: The desk and chair you choose are the keys to your physical health. Since you are going to spend hours together at this spot, you want to pick the most ergonomic furniture.
Storage requirements: Your home office ideas should not consider storage as an afterthought. Make sure there is some arrangement for basic storage since you will hate the sight of files and books lying around all the time. You will also need specific spots for placing your printers and other gadgets.
How to Make a Home Office Look Professional?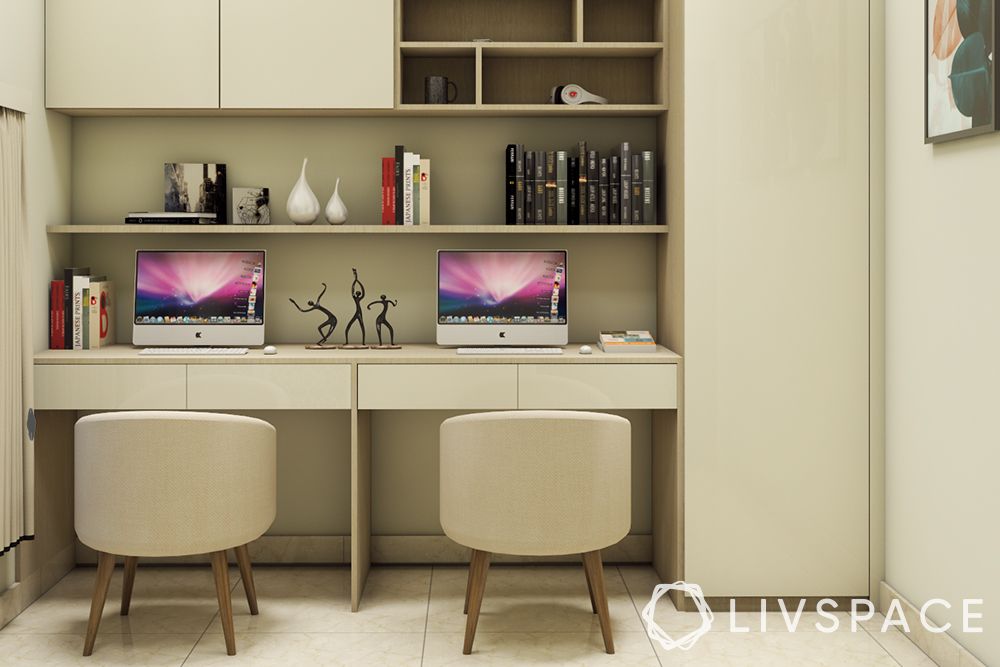 Since you will be taking official calls and video conferencing from your work from home table, we recommend these steps to keep it professional.
Keep your space as clutter-free as possible. If you are looking for small home office ideas, then we also recommend using light colours on the wall.
Just like meeting rooms, you can consider noticeboards to visualise your goals and achievements, and also keep track of your to-dos and deadlines.
Keep a provision for ample power points and hidden compartments to keep all the cables and wires concealed.
How Can Home Office Ideas in Singapore Make for Multi-Functional Spaces?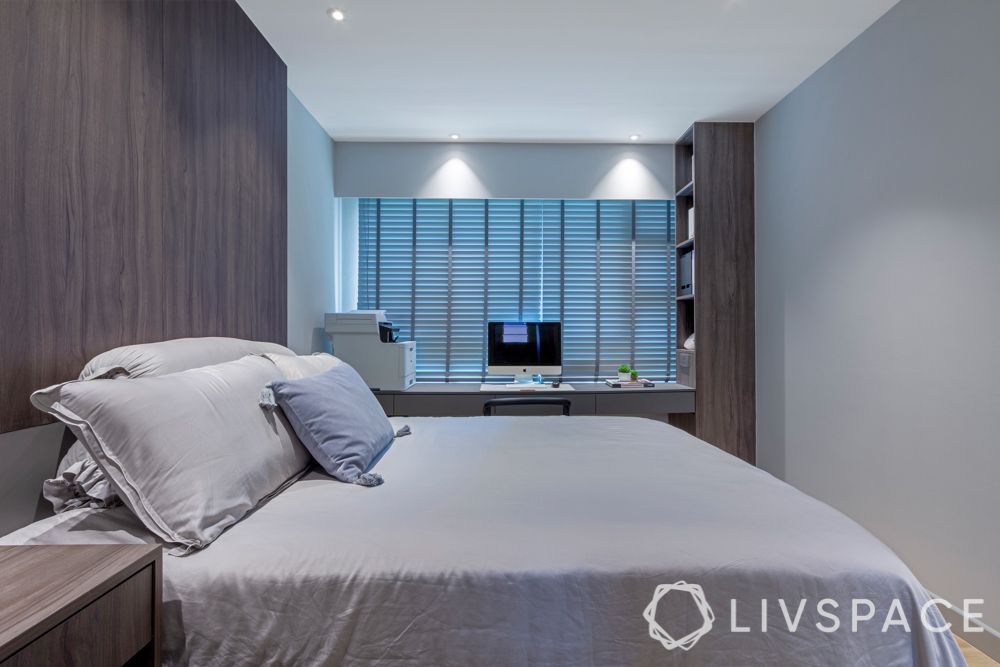 When it comes to home office ideas in Singapore, there is a demand for compact home office ideas as there exists an evident space crunch. In such cases, you can definitely create multi-functional spaces. For example, you can place a study table in your bedroom. If you are an individual with a room to yourself, then this idea will work perfectly well for you like this home. The bookshelf also gives you extra storage space.
How Can You Make This Space More Comfortable?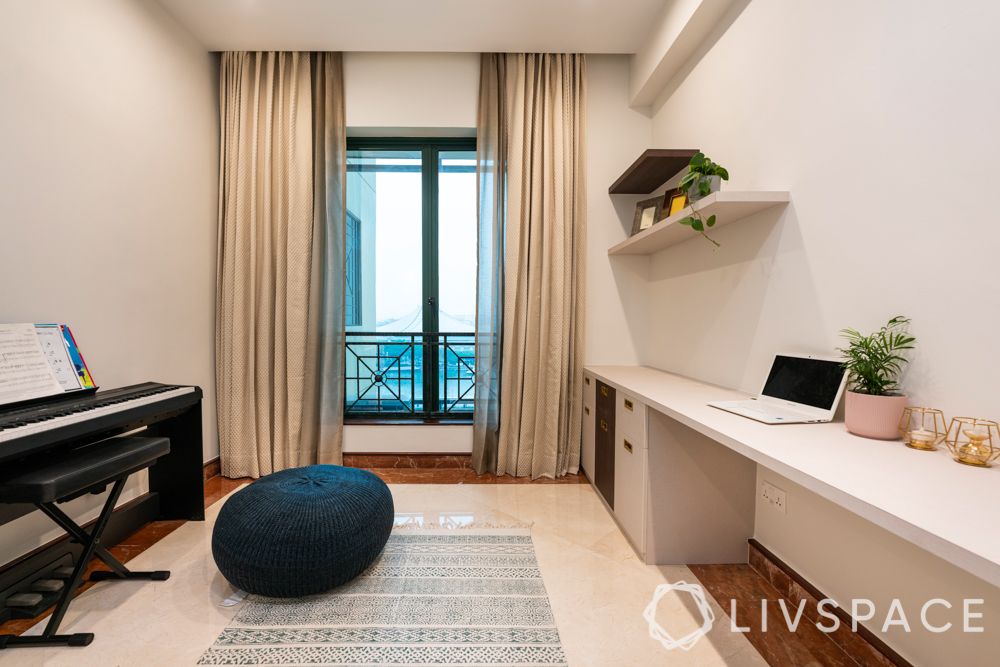 A home office shouldn't be all work and no play. To keep the space a bit relaxed, make sure to add comforting elements to it. For example, we added a rug and a pouffe here so the homeowner can stretch themselves whenever they take a break.
We also suggest turning this into your hobby-cum-study room so that you can take a quick break between work to play your favourite instrument.
What is the Right Type of Lighting for a Home Office?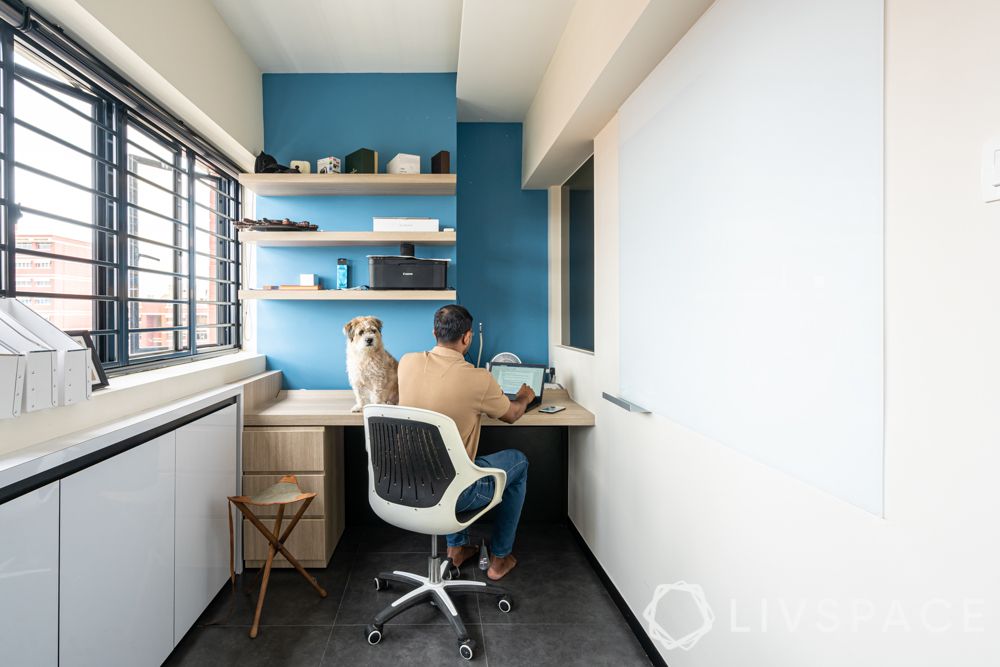 We suggest you let the natural light filter through. Natural light has a positive impact on your mood, and especially on your eyes. It helps minimise the stress on your eyes while reading or writing. If you have a window in your room or dorm, try to position your desk near it. We recommend LED lights for the desk too, just in case you're working till dark. Here are different types of lighting options you can explore for your home office.
How Can You Personalise Office Space?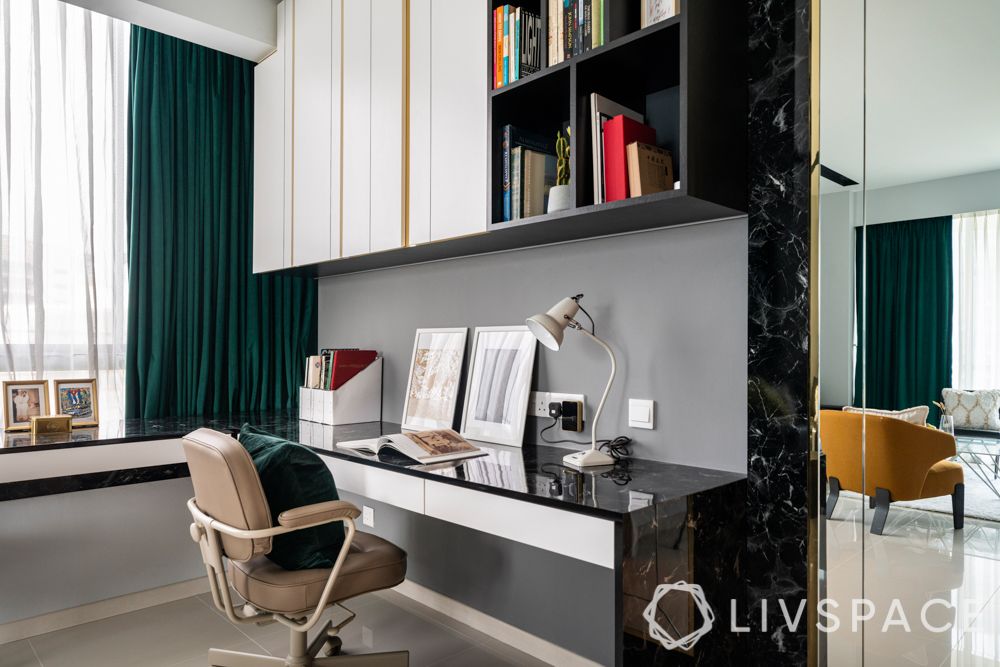 Your office needs to feel your own. Place photographs or add little curios from your latest travel destinations. You can also throw in some cushions and rugs in your favourite colour to add some character to neutral home office spaces. If you want zen vibes, do not hesitate to put Himalayan salt lamps. They help you relax too!
If you liked these home office setup ideas, then check How to Optimise Space for Your Study Rooms.Send in your thoughts and suggestions at editor.sg@livspace.com.
How Can Livspace Help You?
If you want your upcoming home to be just as beautiful, then look no further. Book an online consultation with Livspace today. Meeting Your Interior Designer for the First Time? Here are some pointers to get you started!