With Covid-19 restrictions being set in place yet again, most of us have started working from home once more. This means getting work done and being productive from the comfort of home again. While most of you might have a home office setup by now, for some others, this might be the right time. While getting an elaborate one might seem difficult, here are some home office ideas that are budget-friendly. You can make slight changes to your existing home office as well, to give it a breath of fresh air. Let's kick off with some inspiring home offices that we've designed so far.
#1: Utility area converted into a study
This is one of our favourite home office ideas for the sheer thought that lies behind it. When you do not have an entire room to spare, you can section out a part of it and dedicate it to your work zone. Our designer carved out a study nook from the open space and separated it from the utility area by adding a sliding wooden door.
Design takeaway: To cut down on the cost of designing, you can opt for a cost-effective wall display unit like this one. It comes with a built-in lamp and has ample shelves that can hold all your books and files.
Read more about this home here: Here are the Best Design Features of This 3-room Condo
#2: A makeshift workstation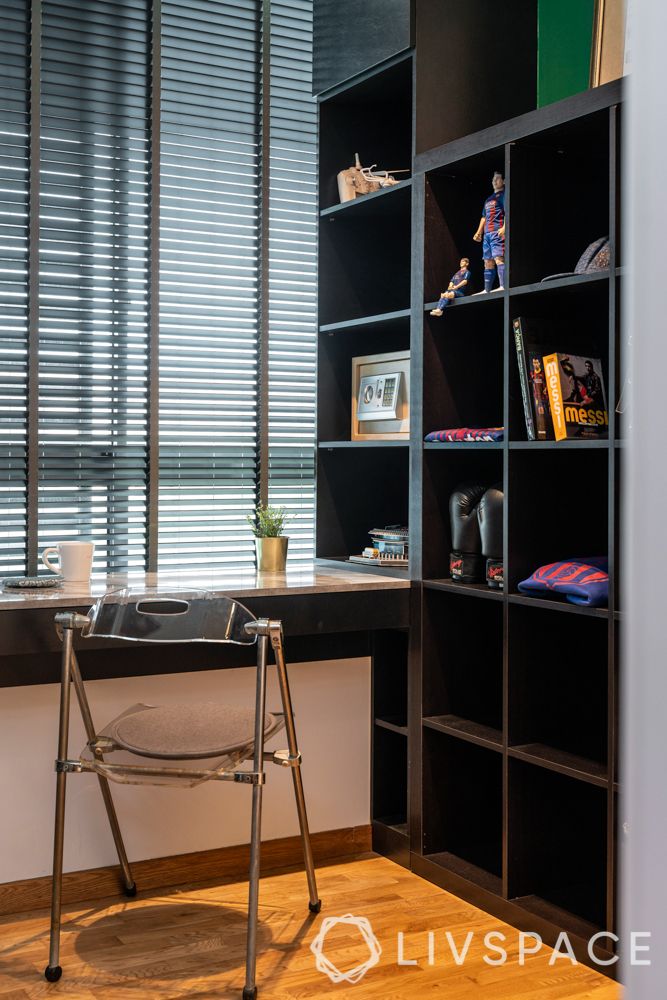 This space-saving home office has been designed as a part of the common bedroom. If you are someone who has a lot of quirky collectibles and no place to keep them, you will love this idea. This wall-mounted desk has a wall display unit right next to it, where you can keep all your work essentials and collectibles. An almost ghost chair is placed here so that this corner does not look too heavy.
Design takeaway: Since this home office is a part of a bedroom, you will need to cut out light at night. Therefore, instead of curtains, it is a good idea to opt for Venetian blinds that look clean in a space like this.
Here's where you can read more: How to Design a Luxurious Home That's Also Storage-friendly?
#3: Custom home office for a couple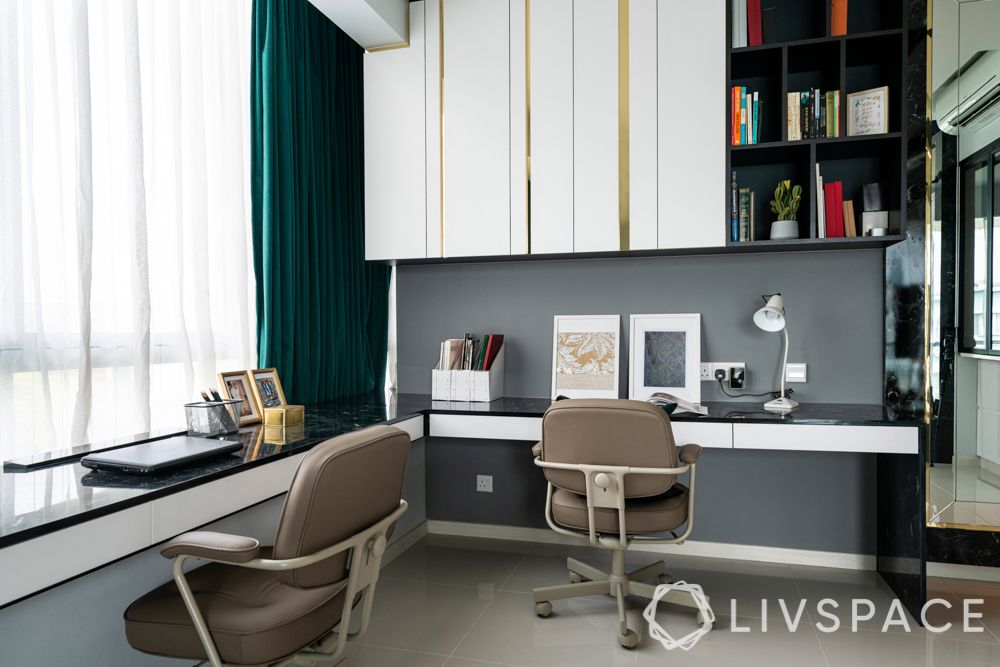 This is one of the best home office ideas for couples working from home. This smart design is ideal for two people and allows for maximum utilisation of space. An L-shaped study table design with twin upholstered chairs and ample workspace makes this home office a winner.
Design takeaway: A tall wall cabinet-cum-display unit on one side is a great way to add storage. The other side allows natural light to flow in, keeping this corner well lit.
#4: An open concept workstation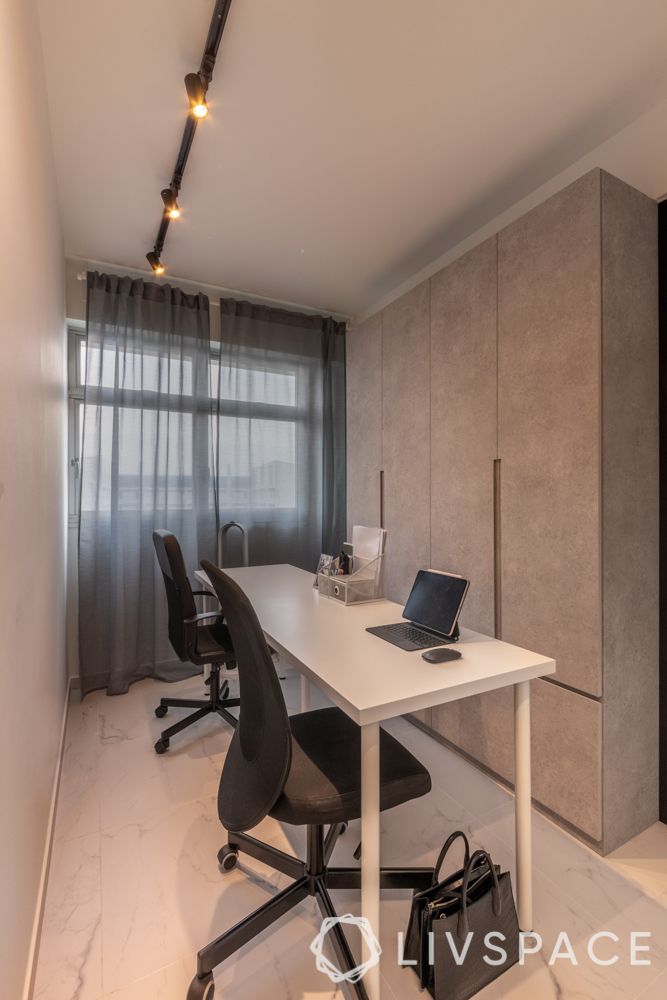 We hacked the common bedroom and turned it into a workspace with plenty of storage space and natural light. It's a unique open concept work zone that is both functional and compact. So if you don't like working in closed spaces, this one's for you.
Design takeaway: Make sure your desk and chairs are sleek so that the open space does not look cluttered. You can pick a simple study table from IKEA for a home office like this.
Check out this HDB here: From Clutter and Colour to Clean and Minimal: A HDB Renovation
#5: A simple setup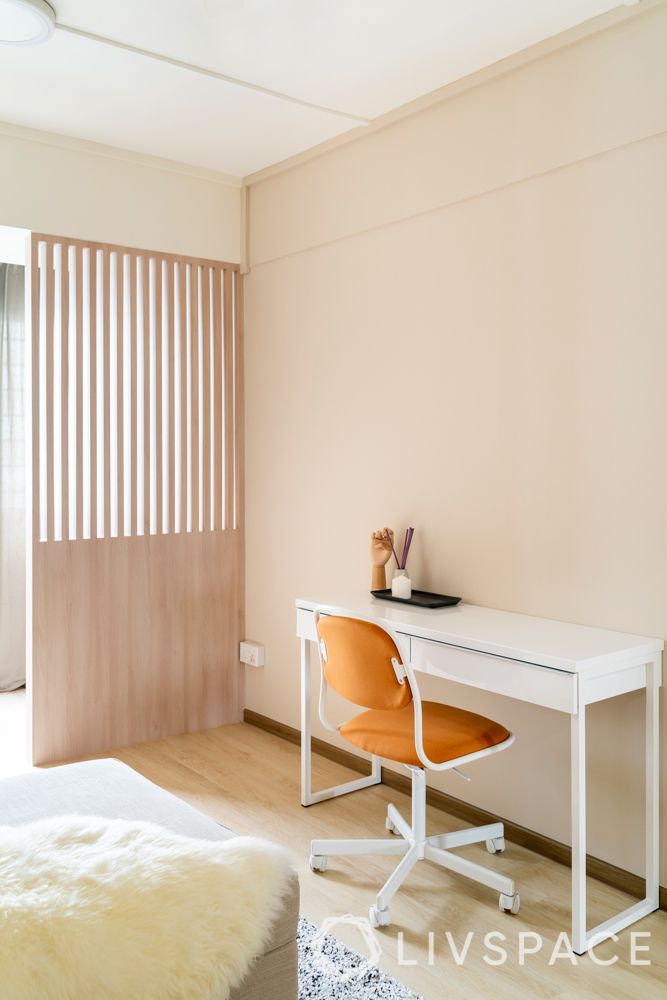 This is one of the best and simple home office ideas where our designer has utilised one of the walls to place a study table. If you're setting up your home office right now, then this can be your saviour. Make sure you take a comfortable chair to work with ease.
Design takeaway: When choosing furniture for your home office, try to add an element of colour. It can be the upholstery of your chair like this one or something as simple as an accessory.
Take a look at this condo: Check Out the Stunning Renovation for This 43-Year-Old Resale Flat
Tips to set up the perfect budget-friendly home office
#1: Choose soothing colours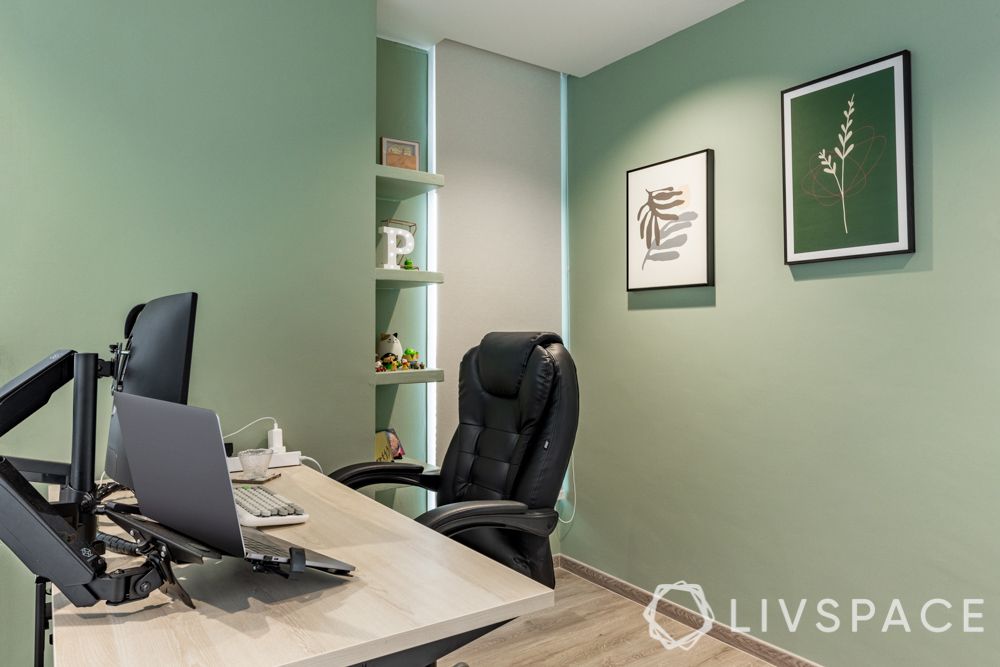 The easiest way to refresh your home office is to add a lick of paint to the walls. It will instantly transform the look and make your room look as new as a fiddle. Not only is this a simple trick but can also prove to be your weekend project. Pick a soothing colour like blue, green or baby pink that will help you lighten your mood and concentrate better.
#2: Task lighting is a must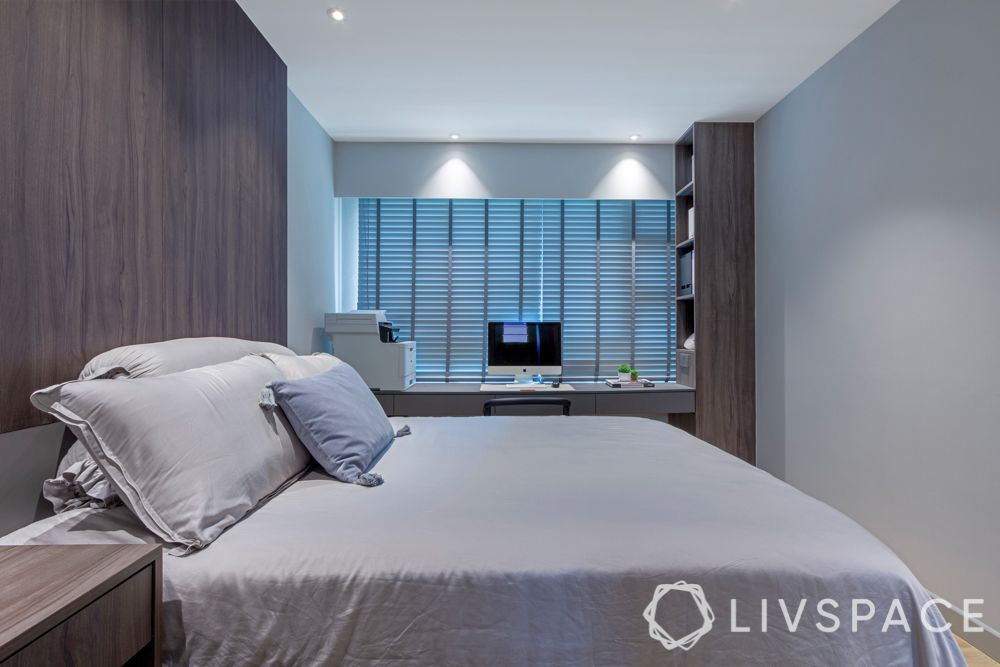 Lighting plays an important role in your home office and you will have to pick them carefully. While ambient lighting is essential to illuminate the room in general, task lights are your best bet. You cannot go wrong with a couple of downlights, track lights and a desk lamp. Make sure they cast sufficient light on your workstation so you do not strain your eyes.
#3: Furniture should be functional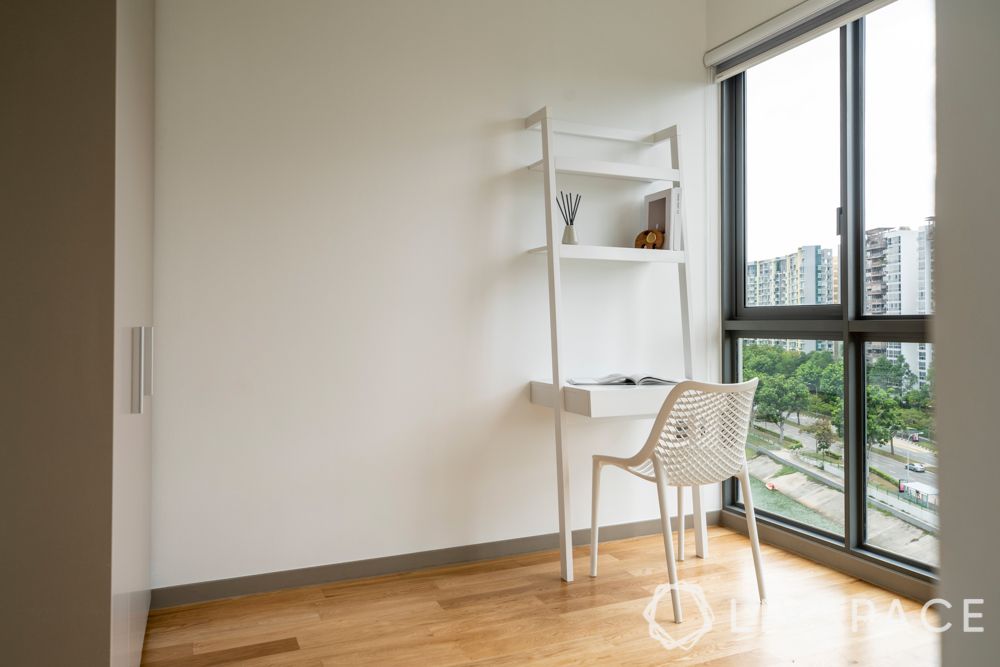 If you are planning to set up a budget-friendly and minimal home office, we suggest you pick your furniture from IKEA. They have a great collection of simple office furniture that will fit into any space. For starters, get your hands on a sleek desk and a matching chair. You can always add to it as you deem fit.
#4: Accessories and decor matter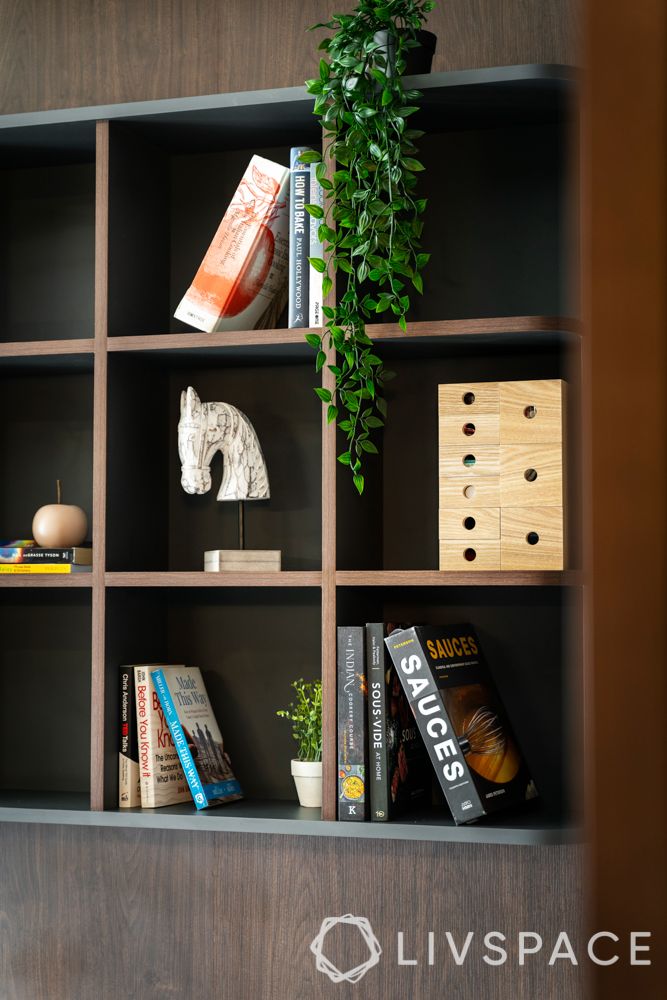 Even if you're working on a tight budget, you have to invest in a bit of decoration. Believe it or not, it will help you keep focussed and brighten up your day. Choose from decorative bookends and desk plants to add character to your home office. We are sure you will not regret it. You can pick these online or from thrift shops.
Here are some Feng Shui tips to set up your home office
Whether you follow Feng Shui or not, it is easy to incorporate a few of these tips into your home office. After all, a little luck and goodness never hurt anyone.
Set your table in a strong, commanding position. This could mean having a solid wall behind it. It will keep your focussed, according to Feng Shui
Try not to position your desk under ceiling beams, fans, or near protruding wall edges
Do not clutter your work desk with unnecessary objects
Feng Shui suggests you have good air circulation in your home office since it increases productivity
Avoid placing your home office in the basement
Best budget-friendly study desks from IKEA under S$90
#1: Brusali study desk
A great study desk from the house of IKEA, this one is perfect for people looking for some open storage and ample workspace. You can collect cables and extension leads on the shelf under the tabletop so they're hidden but still close at hand. A great feature of this table is that you can fit a computer in the cabinet, since the shelves are adjustable. Priced at $89, this is a steal!
Buy it here.
#2: Fjallbo laptop table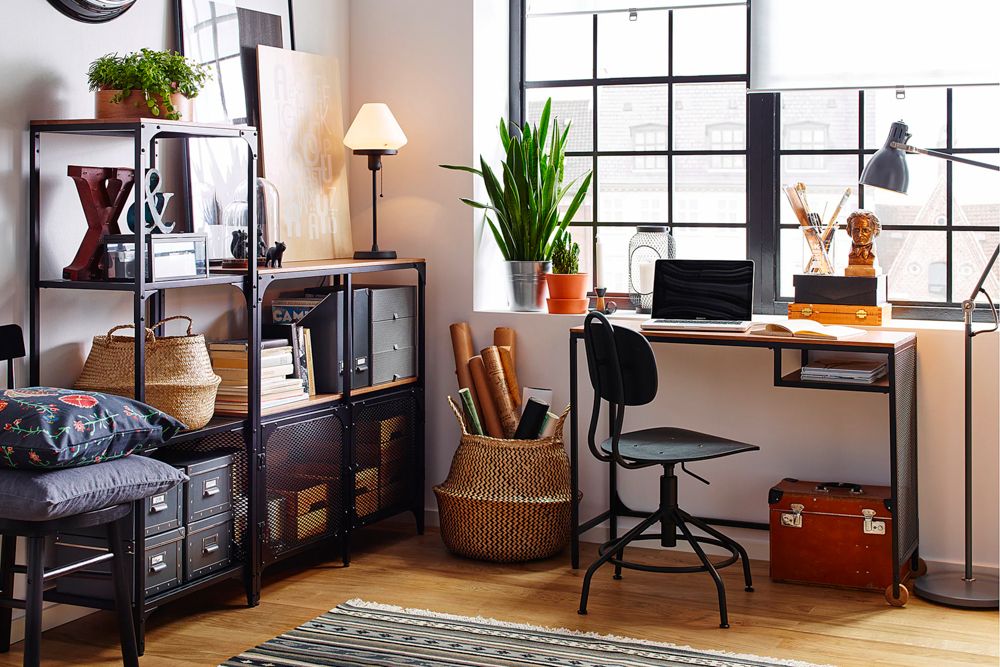 For those who are looking for a tiny desk with minimal storage space, this desk from IKEA is the ideal choice. With this rustic desk of metal and solid wood, you get a flexible and functional workspace that fits in a small space. Adjustable feet make the table stand steady also on uneven floors.
Buy it here.
#3: Micke study desk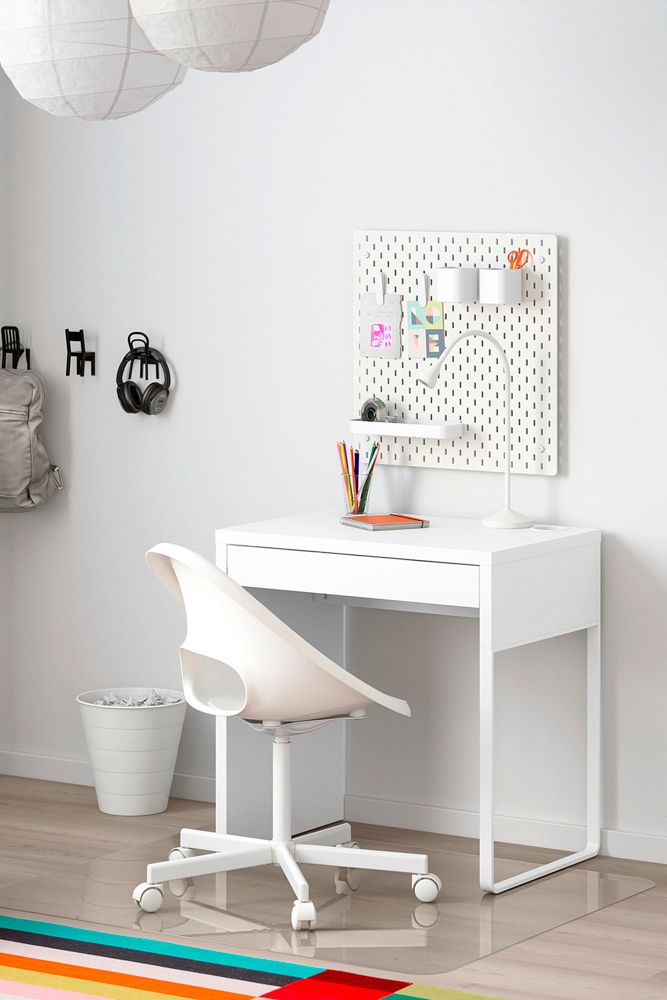 If you're looking for a desk that fits into the tiniest of corners, this one is just for you. You can combine it with other desks or drawer units in the Micke series by IKEA to extend your workspace. The clever design at the back hides messy cables. You can pick this up for just $89!
Buy it here.
We hope you are equipped with the right ideas to set up your home office now. You can also check this out for more: The A-Z of Home Offices and How to Make it Comfortable.
We would love to hear from you! Write to us at editor.sg@livspace.com.