This 1 bedroom condo is sure to give you some ideas on how you can add storage and still make your home look clean.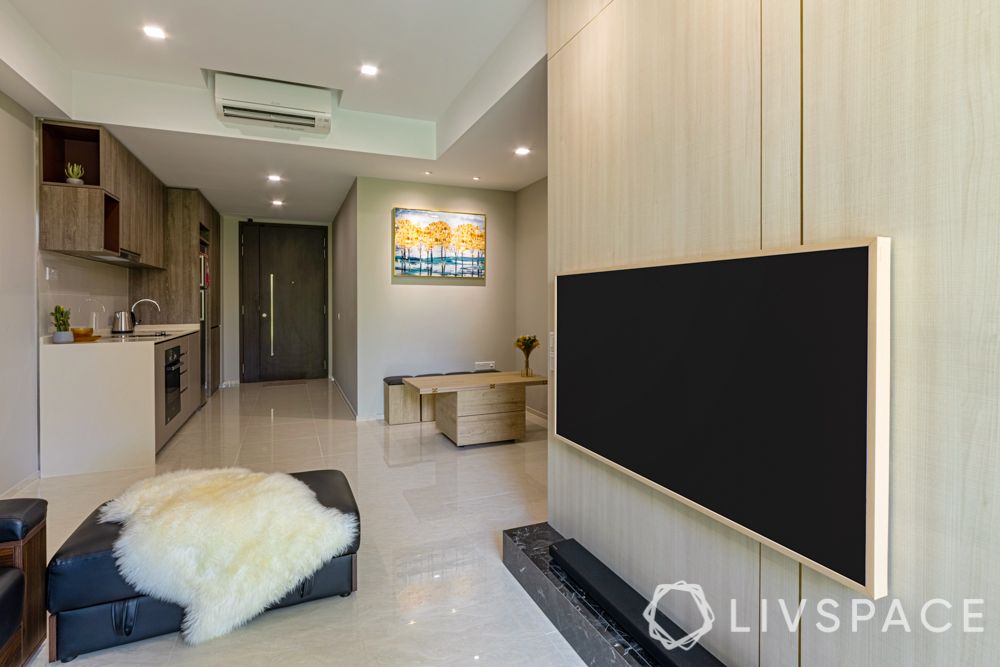 ---
Who livs here: Daniel and Katherine Tran
Location: 19 Forest Woods
Type of home: 1 room condo
Livspace team: Interior Designer Mizan Arsad and Project Managers Terence & Fione
Livspace service: Design, electrical, ceiling, carpentry, painting
Budget: $$$$$
---
There are pros and cons of being the first ones to obtain the keys to your condo and for Katherine and Daniel it was no different. While it is amazing that they could move into their brand new 1 bedroom condo at the earliest, they had to endure and live through the dust and noise of neighbors' renovation. But that apart, they were very excited about renovating their home and personalise it according to their lifestyle. Their designer, Mizan Arsad, made sure he optimised available space and made it as functional and pretty as possible.
Check it out and borrow some ideas for yours!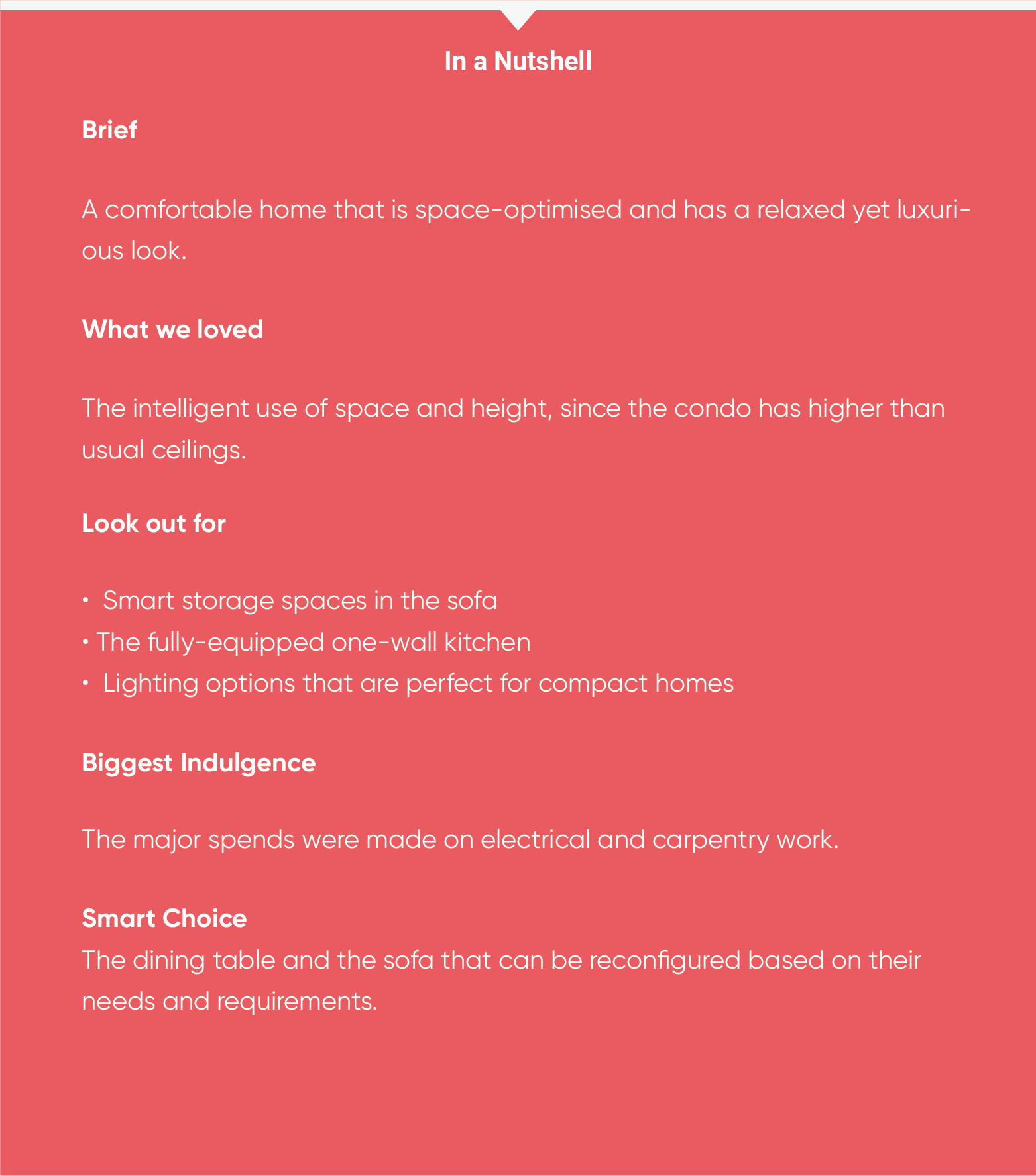 A unique home that opens up to the kitchen on one side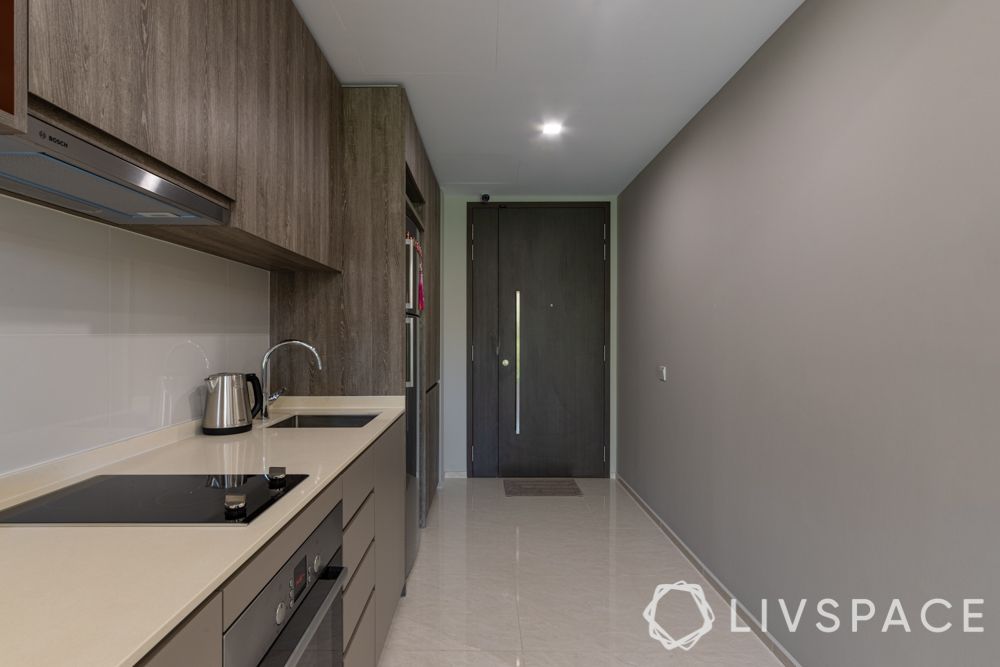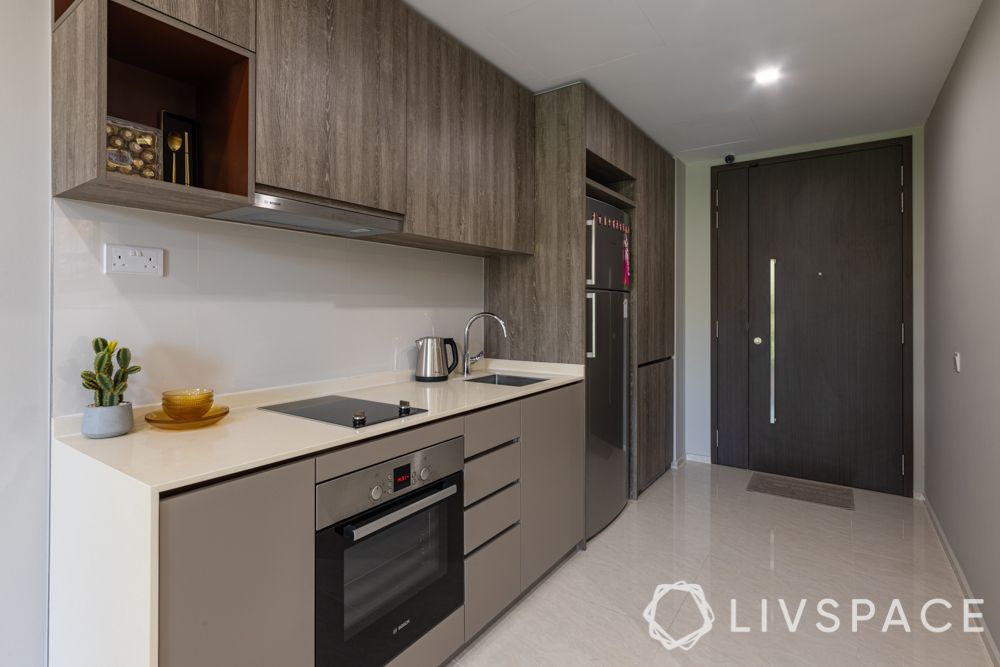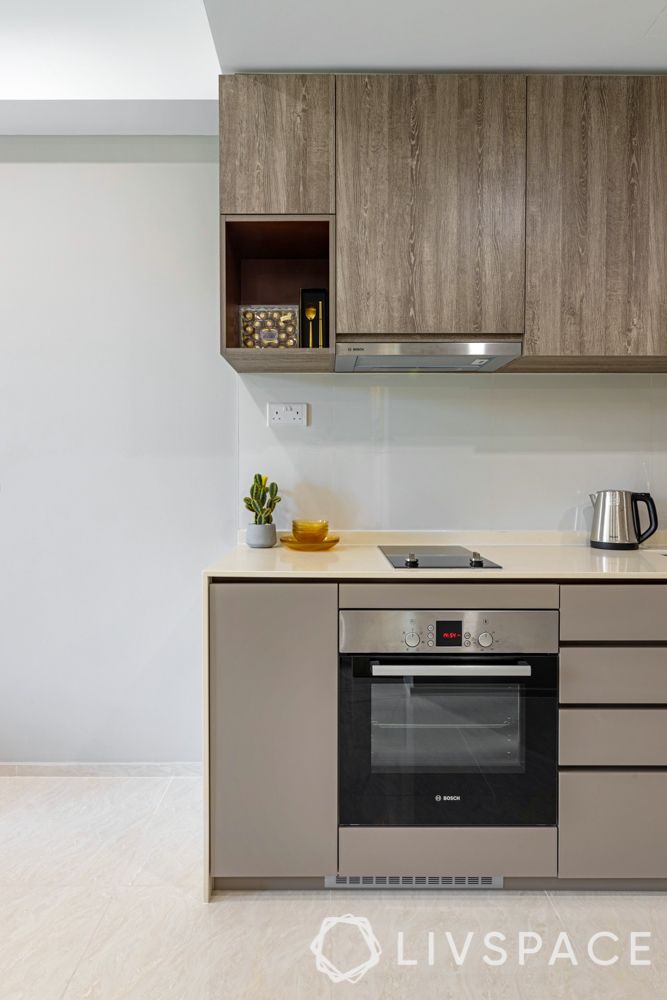 At first you might find it strange, but a straight kitchen can be incorporated on any wall and for this 1 bedroom condo, this space seemed appropriate. Naturally, since this is the first thing you see when you enter the house, Mizan has to keep it neutral. Therefore, you will spot lots of laminate and subtle grey colours here. Equipped with built-in appliances and handleless cabinetry, this kitchen is perfect for a modern couple.
A befitting dining space for two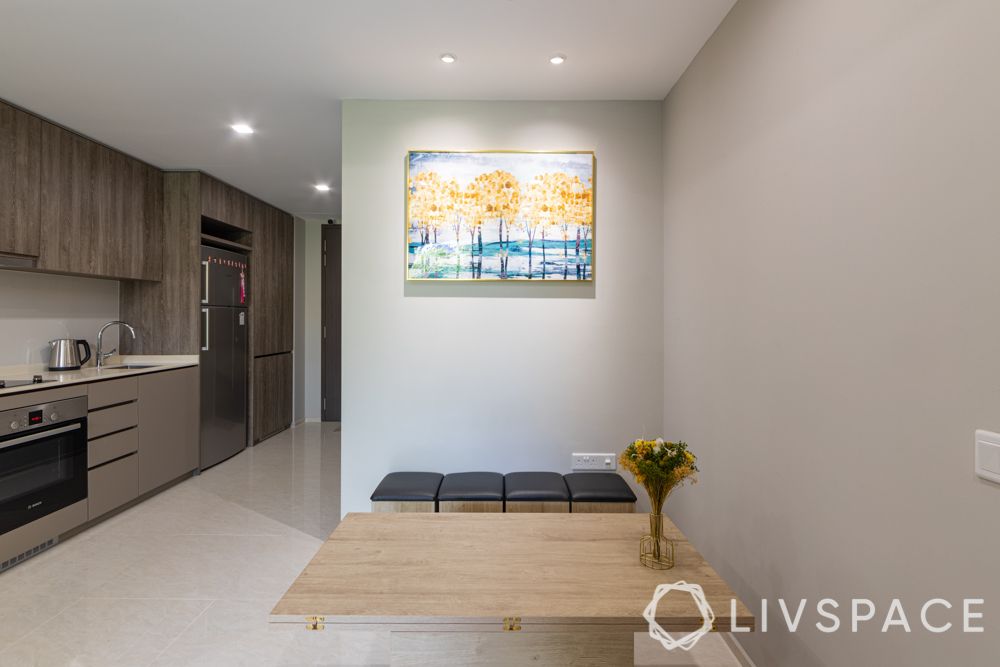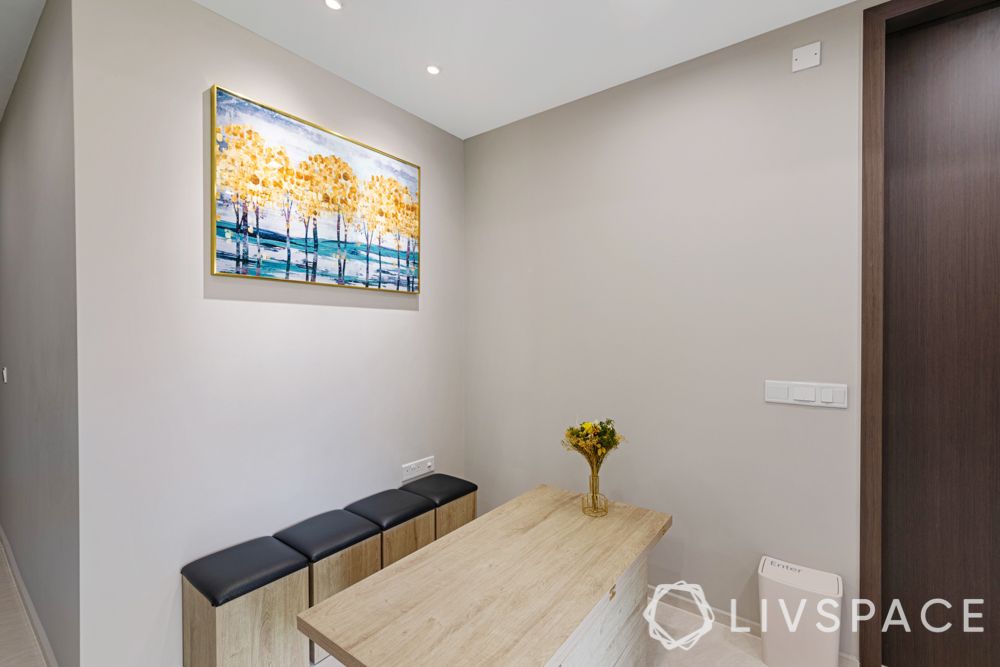 When it comes to compact spaces, the trick lies in making the most of available space rather than cutting corners. So instead of not having a dining space, the couple decided to utilise a corner to have theirs. A trunk-style dining table is a clever way of adding concealed storage. To add some character to this space, they have hung up a wall painting with focus lights directing towards it.
"Our experience with Livspace has been very pleasant. Mizan is very patient and understands the criticality of having bust schedules. We met him during covid period, so we understand the difficulty of arranging manpower due to having to go through covid examination especially when Malaysia experienced a second lockdown. He delivered perfectly and we love the way our home looks now."

Katherine and Daniel

Livspace Homeowners
Living rooms this cozy are love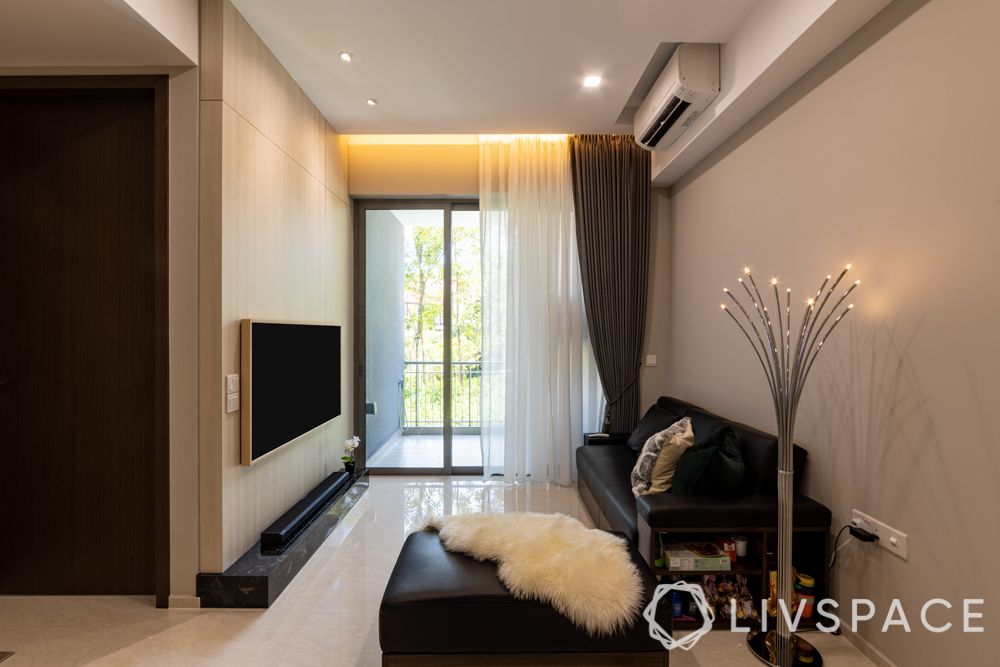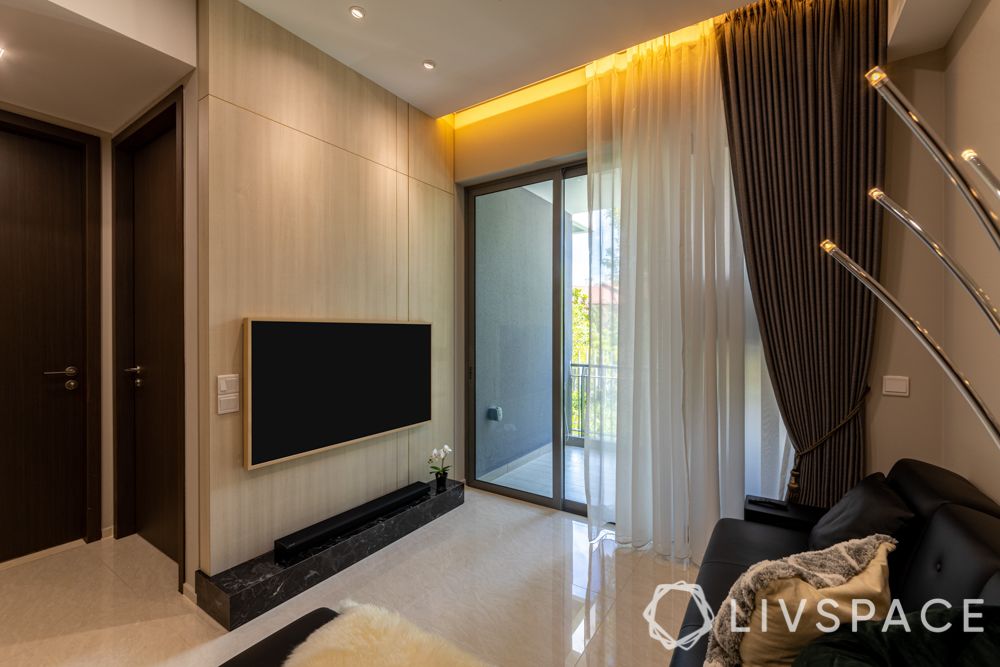 Due to space constraints, Mizan had to really think through the design of the console and keep it as sleek as possible. He tailored the size of this stone-style console such that it fits in perfectly and does not look like a typical TV unit. As for the feature wall, due to the short width of the wall and tall ceiling, we introduced brass inlays to break up the bulkiness of the wall. The couple loves spending time here, on the comfy couch with a great view of the outside.
Boho vibes in the bedroom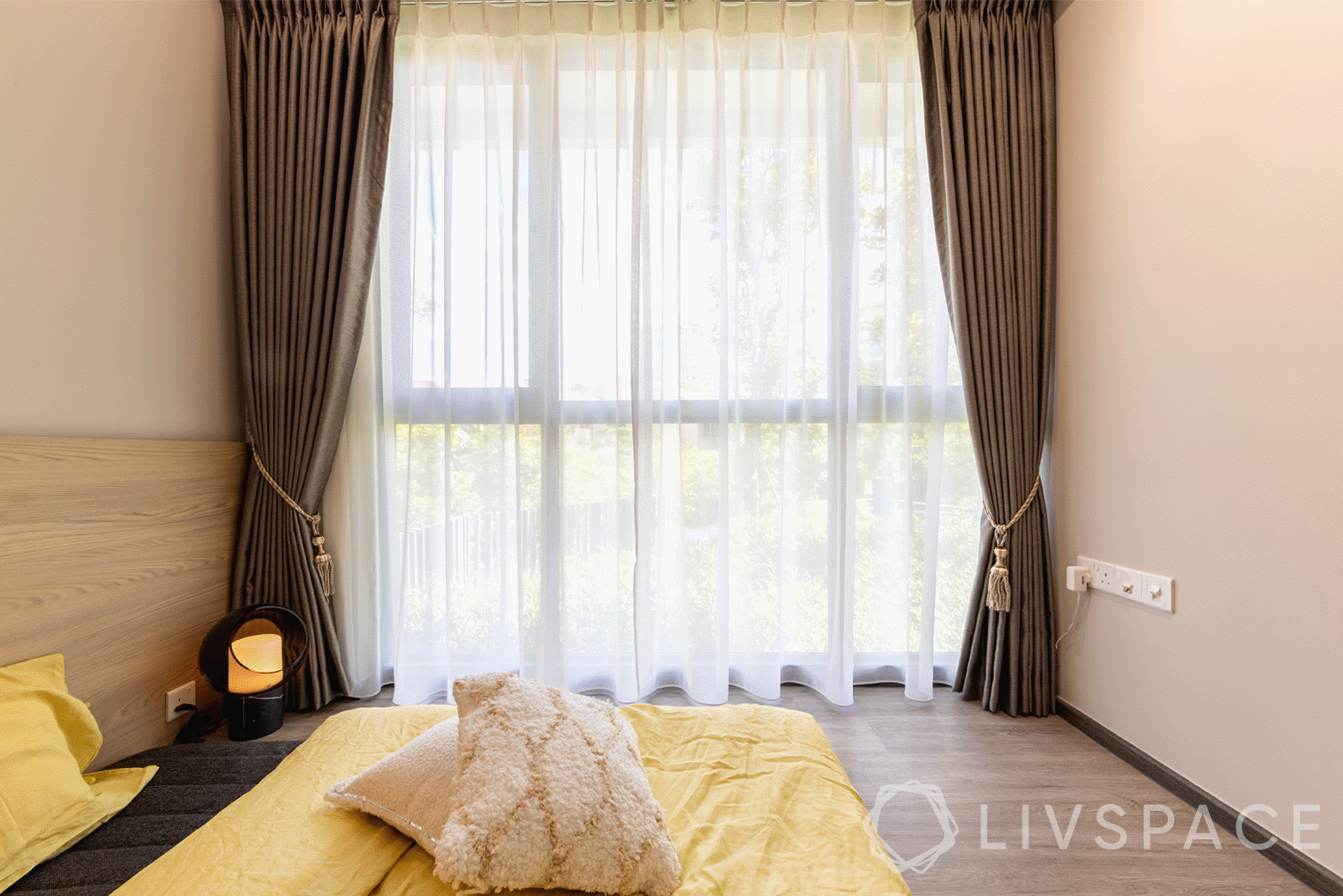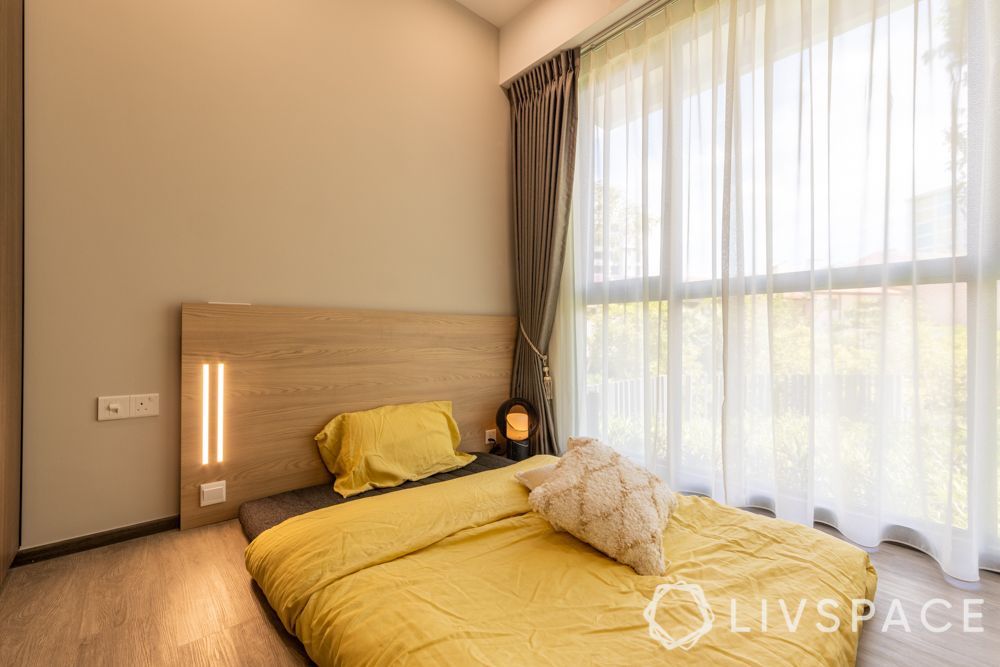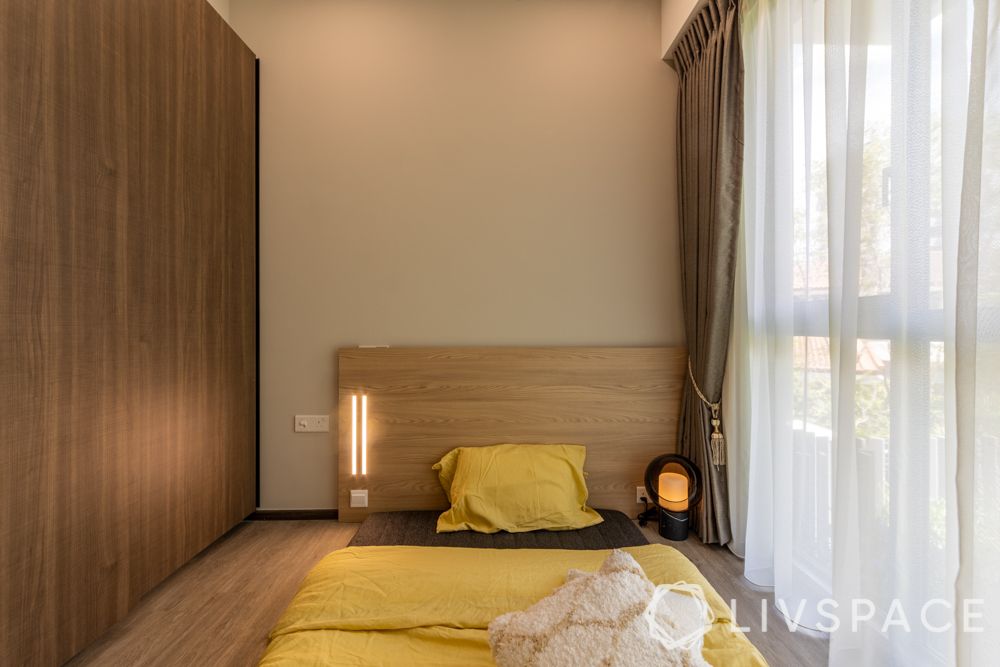 For the bedroom, the couple got a modular sofa which converts into a mattress but it looked out of place in the small but tall room. Therefore, we introduced a bedhead to manage the proportions of the room and also serve as a backing for the sofa-cum-mattress. This bedhead also allows for mood lighting to be introduced, which the couple really wanted. Taking care of storage is the sliding door laminate wardrobe next to it.
A tiny but functional bathroom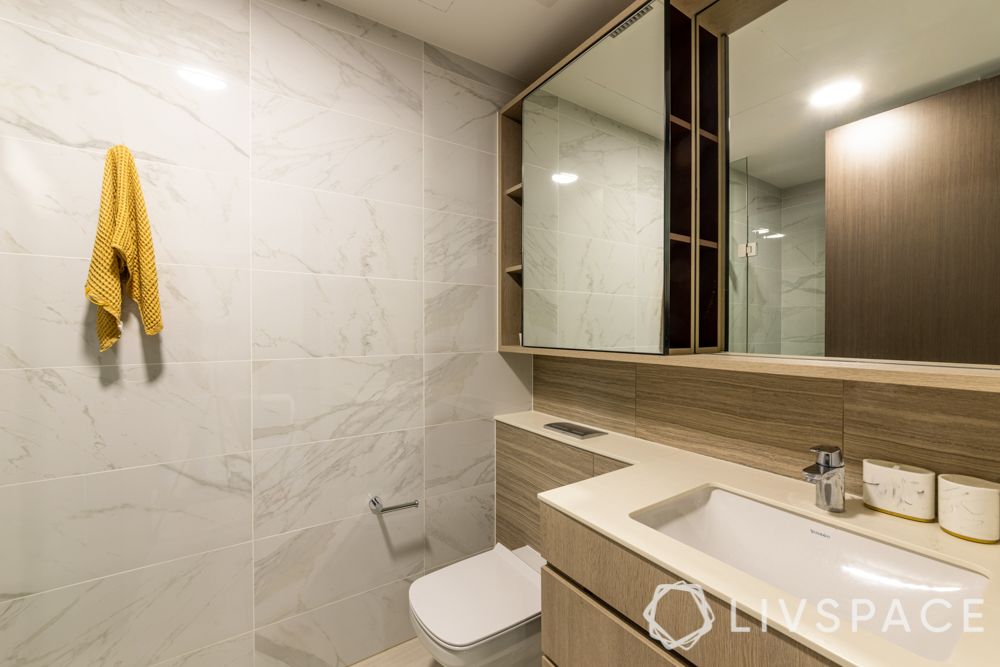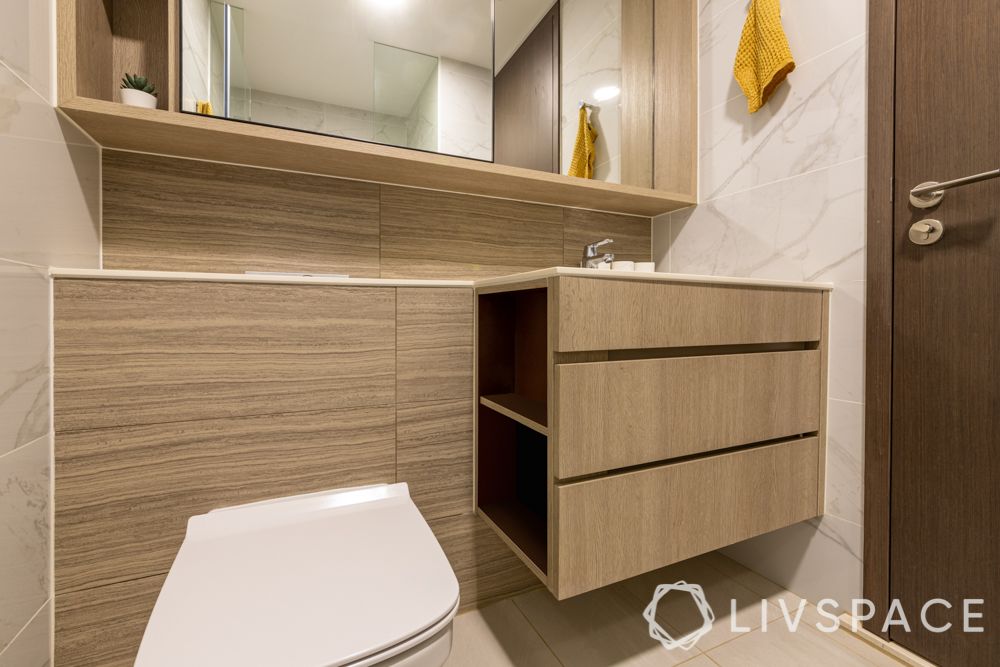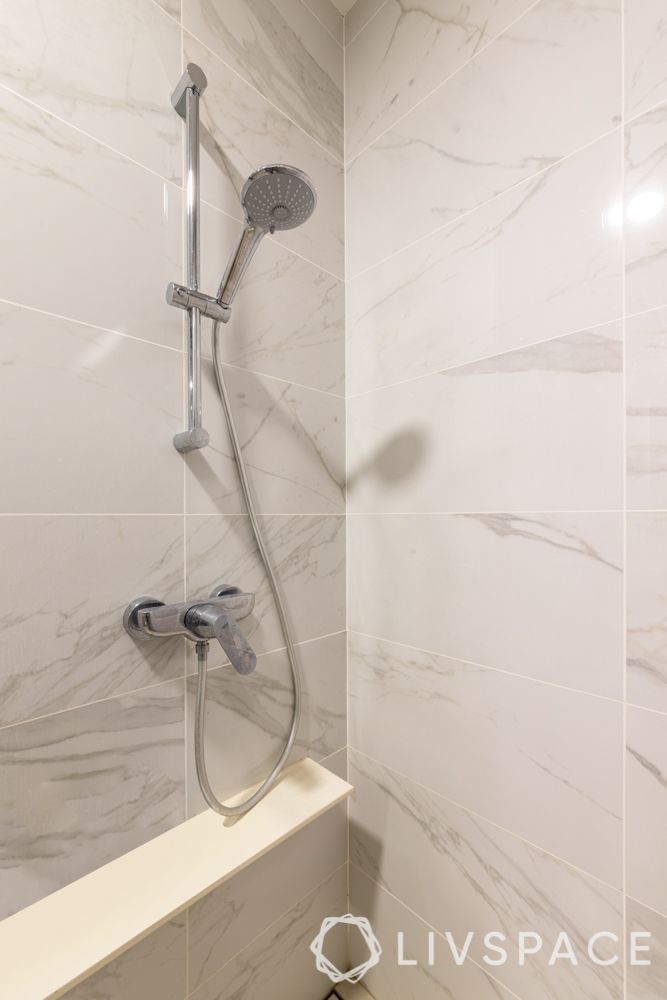 The bathroom in this 1 bedroom condo is a perfect example of how one can make a compact space work harder. With hidden storage behind the vanity mirror and niche storage on the side, this bathroom has no dearth of storage space. It's minimal, sleek and functional!
"This condo, despite its smaller footprint, is able to adapt to the client's needs, thanks to smart furniture purchases and non-conventional approach to spaces. It was a unique experience working on this one and I am very satisfied with the outcome."

Mizan Arsad

Interior Designer, Livspace
Loved this condo? Also check out Our Favourite Condos and Ideas From Each That You Must Borrow!
Tour this resort-style condo design:
We would love to hear from you! Write to us at editor.sg@livspace.com.