Looking to kick back with a bottle of wine at the end of a busy day? Maybe catch up on a little bit of reading or treating yourself to a refreshing swim. We bet you're thinking of your resort visit on the next getaway. But what if you can bring that resort lifestyle in the comforts of your home? Hello, we are Livspace and let us show you how we turned a 2-room home into a resort style condo.
Livspace Designers Songhao Chua and Jewel Lim were able to deliver these aesthetics while optimising space. Our Design Expert Nive will take you through a virtual tour of this condo renovation. Located in 25 Terrasse Ln, this resort style home lets the homeowner unwind easily. Watch the video below!
#1: Stick To Neutral, Muted Tones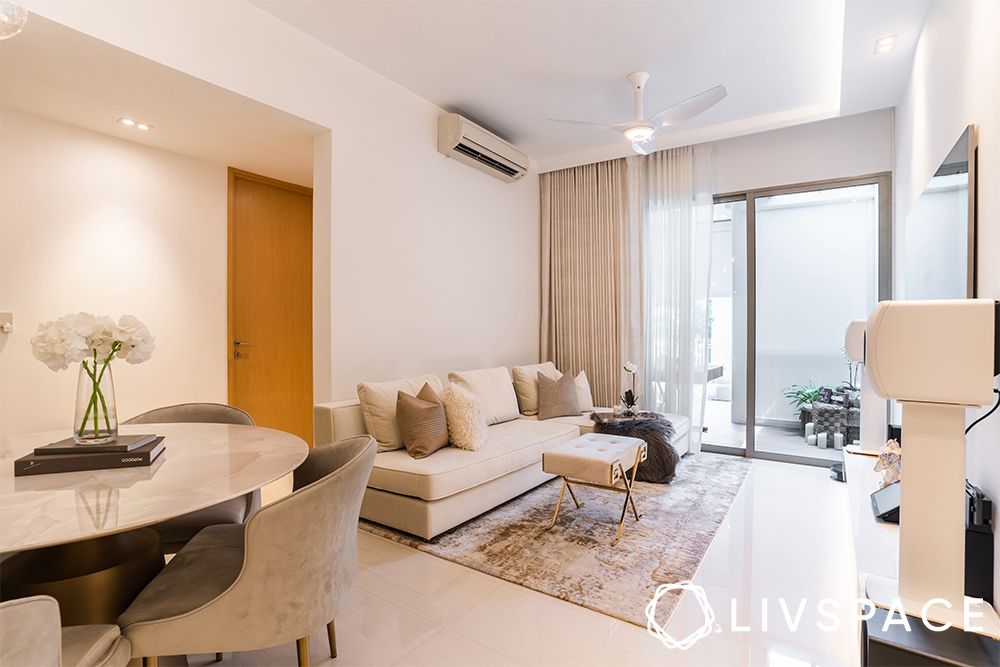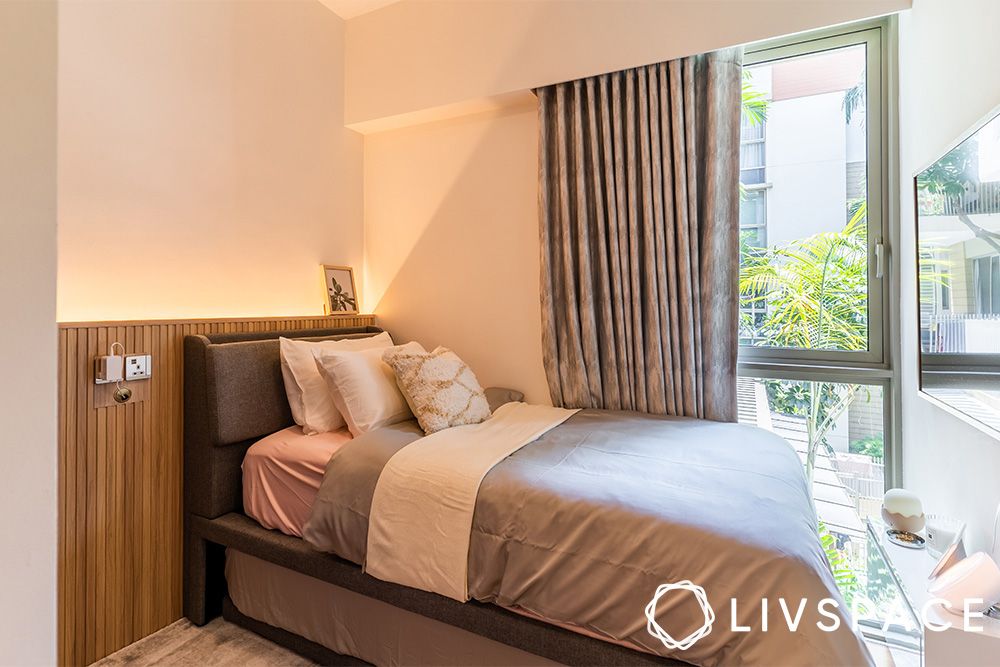 Resorts use colour, sounds and the presence of nature to rejuvenate guests. To capture the same vibe, this resort style condo design is washed with muted beiges, pastels and off-greys. The colour palette exudes a sense of familiarity and tranquility.
Of course, to avoid dullness, we have added metallic accents into the interiors. Designers Songhao Chua and Jewel Lim were also able to subtly introduce the accents without overpowering the neutral colour scheme of the home. As you can see, the finished look of this resort style interior design exudes a warm, yet plush vibe.
#2: Make a Relaxing Spot With Greenery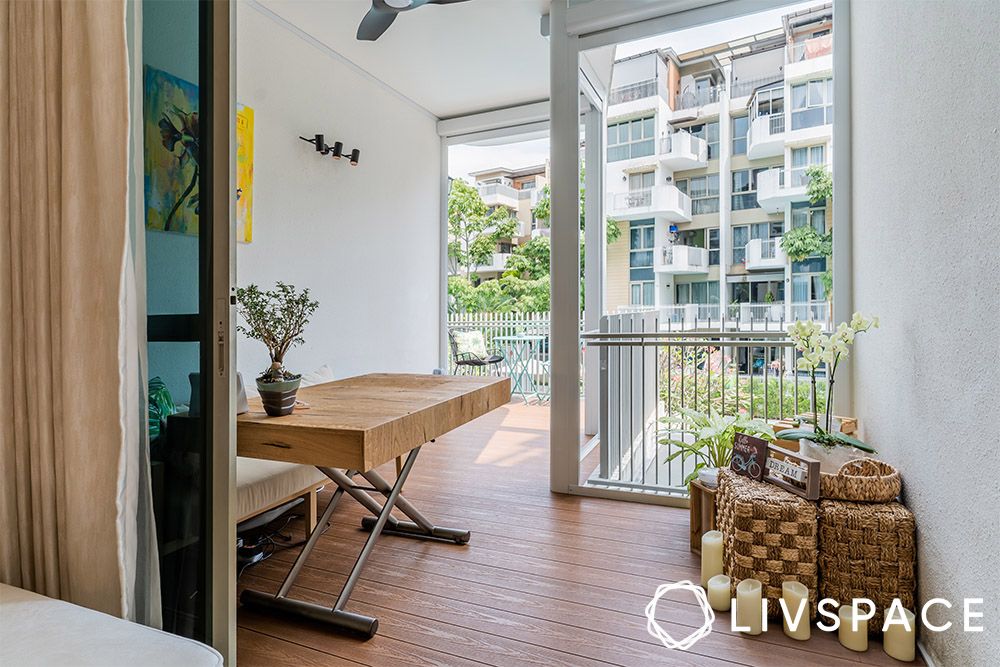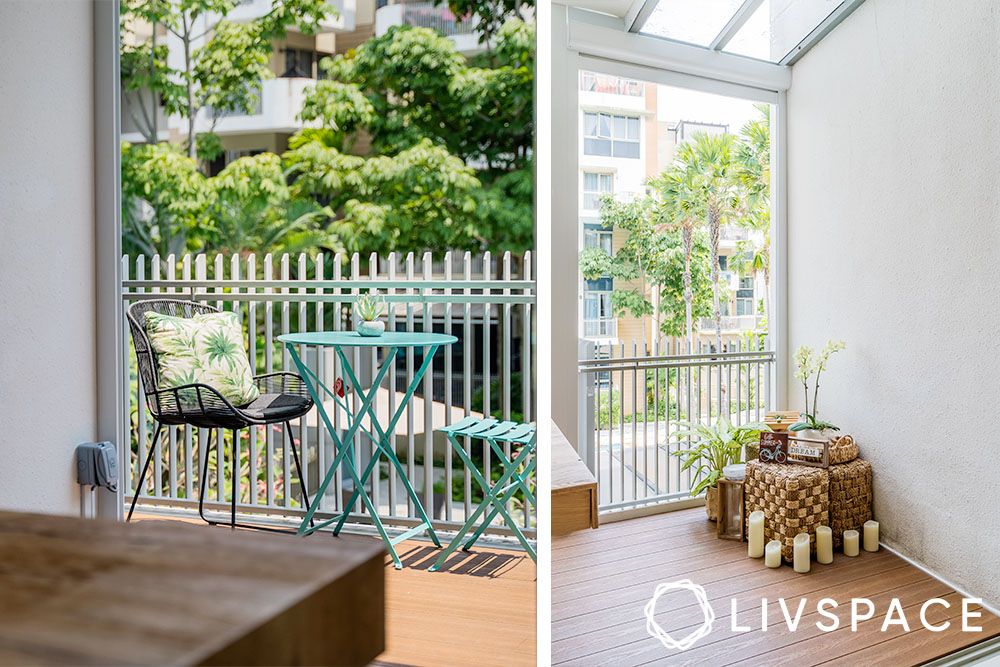 One of the best parts of a resort holiday is the chance to feel closer to nature. In keeping with this theme, this resort style condo in Kovan has an impressive balcony that effectively merges the outdoors with the indoors.
Neatly accessorised with scented candles, cosy seating and plenty of a deluge of natural light, this balcony is the homeowner's favourite spot in the home. And Livspace definitely has their hand in making it for her. Designers Songhao Chua and Jewel Lim also introduced modern blinds in the balcony so it can be a multipurpose space.
#3: Keep Wooden Elements For a Rustic Touch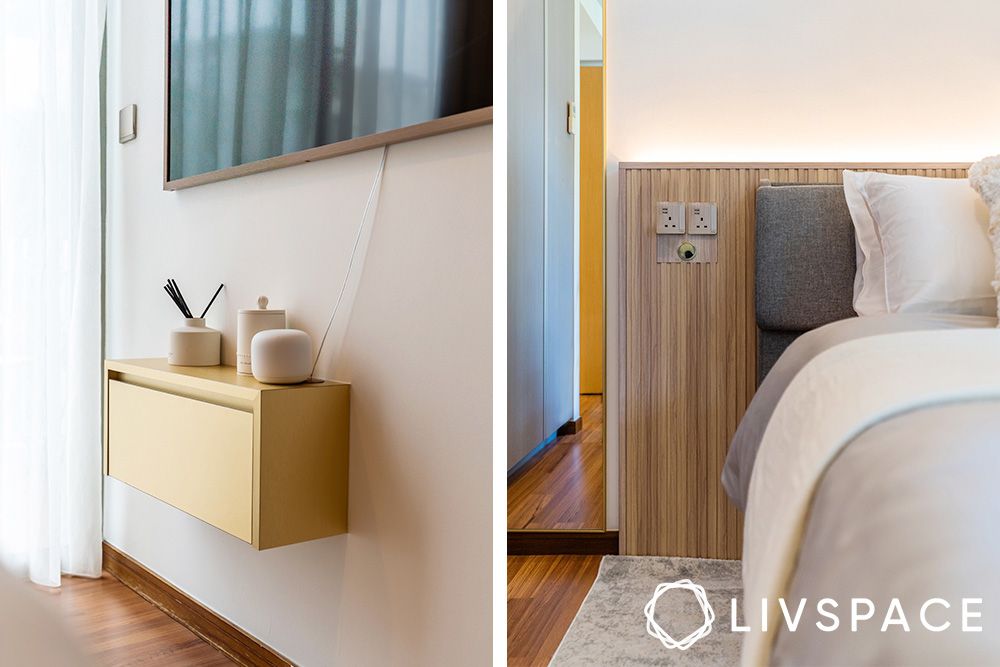 Natural elements define this resort style room. Wooden finishes define the rustic finish of this resort style home design. While neutrals with hints of metallic hues rule the kitchen and the formal space, the bedrooms and bathroom have a more intimate touch because of these wooden details.
However, understanding the space constraints, the designers have stuck to minimalist and sleek designs for the wooden elements. For example, the storage unit under the TV in the bedroom is a floating unit with a sliding panel. Similarly, we see the wooden countertop for the sink; another structure with a sleek finish.
#4: Use Features and Textures To Imitate The Plush Resort Look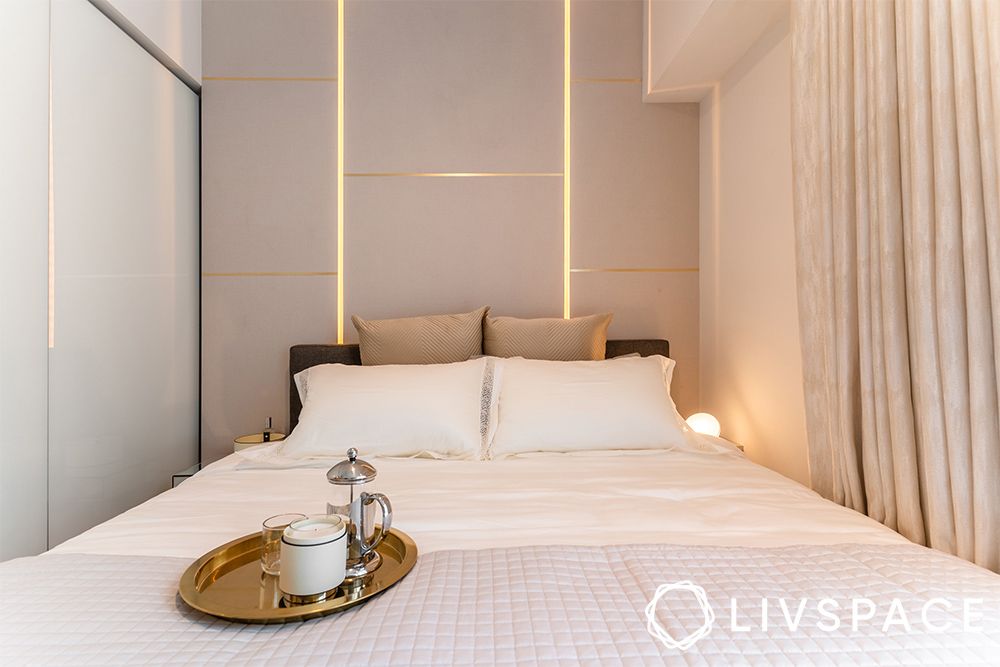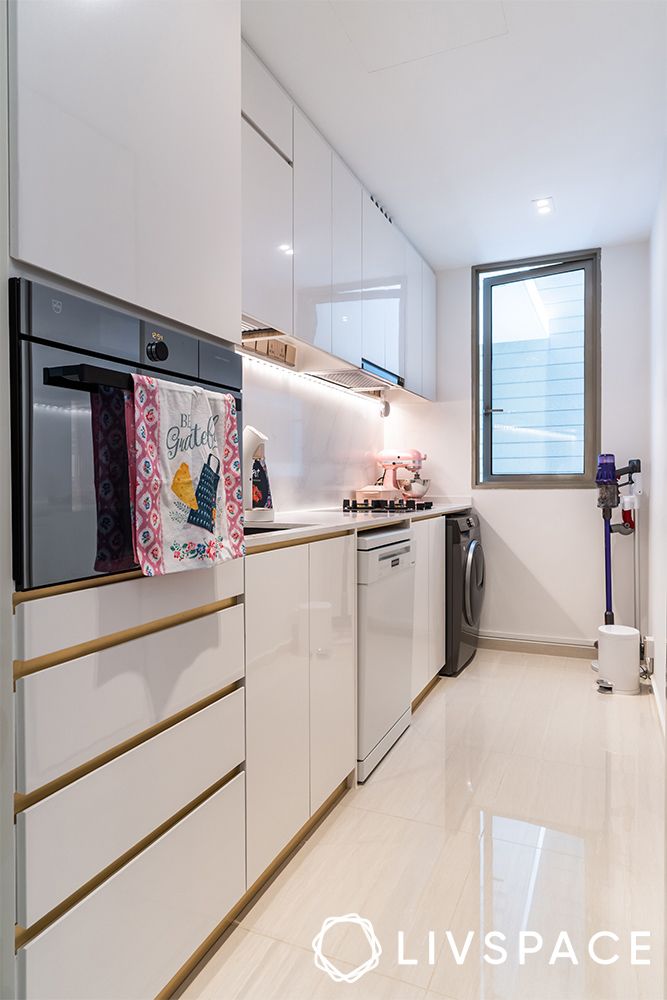 Most modern homes are not big on patterns or accents. This means that keeping huge, colourful focal points do not belong in a resort style interior design. Instead, opt for subtle hints of metallic or textures. This will break the monotony of the look. We have pointed out the metallic hues in the kitchen and living area.
The same is reflected in the wall behind the bedroom where you can see creative panelling. To avoid a visually overwhelming bedroom, the designers have kept the colour theme consistent throughout the home. This is quite a handy trick when it comes to small homes. The next time you are experimenting with accents in a small space, keep the colour theme consistent to avoid visual clutter.
#5: A Clean Look With Ample Lighting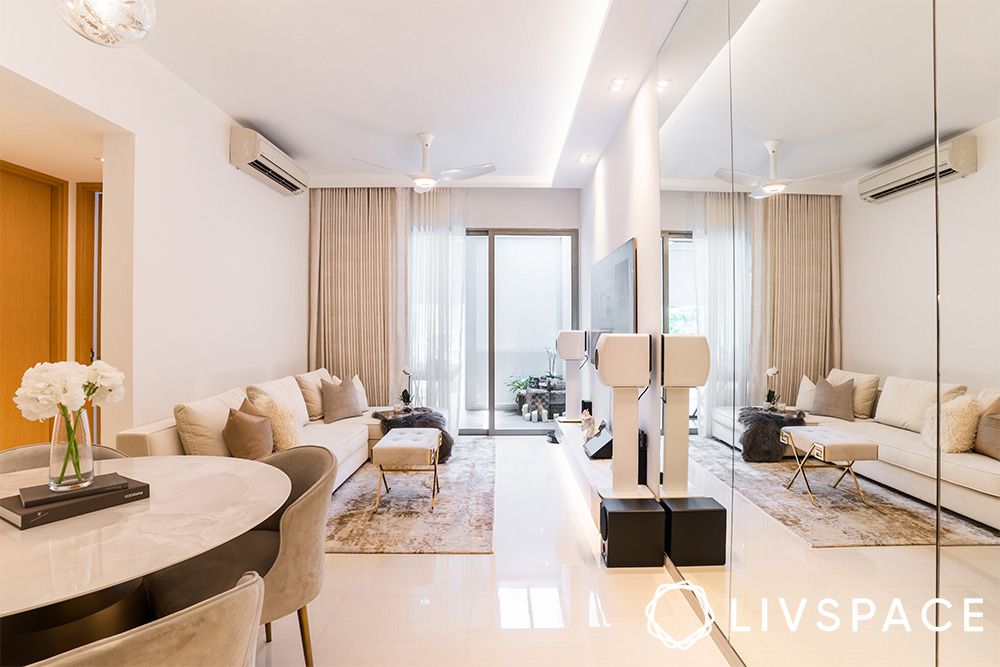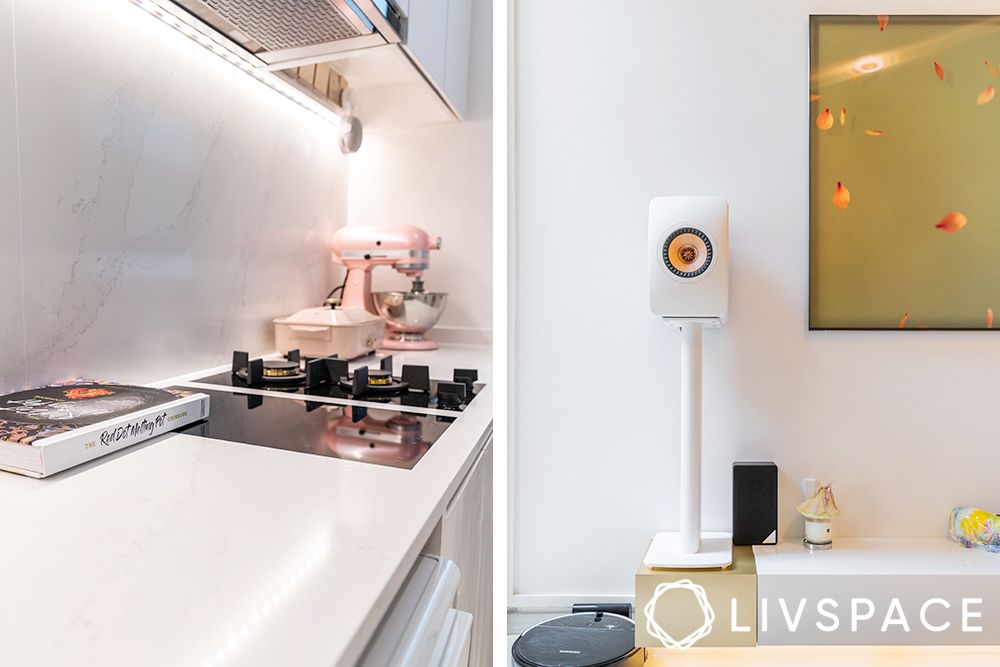 One of the most appealing factors of this condo apartment is its neat and organised appearance. The netural colour palette, curated furniture pieces and attention to details have come together to present an aesthetically pleasing impression.
The other contributing factors are the use of open layouts and clever lighting in this resort style home. Huge windows have been used to open up the space. Similarly, catch the hometour to understand how the designers have used cove lighting and reflexive surfaces to amplify the brightness of this home.
How Can Livspace Help You?
We hope you found these bachelorette apartment decorating ideas useful! If you want your home to be just as beautiful, then look no further. Book an online consultation with Livspace today. Have some comments and suggestions you'd like to share with us? We're all ears! Feel free to write to us at editor.sg@livspace.com.