This 3 room BTO design has enough textures and patterns to dress a mansion!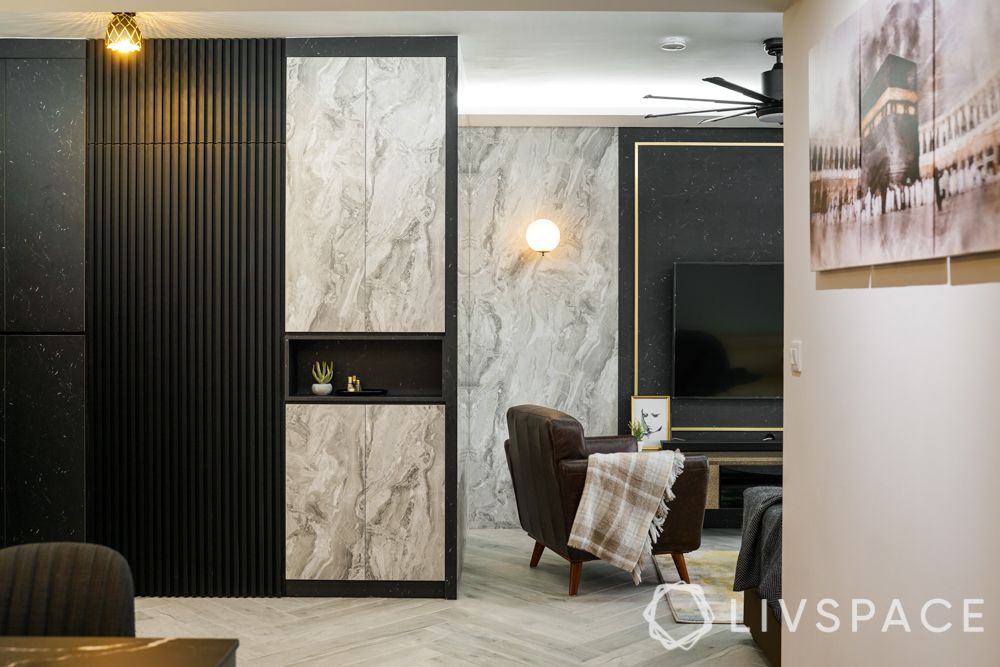 ---
Who livs here: Habib Noor and Zullaihah with their baby boy
Type of home: 3 Room BTO spanning 93 sqm
Livspace team: Interior Designer Sheik Kader and Project Manager Alvin
Livspace service: Full home design, demolition, masonry & tiling, wall finishing, electrical, lighting, plumbing, flooring, partitions, erection of walls (and full height wardrobe), false ceiling and painting
Budget: $$$$$
---
For those who are wondering what we mean by 'maximalist', we didn't make this up! Maximalism is the exact antithesis of minimalism; a design movement that believes in doing 'more with more.' And this fresh 3 room BTO design fits right into that definition. Let us tell you how.
Habib Noor wanted his home to have sleek modern interiors using dark colours and rich textures. His wife, Zullaihah, wanted some subtle touches of warmth for this small HDB design. Together with their baby boy, this young family needed plenty of storage without compromising on space or safety for the little one. And our designer Sheik Kader has ensured that they have all this and more!
To fit in their intriguing requirements within this 3 room BTO design, he picked the maximalist style that puts no restrictions on the number of design elements to use within a space. And guess what, he managed to pull off this small HDB design without making it look cramped. If you too believe that variety is the spice of life, watch and learn.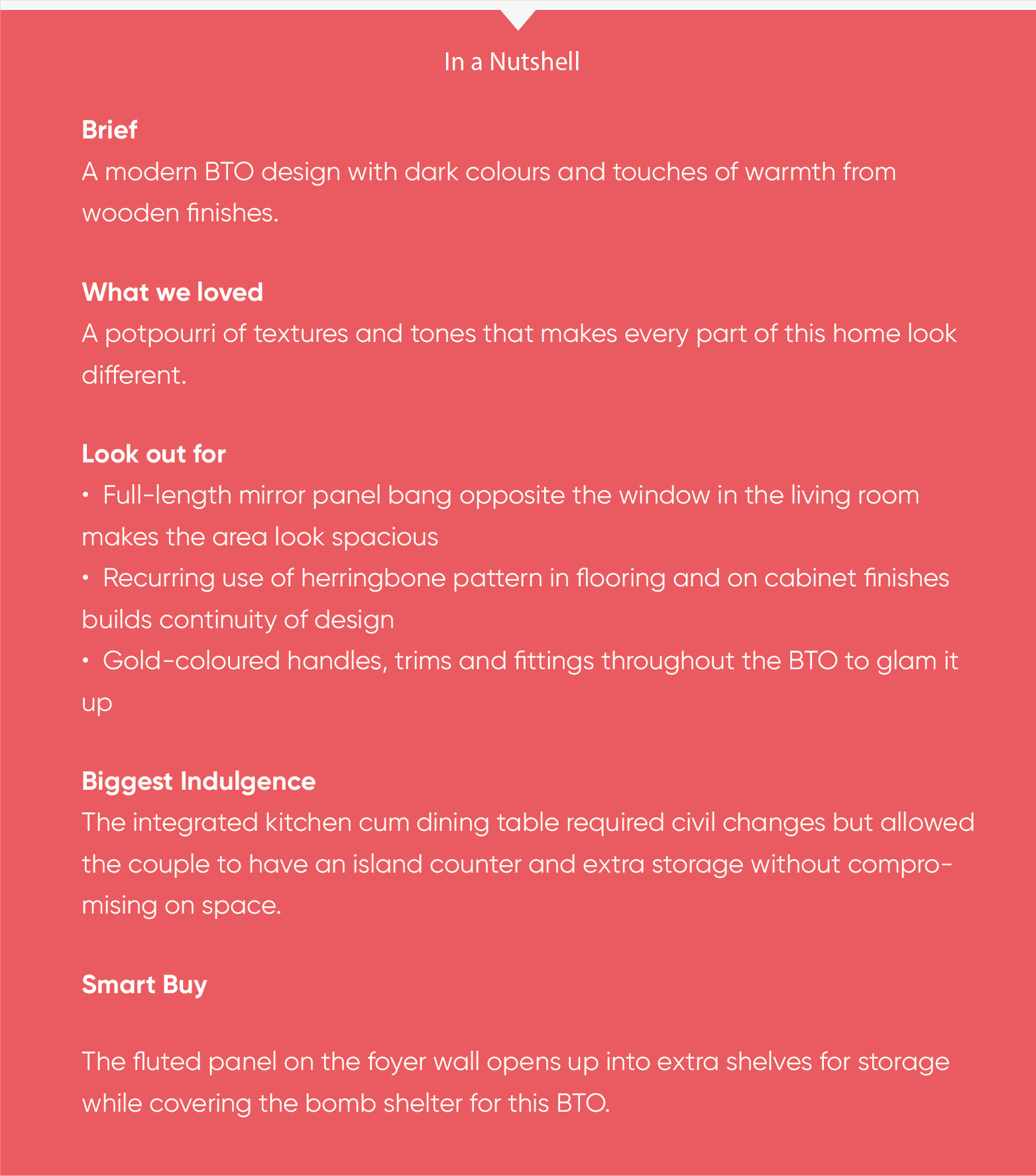 Dark Colours Served on a Warm Platter
"I believe that dark colours have a calming effect on the decor. So my preference was to stick to only black, grey and touches of gold. However, my wife wanted to add some warmer tones wherever possible. In general, we wanted our home to be a happy place for both of us. And our designer, Kader Sheik, transformed our random thoughts into workable designs."
–Habib Noor, Livspace Homeowner
In between Habib and his wife, the colour palette was decided to be dark but not without stray touches of warmth. So we see Kader using a variety of black and laminates interspersed with greys and wooden elements. The feature wall in the living room with the TV cabinet is particularly interesting in this regard. The back panel is as black as the night sky with a spotted pattern; it is set as the backdrop to a woody floating cabinet. The furniture in this room comes in earthy shades to keep the colour balance even.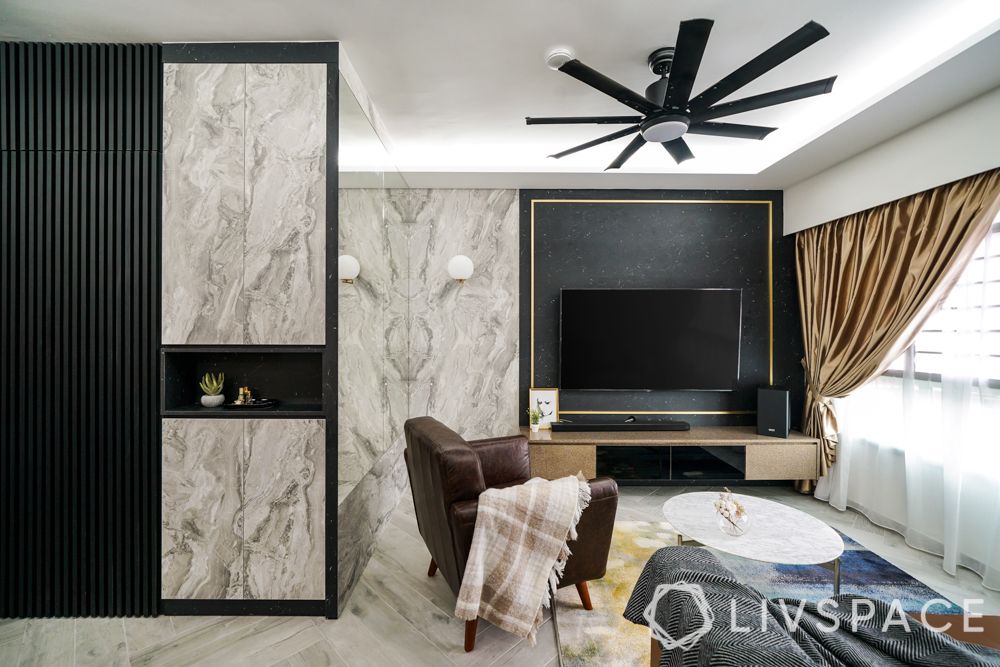 PRO Tip from Designer
Wait! So There is a Mirror Here?
There is but we can't spot it at once because it's what designers call a 'book match.' The grey laminate for the wall has been cut in such a way that its reflection in the mirror forms a perfectly seamless butterfly pattern. So it seems like the mirror is a continuation of the wall. It will be hard to spot an example of attention to detail by the designer that trumps this one!
Keeping it Together With Colours
Continuity of design is a very important element of this 3 room BTO design. So we see the use of dark shades of grey in the kitchen with flooring in the same colour. In the master bedroom, mahogany laminates contrast with wooden tones of the flooring.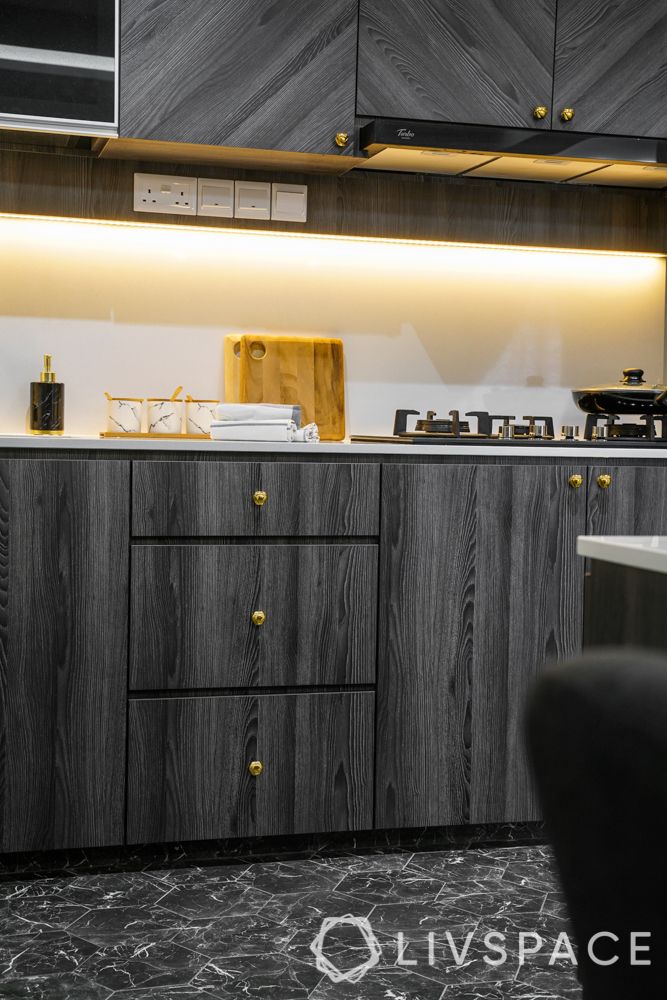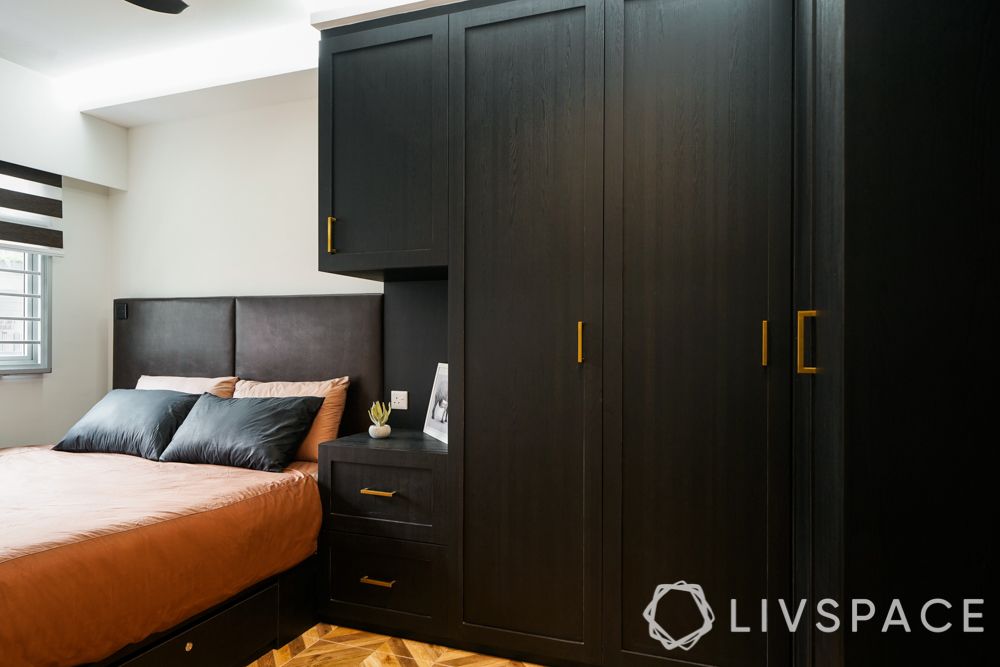 For the Love of Pretty Patterns
Maximal design is like a star-studded movie; so we were expecting more than one statement element within a room. And we were not disappointed. Kader's use of statement flooring in the small HDB design is inspired.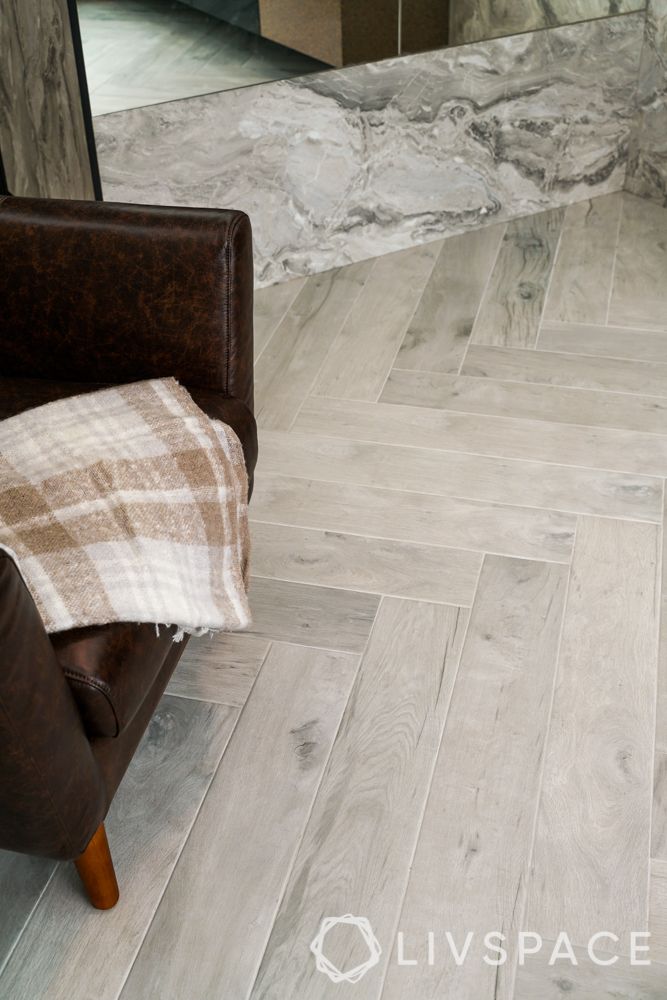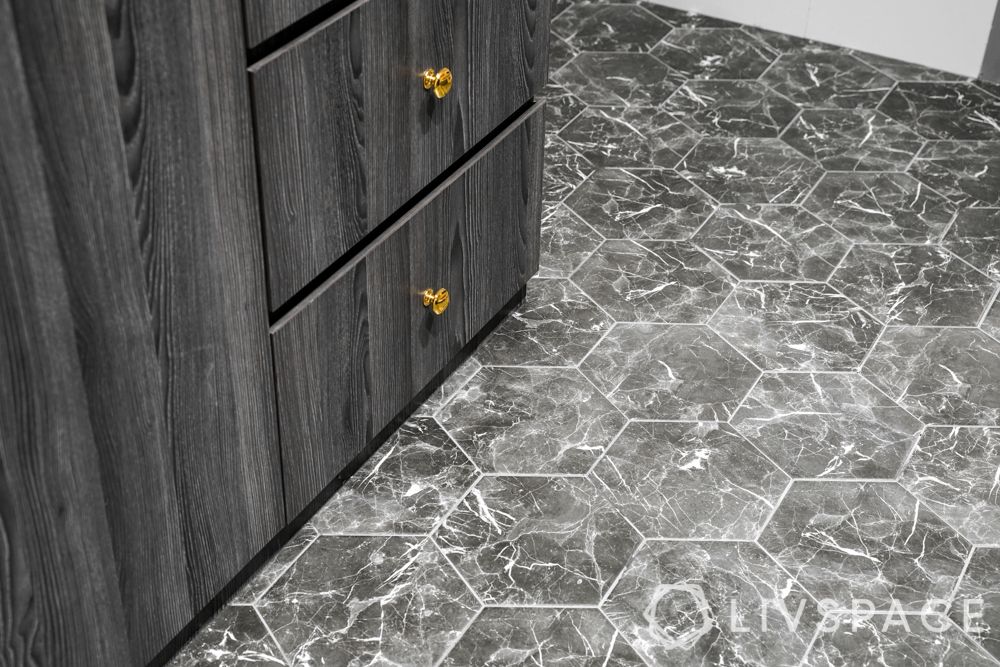 In the living room, we can easily spot the herringbone pattern of the laminate flooring. It changes to a honeycomb pattern to segregate the open kitchen from the living room.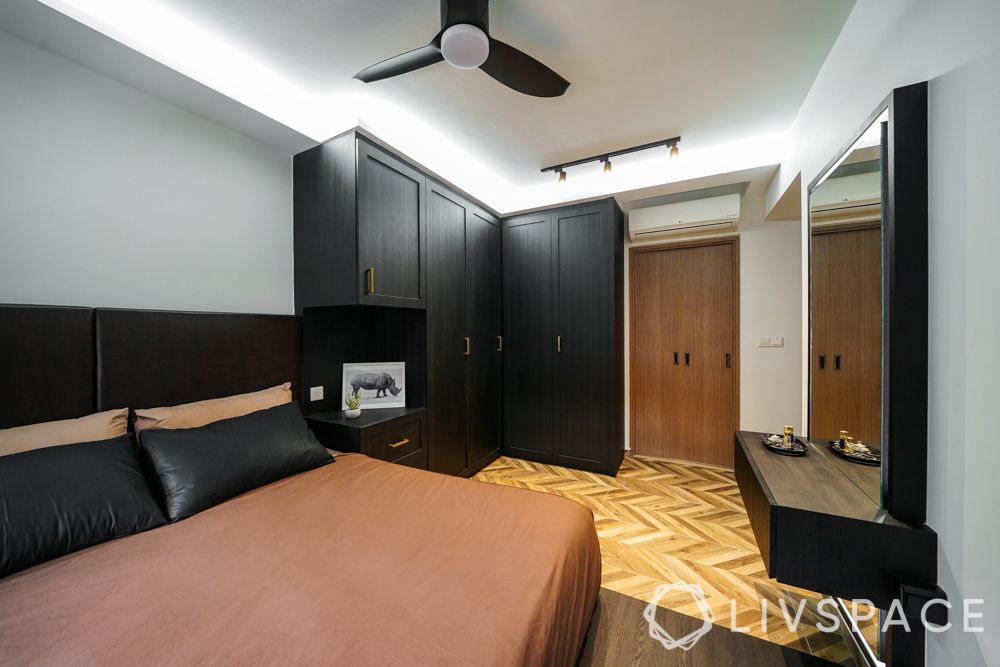 We see a continuation of the herringbone pattern in the master bedroom flooring. But it is in warmer woody shade to contrast with the darker colours in this room.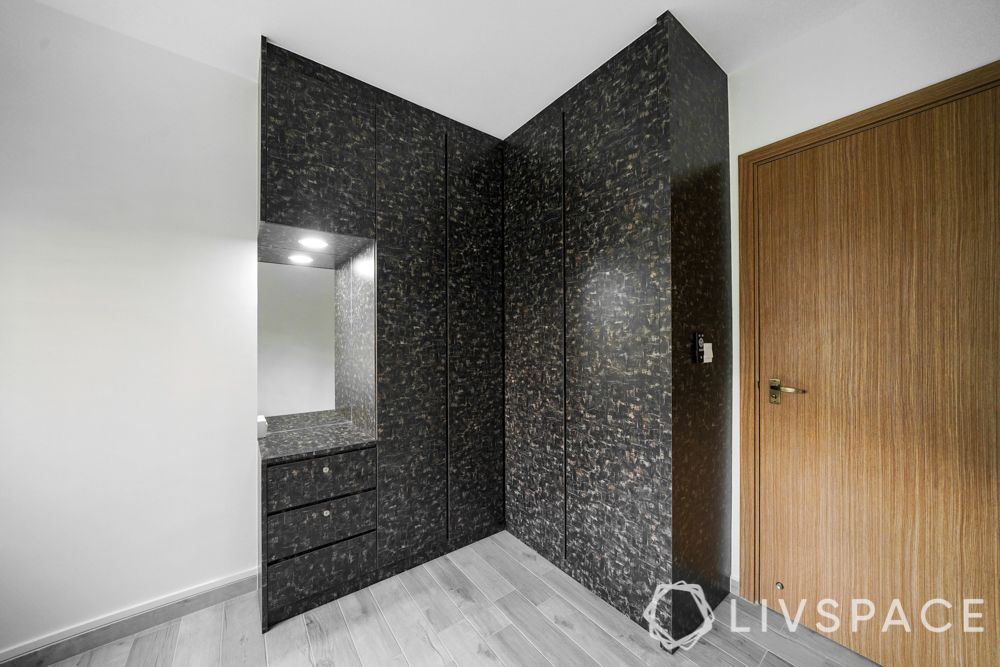 The guest bedroom stands out for the juxtaposition of the geometric patterned flooring with the abstract texture of the wardrobe shutter.
Having Your Kitchen & Eating In It Too?
PRO Tip From Designer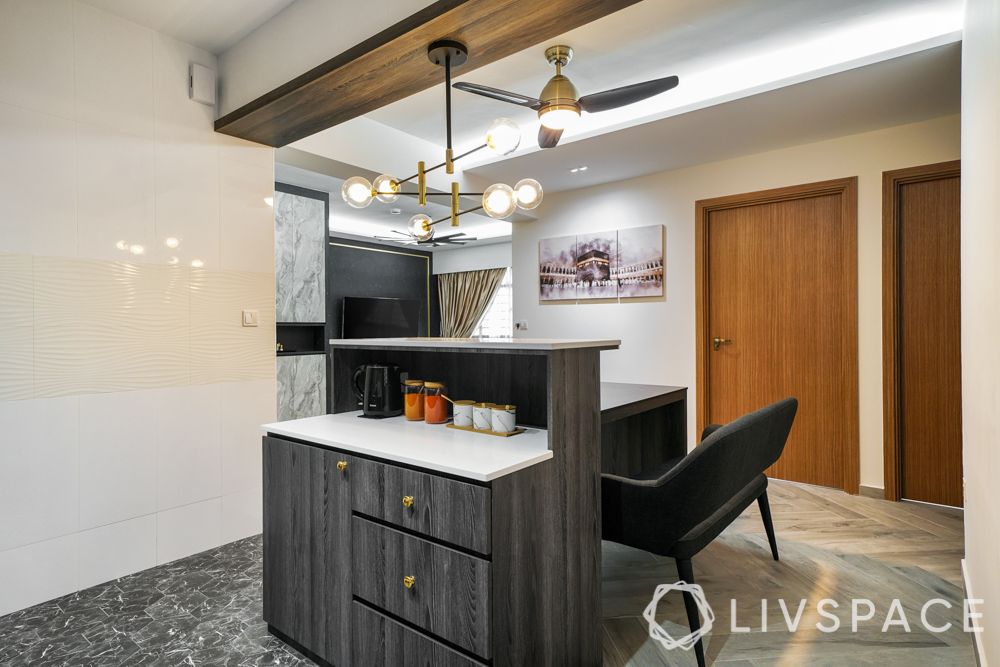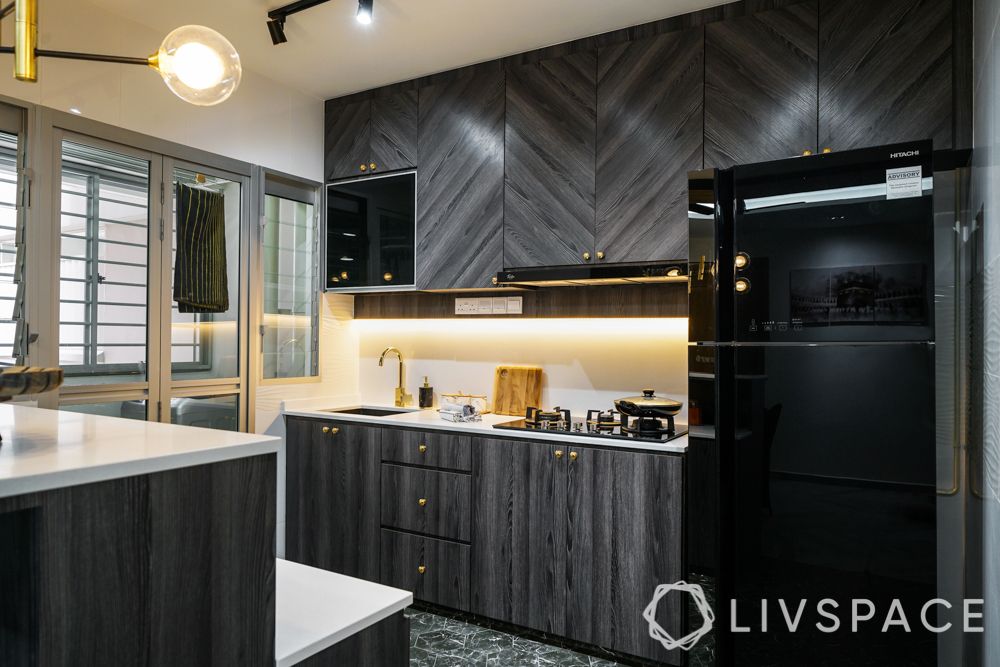 The challenge for this 3 room BTO design, as said, was the compact size of the living area combined with the kitchen. There simply isn't enough space to put in a separate dining table. Thus, Kader created an integrated kitchen island (with storage) that opened up into a dining table. What's more, he added a two-tier Caesarstone countertop to the island for expanding the prepping area of the tiny kitchen. Usually, an island counter takes up space in a kitchen. But, here it preserves the open layout without eating into the space.
It's Clever, it's Concealed and it's Extra Storage Space!
It goes without saying that a young and growing family like this one will need every inch of storage space they can get. But this small HDB design is fresh because it gives them all the storage they need without making the space look crowded.
Is there any chance that you would have spotted this hidden storage behind the fluted panels in the foyer? We think not! This space actually leads us to the bomb shelter of this 3 room HDB design. And the family can use these extra racks to store miscellaneous items. It's a great bomb shelter design idea.
PRO Tip By Designer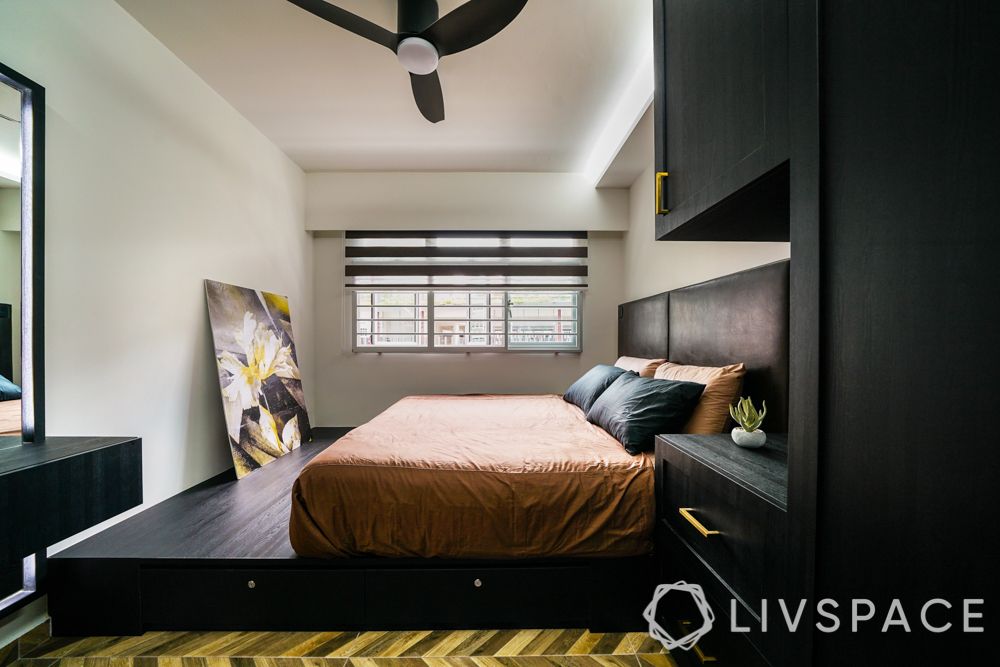 In the master bedroom of this 3 room BTO HDB, we see a platform bed elegantly coated with leather-finish PVC. The drawers on the bed offer some extra storage space for sure. But why does the bed not cover up the entire space on the platform? It is because Habib and Zullaihah needed the empty space here to keep their baby's crib at night.
PRO Tip By Designer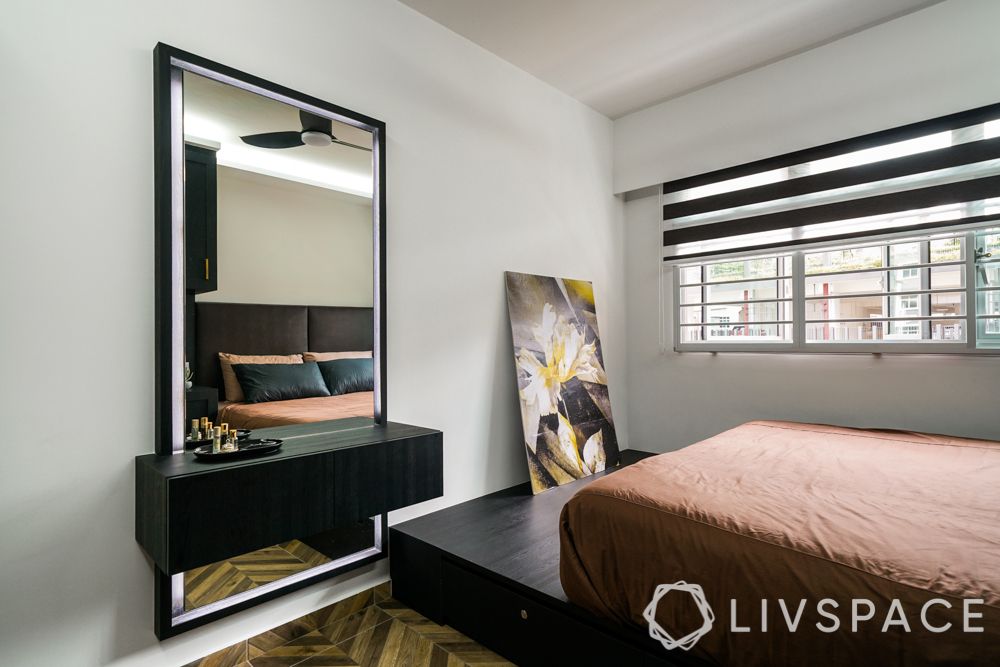 The vanity unit in this 3 room BTO design stands tall with a framed full-length mirror and a floating unit that does not consume floor space. Chic, isn't it?
Finally, it's Time to Go Glam
Now that all the functional aspects of the home have been addressed, let's venture into its glamour quotient. Apart from a variety of patterns that liven up the sombre colours used in this home, we also see a hint of gold throughout. Look for the gold-framed border on the living room feature wall or the wall sconces with a gold holder. We also see an array of gold fittings like handles and faucets in the kitchen. After all, a bit of glitz never hurt anybody!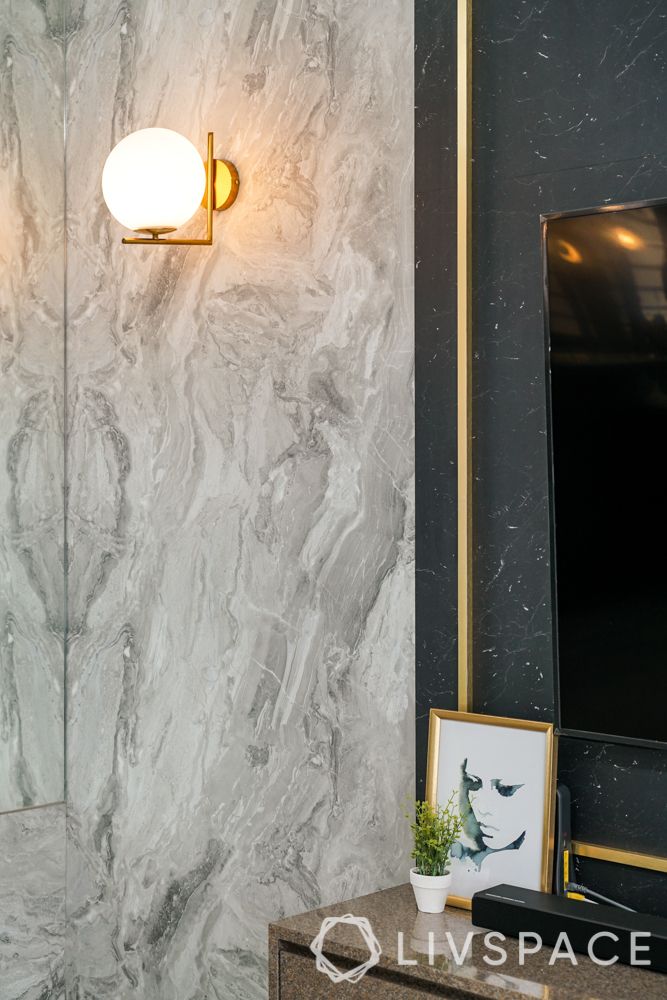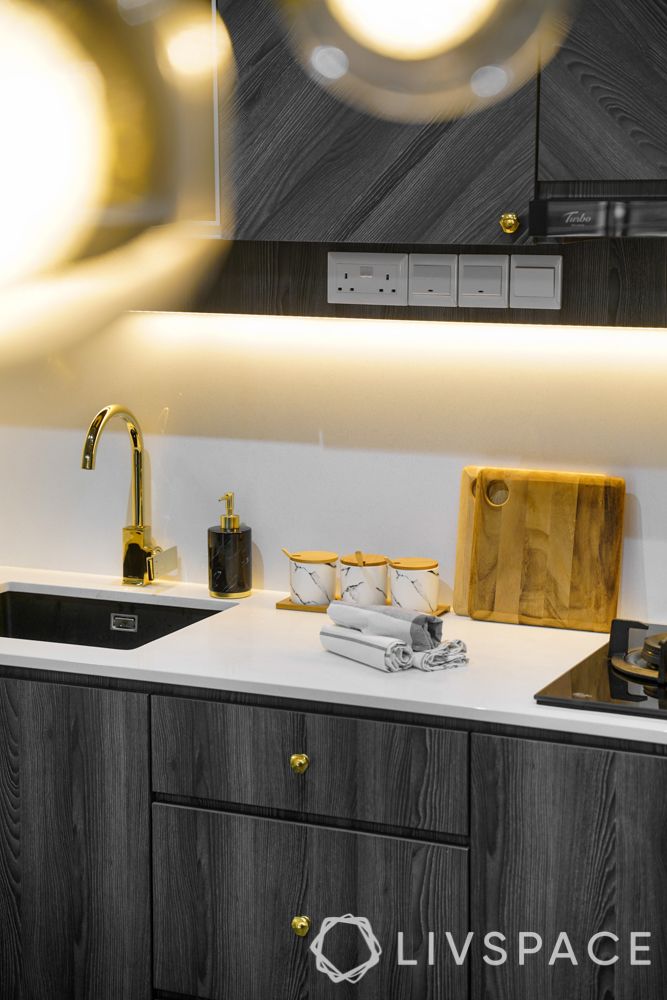 The other note-worthy statement piece in this 3 room BTO design is the massive cluster of pendant lights over the dining area. With its black metal body and naked edison bulbs, it has obvious industrial overtones. Also, it teams with the profile lighting under the cabinets and track lights in the kitchen to give this space a layered look.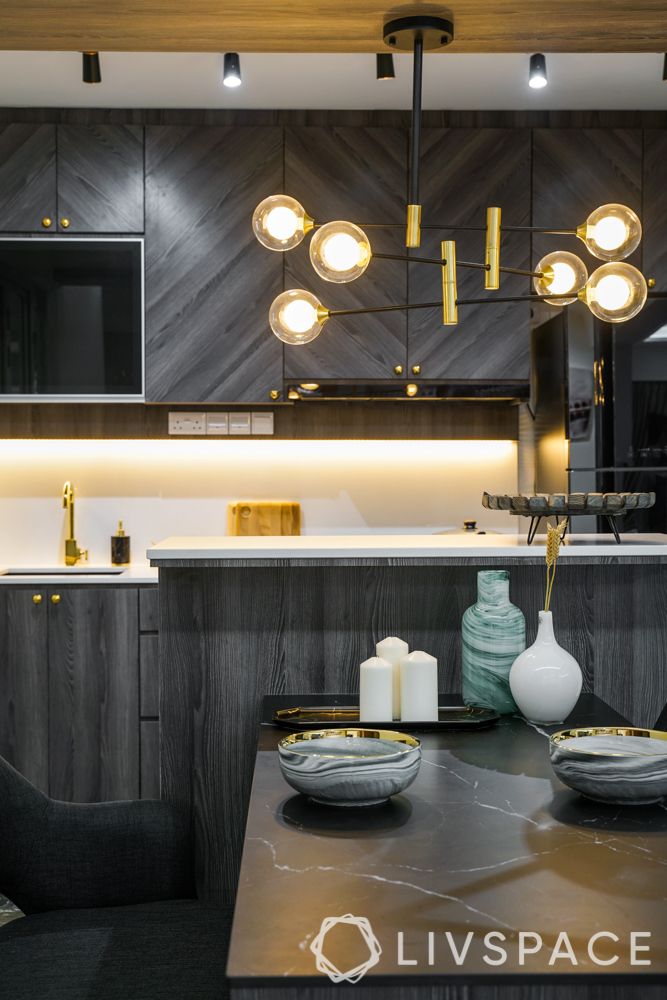 How can Livspace help you?
If you are thinking of redesigning your home, then consider Livspace. Book an online consultation with our designers now to turn your small condo renovation ideas into reality. We are all about quality and safe interiors.
This 3 room BTO design is filled with surprises and smart choices. So let it inspire you to do the best with your home, no matter big or small. If you enjoyed reading about this home also explore How to Design a Luxurious Home That's Also Storage-friendly?