Welcome to this compact and very stylish 3-room condo, where a young family designed their very own haven!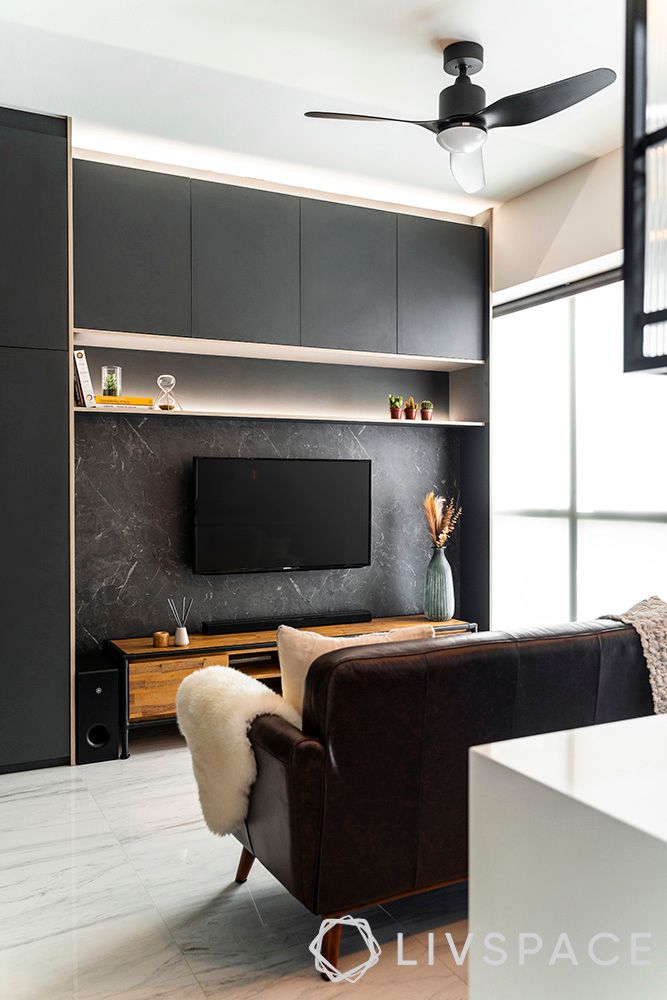 ---
Who livs here: Nathalie and Ivan
Type of home: 3-room condo
Livspace team: Interior Designer Shalom Hong and Project Manager Jared Tng
Livspace service: Foyer, living room, dining room, kitchen and master bedroom
Budget: $$$$$
---
Nathalie and Ivan are working professionals who wanted a modern, hotel-style look at home, complete with all facilities. Their passion for designing a home that serves all their purposes brought them to us and together we created this unique look for the couple. This condo features a contemporary look with child-friendly features and maximum use of space. They enjoy spending family-time together and their love for baking made us do something special in their open kitchen.
Read on and find out how we used dark accents to give this condo a sleek look.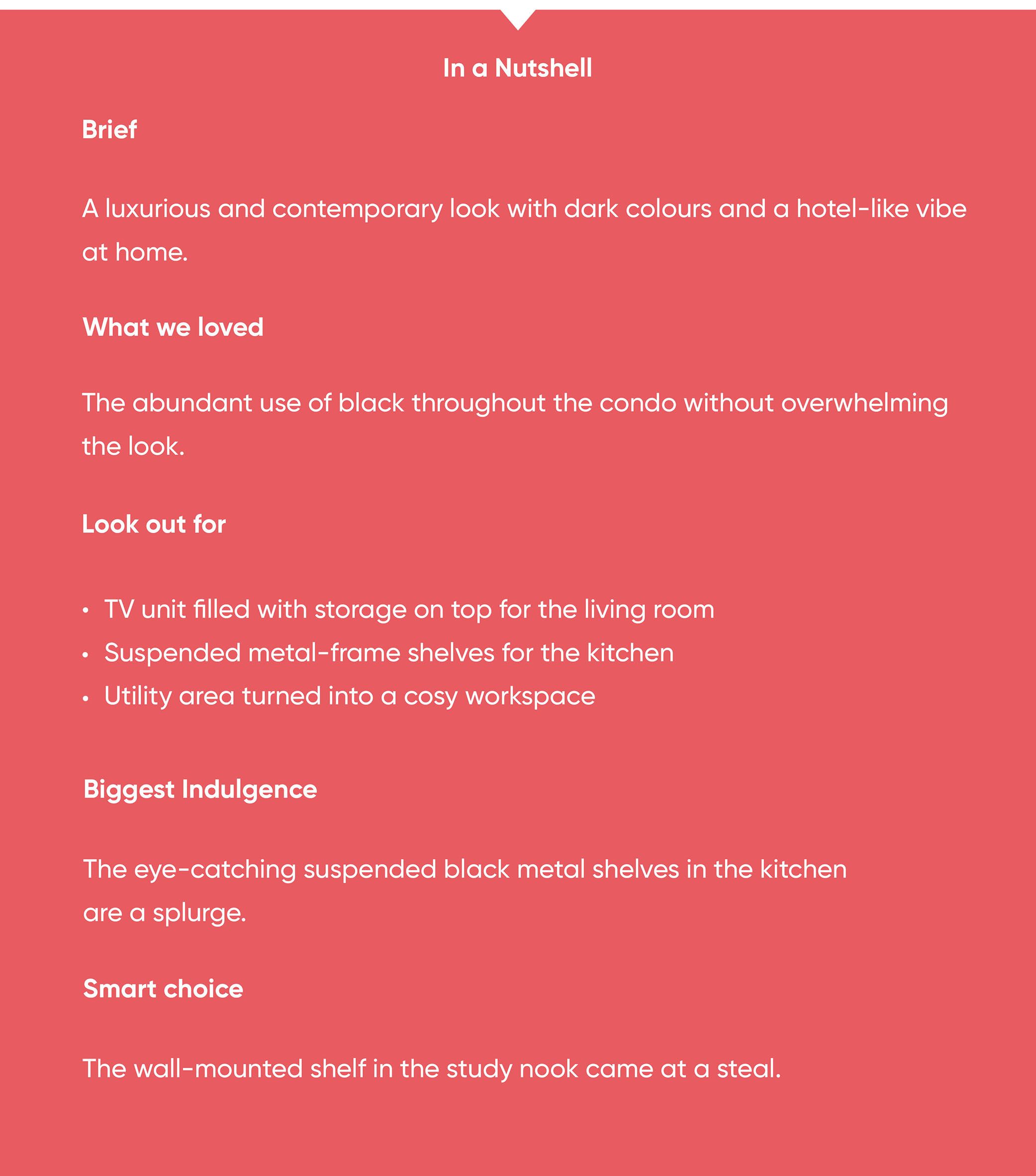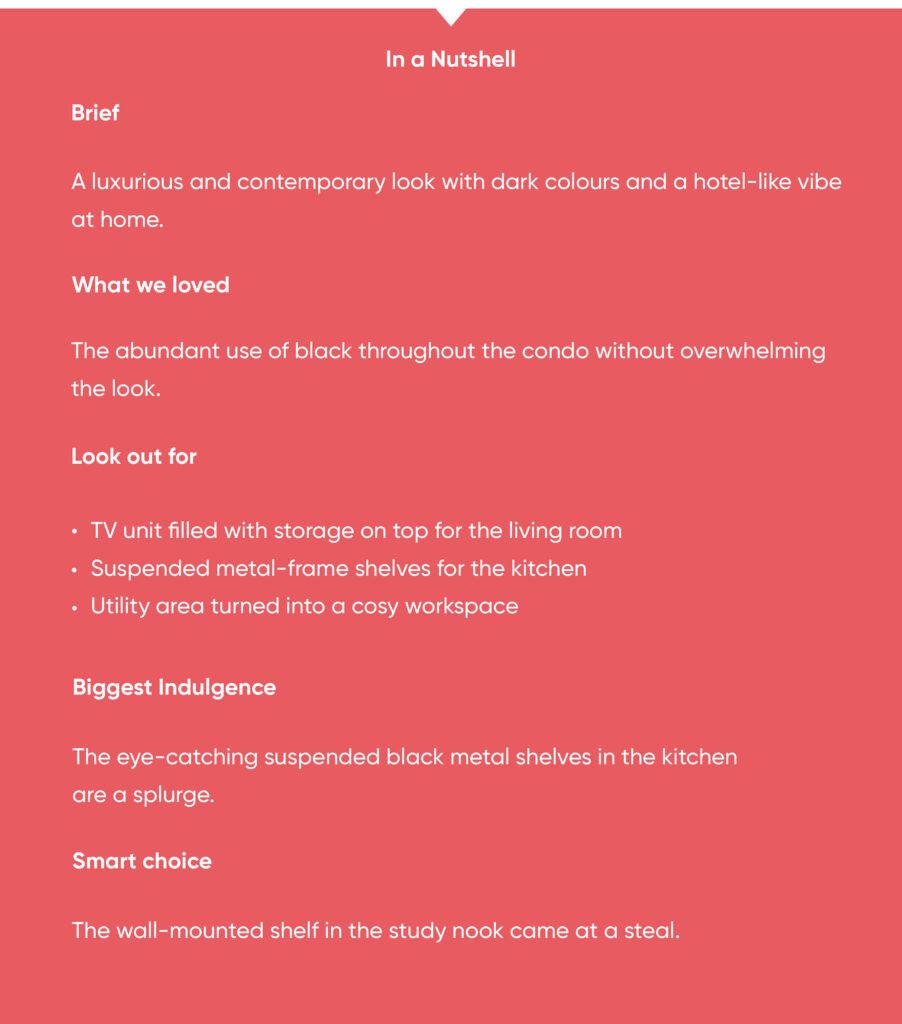 Let's take you through the interconnected layout of this home
Starting with the foyer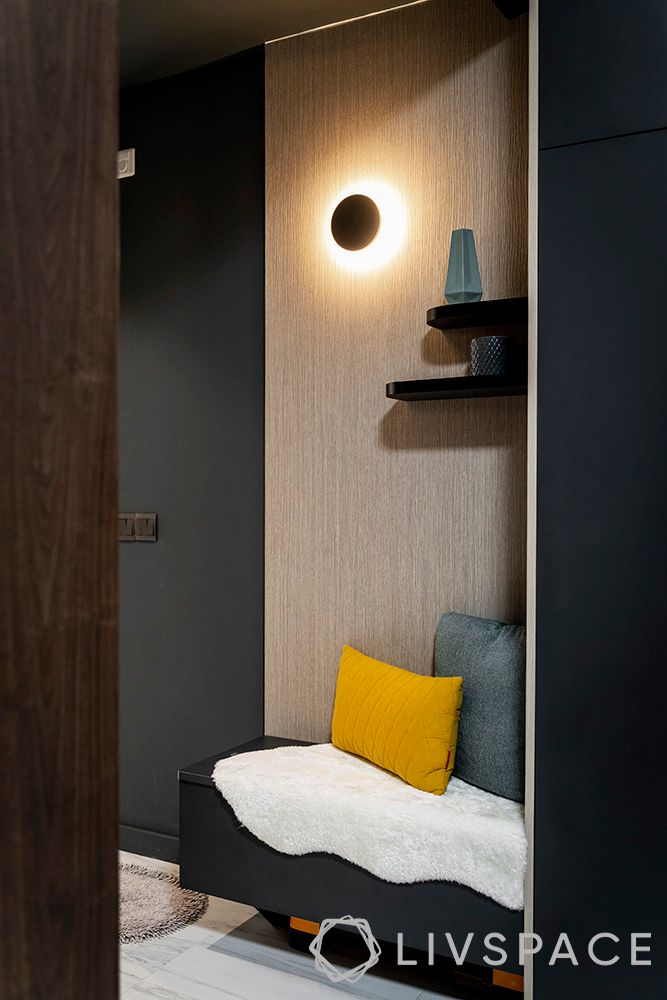 Favourite element: Sleek black seating. The foyer at this 3-room condo looks like a cute corner and you will have no idea what awaits you inside. It features a cosy seating space and corner shelves to place keys and other things.
The challenge: It was obviously the really narrow space that was available for designing this area, which had to be functional too.
Design takeaway: If you're working with a small foyer, you should always pick compact furniture. Also, if you utilise the corner for putting up shelves, just like we did here, then ditch hanging pendant lights for a sleek wall-mounted flush light.
Moving to the living room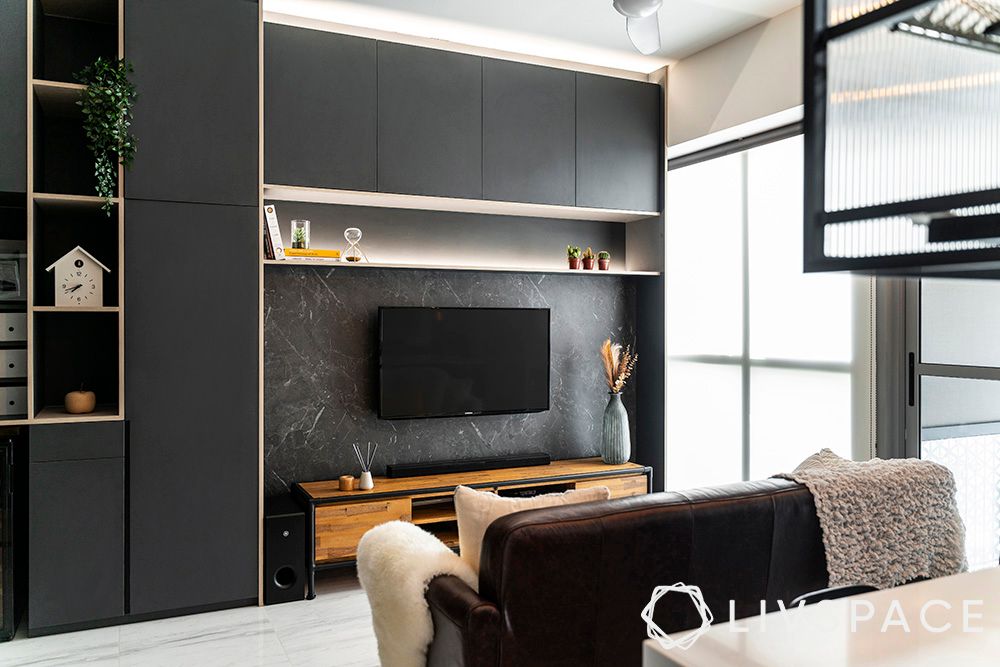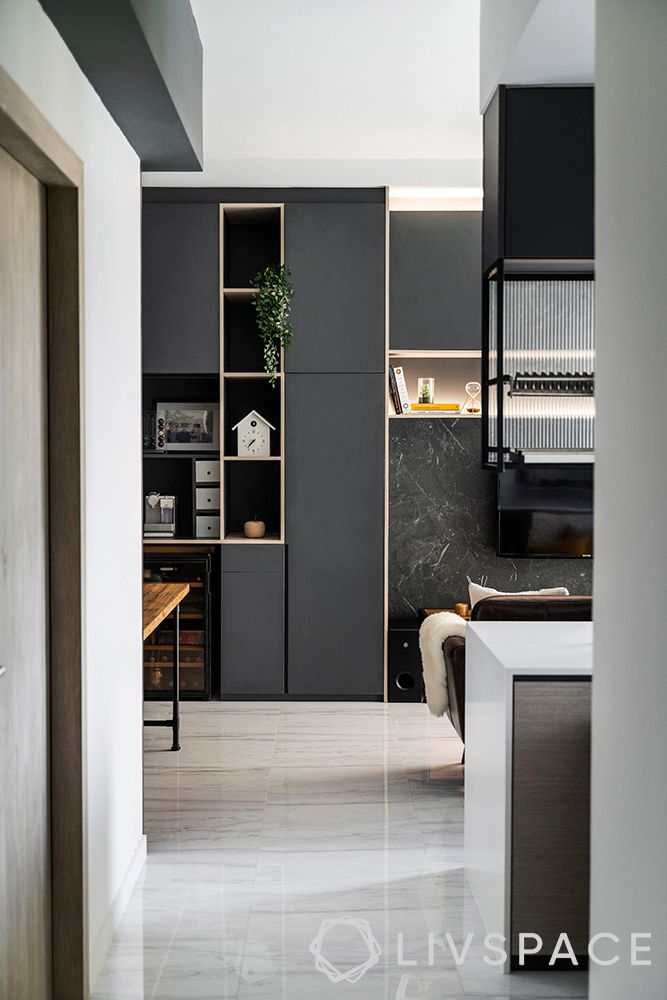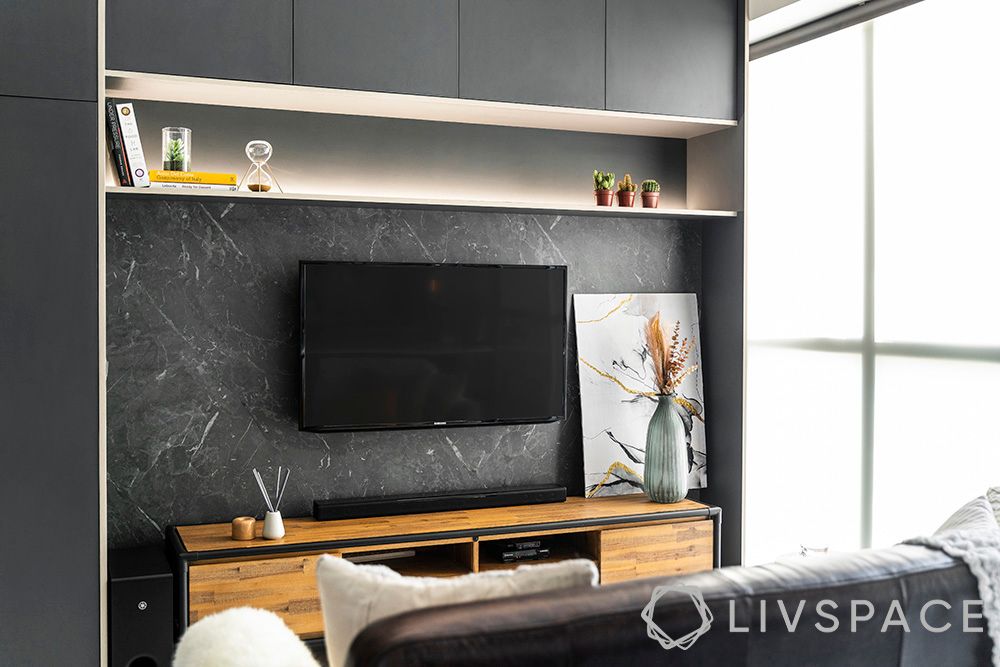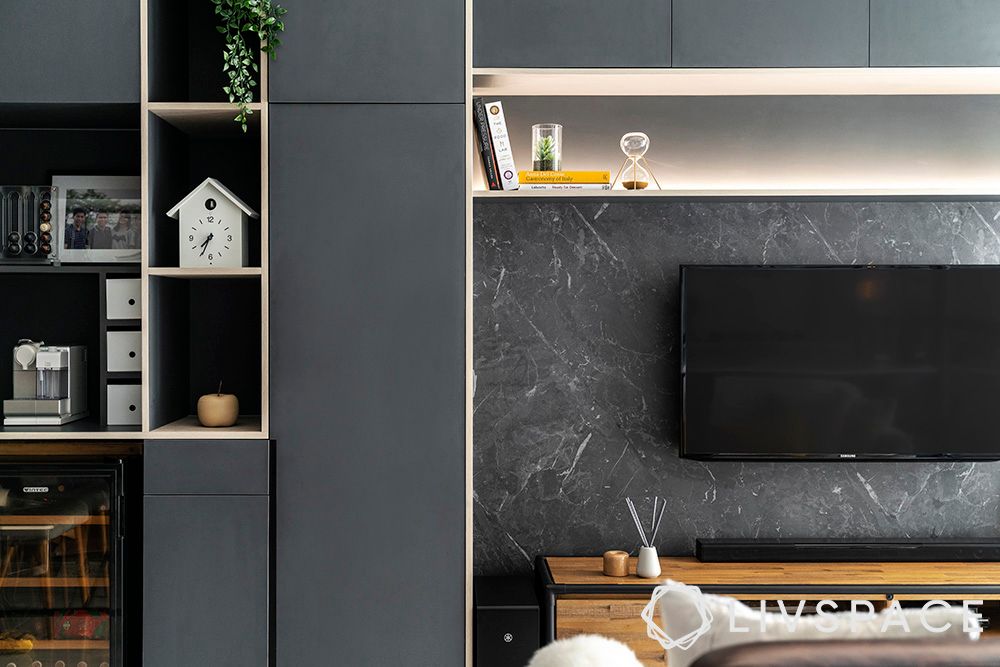 Favourite element: Storage-intensive TV unit. We absolutely love how Shalom has utilised the entire TV unit wall to give the couple all the space they need for storage. The laminate marble panel behind the television is a great design addition here. It breaks the monotony of black and does not weigh the wall down.
The challenge: To give this amount of storage in the space that was available. The entire wall has loft storage, cabinets, open shelves and niches that can be used to keep things.
Design takeaway: Use appropriate lighting when creating niches for storage. LED lights under the cabinets are a great way to illuminate dark corners.
And then the study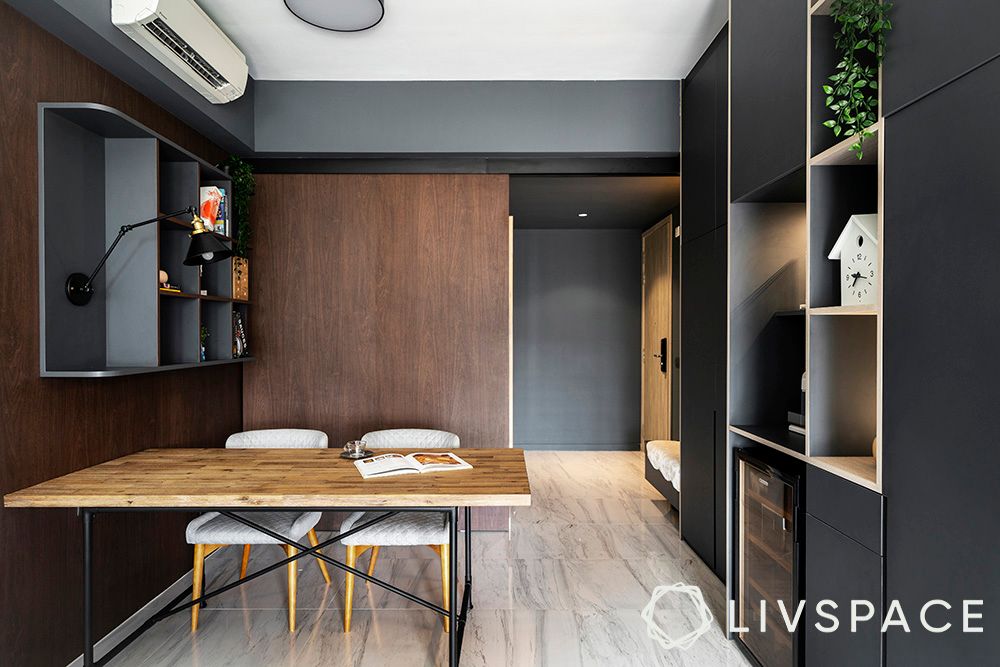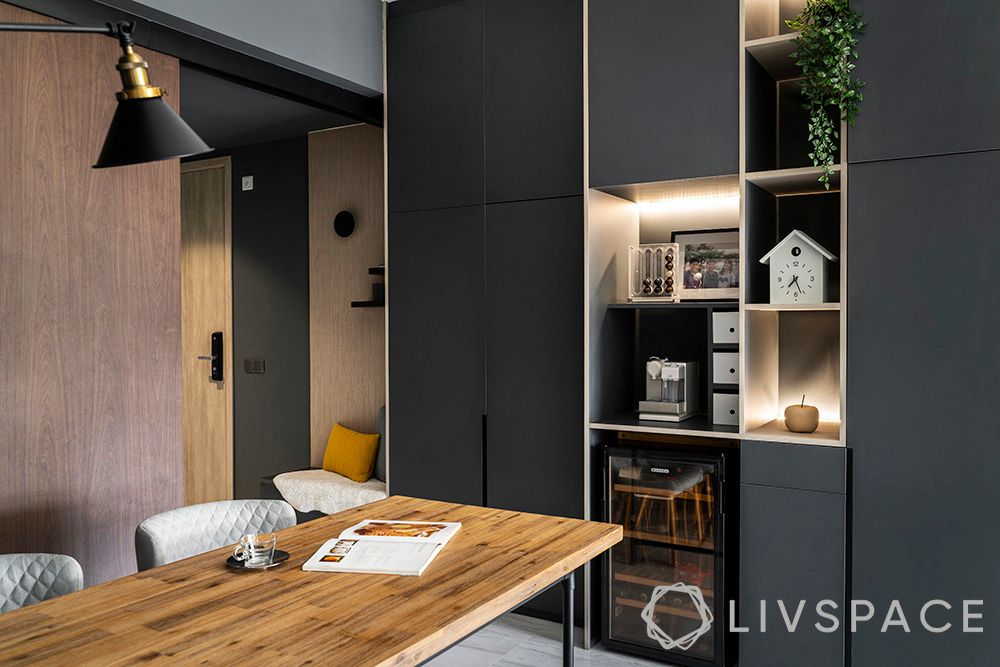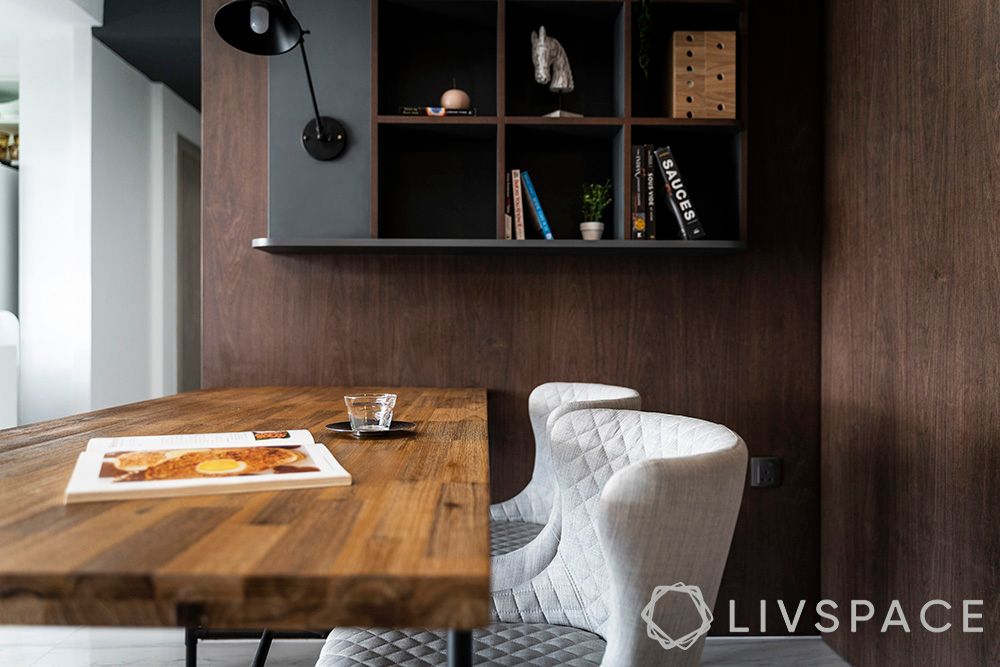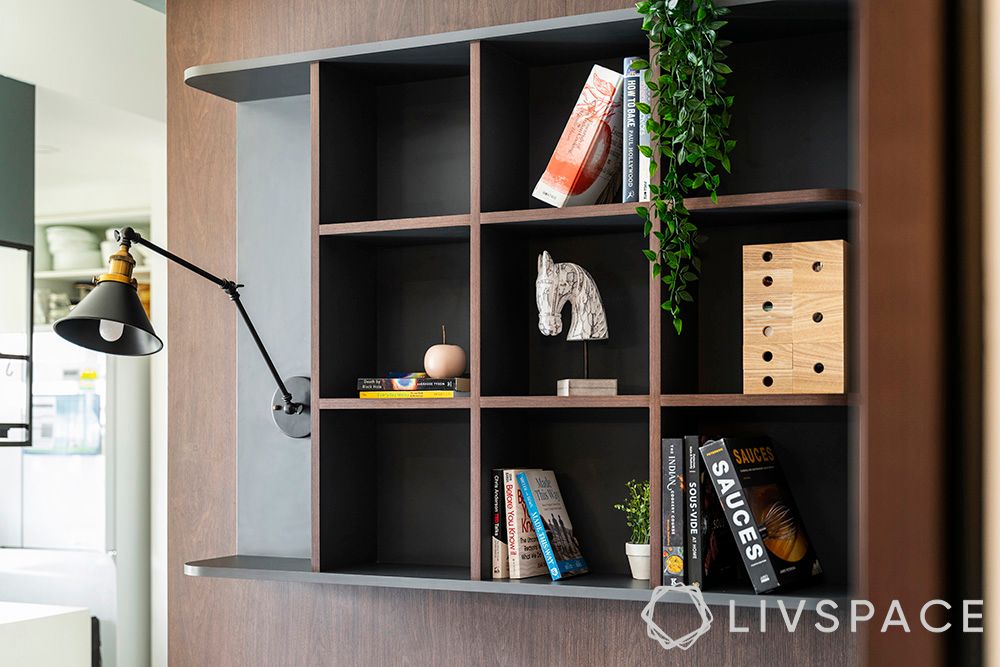 Favourite element: The study table and chairs itself. We love how Shalom has paired this rustic wooden table with clean white, upholstered chairs.
The challenge: To create a study corner without using an entire room. Therefore, our designer carved out a study nook from the open space and separated it from the utility area by adding a sliding wooden door. Since the door is barely noticeable, it helps to maintain privacy as well!
Design takeaway: To cut down on the cost of designing, you can opt for a cost-effective wall display unit like this one. It comes with a built-in lamp and has ample shelves that can hold all your books and files.
"Shalom has been very open to our suggestions and what we wanted. He made very good recommendations. Livspace was very helpful with managing the cost of the materials. Andrea was very involved in the initial design. Both, Livspace and Andrea have been accommodating."

Ivan & Nathalie

Livspace Homeowners
A kitchen that is customised for bakers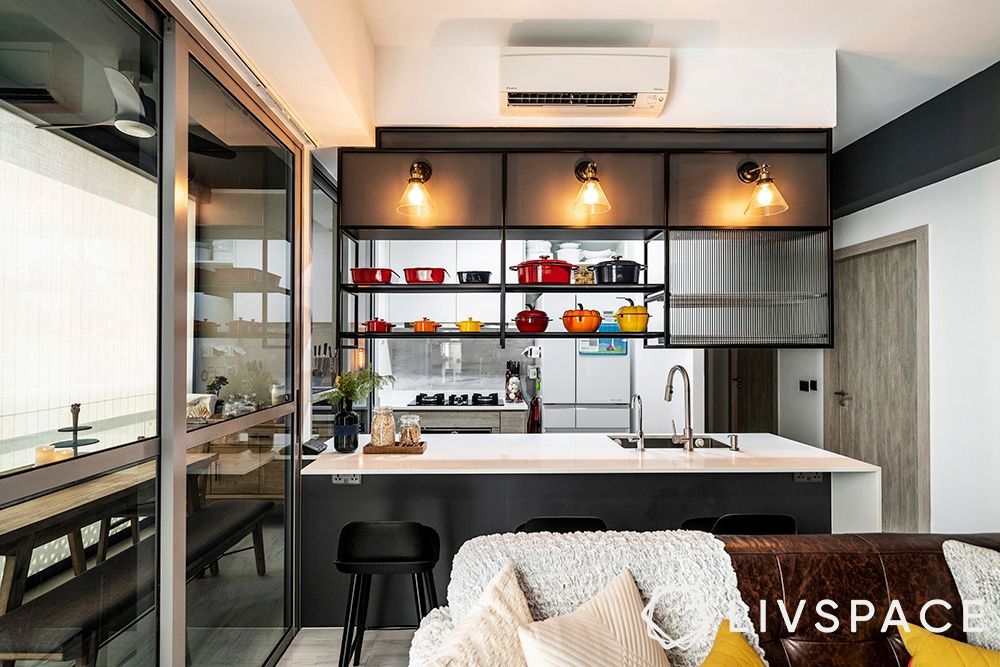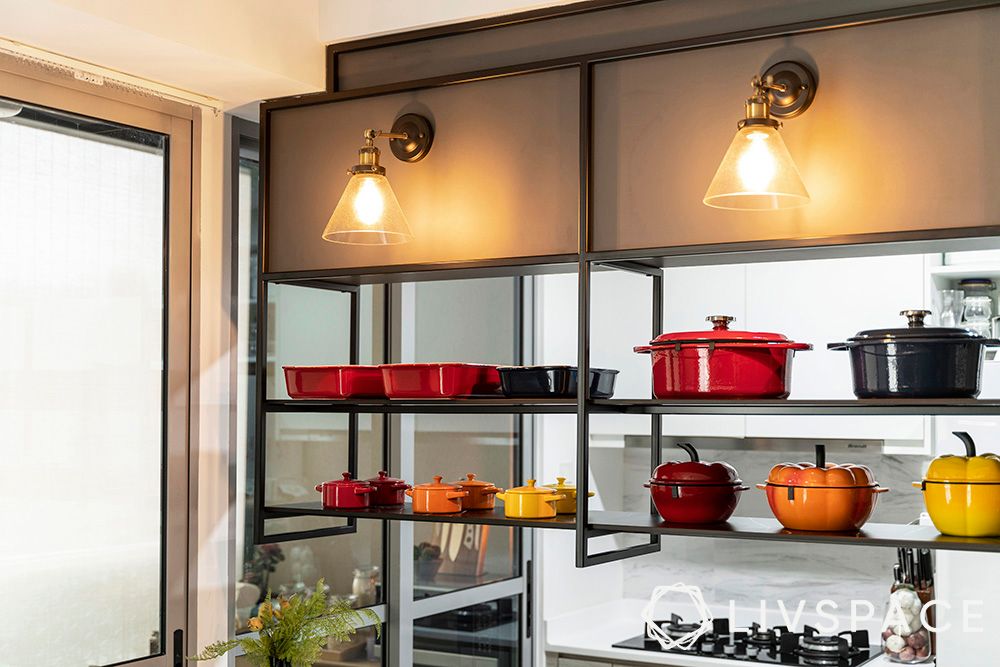 Favourite element: The breakfast-cum-kneading counter. This family loves baking and they wanted a huge counter for kneading, so we gave them something that can double-up as a breakfast counter as well.
The challenge: Creating extra space for this breakfast counter. Shalom moved the dining table to the balcony so that this space could be carved out comfortably.
Design takeaway: If you want space for your baking utensils and other tiny things, you can suspend a shelf atop the breakfast counter. This will not eat into your kitchen space and also add an interesting touch to the design. Here we have used a black powder-coated metal shelf.
Storage is the hero in this master bedroom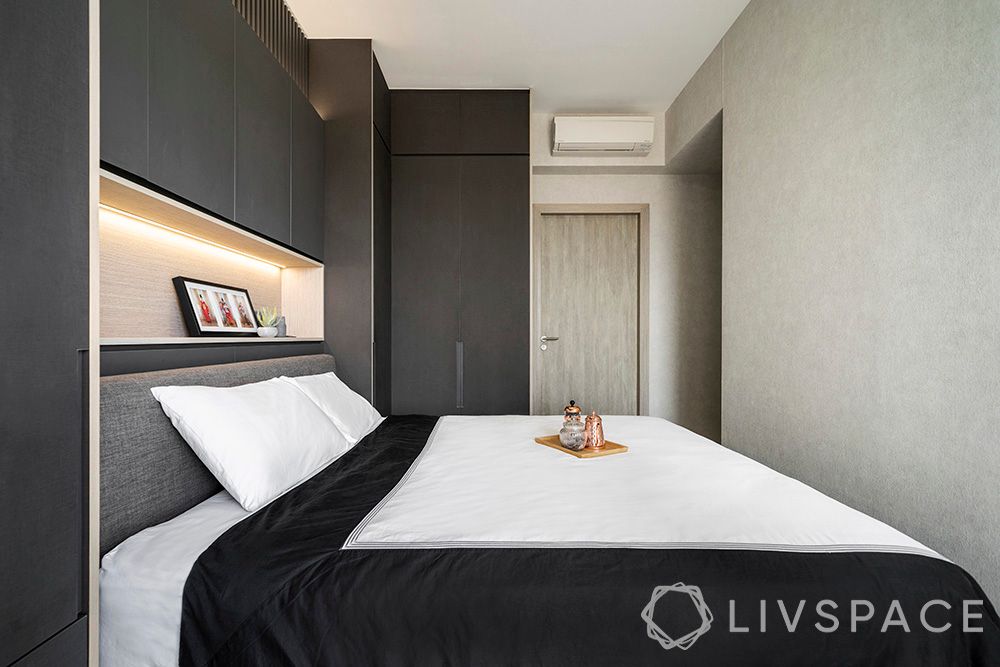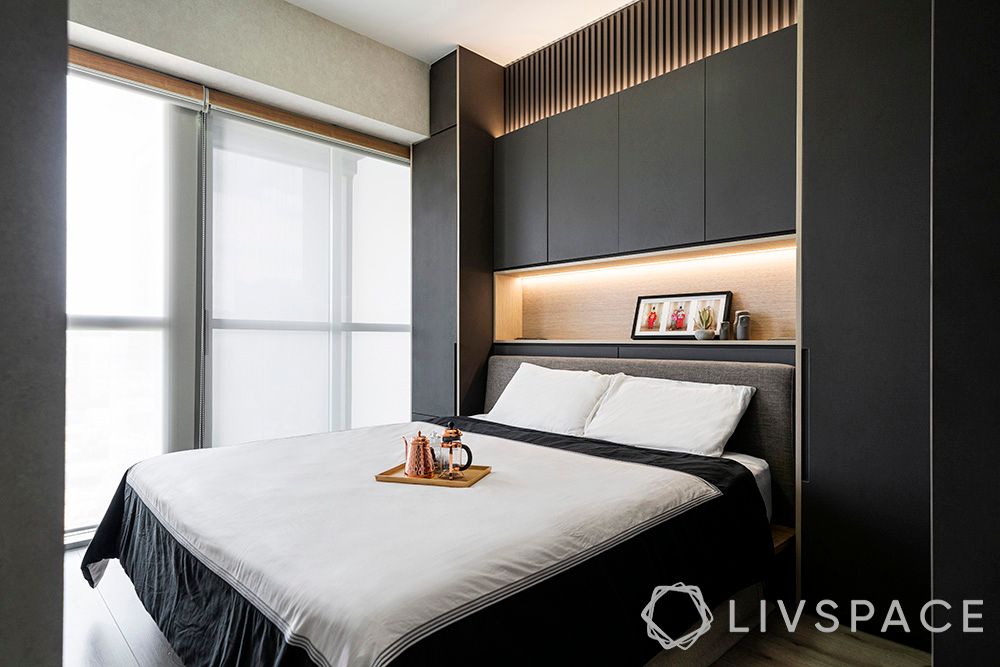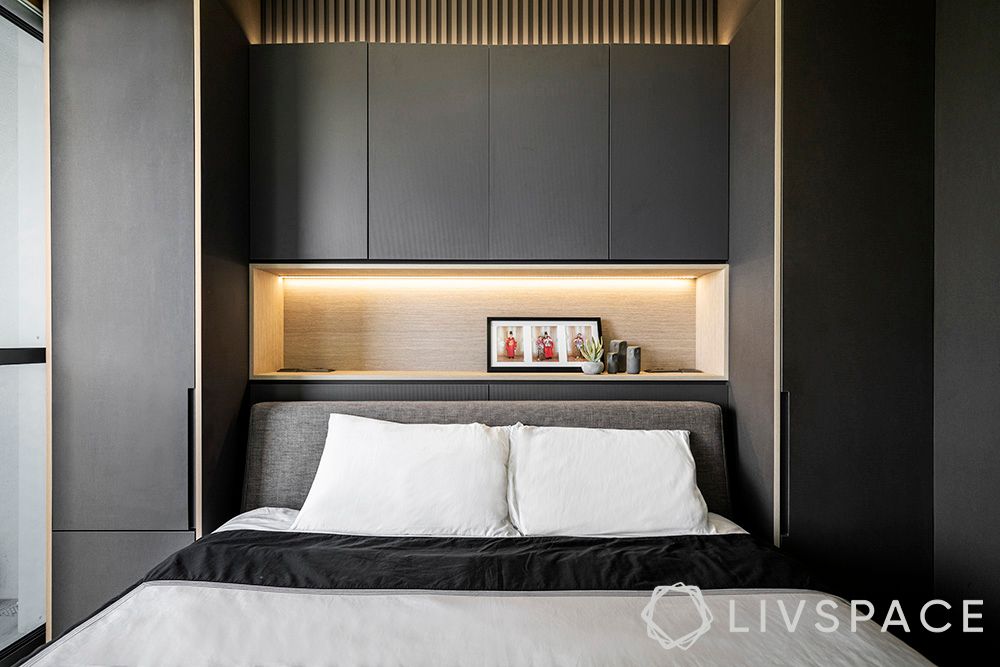 Favourite element: Lighting over the bed. The niche over the bed has brilliant warm lighting that accentuates the look of this room.
The challenge: Extra storage space. Since there was limited storage space, we added extra wardrobes on either side of the bed. Shalom also added cabinets on top of the bed to keep extra pillows and other essentials.
Design takeaway: Choose fuss-free white blinds if you do not want flowing curtains to block your view or light.
"I think it was a pleasantly designed experience. The design brief was straightforward. The elements all blend in perfectly, from the grains in the marble to the hues of the door. The clients were supportive and from a design point of view, it's a great project."

Shalom Hong

Interior Designer, Livspace
If you want more inspiration, check this out: Condo Interior Design Ideas from Singapore You Will Love (2020 Updated!)
Send in your comments & suggestions to editor.sg@livspace.com.