Learn the art of decorating with the prettiest of furniture from this 3 room condo.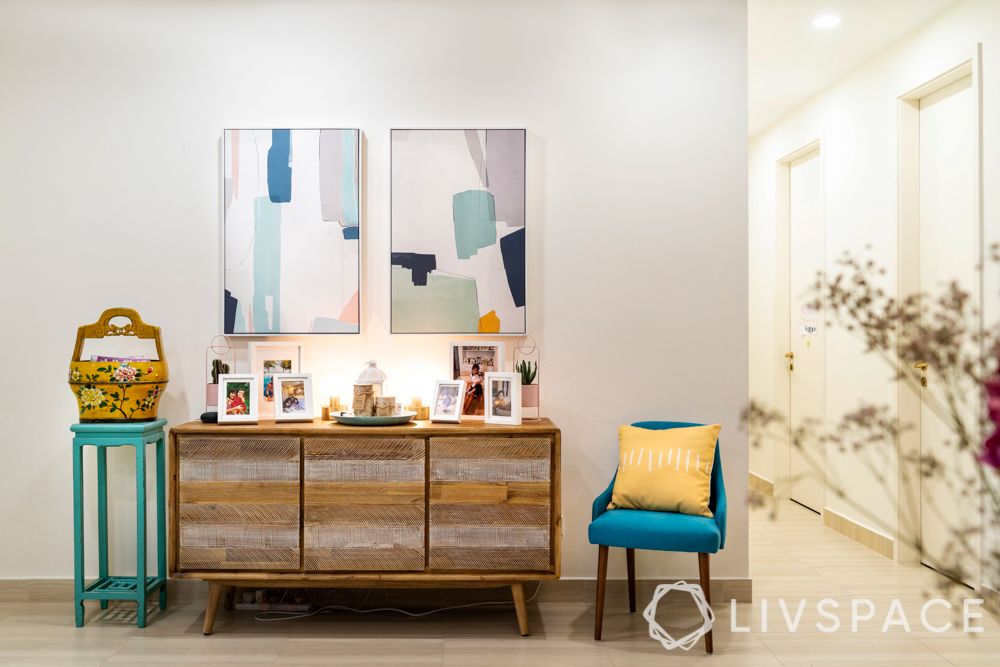 ---
Who livs here: Mira Bharin and Darul Kisai
Location: 985 Bukit Timah, MapleWoods
Type of home: 3-room condominium
Livspace team: Interior Designers Juhi Shah and Nivedita Srikanth with Project Manager Nicholas Lee
Livspace service: Design, demolition, masonry, plumbing, painting and carpentry
Budget: $$$$$
---
Homeowners Mira Bharin and Darul Kisai are a working couple and naturally wanted a modern space which is neat and aesthetically pleasing. After all, the view from their 3 room condo is already filled with flora. You will absolutely love how the condo has cute corners for every member of the family. We are bowled over by the functional furniture that the designers, Juhi Shah and Nivedita Srikanth have used here.
Check it out and get definite inspiration on how to spruce up corners with the right decor.
A foyer and living room that boasts of functional furniture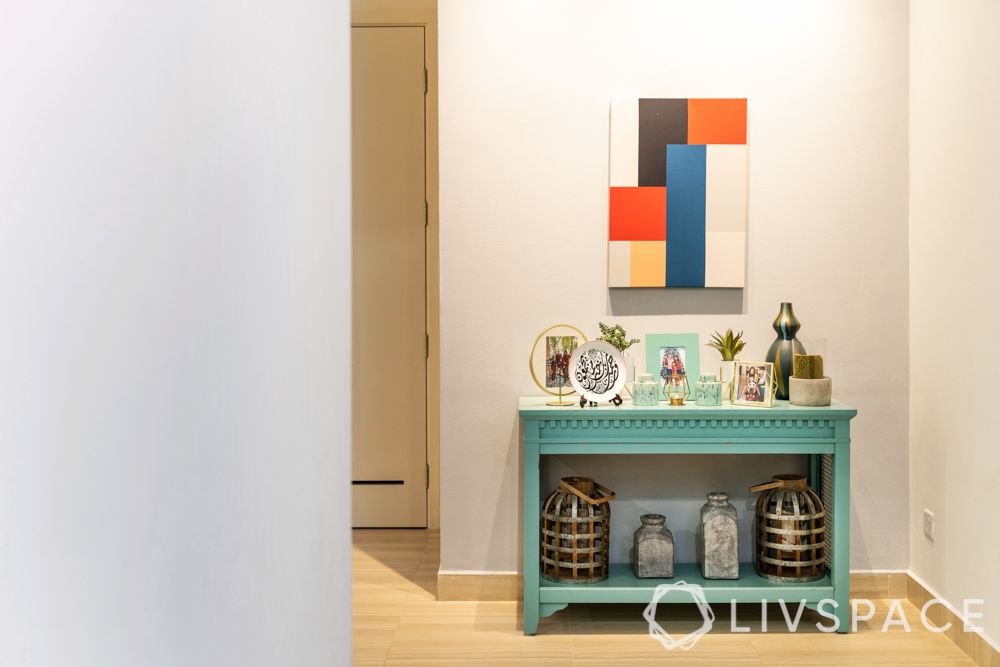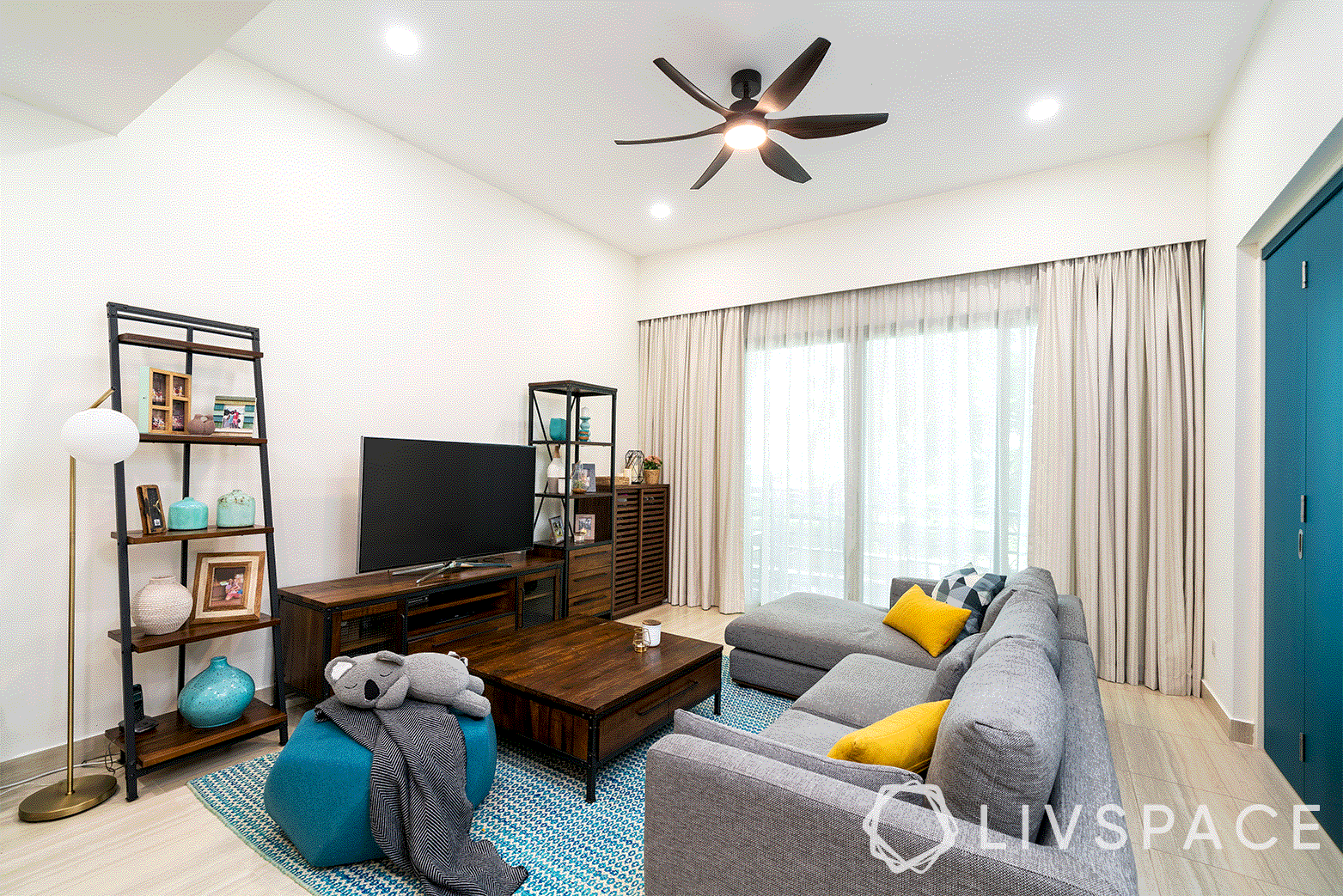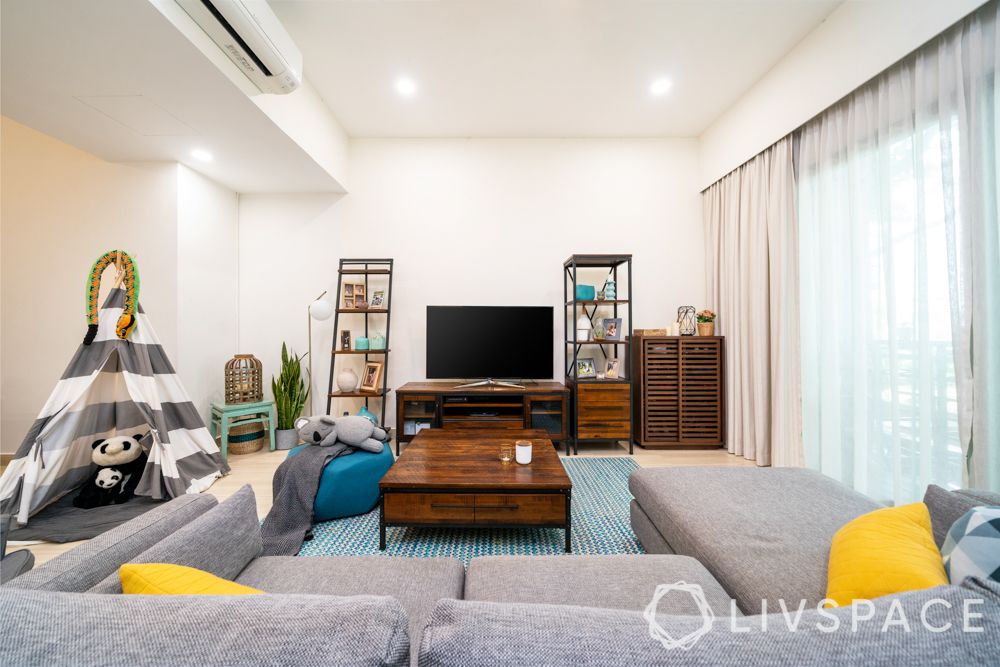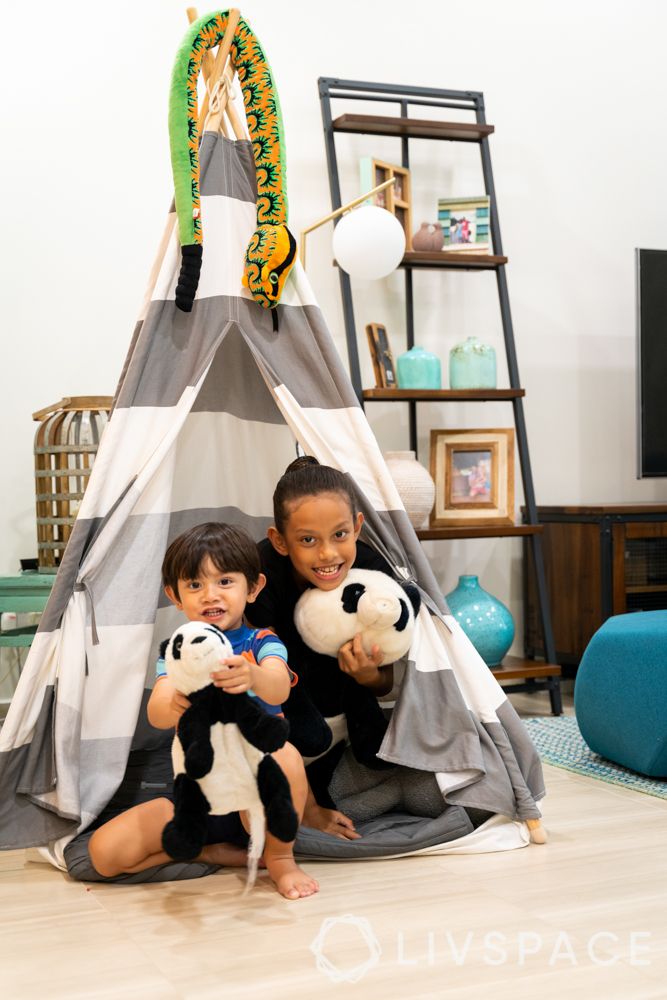 With two kids at home, you can guess how chaotic things can become, but this modern couple sure knows how to keep things in place. Their living room looks every bit organised with tall shelves that are used for storage as well as display. A sofa with a chaise lounge and an accent chair are upholstered in a minimal grey fabric. Lending a pop of colour here is the couple's favourite turquoise blue pouf. Wooden furniture from Castlery adds a tad bit of warmth to this living room.
A study and playroom for the kids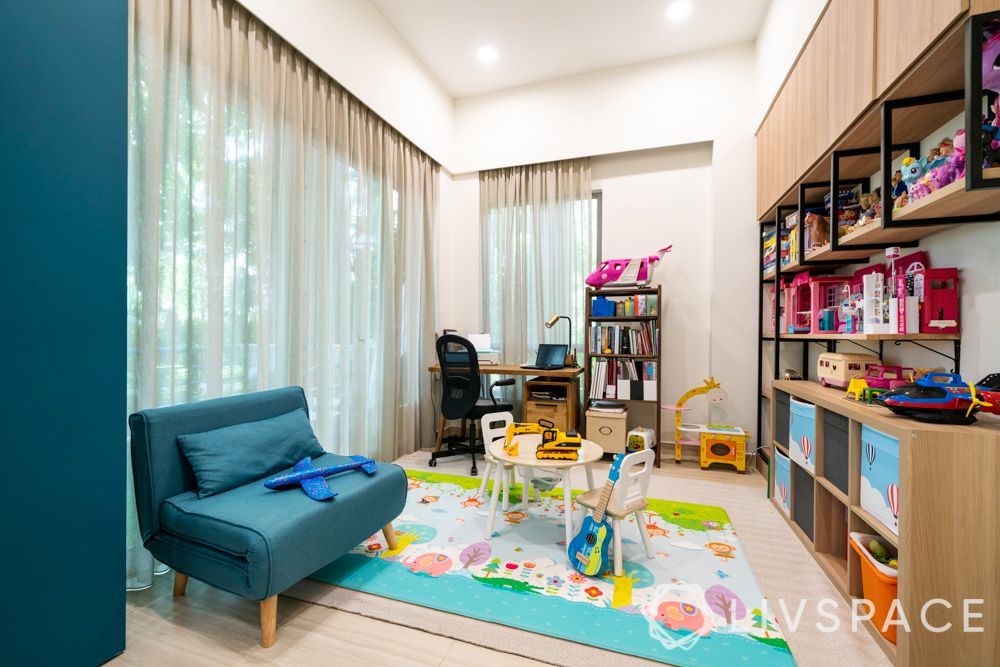 The living room leads to the study room that is divided by a turquoise blue bifold door. Here, Juhi has added a little chair and lots of storage. Black metal accents in the laminate storage unit act as an interesting contrast element. In a corner she has given the couple a study table which can be used by them or the kids as needed. This room is designed to be a multipurpose space.
When in doubt, go with wood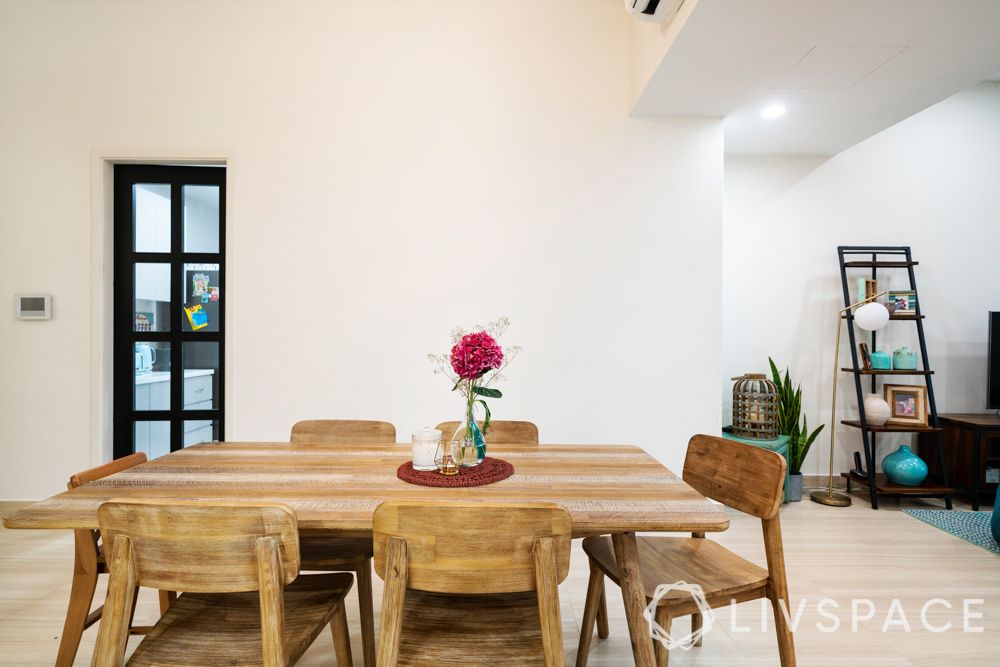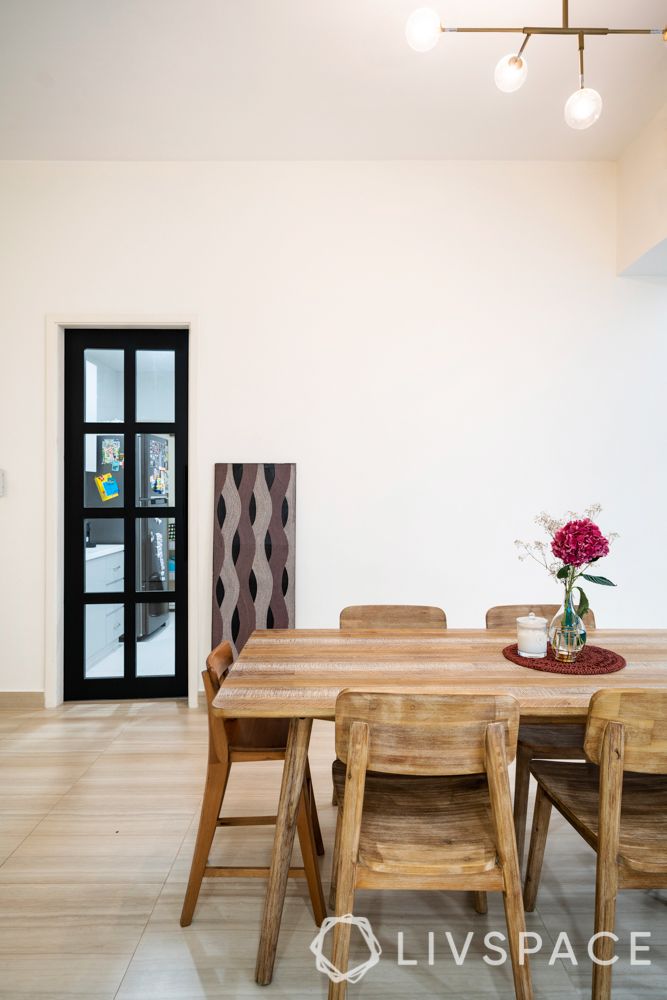 The couple wanted a minimal look in their condo and Juhi thought wood would be the best material to choose for the dining table. This textured dining table set looks warm and welcoming in this otherwise modern design. It also lends a farmhouse touch to the condo.
Kitchen with modern appliances and a coffee corner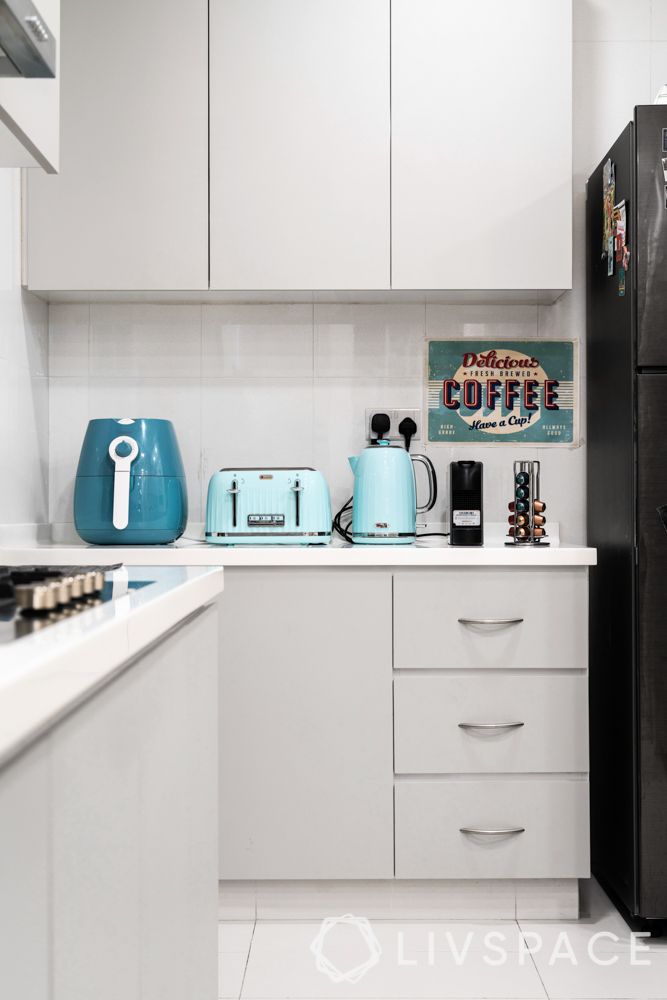 No matter what the design theme of any condo is, the kitchen has to be the most functional room since this would be used the most every day. Juhi redid one side of the cabinets to match with the other and also gave them ample storage space. Handleless cabinets look sleek, while big drawers and lofts provide storage solutions.
Master bedroom with a touch of turquoise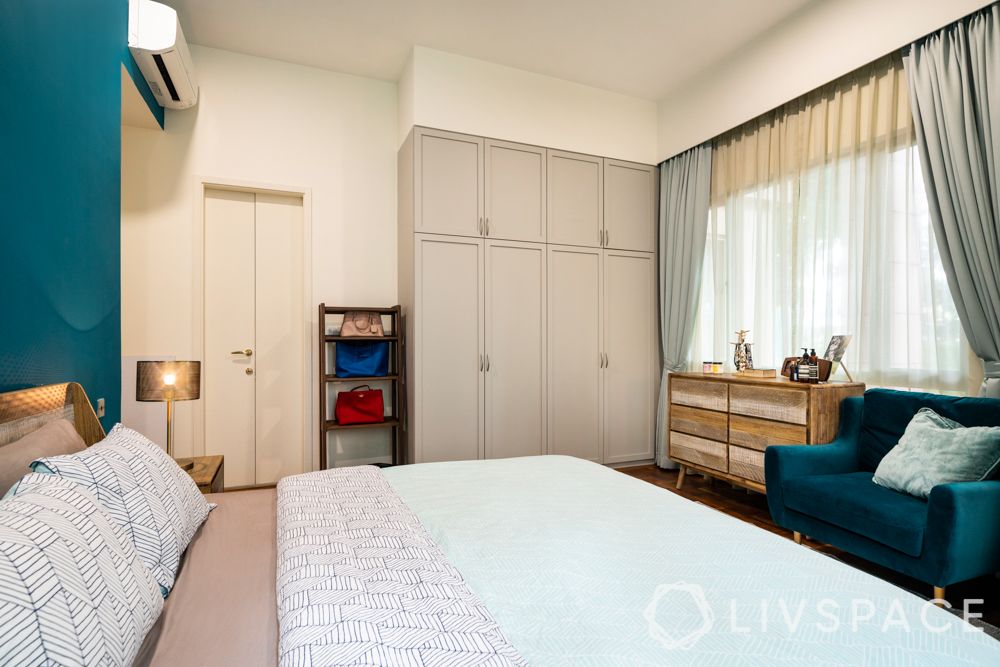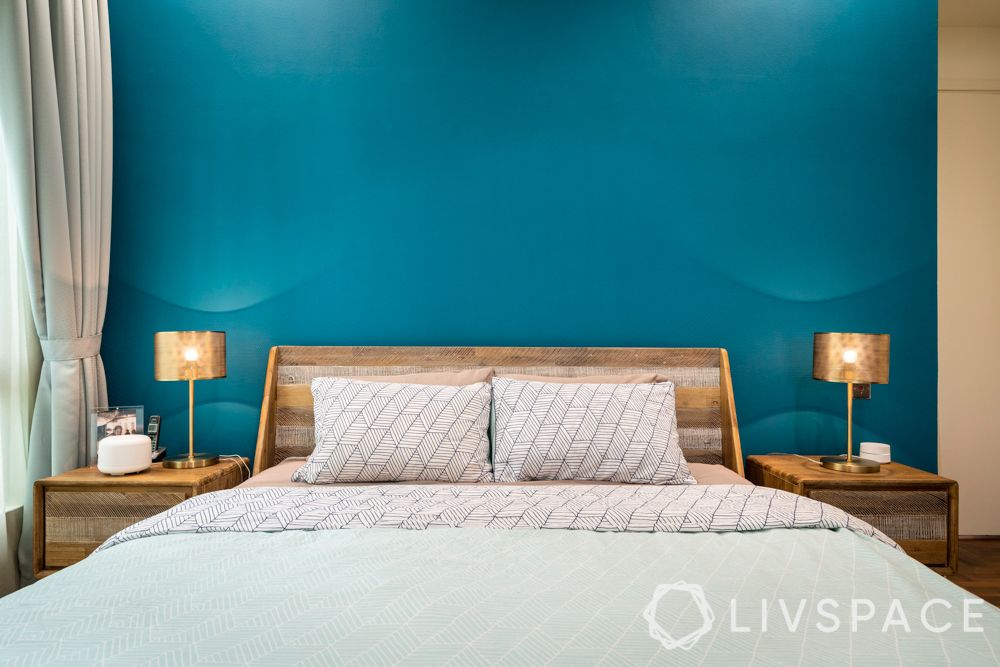 By now you've surely noticed the favourite colour in this 3 room condo — yes, it's turquoise! In the master bedroom as well, we painted the bedside wall in this pretty hue. It makes for a soothing feature wall that is enough to calm your senses when you retire for the night. Since the focus had to be kept to the wall, Juhi ensured that she added wardrobes in a light grey laminate to balance it out.
Dreamy bedroom for the girl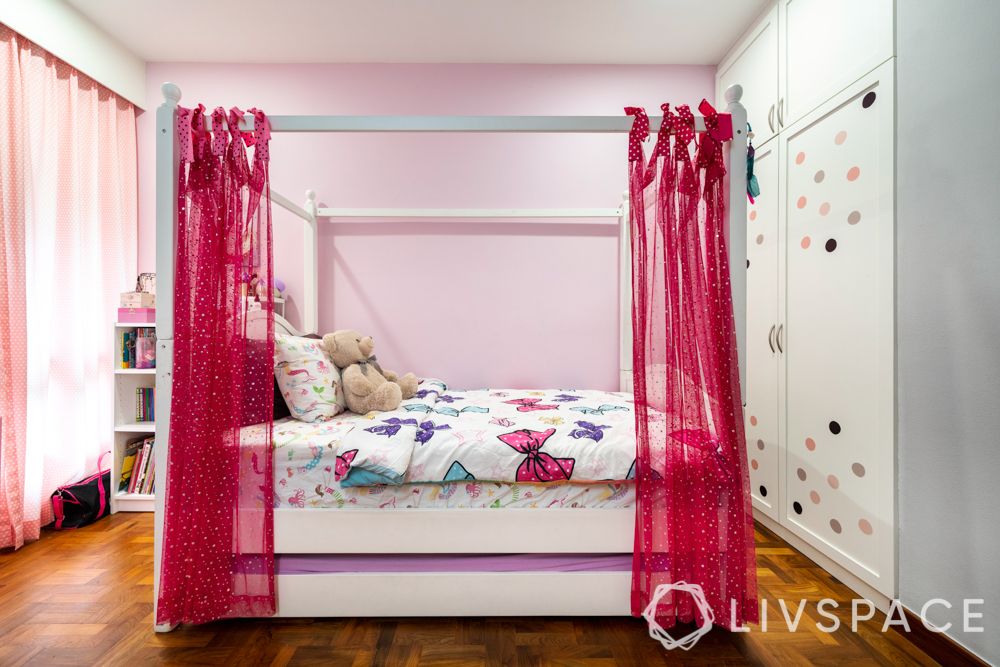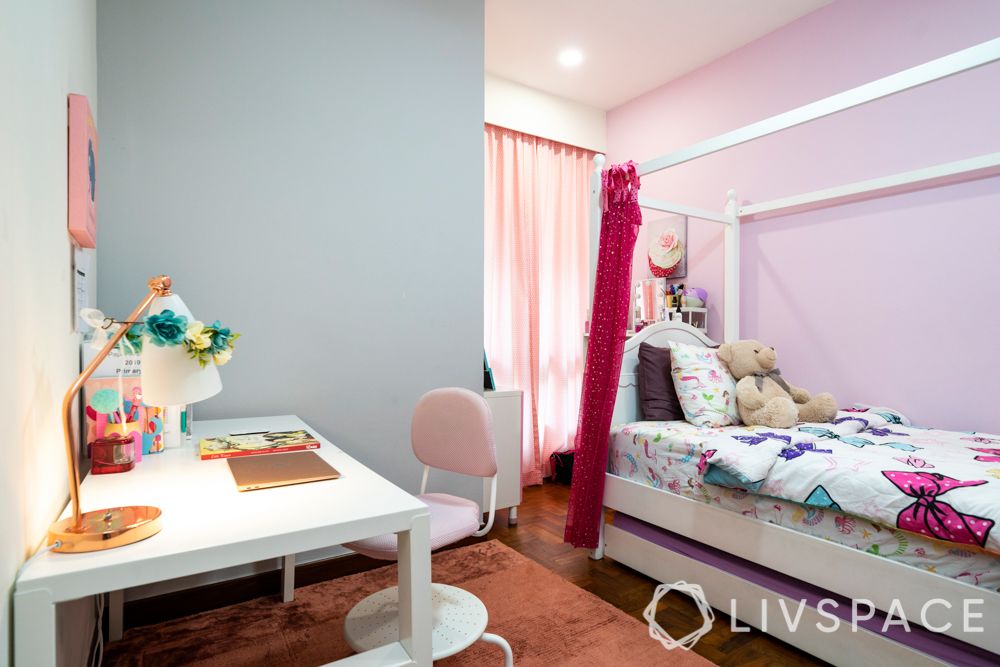 Their daughter's bedroom is a classic example of how to refurbish furniture. Most of the furniture in this room is refurbished with some fixes. The chosen colour for this space is her favourite pinkish purple that is balanced out by simple white laminate for the wardrobe.
Boy's bedroom overlooking lush greenery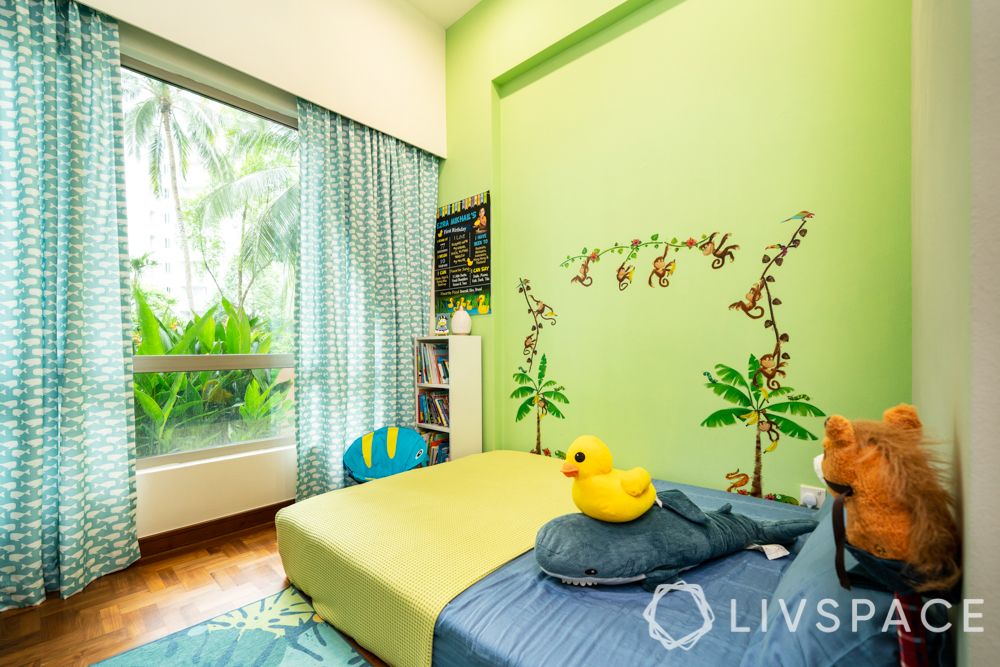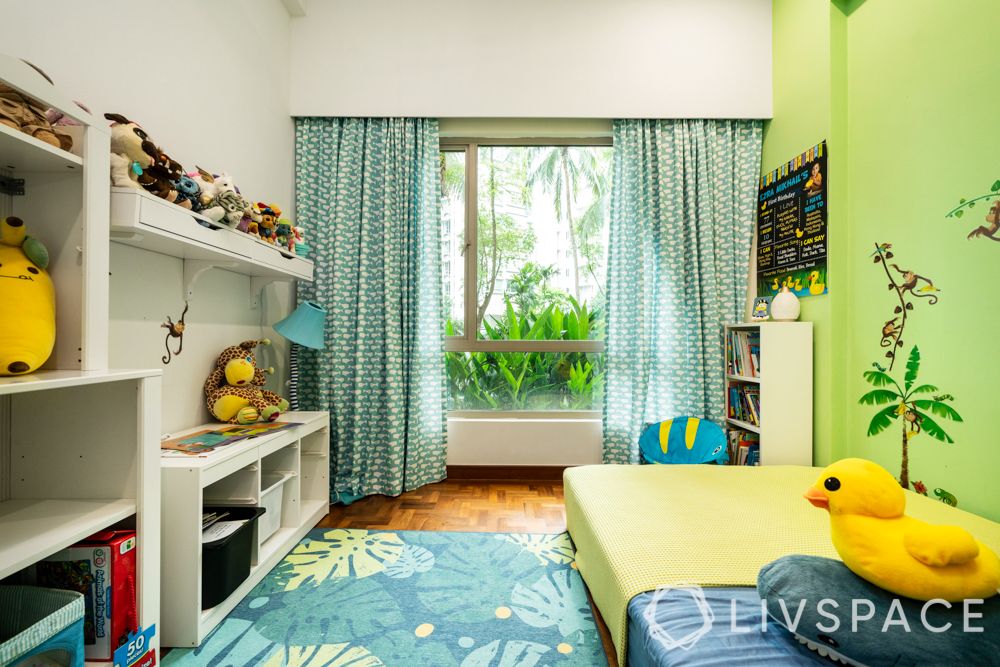 Welcome to the jungle! Look at the fun green walls and tropical rug accentuated by the lush green view outside. Their two-year-old son obviously wanted to goof around in his room and the safest bet was to place a mattress on the floor, to avoid any mishaps. Juhi has also given him wall shelves where all his soft toys can stay close to him.
Of powder rooms and bathrooms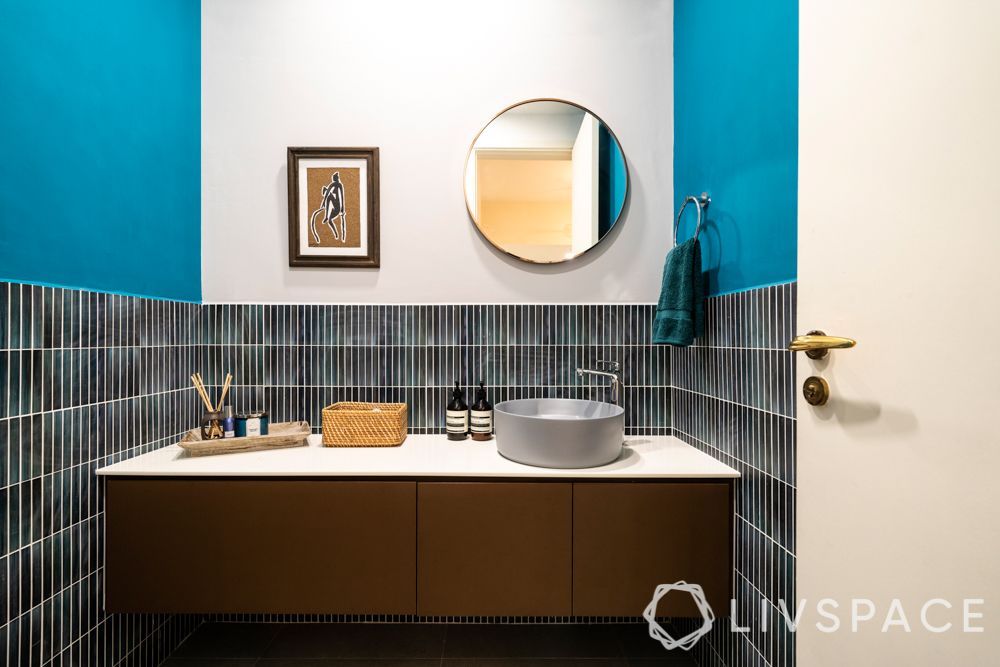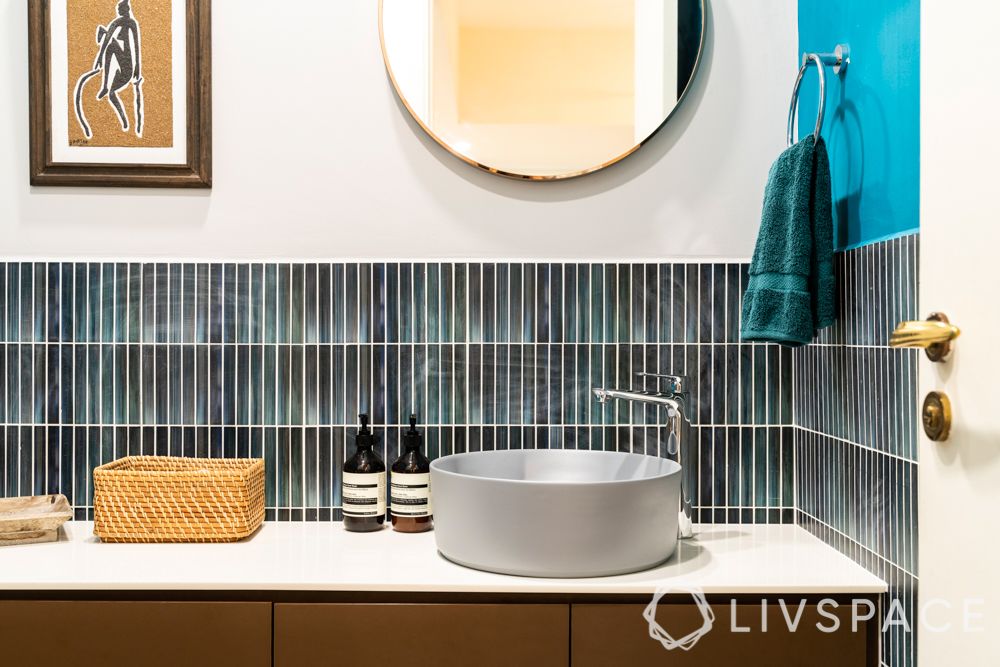 A powder room is a room that most guests see and it has to look good. Juhi has added pretty teal tiles halfway up the wall with the rest of the wall painted blue. She also designed the vanity for them, which looks simple yet packs in ample storage.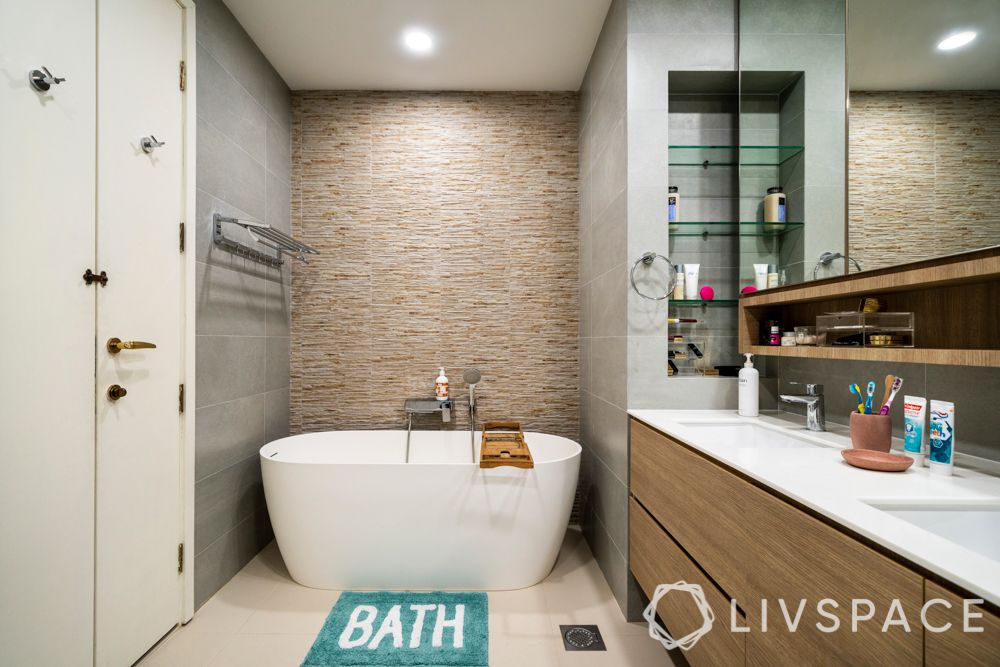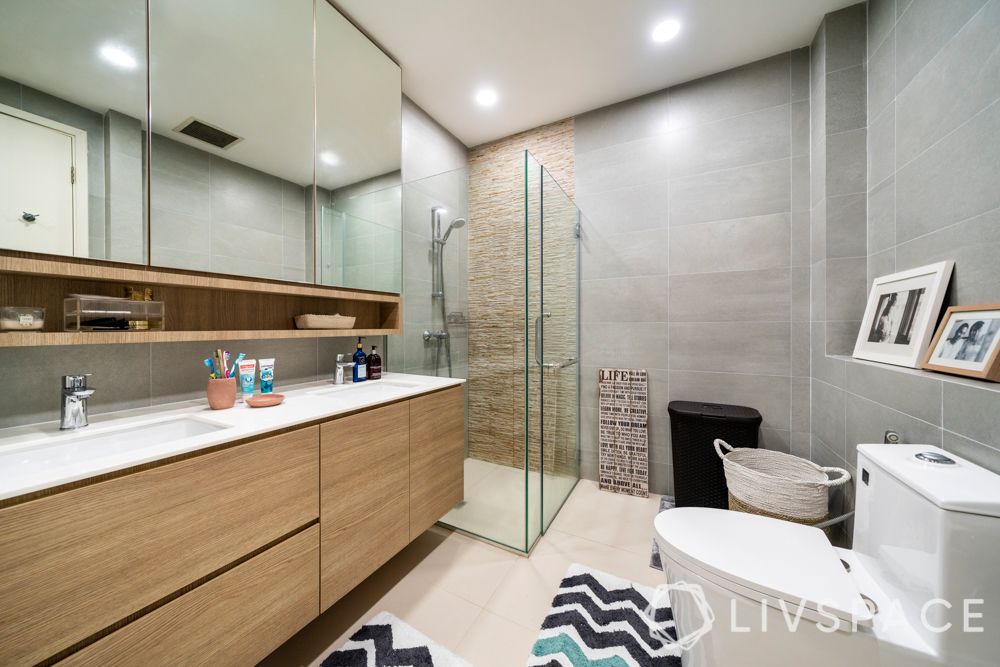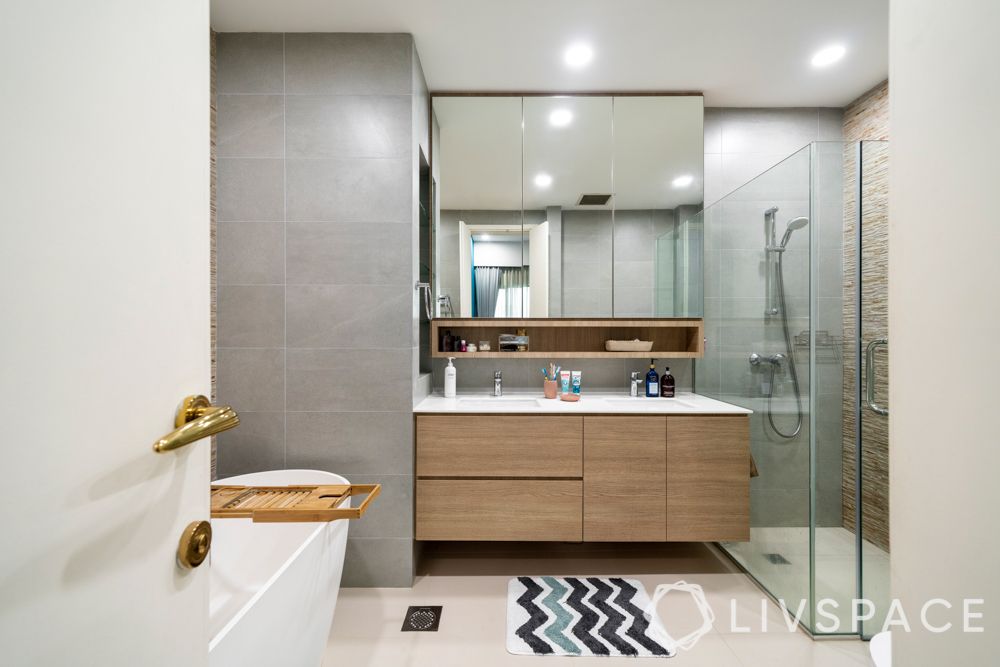 "This was one fun area to design," exclaims Juhi. She got to play around with tile options and ended up adding brick-style tiles next to the bathtub to create a feature wall. The shower area also sports the same tiles to maintain harmony in design. The rest of the bathroom has basic grey tiles and pretty Mr & Mrs Vanity with hidden storage mirrors.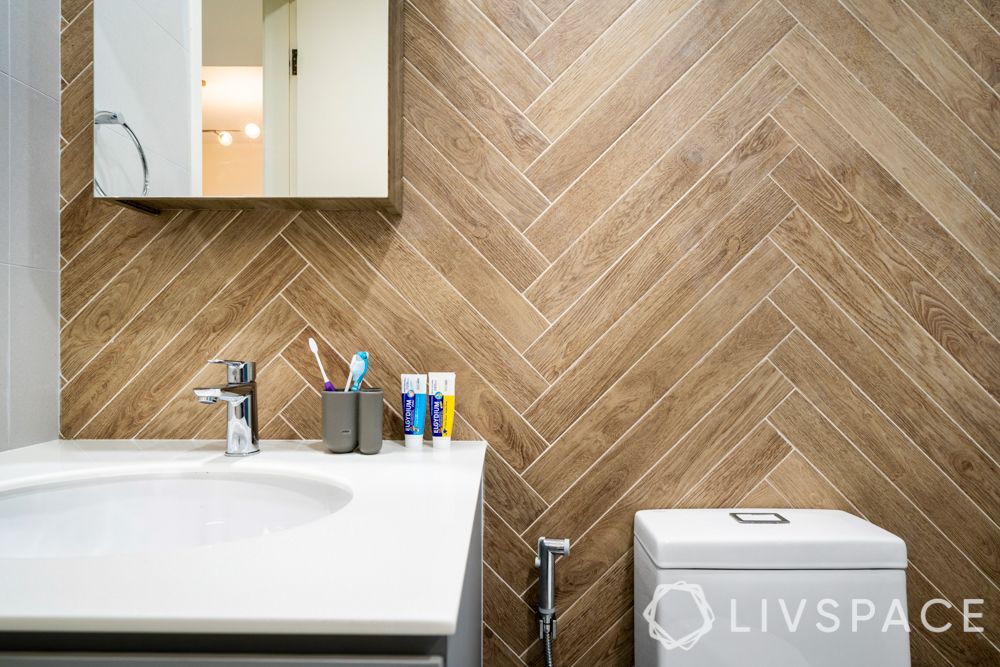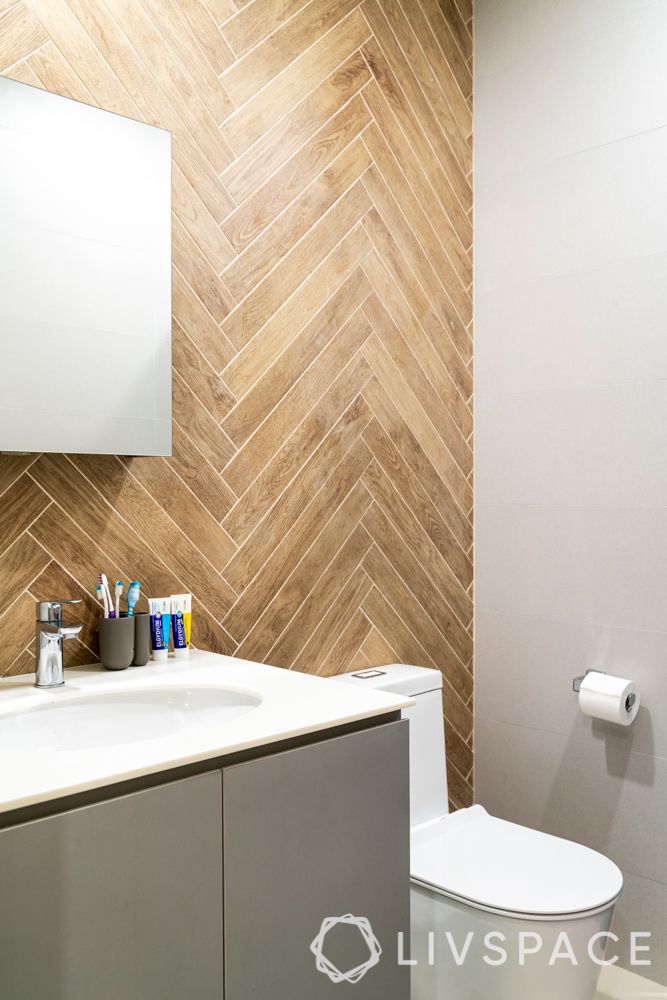 The common bathroom in this 3 room condo flaunts warm wooden tiles in herringbone pattern that adds texture and stands out. A simple vanity with laminate finish adds that final touch to this space.
"The vision for this condo for sure was a modern look with some accents of turquoise. I also helped the couple set up furniture in their house and it was like the 3D renders came to life. It was a fun project to work on and I loved incorporating their requirements into my design."

Juhi Shah

Interior Designer, Livspace
Want to check out another amazing condo design? Check this out: A Space-efficient Makeover for a 5-Room Condo You Will Love.
Send in your comments and suggestions to editor.sg@livspace.com.